Pre-Owned Spotlight: Daan's Titanium Picks For Hot Summer Days
Many brands are introducing titanium watches these days, but there are enough to be found on the pre-owned market
It's been one of those warm and sticky summer weekends here in Amsterdam. You know, the kind when you don't want to wear a heavy and sweaty stainless steel watch on your wrist. I still don't have any titanium watches in my collection, but days like these make me wish I did. So when I saw there was a Pre-Owned Spotlight coming up, I knew what to search for. Here are my titanium picks on the secondary market, just in time for the summer heat.
I'm not completely sure why I still haven't jumped on the titanium bandwagon. Maybe it's the style of watches, which is often a bit too modern for my taste. Or it might be the slightly darker gray color that doesn't attract me as much as shinier stainless steel. Anyway, now that we're in the middle of a heatwave, I wish I had a titanium watch. So let's go over a few that I found on the pre-owned market that I would actually consider buying.
Omega Seamaster 300M 2231.80
This first option really surprised me. It's not because it's an Omega Seamaster. Obviously, that's a very common watch to find out there. But the fact that you can get an automatic titanium Seamaster on a full-titanium bracelet for around €2,000 was definitely a nice surprise. It's equipped with a super reliable ETA 2892, which can be serviced by any watchmaker in the world. It has an electric-blue wave dial and a polished bezel, and it's water resistant to 300 meters.
I wore RJ's blue stainless steel Seamaster ref. 2531.80 to a James Bond event late last year. It made me realize how fantastic those "older" Seamasters feel on the wrist. That's mainly thanks to their slender case profile. You might have noticed how Nacho recently also fell in love with his "older" Seamaster ref. 2254.50. But to me, this one in titanium might even look a little more attractive, especially when you look at that price. You might have to import one from Japan, though, because that's where they all seem to be at the moment.
Grand Seiko SBGA031
And for this next watch, you'll probably also have to look to Japan to find one. It's a Grand Seiko SBGA031 with the brand's magnificent hybrid 9R65 Spring Drive movement inside. At 44mm in diameter, it's a big watch, especially for my 17cm wrist. But because it's made of titanium, I might be able to pull it off. Again, though, I was surprised about its price, because I was able to find this model for just under €4,000. To me, that seems like a very reasonable price for an all-titanium Grand Seiko with a very accurate Spring Drive movement inside.
The model has a somewhat-generic dive-watch look, but what's wrong with that? It has a hard-coated steel bezel insert (that looks like ceramic, but it's not), and it's water resistant to 200 meters. It also seems to wrap itself nicely around the wrist, so that might improve wearability a bit. I'm still not a fan of the power-reserve indicator, but I kind of like those yellow/gold details on the dial. The cherry on the cake here is the double branding. This really is a Grand Seiko diver's watch in Seiko-branding disguise.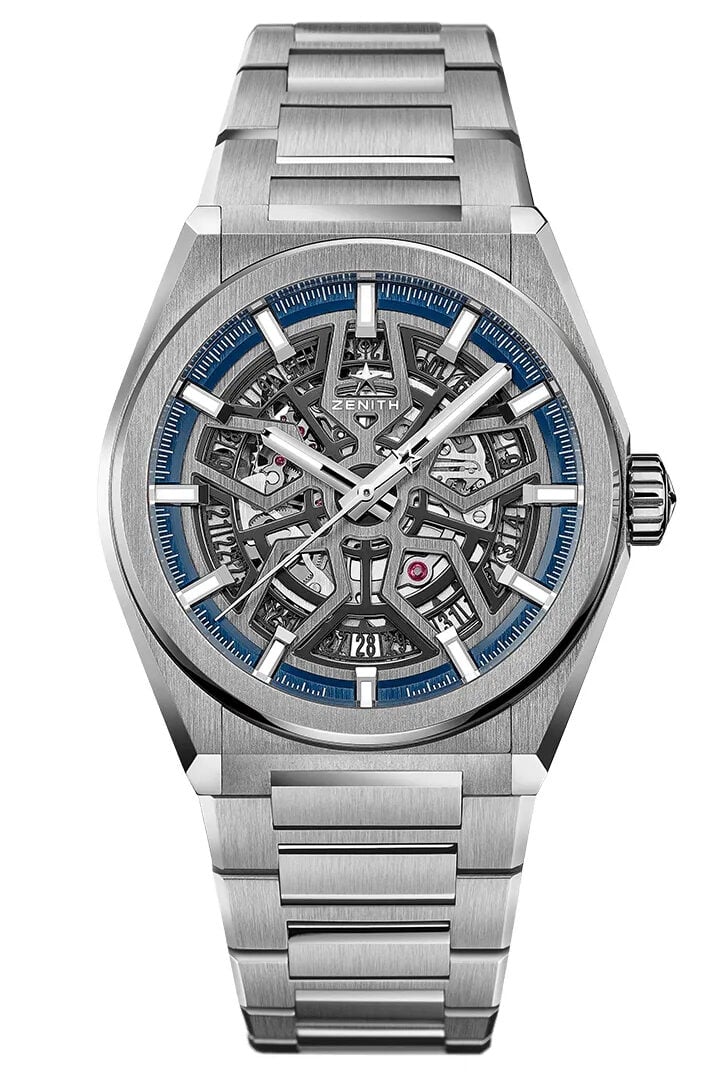 Zenith Defy Classic Skeleton 95.9000.670/78.M9000
The last of today's titanium picks is the Zenith Defy Classic Skeleton, the outgoing model. This is a watch I actually considered buying at one point. It's light, its 41mm case wears great, I really like the skeleton dial, and I am a fan of the titanium bracelet as well. I especially like how clean and "simple" the case design is compared to the newer Defy Skyline. Especially in combination with the skeleton dial, I think the "older" Defy looks better than the current one.
That new one also has a 1/10th-of-a-second sub-dial instead of the date at 6 o'clock. I think that's a shame because, at the rate that hand rotates (once every 10 seconds), that sub-dial will just drive you crazy during a normal day. And the date execution on that previous version was actually a very nice touch, I think. Another added benefit is the fact that the new Defy Skeleton is in the books for almost €12,000. By contrast, you might be able to find the previous model for somewhere close to €5,000. That might even leave you with some cash to buy an extra rubber strap for it.
If I had to choose between these three, I think I'd go for the Zenith. Which one of my titanium picks is your favorite, or would you go for a completely different titanium watch? Let me know in the comments below.