Pre-Owned Spotlight: Hunting For A Vintage Dress Watch From The Holy Trinity
They can be had for less than you might think
In this installment of Pre-Owned Spotlight, I'm going shopping for a vintage dress watch from the Holy Trinity. I know vintage is not for everybody, but a dress watch is a particularly good gateway into this realm. It is also the most "affordable" way to own a watch from the Big Three, especially if you can stomach a smaller watch. So let's see what vintage watches we can find from Audemars Piguet, Patek Philippe, and Vacheron Constantin.
As a little disclaimer, I am being quite liberal with the term "dress watch." I know some people won't consider anything but hand-wound two-handers. I, however, am not one of them, so there are two automatics and even a date complication in my selection. You will get over it, I am sure. Without further ado, join me on the hunt for some classy vintage dress watches!
Vintage dress watch #1: 1970 Audemars Piguet
Let me start with a vintage dress watch from my old colleagues at Amsterdam Watch Company. This is an Audemars Piguet with a stunning baby-blue dial. This little AP measures 33mm across, which is perfect for a vintage dress watch. Just trust me on this, paired with a suit and tie, a 33mm case is fine for a vintage dress watch. Yes, it may take some getting used to, but once you do, you will get a new appreciation for this type of refinement.
As you would expect, the watch is driven by a hand-wound caliber. Unfortunately, I do not have much information on it, so I will stick with the aesthetics of the watch. You get an 18K white gold case, but the star of the show is that dial. The pale blue gets center stage, with only the most minimal of stick indices and baton hands.
One particular element I enjoy is the wordmark. This type of dial signature inspired my typography and dial signature for VPC. I know some people prefer applied logos, but to me, this is perfection. Look at the old-school typeface with the characteristic flat-topped As and other vintage hand-drawn typography quirks. It adds so much character to an otherwise almost sterile design. This AP vintage dress watch is priced at €4,700. Not bad for a Holy Trinity watch, is it?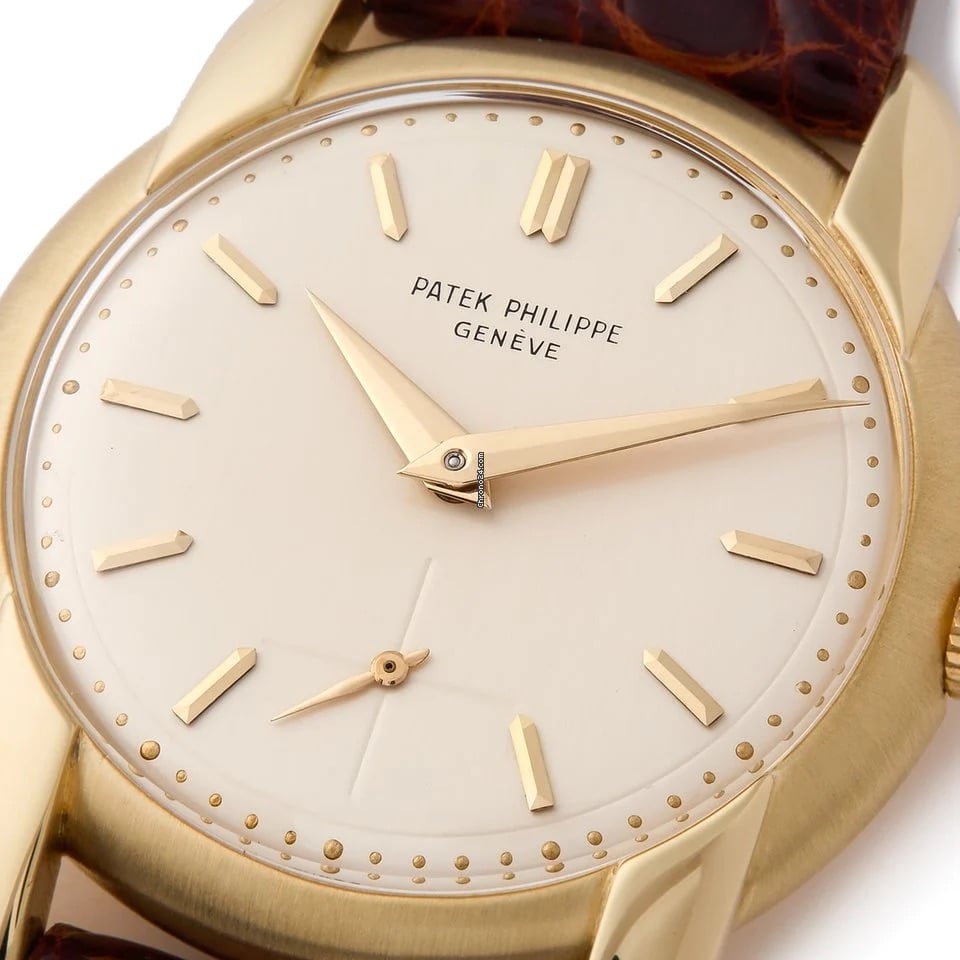 Vintage dress watch #2: 1959 Patek Philippe 2536
Xupes in the UK is offering my second listing, a 1959 Patek Philippe ref. 2536. This one measures 35mm, making it a bit more of a crowd-pleaser. I think this one might be refinished. I have only seen this model fully polished before, not partly brushed. But this is something you would have to research and confirm before purchasing as I am certainly no vintage Patek connoisseur.
The 18K yellow gold case is amazing nonetheless. The lugs run all the way up to the crystal for a striking and original look. The dial is, again, the star of the show for me, though. I am a complete sucker for dauphine hands and faceted, applied indices. Many brands have adopted this style, but for some reason, I always associate it with Patek. The indented crosshair at 6 o'clock and track along the dial perimeter are subtle but beautiful.
Oh, and if you are disappointed by the current use of Arial for Patek Philippe's dial signature, have a look at this dial. As on the Audemars above, we get that quirky typography. You can see the traces of handwork, which put the soul into the dial. If you want to know how this was done, have a look at my earlier article on the topic. Xupes offers this watch for £11,950.
Vintage dress watch #3: 1960s Vacheron Constantin
Okay, now we move on to my last entry, which is, obviously, a Vacheron Constantin. I'm sticking with my beloved recipe of dauphine hands and faceted applied indices. This time, however, we also get a date and a central seconds hand. I know this is pushing the definition of a dress watch, but just look at it. If anyone claims this is in poor taste under any circumstance, that person has bigger issues.
Although this Vacheron and the previous Patek may only differ a few years in age, they represent different eras. The Patek has a case and dial layout that just screams the 1950s. The sharper 35.5mm case and perfectly rectangular date frame put the Vacheron stylistically in the '60s.
The dial is original and once again features that characterful typography that I love so much. The champagne dial surface is slightly spotted, but in very good condition overall. Goldammer in Germany is offering this watch for €7,900.
Closing thoughts
There you have it! Three vintage dress watch offerings from the Holy Trinity. And because these are formally styled and relatively small, they are also relatively affordable. Don't get me wrong; €4K–12K is not cheap by any measure. But in Holy Trinity watch realms, it is certainly on the more affordable side.
A vintage dress watch is a great addition to pretty much any watch collection. Of course, you certainly don't have to spend thousands if you consider other brands and materials. But since many people only wear their dress watches occasionally and carefully, fears of vintage watches being delicate may not weigh as heavily on the mind as they do with more sporty or everyday watches.
Do you own a vintage dress watch? Do you see yourself wearing one? Let us know about it in the comments section below.