Preview Of Geneva May 2018 Auctions: PHILLIPS in association with BACS & RUSSO
Aurel Bacs & Livia Russo in association with Phillips auction house are back for their seventh Geneva watch auction together. In addition, they assembled a special Rolex Daytona thematic auction they have dubbed The Daytona Ultimatum.
Although it is Mr. Bacs' second Daytona thematic auction (Lesson One at Christie's in 2013), it will be the first one for Phillips and is set to be their most successful thematic sale to date.
The Geneva Watch Auction: Seven also packs quite a punch with some interesting, stunning and rare timepieces from a variety of brands. Many of these have important provenance and it was fascinating to research several of these.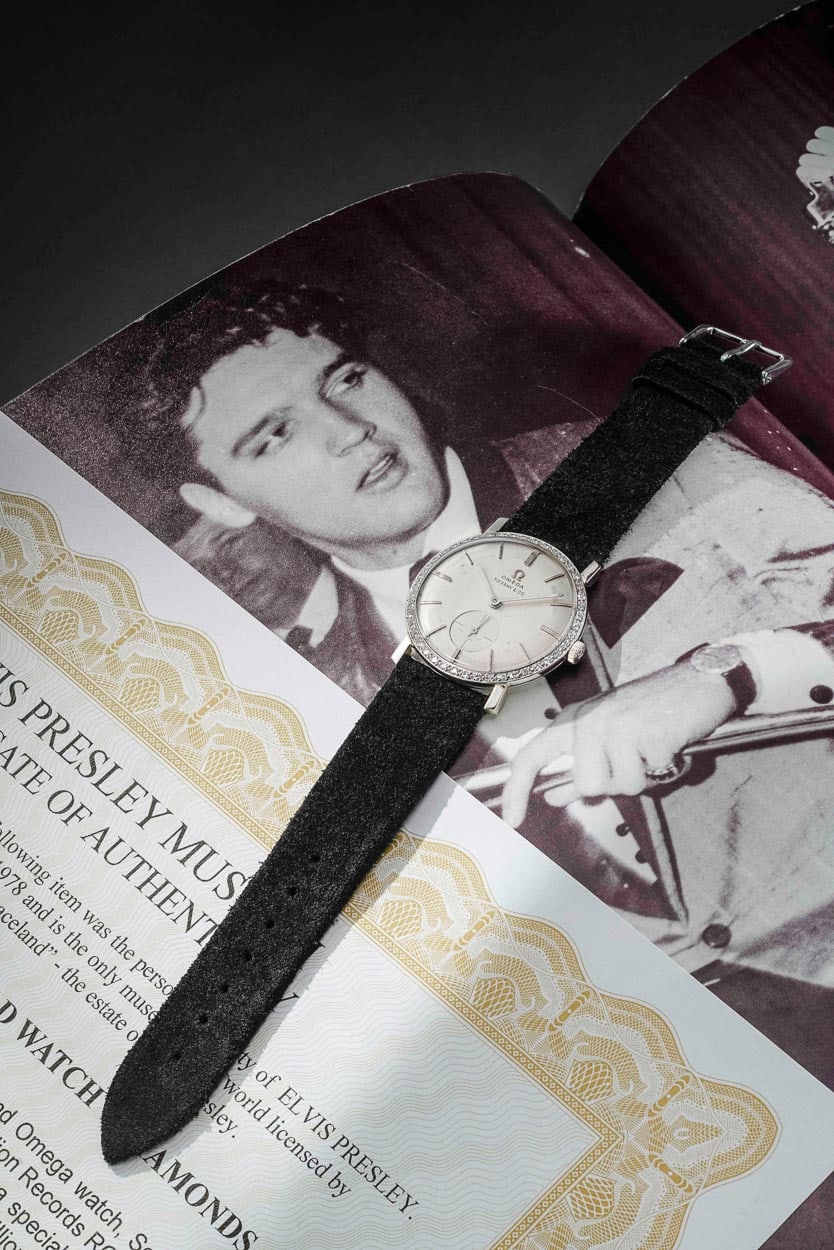 I was excited to get an early preview last week and I got to pick my favourites from both sales.
THE DAYTONA ULTIMATUM
This thematic auction takes place in the afternoon on Saturday, May 12th in Geneva is comprised of 32 vintage Daytonas, curated by collector/author Pucci Papaleo, that either stand out due to their condition, provenance, rarity or, in many cases, all three. Each watch has a nickname that is related to its unique attributes. If you are curious about some of these nicknames, you should definitely inquire as they often have a hidden meaning and are worth checking out. To see the full catalogue, you can see it online here.
The name of this sale is inspired by Pucci Papaleo's 2013 renowned book: "Ultimate Rolex Daytona". The use of the word ultimatum for this sale could have a variety of meanings and I think that was the point. It was intentionally meant to be provocative as to inspire discussion and reflection on the state and future of the vintage Daytona market.
Prices and demand have continuously been bullish over the past decade and continue to evolve in unbelievable ways. Collecting vintage Daytonas has become a segment of its own, even apart from the rest of vintage Rolex watches.
In addition, iconic watches of our time are defined by remaining true to their original heritage over the years, but meanwhile constantly improving technically in terms of durability, precision, comfort and technology as well. This is also what makes the originals so desirable. To truly appreciate a Daytona today, one must also appreciate its origins and evolution.
I limited myself to just choosing one single watch from the thematic auction that I personally would enjoy researching and was unfamiliar with. Therefore, the Daytona I chose to research and share with you is the last lot of the catalogue:
LOT #32 – Rolex 6240 Daytona "The Neanderthal"
It is always interesting to learn something new or see a watch that I've never seen before.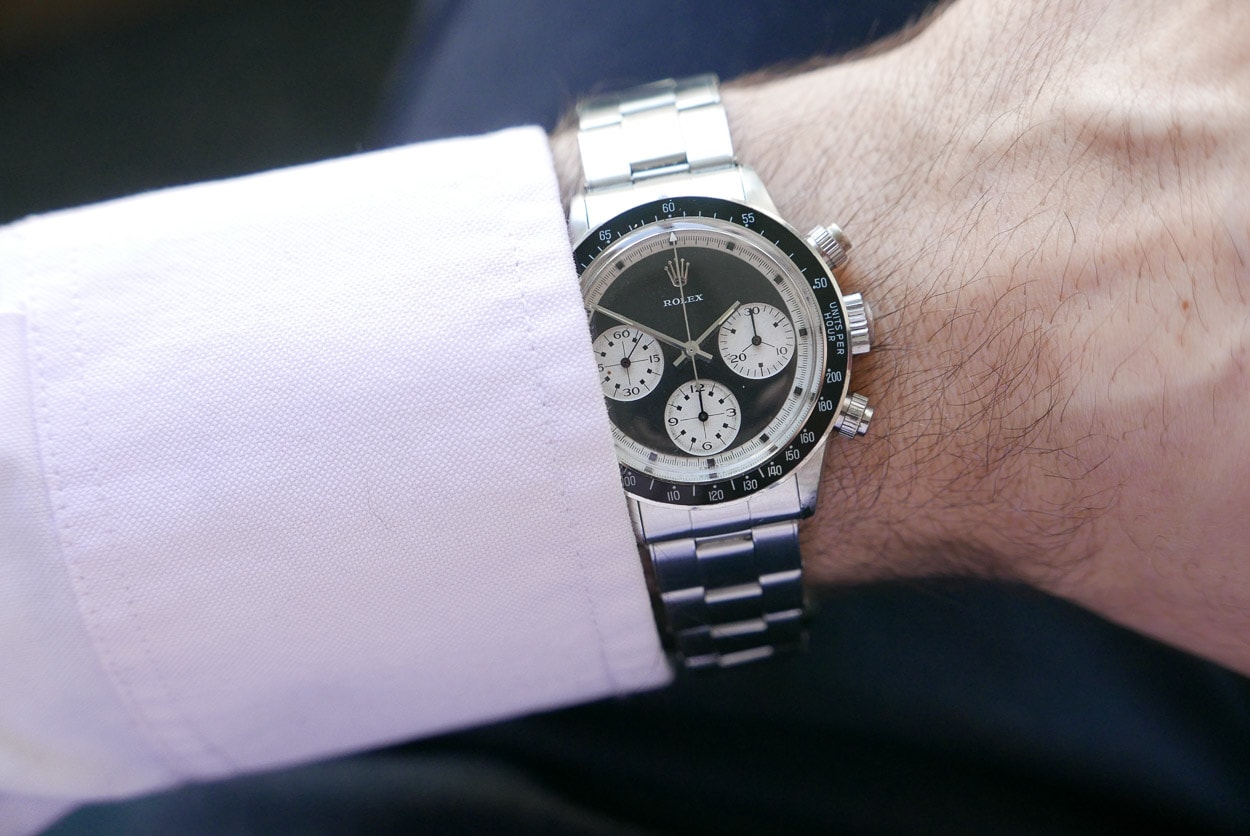 A little history:
1965: The 6240 is launched in 1965 and is the first screw-down pusher Daytona reference. These early screw-down cases are also identified by their "millerighe" pushers, which means "one thousand lines" in Italian, and are very rarely seen, especially intact.
1967: The first "Paul Newman" Daytona dials were introduced in 1967 with the 6239 "tricolore" exotic dial. That was the 6239 that Paul Newman wore, and his watch was recently auctioned for a world record result by Phillips in New York.
1969: The first screw down Paul Newman dial Daytonas in 6263/6265 references were introduced.
This 6240 watch dates back to 1966 making it the first exotic dial ever observed, therefore the nickname "The Neanderthal". This has a different configuration from later exotic dials. This Rolex only or "solo" exotic dial has the matchstick registers and white ring on the periphery. The registers seen here are larger than on its successors meaning a different architecture from the start making this dial possibly unique.
Admittedly, I might have gone with a slightly sexier name like The Ancestor (since Lucy was taken).
Nevertheless, it is hard to guess the result for this one, be we will be watching live and see what happens. For more information about this watch please check it out here.
Estimate CHF 2,500,000 – 5,000,000
THE GENEVA WATCH AUCTION: SEVEN (GWA7)
This auction, which takes place on the evenings of Saturday (12th) and Sunday (13th) in Geneva, is comprised of a highly curated selection of 185 watches. You can see this catalogue online here.
This catalogue continues to offer a wide variety of wristwatches with 24 brands present (same number of brands as their last auction) including some stunning Omegas.
I tried to remain focused on pieces I truly had never seen before or I found to be interesting to learn about and here is my selection:
LOT #103 – Breitling 765 Co-Pilot "Jean-Claude Killy"
I have seen this model before and am familiar with it. What I find remarkable here is the exceptional condition.
Although Phillips calls this one Raquel Welch in their catalogue, for Breitling aficionados, this is a Jean-Claude Killy or JCK. Harmless little mistake guys, especially since the watch is stunning!
The story of the 765 AVI chronographs begin in 1953, one year before the Navitimer, with the model we call now "Lucy" in digital or analogue versions, but both with all black dials and steel bezels. It wasn't until after 1963, that Breitling introduced the silver registers on the dial on the 765 chronographs and a version with a black bezel. That reference included CP (Co-Pilot) instead of AVI. The 765 AVI reverse-panda was seen worn by Raquel Welch in Fathom movie in 1967, meanwhile, the 765 CP with black bezel was seen on the wrist of Jean-Claude Killy in 1968 at the Grenoble Winter Olympics. Hence, the different nicknames.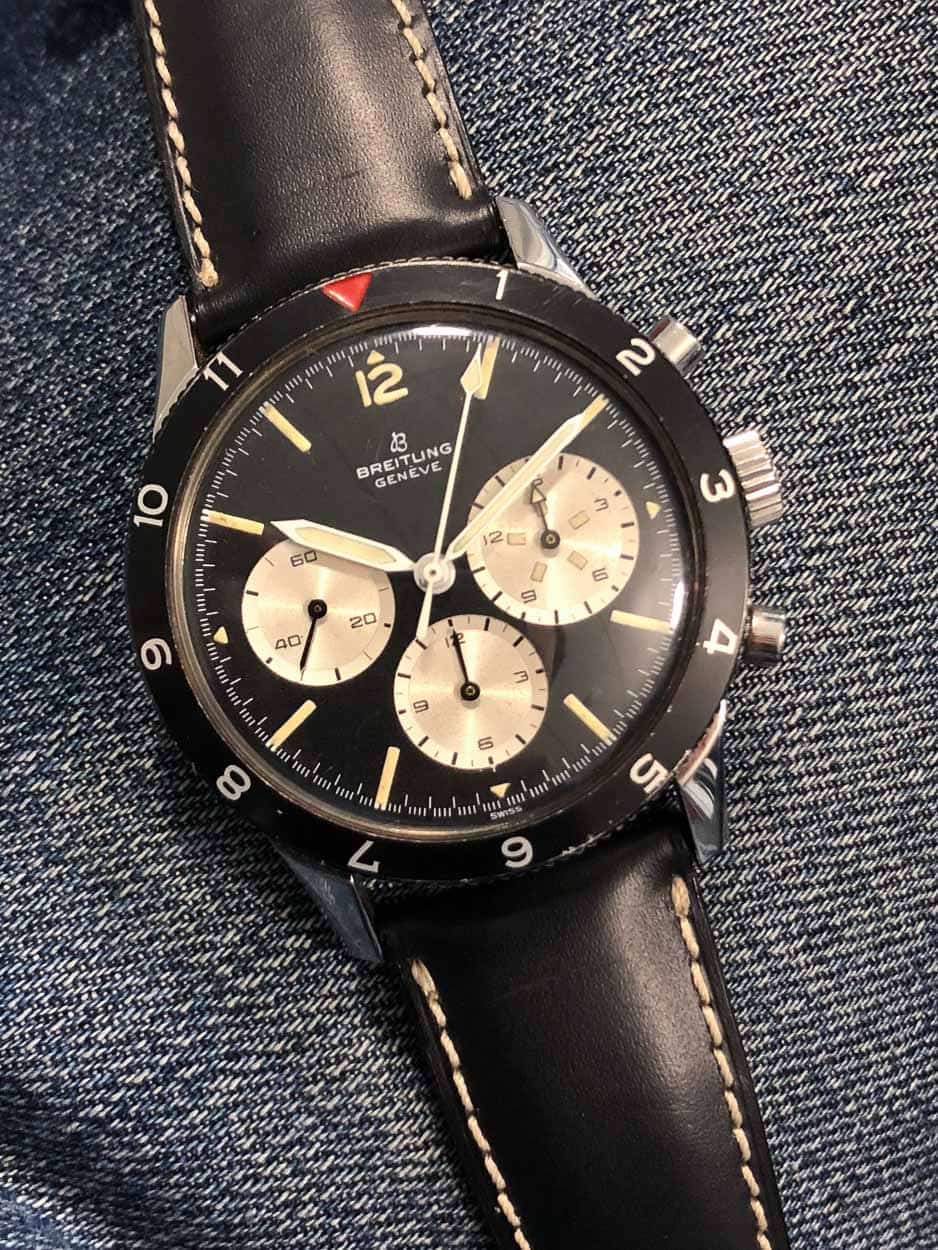 I have not seen an outstanding 765 CP at auction in a long time and will be very curious to see what this beauty sells for. Should you want to have some more information, you can see visit the page here and inquire directly.
Estimate CHF 8,000 – 12,000
LOT #119 – Breguet Pre-Type XX Flyback Chronograph No 1164
The Breguet Type XX chronographs are well known for having been supplied to the French military pilots in the mid-1950's until the 1970's. However, we are still learning about how Breguet developed these watches and how they came about to be chosen as a supplier for the French Air Force and Navy pilots.
We know that the Breguet family was deeply involved in aviation in France.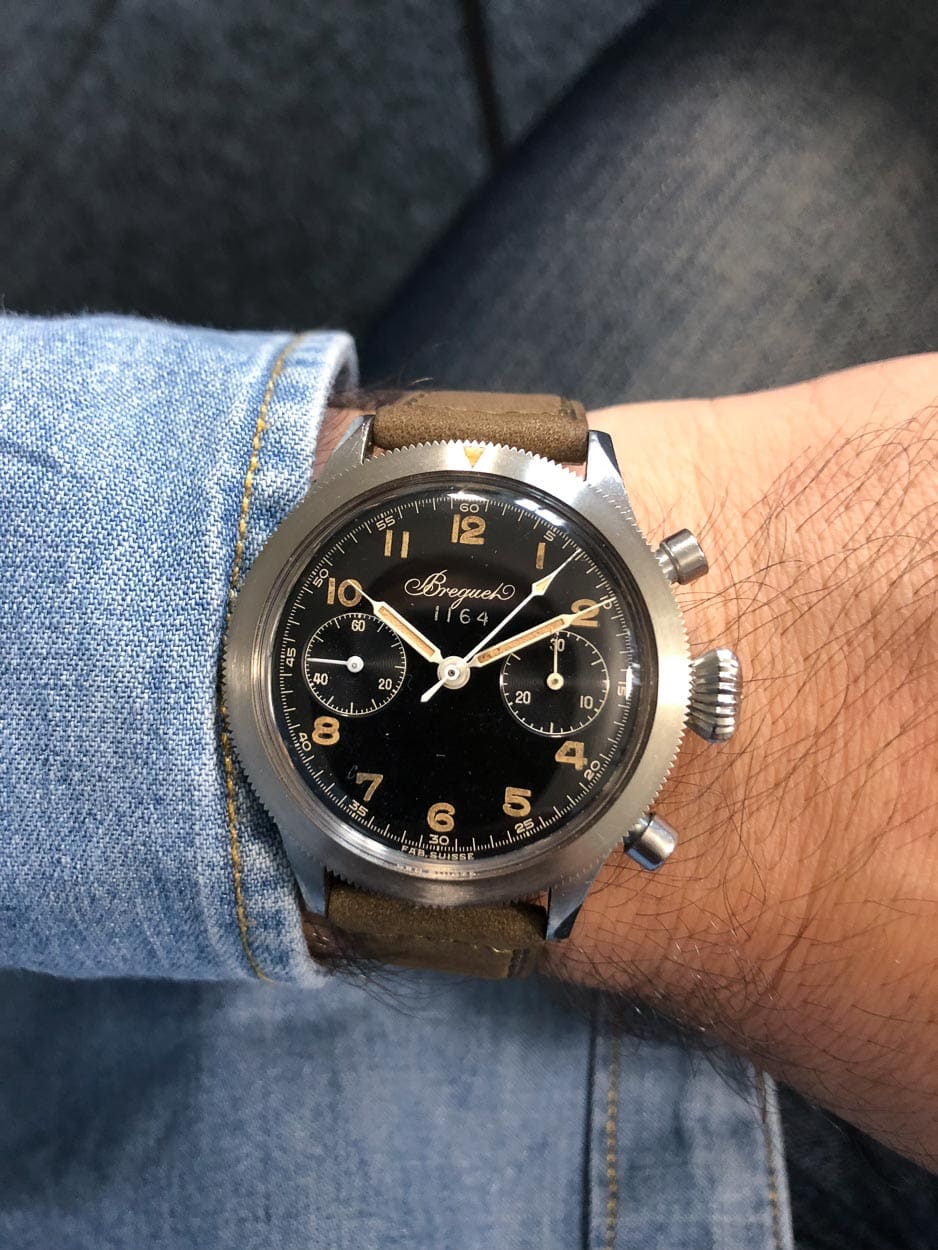 In fact, Louis Charles Breguet, French aviation pioneer and the great-great-grandson of the famous watchmaker Abraham-Louis Breguet, founded the Société des Ateliers d'Aviation (Breguet Aviation) in 1911. He supplied reconnaissance planes to the French Air Force during World War I and this company later merged with Dassault, the renowned French aircraft manufacturer. Furthermore, in 1919, the same Louis Breguet also founded the airline Compagnie des Messageries Aériennes, which, through a series of mergers, evolved and became Air France in 1933.
Although the Breguet watch brand was owned and run by the Brown family from 1870 until 1970, Brown had been a watchmaker for Breguet company when he took over the brand. It would seem obvious that he and his family kept close ties with the Breguet descendants even if they had moved into technology development and, afterwards, aviation.
The Breguet Type XX wristwatch for pilots was launched in 1955 and delivered to French Navy pilots (Marine Nationale Aeronautique Navale). This watch, bearing matching case and dial serial number 1164, is a "pre-Type XX". It was manufactured in 1952 and delivered to aircraft manufacturer Société d'Aviation Louis Breguet on February 3, 1953. So, it was made by the Breguet watchmaking company run by the Browns and delivered to the Breguet aviation company run by the Breguets.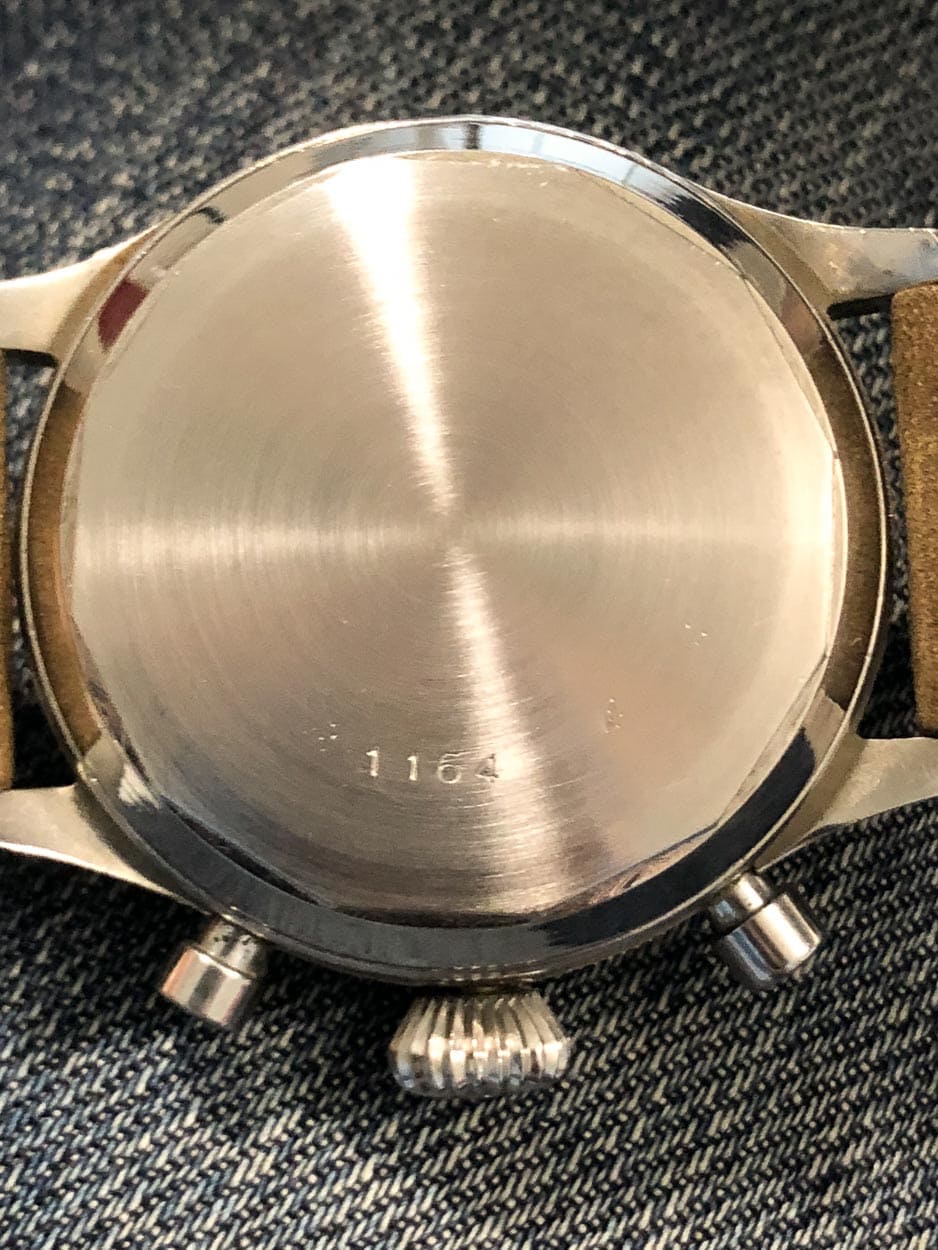 This early 'prototype' ties a wonderful piece of Breguet history together and pre-dates the Breguet Type XX by 2 years. It would stand to reason that Breguet aviation company participated in the development of the Type XX design and features. This was a lot of fun to research and in addition, the watch is beautiful and preserved in mint condition as well.
For further information on this special watch, you can read more on this lot here.
Estimate CHF 25,000 – 50,000
LOT #158 – Omega Alaska Prototype delivered to NASA
In the months leading up to and following the Phillips auction in New York that sold a prototype "Alaska III" radial-dialed Speedmaster Moonwatch, a lot of interesting information surfaced about the Alaska program by Omega. Alaska was the code name used by Omega for all developments for NASA being kept highly confidential inside Omega and with external suppliers as well. More on the topic can be read here.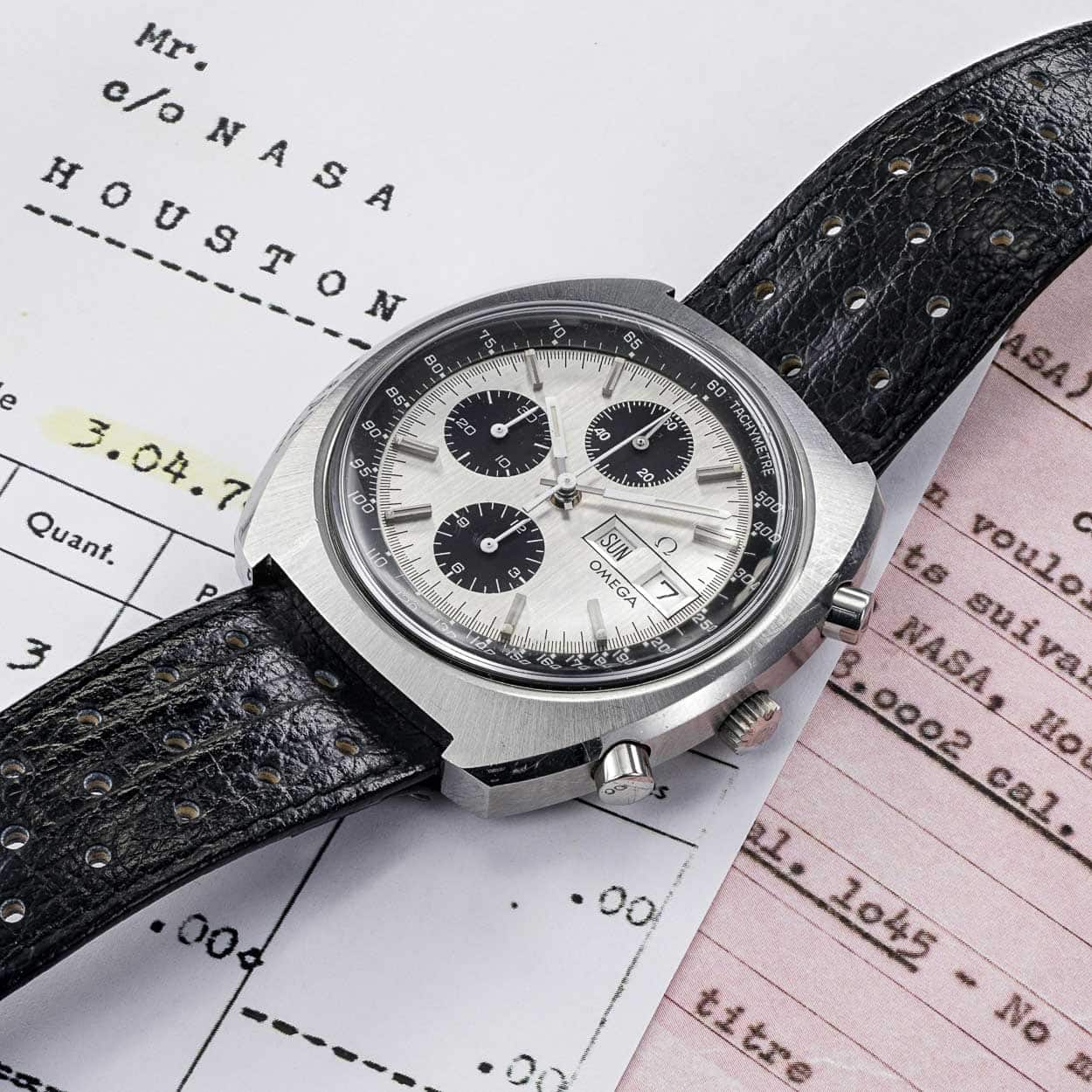 The current watch featuring electronic technology and a tuning fork movement as the regulating organ was licensed by Bulova in the 70's. The Omega Caliber 1255 became the movement for the "Speedsonic", and this early prototype with blank dial was delivered to NASA in 3 examples with the reference ST188.0002/999 in April of 1978. As part of the Alaska proposals to NASA, Jim Ragan, who was in charge of equipment and testing these Omega watches, felt the use of batteries in space could be dangerous and chose against this model. He instead decided to stick with the mechanical 861 Speedmaster chronographs instead.
This watch was then most likely returned to Omega after testing and comes with copies of documentation to that effect. A really interesting provenance for this watch and the knowledge continues to grow. The read the full essay on this one please click here.
Estimate CHF 10,000 – 20,000
LOT #160 – Omega retailed by Tiffany & Co and owned by Elvis Presley
I will start by admitting that, in my humble opinion, the provenance of this watch is far more important (outside the watch world) than Paul Newman's "Paul Newman Daytona". Clearly the wristwatch itself not the main attraction here, although a nice small sized white gold Omega with diamonds retailed by Tiffany & Co has some value. It's all about The King.
Elvis is known as the King of Rock 'n' Roll and one of the most influential and legendary musicians of all time.
This special watch has an engraving on the back:
"To Elvis
75 Million Records
RCA Victor
12-25-60"
With the date on the back being December 25th, it is safe to assume this was watch was offered to Elvis Presley as a Christmas gift in 1960 his record company RCA Victor (today RCA Records) to celebrate his achievement of 75 million records sold.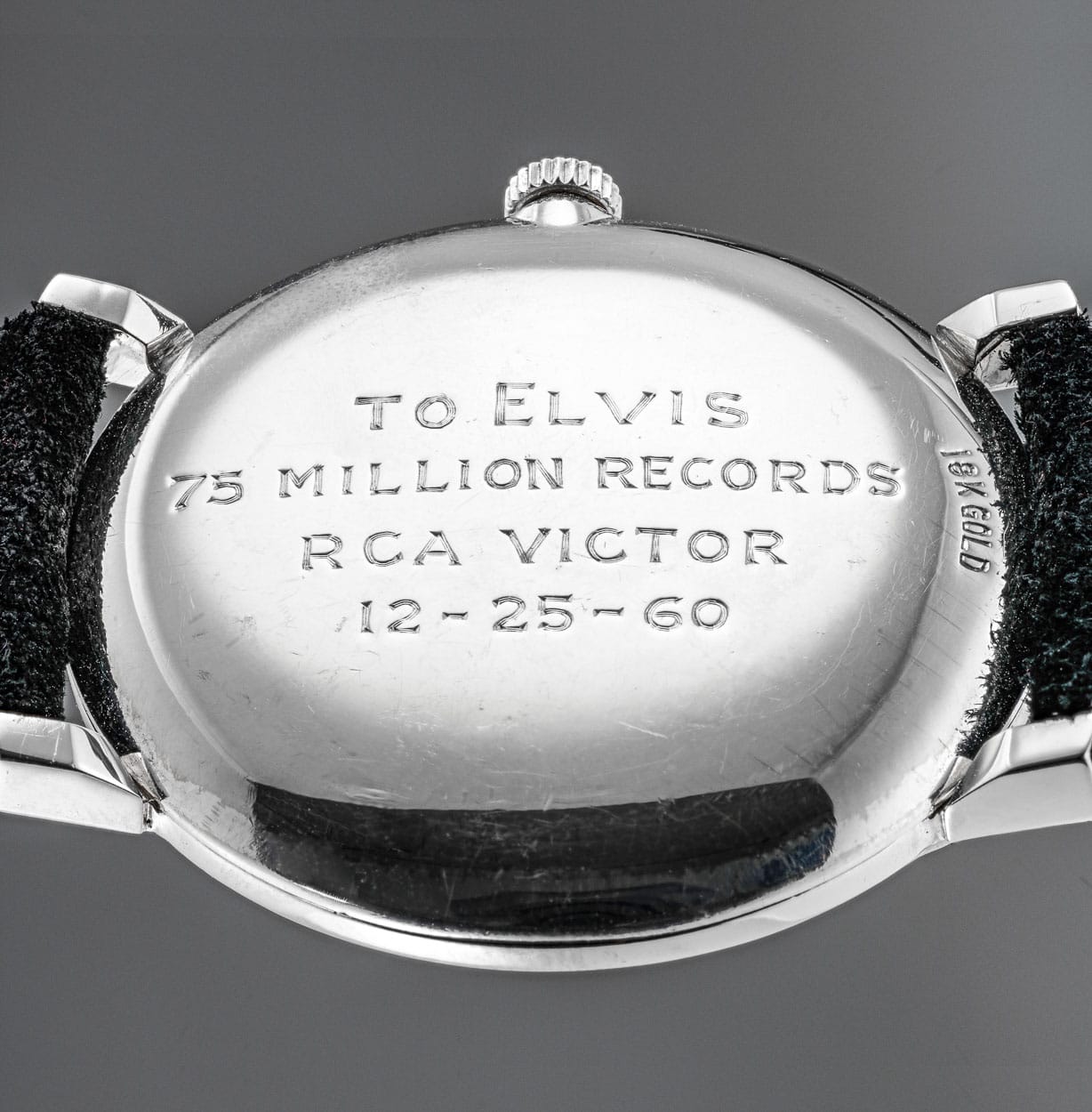 In 1955, RCA Victor purchased the recording contract of Elvis Presley from Sun Records for the then immense sum of US$ 35,000. Presley would become RCA Victor's highest selling recording artist. Music was changed forever when the future King of Rock and Roll dropped "Heartbreak Hotel" in 1956. His first gold single "Don't Be Cruel", released in 1956, alone sold one million units that year and had sold over six million copies by 1961.
In March 1958, Elvis was drafted into the U.S. Army and although he was worried about the effect it would have on his career, he served his country for the following two years and still had 10 top-40 hits during 1958.
He returned to the United States on in March 1960 and was honourably discharged with the rank of sergeant. He then returned to his career and by the end of 1960 was considered the most important music start in the world. The flirtatious teenage idol with a heart of gold continued to change the landscape of the music world and the entire rebellious rock culture. While we can say famous provenance from an icon can drastically increase the value and collectability of an item, Elvis was not just an icon, he was an idol.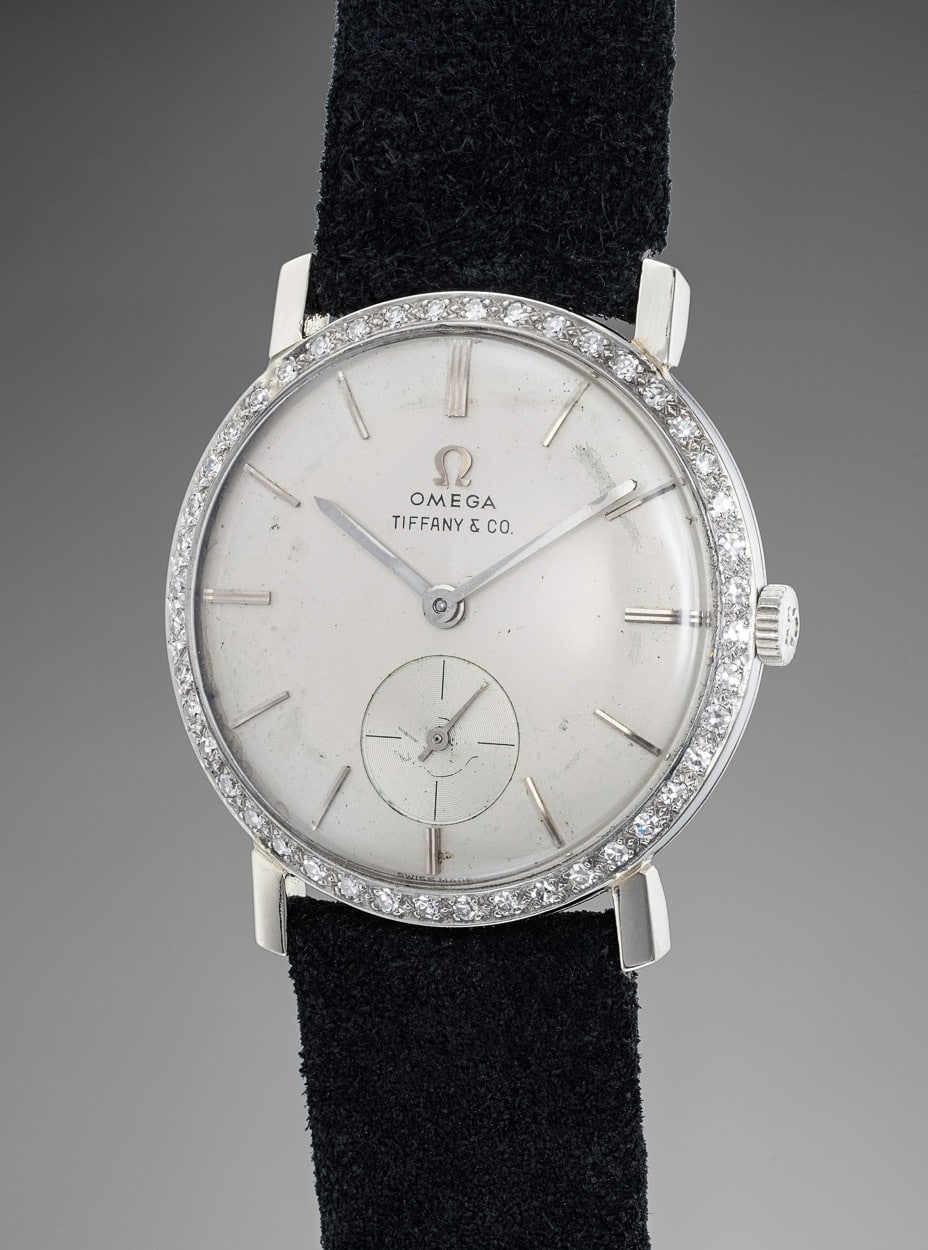 This important piece of memorabilia is not a wristwatch anymore, but rather a collectable treasure and important historical item. The occasion it marked and the person it belonged to is monumental.
I don't think the result will be in the same stratosphere as the PN Daytona from New York, but we should see a similar provenance value vs watch value ratio of 100 to 1, if not higher. What do you think the watch alone is worth? If you do a little math and you have my prediction on the result but will likely fly well above its high estimate. To see more information about this watch, please click here.
Estimate CHF 50,000 – 100,000