#TBT The Prim Sport Watch That Made It Across The English Channel
The icon of Czech watchmaking
The timeless design of the first water-resistant Czech watch for the mass market made it one of the most beloved and most collectible Prim watches of all time. If you like it, make sure to get the first generation Prim Sport before it becomes too expensive for what it is!
A number of famous Czech actors wore them shortly after they were released in 1971. They were popular and they still are. Fifty years ago, on July 30th, The Prim Sport was also on the wrist of the first Czechoslovakian swimmer, who made it across the English Channel (known to the French as La Manche). In his book La Manche — My Destiny, Frantisek Venclovsky explains, he had to borrow money from his grandmother to buy it. He wrote himself a note: "Give the money back as soon as possible."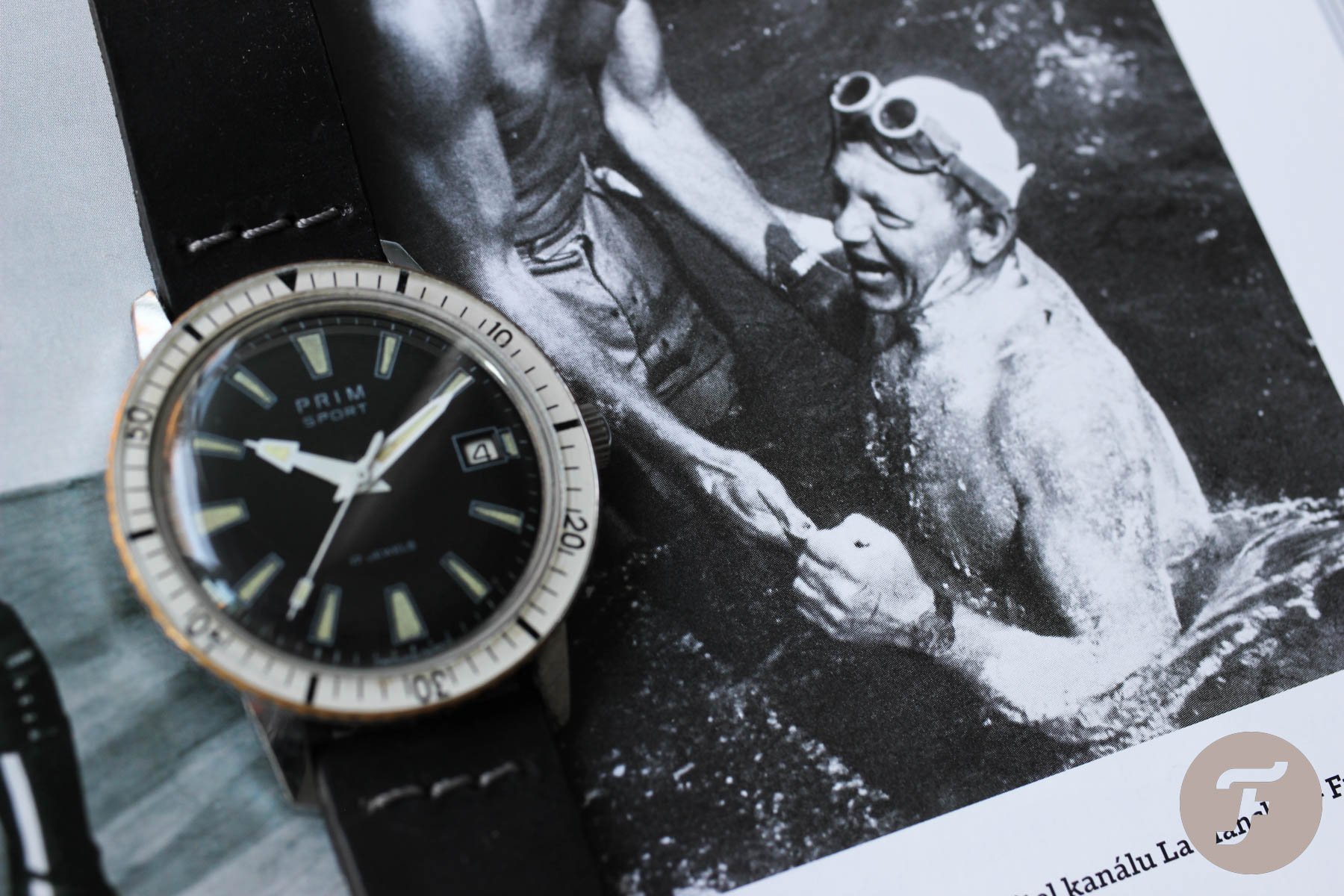 Developing the first water-resistant watch
I already told you about the fascinating story behind the Czech watch manufacturer Prim, which made Czechoslovakia the 8th country in the world that could produce watches in 1949. I also wrote about the most expensive Prim watch, the Orlik. Which was delivered in a small batch of 300 watches to the Czech military. And that's where the story of Prim Sport starts. Shortly after the delivery of that fateful first batch of Prim Orlik watches, the Ministry of National Defense placed another order for 600 water-resistant watches to be added into a special military dive suits known as the SP-20.
The project started in 1966. The purpose was not only to deliver the watch for the army but also to satisfy local demands for a water-resistant sport watch. To keep production simple and affordable, the case was not made out of steel but rather chromed brass. Original pieces had the same plastic strap as the Orlik, which was just black and not grey. According to Libor Hovorka's book Primky, it took some time to find proper luminescent material for the dial, hands, and bezel. Initially Prim thought to use the same radium as they used in the Orlik, but finally, they decided for safer Tritium XI Nature delivered by Swiss company A. Zeller & Co.
Military version Elton Sport
The construction blueprints were finalized in 1968. By the end of 1969, a pilot series of watches arrived, which included 300 watches branded "Elton Sport" for the Ministry of National Defense. The civilian version came later. It had a higher water resistance rate of 5ATM. But the ministry didn't accept 5ATM and requested a 6ATM rating, exactly like the previously released Prim Orlik. Prim could do nothing but accept and rework the parameters. Interestingly, the case backs were already produced, so to save some time and costs Prim just punched in another line into the number five. Those case backs are known among collectors as the "Elton's six".
The production of the serial numbered version of the Prim Sport first generation was launched in 1970. It was changed just slightly, meaning that the bezel insert was not duralex, but plexiglass. A year later, in 1971, three other dial versions were released based on the demand from the reseller. Next to the basic black, there was also striking blue, dark red, and a rare yellow dial version of Prim Sport. I got a chance to buy the blue one first, but it felt a bit too strange to me. When the opportunity to buy a black Prim Sport with an unusual white bezel came, I couldn't pass it up.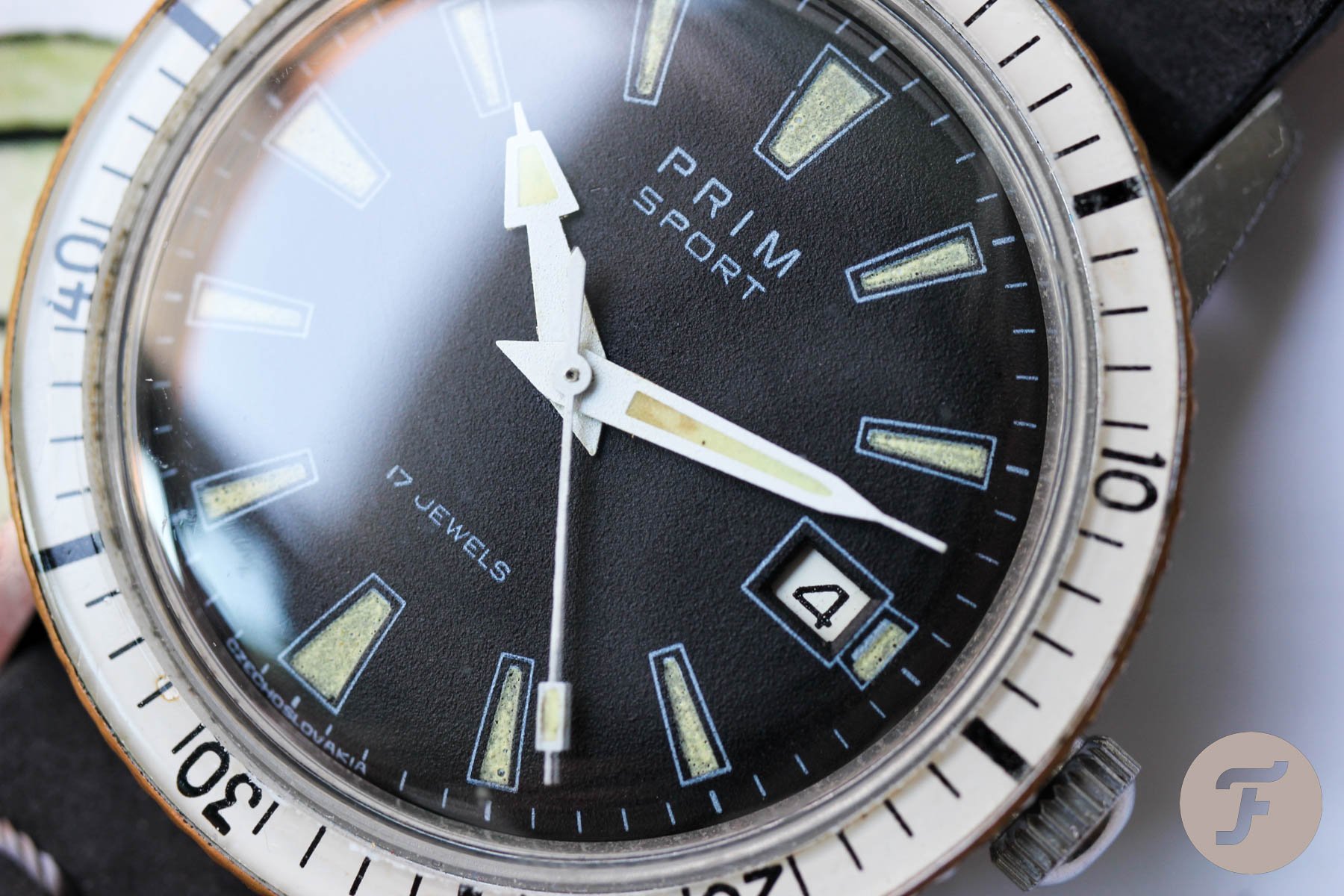 Prim Sport ref. 68-196-1
There are two major references with black dials. Prim Sport 1 ref 68-150-1 comes from early production and has black bezel and steel hands. That watch's specs do not fall far from what others had at the time. That's why I was so excited to go after another one. My Prim Sport (1st gen) from 68-196-1 from 1971 has white hands. And let me tell you, it's truly something else. Even after five decades, those hands have kept their fresh, white, snow-like tone, which contrasts beautifully with aged lume and the patina developed around the bezel.
Really, the hands look like they were just cut out of 80g white paper.
What strikes me most about hands is their thickness. Or rather their thinness. They look like they were run over by a truck. No matter from what angle you look at them, they seem to have no depth whatsoever. Really, the hands look like they were just cut out of 80g white paper. If you described it to me like that, I would call it a flaw. But in truth, it's awkward enough to look interesting.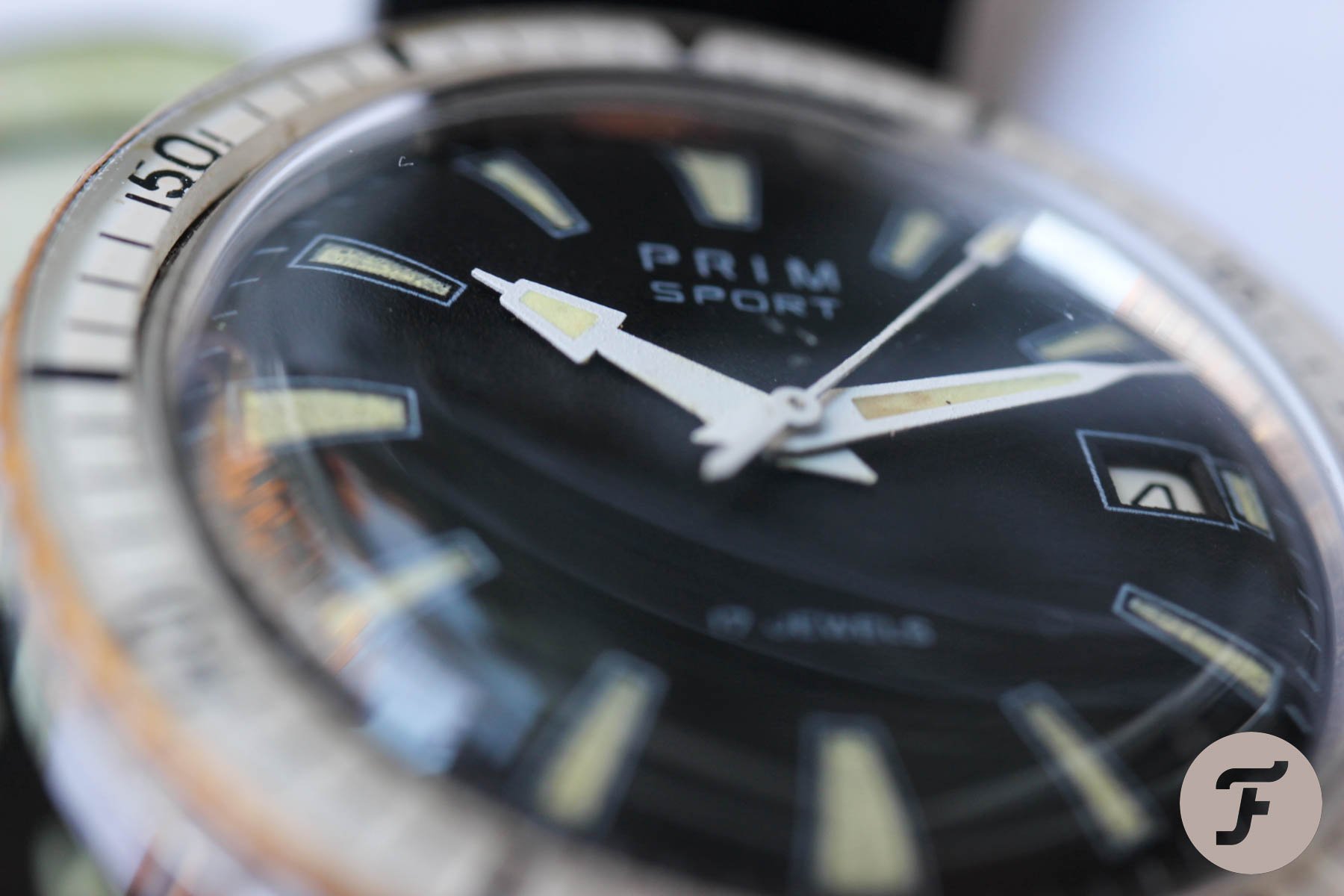 Bezel creativity
Does it remind you of a vintage Zodiac diver? Bingo! Zodiac Sea Wolf divers had spectacular bezel designs, that included not only white but also light blue or orange accents. The shape of the Prim Sport's hour hand also reminds those found in old Zodiac watches. Most dive watches from that era had steel or black bezels and only varied in terms of scales or markings.
The white bezel undoubtedly stands out from the crowd and looks pretty darn refreshing. It doesn't feel odd or unusual and reads perfectly against white minute hand rotating over the black dial. Allow me to make a brief comment about usage. The more divers I add into my collection, the more I appreciate simple non-clicking friction-fit bezels that rotate in both directions. I don't know why exactly. It's something to do with the feeling. I guess that back in the day they knew how to calibrate the friction perfectly. After fifty years the bezel on this Prim glides perfectly, requiring just the right amount of force from your fingers to feel natural. Well, at least better than the new Mido Decompression Timer 1961, that's for sure…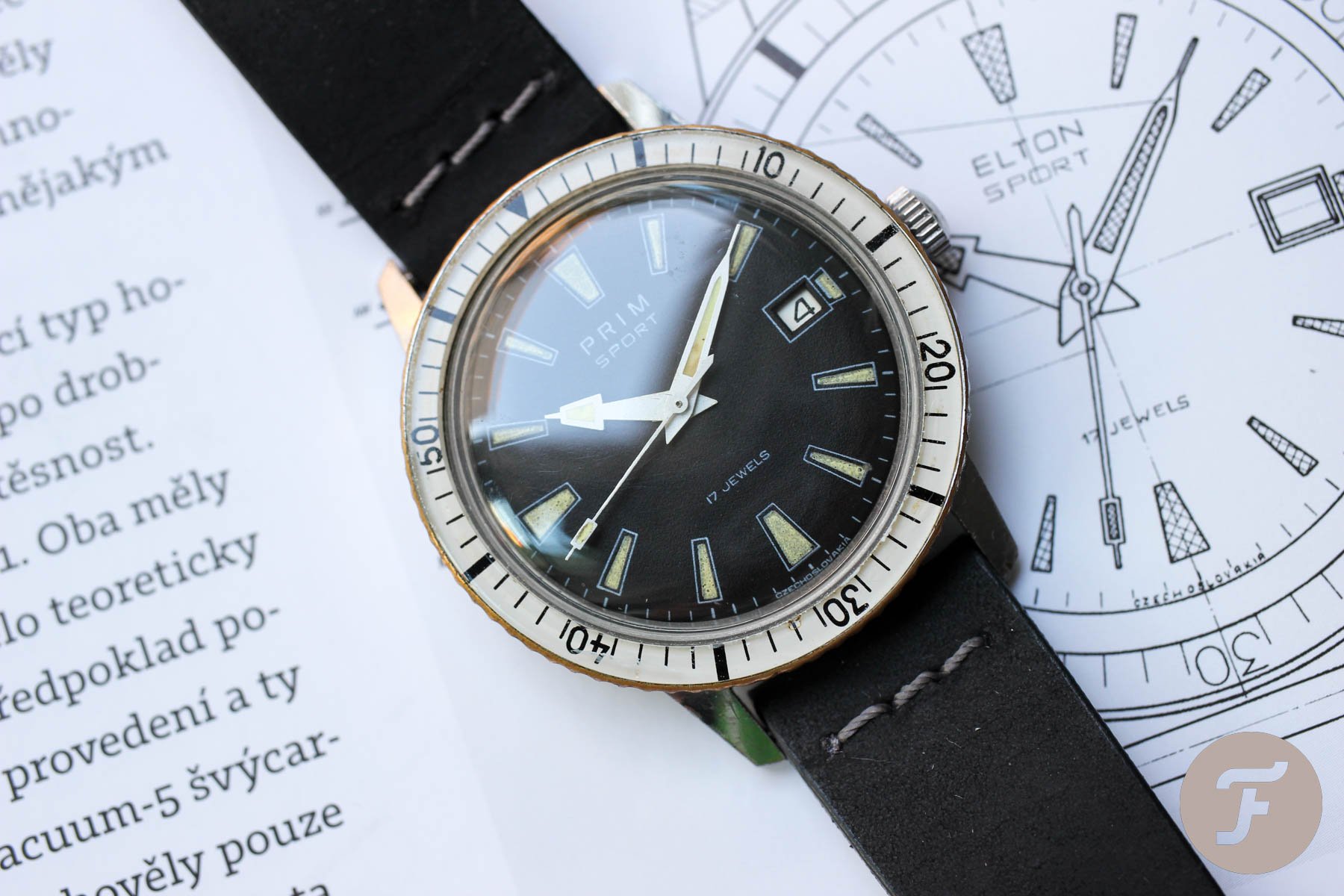 Comments from my watchmaker
Early Prim watches feature the Prim caliber 50, which was basically a copy of a French LIP movement. Understandably so, as there was no previous watchmaking tradition in Czechoslovakia. The Prim Sport One has a later caliber 68, designed and developed exclusively in Czechoslovakia. I asked my watchmaker, who has serviced hundreds of Prim 68 calibers, his thoughts on the movement. Here's what he has to say about the Prim 68:
"It's a unique movement; nicely structured and clear. That's why watchmakers service it gladly. It runs at a low frequency and wakes up easily even if it's dry after 30 years of sitting in a drawer. Swiss movements need oil much more. But obviously, the Prim 68 has its flaws too. Take the mainspring, it likes to break quite often." Says my watchmaker Tomas Sinal. I do encourage you to let your Prim Sport be checked by a local watchmaker before you buy it. Or even easier, buy a donor watch with Prim caliber 68 for spares, which should not be more than €20.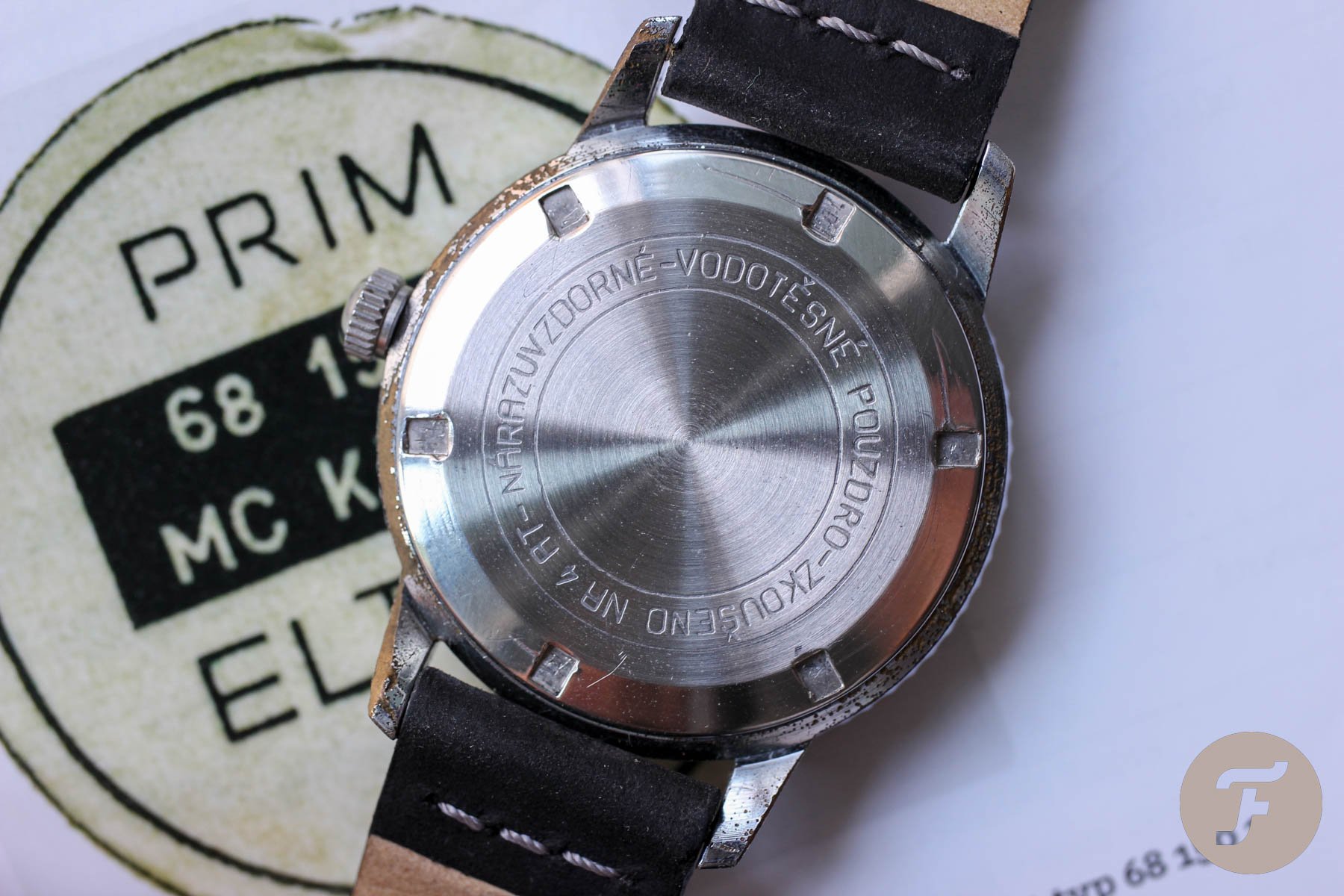 Shotgun notes
Note the crown. It has a special and easily recognizable mushroom-like shape. Also, as always, beware of Franken-watches. The Prim Sport was not very water-resistant and sellers try to take advantage of uneducated buyers. There are a number of high-quality dial reproductions out there, but the lume doesn't glow. This makes it easy enough to check for authenticity. The bezel printing was very fragile, so if you see a beaten watch with a beautiful bezel, steer clear. The last note goes to the case. As it was just a chromed brass, the majority of Prim Sport Ones have been eaten away by sweat and salt water. So I urge you to be patient and spring for one in a state like you see on my own piece or better. As I see it, mine is already close to the line of what I would deem unacceptable.
Final thoughts
If you're looking to buy one watch only from the legendary brand Prim, and one that you can still afford, the first-generation Sport is your best bet. Look at the popular local forum from time to time, you might get lucky and even bump into the rarer blue, red or yellow dial variants. You never know. A don't hesitate to contact me, I will gladly consult if you are not sure about the condition or originality. They usually go for around €300, but might climb over the €600 mark, if the condition is perfect. Happy hunting!