Review: The Birth Of The Seiko Professional Diver's Watch — A Book By Sadao Ryugo
An in-depth look into the history of Seiko dive watches
A must-have book for all you vintage Seiko dive watch enthusiasts. This rather colorful and somewhat unorthodox book comes from an author who has had the chance to interview a number of Seiko engineers and designers, including the legendary Taro Tanaka. Besides plenty of interesting practical information, you will find many surprising little-known facts about the brand and its watches. So, is Sadao Ryugo's Seiko Diver's Watch a book for you? Without revealing too much, I will give you a peek into its pages so you can decide for yourself.
To give you a small taste of some of the unexpected facts included in the book, we can start with the legendary 62MAS, autoMAtic Selfdater, or Seiko 6217-8000 if you prefer. It's generally known as the first professional series diver from Seiko, which has been more than enough for its price to sky-rocket over the last few years. Now I see how my knowledge was limited by the more commonly available facts. I had no idea, for example, that the small-crown 62MAS was produced for only three months! Apparently, this initial model required improvements, and it didn't take long for the big crown 62MAS to appear as a replacement. But why exactly was this first version of the 62MAS so — and please forgive me for saying this — imperfect? Read on to find out.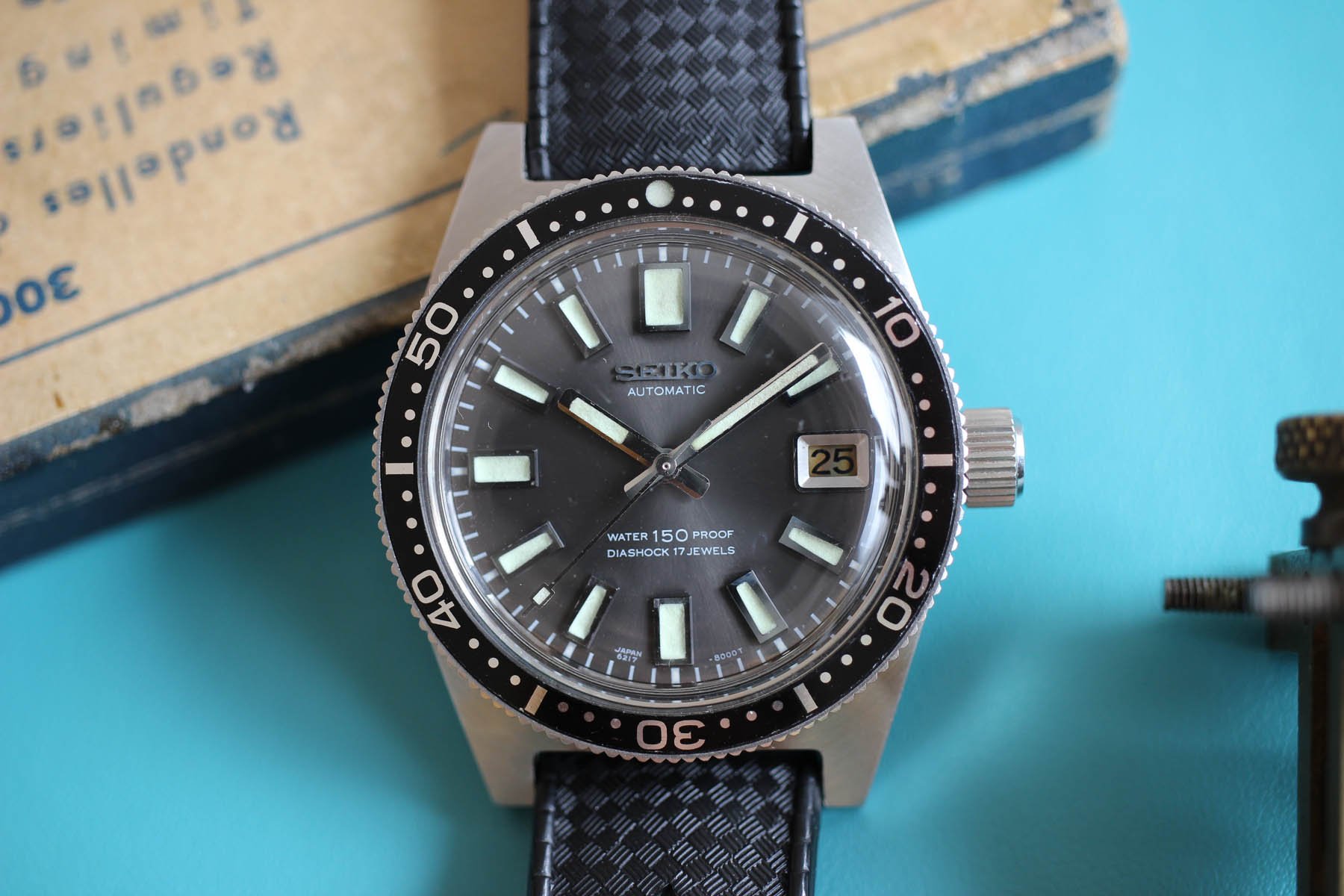 Taro Tanaka is not an easy man to reach
The specifics of Seiko's past, though rather thoroughly explored, have always had some hazy elements to them. Often this was due to language barriers or the difficulty of booking interviews with the craftspeople and designers behind the watches. However, the author of Seiko Diver's Watch, Sadao Ryugo, was able to speak directly to Mr. Taro Tanaka and other key figures from Seiko's past. And from what I've gathered, it's not easy to speak to Mr. Tanaka, so kudos to Ryugo for managing to arrange these talks and collect such precious information from the creator himself.
A key protagonist in the brand's history, Mr. Tanaka joined Seiko in 1959, having just graduated from his studies as a designer. He quickly became the mastermind behind Seiko's design language. At the time when Tanaka was given the task of designing the stopwatches for the 1964 Tokyo Olympics, Seiko decided to also enter into the dive watch market. They did so by designing a professional diver's watch for the Japanese Antarctic expedition. This left Seiko facing a number of design challenges and a deadline which they struggled to meet.
The 62MAS "rush job"
Coming back to the short-lived small crown 62MAS, Mr. Tanaka finalized his designs for it in just one month. In the book, which contains many short yet extremely interesting interviews, you will also find how Mr. Tanaka recalls in his own words the development process behind the 6217-8000, first released in July 1965. "The 6217 was a product that we put together hurriedly in order to meet the delivery date without knowing what a diver's watch was at that time." Mr. Taro Tanaka reveals the truth about a watch with a case that has always reminded me of other skin divers of the era. He also revealed that there were no other prototypes made and the first design went straight into production. Well, that would explain why the manufacture of this first small-crown iteration was so short-lived, lasting only from April until June 1965.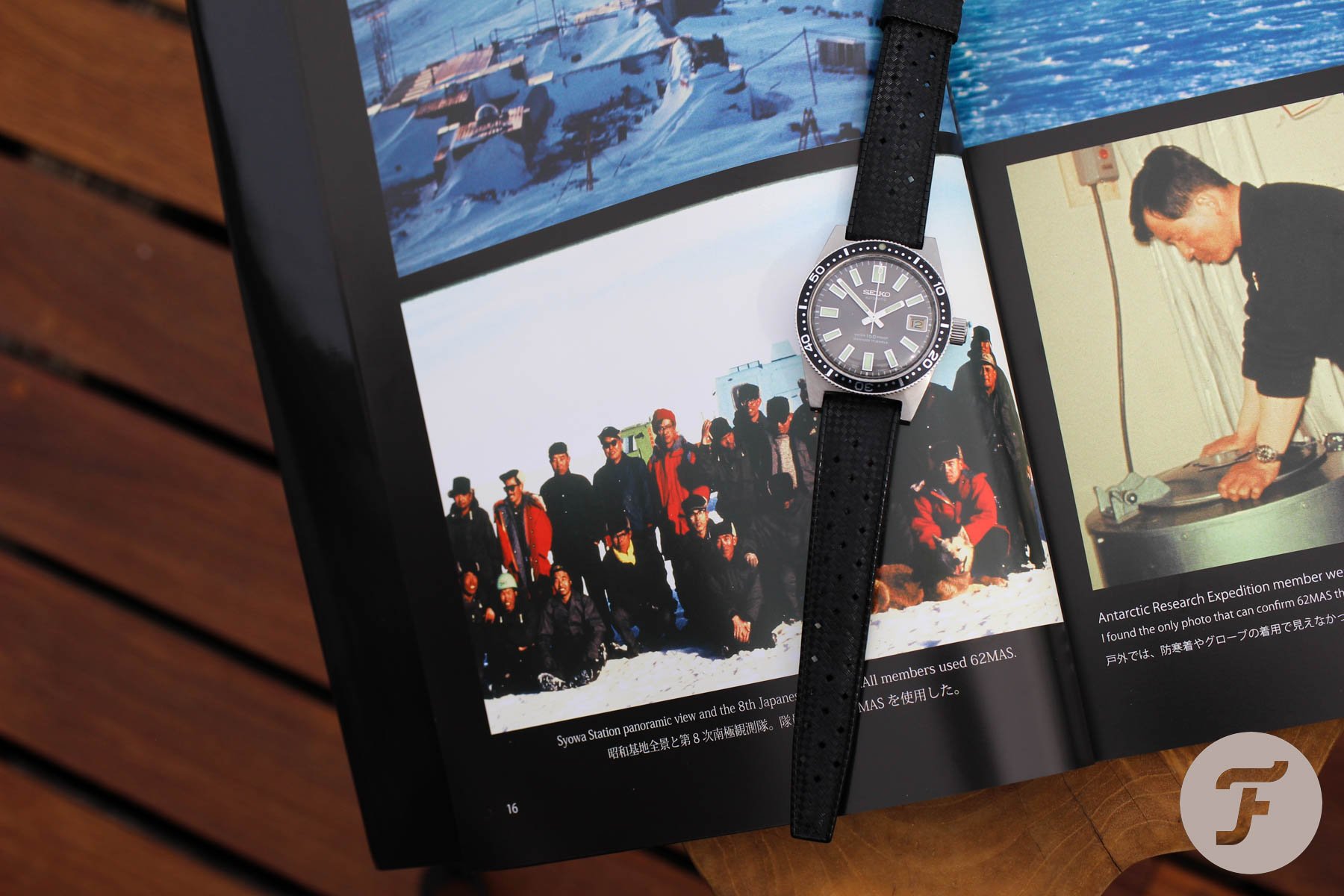 Seiko goes exploring
The Seiko Diver's Watch book also features interesting photo documentation of a series of Antarctic Research Expeditions. Reading about Seiko's role in supporting these expeditions was news to me, and I read it with great excitement. The early 6217-8000 didn't make it to the 1965 expedition JARE7, but the big-crown successor was hugely involved in the following expedition in 1966, JARE8. Seiko donated 48 timepieces to support the mission. Included amongst these Seiko watches provided was the 62MAS, which had to withstand low temperatures up to -50°C. This was officially the first professional use of Seiko dive watches.
Seiko 6215-7000
The series of Antarctic Research Expedition continued with JARE9, for which Seiko provided another 78 watches in total, including six different models. All watches were specially modified and lubricated with oil suitable for the sub-zero temperatures they would face. Photos from the expeditions and training are enriched with testimonials from some of the individuals who took part. In December 1968, Masayoshi Murayama, as a captain of the mission became the first Japanese national to reach the South Pole. It's highly probable that at the time of the achievement, he was wearing the 6215-7000, another watch designed by Taro Tanaka.
These watches do not tend to come up for sale as often as the 62MAS, so they are considered quite rare. The second chapter of the book is dedicated to that very watch. The Seiko 6215-7000 featured a number of innovations, such as Seiko's first use of their click-ball rotating bezel. Collectors will appreciate a number of pictures included of the 6215-7000 in its original packaging, as well as the deep-dive into different strap variations.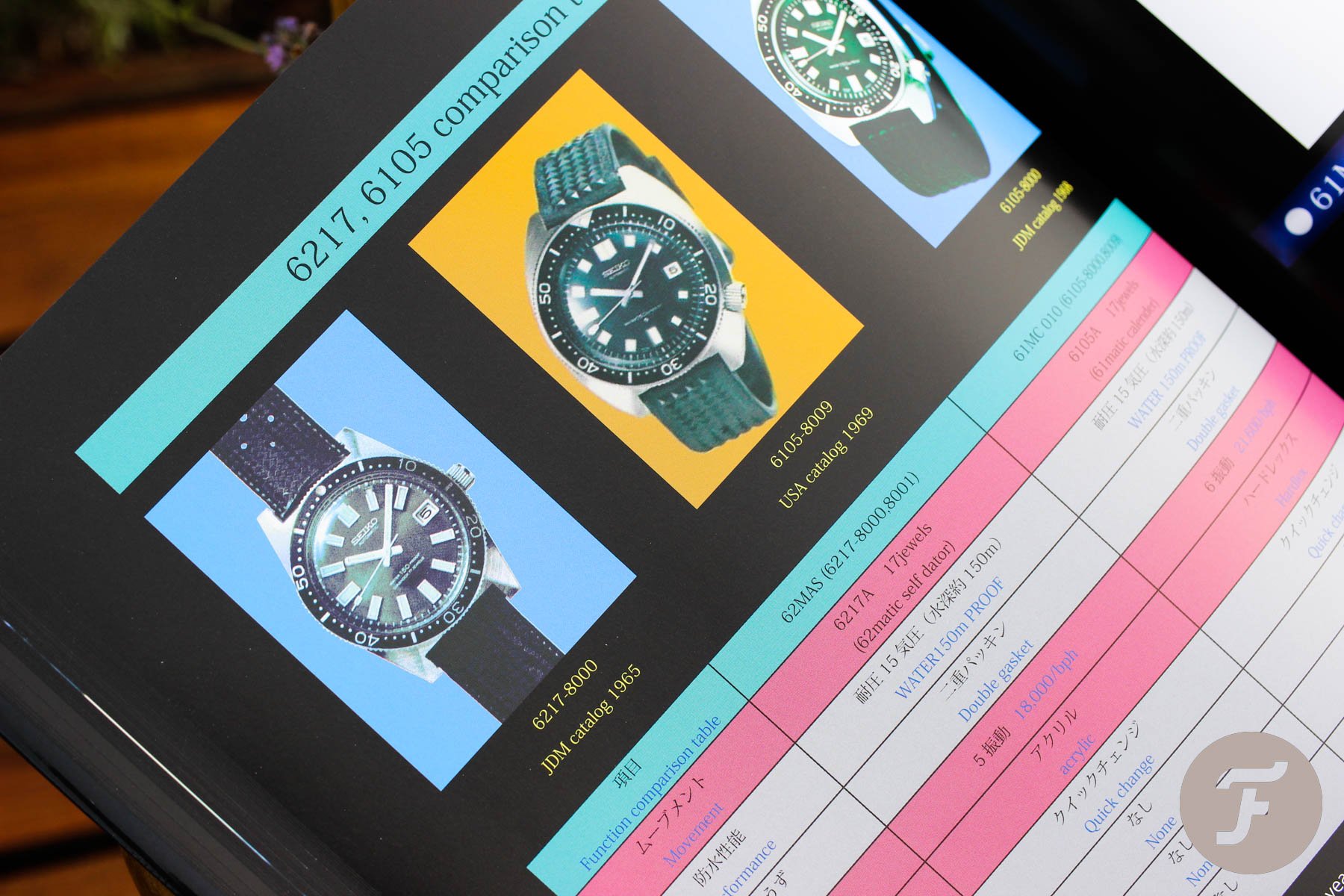 A "tool" book for a tool watch
The book is printed in the A4 format and it has a pretty unusual style when compared to the "standard" some Europeans might be used to. The book has a soft cover and is entirely printed on shiny black paper. Inside, the unique style is reminiscent of a blog from the early days of the internet (I hope Mr. Ryugo will not hold my saying that against me). In terms of its layout style, it's much more like a college paper than a book. Don't get me wrong, it's not that I don't like it. On the contrary, its idiosyncrasies make it different from any other watch book I own, and I truly enjoy flipping through the pages. At the end of the day, the book is like the watches it describes. A purely purpose-oriented, no-nonsense, professional tool.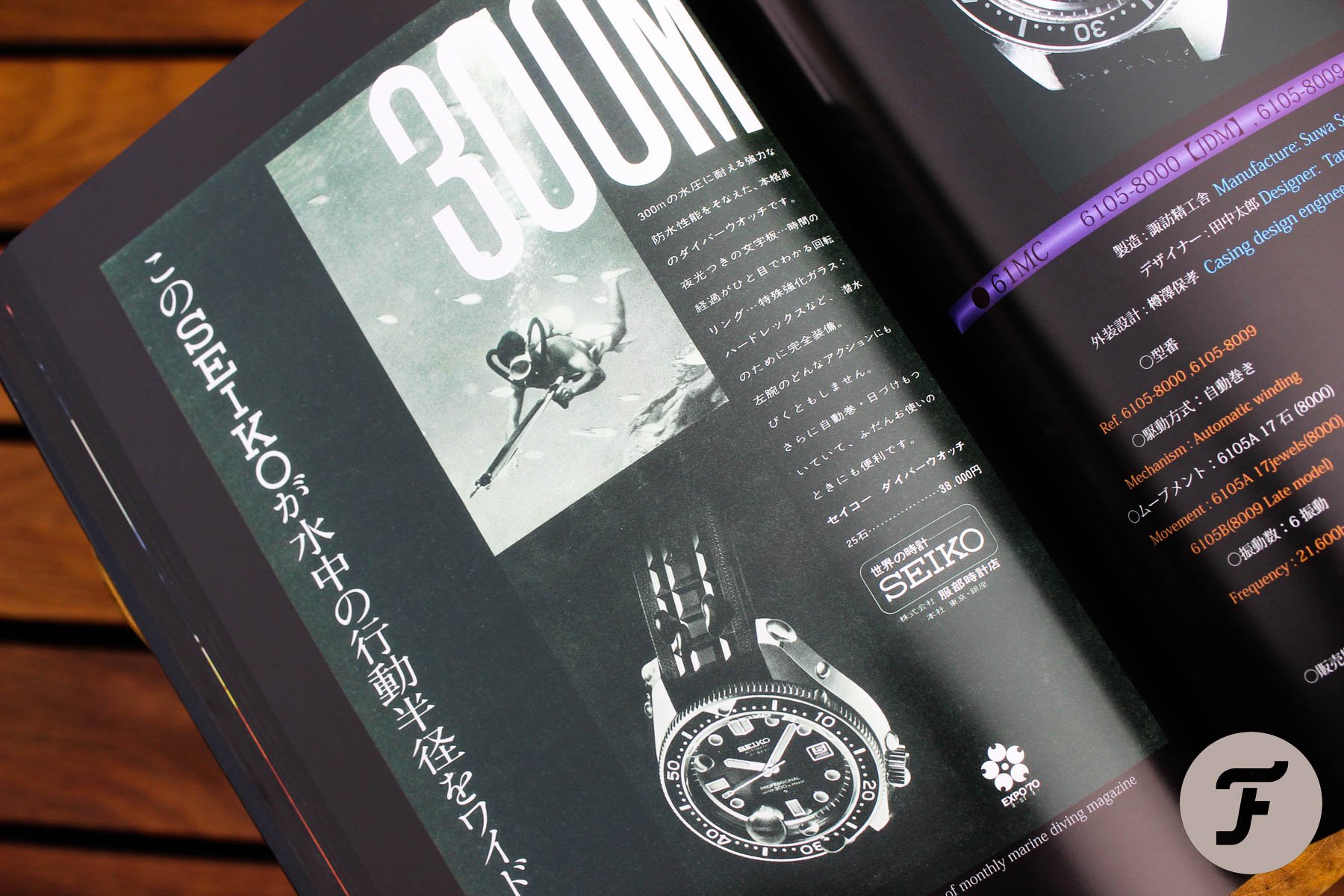 When 300m water resistance is not enough
The third chapter introduces the Seiko 6159-7000, followed by the 6105-8000 model, and continues on with the 6105-8110/9. It was a letter sent to the Hattori Watch Shop by a diver complaining that Seiko dive watches were unusable for his dives to a depth of up to 350m, that sparked the next chapter in Seiko's history. Mr. Tanaka was so surprised that he invited the diver for a visit. The diver began to explain his experience with professional saturation diving. From submersible decompression chambers and saturation diving using helium and other gases to diving off an oil rig into the deep cold waters of the Pacific. Mr. Taro Tanaka instantly knew that Seiko's watches would need to improve once again.
So alongside Tatsuro Akabane, Seiko's watch case design engineer, he joined the diver on his oil-drilling ship to understand the extreme aspects of saturation diving. And that's how the 600m-rated 6159-7010 was born. In this section, you will get to experience some never-before-seen imagery of Tanaka himself on that visit to the ship. Talk about a historically significant moment for the brand!
Plenty of information
Later on, the book transitions to a brief introduction to the Seiko 6306-7000, Seiko 2205-0760, and Seiko 4S15-7000. Chapters are divided by interviews that reveal many interesting insights. In Seiko Diver's Watch you will also find many technical drawings. Some of which look like they were freshly cut from Mr. Tanaka's notepad. A number of movement spec sheets and model specification comparison tables are also included. Collectors will definitely appreciate seeing the original part numbers for many of the parts, including crowns and crystals.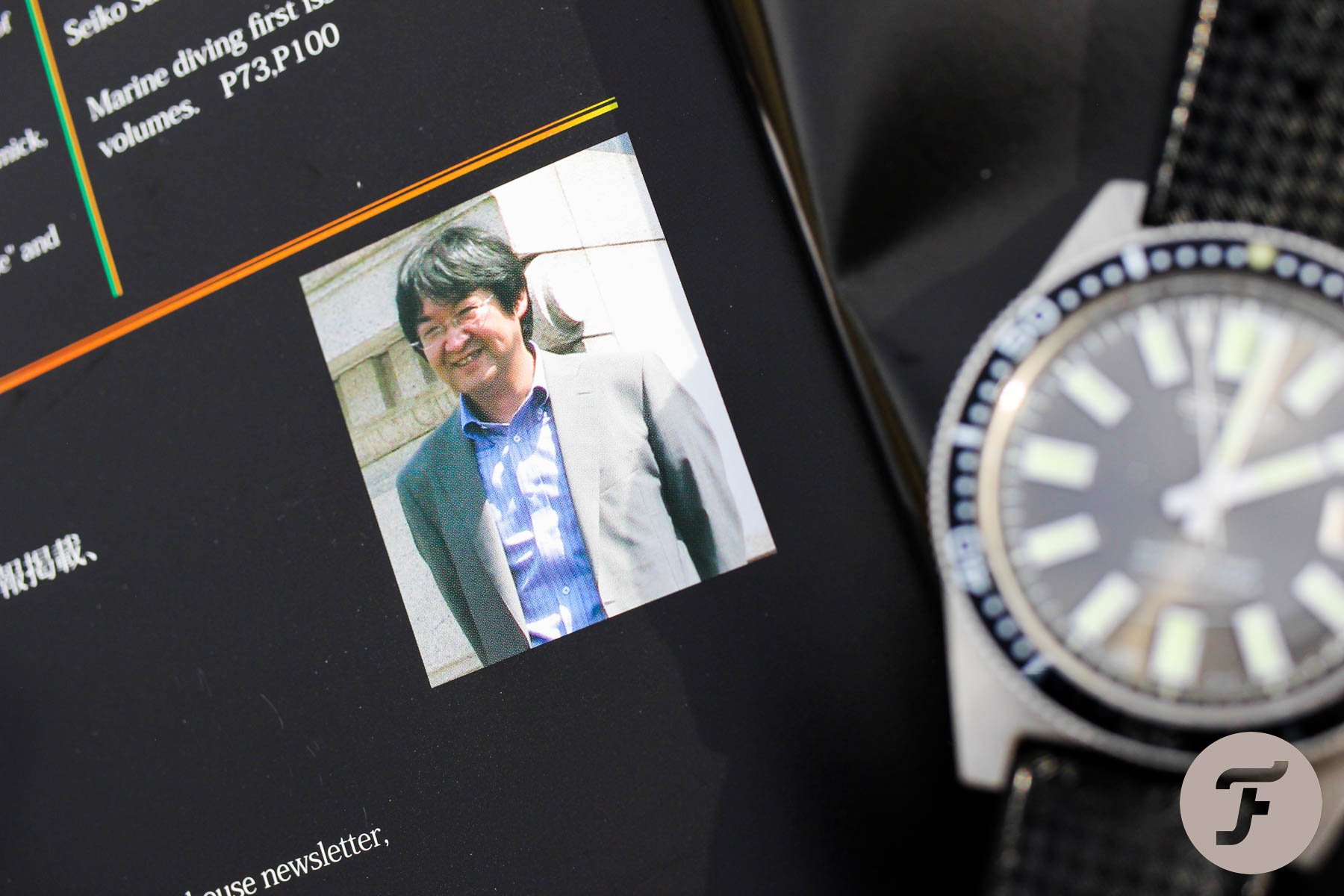 Final thoughts
The Seiko Diver's Watch book is a private project by Sadao Ryugo, who is no stranger to these deep dives on the brand. Having previously already written a number of books on Seiko. The most recent being The History Of The Seiko 5 Sports — Speed-Timer, in 2019. His new book was published in a pretty limited quantity of just 300 copies, all of which were to be ordered directly from the author. I checked the availability a few days ago and there were still about 50 copies available for 10,500 Yen (€80). So, if you like the idea of reading this in-depth look at the history of Seiko's dive watches, you can order a copy by contacting the author ([email protected]) directly. If you ask me, it's money well spent!