Roarcraft Round Three: A Purple Watch Strap, A Black Laptop Case, And A Fetching Leather Notebook Cover
It's all gone a bit Hemingway...
"Purple straps don't go with anything," said my fellow watch lover as I listed the contents of my latest Roarcraft goody bag. "Are you sure they don't go with everything?" I retorted, already knowing I had him in a headlock. In fairness, he should be right (on paper), but as with so many things in our beautifully varied industry, the pairing potential of purple makes no sense whatsoever and is all the more glorious for it. "Besides," I continued, "at least the notebook's black…"
The leather goods that Roarcraft produces that aren't watch straps tend to come in four colors. You can choose from black, brown, gray, and green. My general tendencies would put black at the bottom of the list. I love the warmth of brown and choose it far more often as a matter of course. I love the distressed gray's soft versatility (although I sometimes find it a bit cold). Funnily enough, green is my favorite color, and while I adore those items as objects, they are perhaps the least versatile of the bunch.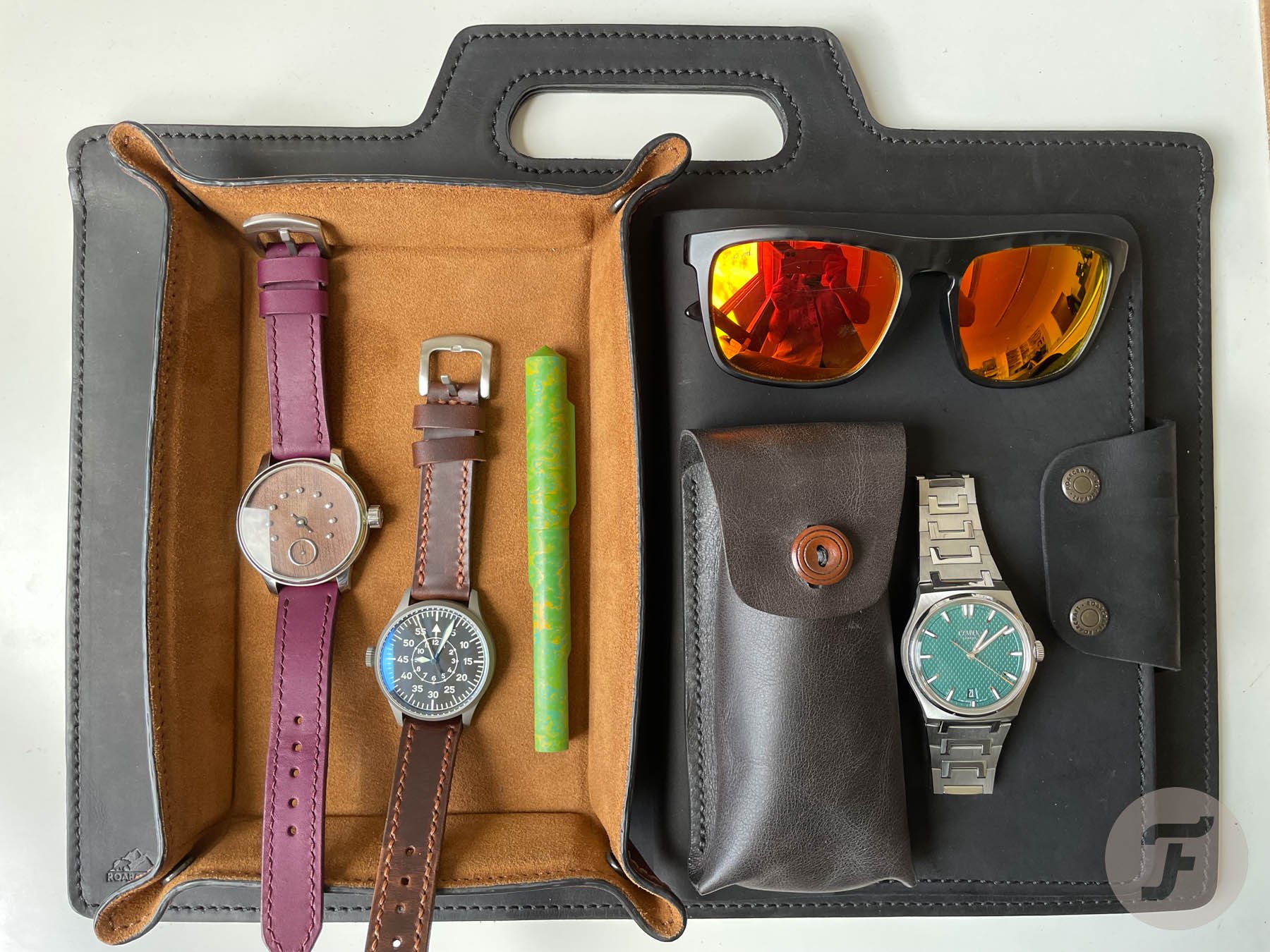 Black is smart. Black is "business professional". Consequently, certain products in the range simply look better in black without seeming to try. The notebook cover and the surprisingly useful handled laptop sleeve I have here today are two such products. Better still, they both match my purple strap perfectly.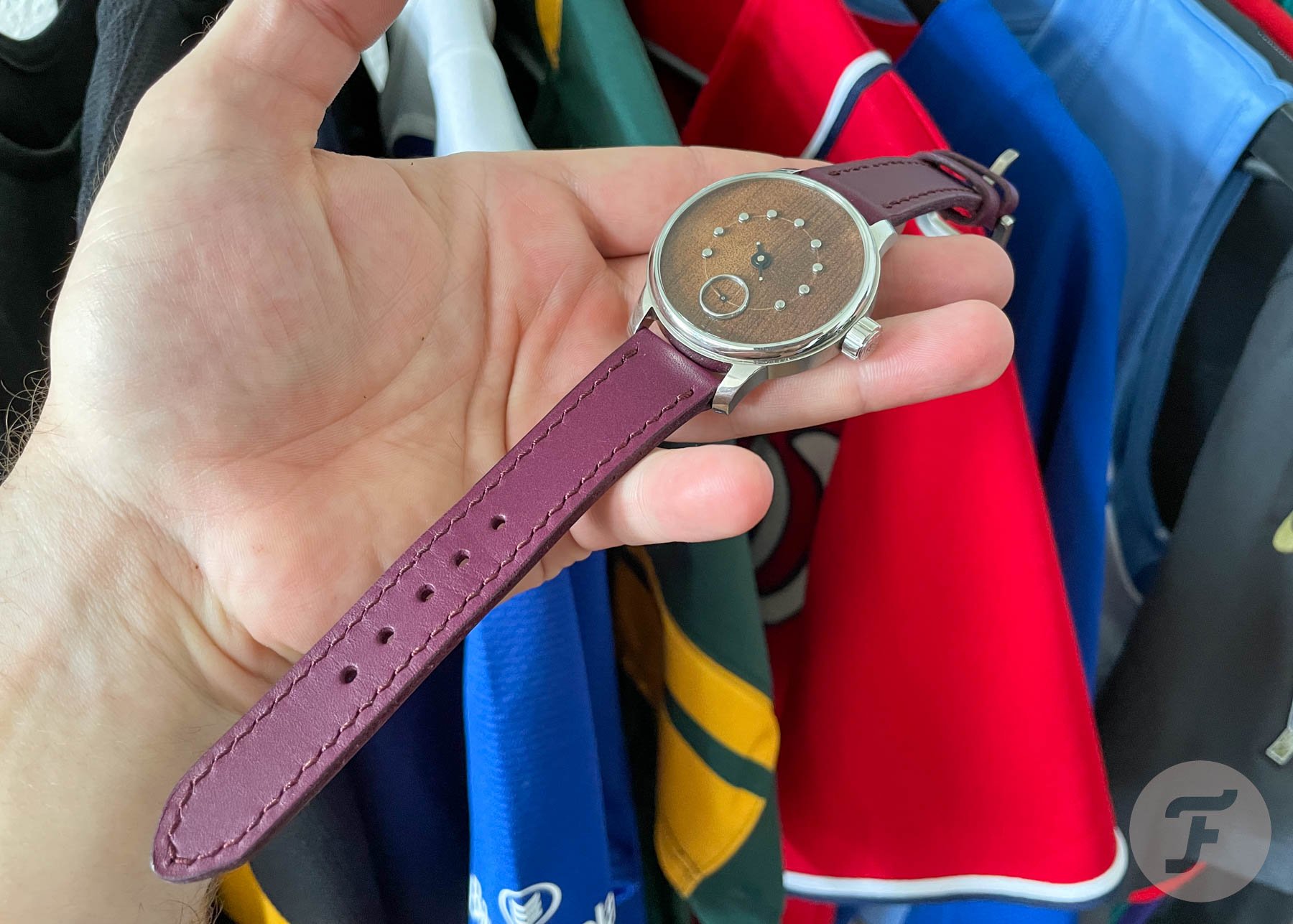 Focus on the strap
Just to address the 42mm-wide elephant in the room, the watch you're looking at here is not for sale. I built it during my apprenticeship at the British School of Watchmaking. The movement, as you can see from the case back shots further down the page, is technically based on a Unitas 6498 but with hand-cut bridges (which I laser-engraved with a passage from F. Scott Fitzgerald's Tender is the Night because I was young, romantic, and… well… young).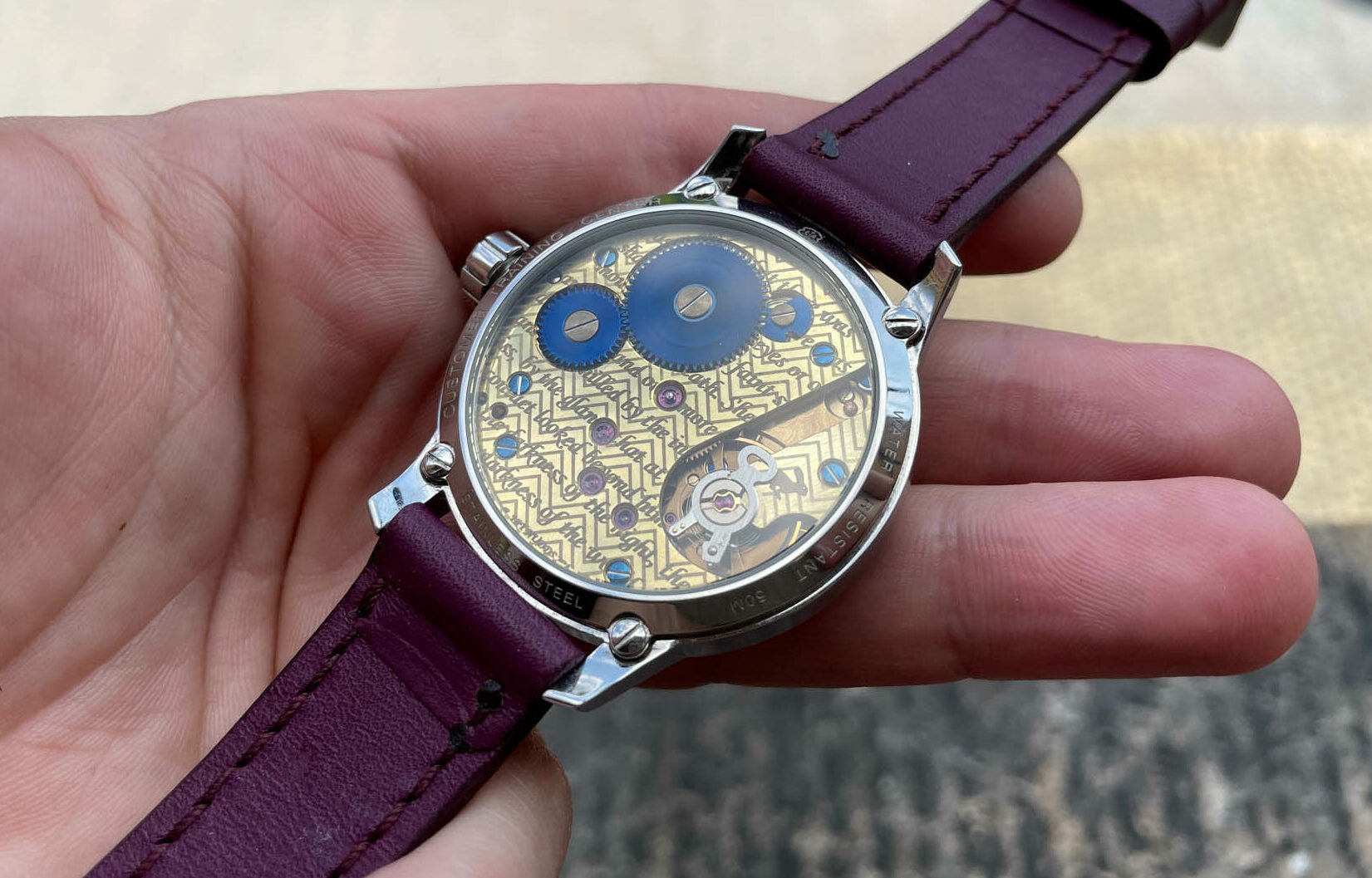 The thing I'm proudest of when it comes to this watch (which I frequently wish I could do over) is the dial. The dial was hand-milled out of a block of rosewood, which I spent weeks impregnating with surfboard wax to get exactly the right finish. After that, I applied hardened steel markers that I painstaking ground down from some scrap metal retrieved from an old, burnt-out factory in Manchester.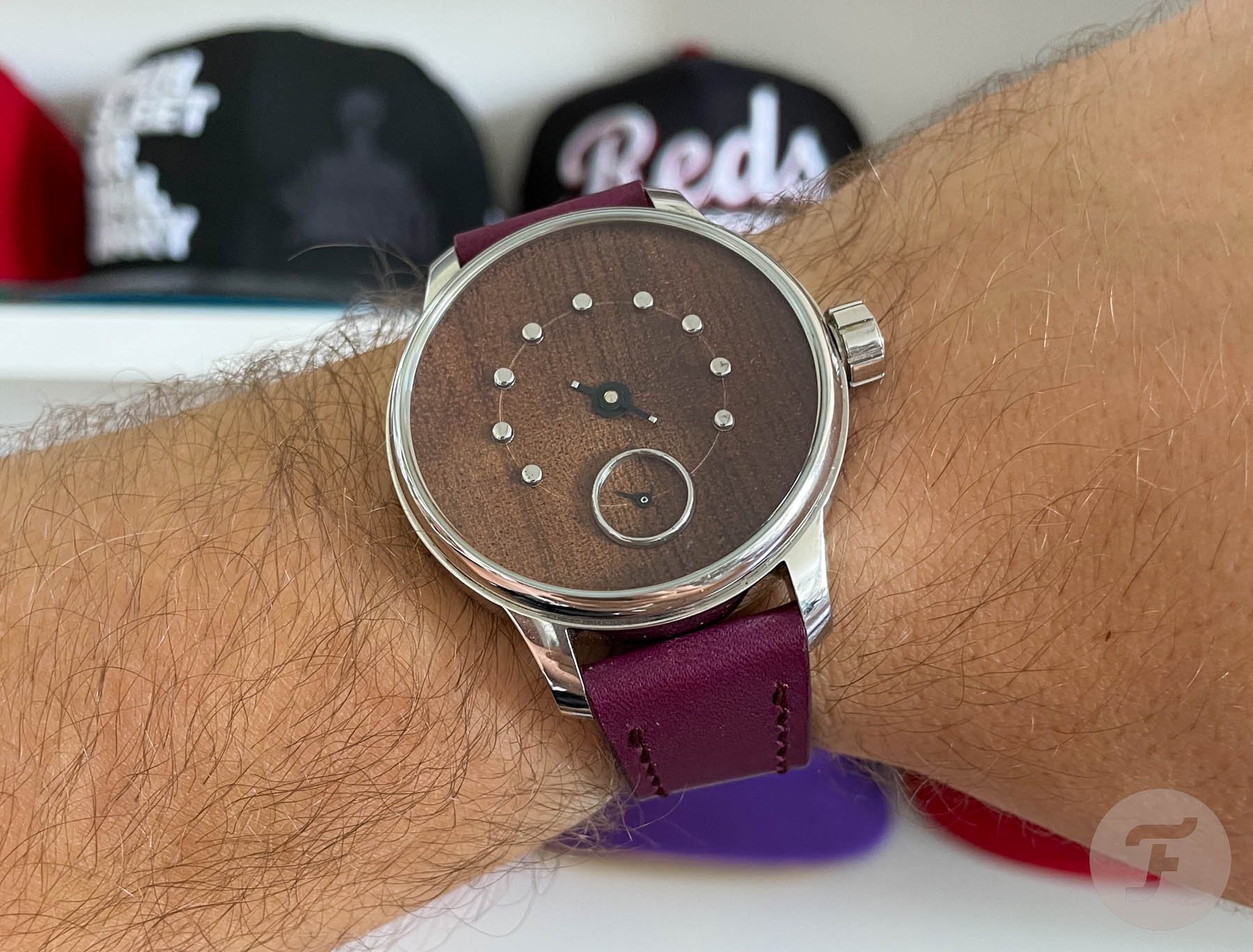 Rumor has it that this factory, which once made watchmaking supplies, was torched by its owner when the industry looked like it was going belly up. I managed to get a chunk of twisted, melted metal from the ruins. Subsequently, I spent a few weeks grinding it into a thin bar and then cutting and hand-polishing the markers down to their current (mostly even) size.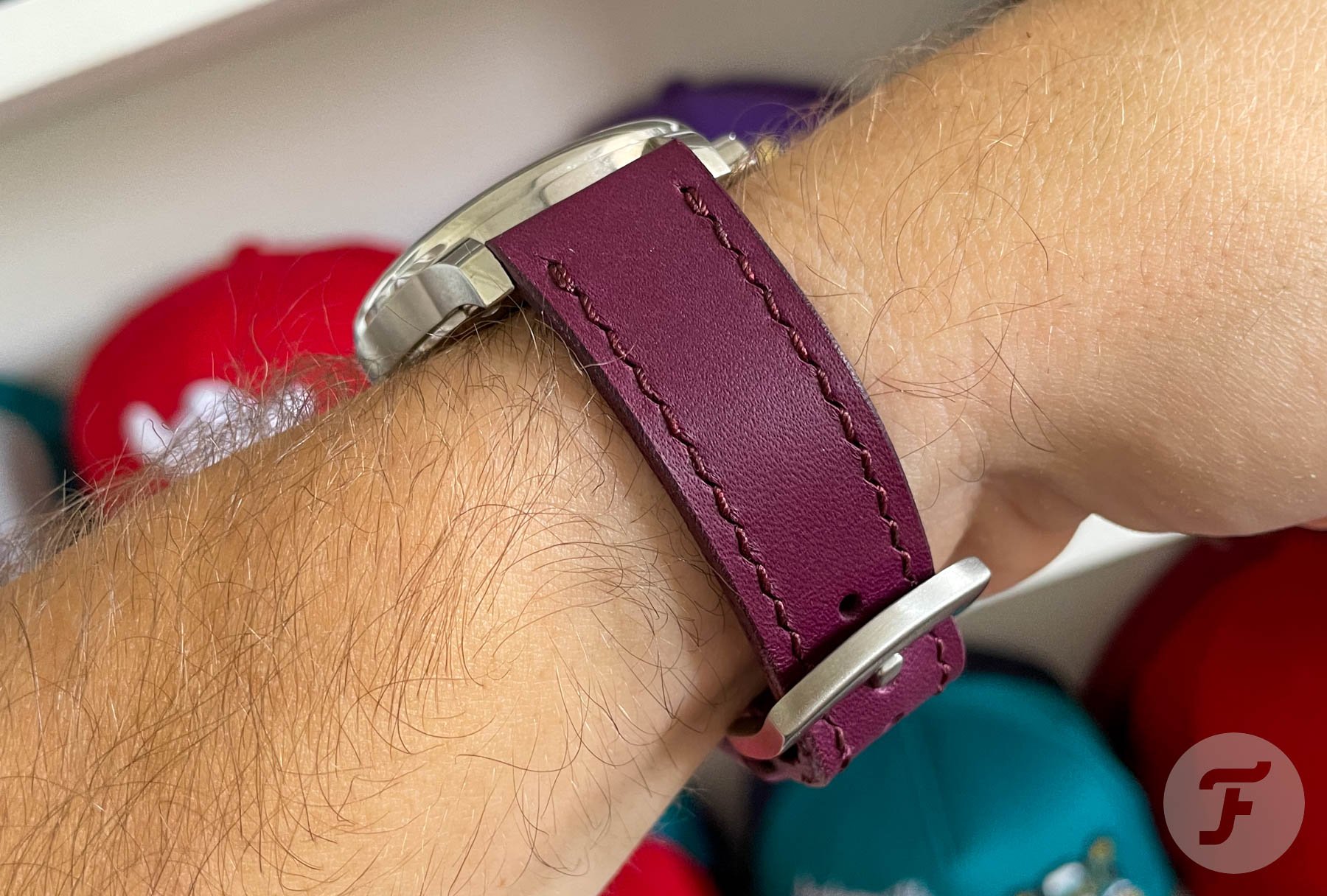 Passable design decisions for unavoidable reasons
If you're wondering why the hands are stupidly short, there are two reasons. Firstly, I was obsessed with concentricity in those days, and the hour-marker ring passes directly through the center of the seconds sub-dial. But more importantly, the seconds sub-dial was also made from that stubborn lump of metal, and try as I could, I couldn't grind it any flatter. I worked that SOB so hard that I ended up burnishing its backside.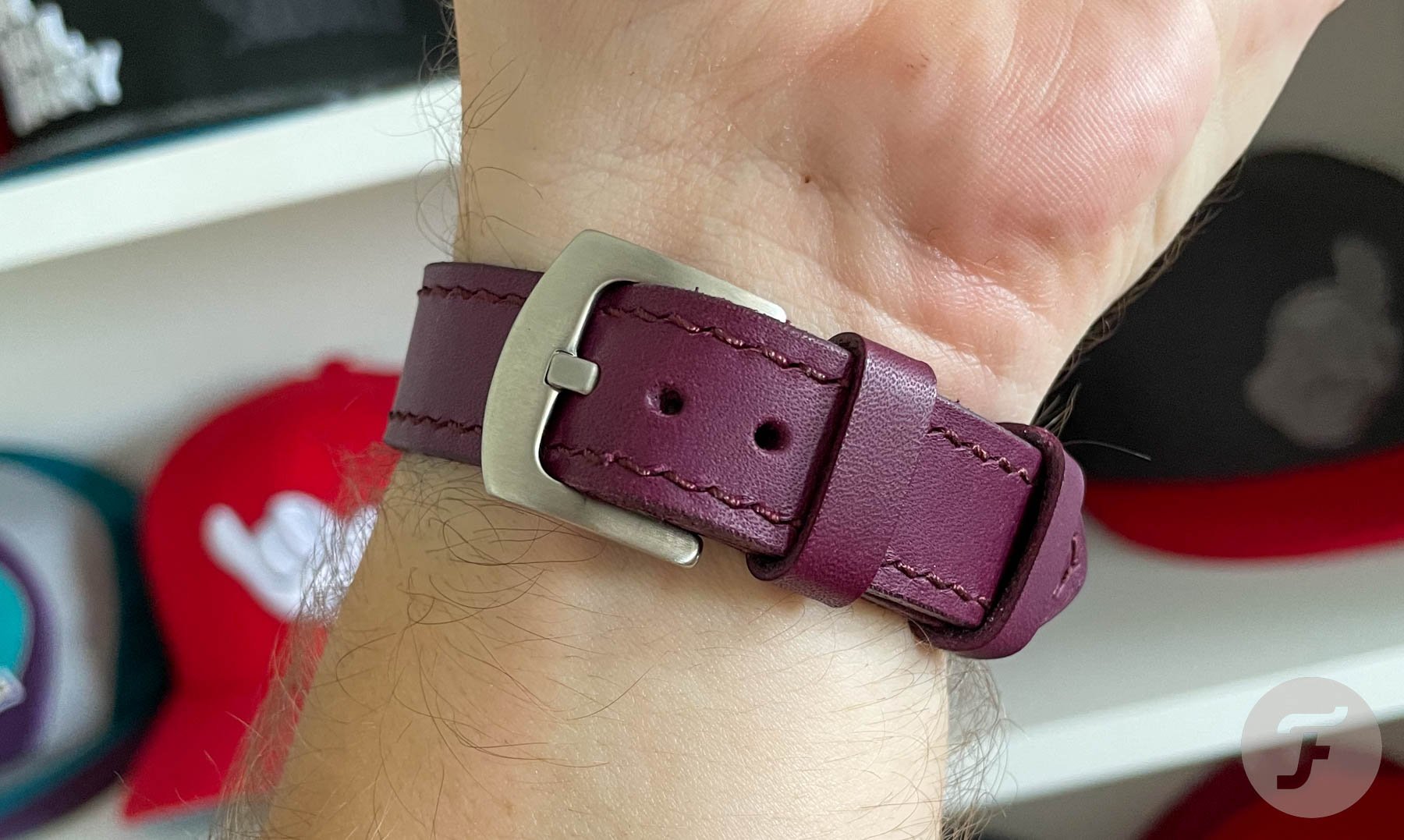 As a result, it's so tall that the central hand height wasn't enough to clear it. Running out of time to find an elegant solution, I snipped and repainted the hands. Oddly enough, as queer a visage as it is, it never bothered me (nor is it particularly difficult to tell the time).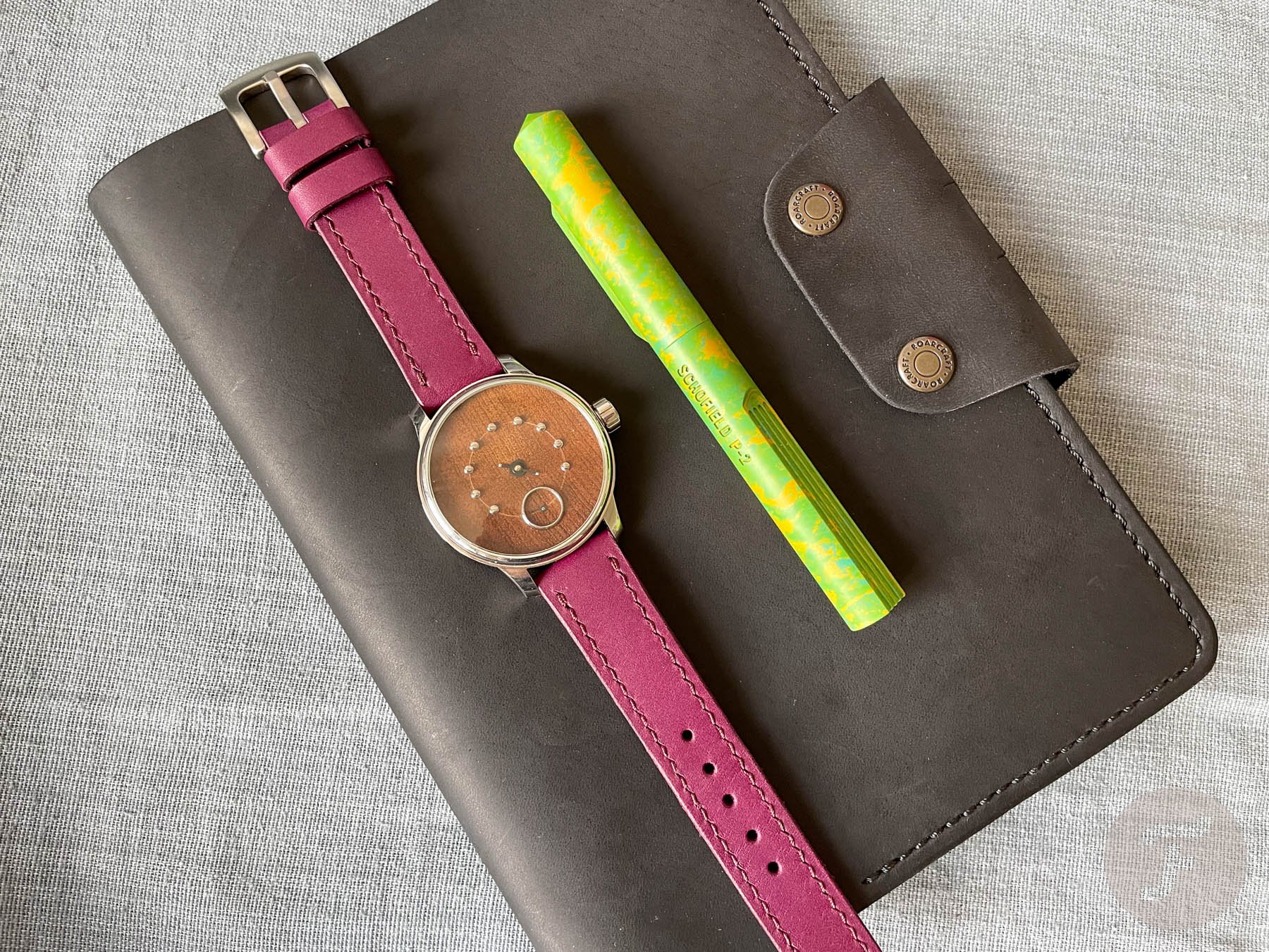 The result is a rich wooden dial that goes pretty darn well with any color. What is fascinating, however, is how it comes to life next to this exotic plum watch strap that Roarcraft has kindly sent me to review.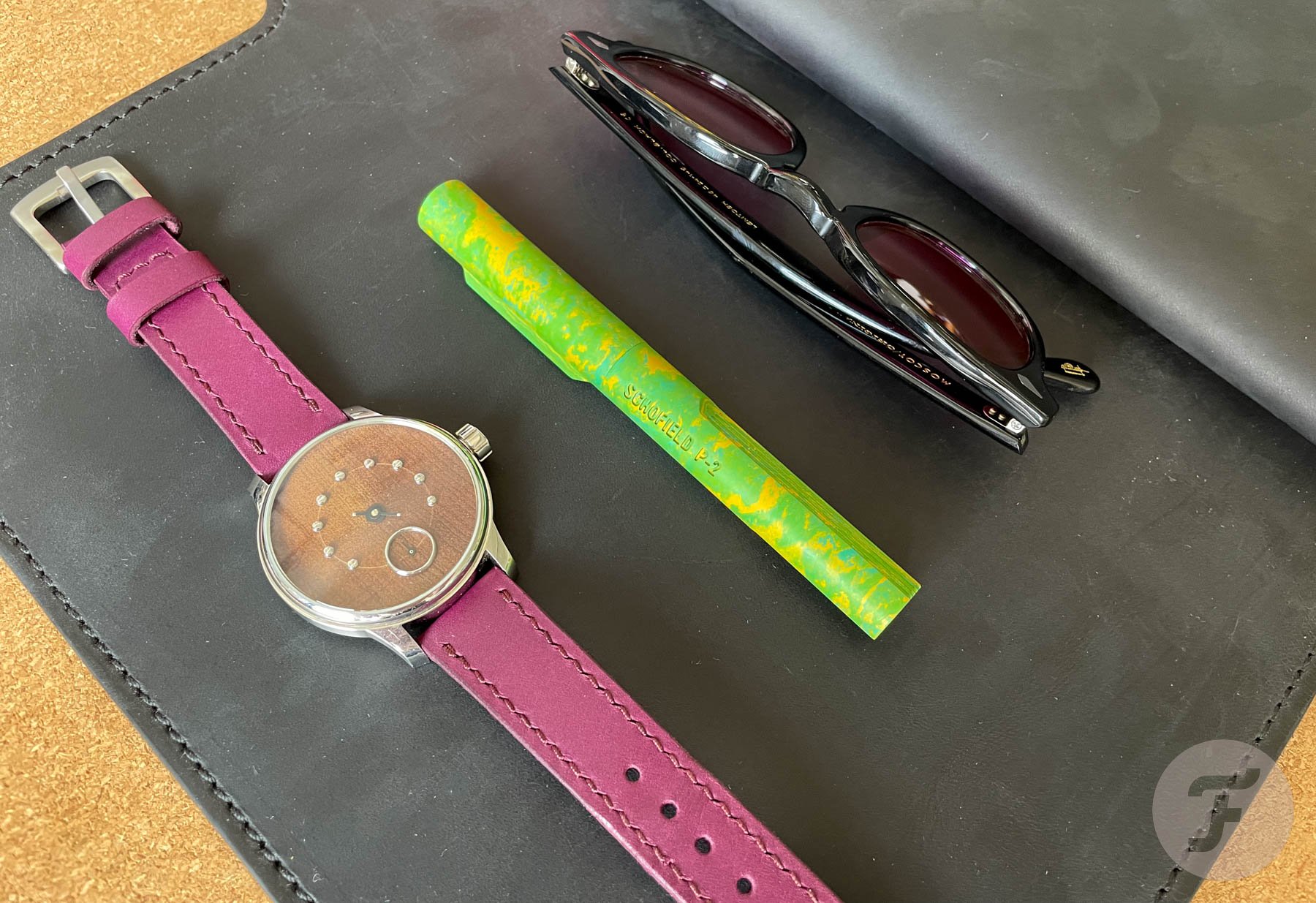 Not as chunky as it appears
While wearing the brown leather Roarcraft strap I reviewed recently, I noticed a strange optical illusion. Out of the box, Roarcraft straps look as thick as a rump steak, but they're actually not. They measure a little over 2mm thick, which is pretty standard for a good-quality strap these days (and by that, I am implying that straps have gotten thicker over the past 20 years as sports watches overtook the market entirely, leaving your run-of-the-mill, 1mm-thick, €5 Hirsch straps firmly in the rearview).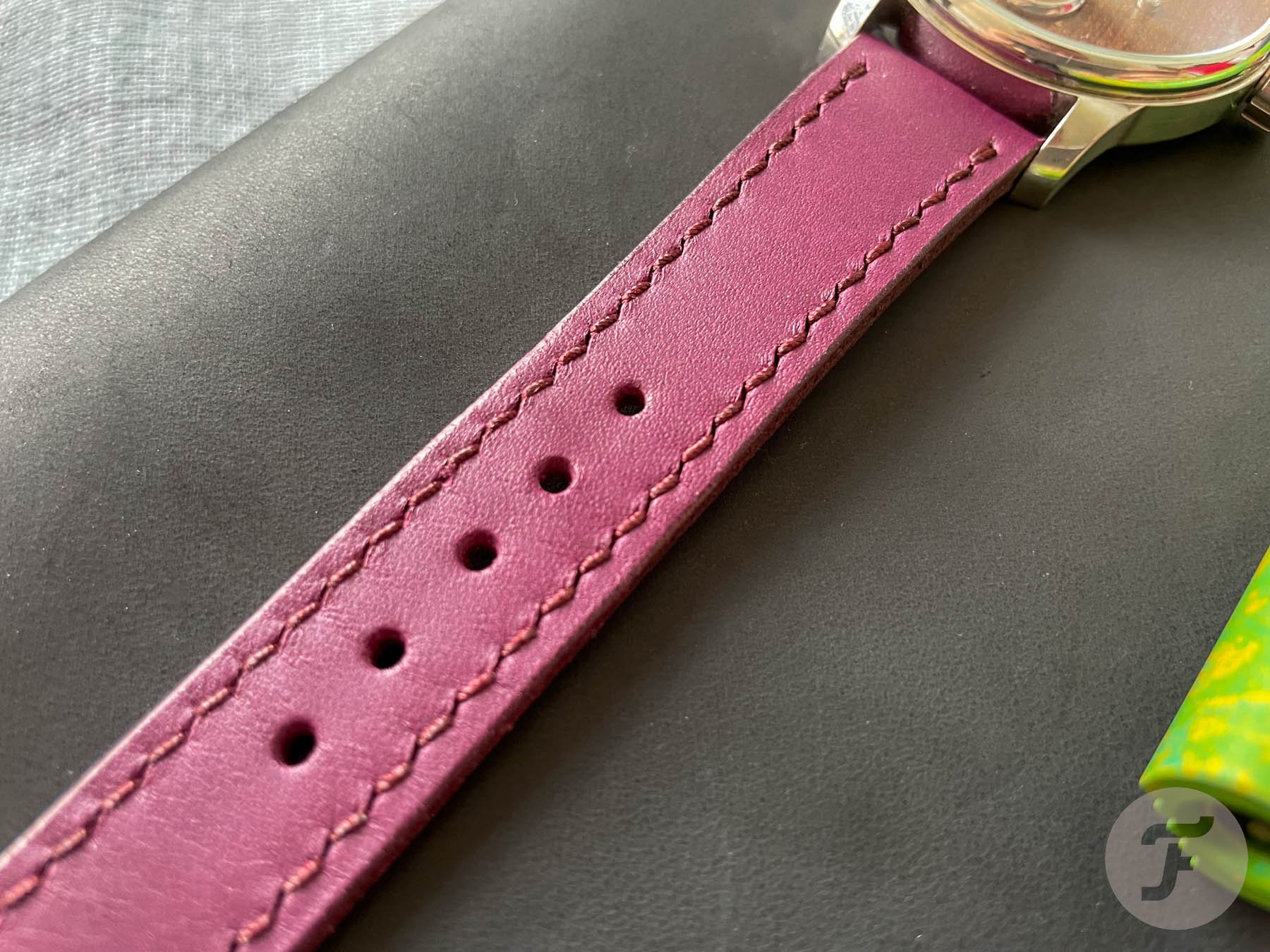 The reason why they look so thick is the stitching. The stitching is thick and set quite a way from the strap's nicely-sealed edges. This has the same effect as a wide bezel on a watch head. It huddles everything together and makes it look taller and fatter than it actually is. The lumpy stock buckle and large, round strap holes further support this optical illusion, but on the wrist, these concerns disappear, as the broken-in comfort is supreme after a couple of weeks of wear.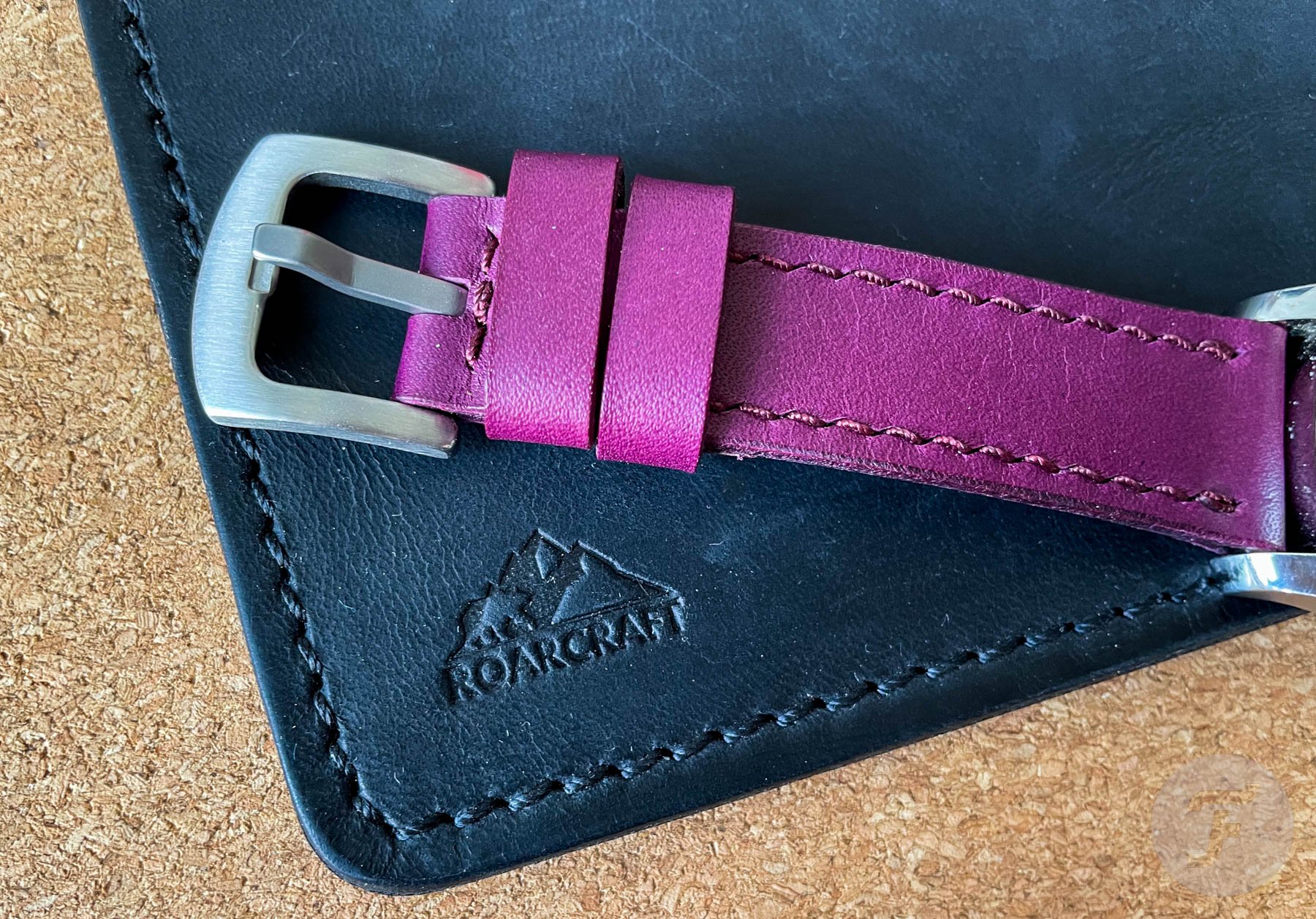 Simply put, this is quality leather. The bigger the item from Roarcraft, the easier that is to appreciate. You can really tell that the atelier has access to some choice cuts when you see the evenness of the grain across a broader space than afforded by a watch strap, as is the case for the laptop bag and notebook cover. The suppleness of the material is easier to appreciate when you have so much more of it to play with. Knowing that these straps start life coming from that kind of stock is reassuring. In my experience with aftermarket straps, I would say that the best leathers I've encountered come from LIC (in Belgium), Genteel Handmade (in Romania), Terrycrafted (in Canada), and Roarcraft (in Turkey).
Conclusion
I would wholeheartedly recommend every product I've encountered from Roarcraft. I'm not one for personalization or engravings in any way, shape, or form, so I'd steer clear of those options when they are available and just enjoy the palpable quality of the material. These leathers age very well and take on the knocks of life with aplomb. At a shade under €100, the "Custom Made VegTan Leather Watch Strap" in purple is a steal. The laptop bag, listed as a "Flat Design Leather Portfolio", comes in at just a few euros under €140, and the "Hemingway A5 Notebook Organizer Leather Case", is a few cents over €92. Check out the full range here, and if you have experiences with Roarcraft's products, please share them in the comments below!