Rolex Daytona 116506 In Retrospect
The first Rolex Cosmograph Daytona was introduced in 1963, which leads into this 50th anniversary of this highly sought-after chronograph. Both new and pre-loved. Although Rolex did not came up with the limited or special anniversary edition that many people expected, they did introduce – for the first time – a platinum version of their Rolex Cosmograph Daytona and have it reference number 116506.
Rolex Cosmograph Daytona Ref. 116506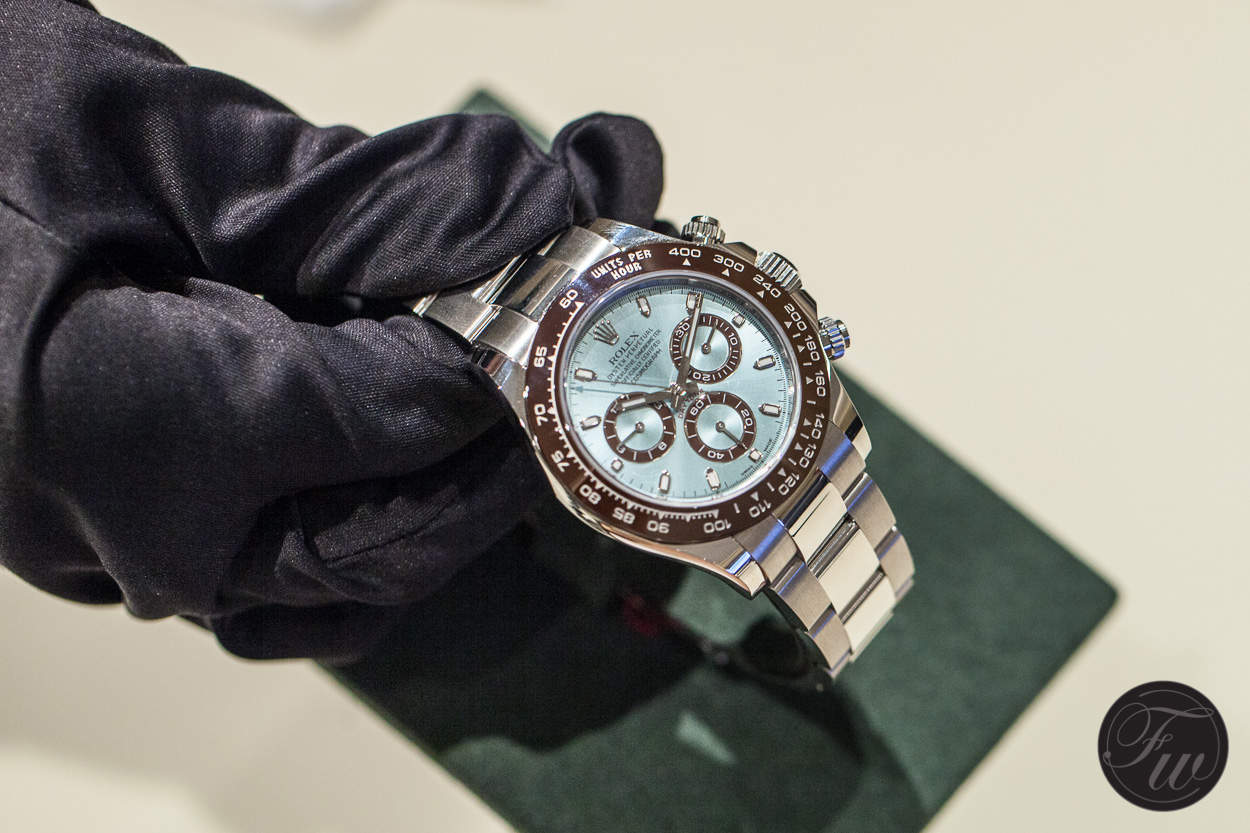 When I first saw (and tried) the watch during the Baselworld exhibition, I was impressed by the rather high weight (286 grams) due to the use of platinum, but the colours (ice blue dial and brown ceramic bezel) didn't do it for me at this first encounter.
The Rolex Daytona has a long history and especially the stainless steel models always performed well amongst collectors and connoisseurs. From the hand-wound models from the 1960s to the 1980s via the self-winding versions with Zenith movement (1988-2000) to the current line-up of stainless steel Daytonas (2000-).
Although there were some rumours – or perhaps just high hopes – for a Daytona model with a slightly bigger case than its 40mm size, Rolex instead came up with this exotic platinum version with a price tag of a whopping 61.550.- Euro.

The use of brown – or marone – reminded me of the so-called Patrizzi Daytona which is a stainless steel Rolex Daytona 16520 from the mid-1990s that suffered from some discolouration which turned the black rings around the sub dial into brown / marone colored rings. Below is an image of that particular Patrizzi Rolex Daytona, captured from Matthew Bain Inc Fine Watches' website.
In Retrospect
Rolex started the delivery of this Oyster Perpetual Cosmograph Daytona since a few weeks and I've already seen the first few popping up at Rolex forums like the German R-L-X and on Facebook. Even though the price is quite hefty and one can discuss whether the use of platinum justifies the 6x factor of a regular stainless steel Rolex Daytona 116520, it seems that the watch becomes nicer as I get to see it more often.
With many things, like for instance the new designs of BMW cars, it some times takes a while before I start to like a new Rolex model. It seems I that need to adjust myself to the fact that changes are being made to iconic watches like the Daytona. In this case, chances are mainly in the use of materials of course but it gives the watch quite a different appearance nevertheless.
Do I like it? In short: Yes. The ice blue dial is not something I would have picked myself when designing a new edition of this icon, as I associate it with the Rolex Day-Date models and not with sports watches. The brown Cerachrom bezel and brown rings around the sub registers however, seems to be a nice referral to the faulty 16520 of the mid-1990s. Furthermore, it also matches quite well with the ice blue dial.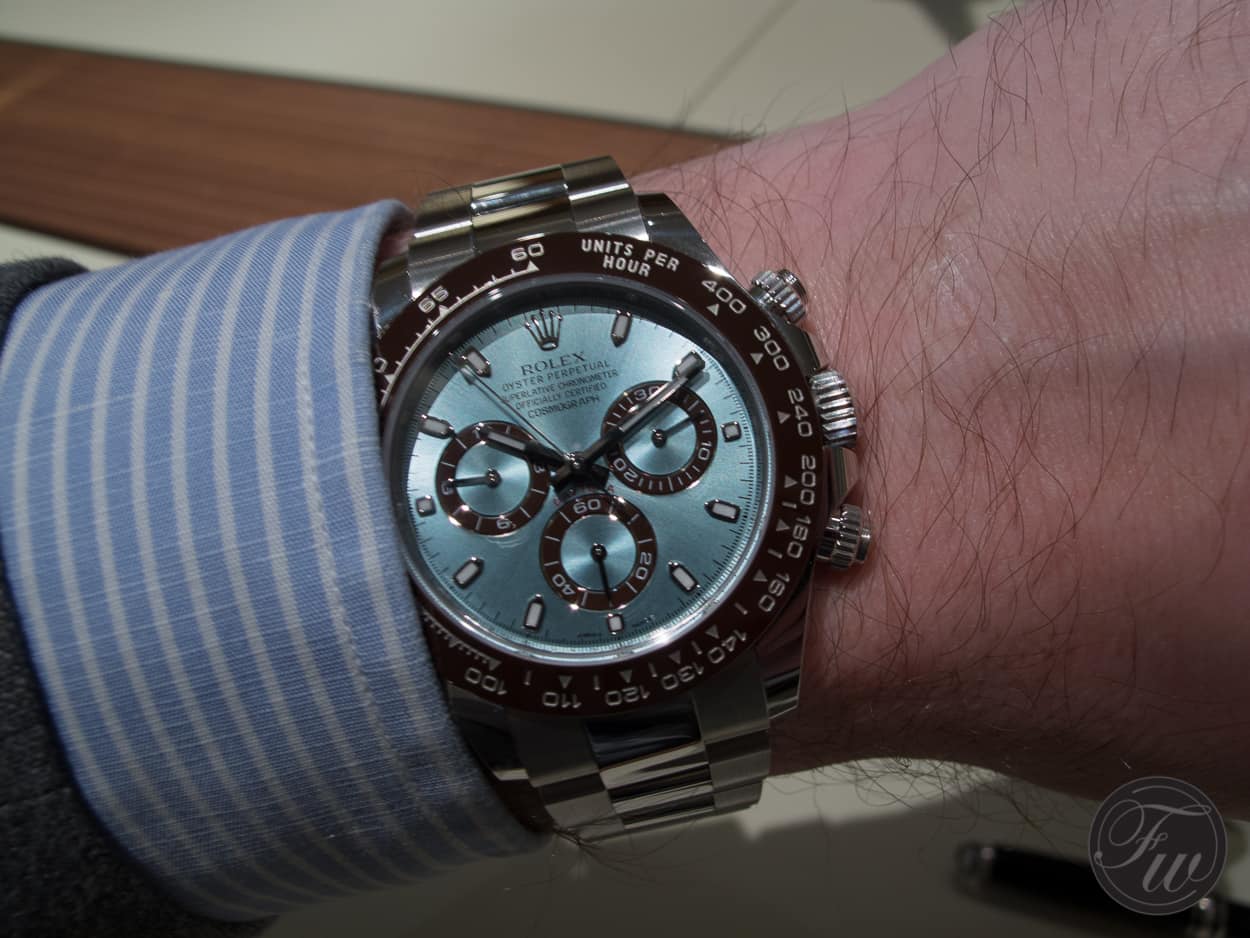 Now that I've been given some time to think about it some more than just my experience of trying and seeing it during Baselworld, I have to say that this watch definitely has left an impression ever since. Unlike some of the watches I've seen during Baselworld and I seemed to be more impressed with at the time. The same feeling goes for the Rolex GMT-Master II 116710BLNR (click here to see our report on that one) that was shown to us during the same meeting. Although the blue wasn't something I fancied at the time, I can imagine myself wearing & owning one in the future.
In the end, we are talking about Rolex here. They don't introduce many new models or variations to existing models but when they do, it seems they do it very well thought-out. Perhaps the Rolex DeepSea Sea-Dweller and new Explorer are the only two they clearly failed on, in my humble opinion.
The Rolex Daytona 116506 remains to have the same case diameter, same movement, bracelet and so on. Which is a good thing. Would a new 42mm (or even larger) case would be welcomed by the buyers out there? I don't think the majority out there would prefer a larger case. The use of platinum is something that's perhaps makes this watch only available for the happy few, even in the pre-owned or grey market. It does make it a special watch of course, but one can ask himself whether the platinum makes it very distinctive from the stainless steel. Platinum looks more like stainless steel than white gold does, only the use of the Ice blue dial with brown accents and the brown Cerachrom ceramic bezel will make it recognizable for others being a platinum reference 116506.
In my opinion, the platinum reference 116506 Daytona is a great addition to the Rolex collection. I think it would have had more impact when Rolex would have made it a truly numbered limited edition (but they refrain from making numbered limited editions). Fortunate collectors would probably jumped at it (even) more quickly and – but Rolex probably doesn't care – it would have been a more interesting 'auction object' in the future.
Specifications
Model: Rolex Oyster Perpetual Cosmograph Daytona
Movement: Rolex caliber 4130 chronograph, chronometer certified
Case & bracelet material: Platinum (Pt950)
Dial: Ice blue
Bezel: Marone (chestnut) brown Cerachrom ceramic bezel (cut from one piece)
Case diameter: 40mm
Bracelet: Folding Oysterlock safety clasp with Easylink 5 mm comfort extension link
Water resistant: 100 Meters / 10ATM / 3300 feetRetail Price: € 61.550,-
Below is a photo of the whole package, taken from the German R-L-X forum (member Alessandro).