Baselworld's Weirdest – The Rolex Daytona 116588 TBR
The Eye of the Tiger
In all honesty, this definitely wasn't Rolex's strongest year when it comes to new releases, but they had at least some surprises. Like this Rolex Daytona 116588 TBR.
A gem-set Daytona isn't exactly a new thing, but a dial like this we've never seen before on a Rolex Daytona. Their new Cosmograph Daytona ref. 116588 TBR(-003) has a bezel set with 36 trapeze-cut diamonds while the dial is diamond pave with this interesting structure of yellow gold. Our friends from Revolution magazine dubbed this one the Eye of the Tiger, as the dial should (or could?) remind us somewhat of a tiger. Let's just hope it isn't a panther. As you can see, the Arabic numerals '15', '30' and '45' are also made of yellow gold. The other hour markers, except the Rolex crown logo at 12 o'clock, are diamond-set as well.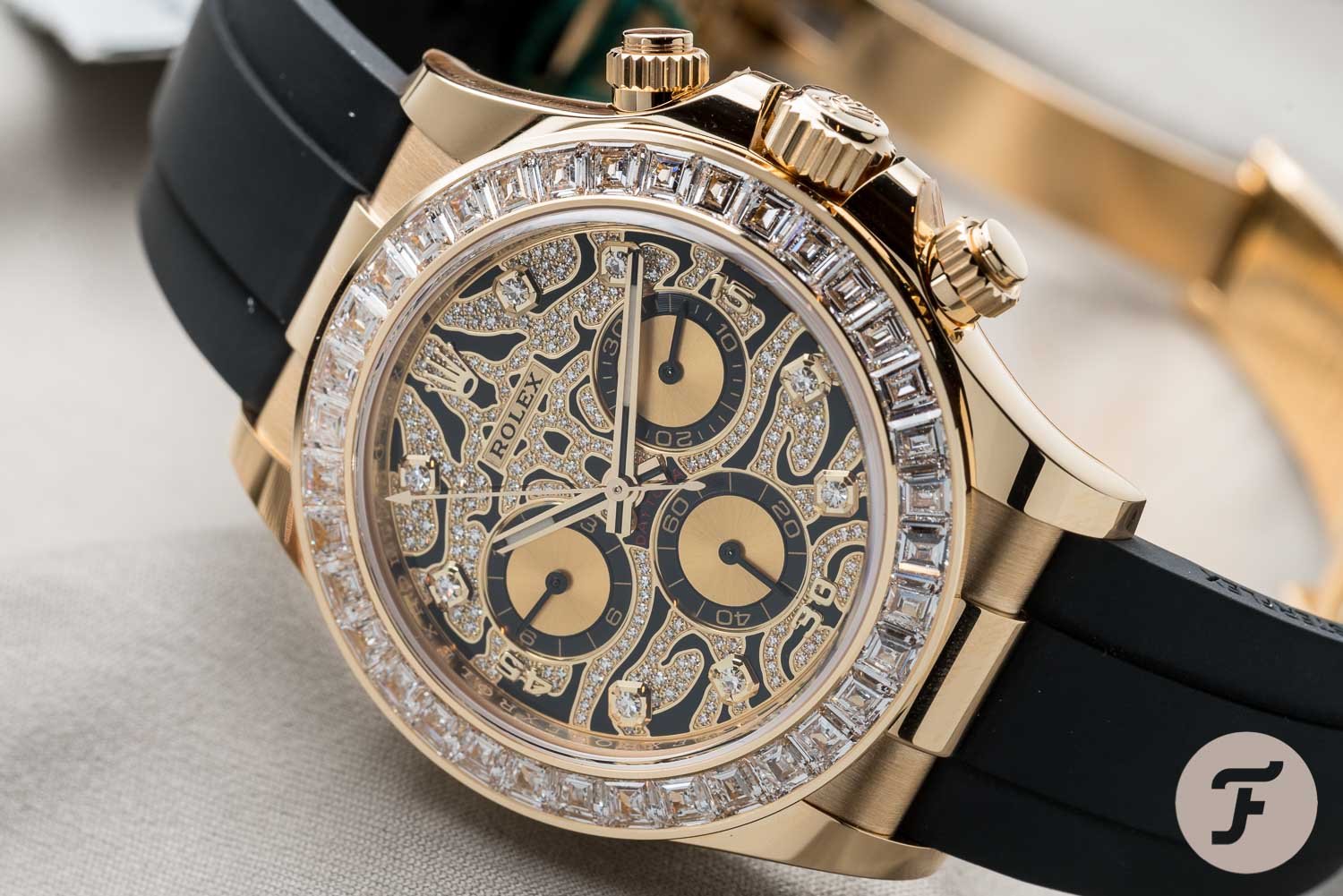 Rolex did not communicate a price on this watch, but our guess is that rockstars probably don't have to ask. We reported about the increased interest in diamond set Daytonas not too long ago, in this article on the Rolex Daytona Rainbow. This new Rolex Daytona 116588 is assumingly heading the same way, finding its way to collectors, rockstars and investors via their connections with Rolex or ending up buying (or selling) them via auction houses.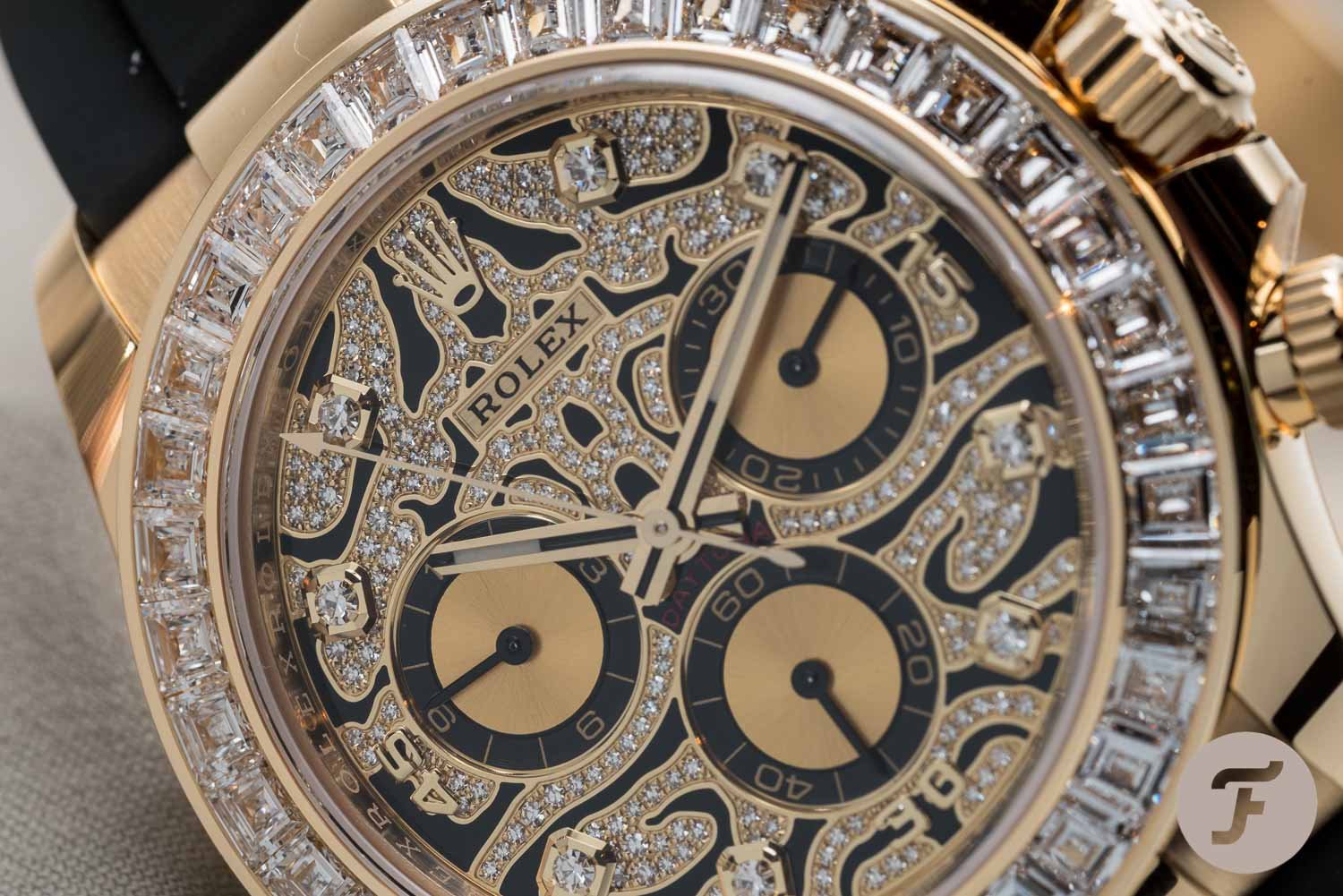 This 40mm Rolex Daytona is made of 18-carat yellow gold, based on the gold Daytona with reference 116518. Instead of a leather strap, this reference comes on their Rolex Oysterflex strap. Rolex also used this strap for their Yacht-Master 42 this year. This strap was introduced by Rolex in 2015 already, on their Everose gold Yacht-Master ref. 116655. An incredibly comfortable rubber strap, with a patented cushion system on the inside, ensuring the strap offers maximal comfort on the wrist.
Turning the watch around, you'll see a normal gold Daytona. Clean and solid gold case back with the typical incisions for watchmaker's equipment. The lugs have gold marking on the inside, except for one that has a little Rolex crown engraved. The Rolex Oysterflex strap closes with an 18-carat yellow gold folding clasp with flip-lock, of course.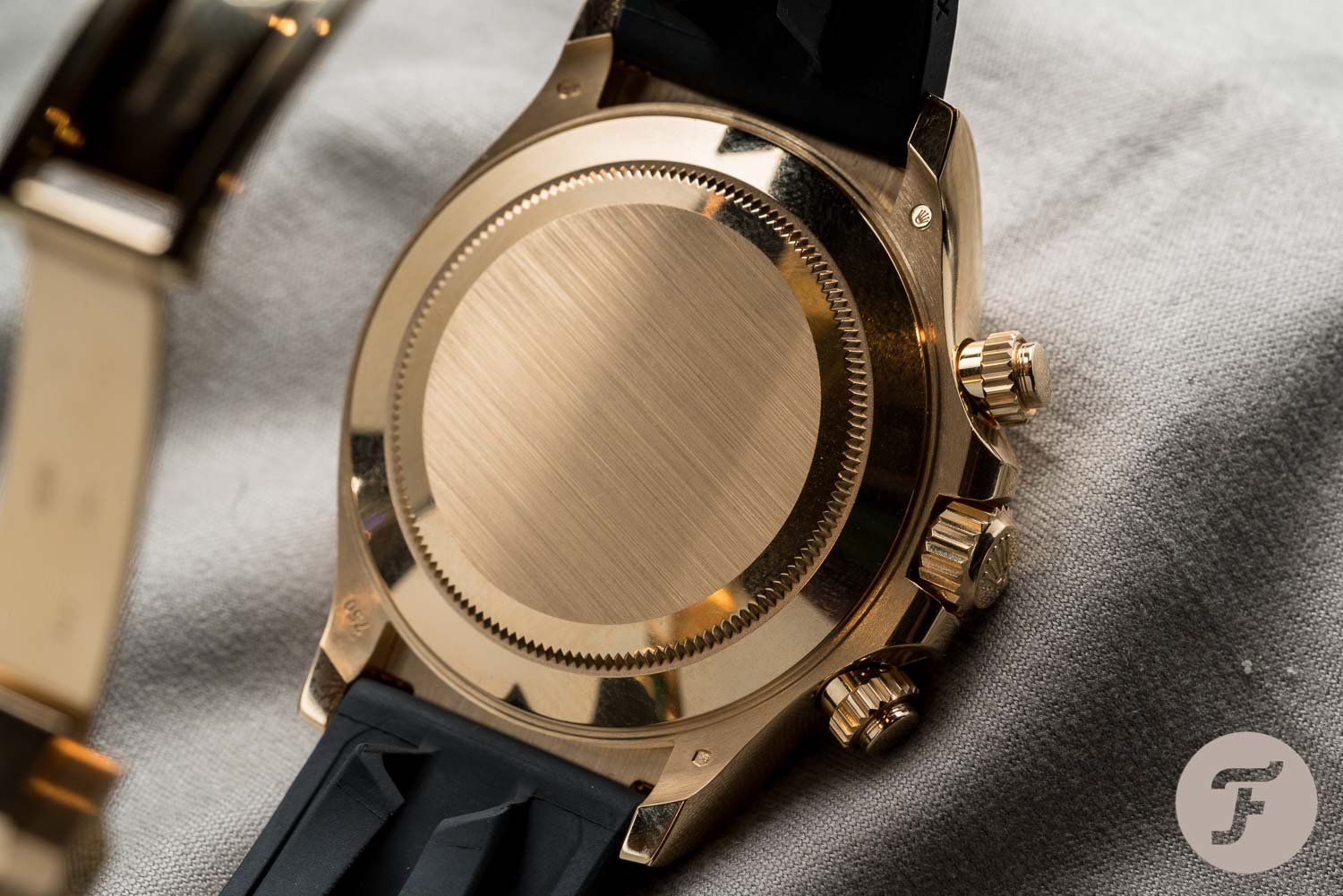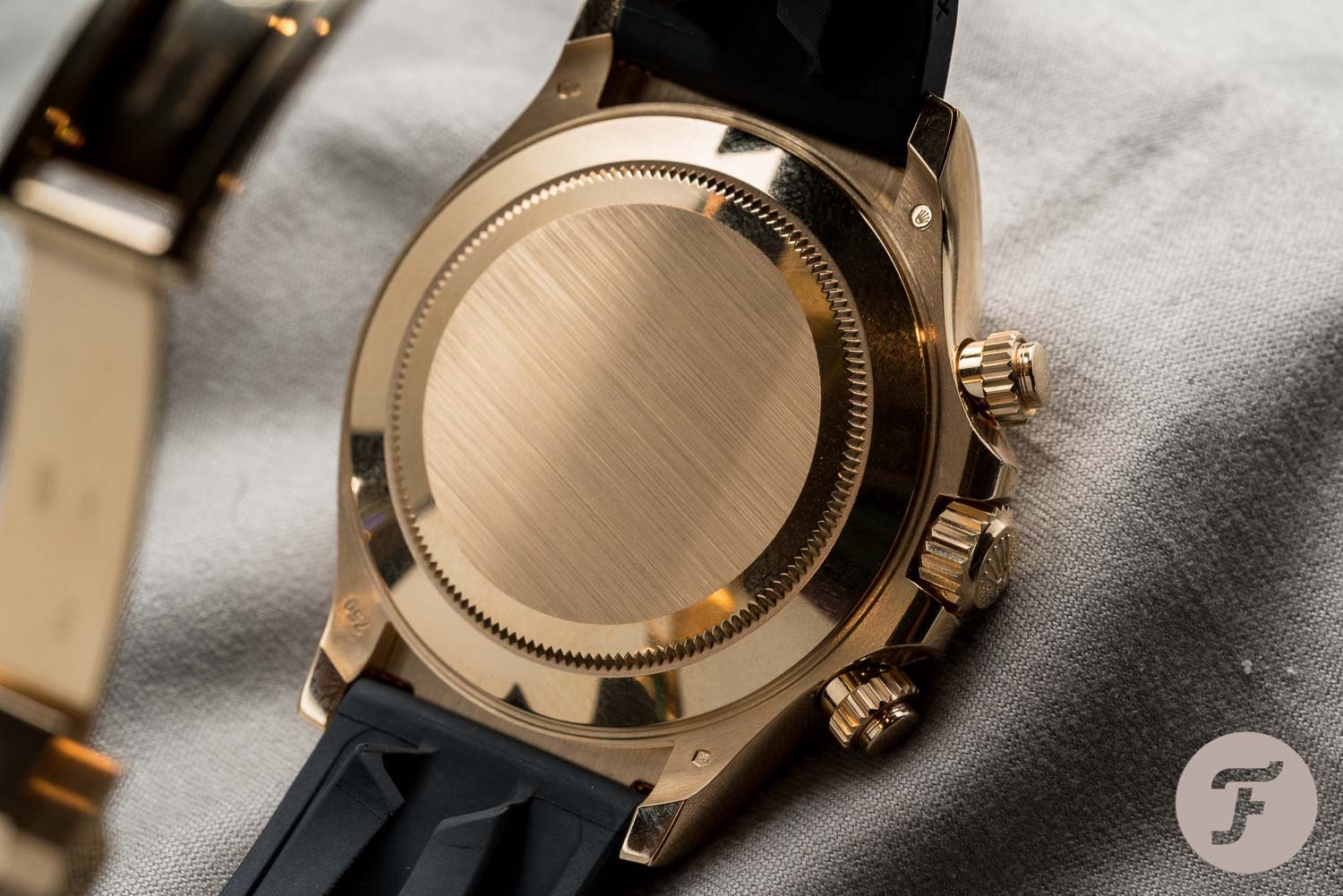 The Daytona 'Eye of the Tiger' is powered by their in-house developed caliber 4130 chronograph movement, like basically any other modern Rolex Cosmograph Daytona in the catalogue. A self-winding movement that offers a power-reserve of 72 hours and has chronometer precision. Better yet, it is regulated (after the movement has been chronometer certified and cased) by Rolex to a maximum daily average deviation of -2 and +2 seconds a day.
Interestingly enough, Rolex seems to come with watches that no-one really thought of, despite all the well-meant predictions you'd see in advance. Of course, these are click-baits for sure, but in previous years they weren't all too far away from the truth. But this year, Rolex came with watches that were quite unexpected. It starts to feel like Rolex is moving a bit away from being a watch brand and turns into a pure luxury brand. Hard (or impossible, if you don't have the right contacts) to get models in steel (or even bi-colour), long waiting lists, doubled price tags on the grey market and still the dream brand for many. It was for the first time in Basel that I experienced a sense of indifference towards their novelties from journalists and collectors, even those who are normally quite keen on Rolex.
This might sound harsh or negative and has little to do with the watch itself of course. It is just a (slumbering) opinion that's out there (and certainly not only mine) and that I wanted to share with you. These are great watches that are made according to the highest standards and have that immediate 'good fit' as only a few others have. The craze will go on for sure and the collector's market will embrace this Rolex Daytona 116588 as well. Rolex watches equals money, with an impressive value development for most models, so you can't blame them. For many years now, buying and owning a Rolex is better than putting your money in your bank account.
More information on Rolex, via their official website.
Watch specifications
Case Material
Yellow Gold
Case Dimensions
Diameter: 40mm
Case Back
Solid gold case back
Movement
Caliber 4130, Self-Winding Chronograph, Power Reserve: 70 hours, Ticking Speed: 28,800VPH, Chronometer Certified, Parachrom hairspring
Water Resistance
100 Meters
Strap
Oysterflex (Rubber)
Functions
Time, Chronograph