Rolex GMT-Master II 16710 Coke — 52Mondayz, Week #12-2020
If the Rolex GMT-Master 1675 Pepsi not your thing
I never really liked Coke too much.
I was always a Pepsi guy. No, I'm not talking about the drink. I could not care less about the age-old debate of which soda is better. I'm talking about two specific Rolex GMT-Masters. The choice is between Pepsi (blue/red) or Coke (black/red) bezel inserts.
I shared the reasoning behind my decision to go with reference 1675 in this old #TBT article of mine. To me, the colors on the bezel were the primary factor. I liked the look of a vintage Sub, but I dug the GMT with its Pepsi insert. It added a pop of color to the watch. For the longest time, I thought that no other GMT would take its place. Until this week came…
Don't worry, I'm still Team Pepsi, but for the next five days, I'll test drive something else. Still a Rolex, again a GMT. Though a newer reference, the 16710 Rolex GMT-Master II with a Coke-flavored insert.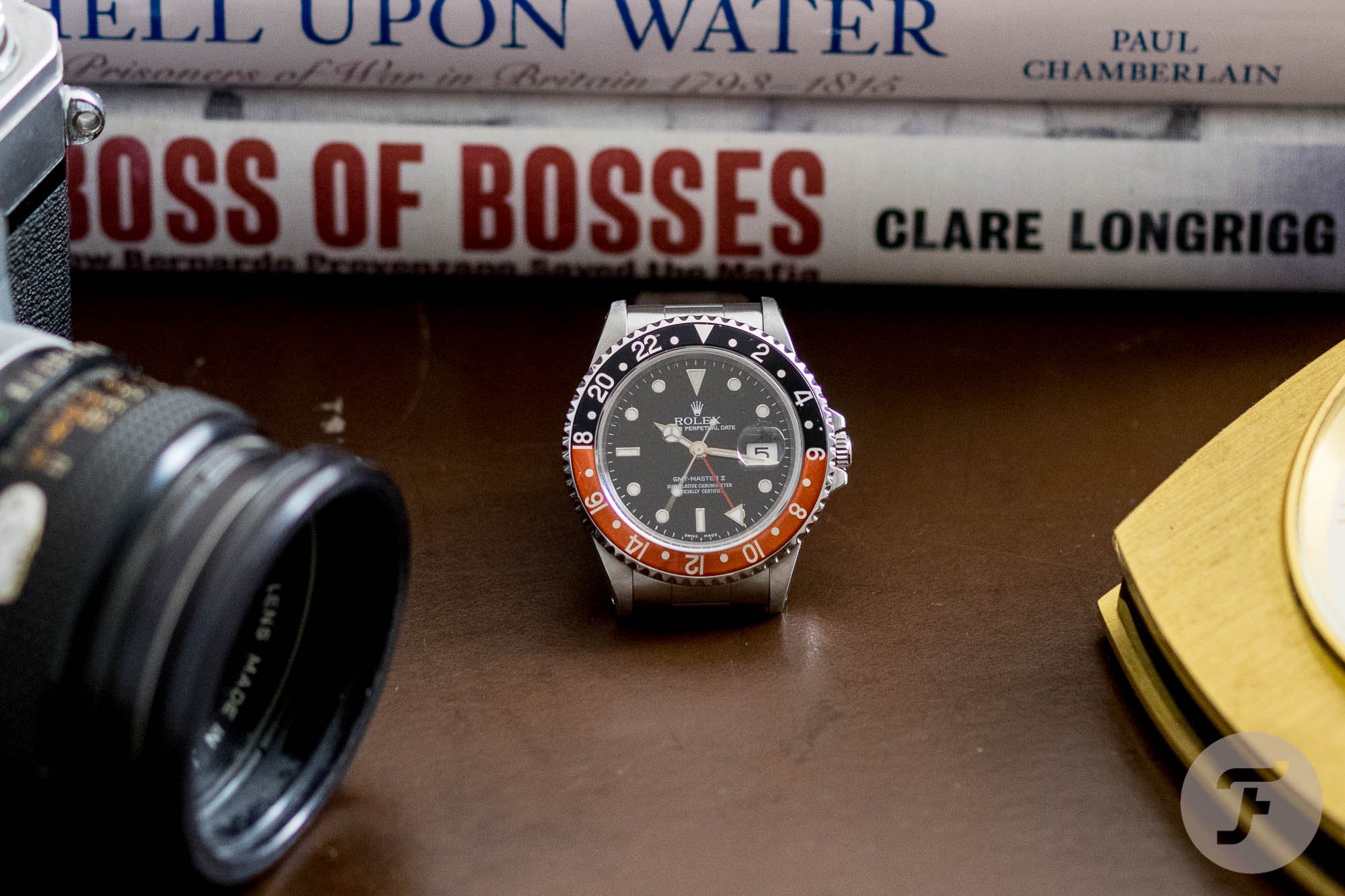 GMT history
Before I talk about my pick for the week, let's take a look at the other references that came before the 16710. It all started with reference 6542. The first GMT came out in 1955 and was made for only four years. During its short-lived career, reference 6542 achieved something that many watches could not — it starred in a James Bond movie. To be precise, it graced the screen alongside Auric Goldfinger, perhaps Bond's most famous villain.
Then came reference 1675, which I have talked about in my #TBT (link above). Next in line was the 16750 from 1981 to 1988. It was an upgraded version of the 1675. A little later (between 1983-1988) came the 16760. This was the first GMT-Master II and first with a Coke bezel. Nicknamed the Fat Lady for its thick case, the 16760 was the predecessor Master II of our topic of the day.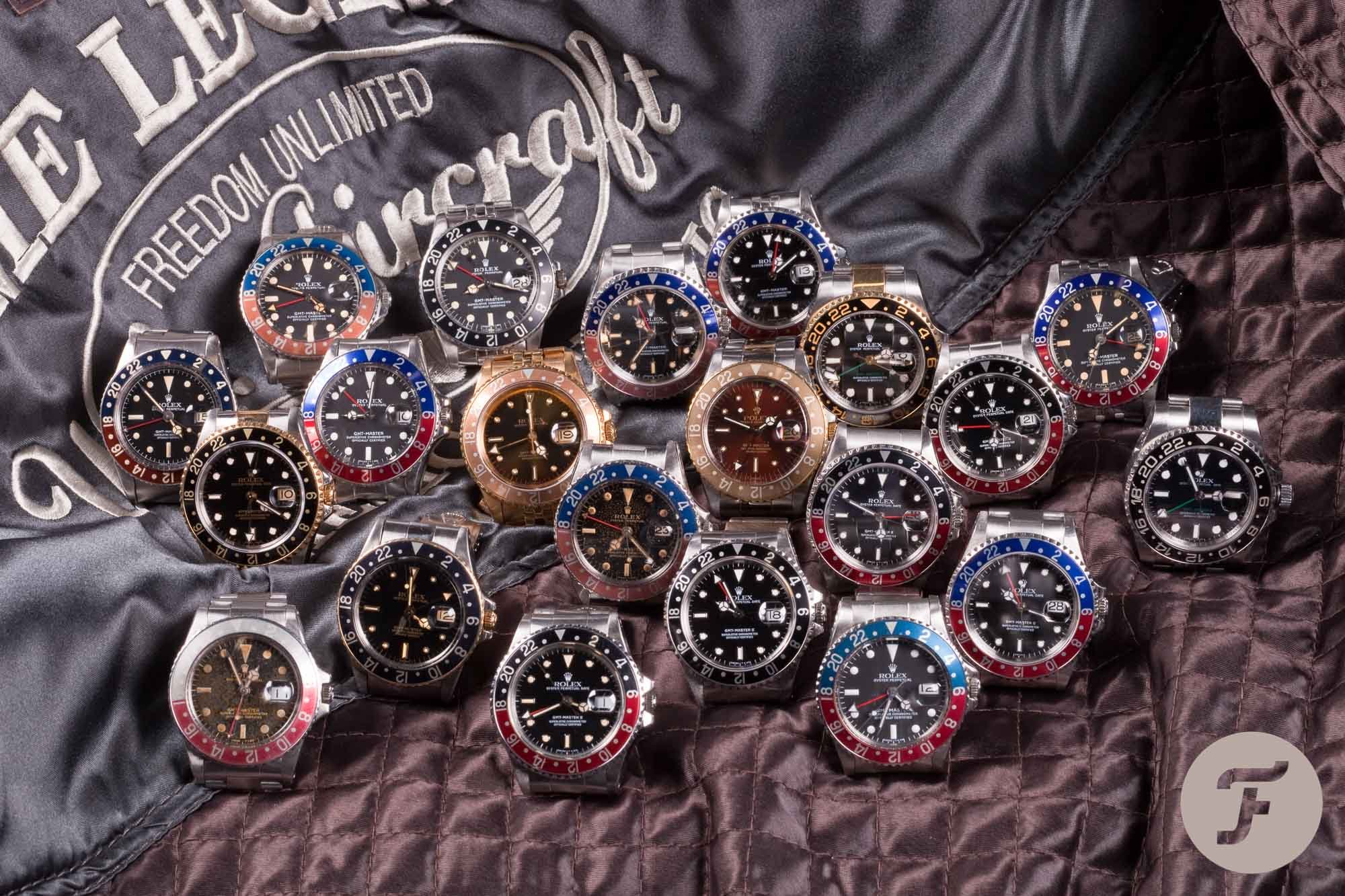 In 1988 Rolex released the 16700, it was only a GMT-Master, and the brand made it until 1999. The purpose of the 16700 was to replace the 16750.  At the time, the 16700 was cheaper than the 16710, which came out roughly together with the 16700. Our watch, reference 16710, had a very long lifespan. Rolex produced it from around 1989 to 2007 as you can imagine it received many updates through the years.
Just like the 16700, reference 16710 also came to the market as a replacement. You can guess it; for the 16760. This was the second GMT-Master II, and Rolex offered it with a Coke bezel as well. Other options were BLRO (blue/red), AKA Pepsi, or LN (black). If you fancied a different case material, you could opt for a two-tone steel/gold (16713). For the real ballers, however, Rolex created the 16718, in an 18k yellow gold case.
16710
I love my GMT 1675 for the fact that it's light and thin. However, as it is a watch from the mid-60s, it is not up to modern standards by any means. The watch just feels too light; the Jubilee is wobbly and thin. Of course, the 16710 is much younger than my watch, and I have to say I kind of like it. There is more heft to it. The bracelet and the watch head work well and give you a solid feel. It is a piece that is easy to wear. It has a 40mm case with 12.5mm thickness — many would call this the perfect size. As for me, I have to agree. For someone with a smaller wrist, it's still a piece that they can pull off. I have a larger wrist, and hile the 16710 feels like a solid watch, it is not bulky at all. Additionally, it can be easily concealed under the shirt cuff.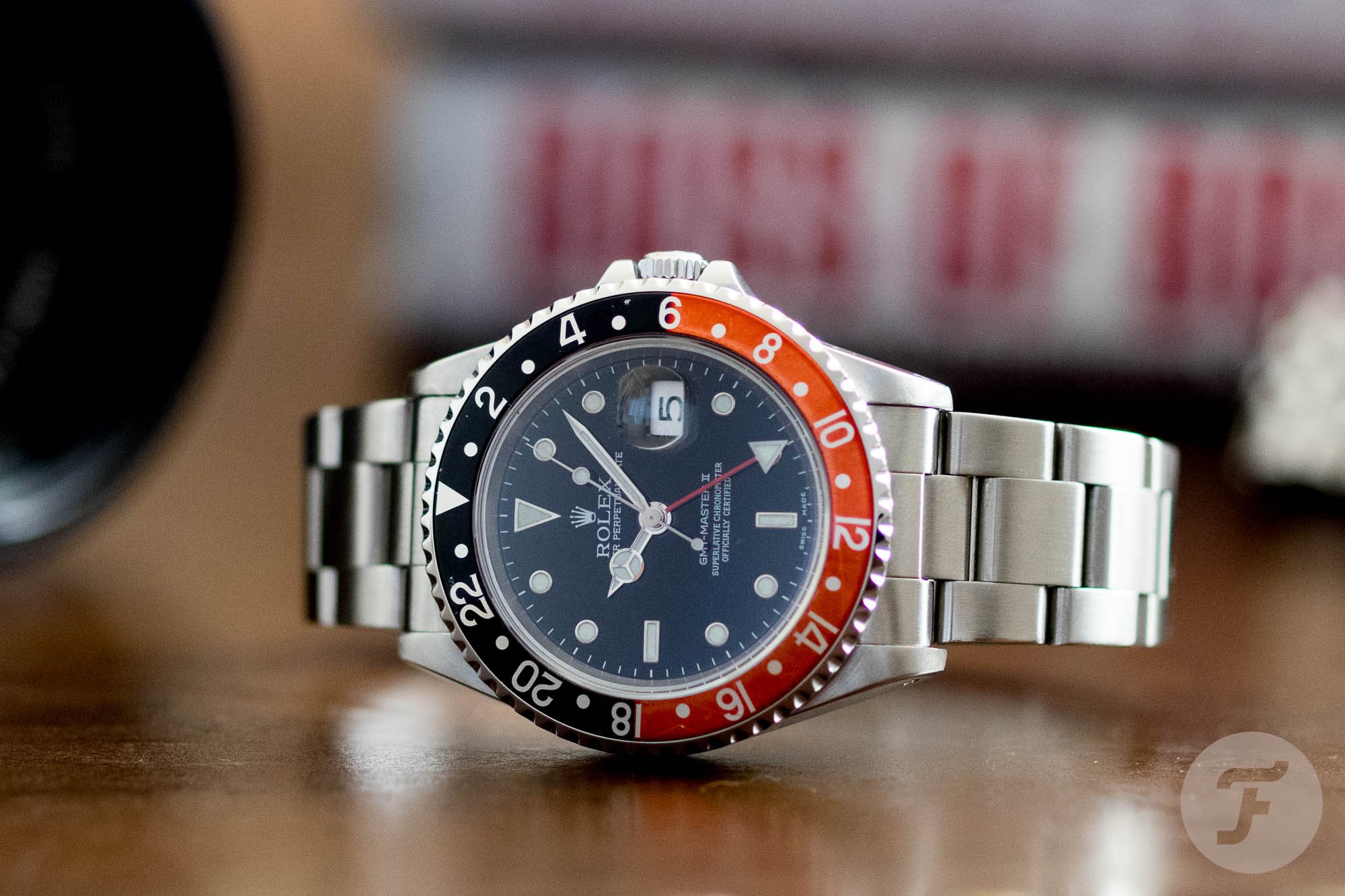 Updates
The 16710 productions ran for almost twenty years; it saw many updates. This example is from '99 and, as such, has the best of both worlds. Let me explain. As I said, the 1675 is my game. Thin case, drilled lug holes, creamy patina; what more do you need? The 16710 Coke has almost all of these features (although certainly not the patina) mixed with a bunch of new features. Rolex went from Tritium to LumiNova and soon after that, SuperLumiNova on the dial. From 1997 onwards, you cannot find Tritium anymore. As far as the movement is concerned, there was still no quickset date but a quickset 24h-hand and hacking mechanism had made their way into the caliber (reference 3185 later 3186). This 1999 model still does not have the solid bracelet end links, just like a vintage GMT. Those came a year later. Enough updates to be new but still plenty of vintage vibes.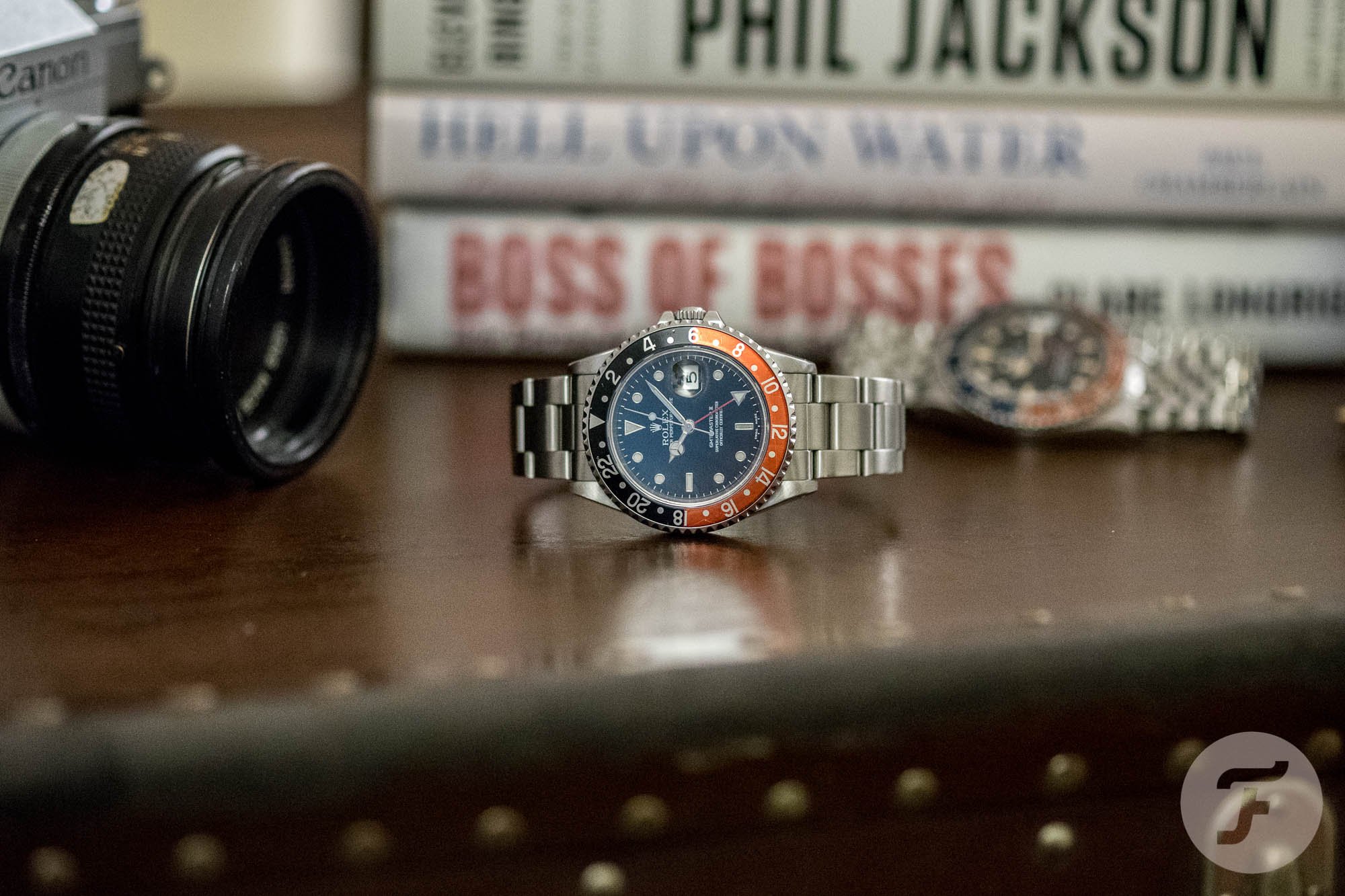 Pepsi or Coke
The great battle between the color combinations of red/blue versus red/black is a never-ending one. There are several ways one can look at this debate. Some say it's a visual thing. Black and red and more subtle than blue and red hence the watch is more under the radar. Others like the balance between red and blue, that circle around the black dial. Another point of view is visibility. Red and blue stand out more than red and black. This means that a Pepsi GMT is easier to read than a Coke. Again, others say that the first Coke GMT (16760 from 1983 to 1988) was already too new. These people praise the 1675 and the 16750 Pepsi. They also tend to jump to the 16700 since that is also a Pepsi. The only problem is that it's even younger than the aforementioned 16760.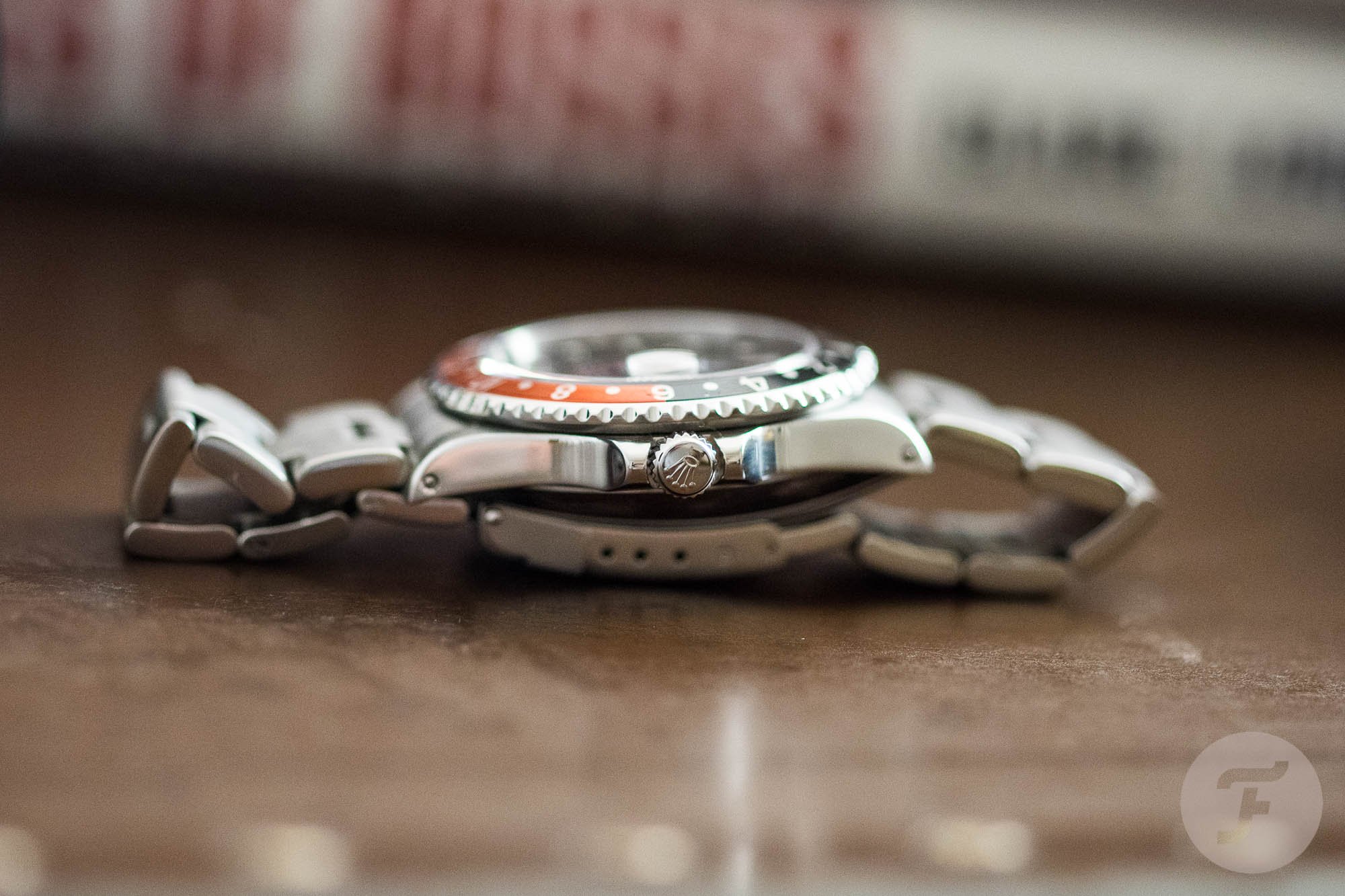 I do not want to, nor can I solve the issue. All I can say is this: I love my 1675 Pepsi, but I think I have a thing for Coke 16710 now too. Coke is undoubtedly a different type of ballgame to me. But I like to shake things up a bit. And let's be honest, I can imagine worse things in life than the dilemma between the Pepsi and the Coke GMT. Especially since the 16710 will eventually return to its owner. Until then, however, we are going to have a lovely week together. Is it going to grow on me? Probably so. Will it make me swap my Pepsi for a Coke GMT? I very highly believe that it won't. Still, I'm looking forward to this week with the 16710 Coke on my wrist.