Speedy Tuesday – Russel Crowe wears an Omega Speedmaster in 'The Nice Guys'
Russel Crowe and his Speedmaster
It's been a while since we saw a Speedmaster in a movie. Of course George Clooney's new picture, Money Monster, is an exception. However, we know that since George is Omega ambassador it was not such a huge surprise. Well, I just watched the new movie of Ryan Gosling and Russel Crowe, called The Nice Guys. It seems that Mr. Crowe (or his prop master) is back again with the trusted Omega Speedmaster. Why do I say again? Well, this is not the first time we see him in a movie wearing one.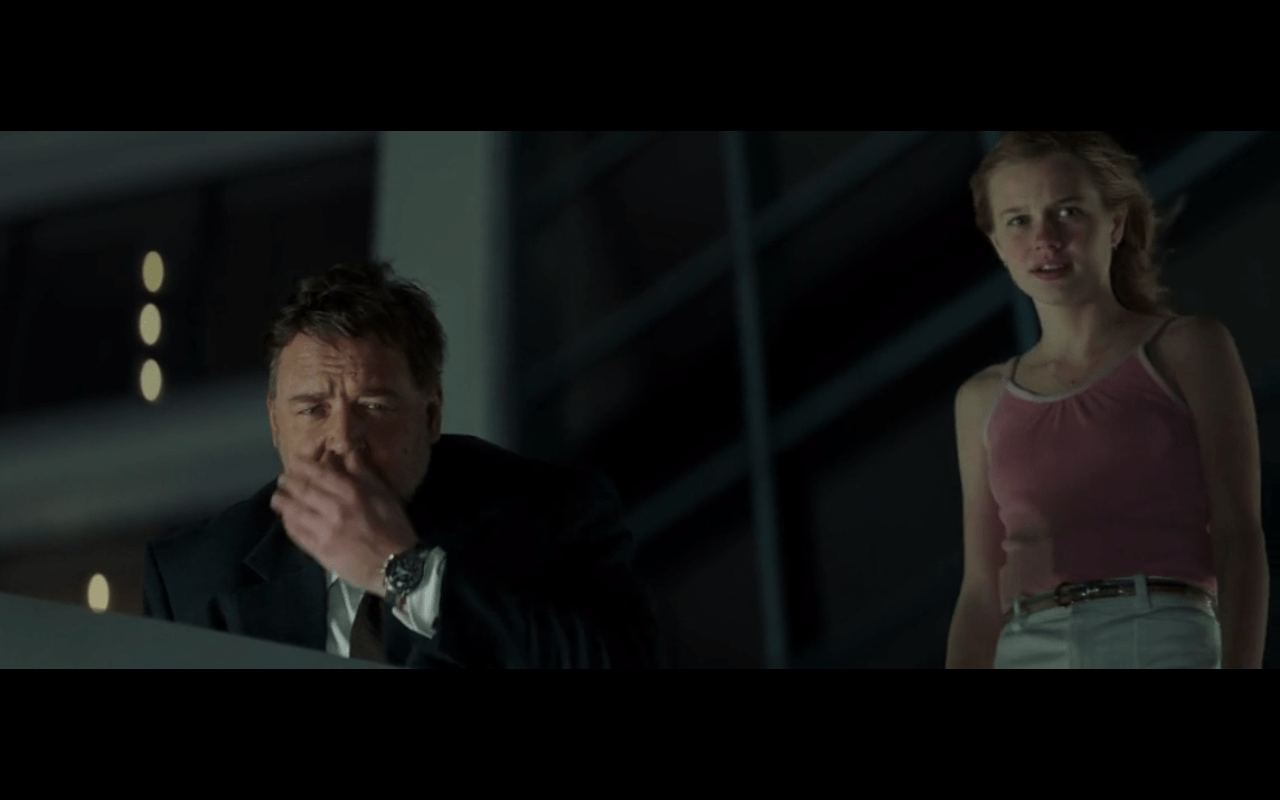 State of Play
State of Play, a great crime drama came out 7 years ago. Starring Ben Affleck, Rachel McAdams, Helen Mirren and Russel Crowe among many other A-listers. Crowe plays an investigative journalist. He takes an assignment to unfold a homicide that's prime suspect is his old friend and congressman (played by Affleck). Throughout the movie there are many scenes where we can clearly see Crowe's wrist and on it, an Omega Speedmaster Professional.
The Nice Guys
Fast forward to this year The Nice Guys comes out. As soon as a watched the trailer I recognized something familiar. However, it was not Russel Crowe's watch. Ryan Gosling wears a little gold (plated) dress watch with silver dial and sub seconds at 6 o'clock. Something like a 60's Longines or similar. The story takes place in the 70's so it is no surprise that the watch Gosling's character is sporting has a gold (plated?) twist-o-flex type bracelet. I could not find any clear images where the dial is visible, maybe when the movie comes out in ultra-HD.
The other main character's watch is more interesting though. The introductory scene of the movie starts with Crowe waking up in the morning and reaching for his watch on the night stand. That is probably the clearest shot of the time piece. Even though the dial is not clearly visible, it is obvious that the watch is indeed a Speedmaster. There are a few more scenes where we can get a glimpse of the watch peeking out under a jacket sleeve. Just like Ryan Gosling's watch Russel Crowe's Speedy is also on a twist-o-flex bracelet. Nonetheless he is not the only Hollywood actor who prefers to wear a Speedmaster in movies.
And the others
Dennis Quaid wore the Omega Speedmaster Professional in multiple movies. In his 1983 film The Right Stuff, in Interspace from 1987 and in Frequency (2000) he sports a Speedmaster. Gene Hackman in the 1969 classic Marooned where he plays an astronaut, wears something that looks like not only an Omega Speedmaster Professional but a very rare Ultraman. This version is easy to identify by the red chronograph second hand. Omega released the Ultraman in around 1967 so it could very well be one of those models. Hackman also wears a Speedmaster in Enemy Of The State (1998). Hollywood legends like Robert DeNiro (Righteous Kill from 2008, Ronin 1998) or James Coburn (The last of Sheila from 1973) but even Richard Attenborough (Guns at Batasi from 1964) at one point also wore Omega Speedmasters in their movies. Just to name a few, we didn't even mention Apollo 13, The Corruptor, Gotti, Always. Oh, and recently we spotted Ed O'Neill wearing one in Modern Family.