#TBT The Sandoz Depth Master – AKA The Baby Panerai
This week's #TBT takes a look at a watch that just might seem familiar to you. Familiar how? Well, first off, aside from dial variations, this diver was marketed by many brands. Second, this oft-used case looks an awful lot like a miniature version of a famous brand from Florence, Italy. Today, we'll examine a Sandoz Depth Master, the so-called Sandoz Baby Panerai. However, while this watch may sport a diminutive call name, its specs are anything but miniscule.
The Sandoz Depth Master Began Production in 1963
We've taken a look at a number of historic dive watches on Fratello Watches with a definite focus on pieces that introduced some sort of functionality or innovation. More greatly known pieces such as the Doxa 300 to the Rolex Red Submariner have been featured, but we also took a look at a relatively niche piece in the Philip Watch Caribbean. We noted that this watch was amongst the first 1000M divers and it also featured an iconic decompression bezel.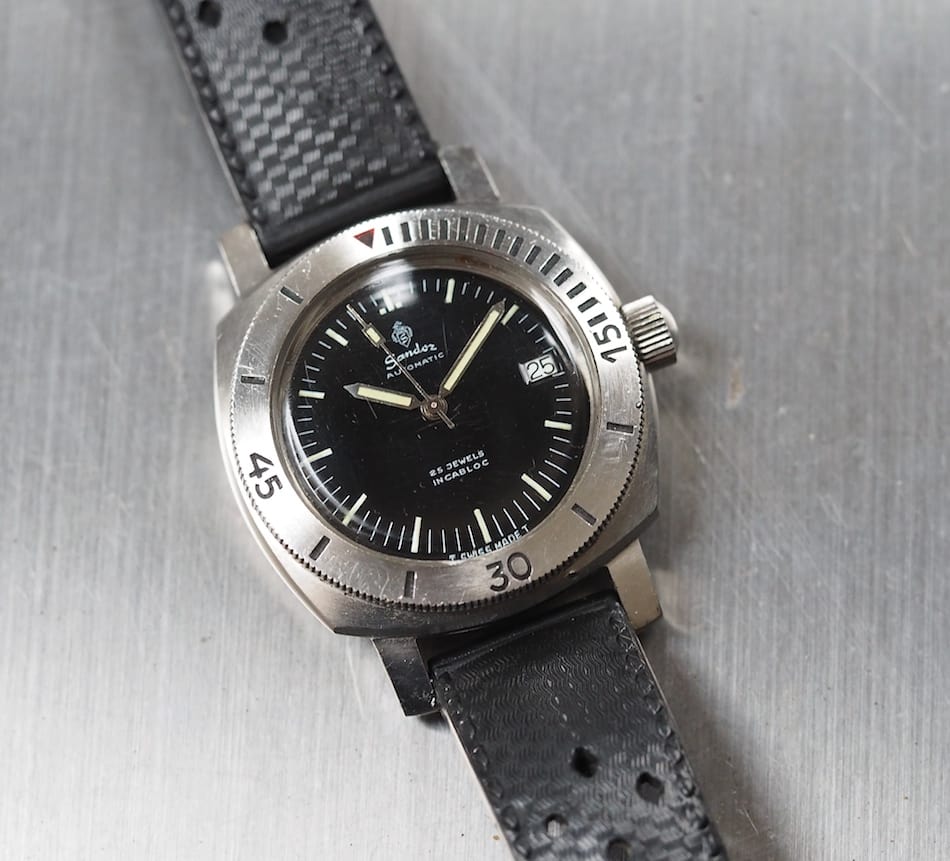 Well, in 1963, another watch from Switzerland was out to hit the 1000M depth resistance mark and that was the Sandoz Depth Master – a great history article in German can be found here. You may recognize this watch, or its case, but you may not recognize its name. In fact, due to the case shape, the "Baby Panerai" name has stuck.
The "Baby Panerai" Case Was Used Everywhere – Literally
The Sandoz Depth Master was made beginning in 1963 and, by all accounts, was produced well into the 1970's. I've not been able to unearth the name of the case maker, but it was Swiss (and if you refer to the Nivada ad above, it used Swedish steel). This watch case was truly used the world over. Droz, LeCoultre, Nivada, Austin, Jungfrau and even Orient of Japan added their own unique dials to this popular case – for a great view of many variants head to this Japanese article. By the way, there were slight variations on the case thickness, but we'll consider them all relatives. Yes, that's right, this case was shared across continents – fascinating!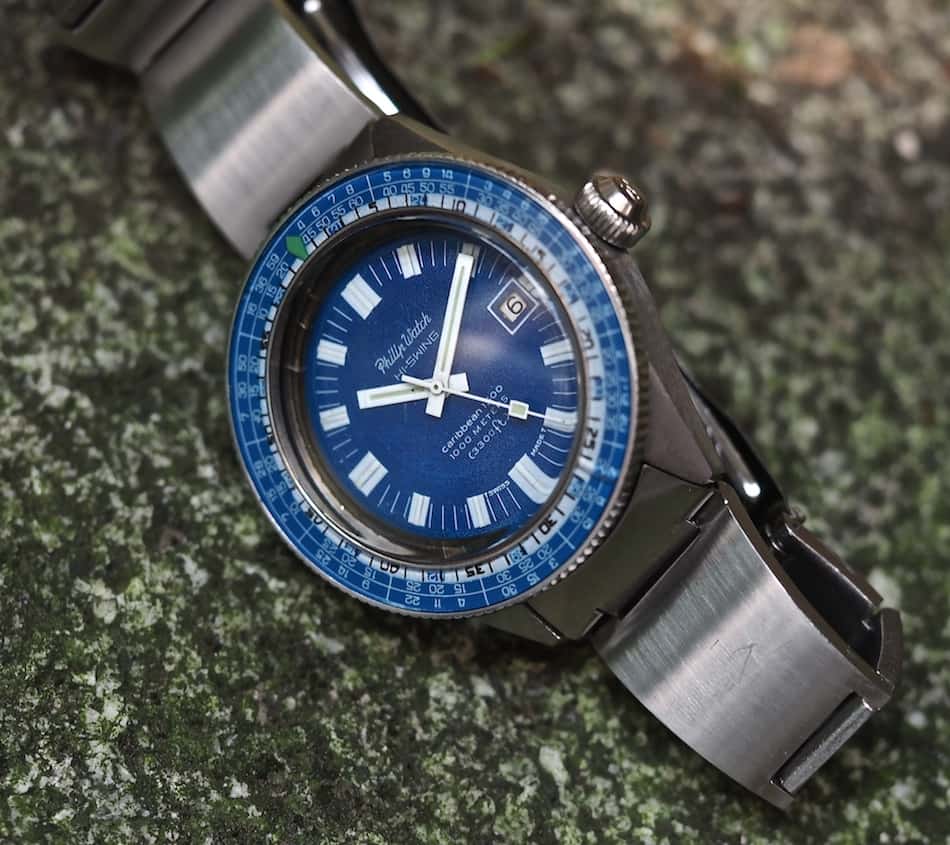 A Very Traditional Diver
Coming back to the deep-water challenge of 1963, it makes sense to lightly compare this watch with the Philip Caribbean and the two couldn't be more different.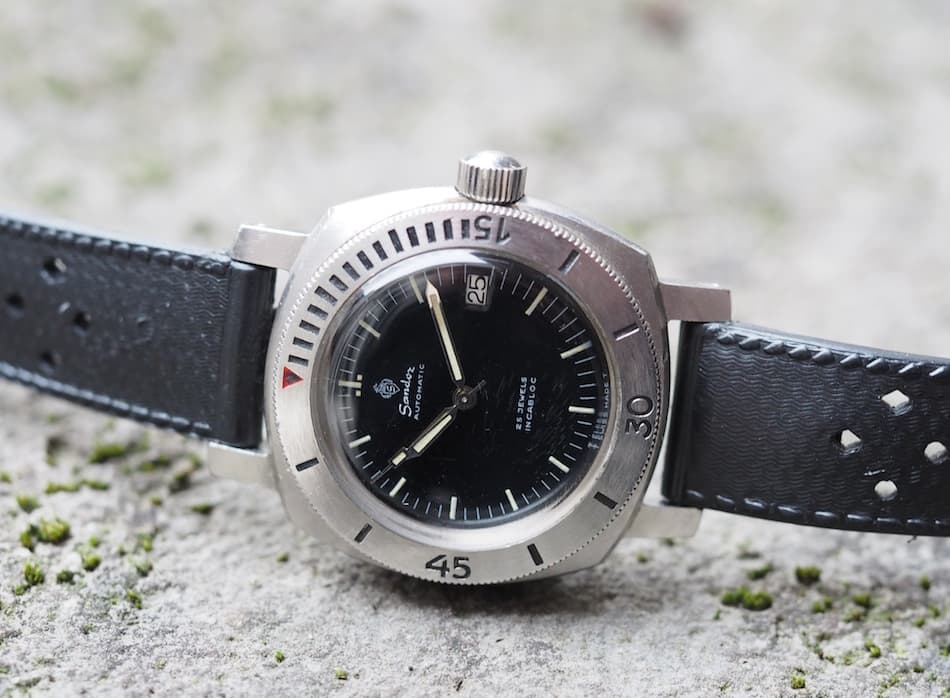 Whereas the Caribbean is bold, bright and busy, the Sandoz Depth Master incorporates highly traditional looks and a simple 60-minute bi-directional rotating bezel. Case-wise, aside from the Panerai looks (think of a 1950 Luminor case without the locking crown latch or even the Radiomir 1940 with a bezel), this is one solid little nugget. At 38mm with 18mm lugs, it's not big, but it is sturdy.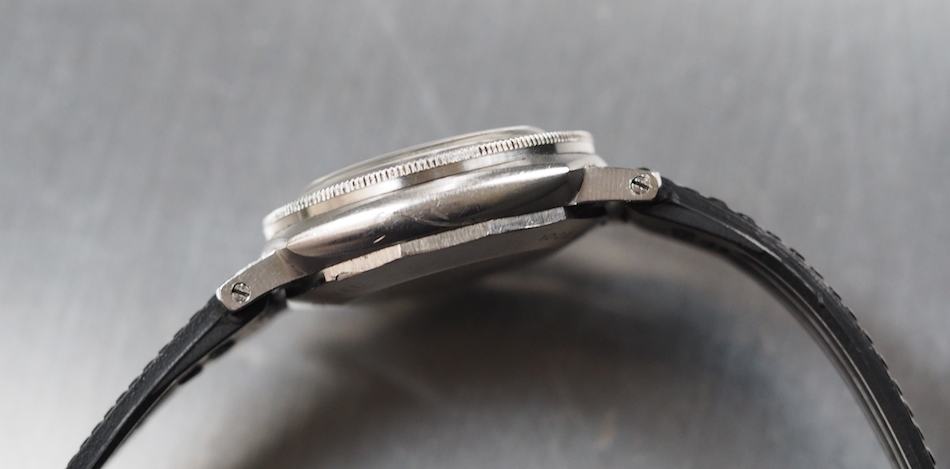 Rugged Features
Detail-wise, the Sandoz Depth Master includes some neat little features. Amongst my favorites has to be the screw in bars at the lugs. It could be viewed as a nod, yet again, to Panerai, and it makes for a more robust strap fixture versus normal spring bars. That's not a bad characteristic for a serious dive watch and it once again highlights how small brands brought some really unique things to the game 50+ years ago. Finally, a large screw-down crown is found on the watch, which gives it a formidable look.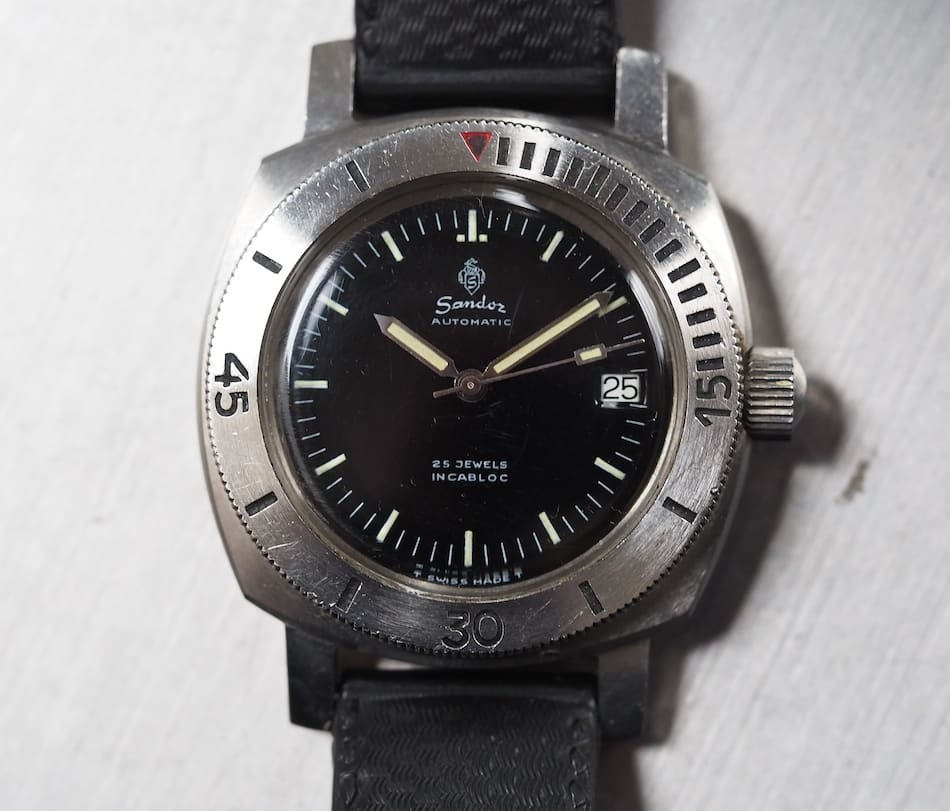 Highly Legible
Dial-wise, this version of the Sandoz Depth Master is amongst the tamest. That doesn't mean that it's bad, but it does luck some of the funkiness seen on other Sandoz variants and even the Nivada "Pac Man", which is likely the most coveted version. In fact, this version is extremely business like with its basic black dial and painted lume indices, but damn is it legible. Plus, it adds a no-nonsense arrow-tipped hands and a sweep hand with a rectangular plot near its end. The original domed crystal (it shows evidence of crazing, like almost all the originals) adds a nice period touch as well.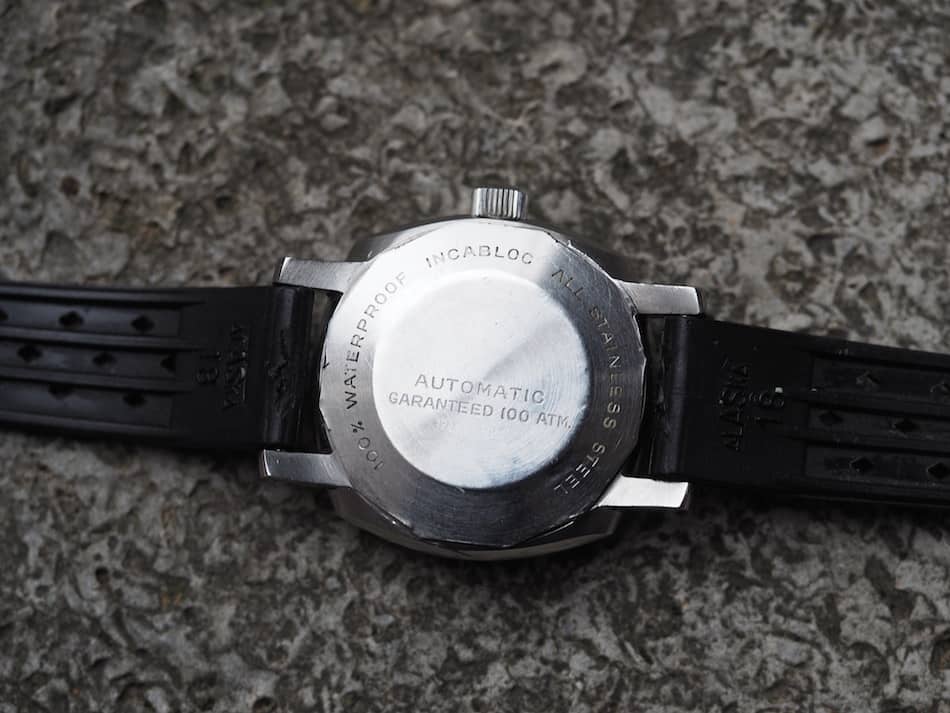 The casemates for this watch used a variety of movements from A.Schild and ETA. All are automatic and most feature a date function. In the case of the Sandoz Depth Master, a Schild AS 1700/1701 is inside. Fitted with 25 jewels, it's a fine and simple automatic that can be hand wound and chugs along at 18,000 bph. Mine, on the other hand, has recently shown that it desperately needs a service because it loses about 10 minutes per day.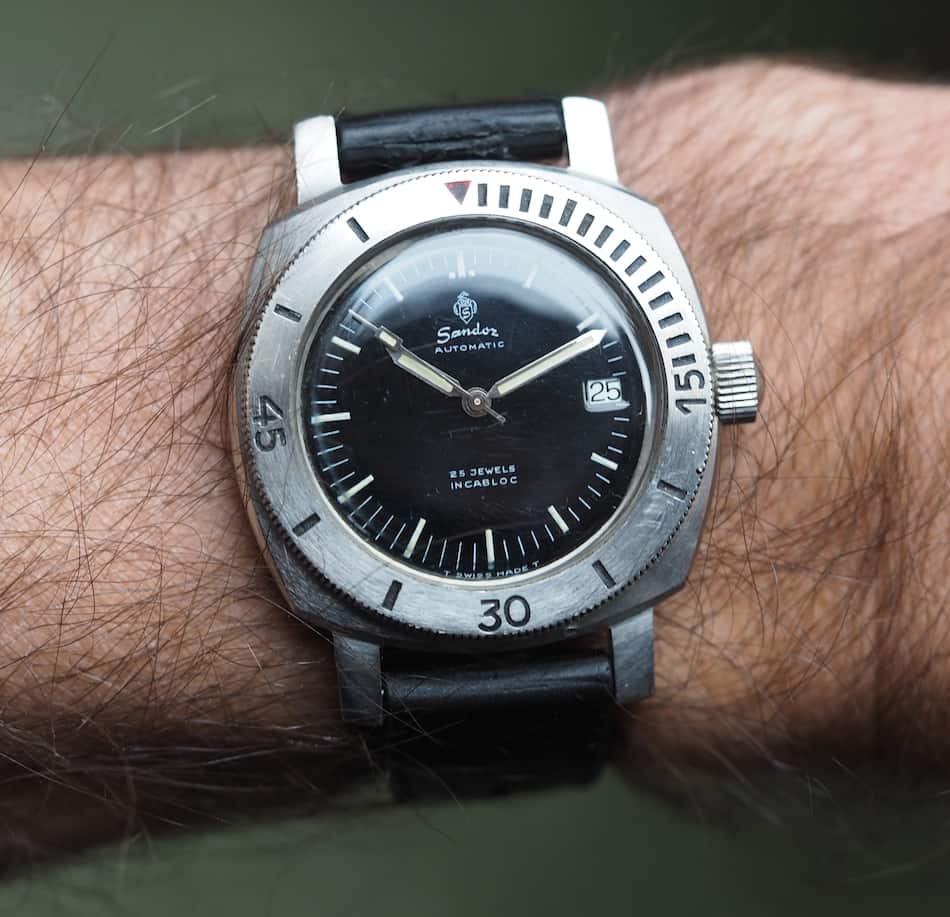 A "Starter" Panerai
Looks-wise, it's awfully hard to fault the Sandoz Depth Master. It also reminds me of something else that I often think of – Panerais are actually damn good looking watches. Simply, sturdy and utile – that's how I think of most basic Panerai watches and this Sandoz ticks a lot of those boxes at a much more approachable price. You can see I have this on a period rubber strap – as it was delivered to me. It definitely looks good, but I'll likely end up switching it to a rough and tumble leather strap at some point to help compliment the patina on the dial. Regarding delivery, I actually found this watch for around 700 Euros on a Facebook page and the seller was well known by a friend. In the end, it was an easy and satisfying transaction.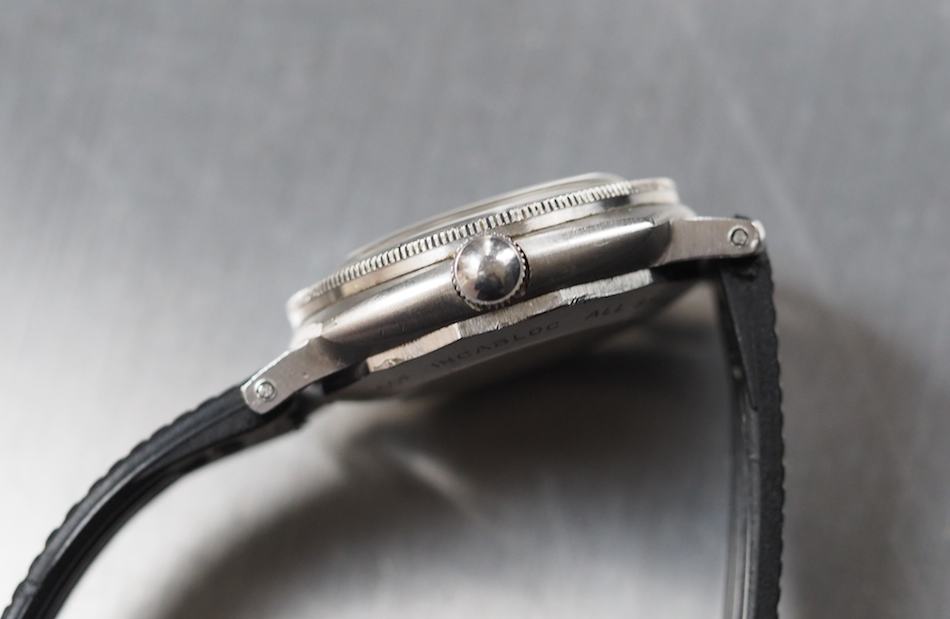 Quick Sellers on the Vintage Market
The Sandoz Baby Depth Master and its Baby Panerai relatives are popular with vintage collectors and decent ones sell quickly if they're priced right. They come up with decent frequency – perhaps because owners love the Panerai looks but wish for something just a bit larger – and find new homes quickly. Price wise, decent examples start around $1,000 but deals can be found below this. The "Pac Man" as referenced above can sell for well over double this amount due to its unique dial font. Original crystals, hands and crowns are all but impossible to find, so be aware of changes. Crystal wise, a replacement wouldn't cause concern due to the fact that the originals craze, crack and – well – they need to be replaced. Movement wise, you're dealing with easy engines, so don't hesitate to buy a non-working piece as long as water hasn't fouled the works.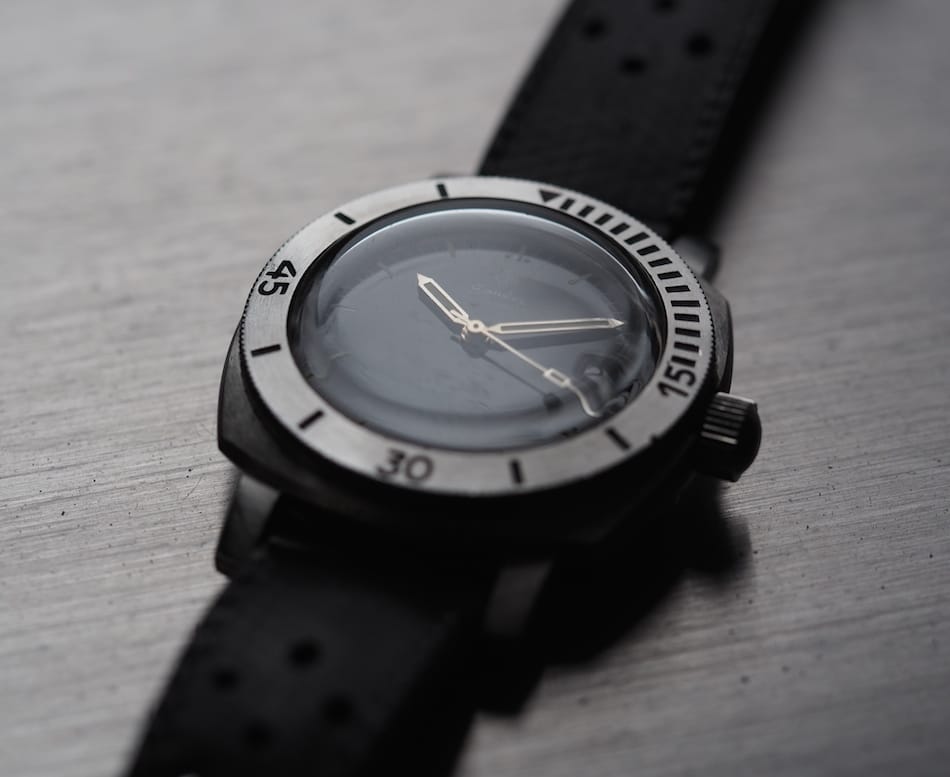 Today's #TBT offers a brief look at the Sandoz Depth Master, one of the earliest entrants in the 1000M dive watch field. It's affordable and offers a plethora of designs – one of which should strike the fancy of a collector. Until next week…