Seiko Adds Two New Camo Models To Its 5 Sports Lineup
Which one of these two wears the camouflage jacket better — the limited-edition SRPJ39 or the regular SRPJ37?
Camouflage patterns are definitely not for everyone. I would even say that camo is a love-it-or-hate-it thing. Especially when it comes to watches, not everyone is a fan of these military-inspired patterns on their dial or straps. Personally, however, I love a good camo motif. Seiko decided to introduce two new camouflage versions of its popular 5 Sports (nicknamed "5KX") models. The first is the limited-edition black-and-gray SRPJ39 created together with Japanese skateboarder Yuto Horigome. The second is the regular-production SRPJ37, which comes with a green camouflage dial. Needless to say, I was curious to find out more.
Even if you count yourself as a camo lover, there are tons of different colors and patterns that may or may not suit your taste. I actually have two watches with camo straps. The first is a Gorilla Fastback that came on a green-and-black camo strap. The second is my first-generation Seiko Sumo SBDC001 that I fitted with a green camo rubber strap. That strap actually gave my Sumo a new lease on life, and I have been wearing the watch quite a bit recently. However, in the comments section of that Strap Check article, it became clear that not everyone was a big fan of the combination. This is why these two new camouflage Seiko 5 Sports models are only for a certain crowd. If you're a fellow camo fan, let's find out more.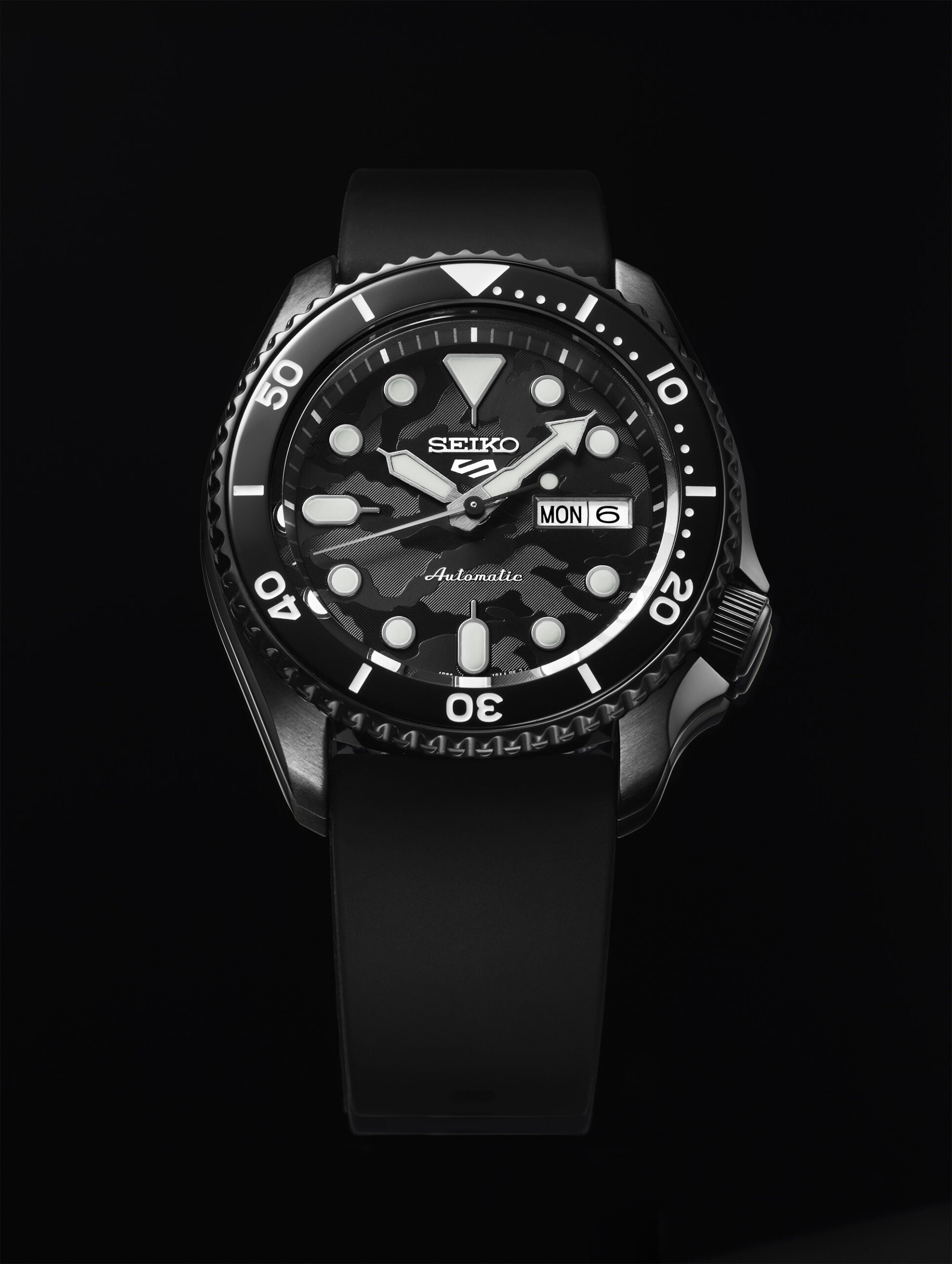 The limited-edition SRPJ39 created with Yuto Horigome
The first of the two new additions to the Seiko 5 Sports lineup was created with Japanese professional skateboarder Yuto Horigome. The Tokyo-born skater is a big name in the world of skateboarding. Horigome, who has resided in the United States since 2017, was the first-ever skateboarder to win an Olympic gold medal in his sport at the Tokyo 2020 games. In the years prior to the Olympics, he also managed to get some great results in several professional skateboarding contests, making him a famous name in the sport. To those familiar with skateboarding today, Horigome's gold medal came as no surprise. For the brand's second collaboration with Horigome, Seiko "gave the skater the freedom to select the colors, materials, finishes, and graphics" to create his own take on the Seiko 5 Sports model.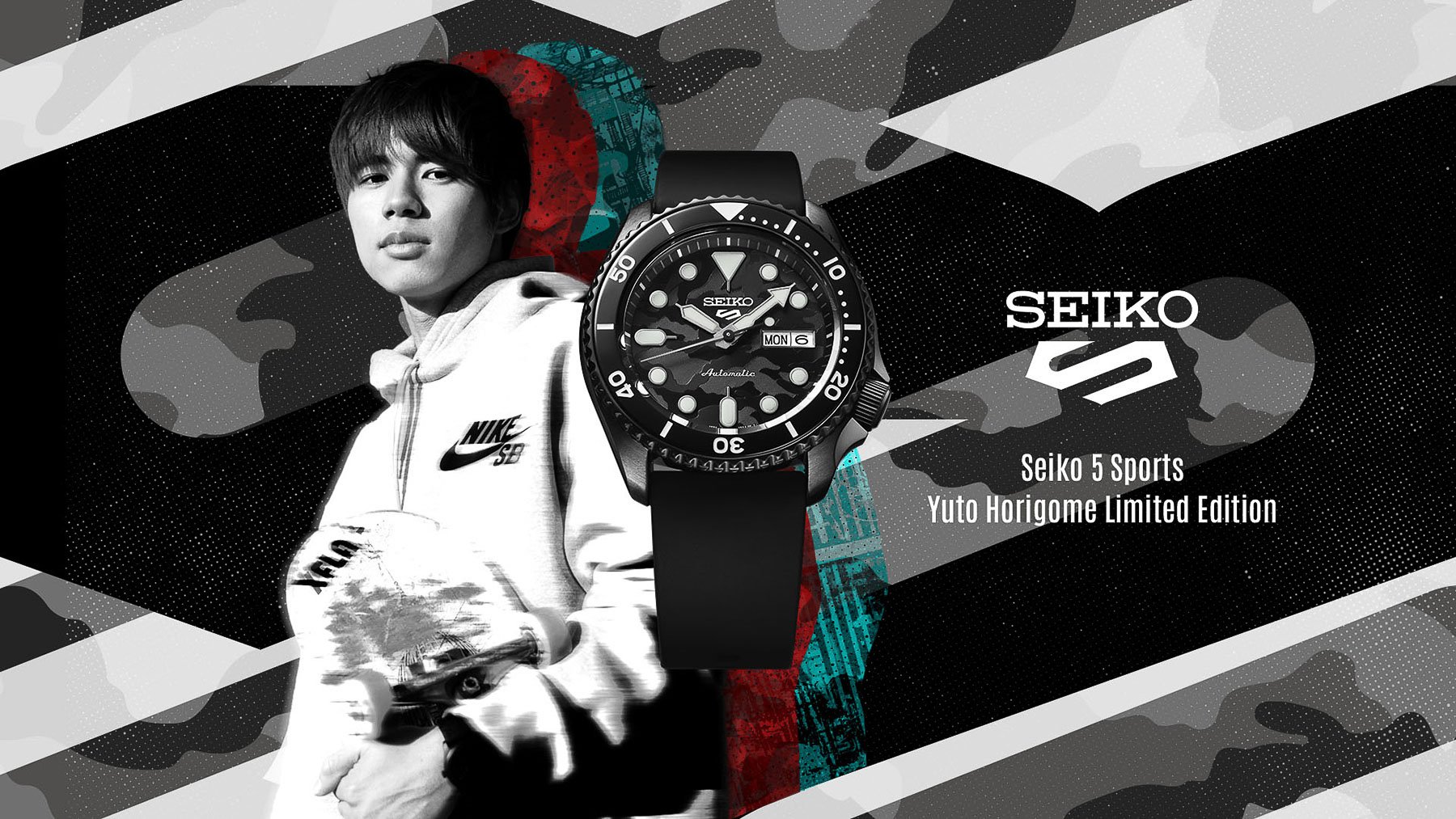 The first collaboration model was the all-black SBSA161 that was released in 2021. This new collab features the familiar Seiko "5KX" case in stainless steel with a hard coating in black. The case measures 42.5mm, is 13.4mm thick, has a lug-to-lug of 46mm, and is water resistant to 100 meters. The lug width is 22mm, and the watch comes equipped with a black silicone strap. The true star of the show is the camouflage dial. It features a three-dimensional stamped black-and-gray pattern with a cool textured look. Seiko will produce a limited run of 6,000 pieces of this model. Each will come in a special box with Yuto Horigome's signature on it.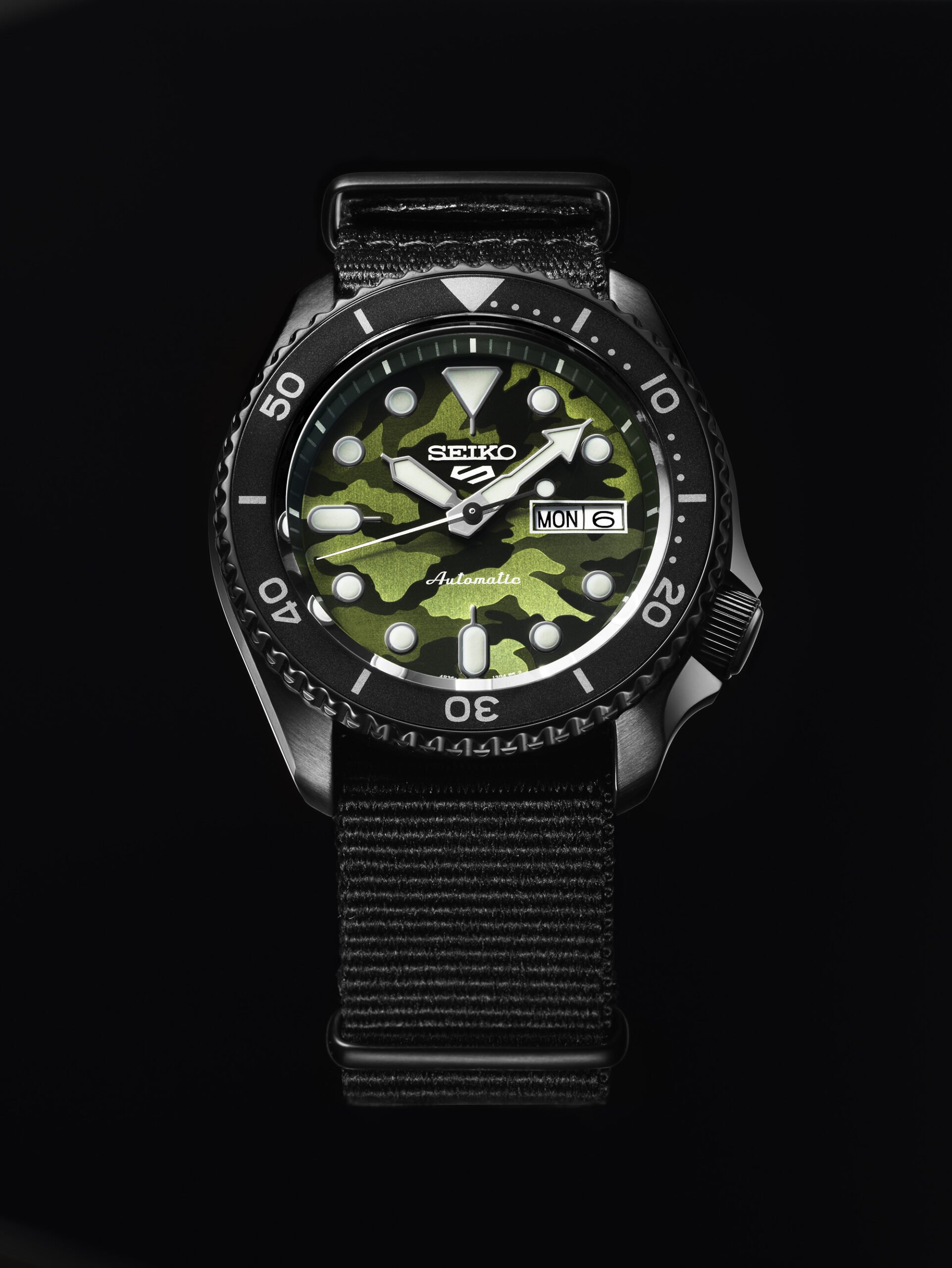 The regular-production SRPJ37 in green
The second model that Seiko has announced is the regular-production SPRJ37. It comes with the same case dimensions and specs, but it features a green camo dial for a bit more color. However, unlike the limited-edition model, this dial does not feature a textured pattern. Instead, it has a glossy finish that will look different depending on how the light hits it. Another difference is that this regular-production model comes with black nylon NATO strap. Both watches feature the same black bezel with the familiar dive-style scale executed in white. Additionally, both watches utilize the same handset and markers filled with Seiko's Lumibrite for legibility in darker conditions.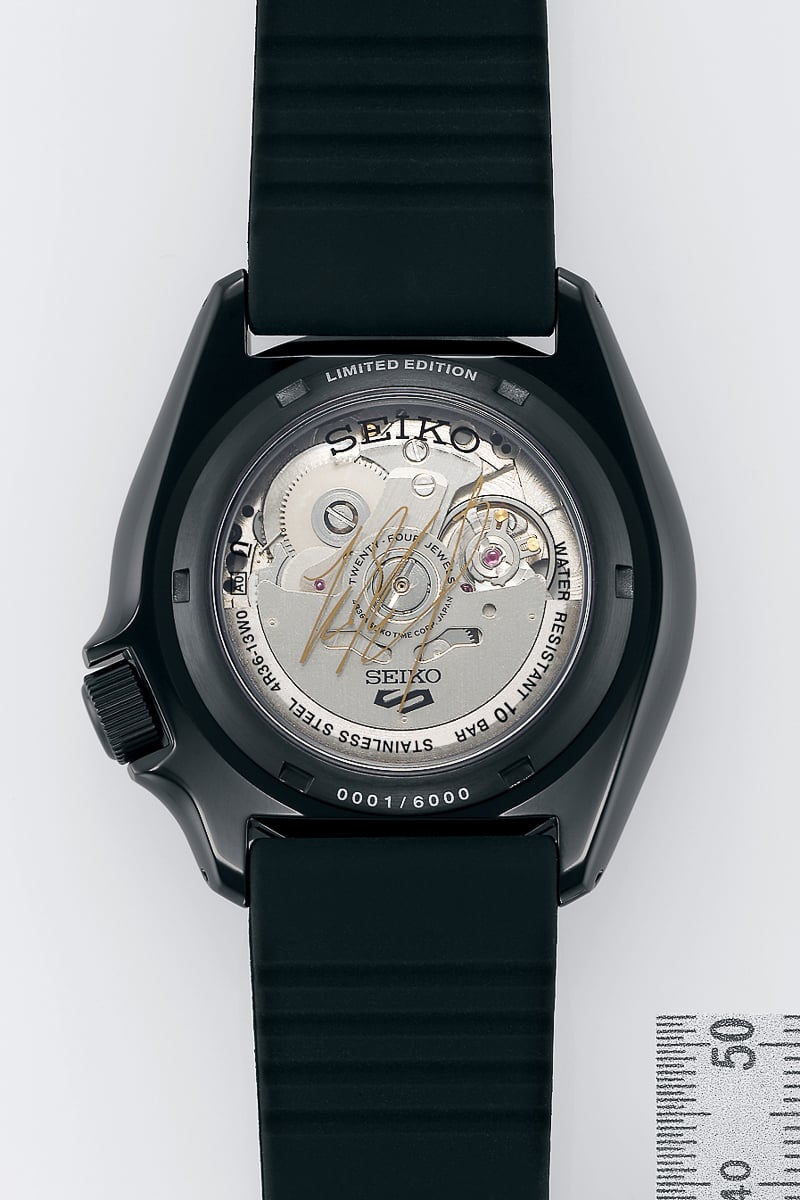 The Seiko caliber 4R36
Inside both watches, we find the familiar Seiko 4R36 movement. This automatic caliber operates at 21,600vph, has 24 jewels, and delivers 41 hours of power reserve. Furthermore, it features both day and date indications, displayed on the dial at 3 o'clock. The standard Seiko 5 Sports movement is basic, reliable, and visible through the display case back. For the limited-edition SRPJ39, Seiko created a special case back that features Yuto Horigome's signature and the limited-edition number. The regular-production model features a standard case back that allows you to see the movement in action.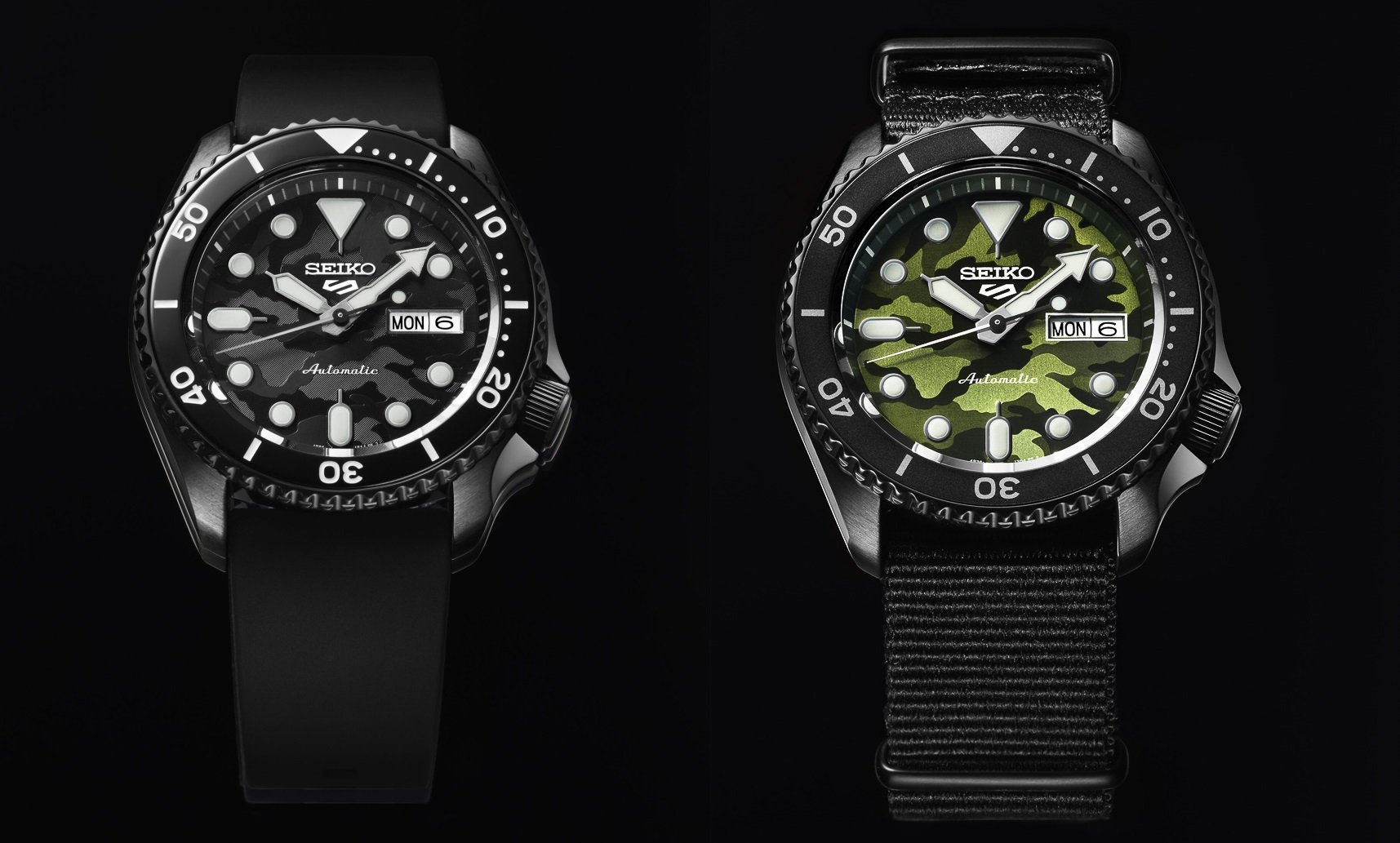 My first impressions
These two new Seiko 5 Sports camo models are further proof of the great diversity of the Seiko 5 line. I love seeing these additions because they work very well with the canvas provided by the SKX case and dial design. It has proven to be a great template for a string of interesting and wildly different releases. When it comes to these two, I love the textured dial of the limited-edition Yuto Horigome model, but I would go for the more colorful green camo version. I would also probably swap the nylon strap for a matching green camo rubber strap. I have a feeling that would make for a great weekend watch. The limited-edition SRPJ39 will be €340, and the regular-production SRPJ37 will cost €330 when they become available in September. If you are into skateboarding, the choice is probably easy. If you are not, but you are into camouflage like I am, it's simply a matter of picking your favorite color.
For more information, visit the official Seiko website. Let us know in the comments section which of these two Seiko 5 Sports models you prefer.