#TBT Affordable Vintage – Seiko 6138 Yachtman vs Tissot T12 Chronograph
When we last took a reader's survey about 9 months ago, we found out that you're craving reviews of affordable watches. Well, in today's #TBT, let's talk affordable vintage chronographs. More importantly, let's talk about vintage watches that are actually easy to source and, furthermore, will truly fall within the price ranges I provide.
If you're like me, you've read countless reviews about cost conscious vintage watches and it often turns into a discussion about little known brands that used a good Swiss movement, perhaps shared a case with others, and then died an unsung death in the mid to late 1970's once the quartz crisis took hold. These brands made some great pieces, but unless you're a true student of the game, they may leave a collector wanting for a brand with a little more name recognition. A great example of this is the multitude of watches that go by the name of "Poor Man's Heuer Carreras". I personally like these watches a lot and they do have nice pedigree, but if I were being completely honest, I'd rather wear a real Heuer Carrera.
So what's one to do if they want a legitimate, credible vintage chronograph made by a well-known, respected maker? Here are a couple good suggestions: Seiko and Tissot. I am offering two choices from different countries because, despite my endless preaching from the vintage Seiko pulpit, I know there are some of you who will simply never feel like a watch is good enough unless it says "Swiss" on the dial. Well, more power to you, and more Seikos for me, but I'll reluctantly kowtow to your wants and desires and provide a continental choice.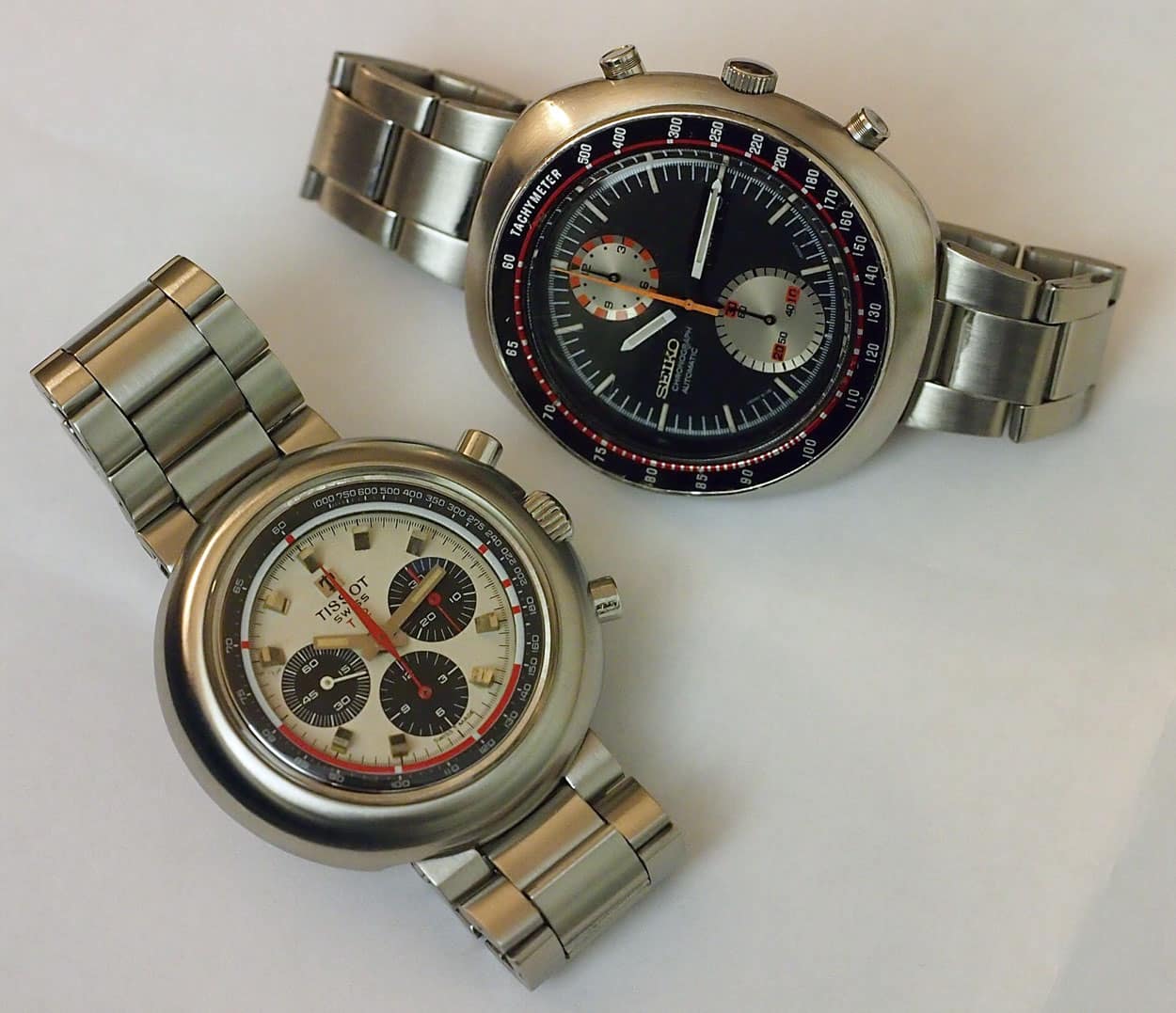 We've spoken a lot about Seiko on these pages so I'll spend a little time giving a very brief history on Tissot. Tissot was founded in 1853 in Le Locle, Switzerland and really blazed trails by offering the first mass-produced pocket watch in that year. They went on to introduce a number of firsts: first anti-magnetic watch, first watch made of stone, wood and plastic. Interestingly, they merged with Omega back in 1930. Lemania, the movement maker joined the group 2 years later and became the chronograph movement maker for the brands. Having a captive chronograph maker enabled both Omega and Tissot to become official timing partners for many events such as the Olympics, Formula 1, and other sporting events. Oh, let's not forget that it allowed Omega to compete for, and win, the spot as the Moonwatch with NASA. If you're following me this far, and know anything about the cost (a lot) to develop a movement, you'd be correct in guessing that Tissot and Omega used a lot of similar or even same movements over the years. At times, Omega used a slightly more advanced version or one with more decoration, but perhaps think of it like VW and Audi. VW and Audi both use many of the same engines; Audi may receive a slight bump in horsepower and is generally surrounded by more luxurious trappings, but the bones are the same. So, in the end, what I am driving at is that one can often find a nice vintage Tissot chronograph movement that carries much of the prestige of what inside a far more expensive Omega. Incidentally, all the brands I mentioned: Omega, Longines, and Lemania have been under the Swatch Group since 1983.
Ok, so now it's time to unveil the contestants. For this comparison, I chose two chronographs that are somewhat stylistically similar. They hail from the early 1970's, which puts them right in the beginning of the lugless/C-case era. I've taken it one step further and have chosen two pieces, which can also be described as having "UFO" cases. The watches for comparison are the Seiko 6138 Yachtman and the Tissot T12 Chronograph.
Seiko 6138 Yachtman
No one knows why this particular Seiko 6138 is called the Yachtman other than the fact that advertisements from Seiko coined the term. Functionally, though, there is nothing to suggest that the watch would work as a regatta timer. In fact, most now prefer to call it by the "UFO" due to its flying saucer-esque case design. The UFO rings in at an imposing 44mm, which places it square in the territory of similar vintage offerings from brands like Heuer at the time. It's a good-looking chronograph with rather timeless color choices versus a lot of Seikos from the time. A black dial is nicely contrasted with silver subdials and orange/red highlights on the central chronometer hand, dial and the external tachymeter bezel. Pushers and crown are well proportioned for the case size. Naturally, it contains a Hardlex mineral crystal that is prone to scratching.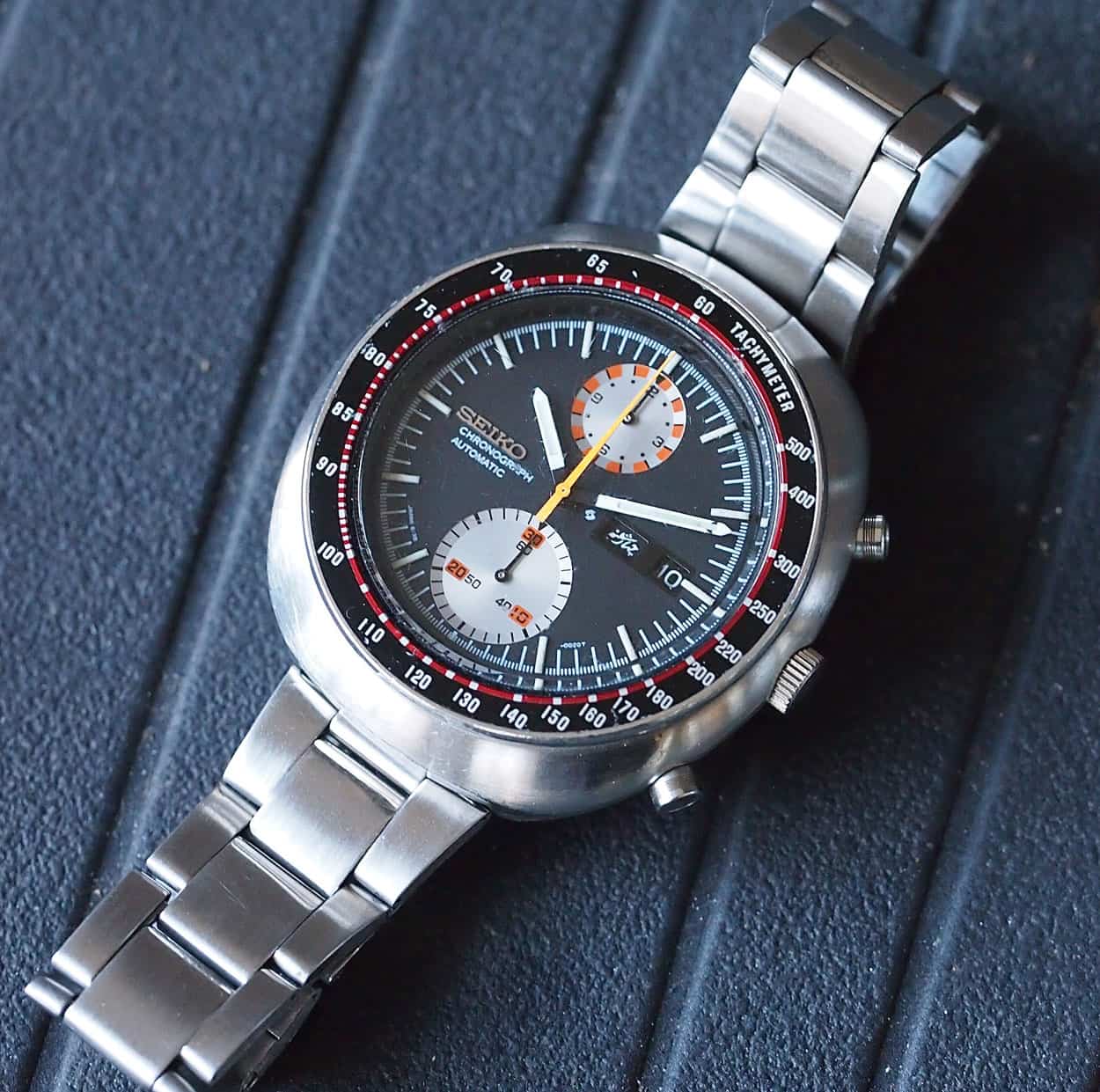 We last featured a vintage Seiko chronograph here. We all now know Seiko's important place in watch history due to their release of an automatic chronograph in 1969, but suffice it to say, the company was not about to rest on their laurels. The 6139 movement was introduced in 1969 and strangely; the numerically backwards Seiko 6138 was introduced one year later. I need to take a moment and correct a misstatement in my 6139 article; the 613x movements were not modular. They are fully integrated chronographs, which makes them truly landmark as far as design and easily pits them against the Zenith El Primero. With that settled, the differences between the Seiko 6138 and its stable mate, the 6139, is that it added hand winding, and featured two chronograph registers versus one. The Seiko 6138 contains registers measuring minutes and hours whereas the 6139 only measured minutes. Also, unlike the 6139, the 6138 takes care of its day and date changing via pulling the crown out one detent and turning it either forward or backward. Inside, it features a column wheel and vertical coupling: all hallmarks of a serious chronograph movement. It's a 21-jewel piece, at least in its early iteration that bumps along at 21,600 bph and has a power reserve of 45 hours. Finally, it has gained a reputation for being a reliable workhorse of a movement.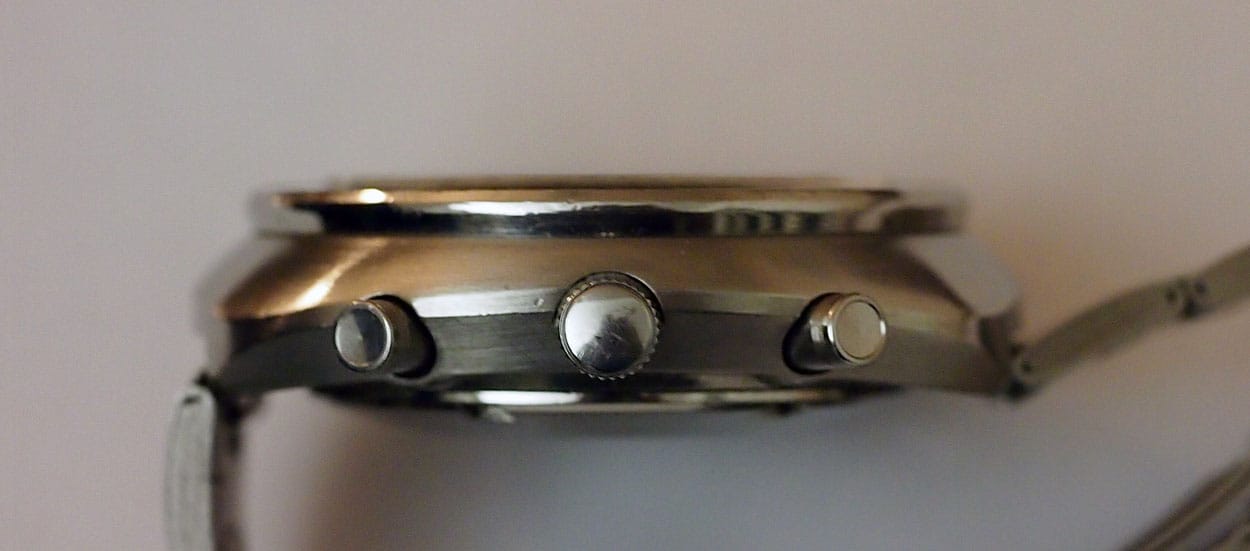 The Seiko UFO wears very well, despite its height, and fits in as a modern piece with its large case size. It's a heavy piece that feels extremely solid as well. I've had this piece on a 19mm rally strap and it looks great but I've now chosen to pair it with a non-original, vintage Seiko oyster bracelet. The original bracelet looks more like a jubilee style and has become difficult to find on the secondary market. In any case, I ended up going with a bracelet over a strap because the weight felt better supported by something more substantial. It's an enjoyable piece to wear for most occasions and it usually receives more than its fair share of compliments. Plus, it simply feels durable and able to withstand a minor beating. The chronograph function works very smoothly and has a nice tactile feel when depressing the nicely detailed pushers. Hand winding, via the unsigned crown, is also very smooth and on a par with most of the Swiss chronographs I own.
The piece you're viewing, from 1972, has an unusual, if brief, story. I actually found this Seiko 6138-0011 on eBay and while I could usually care less about boxes and paperwork, the documentation included told an interesting tale and it certainly piqued my interest. Many different language options were offered on the day wheels for Seiko and this piece contains a day wheel in Farsi. It was actually sold in 1973 in Tehran, Iran. Perhaps it was with the original owner and left the country before the revolution, but we will never know. Somehow, it ended up with the seller in California who ended up putting it up for auction. Who knows what this watch has seen?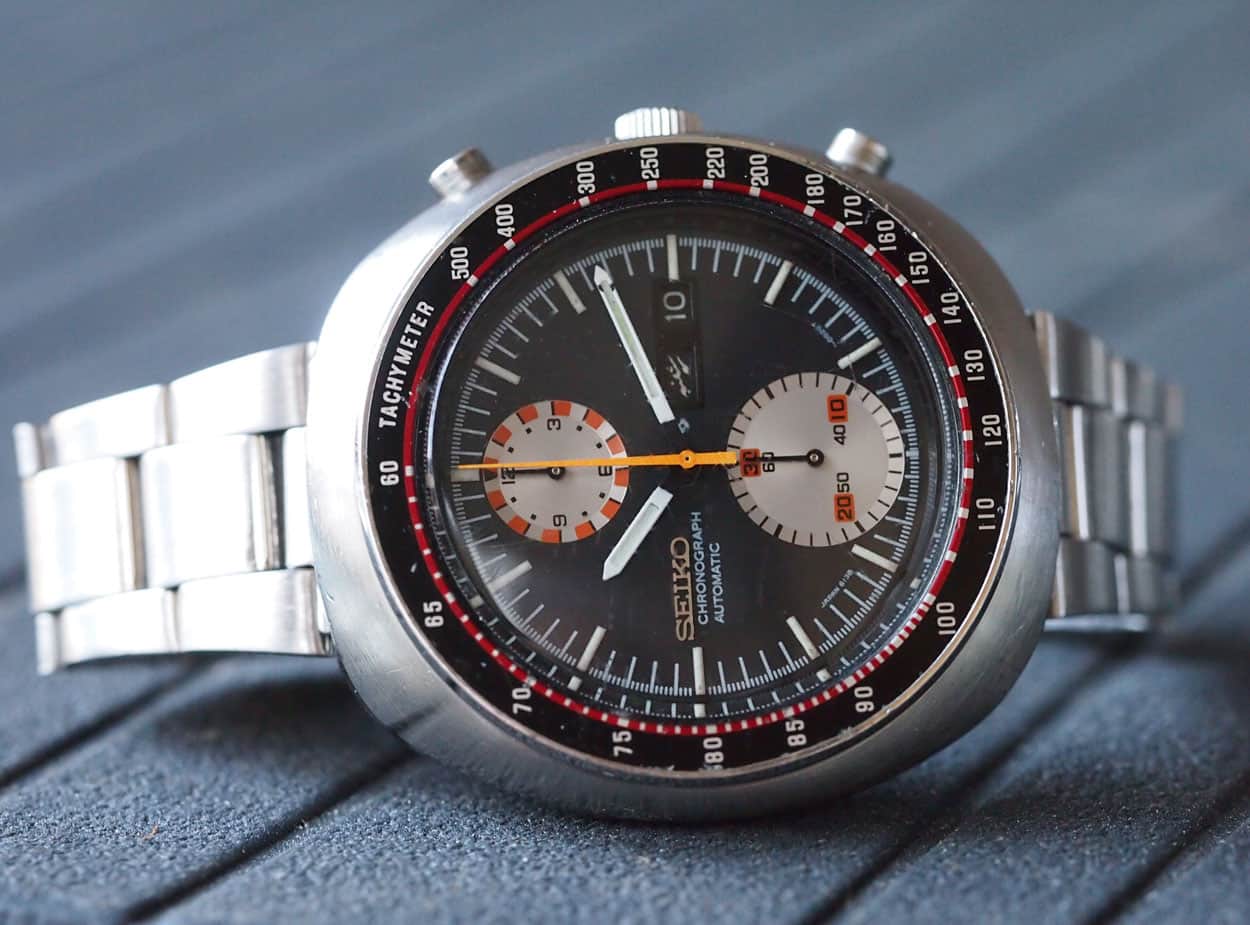 Finding a Seiko 6138 UFO is relatively easy despite the fact that it is a very popular model for collectors. It was made for several years and was seemingly popular when new despite a $145 price tag. Head over to eBay and you'll be greeted with many specimens. Pricing ranges from $250 to roughly $600 depending highly on condition, whether it has been serviced, and if it is original. Aftermarket dials are everywhere on these pieces and I also see a lot of incorrect hands. Also check for original bezel inlays, as there are aftermarket parts for these as well. While I could normally care less about getting a bracelet with a vintage Seiko, this one deserves a substantial one in order to keep it firmly planted on the wrist. The best idea, as I always mention, is to join a Seiko forum and ask questions about a proposed piece. Buying a non-running example is risky before checking with your favorite watchmaker to ensure he or she services them.
Tissot T12 Chronograph
I am not going to kid you; I have been looking at T12's for a long time. In this case design, Tissot offered up everything from a simple 3-hander, a compressor style diver, and some sort of world timer. The chronograph is today's focus, though. When I say I was looking at these for a long time, what drew me to them was the bulbous case design, which I always found to be a pure form. Plus, the dials always appealed to me for appearing clean and uncluttered. I don't know why I waited until roughly a week ago to grab one, but it probably has a lot to do with a comment I made about the intent of the article; specifically, there are always affordable pieces available in one condition or another. The other reason is that I could not figure out how large the piece is from the pictures and a diameter measurement usually does not tell the entire story. Well, the one you see here was spotted and bought in person.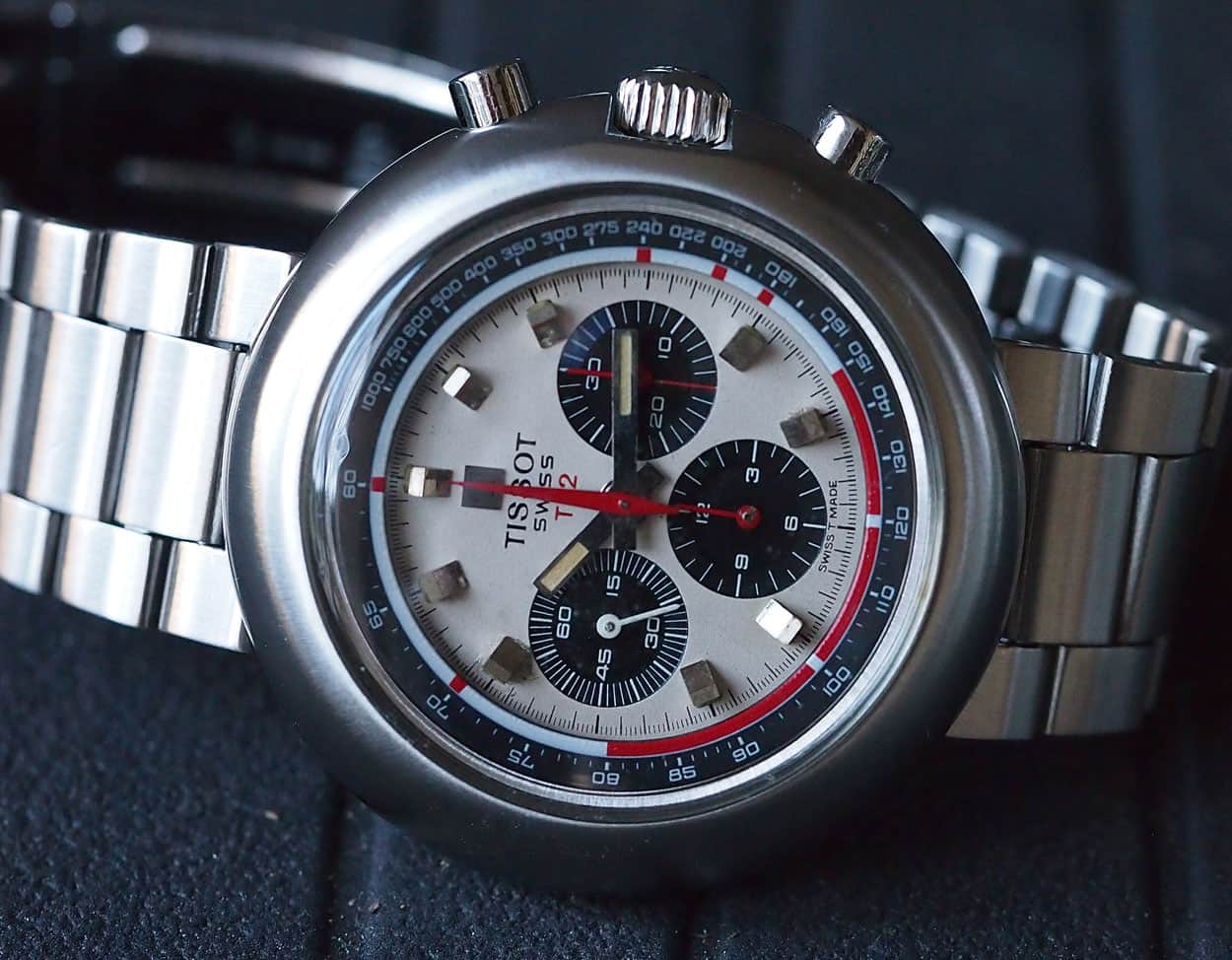 This Tissot T12 contains the Lemania 873 movement. Not ringing a bell? The 873 is, mechanically, the exact same movement as Omega's 861 caliber. Do you need another hint? This, folks, is the same movement found in the vaunted Speedmaster Professional; the same watch that is qualified for space travel. It's a manual wind, cam lever operated movement that also operates at 21,600 bph and has a 40-hour power reserve. It contains three registers in the familiar 3-6-9 positions, which measure hours and minutes while showing a running seconds hand. Did I mention that this movement has real pedigree? Furthermore, like the Seiko, it is highly reliable and, depending on your watchmaker, easier to repair than the Seiko.
When I mentioned I hadn't bought a T12 before because I was unclear on how it would fit, it's really because I thought it would be a massive piece that I'd wear once a month and then resign it to safe queen status. Well, sometimes, as they say, the proof is in the pudding. When I first saw the T12 shown here, I couldn't believe its normal size despite measuring in at 43mm. I strapped it to my puny wrist and, perhaps, due to its hidden lugs, the piece wears much smaller than its size. A lot of it likely has to do with the case design that doubles as a very thick bezel. This serves to create a relatively small area that is contained under the crystal; it is porthole like. Additive to that is the fact that the tachymeter bezel (mine is slightly misaligned) is also internal. Back to the crystal: it is a beautifully formed acrylic piece that integrates with and follows the curvature of the case and lies smoothly on the surface.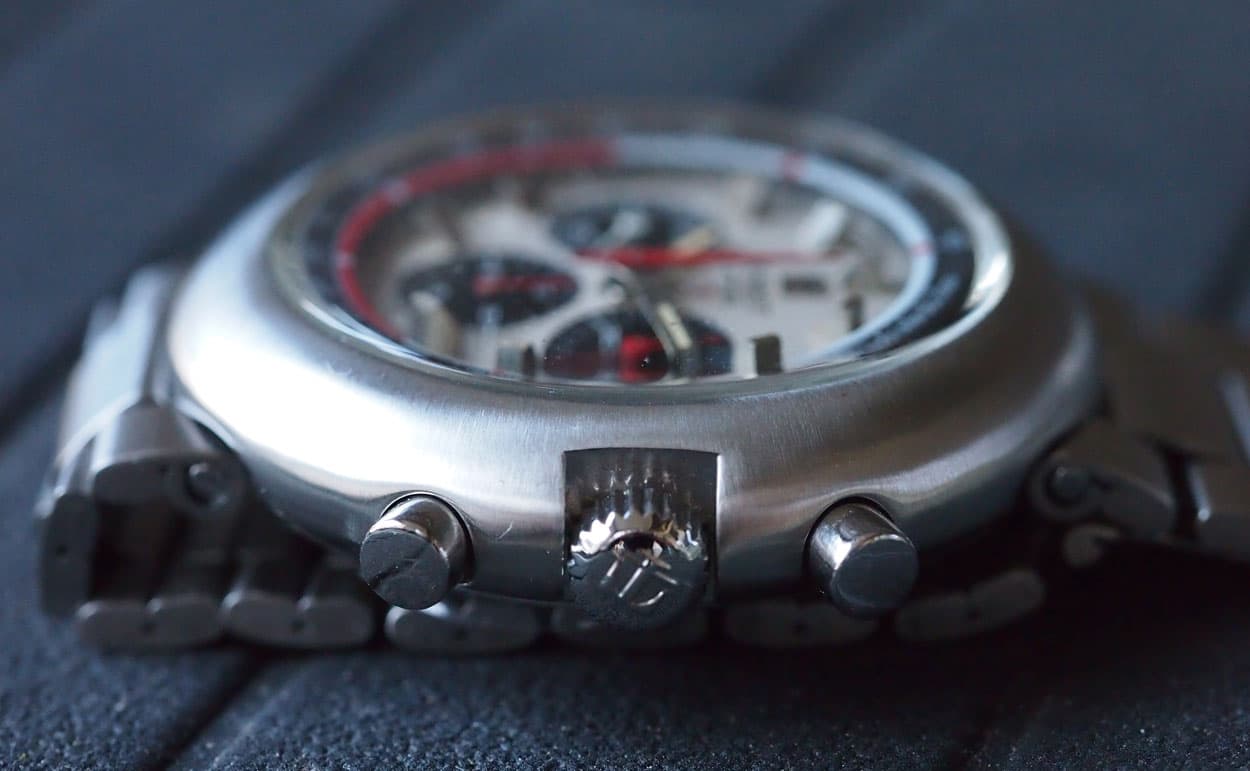 Let's talk in detail about the dial because it's fantastic. The complex design, I am guessing it was manufactured by Singer, is a 3-register piece that follows the panda format: black step-down subdials on a white dial. It also features interesting, inwardly angled and applied hour markers that further assist in making the watch seem smaller. The subdials contain two red stick hands and one in white. Beefy, tritium-filled, rectangular hands take care of the time keeping duties while a unique red, diamond-shaped hand is the centrally mounted chronograph hand. Yes, there is a lot going on here, but it never really appears as loud; the details simply work.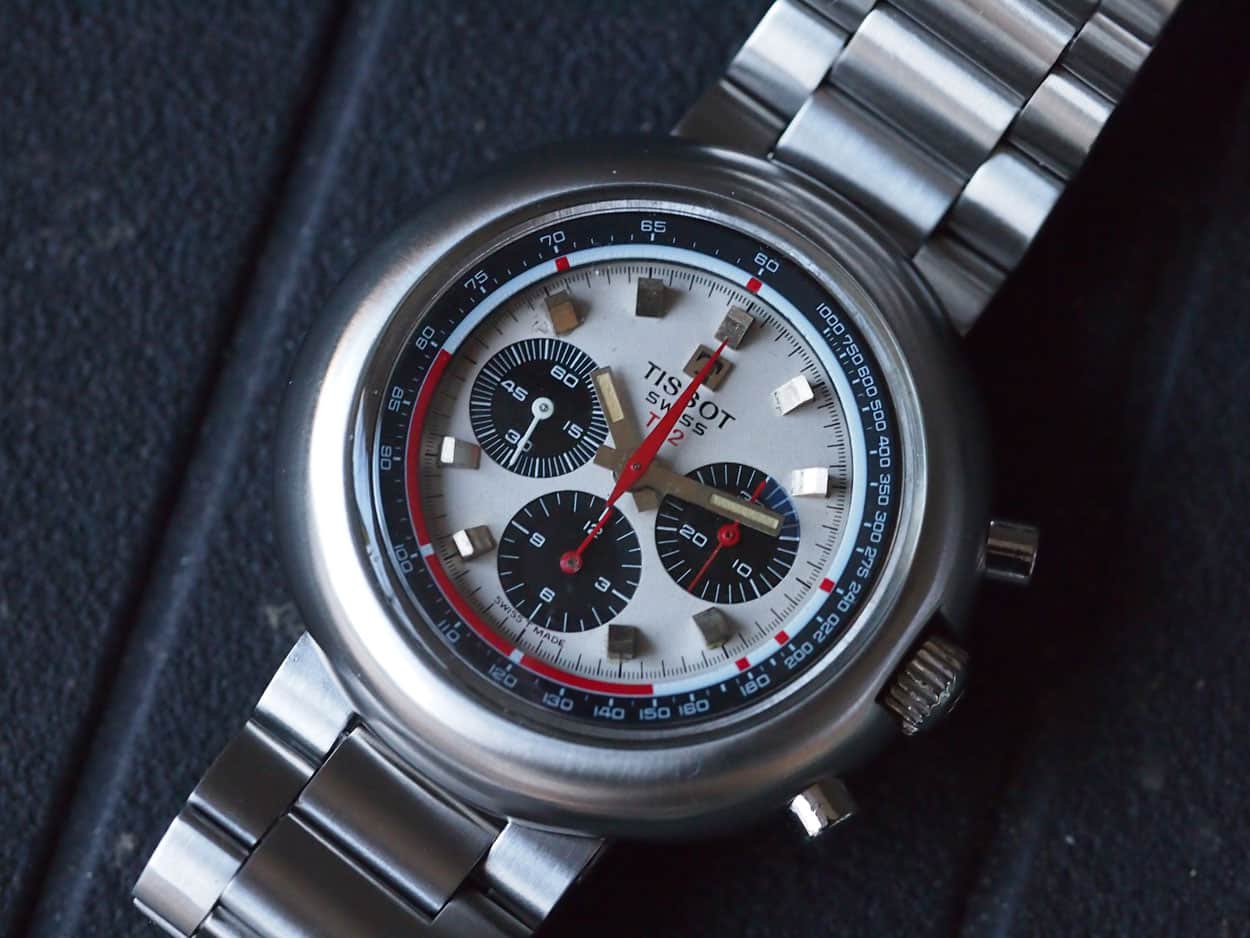 It's time for more details; one turns the watch over to reveal a nice case back depicting a ship. I'm not sure if this refers to Tissot's Navigator or Seastar line but it's nicely done. It is a press fit case back and sits smoothly against the wrist. The pushers are simple pump affairs and the piece carries a nicely signed crown. Returning to the case back, it gets interesting as the attachment for the bracelet is actually done via a hoop that is integrated into the case. Verbally, this is difficult to describe but it's probably the largest detractor on the watch as it makes fitting NATO straps or normal straps nearly impossible without some sort of custom attachment. One could cut a normal strap but you'd need a mandrel to thread through the strap ends to keep it affixed. However, all is not lost as the original bracelet is a very high quality affair made by, none other than, Gay Freres. Yes, the same Gay Freres that made bracelets for some very high-end brands and was ultimately gobbled up by Rolex in the early 2000's. It's a really nicely made "compact oyster" design that suits the watch well. Furthermore, the clasp has a huge range of adjustability: so much so that I did not need to remove any links. Oh, and lastly, it is date stamped and puts this piece at 1970.
Finding a T12 chronograph isn't terribly difficult. I think that the round, UFO styled case puts off a lot of potential buyers. This is a shame, though, as the aforementioned details and serious movement offer a lot for the money. I also think it looks infinitely better in person than in pictures. Speaking of money, expect to pay around $600-1400 for a T12. I often see pieces with ratty dials at the lower end or pieces that have had the fine matte finished case polished to a high shine; the case and bracelet should have a matching finish. Check to ensure the hands are correct and if the chronograph is functioning properly. I'd also steer clear of buying "head only" pieces due to the odd bracelet fitment and also because the bracelet is of nice quality. Finally, regarding the bracelet, try to check for stretch, as this is also common.
Conclusion
If you've come this far, you've probably noticed my slightly deeper enthusiasm for the Tissot. Well, you wouldn't be wrong. It's such a cool, well-made piece that looks great on the wrist. I also feel like I'm cheating a little while wearing it, as there's so much value for the price paid. It's staid enough to be taken seriously in most environments, but funky enough to transport the wearer back to something like the 1970's set of "Rush"…yes, I know they wore Heuers. Then again, while still affordable, the Tissot does typically cost twice the Seiko. With the Seiko, you're getting a great package design-wise and, more significantly, an iteration of a groundbreaking automatic movement. Plus, you can brag that you're wearing a column wheel chronograph if that's of interest to you.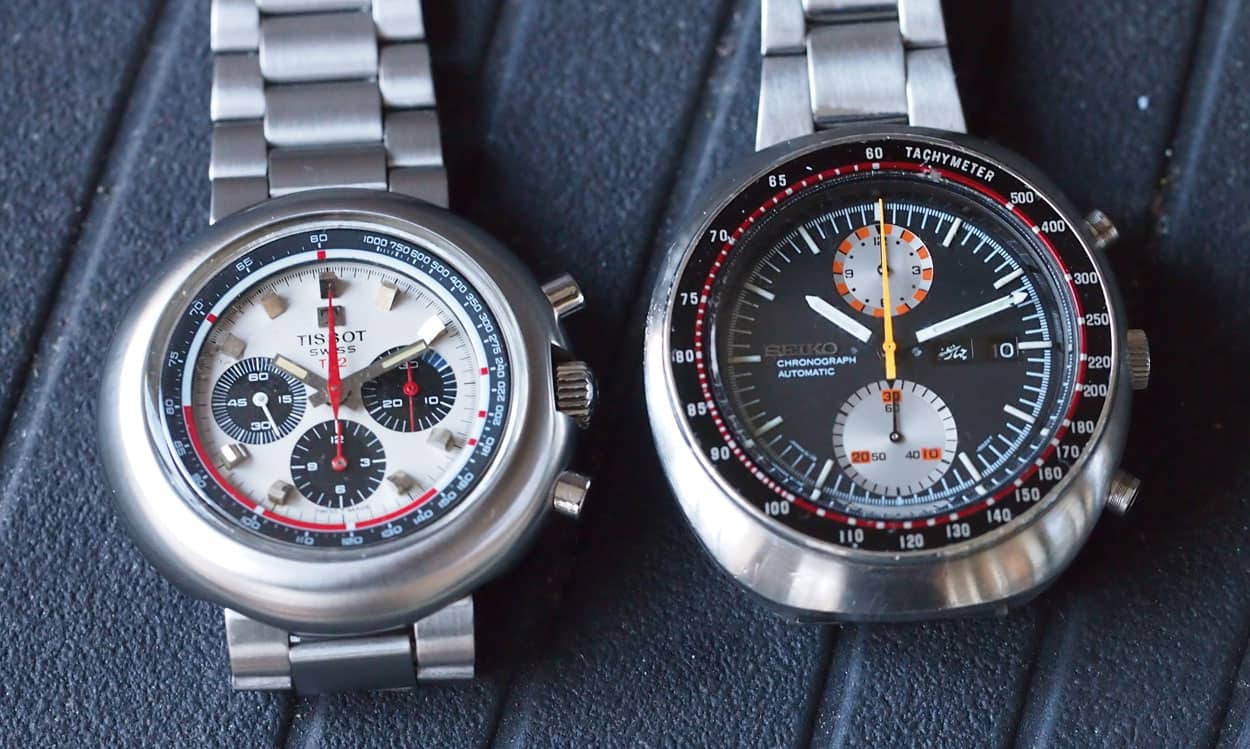 I hope you enjoyed this week's installment of #TBT. Expect future articles discussing affordable vintage. Today's article was a lot of fun to write. Why? I felt like I was talking about two great watches that don't require excuses for consideration. More clearly, both are serious timepieces in their own right that can stand up to examples costing multiples more. Even if you're in the market for a much more expensive piece, if you should happen across either, give them a try and I'd be willing to bet you won't feel as though you're dropping down a level in quality to the degree that the price suggests.