Seiko Releases Two Limited Editions In Collaboration With Artist Kosuke Kawamura
Two new Seiko 5 Sports watches by a collage artist that are collages of historic Seiko models
Seiko has been on fire with a flurry of great releases this year. These Kosuke Kawamura Limited Editions seemingly came out of nowhere. No big fuss up front. It took us by surprise when Seiko showed them to us without prior notice. What is the key takeaway of these two new limited editions? They were designed in collaboration with Japanese artist Kosuke Kawamura, who is primarily known for his collages. The resulting watches have turned out to be Seiko collages themselves, and they're pretty cool if you ask me.
There is a black-and-teal version — SRPJ43 — which is limited to just 500 pieces. The orange-and-teal SRPJ41 is slightly easier to come by at 3,000 pieces. Let's have a closer look!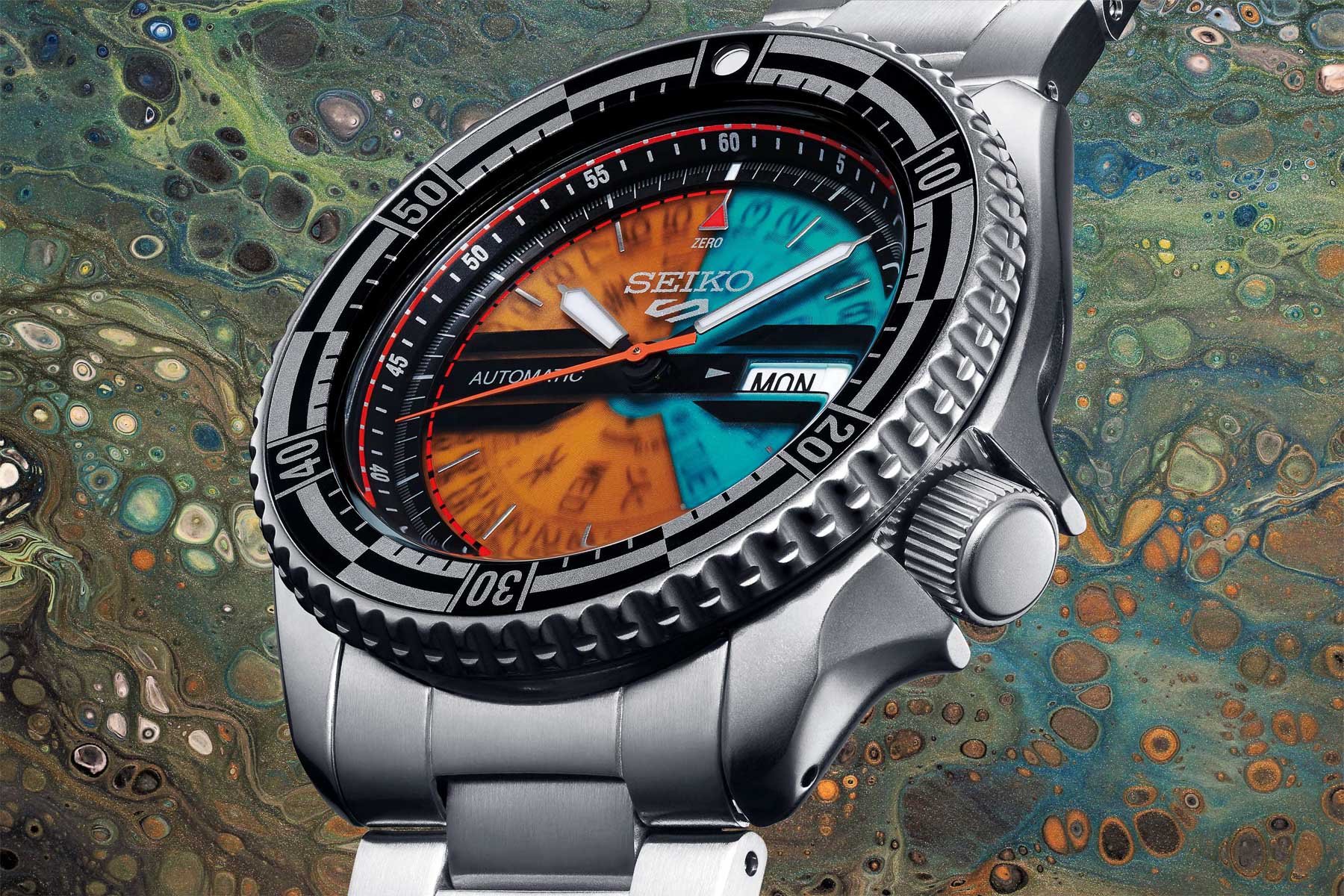 Kosuke Kawamura
Tokyo-based Kosuke Kawamura (1979) is a self-taught graphic designer who found his artistic voice in collage work. He has a style that blends irony with pop culture. There is some societal and political commentary in his work, but it is usually lighter in nature. One of his signature styles is the combined image resulting from two alternating shredded images.
Kawamura often collaborates with the fashion world, primarily in Japan. Earlier this year, he became the creative director of UT, a sub-brand of Uniqlo. Within the watch world, you may recognize his name from an earlier G-Shock collaboration.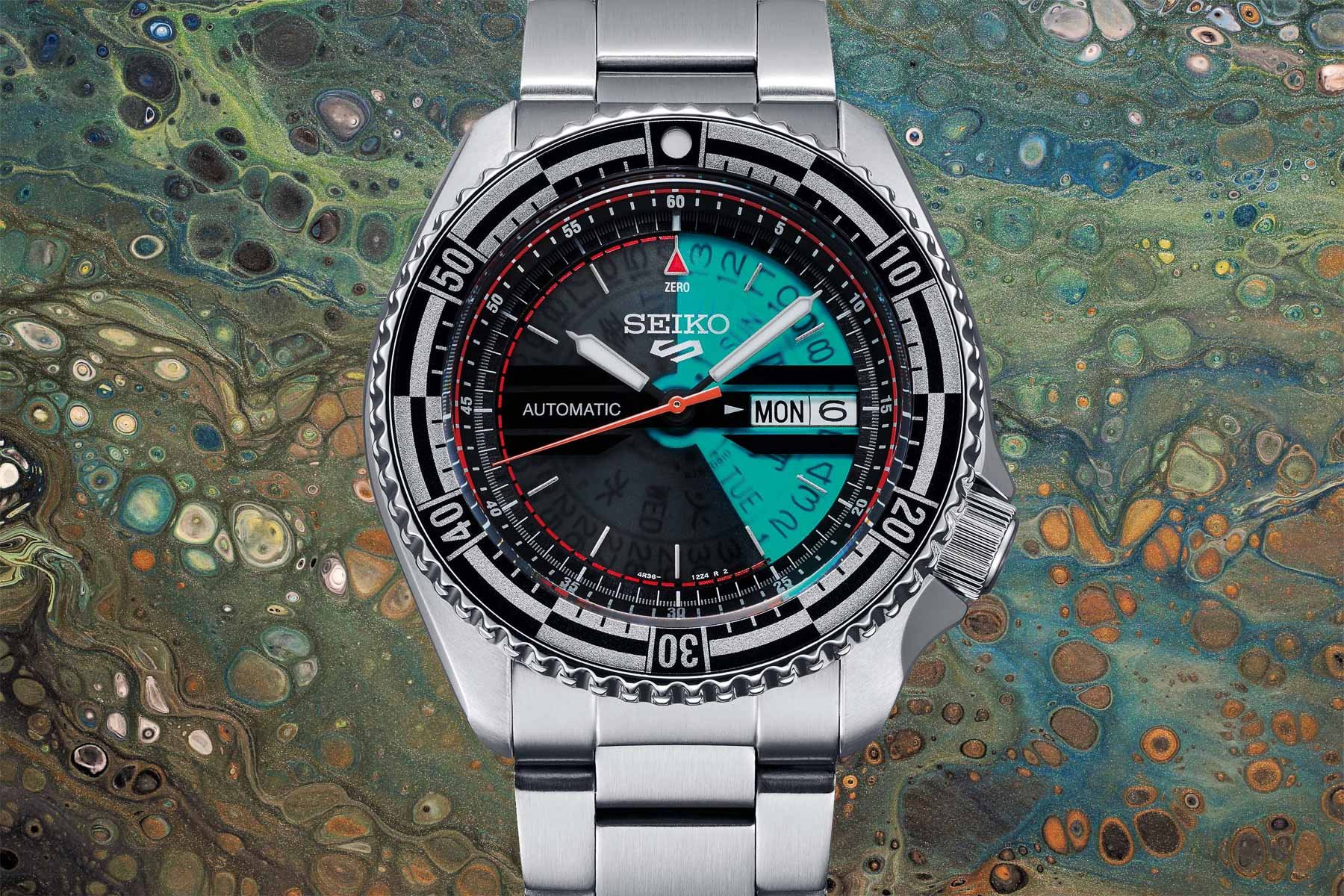 The Kawamura collage watches
Onto the newly released watches. As you would expect from a Kawamura collab, they are collages themselves. This time, however, they are not collages of pop-culture iconography. These are collages of watches from Seiko's own rich history.
The SRPJ43 and SRPJ41 are part of the Seiko 5 Sports line. They feature the familiar case design and specs (listed in full below) known from the SKX line, which traces back to the earlier reference 7002. Seiko calls this the SKX Sense style. As one of the iconic case shapes within Seiko's history, it serves as the base of this collage. Kawamura took the dial and handset from the 1970s Seiko Time Sonar models. The two-tone see-through dial with black graphics allows a glimpse of the underlying day and date wheels. The bezel is another vintage throwback from the archives. Kawamura lifted it from vintage Seiko 5 and Rally Diver references.
The resulting watches are eclectic but look like they might have existed in this form before. They do not look fragmental as you might expect.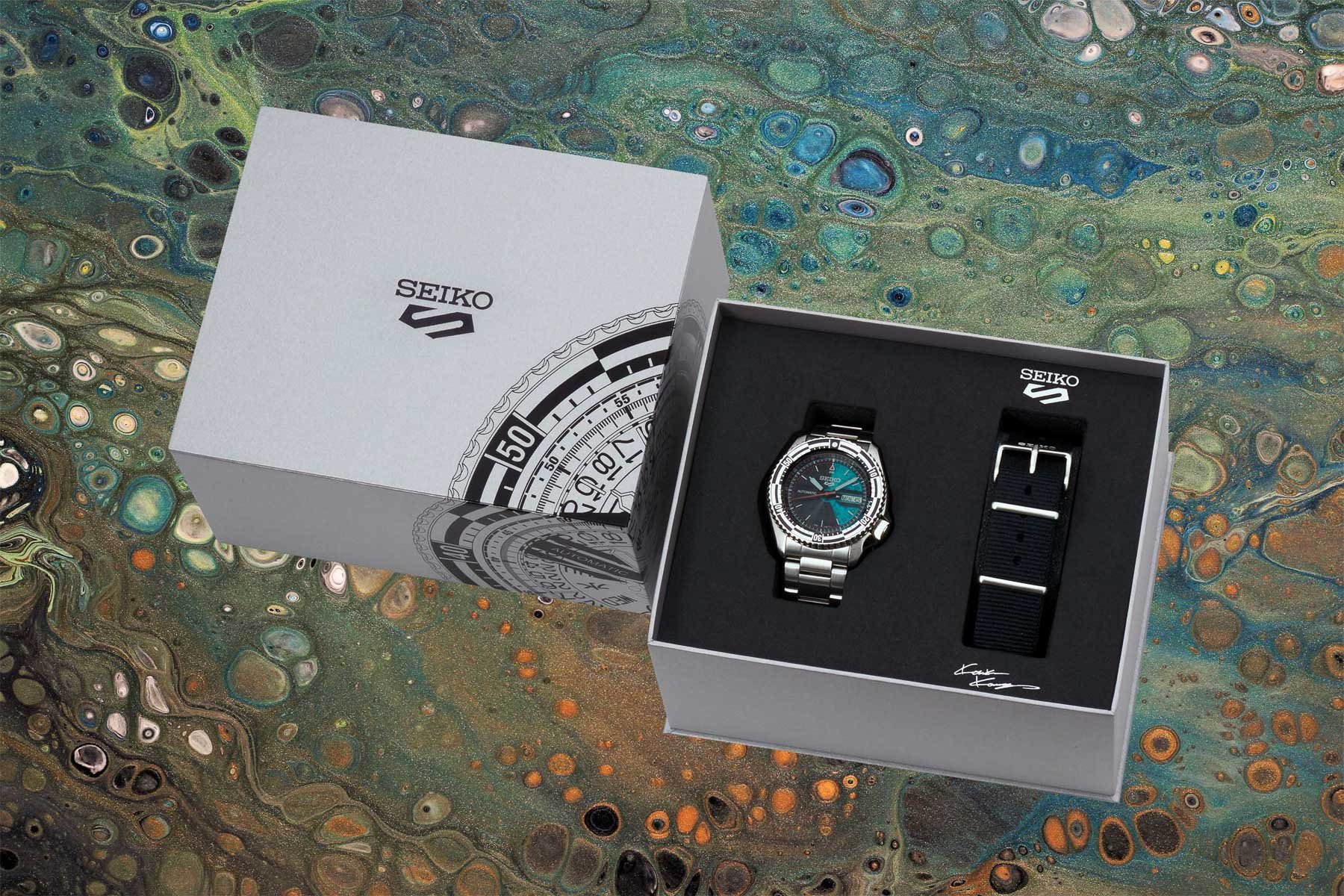 Closing thoughts
If you are an admirer of Kosuke Kawamura's work, these watches must be very tempting. They come with a smokey see-through case back with the artist's signature. A poster of — you guessed it — a Kawamura collage of the watch is included as well. Seiko also adds a black nylon strap to the specially designed box set.
If you are new to Kawamura, you might still be tempted. These watches are seriously cool in their own right. I feel the artist made a refreshing effort not to make this all about him. It would have been so easy to just decorate the dial with a signature collage. Seiko and Kawamura opted for a more restrained and historically sensitive approach.
The Seiko 5 Sports Kosuke Kawamura Limited Editions SRPJ43 and SRPJ41 will become available this September. The SRPJ43 comes in at €500 and will only be available at Seiko boutiques only. The SRPJ41 will carry a price of €450 and will be more widely available.
Watch specifications
Model
5 Sports Kosuke Kawamura Limited Editions
Reference
SRPJ41 / SRPJ43
Dial
SRPJ41: Transparent tangerine and teal / SRPJ43: Transparent black and teal
Case Material
Stainless steel
Case Dimensions
42.5 × 46 × 13.4mm
Case Back
Translucent with artist autograph
Movement
4R36 automatic with approx. 41-hour power reserve
Water Resistance
10 ATM (100 meters)
Strap
Stainless steel bracelet, black NATO included
Functions
Time, day, date
Special Note(s)
SRPJ41 limited to 3,000 pieces / SRPJ43 limited to 500 pieces, boutique only