#TBT Seiko 6106-8229 Rally Diver
We cover a lot of vintage Seiko on #TBT and we do it for good reason. I've spoken at length about the great value one receives when buying a vintage Seiko. The quality of the pieces certainly stand up to almost anything Swiss that was sold during the 1960's -1970's and this relates to the general finishing and robustness of the movements. Due to the latter part, older Seikos are some of the most reliable vintage watches on the market. If they've had a recent inexpensive service, they'll run like a diesel-powered big rig – not the sexiest looking at times, but fantastically stout. Regarding the looks, I've come to accept the often staid, yet clean designs that Seiko often employed, but I do enjoy the occasional aberration into whimsy. Today's #TBT heads in that direction with one of my absolute favorite Seiko's and a real fan favorite, the Seiko 6106-8229 Rally Diver.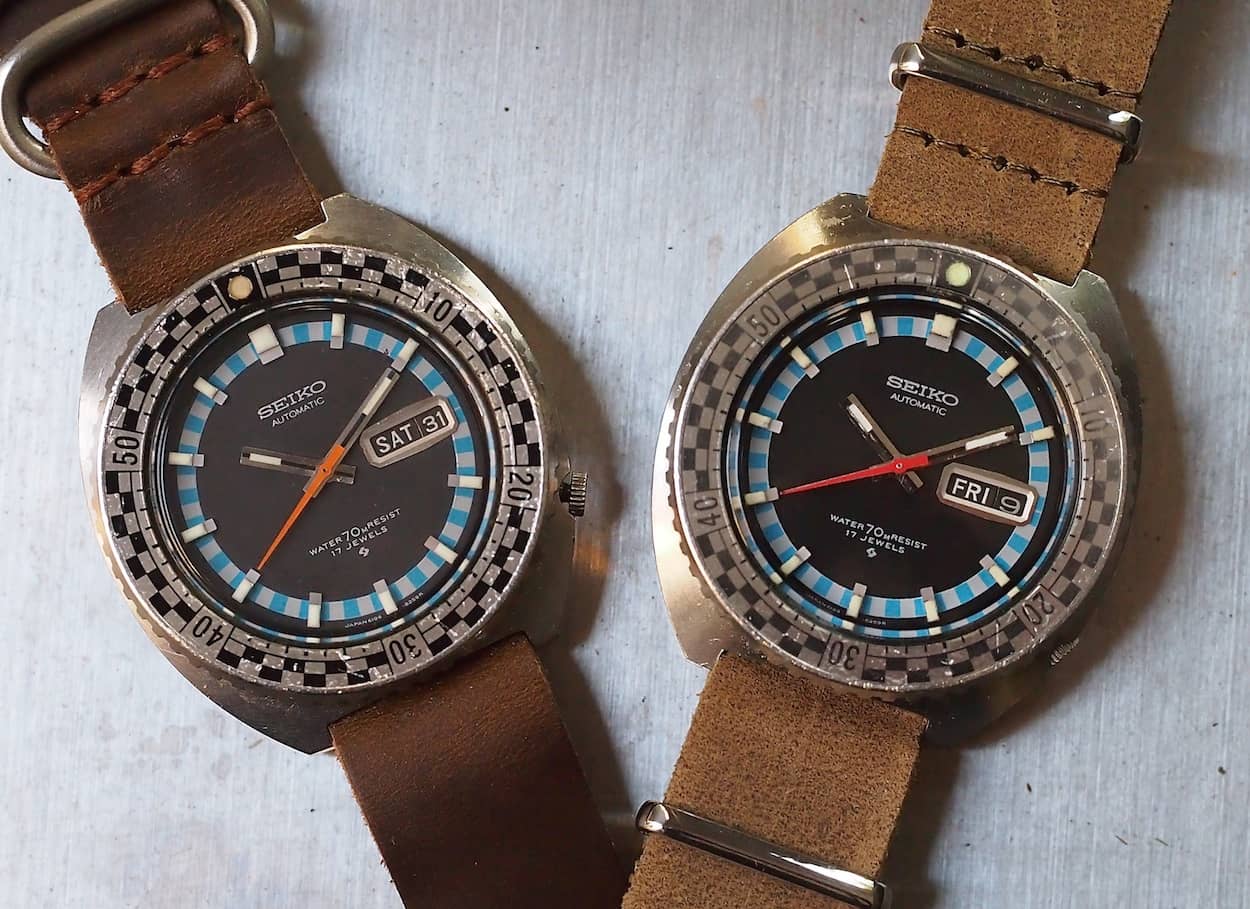 Earlier this year, I penned a #TBT article on the most well known Seiko Sport Divers. I mentioned that these are amongst my favorite watches to collect because they combine attractive pricing with a wealth of different designs that range from the staid to the wild. Out of all the sport divers, though, the Rally Divers are at the top of the list. Within that upper echelon, though, the Seiko 6106-8229 Rally Diver (and its identical 8227 brother) with black dial that you see before you is my most treasured; it has some great bold styling elements that really hit a chord with me.
Aside from the attributes I mentioned above about collecting vintage Seiko's, the most attractive aspect, for me at least, about getting into the brand is the sheer number of references and varieties that exist. While there are loads of watch brands that would qualify as "one hit wonders", the Seiko back catalog is more akin to a band belonging in the Rock 'n' Roll Hall of Fame. Yes, vintage Seiko could take the stage all night and you'd recognize almost every tune…there's simply that much to feast upon. Whether it's dive watches, dress watches, chronographs, or somewhere in between, the brand has it covered in spades. I started by getting into the professional dive watches such as the 6105's, but a hunger for more information on these models led me down many paths and ultimately to old forum postings on the Rally Divers. Obviously, I didn't stop there, but I was absolutely determined to pick up some examples…and I did.
I started trolling eBay with serious intent about two years ago when I was in the prime of my Seiko phase. Finding a Seiko 6106-8229 Rally Diver was high on my list and I finally did stumble on a piece, but it was a bit of a dumpster fire. The piece with the reddish sweep hand is that watch. It had an amazing bezel (with no lume), decent hands, and a good looking dial, but it wasn't running, had a nasty crystal and was missing the reddish hand altogether. Enter my watchmaker; everyone needs a few good ones, and his recommendation that I pull the trigger as he had an idea on the missing hand. A couple months later, the watch was returned with a NOS crystal, a service, some lume at 12:00 on the bezel and a newly fabricated sweep hand made from that of a contemporary Breitling. During this, though, another 6106-8229 Rally Diver came up on the Bay with a price that couldn't be refused, so I had to add it as well. Gluttony? Perhaps – but when a watch is this good looking, one can't go wrong with a pair.
The Seiko 6106-8229 Rally Diver pair you see here came in at roughly 39mm with 19mm lugs. They were manufactured starting in 1969 and lasted until the early 1970's. These models are actually from 1969 and 1970. The cases were all stainless steel (this was definitely not a given from the Swiss brands) and featured a screw down case back. Nice machining lines are visible on the top side of the case.  Crystals are the typical Seiko Hardlex mineral glass. Inside the Rally Diver beats the 17-jewel workhorse 6106 automatic movement with quick setting (via 2 push-in crown detents) day and date. Refreshingly, this movement hacks, but like almost all Seiko automatics, cannot be hand wound. As with all Seiko Sports Divers, this watch is water resistant to 70m. No, this isn't anything mind blowing, but it fit the need for a sporty watch that would suffice during light diving and water sports.
So, the basic case construction and movement choice form a good foundation for the Seiko 6106-8229 Rally Diver, but what makes this watch so special? It's no surprise, but the combination of the checkered "rally" bezel, an equally colorful dial, and aptly designed hands really make this piece stand out when compared to a lot of sports watches of the day.
For me, the dial really did it. There are several different versions of the Rally Divers, but this model is my favorite. The painted ring on the dial of alternating blue and light blue is striking. Plus, contrasted against the flat black of the rest of the dial, I find it so eye catching. The high relief, applied hour markers with their bright white lume complement the painted ring ever so nicely and avoid looking passé or cartoonish despite their height. Font on the dial is printed in white and done in Seiko's standard lettering. It's serious looking, kept to a minimum and naturally includes the Suwa symbol.
The date window is an interestingly shaped chrome rectangle with a white layer inside. Somehow, the window blends well on the dial despite being rather large.
When it comes to painted dials, I have a real soft spot. This branches to the Omega Speedmaster "Tin Tin", the original Speedmaster Racing and its Japanese reissue, and even the recent Louis Vuitton Worldtime. All of these watches exude a kind of handmade, colorful "warmth", but the Seiko Rally Diver does it for a mere fraction of the cost and with a rather unique set of colors.
The hands found on the Seiko 6106-8229 Rally Diver are very well designed. They're reasonably complex and fit the detailed nature of the rest of the watch. Rectangular-shaped, they contain an area of lume that matches the hour indices and are also bisected lengthwise by a black stripe. This black stripe breaks up the heft of these hands while allowing them match the prominent background color found on the dial itself. The best detail that Seiko added, though, was the use of a brightly colored – some say orange, some say yellow, and some say reddish – sweep seconds hand. This hand really stands out and, therefore, you can imagine how dull the "project watch" was before the hand was later added. Also, the length of the seconds hand, reaching just to the nearest edge of the indices, means that it is a little stubby. I like it and find it sporty. So, yes, well done by Seiko on the dial and hands…now how about that crazy bezel?
The checkered flag bi-directional, rotating bezel is the common detail on all Seiko Rally Divers. It varies in color and design, but it's really the thing that inspires the name. I mention this because there are some other colorful Seiko Sport Divers that are often mislabeled. The funny thing about this bezel is that it is often missing, so badly damaged or faded, replaced with something incorrect, or replaced with an aftermarket version. Bright versions, like you see here, just aren't overly common. Even faded versions without heavy marring can be a tough find, so you need to be patient. Interestingly, both of these bezels started out as black, but the way time has treated each adds a totally different character to each of the watches. I'm on the fence about whether I like the brighter or faded version better, but I find the design extremely unique and bold. As mentioned, when viewed head on, the Seiko 6106-8229 Rally Diver is one great looking watch.
On the wrist, the Seiko 6106-8229 Rally Diver wears true to size. Therefore, unlike some of the slimmer Seiko Sport Divers, this is probably more apt for those with larger wrists. It also has a nice thickness that point more towards a watch with more formidable depth capabilities, but it still fits well under a shirt sleeve.  For certain, these watches play better in casual situations, but they're not so large as to offend in a business casual setting. Rally Divers originally came on stainless bracelets, but they're rare. I do think the bracelet design, visually, is one of Seiko's better designs, but they stretched quite easily and most have been long relegated to the bin. I actually like to pair my Rally Divers with brown leather NATO straps, but I've thrown 19mm custom straps and NOS Tropics on as well. The watch really looks good with about anything in my opinion.
As discussed, all Seiko Rally Divers are popular with Seiko collectors and, to a large extent, vintage diver collectors. Their standout looks attract a pretty wide group of potential buyers versus the typical vintage Seiko. While, we've really spoken about the 6106-8229, my buying advice relates to all of the Rally Divers. This includes the silver-dialed 6106's, the black/blue/silver-dialed 6119's and the rare Daini 5126's. My overall advice on Rally Divers is to simply buy the best one possible. Buying pieces without the bezel is a bit of a fool's errand unless you have found an original component or can live with aftermarket. Likewise, check the hour and minute hands to ensure that they are correct for the model –I have seen a lot of replacements and it can be way too easy to hit the "buy it now" button without doing a deeper check. Other things to check for are whether the verbiage "water proof" or "water resist" match the verbiage on the case back. This should be consistent. Also, as mentioned, the 6106 movement should hack and day/date should be quick setting. When it comes to crystals, don't fret as these are available as NOS. You can see I have a flush mounted crystal on one version and a taller crystal on the other. From images I've looked at during research, the taller version seems correct, but both are Seiko crystals that fit the watch. Regarding pricing, the Rally Divers have appreciated over time. I think that $250-300 was a typical price roughly a year ago, but $350-500 now seems more normal. Credit social media platforms like Instagram for exposing these gems to a whole new set of potential buyers. Places to look are eBay, the SCWF sales forum, and even Yahoo! Auctions Japan if you're interested in the slight hassle.
I again refer you to check out the #SeikOctober pictures on Instagram as we're still firmly within the first full month of autumn. Perhaps, like me, you'll end up seeing a whole new world of vintage Seiko's where the Seiko 6106-8229 Rally Diver is but one of a plethora of choices. This #TBT was about one of my all time favorite Seiko's; hopefully you found it enjoyable. Until next time…