Hands-On: An Owner's Perspective On The Seiko Baby Alpinist SPB159/SDBC119
A guest post by Vincent Deschamps
Today I will tell you about the Seiko "Baby Alpinist" SPB159/SDBC119. There are certain watches we feel connected to because of the model's history. I would bet that more people buy a Rolex Explorer because they are interested in its heritage than those who buy a Submariner for that same reason. There is something about the history of the Explorer that is romantic and induces dreams of exploration, of Sir Edmund Hillary and Tenzing Norgay climbing Mount Everest, or even Ian Fleming sitting in front of a typewriter creating the stories of James Bond. While the Rolex Explorer is a fabulous watch for exploration, it is out of reach for some of us watch nerds because it costs more than $6,500 new, and its availability is scarce.
This is going to be a personal story since I am biased toward the watch I'm writing about today, the Seiko "Baby Alpinist" SBP159/SDC119. I'm biased because I bought it with my own money, and it fits within a genre of watches that is 100% up my alley (but perhaps not everyone else's). So this Seiko won't be for you maybe. However, I wanted to share my thoughts on it, now having owned it and worn it often these past three months. I was looking for something very specific a few months ago, and the Baby Alpinist was the best contender I could find for my budget (under $1,000). It's not perfect — no watch is — but it does tick many of the boxes that make me feel the same I imagine someone wearing an Explorer feels. (And if you own the latter, please share your comments below.)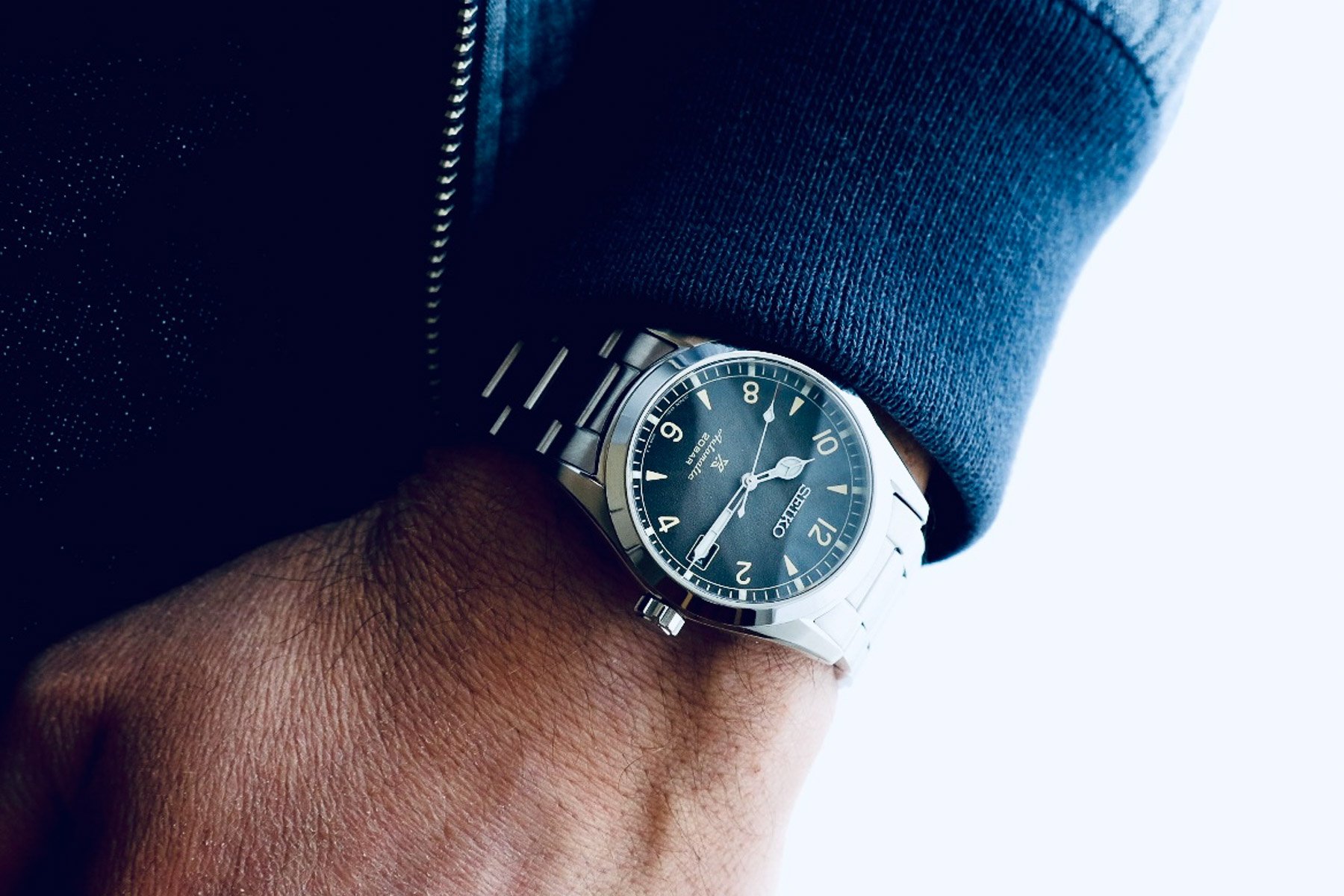 A unique genre of watches 
Little did I know when I got into watches back in 2014 that I would be drawn to a very particular type of watch — the ubiquitous "Go Anywhere, Do Anything" (or GADA) timepiece. I don't know if you can relate to this, but I'm kind of obsessed with GADA watches, and finding the best example of what this is for me has been my quest for the past six years. Of course, what defines a GADA watch is highly subjective, and your definition of what it is could be different than mine. To me, a GADA watch is one that fits my wrist well (this is important for a reason we will discuss later), that looks good in most situations I find myself in, and that performs well.
Because this is so subjective, I can only share my thoughts about a GADA watch and why the Baby Alpinist is a good contender. 
The Baby Alpinist SPB159 then fits within a popular watch genre — a well-built, reasonably sized fixed-bezel timepiece. A sports watch. It shares some common visual characteristics with the Explorer, which I felt drawn to. (By the way, I'll continue referring to the Explorer because I consider it the epitome of the ultimate exploration/adventure watch.) The Seiko has a fixed bezel (as I already pointed out), good dimensions, a high-contrast dial, a three-link bracelet with solid links and end links, and a mostly brushed finish. Usually, this SPB159/SBDC119 is sold on a black leather strap, but I opted to get it on the Seiko bracelet that its green dial cousin, the SPB155/SBDC115, comes with.
A watch with history
Seiko was not too late in the game of creating solid exploration-type watches. The brand released its first watch of this type in 1959 with the Seiko Laurel Alpinist (see picture below), which then morphed into the popular Alpinist line with famous references such as the SARB017. I'm not heavy on giving detailed historical references of watches, especially when seasoned Fratello writers like Mike, Lex, and Thor have written extensively about the Alpinist line before. I feel it is not my place to repeat what has been said already and said so well. What does interest me, though, is that Seiko has been making a watch for explorers and mountaineers since 1959, just like Rolex has been doing with the Explorer since 1953 with the references 6150 and 6350.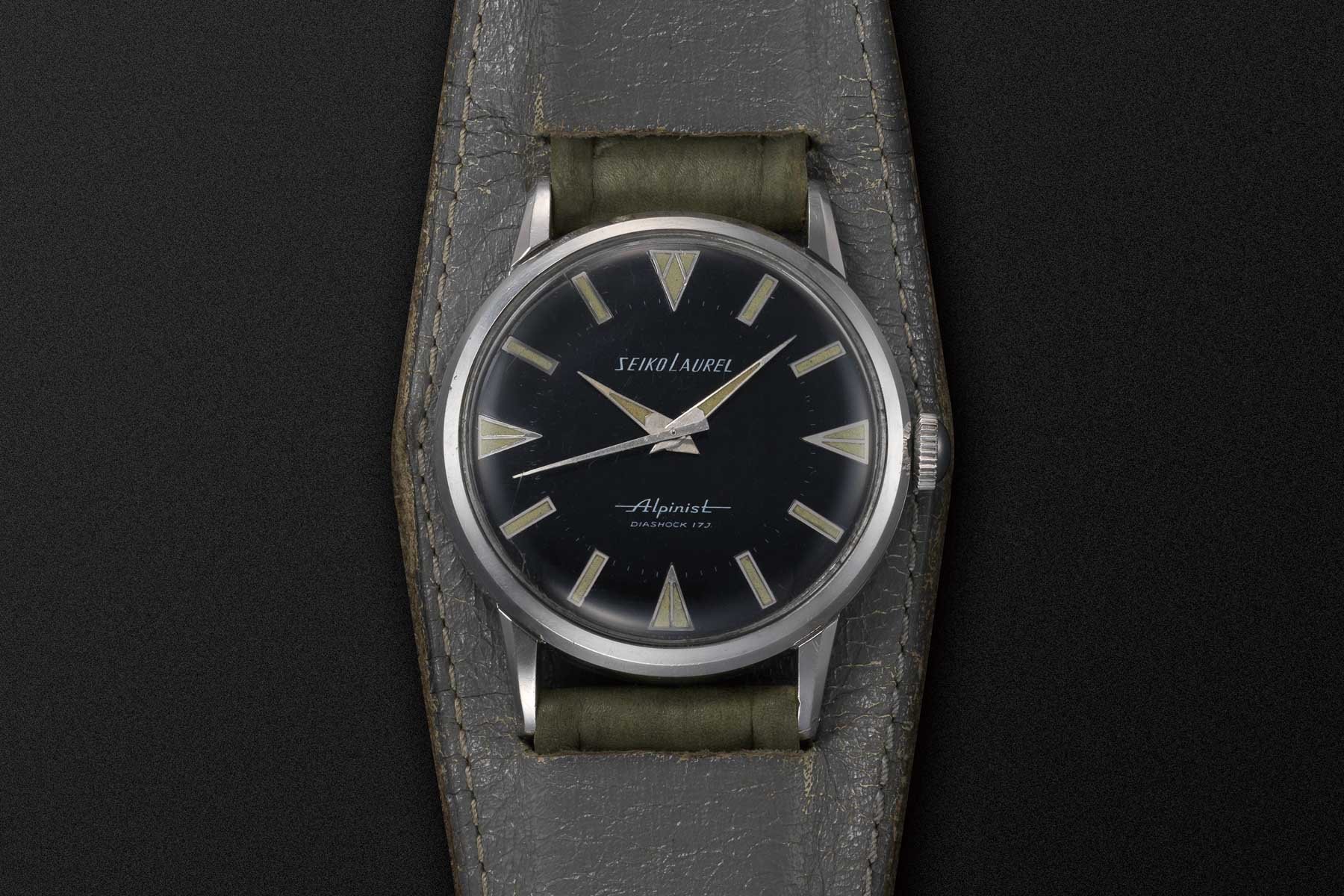 As mentioned in the previous paragraph, much has been said about the Alpinist line and the numerous models released since 1959. And a lot of ink has been put to paper on the newest releases from the Japanese brand, which introduced new members to the Alpinist line in the past couple of years. To make this simple: Seiko re-created an almost 1:1 copy of the original 1959 Laurel Alpinist and many different variations of the Alpinist line whose reference numbers outside of Japan follow the "SPBxxx" format.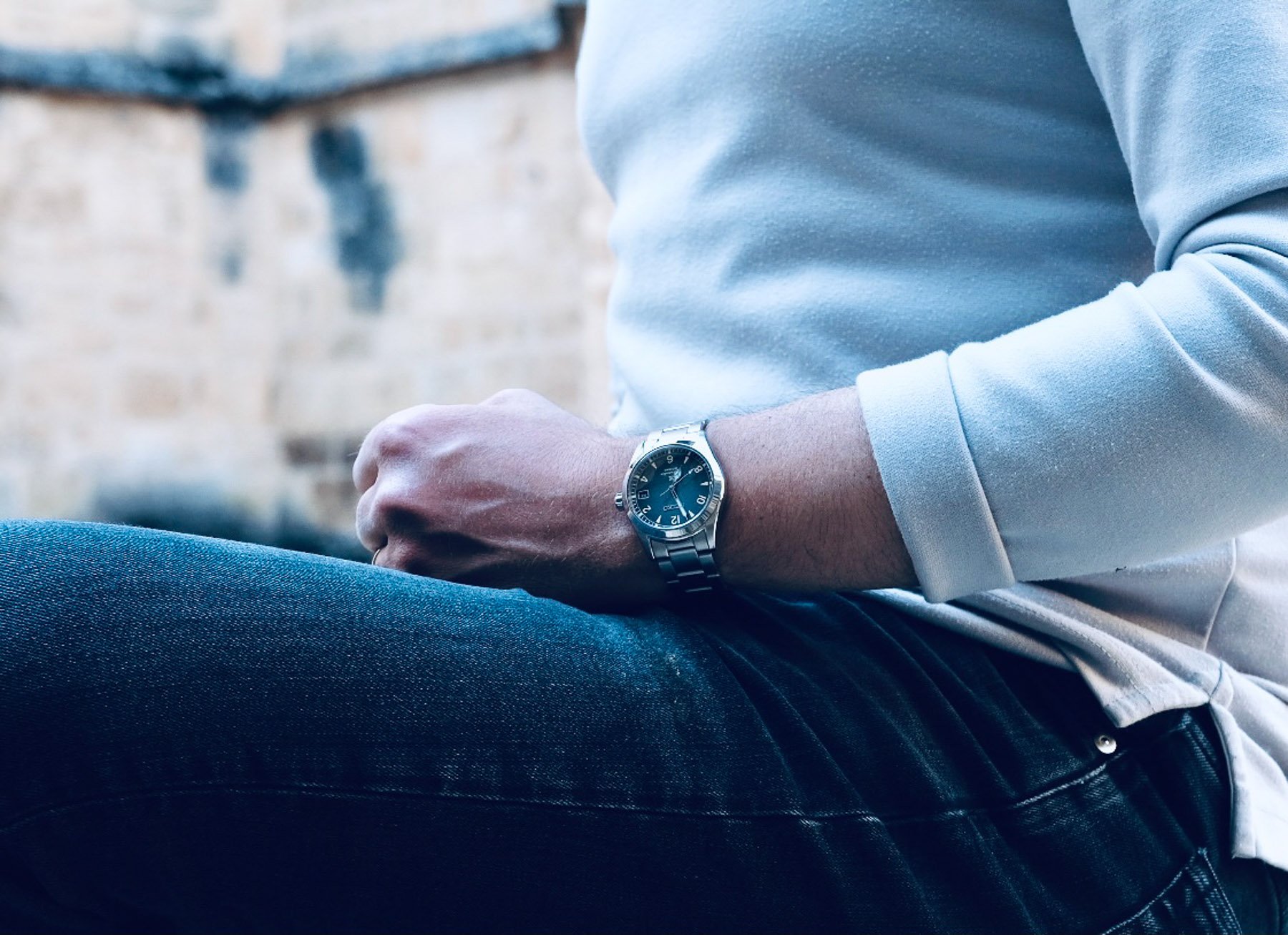 Deciphering the Seiko Baby Alpinist
So where does that leave us? Well, I had several options to choose from in the Seiko catalog, and my heart was going back and forth between the SPB159/SBDC119 and the SPB243/SBDC147.  Each model borrows design elements of the original Laurel Alpinist or from every other Alpinist released thus far — the overall case shape and size, the Dauphine hands or Cathedral hands, the shark-tooth markers, and the centered minute track. Going one way or the other would have meant choosing between one set of design elements I liked over another. I ended up choosing the SBP159/SBDC119 for the Arabic numerals and the color-matched date wheel (I loath contrasting date wheels!).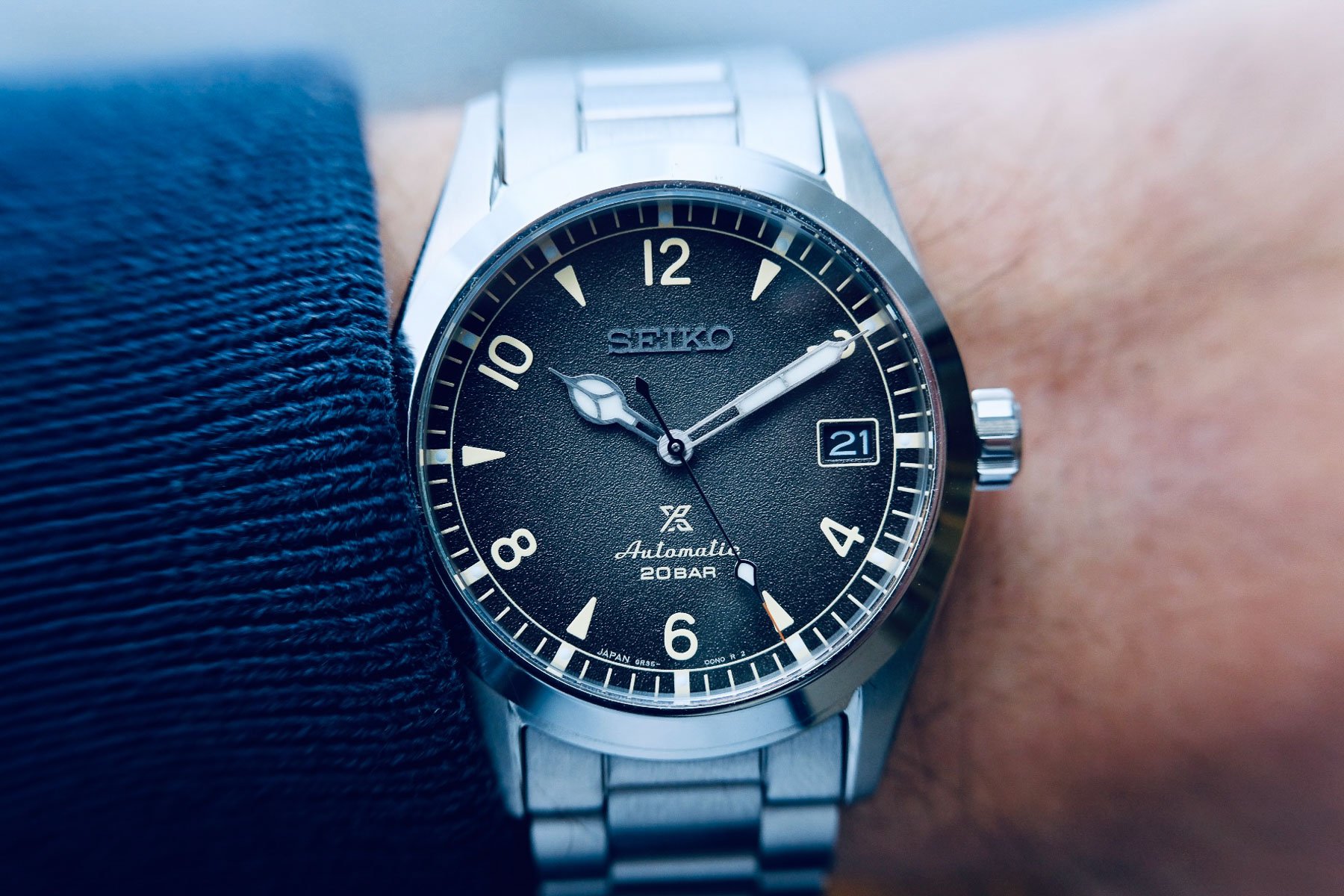 The Seiko Baby Alpinist on the wrist
The basic qualities that make a watch qualify as a GADA timepiece are the dimensions and overall functionality. The Baby Alpinist wears like a dream on my 16cm (6.25") wrist with its 38mm case diameter, 46mm lug-to-lug distance, and 12.9mm thickness. The fit and comfort remind me a lot of the SARB033, which I owned for a brief amount of time before gifting it to my brother, who had become smitten with it. The SARB didn't have this extra oomph of sportiness that the Baby Alpinist has. Notably, the latter has a screw-down crown, better lume on the indices and hands, and 200m water resistance. 
Part of the reason I decided on the Baby Alpinist as a GADA candidate was for its combination of great dimensions, wrist comfort, and good specifications. What makes it deserve a lengthy "On the wrist" section is that it's so good and polyvalent on the wrist: I can take this watch hiking, swimming, diving, socializing, playing with my dogs, or typing articles on my laptop, never wondering whether or not it can take it. Not only does the Baby Alpinist look good to do many things — and again, this is a highly personal opinion — but it also can perform well. All of these characteristics are what make the SPB159 a great GADA watch.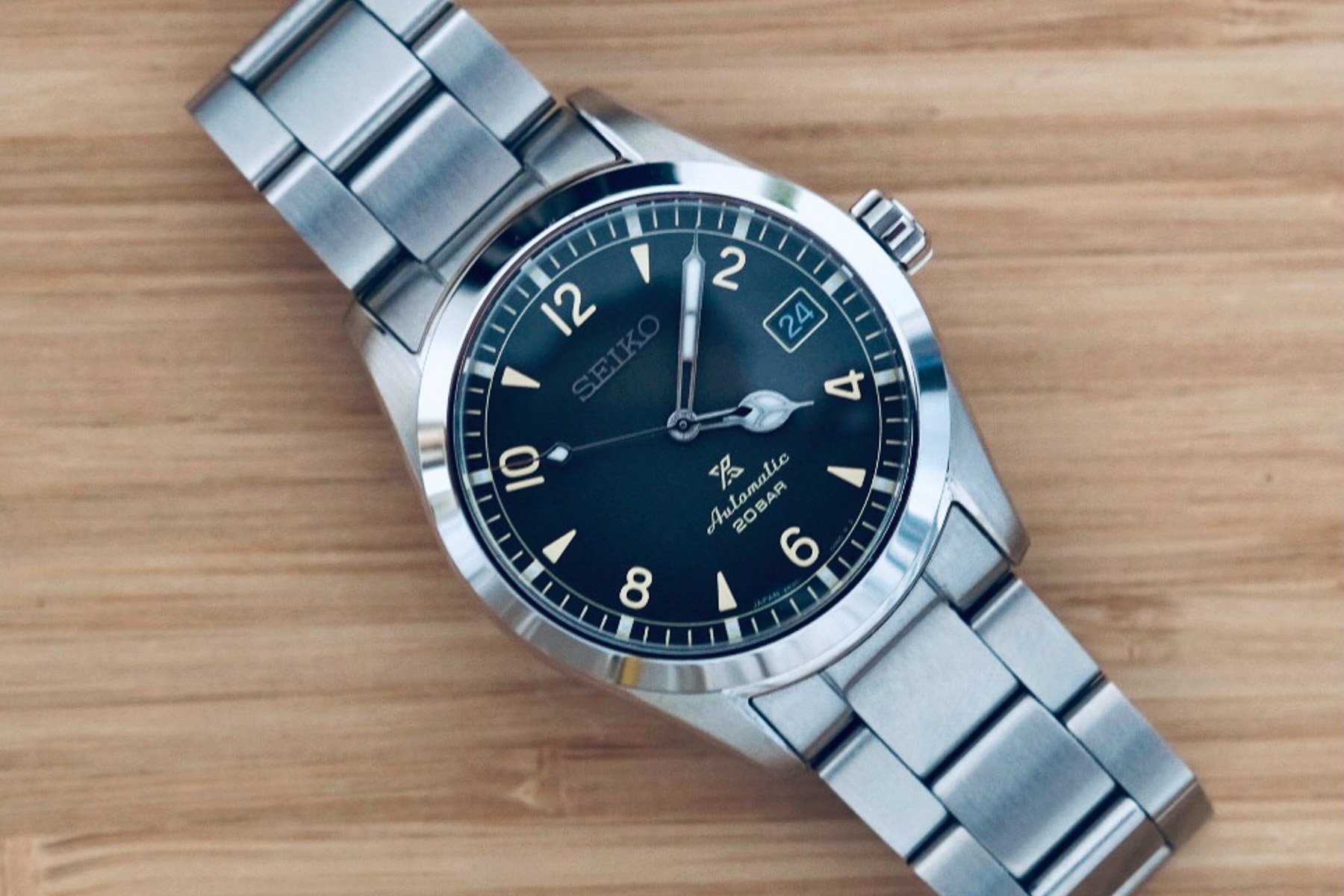 What doesn't make it perfect 
As is true of any watch, the Baby Alpinist is not perfect, and this should be noted here. Imperfection doesn't negate its GADA nature. There are a few things that need to be taken into account should you be swayed to pull the trigger on this watch. First and foremost, the 6R35 movement leaves something to be desired. It's a good movement, but it tends to go back and forth a lot between gaining and losing a few extra seconds per day. I'm not a watchmaker, so I can't explain why that is. However, many collectors have told me that a watch's accuracy depends on the environment and climatic conditions in which we wear it. The weather in France has been capricious, going from 5°C to 30°C in a matter of weeks, which could explain the variations.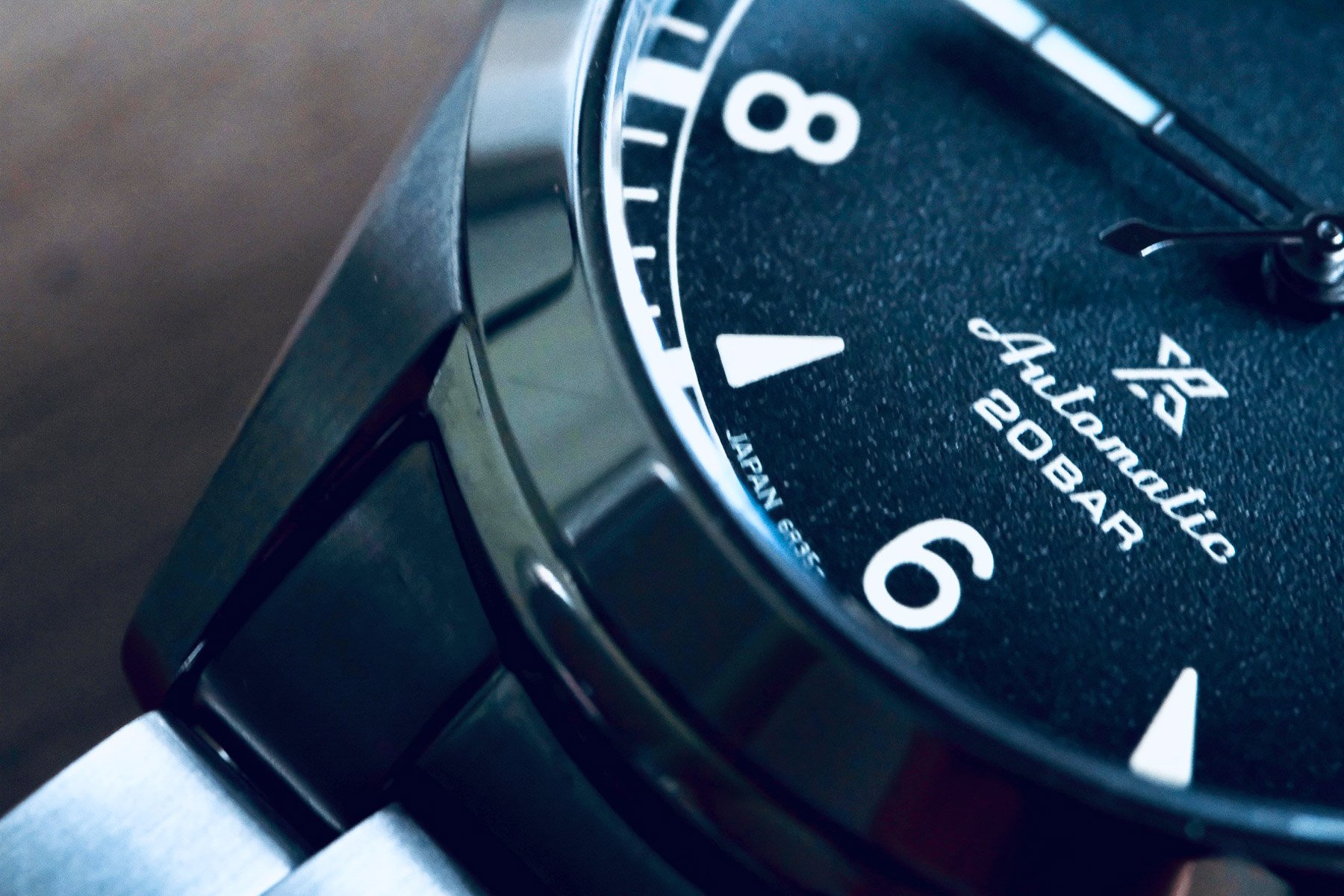 Although I can't explain the reasons why the movement doesn't perform well — and the movement I got could be an exception — it is somewhat disappointing to see this kind of performance on a watch that retails for €680 (on the strap; add €200 for the bracelet) while my 2008 SARB was running at +1 second per day. Speaking of the strap and bracelet, it's odd that Seiko wouldn't offer the SPB159/SBC119 on a bracelet. The latter has to be purchased separately for more money, although the green-dial version, the SPB155, comes on a bracelet for €690. If you can afford a Baby Alpinist, you can certainly afford the bracelet. However, you should be aware of this if you plan to buy this reference.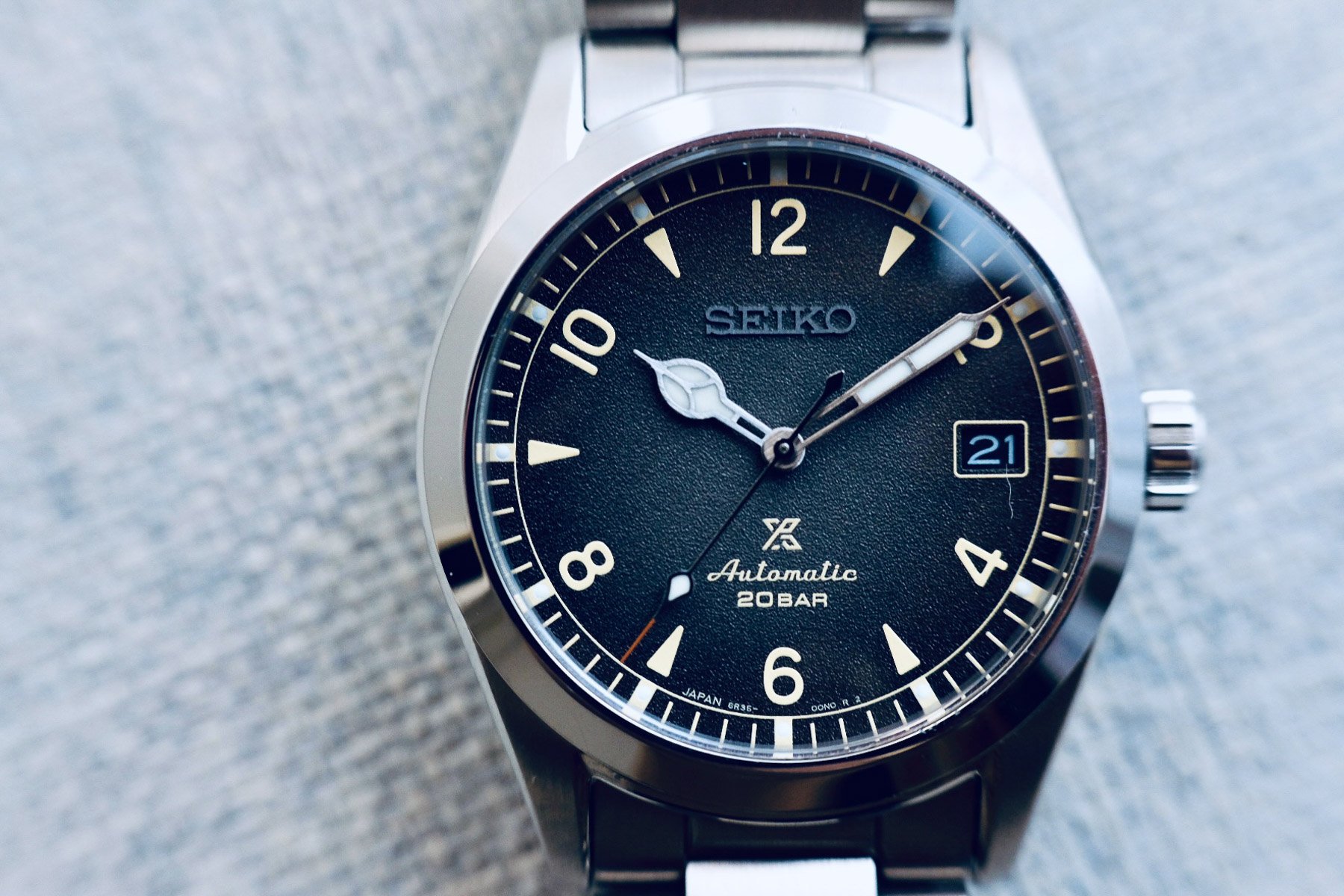 One last thing…
I might be nitpicking a watch I adore here, but I need to mention one more quibble: the contrast in colors between the Arabic numerals/minute track and the cathedral hands. The former elements are yellow while the latter are white. This is because of how the tiny white lume dots were placed on the minute track. However, it feels like there are too many contrasting things on the dial. Seiko could have stuck to just white printed numerals and a white minute track. Although I like vintage-inspired watches, I'm not crazy about the yellow color of fauxtina. I understand that Seiko wanted to nod to the past, but a modern watch should have modern colors. Again, this is my subjective opinion.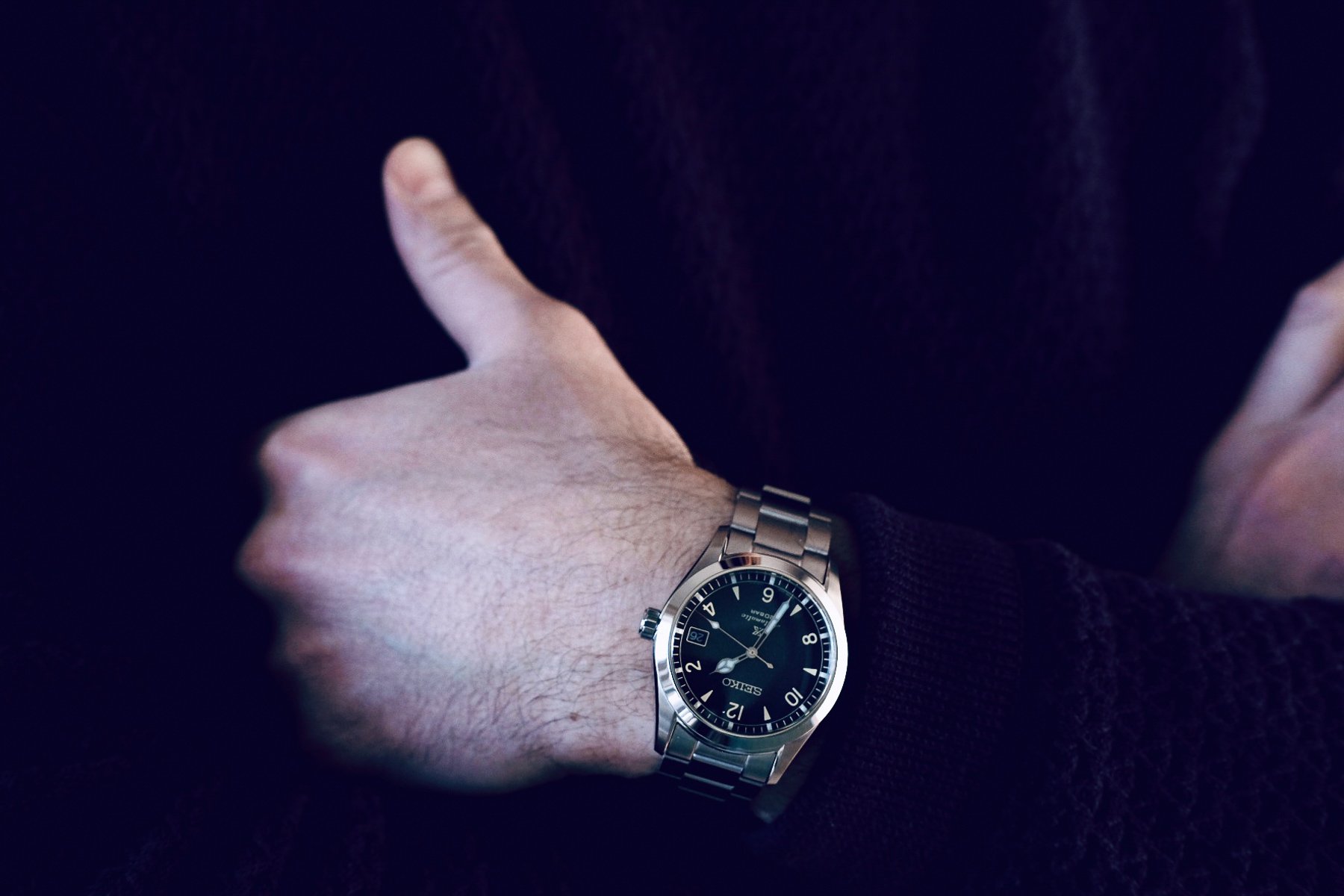 Final thoughts
You may be wondering why I spent so much time on the first half of this article rambling about the history of the Alpinist line (which I actually only glanced over) and what type of watch the SBP159/SBDC119 is. That's because the Baby Alpinist qualifies as a type of watch I'm deeply attracted to; in a way, you could say that I live and breathe fixed-bezel, medium-sized, modern exploration watches.
As I said in the introduction, my grail watch is the Rolex Explorer, and although I'd be happy with any reference, I would be lying if I didn't admit I have a preference for the 124270. And because I can't afford one, I looked at alternatives that have an equally interesting history. I wasn't looking for any medium-sized watch with a fixed bezel, in which case, I could have picked something cheaper. I was looking for a watch that could be used in the same way I would use an Explorer, a watch with heritage, and one that I could afford. 
So that was my take on the Seiko Baby Alpinist SPB159/SBDC119. What are your thoughts? Please share your comments and suggestions for a watch that could be a sub-€1,000 Rolex Explorer alternative.