Hands-On With The New Seiko Presage Green Enamel Dial SBP111
Inspired by the long-lasting green color of the Japanese cedar
Where other brands get flamed for the constant flow of limited editions, Seiko seems to get away with it every time. This time, it is the Seiko Presage Green Enamel dial watch, reference SBP111.
That might be because they are simply stunning releases, or that the Seiko crowd is not that bothered by it and are just happy when there's a new release and thus more to choose from. It's just an observation, and I don't have any issues with Seiko doing these releases as well.
The Seiko Presage collection consists of many special or limited editions, in fact, I own one as well, and I love it. Without further ado.
Seiko Presage Green Enamel Dial SBP111
We've seen it before, Seiko being inspired by nature. Think Snowflake, think Mt Iwate, think the green Marinemaster, etc. In this case, it is the Japanese cedar, which can be found in the forests there and that have their green color all year long. Therefore, Seiko's enamel artisan by the name of Mitsuru Yokosaw created this cedar green color for the dial of this new Presage SBP111.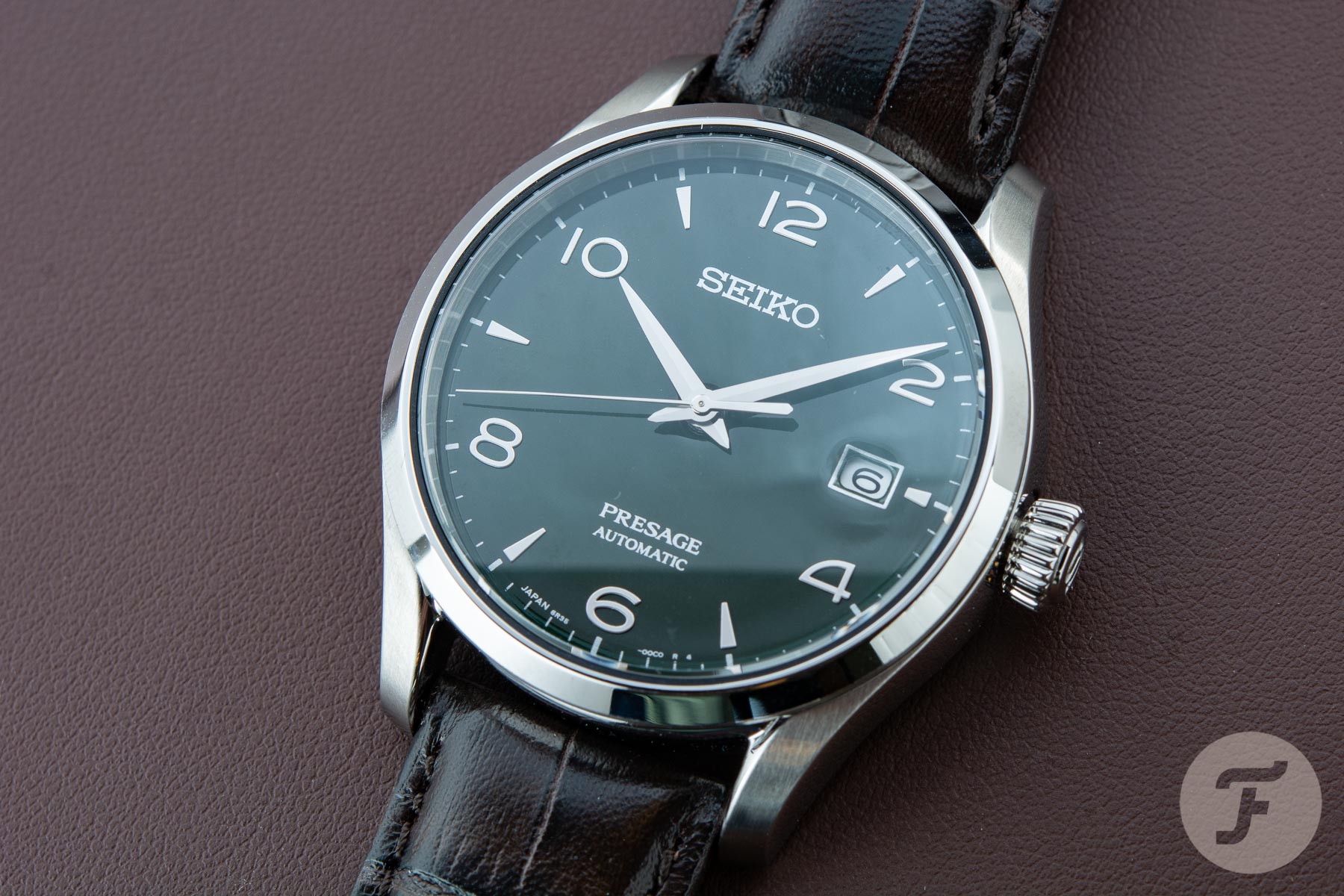 Presage Is Killing It
We've been following the Presage collection with a lot of interest and did quite some reviews on models with attractive dials (like this beautiful Fubuki and this blue enamel dial edition). It seems that Seiko is closing the gap with Grand Seiko with their recent versions of the Presage (like this one) and again with this green enamel dial edition, reference SBP111. Sure, the case finish is different, and so is the movement, but the quality of the dial, the applied Arabic numerals, and indices, as well as the hands, are all quite stunning. Especially considering the price point of this Seiko Presage green enamel dial model (€1500,-, including taxes). It leaves a lot of the Swiss competition behind when it comes to finishing and 'bang for the buck.'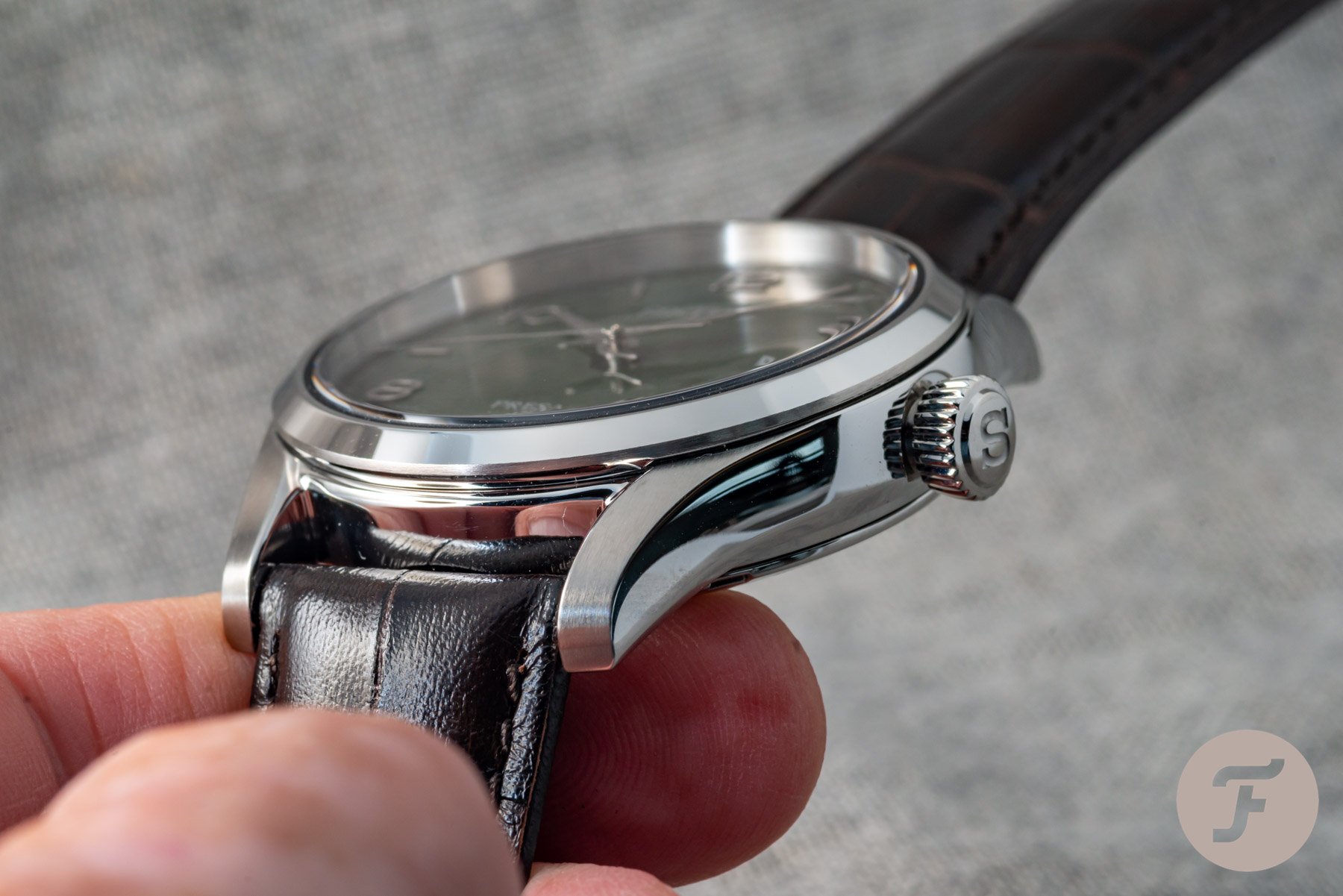 The power reserve of 70 hours is quite an improvement and great in comparison to the direct Swiss competition (ETA2824-2 for example).
Caliber 6R35
Inside the Seiko Presage Green Enamel Dial SBP111 is their caliber 6R series movement. Something we've also seen in their Prospex divers. The 6R movements by Seiko belong to their higher range of movements, compared to the former 7S and 4R calibers, for example. This 6R35 caliber has a power reserve of 70 hours and ticks at 21600vph. Especially the power reserve of 70 hours is quite an improvement and great in comparison to the direct Swiss competition (ETA2824-2 for example). The same movement has been used in the green Seiko Sumo released earlier this year (here). The finishing of the movement is fine, but don't expect too much in terms of decoration, which corresponds to the retail price of the watch (how much decoration can you offer for this amount?). That said, I think that especially for those who just got into mechanical watches, the display back is a plus for sure and gives them a nice view of the inner workings of a watch. This is also what makes the Grand Seiko an interesting 'step-up' from the Presage collection. There needs to be a difference between these brands and collections to justify the pricing.
Subtle Green
I believe that the movement is not the reason to buy this Seiko Presage, at least not for the majority of people out there. It is a watch that speaks to you due to the dial color, or it doesn't. Green is proven to be a popular color for dials in the last few years, as we've also witnessed from other brands (Rolex, Oris, IWC, Panerai, etc.) and even Grand Seiko's Four Seasons collection has an edition with a green dial (which seems to be the most popular of the four). Add a pretty neutral (read: likable) case design, a modest 40.5mm diameter, and a fair price and you have yourself a very nice everyday watch. The dark green color is perhaps not as outspoken as some of the others mentioned, but the tone of green is definitely lovely and is best seen in direct sunlight. I wouldn't have mind painted numerals instead of applied on an enamel dial, but Seiko decided differently. It wouldn't be a deal-breaker for me, as the Seiko writing and 'Presage Automatic' is still painted. I could also have lived without the date, but I think for many people, this is also about convenience. My father has a Seiko Presage, for example, and he really wants his watch to have a date. Some people like their watches also to be practical.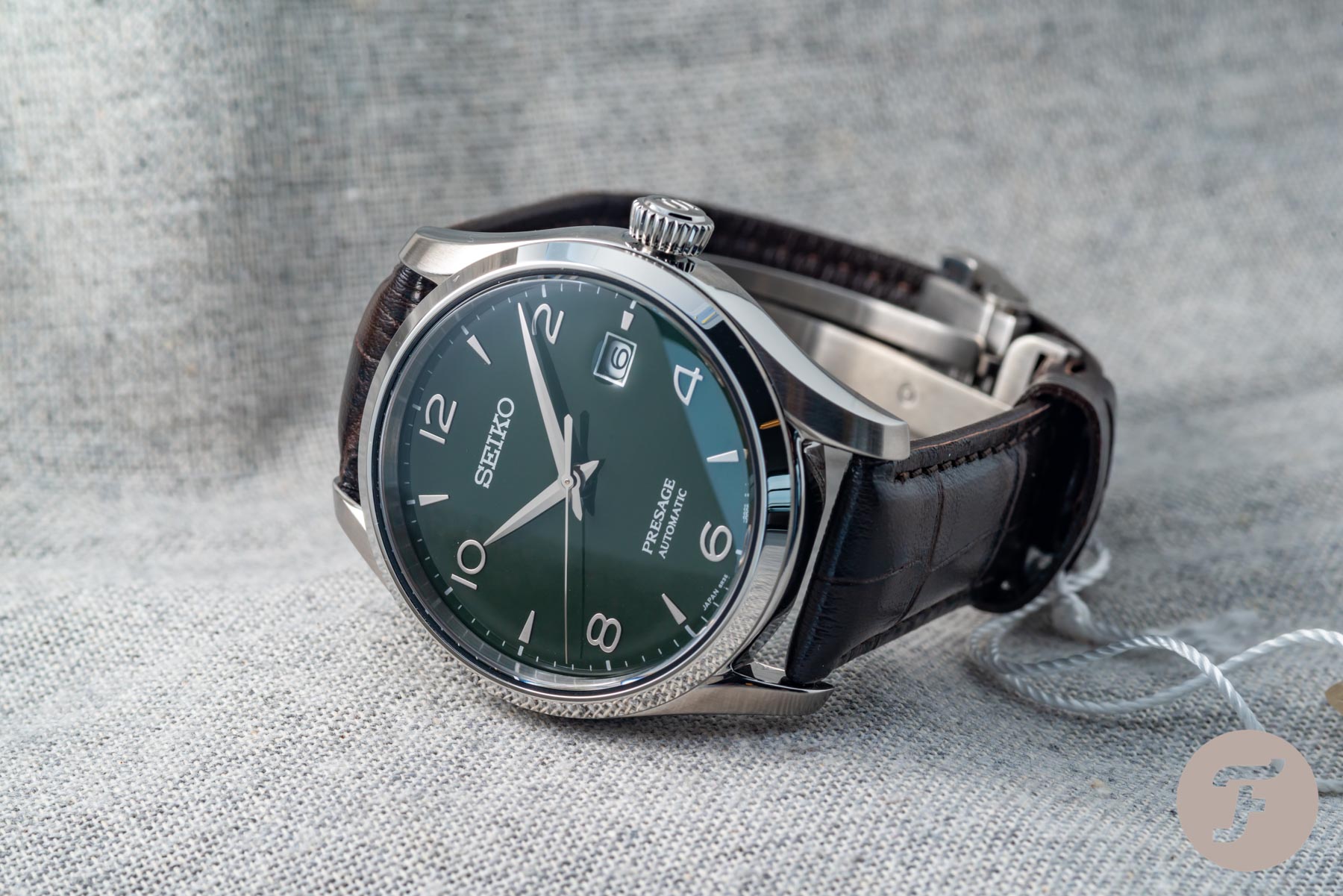 Final Thoughts
Let's start with a few things I don't like about this Seiko Presage Green Enamel Dial SBP111, although there aren't many. One that can be solved is the strap and folding clasp. I don't like folding clasps, so that's an easy fix anyway, but also about personal preferences (but everything is, in the end). The straps that Seiko delivers with most of their watches are too long. I am a tall guy and have decently sized wrists (18-19cm), and these straps are still too long. The first thing I did with my Presage was swapping the strap for something shorter, that fits my wrists. The long strap does fit, but I don't like the long end to be visible when looking at the watch from the front. Anyway, these are things that can be fixed. You can add another strap, and still use the folding clasp (or use a buckle).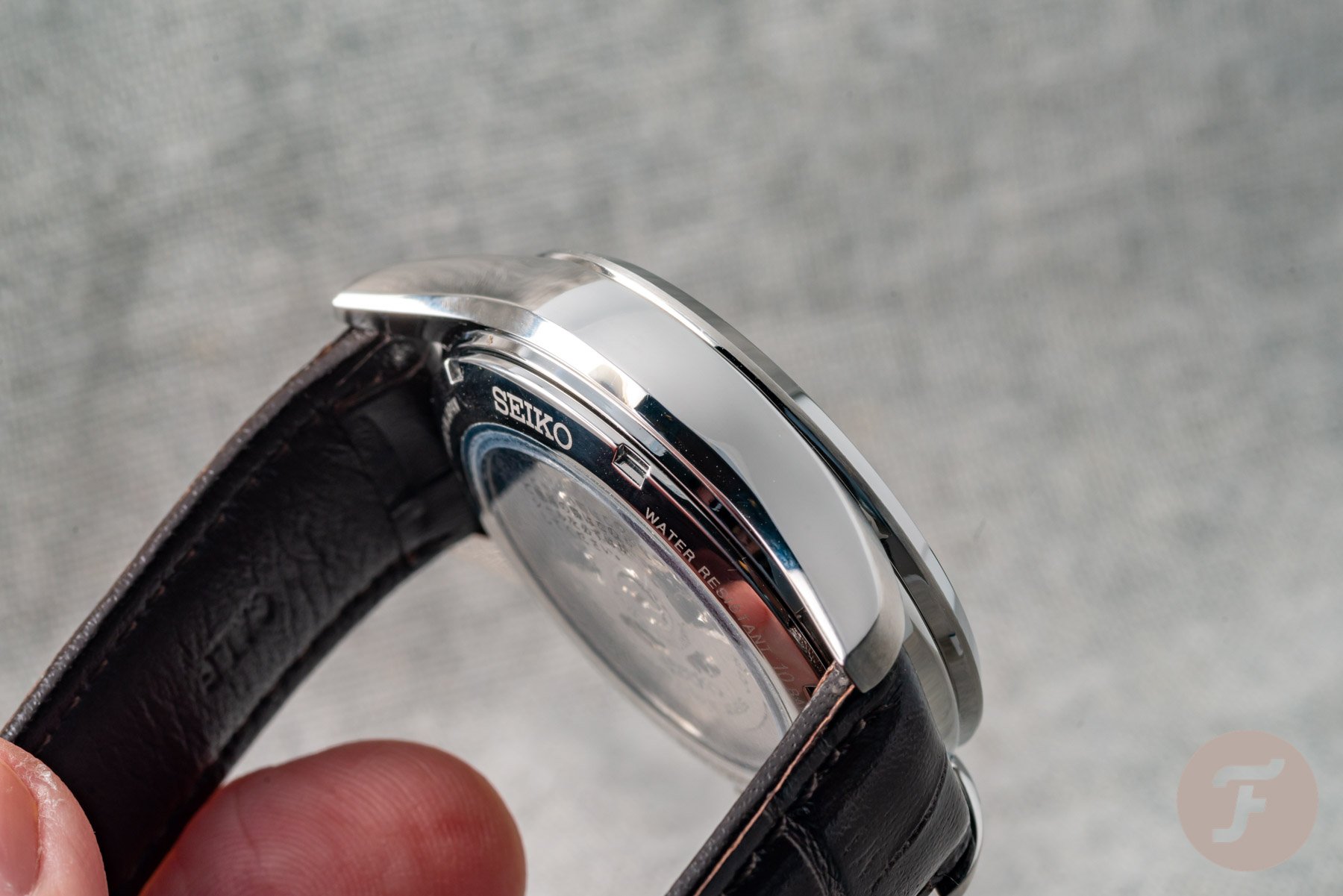 What can't be fixed is the thickness of the watch. At 12.4mm, the Seiko Presage Green Enamel Dial SBP111 is relatively high on the wrist for a dress watch. Or one that could be used as a dress watch. The case itself is shaped elegantly, but the watch has some bulkiness to it due to the thickness. Again, if you don't have an issue with this, it is fine, of course. Especially when you want to use this Presage as a dress watch, you'll probably find the case height a bit too much.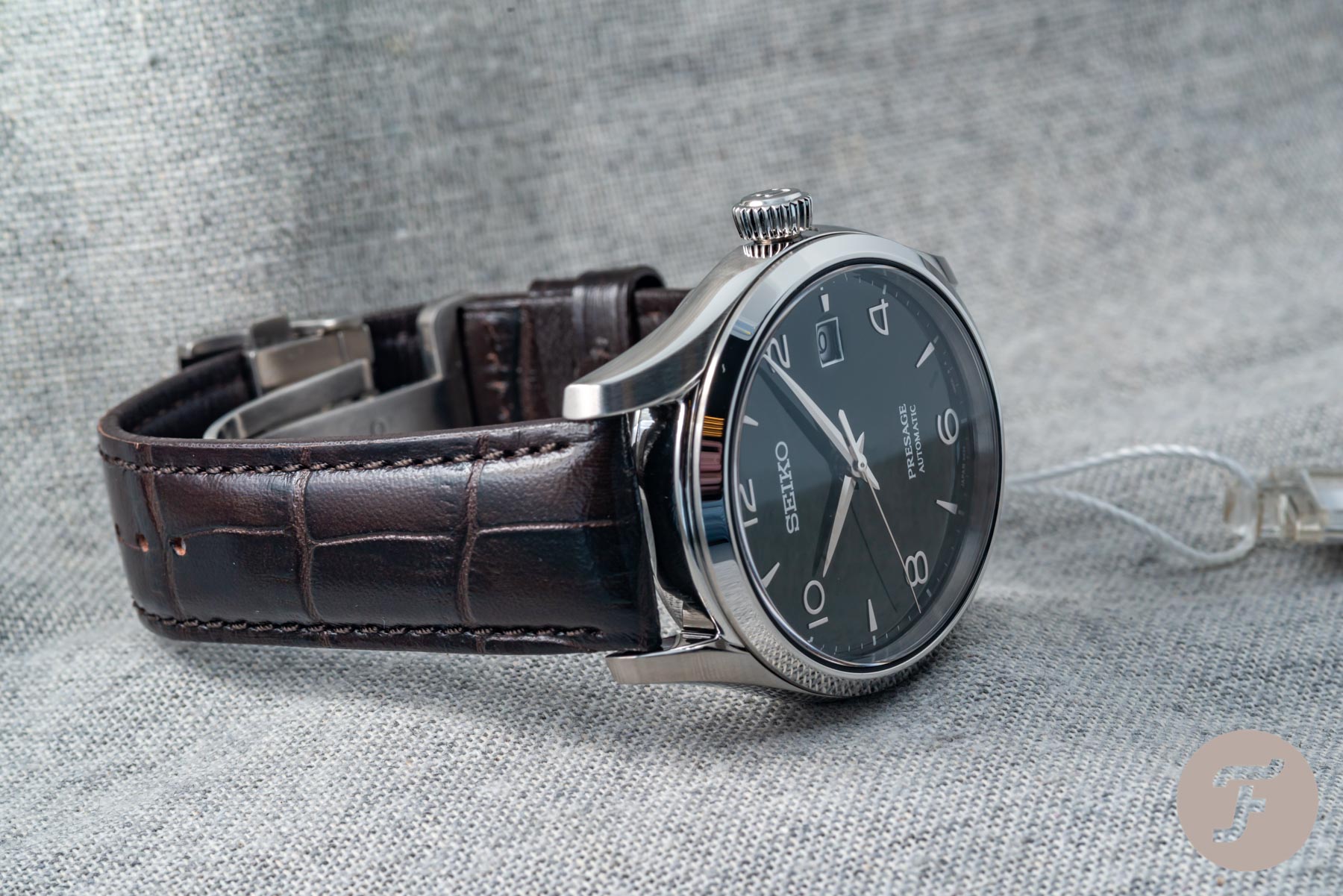 The good things? Well, basically the rest. The dial is beautifully done, and especially when you're into green, it is a great opportunity to purchase a Seiko Presage for your collection. The Seiko Presage is a great watch to have and to wear, as long as you can deal with the 12.4mm thickness of the case. The 40.5mm diameter is perfect, and with the large crown, it is an easy watch to operate as well. The 6R35 movement is a step-up from the lower-priced Seiko (Presage) models with 4R movement, and the power reserve of 70 hours is nice as well. Especially if you wear different watches, the 70 hours might prevent you from correcting/setting the watch (again) after you've worn something else. The quality of the case, strap, dial, hands, etc. is above par, especially for the retail price of €1500,-.
The watch is limited to 2000 pieces worldwide. All specifications can be found in the table below.
More information via Seiko online.
Watch specifications
Model
Presage Green Enamel Dial
Case Material
Stainless Steel
Case Dimensions
Diameter: 40.5mm, Thickness: 12.4mm, Lug-to-Lug: 47.8mm, Lug-width: 20mm
Crystal
Dual-curved sapphire
Movement
Caliber 6R35, self-winding movement, Ticking Speed: 21600vph, Power Reserve: 70 hours, Jewels: 24, Hacking-Seconds, Quick-set date
Water Resistance
100 meters / +- 10 bar
Strap
Crocodile, Seiko signed folding clasp
Warranty
Two-years international warranty
Special Note(s)
Limited to 2000 pieces