Seiko Prospex "King Samurai" SRPE35K1 and SRPE37K1 Dive Watches
Taking a look at two upgraded modern Seiko divers
The King Samurai is the latest Seiko Prospex dive watch to receive a serious upgrade. We take a closer look at two variants in the SRPE35K1 and SRPE37K1.
It's hard to believe that the original Seiko Samurai first debuted way back in 2004. These models ushered in a very different look to Seiko dive watches and, by most accounts, they were popular. Therefore, it now seems odd that the line was abruptly cancelled in 2008. Perhaps the world wasn't ready for these modern style divers that eschewed any retro touches. Fast forward all the way to 2017 when Seiko brought back the Samurai and, due to the line's confirmed popularity, it seems they'll be around for the foreseeable future. Now, in 2020, Seiko has added some thoughtful upgrades to create what fans have begun calling the "King Samurai."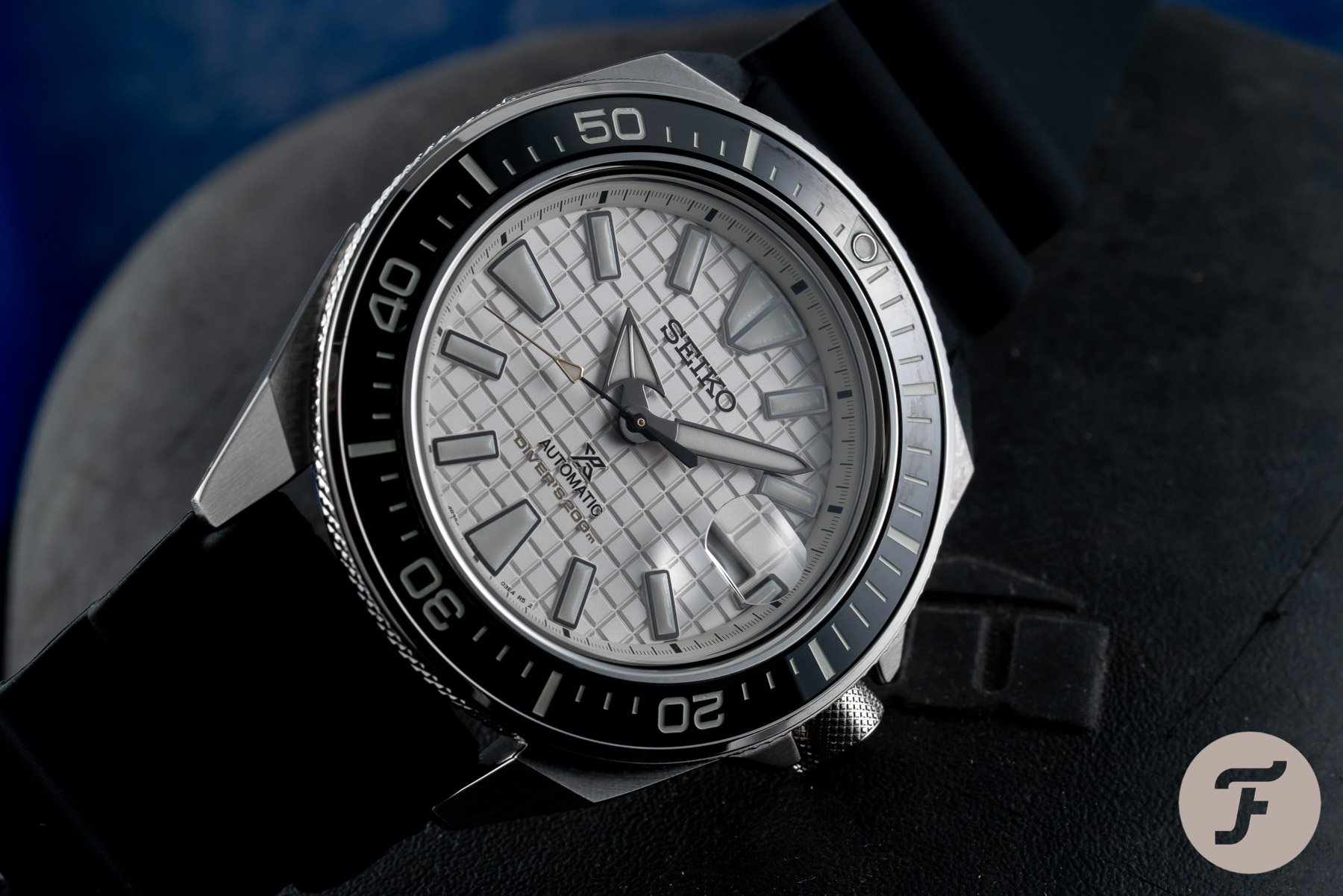 The Seiko Prospex King Samurai SRPE35K1 and SRPE37K1
Last month, Rob reviewed the King Samurai "Save the Ocean" SRPE33 here and he loved it so much that he bought one. Today, our article focuses on the more mainstream releases which are, ahem, a bit more up my alley. Whether it's the black-dialed SRPE35K1 on a stainless steel bracelet or the white-dialed SRPE37K1 on a silicone strap, the same robust specs exist. As a result, this means a 44mm case with an almost 50mm lug-to-lug. The case is cross-drilled to make it easy to swap out the 22mm wide bracelet or strap. Pleasingly, Seiko reports the thickness at a surprisingly thin 12.8 mm which makes things highly wearable.
If you're familiar with the "King" comment on recent Seiko Prospex divers, then the upgraded King Samurai specs won't surprise you. Seiko did the same thing with the Turtle as well. Essentially, this means a ceramic bezel, a sapphire crystal with cyclops and an upgraded dial. What remains and is par for the course on the most affordable Seiko divers is the 4R35 movement. Incidentally, this is the same movement in everything from the Seiko 5 Sports models up to this price point. It's a solid runner with 41 hours of power reserve, a quick set date, and hand winding. It does, however, have a fairly wide berth of accuracy at +45/-35 seconds per day.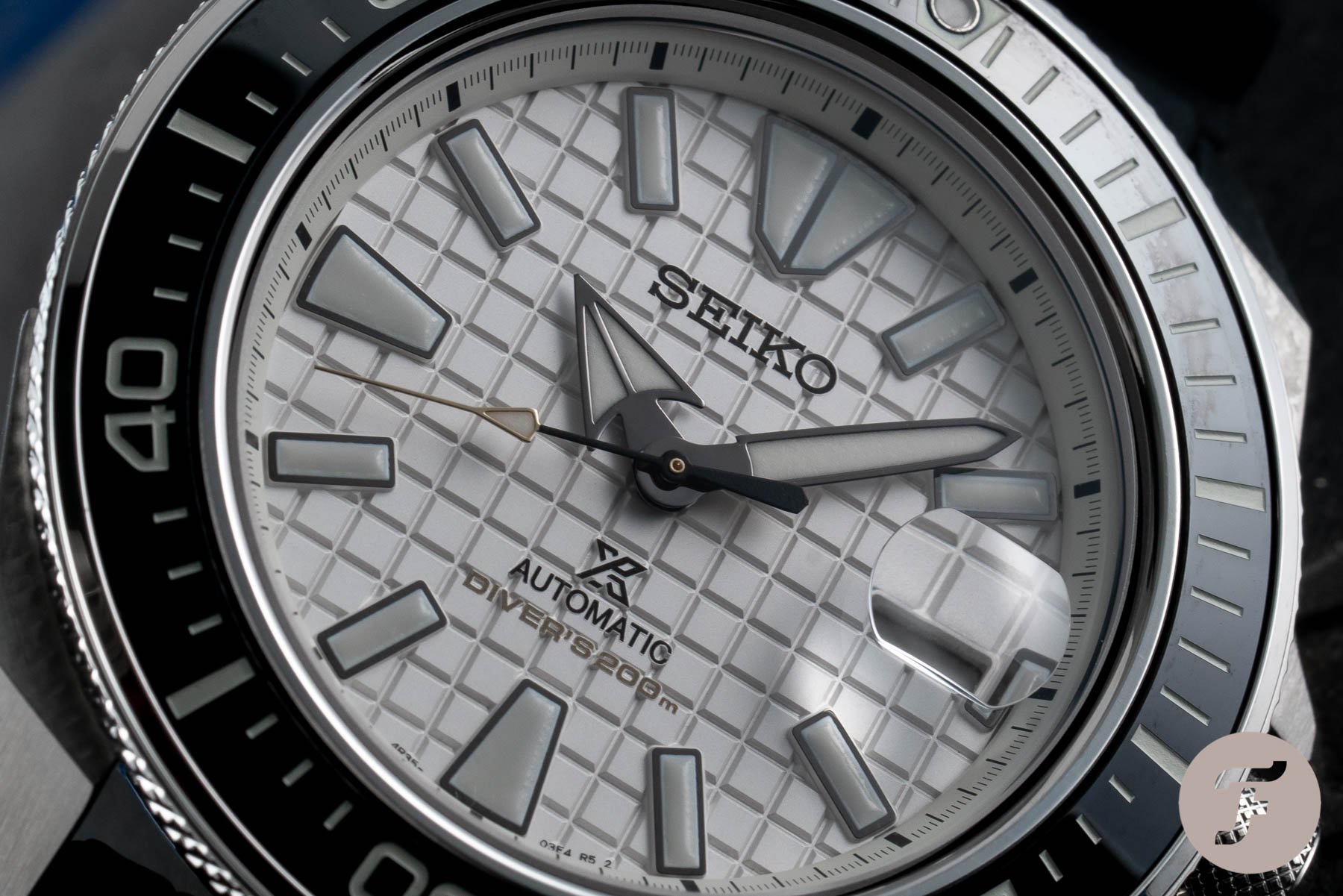 The dials are the star of the show
The dials are truly noticeable on these new King Samurai models. Firstly, credit what I'd liken to a deeply recessed hobnail pattern. Secondly, this is paired with large indices that are filled with loads of ultra bright lume and a steeply sloped tensioner ring with a minutes track. Thirdly, Seiko has added some nice gold touches on the sweep hand and the dial itself. Both models look fantastic and more upmarket than prior Samurai models. Finally, I'd say that the white variant is most arresting due to the sharp contrast with the bold lume-filled ceramic bezel.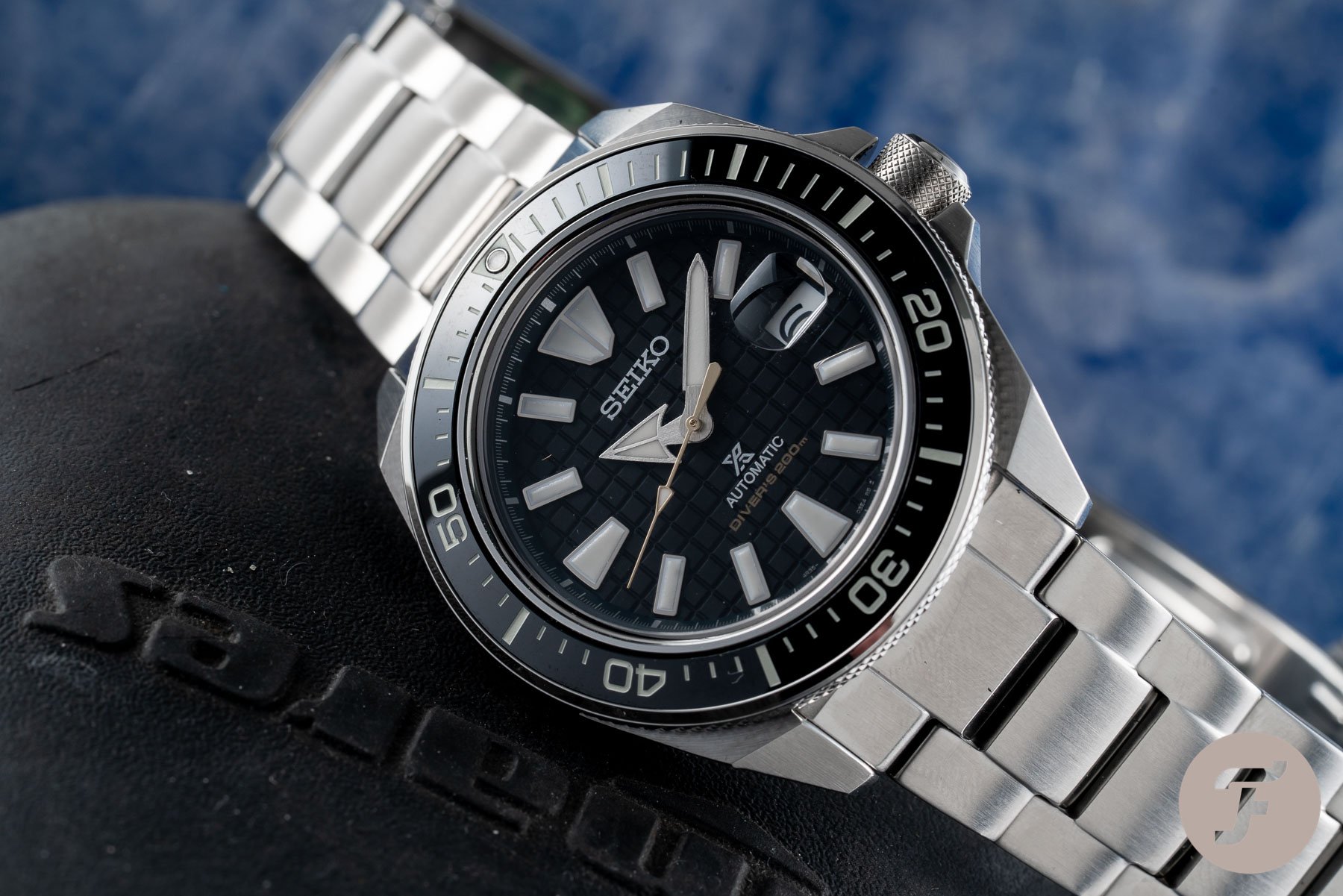 The Seiko Samurai is one of the brand's few non retro divers
I don't own a Seiko King Samurai, nor a normal Samurai for that matter. They're not small watches, but I respect these watches for one main reason. This is about the only Prospex diver that doesn't have its roots firmly placed in the 1960s or '70s. There is nothing wrong with those watches and I own plenty of them, but I respect these because they show what Seiko can do when able to run free.
Ok, I get it that the basic design is from 2004, but the fact that there's a modern-looking crown at 3 o'clock alone makes it very different from the rest of the brand's dive watch offerings. Moreover, it's very much a Seiko, but it's a watch for those who may want something a little out of the Seiko ordinary.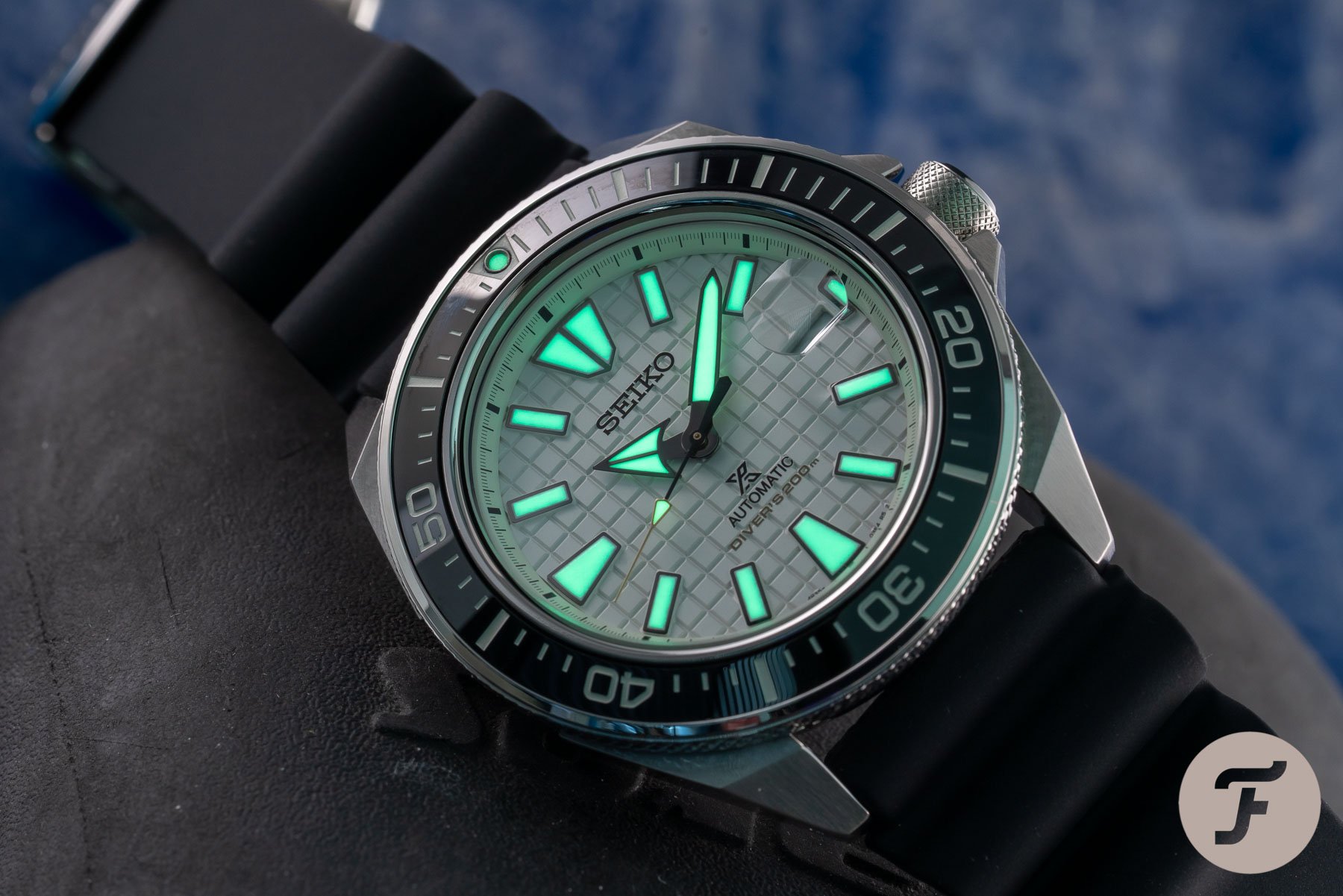 Final thoughts and pricing
The Seiko King Samurai is available for €650 with a black dial on bracelet and for €620 with a white dial on silicone. Yes, this is another case of Seiko offering fixed bracelet and strap combos.
Regardless of which you choose, you're either getting a decent Oyster-style bracelet with a two-button clasp with wetsuit extension or a seriously comfortable black silicone strap. In conclusion, if you like a well-crafted and unique modern Seiko diver, the King Samurai is definitely worth a look.
Visit Seiko for more information on the Seiko Prospex King Samurai.
Watch specifications
Reference
SRPE35K1, SRPE37K1
Dial
SRPE35K1 - Black Dial SRPE37K1 - White Dial
Case Material
Stainless Steel
Case Dimensions
44mm Diameter, 12.8mm Thickness, 50mm Lug to Lug, 22mm Lug Width
Case Back
Screw-in case back
Movement
Seiko automatic caliber 4R35, 23 jewels, 21,600 vph, date, hand-winding
Water Resistance
200 Meters
Strap
SRPE35K1 - steel bracelet including clasp with wetsuit extension SRPE37K1 - black silicone strap with pin buckle
Functions
Time (HH:MM:SS), Date, External Unidirectional Dive Bezel
Price
SRPE35K1 - €650, SRPE37K1 - €620