Hands-On: The Seiko Prospex LX SNR033 GMT
Only a small step away from the Grand Seiko collection
A GMT with a blue and black bezel is one of the most sought-after watches in the world right now. We're pretty sure that although it is not the reason why Seiko chose for this combination, it is pretty convenient.
Take that with a grain of salt (or two), of course. It is just something that immediately came to mind when picking this watch up for a closer inspection. The comparison with the Rolex GMT-Master II "Batman" stops with the use of these two colours and the extra timezone complication. The Seiko Prospex LX GMT (reference SNR033) is a very different watch.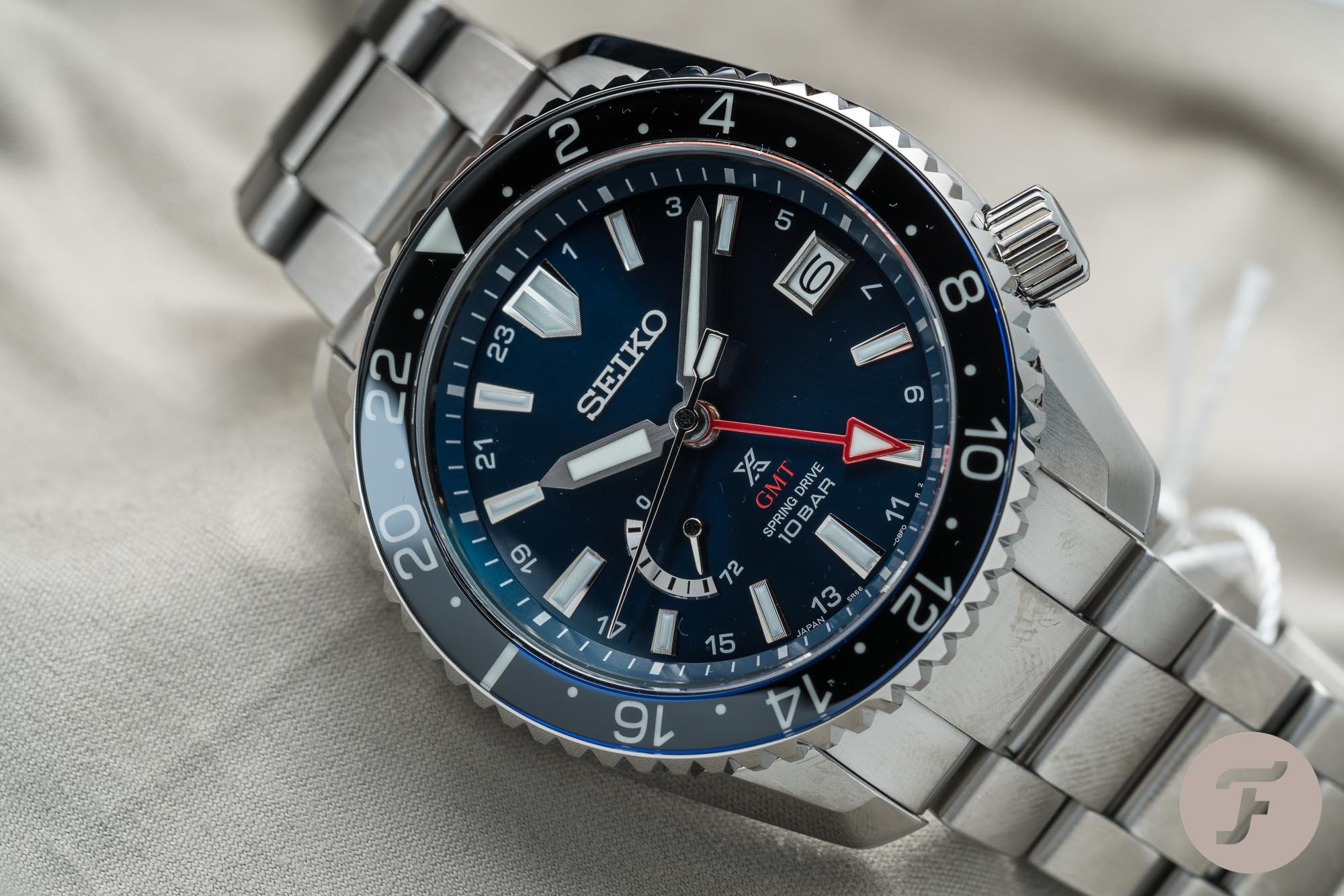 Seiko Prospex LX SNR033
The new Prospex LX collection was introduced last Baselworld, and the conference room that Seiko booked for this presentation was packed. The Seiko press conference is always one of the great starts of the week of Baselworld, with a lot of show and different speakers. This year, the focus was on this new addition to the Prospex collection. LX stands for light, which can be interpreted as light-weight but also how light plays with the beautiful Zaratsu polished surfaces and brushed surfaces.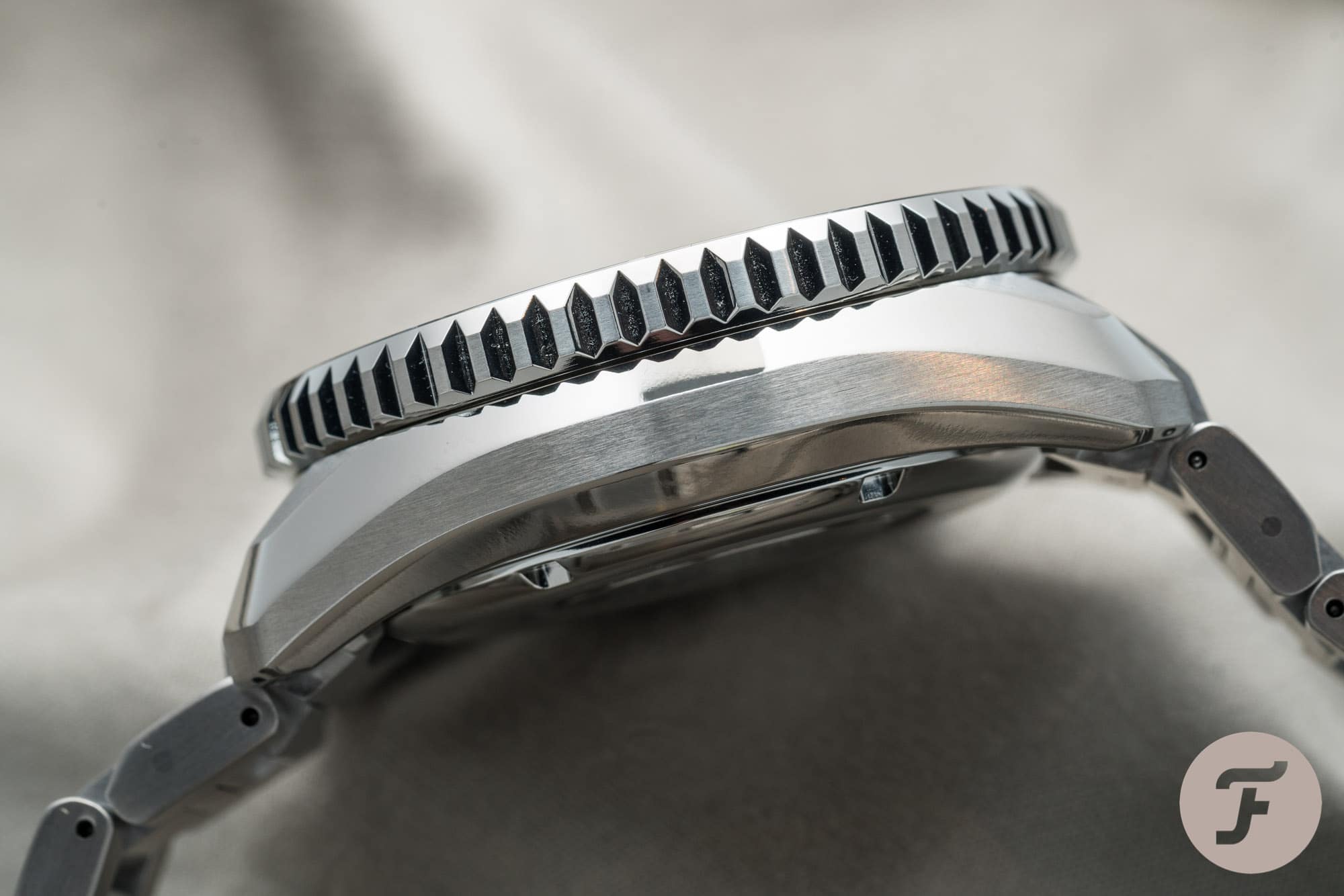 Very LX
The Seiko Prospex LX GMT is a big watch, with a diameter of 44.8mm and a thickness of 14.7mm. Here's where my main concern can be found. Not so much by the dimensions of the watch, as it wears pretty nice on my 18/19cm wrist, but because of the weight. Or better said, the lack of weight. The Seiko Prospex LX SNR033 is very light-weight, and it somehow feels a bit unnatural as you would expect a significant weight. It could also just be an issue that I have with titanium, perhaps many buyers – especially professional users – prefer a light-weight watch on their wrist.
Would the expected light-weight case and bracelet be a deal-breaker for me? Probably not, especially not if I would be in the running for a watch I could use every day. It is all about comfort in the end, and having a light-weight watch is more comfortable than a large and heavy steel (or precious metal) watch.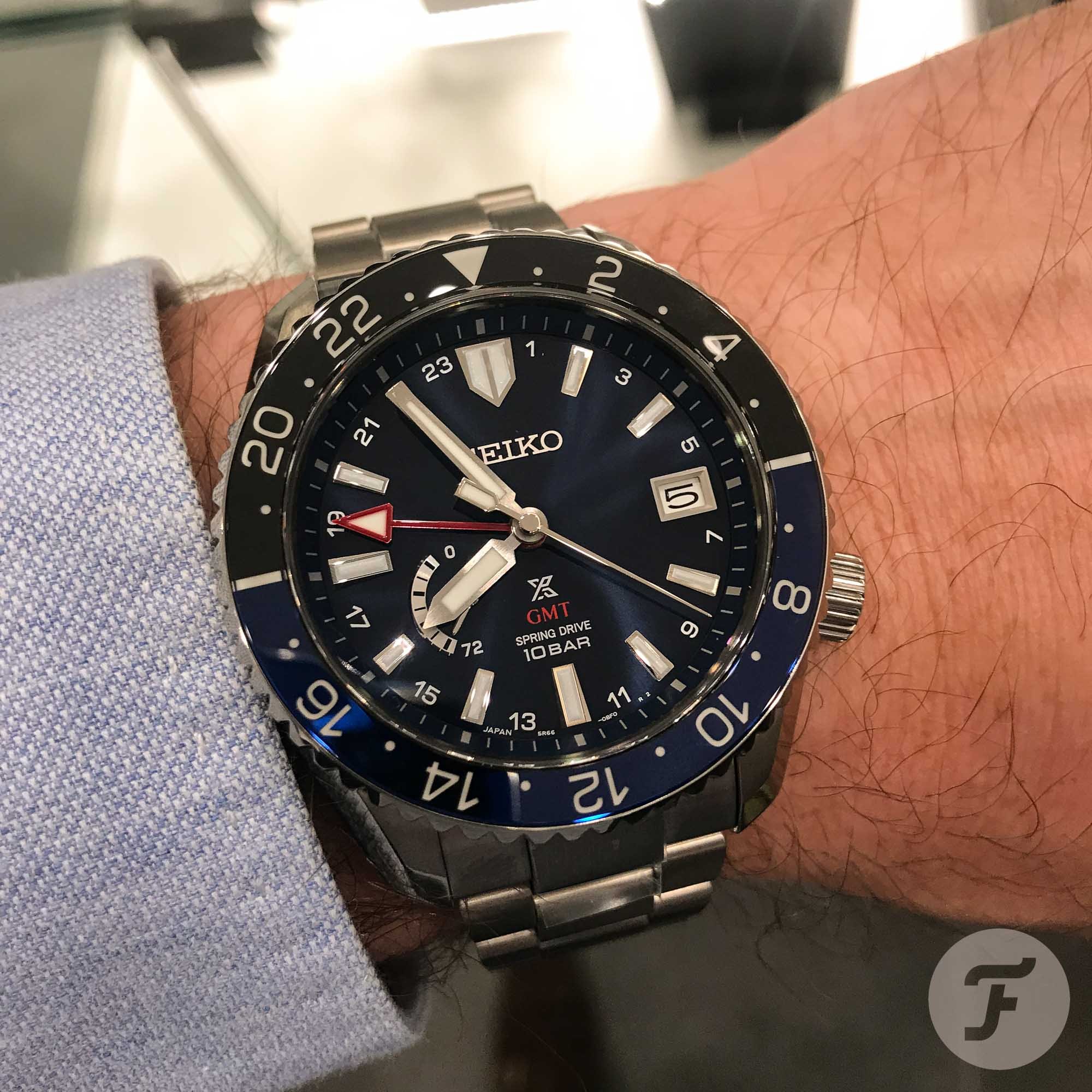 Some people are very concerned about titanium and scratches. Titanium is light-weight and stronger than steel, but it is not more scratch-resistant than steel. Seiko uses a special super-hard coating for their case and bracelet, so they say. This should help the Prospex LX SNR033 from getting scratches too easily. The period I had with the watch was a bit short to evaluate this; it would take a proper wearing test for a more extended period to see how well the coated titanium holds up compared to standard titanium watches.
Although Seiko assured us that the Hardlex crystal they have been using was perfect, they decided to go for sapphire for the Prospex LX watches. My personal belief is that they have listened to the customer in this case, who have been asking for sapphire crystals for watches in this price category, According to Seiko, their Hardlex crystals were excellent, and sapphire only added a tiny bit of hardness for the huge premium that has to be paid for it. However, the price point of the Prospex LX SNR033 easily justifies the use of sapphire.
The SNR033 is a real GMT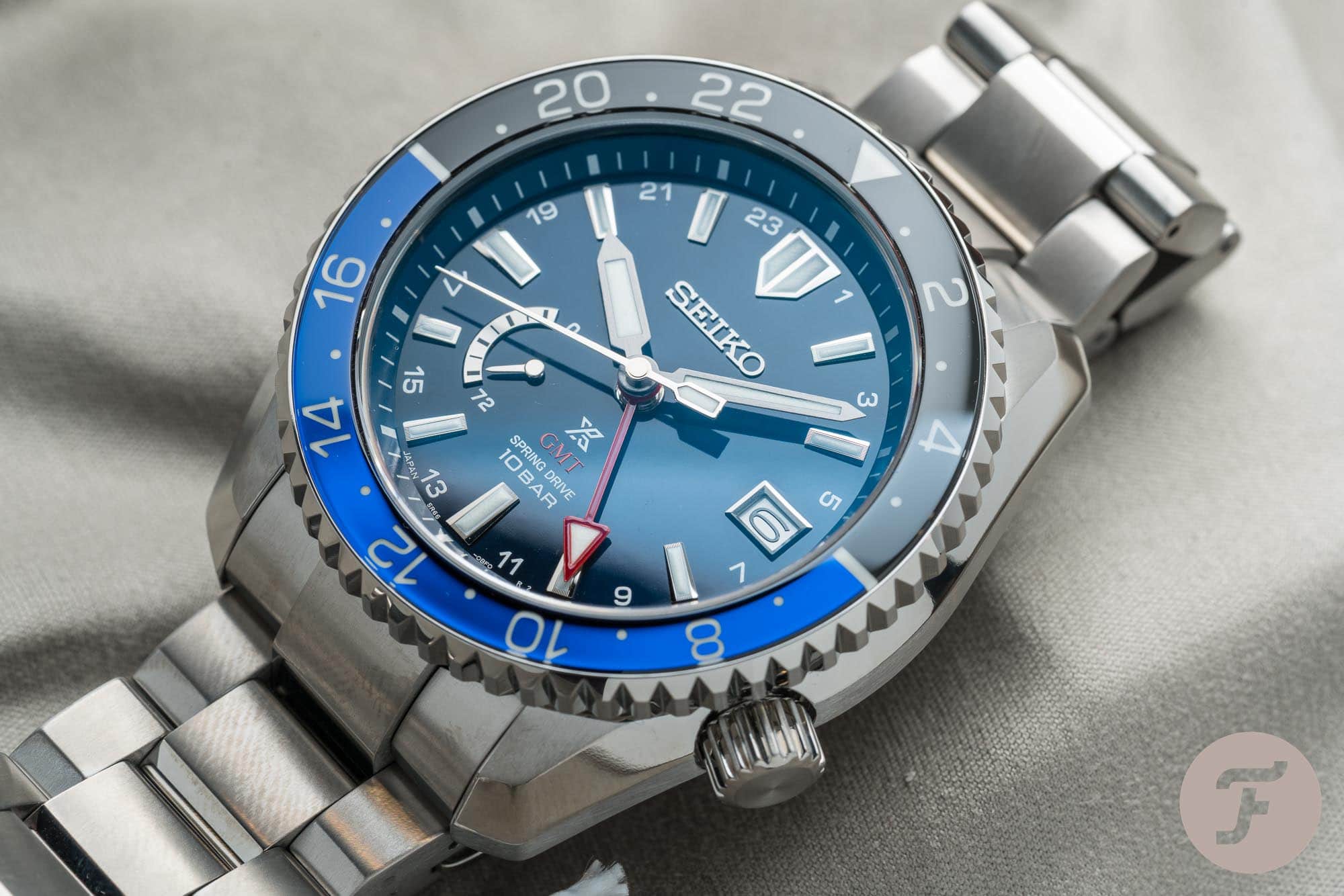 This type of GMT watch, with an independent hour hand, is very convenient for travellers
The first question that everyone seems to ask when it concerns a GMT watch is: Is it a real GMT watch?  In short, yes, it is. If you are not familiar with this definition of a real GMT: a watch with an independent hour hand. This way, you can use the normal hour hand to set the local time when you are travelling to a different time zone. The GMT hand will indicate the home time (and will move when you set the time, including the minute's hand). This type of GMT watch, with an independent hour hand, is very convenient for travellers and therefore considered a 'real' GMT. The GMT hour hand is a very notable red hand with a triangle at the end, filled with lume. Seiko uses Lumibrite for its luminous markers and hands, and in my own experience, it is brighter than Super-LumiNova, for example. This is only based on my watch collection, though, that consists of watches using both these materials.
The Prospex LX SNR033 also has a bezel with a 24-hour scale. This way, you can read whether it is day or night, as the GMT hand points to the 24-hour scale. This is also where the two colours, black & blue, come to play. Black indicates night time, blue indicates day time. Although the bezel is shiny, it is not made of ceramics. Seiko is not clear in the material used for the bezel, but it appears to be an aluminium (or metal) bezel with a sapphire cover. Seiko could not confirm (or deny) this, though.
Spring Drive 5R66
Inside the Seiko Prospex LX SNR033 GMT is the Spring Drive caliber 5R66. According to Seiko, the Spring Drive 5R caliber is the only option for their top of the bill Prospex collection. And it does make sense. A high-end watch from the Prospex collection deserves an innovative and accurate movement. In a Spring Drive movement, the traditional escapement is replaced by a piece of modern technology that offers quartz precision, as you probably know by now (and if not, click here). I get the feeling that the Spring Drive movements are getting more widely accepted by watch enthusiasts, not only by the real watch geeks who have been showing their appreciation for this technology already a bit longer. During our Prospex LX event, some weeks ago in Amsterdam, we noticed that none of the guests we spoke to, was negative towards this type of movement. Most Spring Drive movements, including this 5R66 caliber, has the power-reserve indicator on the dial. In total, this movement offers 72 hours of power reserve.
Unfortunately, the movement is not visible in this watch. The case back is made of titanium and has no sapphire crystal inside. A pity, as I would love to have a view on the Spring Drive 5R66 movement. It could have been easily done so, as the Prospex LX SNR033 offers a water resistance of 10ATM/100 meters. A sapphire case back should not have been an issue (even for the diver, with 30ATM, it should not have been an issue), but Seiko chose differently. Perhaps they feel that a watch in their 'Professional Specifications' (Prospex) series should not offer this.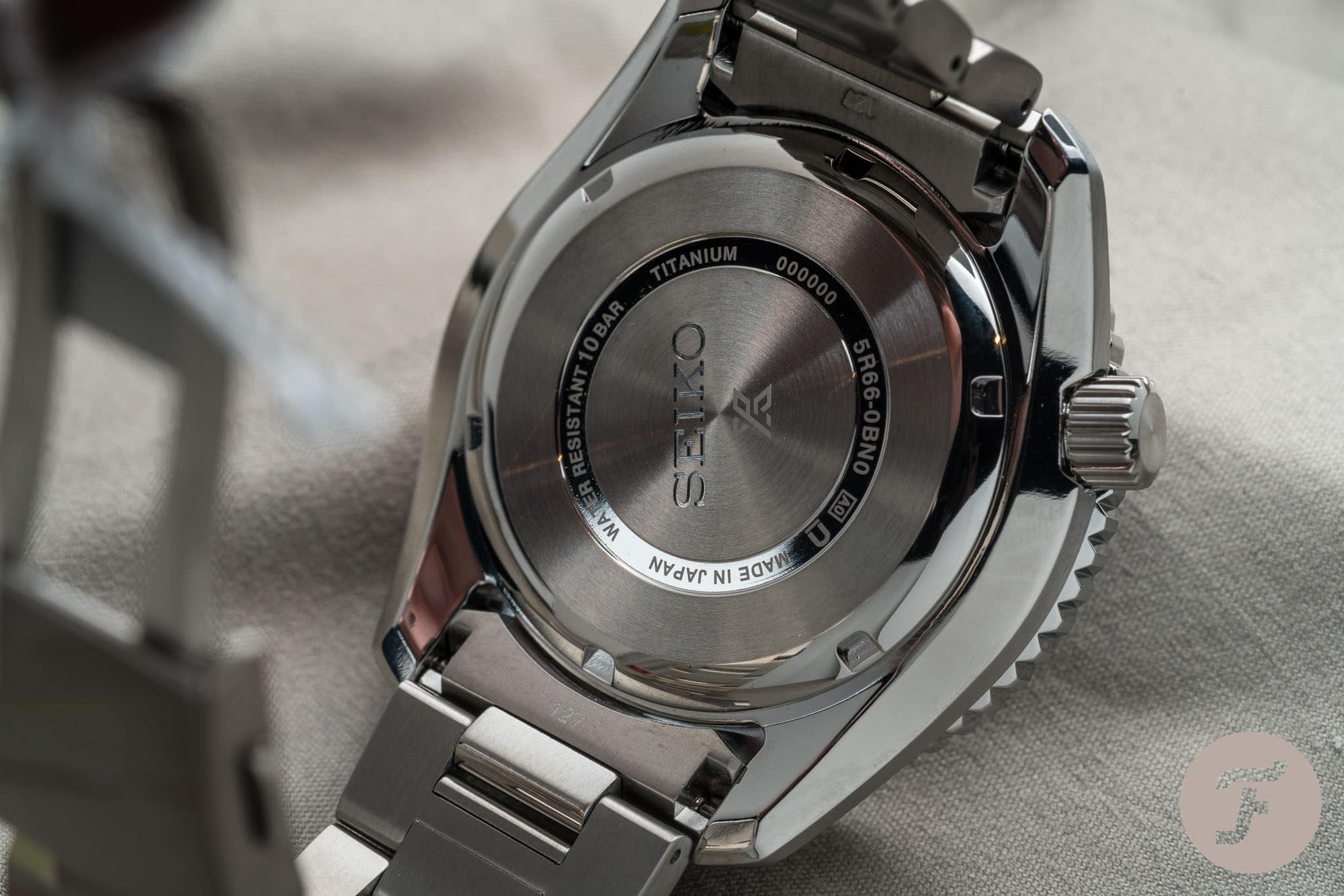 The best is yet to come
What really surprised me, positively, about the new Prospex LX collection, are the new bracelets. I have been complaining about Seiko's and Grand Seiko's bracelets for ages, and this bracelet finally made me shut up. What a great piece of work, so comfortable and so beautifully finished. Kudos to Seiko for designing such a beautiful bracelet. It might appear like an Oyster-type of bracelet, but it isn't. The bracelet has beautifully shaped links. If you look closely, you can see the angle that starts at 1/3rd of the link.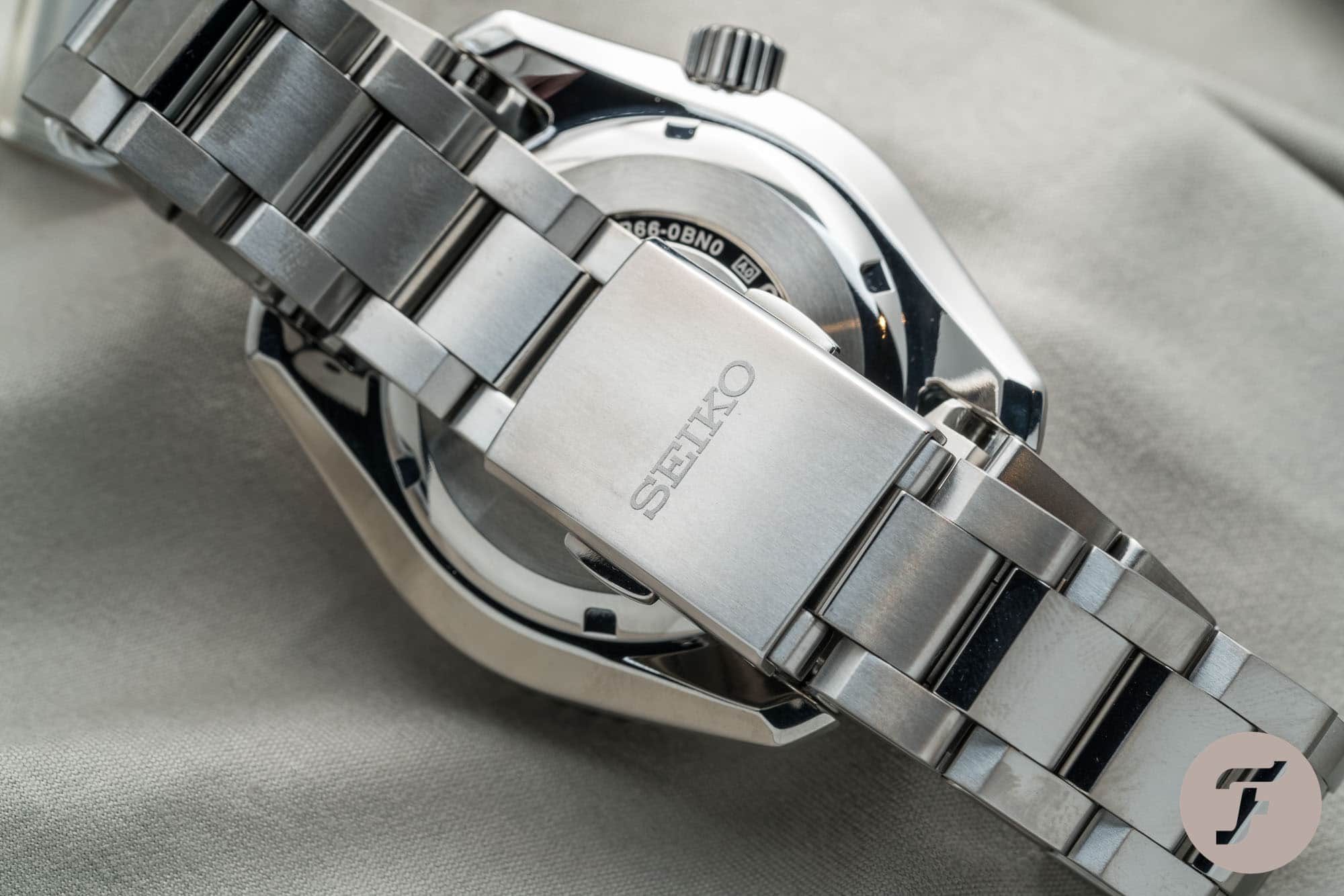 Besides the bracelet, you will find the same quality of finishing (and design) on the case as well. It is designed by Ken Okuyama, as explained here, who had to redefine some of the shapes that Seiko has been using for quite some time. That's not an easy job, I am sure. On this new Prospex LX SNR033, you will find angles that are a bit wider, for example, so the polished surface catches more light.
These watches are made in the same manufacture where the Grand Seiko Spring Drive watches are being produced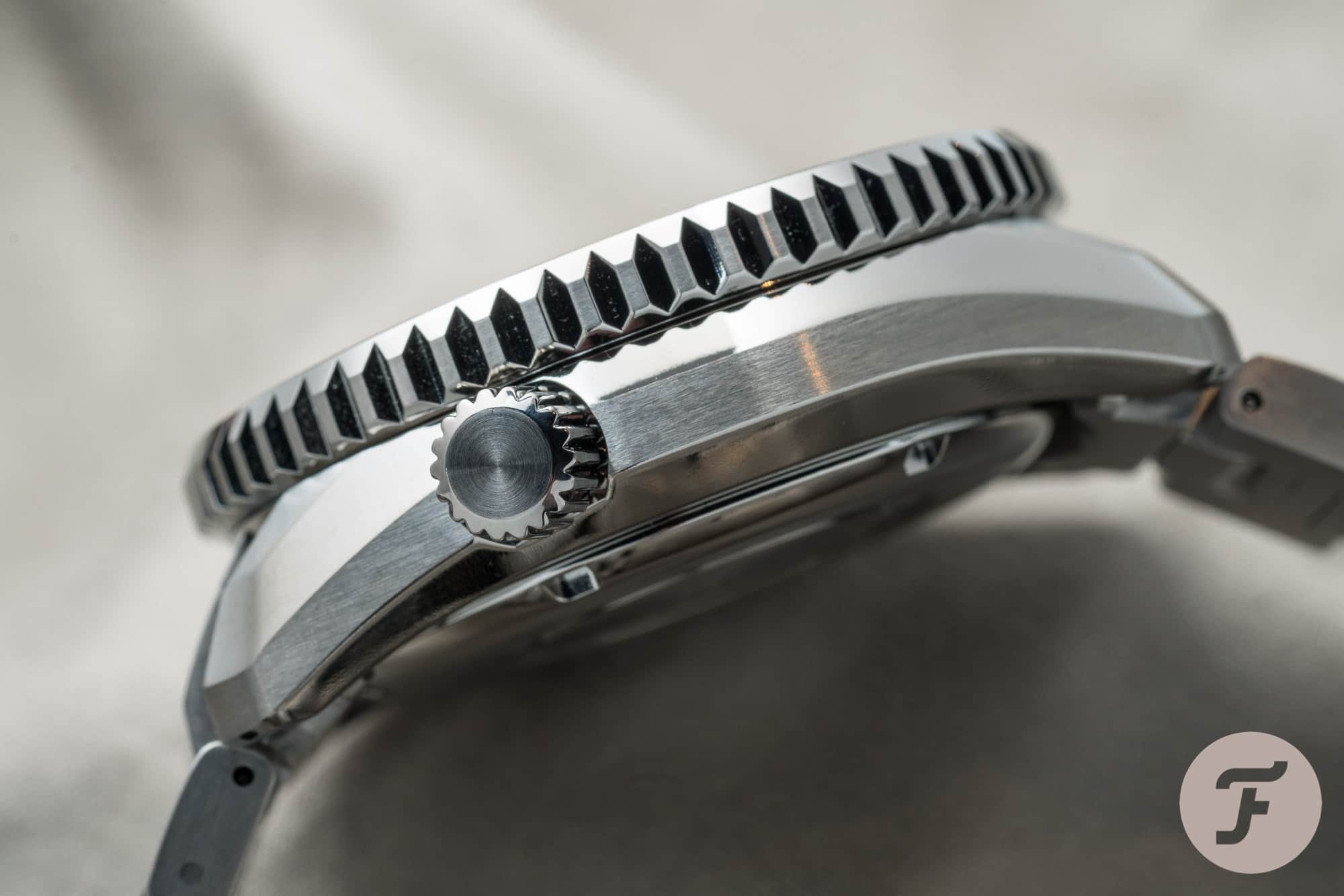 Price and Conclusion
I could go on for a while about the high level of finish on these watches, or the Spring Drive movement, or the beautiful and sharp markers on the dial, but I think it is not much different from the other Seiko Prospex LX SNR029 that we reviewed a while ago. The new Seiko Prospex LX SNR033 is simply a very good watch. These watches are made in the same manufacture where the Grand Seiko Spring Drive watches are being produced.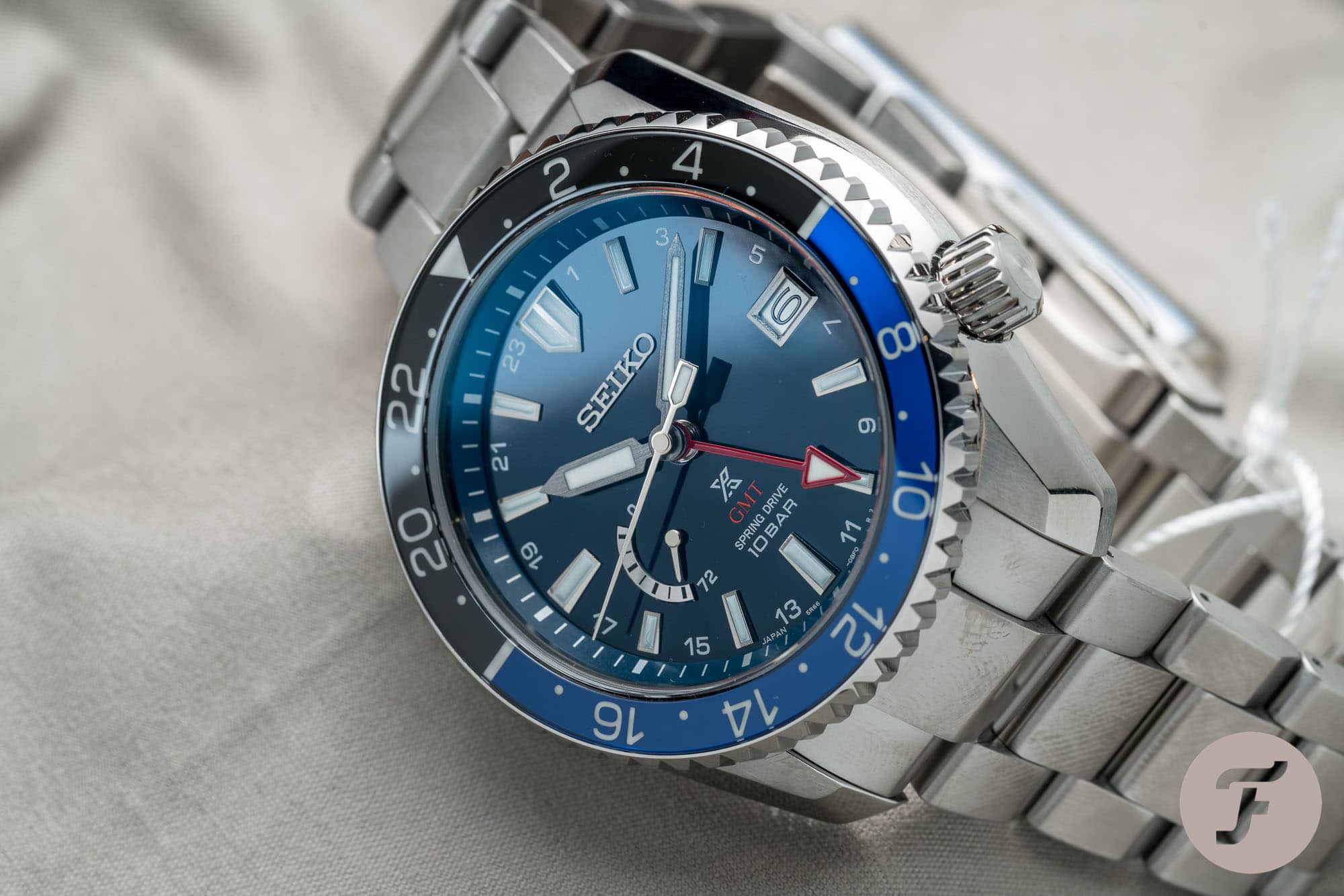 The difference is mainly in the finishing of the movement. With the automatic watches, there's perhaps a difference in the tolerances as well for the Prospex watches compared to Grand Seiko, but with Spring Drive the accuracy is already on the same level as quartz. This also means that the difference in price between a Prospex LX SNR033 (or any of the other LX models) and a Grand Seiko is getting minimal. The cheapest Grand Seiko sports watch, with Spring Drive GMT movement, reference SBGE201 retails for 6000 Euro. This Seiko Prospex LX SNR033 retails for 5600 Euro. The Grand Seiko is not made of titanium, but for me, the use of titanium is not particularly a plus. That said, I also don't think there's that much of a difference in quality between the two. Not only the difference in price is getting smaller, but also the gap in the level of finishing and overall quality got smaller with this new Prospex LX SNR033.
More information via Seiko online.
Watch specifications
Case Material
Titanium (Super Hard Coated)
Case Dimensions
Diameter: 44.8mm, Thickness: 14.7mm
Movement
Caliber 5R66, Spring Drive mechanism, Power Reserve: 72 hours, Quartz accuracy (+- 1 second per day, max. 15 seconds per month)
Water Resistance
100 meters / 10 bar
Functions
Time, GMT, Power Reserve, GMT bezel (third timezone)
Price
€5600,- (including 21% VAT)