Seiko Spacewalk Spring Drive SPS005 – My Daily Watch
Seiko Spacewalk – A short introduction
Before I start writing about the Seiko Spacewalk as a daily watch, let's do an introduction first. On the Seiko SpaceWalk but also on Seiko and Space in general.
Richard Garriot
In 2008, Seiko introduced the Spacewalk Spring Drive watch during BaselWorld. It was made for astronaut Richard Garriot. Garriot, who started developing video games in the 1980s together with his brother, sold his company to Electronic Arts in 1992. In 1997, he designed one of the most famous RPG games ever: Ultima Online.
Anyway, his father was an astronaut (Owen Garriot) and all his life he dreamt about traveling to space. In 2008, this became reality. He was the sixth citizen to travel to space. On board of the Russian Soyuz TMA-13 he lift off to space on October 12th, 2008.
On his wrist
On the wrist of Garriot Jr was a Seiko watch. The Seiko Space Walk Spring Drive. Seiko developed it with Garriot's mission in mind. Their goal was to create a light-weight, air-tight, readable and easy-to-use chronograph. Besides that, it needed to be accurate. So in 2008, a few months before Garriot's lift-off, Seiko showed the watch during BaselWorld.
I actually remember that and discussing it with Gerard Nijenbrinks, one of the guys of our team. The watch was not for sale, and only a few prototypes existed. And of course the watch that would accompany Garriot on his mission. Fat chance in seeing or wearing on in the flesh. I thought.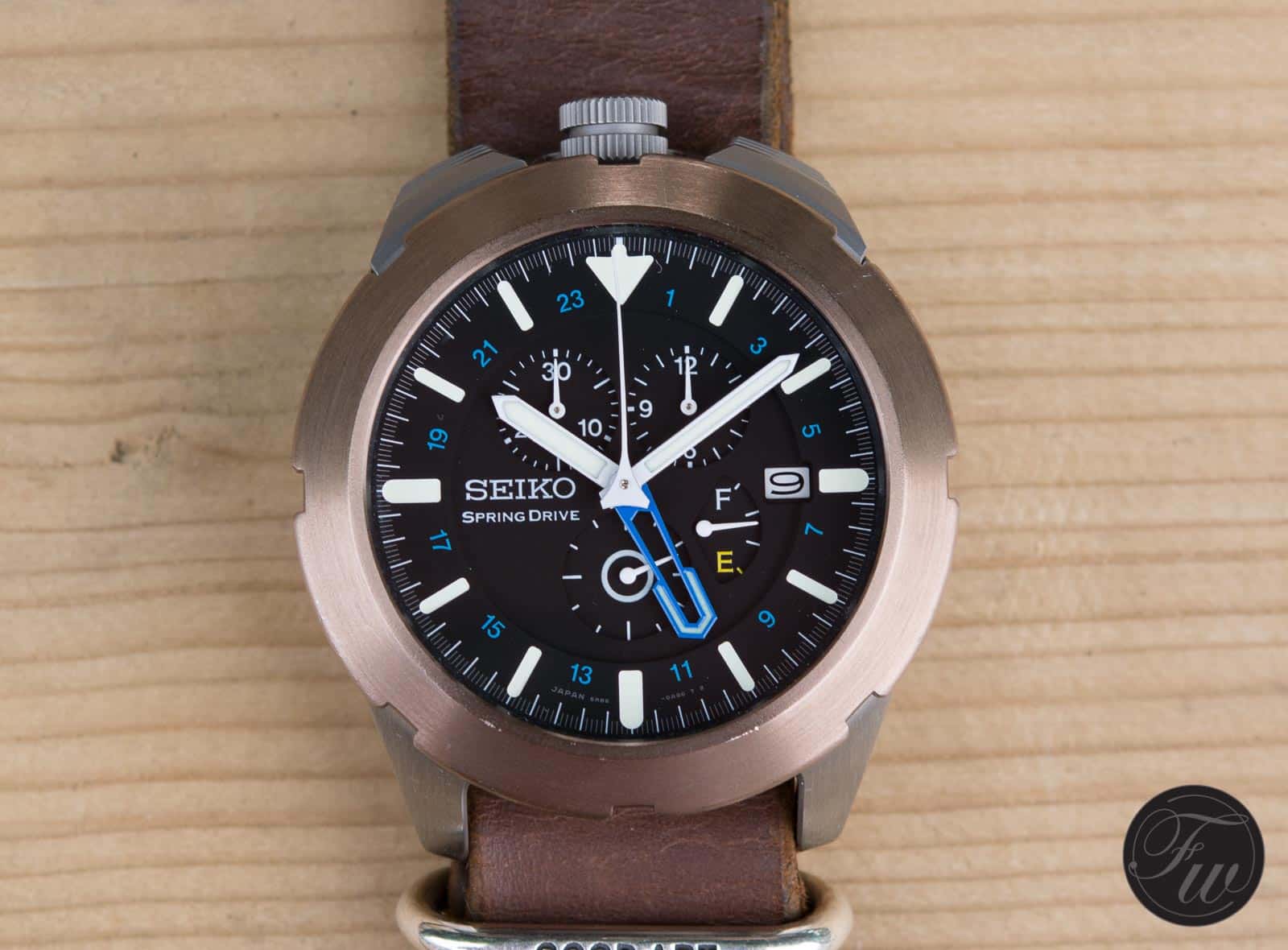 Seiko And Space
We all know the stories about the Omega Speedmaster 'Moonwatch' and other watches that made it to space. Or to the Moon. We cover the Speedmaster watch every Tuesday in our #speedytuesday installment since 2012.
Reference 6139
But did you know that Seiko has history with space as well? Yesterday you could read all about the first Seiko in space here on Fratello Watches. Michael Stockton wrote an article on the Seiko 6139 "Pogue" chronograph that was chosen by Colonel William Pogue to accompany him on his Skylab 4 mission in 1973-1974 (84 days).
https://www.fratellowatches.com/tbt-seiko-6139-pogue-chronograph/
Reference A829-A6019
Another Seiko that made it to space, is the digital Seiko A829-A6019. ESA astronauts in the 1980s didn't receive NASA's EVA watch (Speedmaster). They had to find and buy their own watches. According to Wubbo Ockels, Dutch astronaut (mission STS-61A in 1985), these Seiko watches were purchased by a couple of astronauts at the time. They arranged an interesting procurement deal for this specific type of watch. See more about this story by clicking below.
https://www.fratellowatches.com/the-seiko-a829-a6019-was-selected-by-astronauts-and-made-it-into-space/
Reference SPS005
This is the Seiko Spacewalk Spring Drive, the watch that made it into space for 12 days in 2008. The actual watch of Garriot was later auctioned by Antiquorum. The Seiko Spacewalk fetched $45,600 USD during the auction in September 2009. This result went into two charities that Garriot supports. According to the auction description this was watch 6/6. During my trip to Seiko in Japan last year (as reported here), I saw two of these watches. I assume they are also part of these first six pieces, but please correct me if I am wrong here.
Later on, Seiko introduced another 100 pieces to commemorate the Seiko Spacewalk Spring Drive. This reference SPS005 was first delivered in February 2010. It is this very watch that I will be talking about here. One of our readers – and friend of the show – bought one of these Seiko Spacewalk watches when they came out. Price? A whopping $28,000 USD at the time. Authorized (Grand) Seiko dealer AZ Fine Watches did a wonderful write-up with some more background information on the development of this watch.
Seiko Spacewalk – Daily Watch
Despite the high price, our reader and friend bought this Seiko Spacewalk Spring Drive for just one reason. He thinks it is just a cool watch. It is not for storing or keeping in a safe, it is for wearing. That is how we like to see watches. Especially watches like this, that are rare and expensive. They also deserve to see some daylight and treated like any other timepiece.
An Expensive Seiko
People most of the time simply don't believe that there are Seiko watches this expensive. The owner of this Seiko Spacewalk tells me that some of his friends looked at it – since it is a bit quirky looking – and were almost disappointed it says Seiko on the dial. It is a difficult thing to get out of the heads of people, that Seiko is more than the inexpensive Seiko 5 collection.
But $28,000 USD is something different to pay for a Seiko watch. Where you can easily spend a few grand on a very nice Grand Seiko, this is something else. If you want to be a show-off, that $28K is probably better spend on a Royal Oak, Nautilus or a gold Rolex. Not a Seiko. But – and perhaps this goes for all buyers of Grand Seiko watches for instance – people who spend this kind of money on a fairly unrecognizable watch don't buy to show-off.
For the love of watches
Admitted, our reader and friend has his share of impressive watches. But he is far from being a show-off, he just likes watches. A lot. That is what it takes to spend this kind of money on a watch like the Seiko Spacewalk. This watch gets a lot of wear from our reader, some times for weeks in a row. It has features that are very pleasant, like the weight, readability, accuracy and the fact that you can play with the straps. As you can see, attached to the watch is this custom made leather NATO strap by Goodart.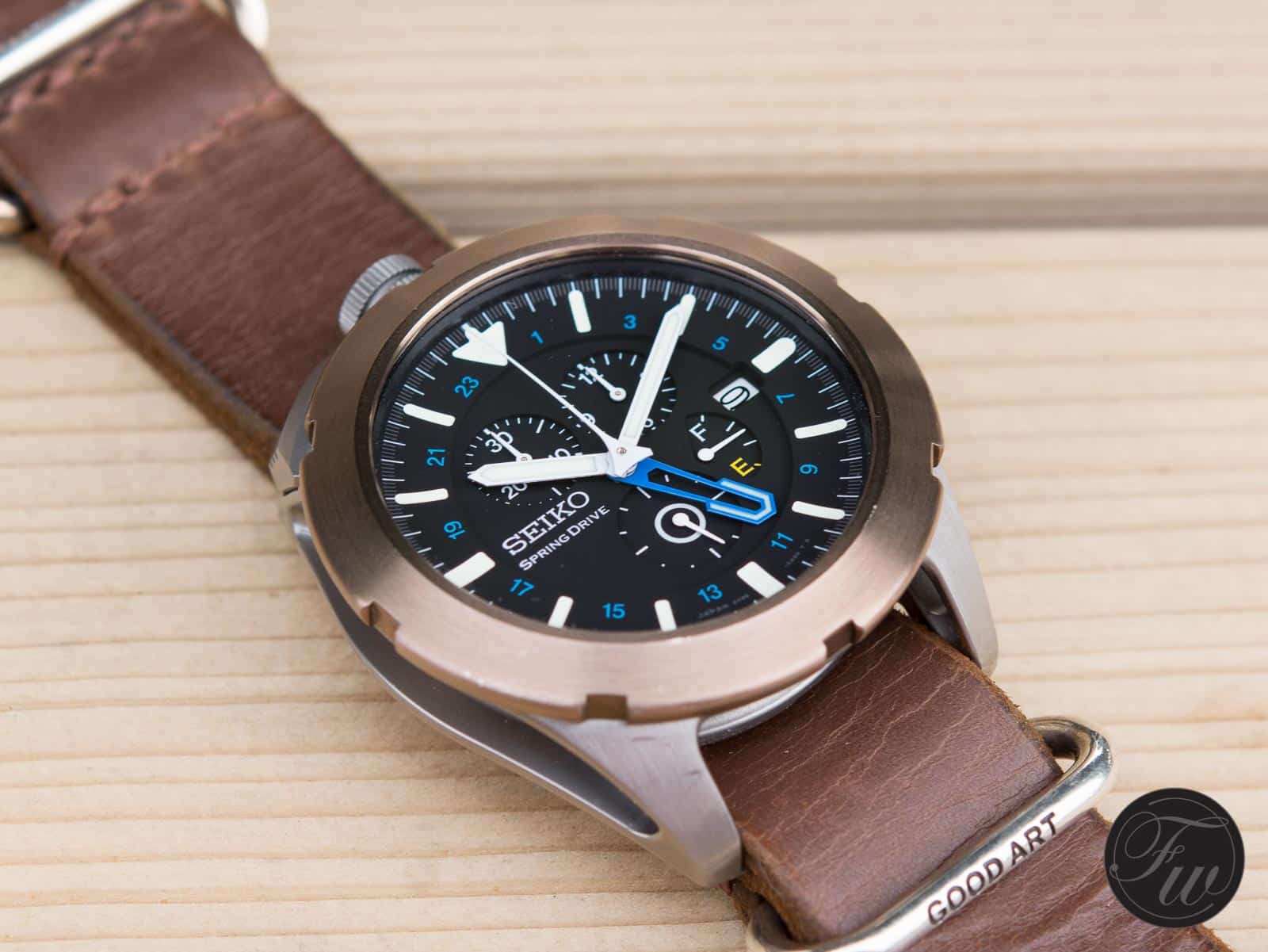 Week on the wrist
Now for the cool part. He handed me over the Seiko Spacewalk to wear it, play with it and perhaps write some words about it. So here I am. Wearing the Seiko Spacewalk, happy as a kid. With an expensive toy, that is. Although the word toy doesn't sound very correct, but it gives me the same feeling as being a kid who gets to play with Optimus Prime.
Wearing the Seiko Spacewalk
Wearing the Seiko Spacewalk made me realize a couple of things. First, how wearable my Seiko Grandfather Tuna reference 6159-7010 actually is. With a diameter of 53mm (top to bottom)/48.7mm (left to right) this is pretty 'present' on the wrist. That is not a bad thing per se, but it might not fit under a cuff or will hit the occasional door post. The owner of this Seiko Spacewalk doesn't treat it as a baby, it has scuffs and marks here and there. It is being worn, for sure.
Cluttered Dial
There are a lot of things happening on the dial of the Seiko Spacewalk. At least at first sight. It appears to be cluttered, but once you know where to look, it is all working out fine. Instead of a brand name at 12 o'clock, the mention of "SEIKO Spring Drive" is located at 9 o'clock. A cool thing that Seiko does here. No other mentioning of a model name or whatever. Two sub dials are located next to each other, let's say at 10 o'clock and 2 o'clock. These are the minute and hour recorders for the chronograph function. The running seconds can be seen at 6 o'clock. In all fairness, when the blue 2nd timezone hand is blocking the sub dial at 6 o'clock, it is quite a challenge to read the seconds. Then, there is this power reserve indicator at 3.30.
In low light conditions, the luminosity of this watch is simply awesome. Although there is limited availability of specifications about this watch, I assume it uses Seiko's Lumibrite.
The dial lay-out is a bit odd, but I noticed it is something easy to get used to. Only the running seconds is sometimes a bit too difficult to read. The large blue GMT hand uses a blue 24-hour scale on the dial. I did not have use for this for now, but it was easy to use and read.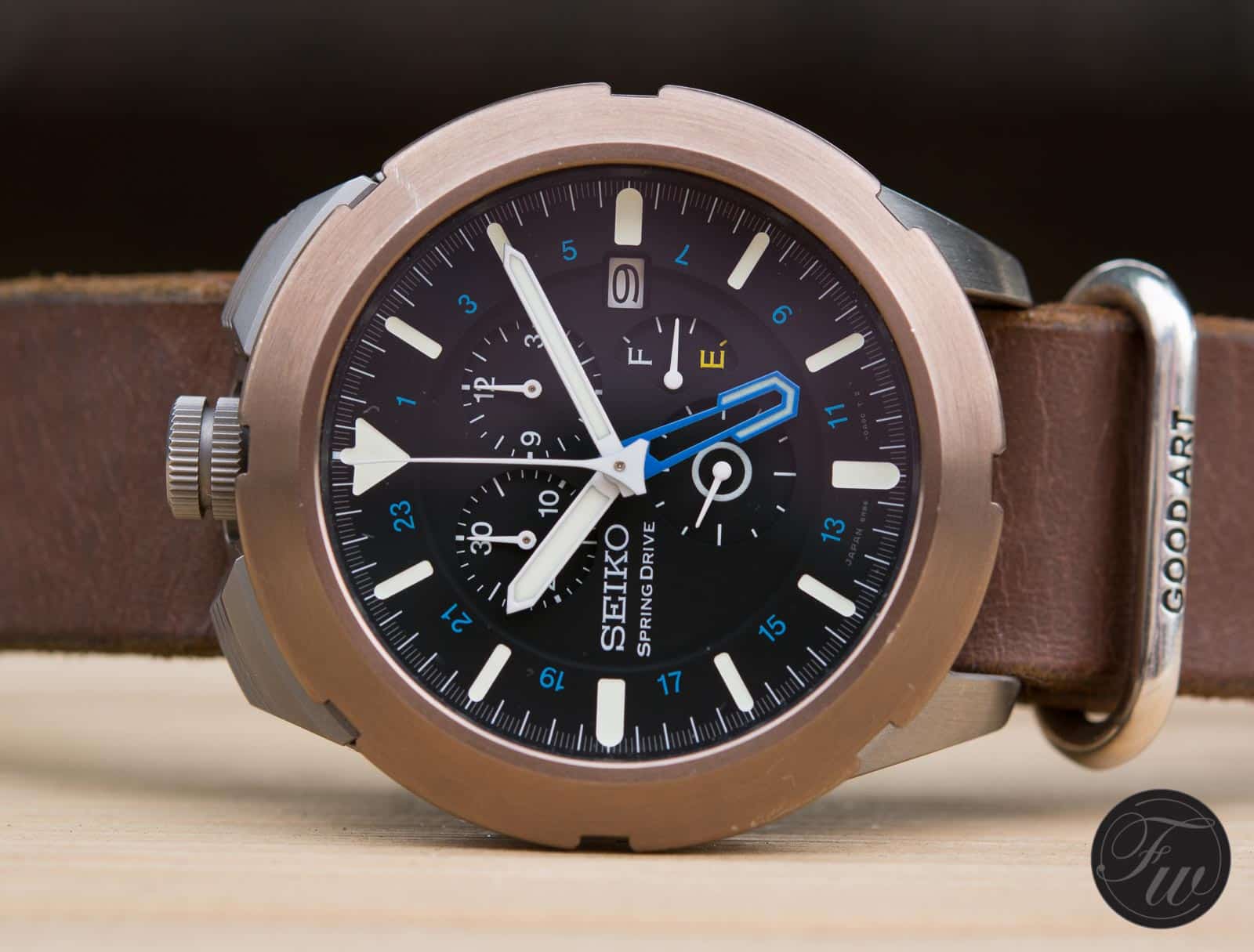 Titanium Case
The case of the Seiko Spacewalk Spring Drive reference SPS005 is simply huge. However, it is actually quite a nice wearer. The strap that the owner put on it, is not my favorite and makes the watch sit even higher on the wrist. I rather stick with the original light-weight nylon velcro strap with titanium Seiko signed buckled. That said, the leather strap does look nice on the watch and gives it a bit of a retro or vintage feel. But this is clearly a modern watch, high-tech even, that I prefer to wear on the original black velcro. The owner of the watch told me that he worn out the first velcro strap of this watch to rags. A new velcro isn't easy to get, but they are still obtainable via Seiko. These need to come from Japan though.
The picture below shows the profile of the watch and how they made it even lighter due to some efficient drilling of the case. Linde Werdelin comes to mind when I look at the side of this case.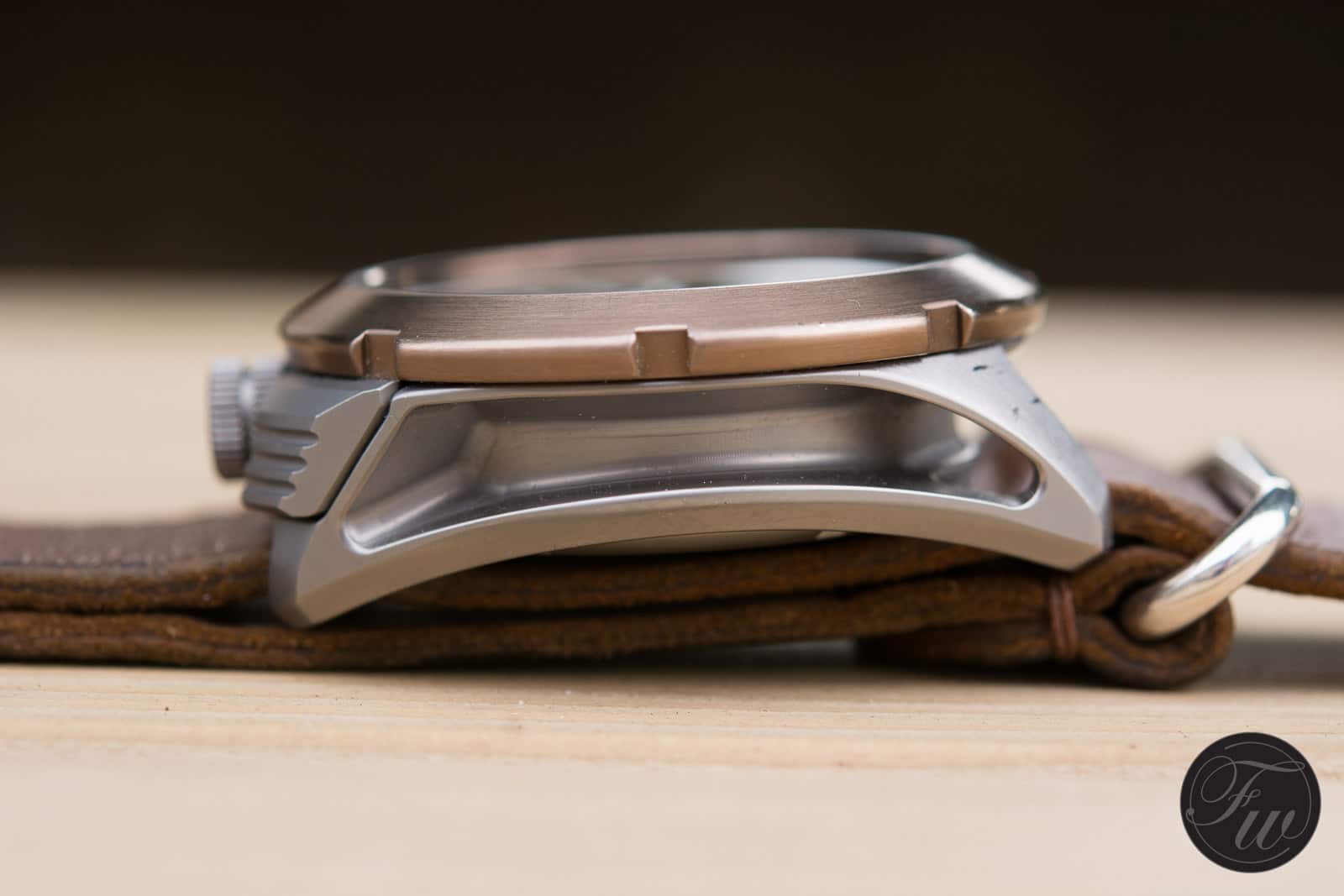 The bezel has this bronze color, but I can't seem to find what the actual material is. It is not bronze, I am pretty sure about this. Perhaps treated titanium?
On the back of the case you see some inscriptions. Besides the brand, model and reference number, there is the unique number of the watch. We blanked it on request of the owner. It also shows which Spring Drive caliber is inside, in this case it is chronograph caliber 5R86. As you can see it is a screw-down caseback.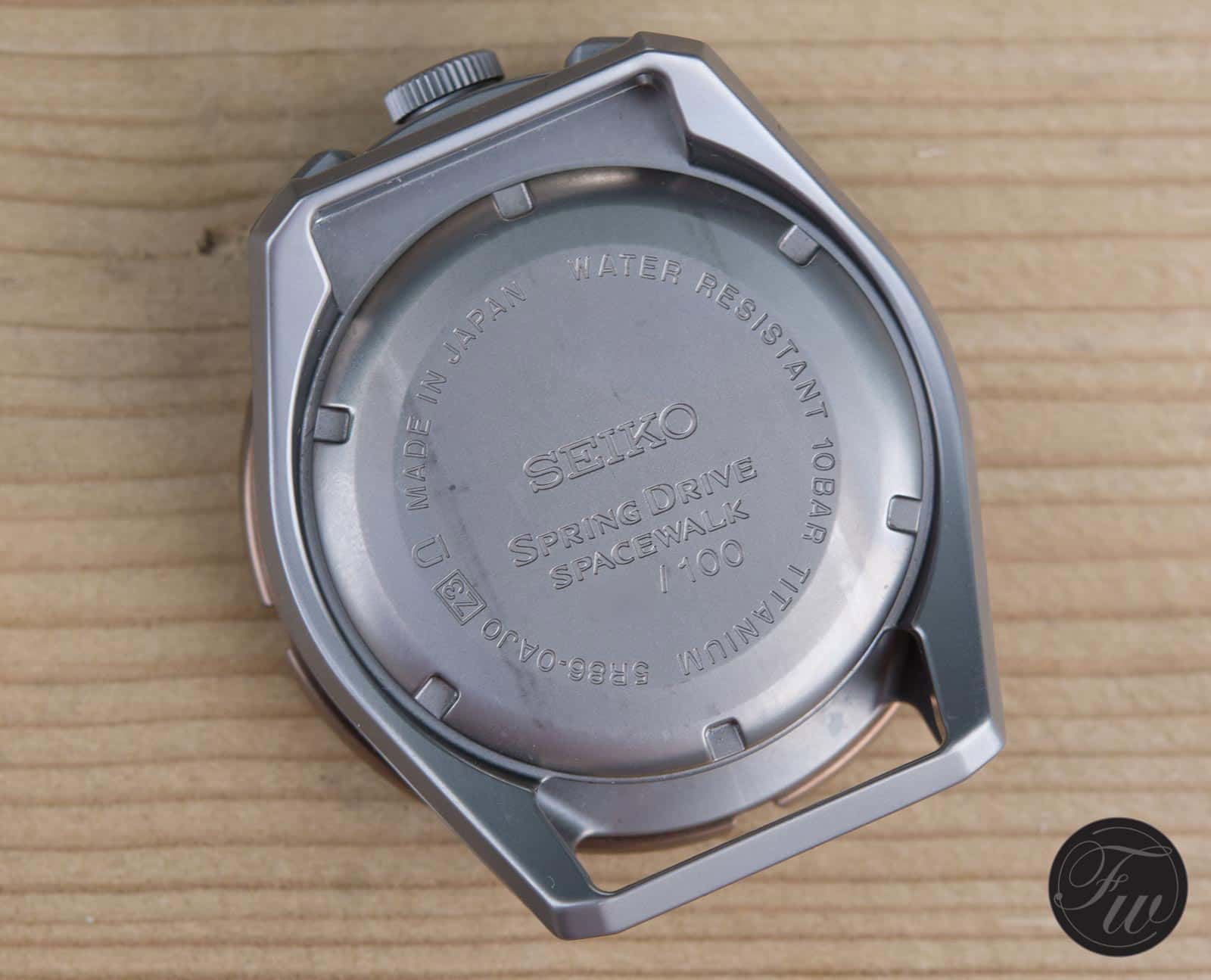 Bullhead
We discuss bullhead watches once in a while, but they remain to be quite rare. Omega did a Seamaster Bullhead re-edition in recent years as well TAG Heuer and some microbrands like Stuckx. Bullhead means that the crown and pushers are located at the top of the watch. It is easy to operate a bullhead watch, and I assume it is even easier to work with the pushers with gloves on.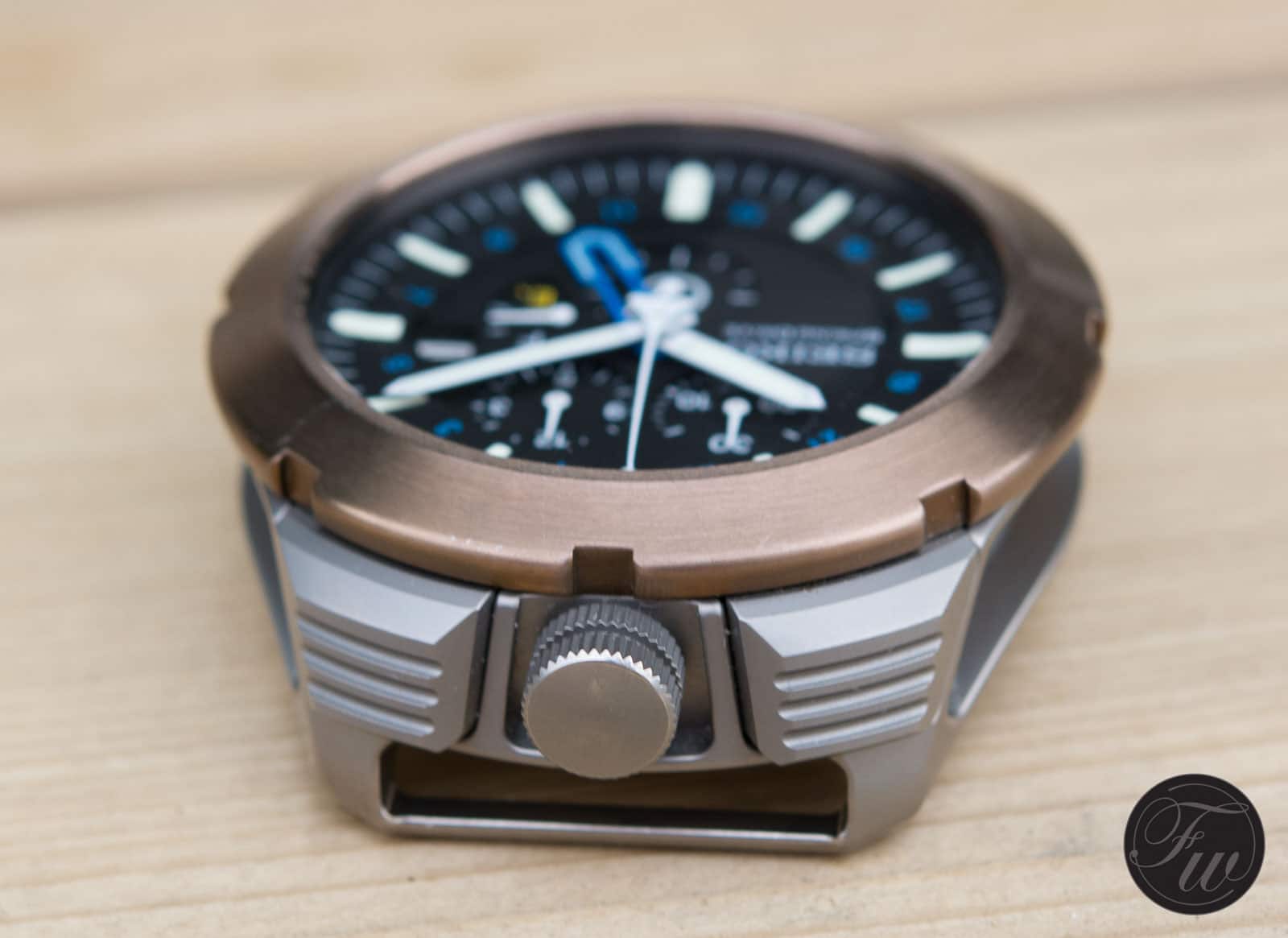 Movement
Inside the Seiko Spacewalk sits a Spring Drive chronograph movement. Unfortunately the movement is not visible, but this is understandable given the concept of the watch. Since my trip to Seiko in Japan I have an increasing interest and respect for the Spring Drive technology. For those who are unfamiliar with the Spring Drive technology, I suggest to read the article in the link below. It explains how it works and that is certainly not quartz technology. I still get that question or comment today from people about Spring Drive movements. The caliber 5R86 is a chronograph movement and also has a GMT function. Two of the most useful complications out there.
https://www.fratellowatches.com/seiko-factory-visit-trip-report-part-1//
I have the watch only for a short period, so there is little I can say about accuracy. I haven't noticed a big deviation though, but that's the case with most modern watches you wear for a couple of days. The continuous sweep is beautiful to observe, but does come across very 'electrical'. Rather than mechanical. If that makes sense to you. However, I think that Spring Drive should receive more appreciation from watch fans. The technology is awesome as the accuracy is on the same level as a quartz movement. When I am in the market for a Grand Seiko (and I don't think this will take very much longer), a Spring Drive movement is definitely something I consider.
Comments on the Seiko Spacewalk
I don't feel like an astronaut with this watch on my wrist, but it does feel special. It is not my choice for a daily watch as it is very large and chunky, but I can understand that someone is wearing this every day. If you don't have to wear long sleeve shirts or a suit, other than a spacesuit, the Seiko Spacewalk Spring Drive is an awesome daily beater. My wife thinks it looks too awkward. She knows little about watches, which makes her comments on watches quite refreshing some times.  Just purely from a design or style perspective.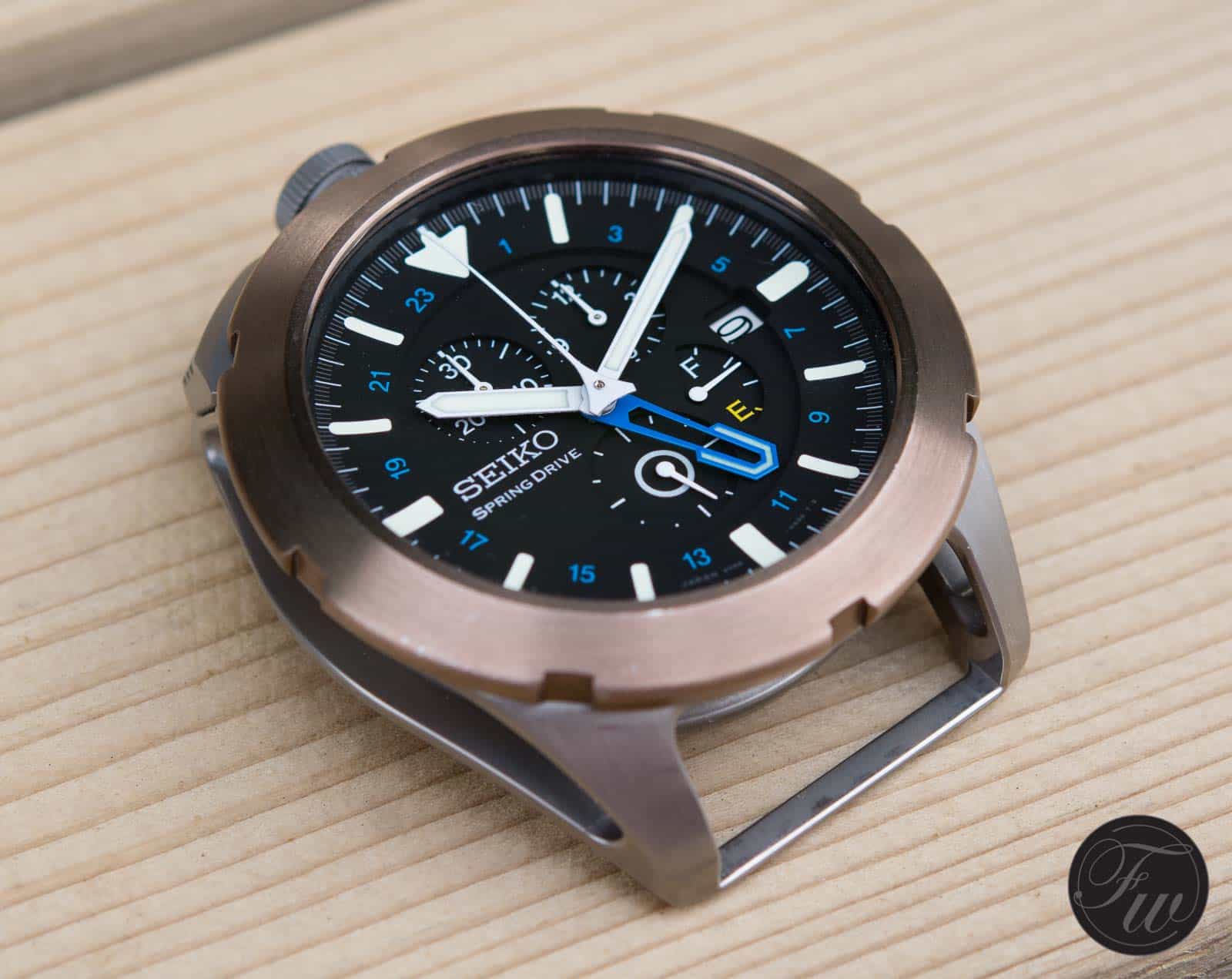 Seiko Fans
I put a few pictures of this watch on watch oriented groups on Facebook and there were also some critical notes. Ugly design, bizarre price, and so on. I get that, especially when you aren't very deeply into watches or are more focused on brand names. This watch is not for everyone and that is fine of course. Seiko makes more of these type of watches, like the Marinemaster 'Tuna'. Seiko also creates and designs watches that targets a larger audience, like the Grand Seiko and Presage collection.
I also put some pictures of the Seiko Spacewalk on our Instagram account and it received – for our account size with approximately 100.000 followers – a great amount of likes. A lot of people love it, but I also have to admit that most of these people are already familiar with it or are Seiko fans.
Daily Wearer
If your attire allows you to wear a watch this size, it is an awesome piece to wear. Whether it is beautiful is in the eye of the beholder. I find the watch beautiful in its own quirky way, like I love the Marinemaster Tuna models as well. The good thing about this particular watch is that it is being treated as an every day watch. It is an everyday watch actually. This way, not only the owner can enjoy it but also the fans and admirers will have a chance to see one in the flesh.
Personally, it is one of the coolest timepieces that I tried in a long time. Something very different from the rest and a watch with an interesting (recent) history.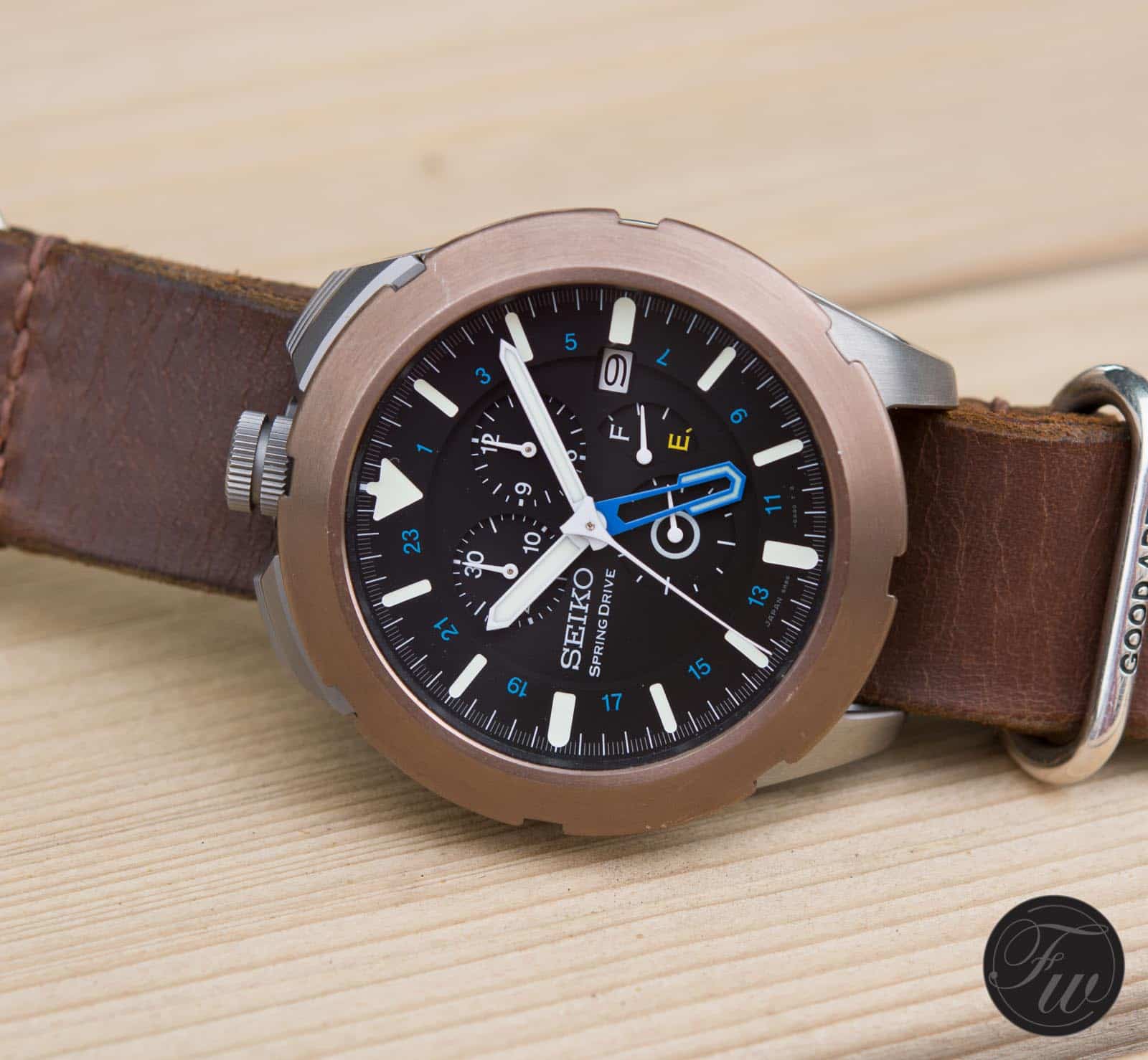 Availability
This watch is limited to 100 pieces only and sold out long time ago. I never come across one for sale to be honest. A few years ago (well, 2011) there was one of these Seiko Spacewalk Spring Drive watches for sale on eBay and fetched about $14.000 USD. I am pretty sure that today it will fetch more, given the steep price increases on special or unique watches these days. I also can't find any of these SPS005 reference for sale (or sold) on Chrono24. I actually went through over 2 million of watch offers with a simple query and didn't stumble upon one.
So, if you come across a Seiko Spacewalk Spring Drive that is for sale, don't wait too long taking a decision.