Sunday Morning Showdown: Seiko Prospex Automatic SRP777 "Turtle"
Rate it or hate it? Whose side are you on?
In this Sunday morning column, two of our writers go head-to-head in an epic showdown for the ages. Strong opinions and hysterical hyperbole are welcome (so feel free to join in with the fun in the comments section below). And don't forget to let us know which watches you'd like to see torn to shreds/effusively exalted next week. We'll try and feature as many of our readers' choices as we can. This week we celebrate/denigrate everyone's favorite hero in a half shell, the Seiko Prospex Automatic SRP777 "Turtle".
It's hard to hate such a solid, well-built, well-regarded beater like the SRP777. For the price, it's even harder to get something "better". But as our resident punch bag, I thought I'd take on that challenge. But first, a look back at the friendly fire of last week's showdown twixt Ben and I.
Under the microscope was the "classic" Cartier Santos De Cartier Large. The size was the real sticking point here for me, but the community put me back in my box. A wholesome wallopping to the tune of 84% in favor of Ben and his humongous Santos was the order of the day. But no matter. You can't win 'em all. That's what makes this so much fun… Thanks, Cartier, for serving up a tasty fight.
But that's enough of that syrupy, gallic sweetheart. Let's dive into the roiling waves that beat and batter the coasts of Japan. It was there that the humble Turtle first emerged, blinking into the light. It would go on to inspire many a budding watch fan to buy into the craft for the very first time. And still, years after that fact, it continues to warm the cockles of even the coldest hearts. Speaking of which…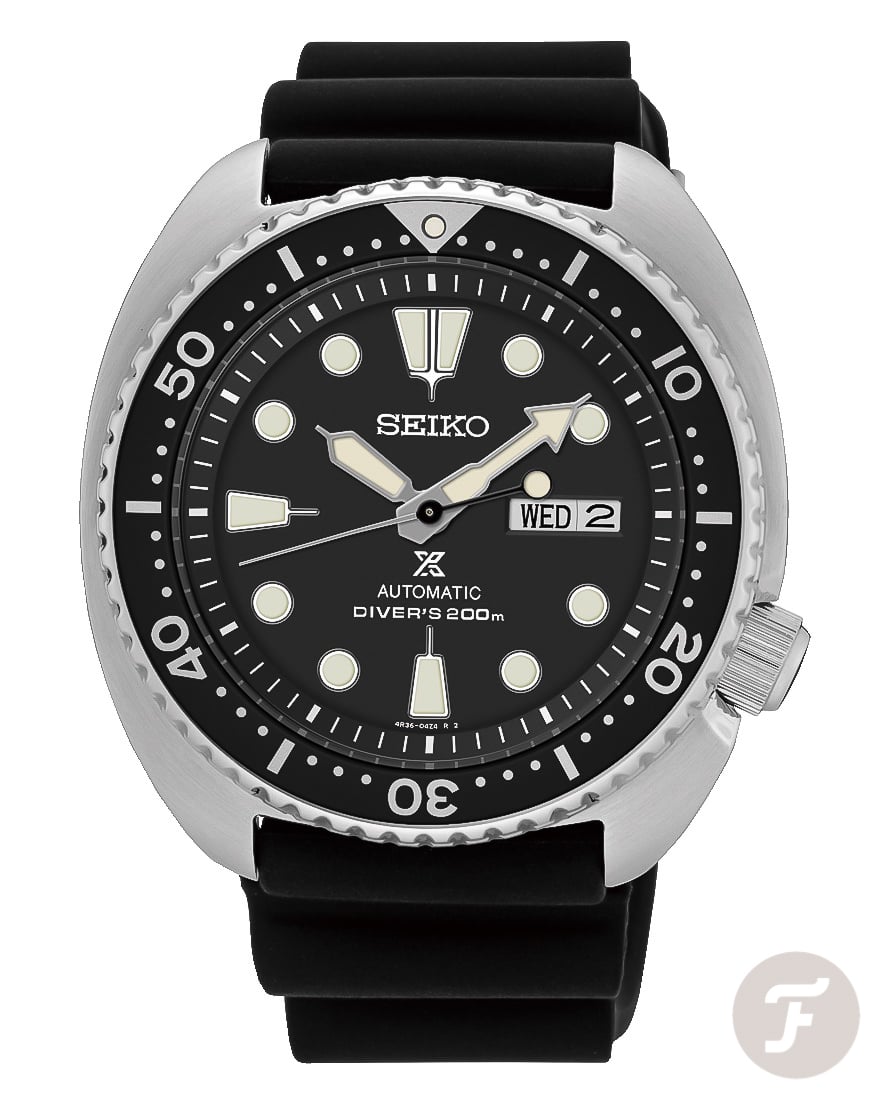 Balazs Ferenczi
Two words: Seiko Turtle. If you are even remotely familiar with watches, chances are you already came across this icon. We have talked about it numerous times; praised its ruggedness, the affordable price, the fact that the watch is virtually indestructible. However, we are not the only title to do so. Search for the reference number SRP777 and you'll come across thousands of articles all sharing a similar sentiment about this great timepiece from Seiko. So many journalists can't be wrong. And before you ask me the question, dear Rob; no, it's not a bandwagon thing. The Seiko Prospex Automatic SRP777 "Turtle" is really that good.
Though I have to admit, what we watch journalists say or think is one thing. Watches are not made for us to be happy. They are made to serve a purpose. In this case, the Seiko Turtle obviously comes to the market as the latest reference of a legendary diver's watch.  That being the 6309, an iconic Japanese diver that had a life span of 12 years, having been made between 1976 and 1988. After Seiko stopped that production of the 6309 it left a void in the market, until this hotness came bringing back that unmistakable look and vintage feel paired up with refreshingly modern touches. The Seiko Turtle SRP777 is a watch that fits everyone's bill who is looking for a reliable, rugged, everyday sports watch that won't break the bank.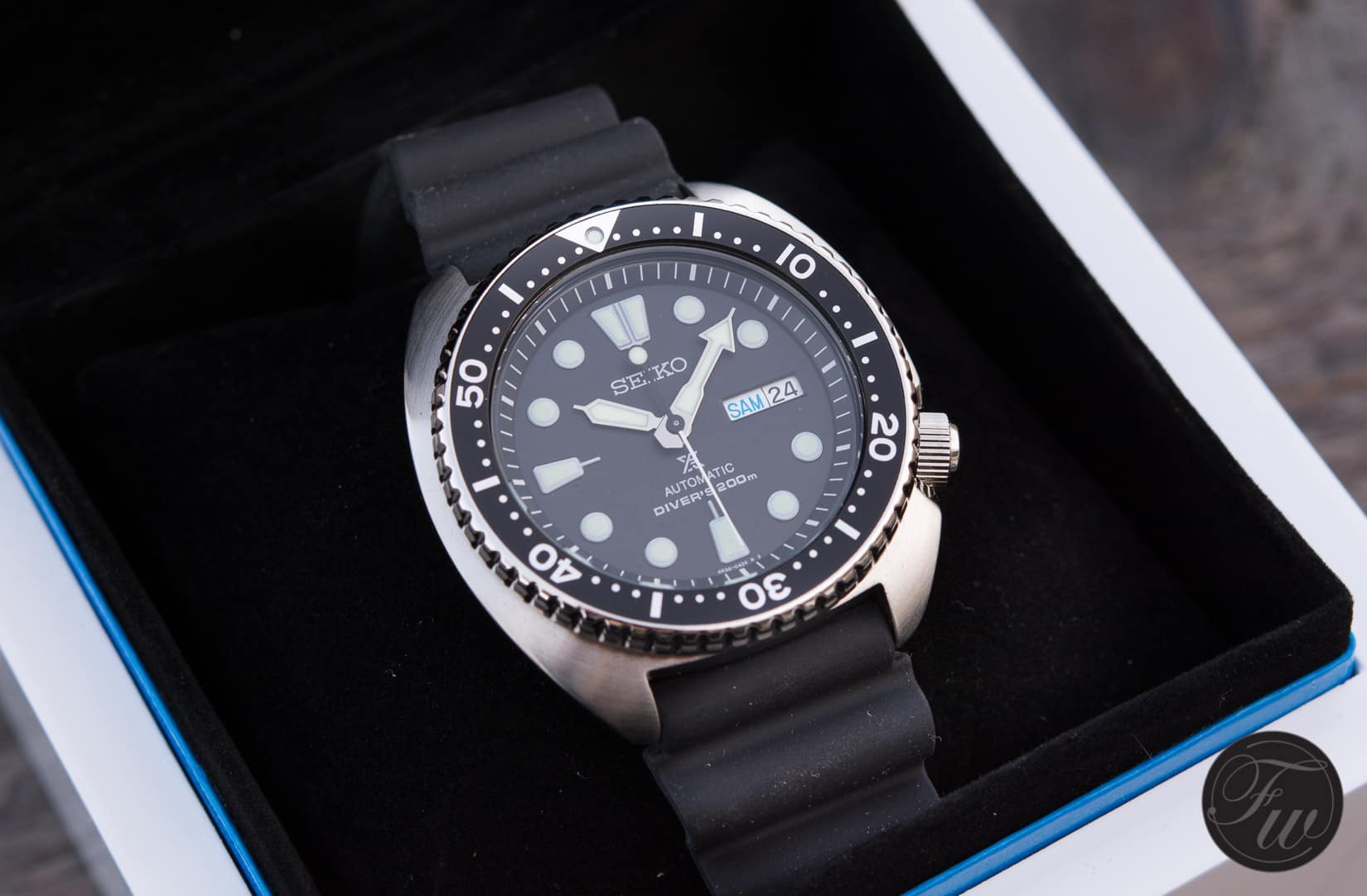 Rob Nudds
Deary me. I must be a glutton for punishment. I feel like I'm walking into the lions' den wearing a meat suit. No matter. Someone's got to say it, even if this is the most unpopular opinion of this column so far…
I find the Seiko Prospex Automatic SRP777 "turtle" underwhelming.
It makes me sad. Honestly, it does. I love turtles. I really love the Teenage Mutant variety. Over the years,
Balazs: Why do I have the feeling that you aren't taking this seriously?
Rob: Trust me, I am. Watches and cartoons are about the only things I do take seriously. But I have had countless Seiko Turtle variants in innumerable shopping carts and yet I've never pulled the trigger on one. And while I imagine I will buy one eventually, it definitely won't be the SRP777.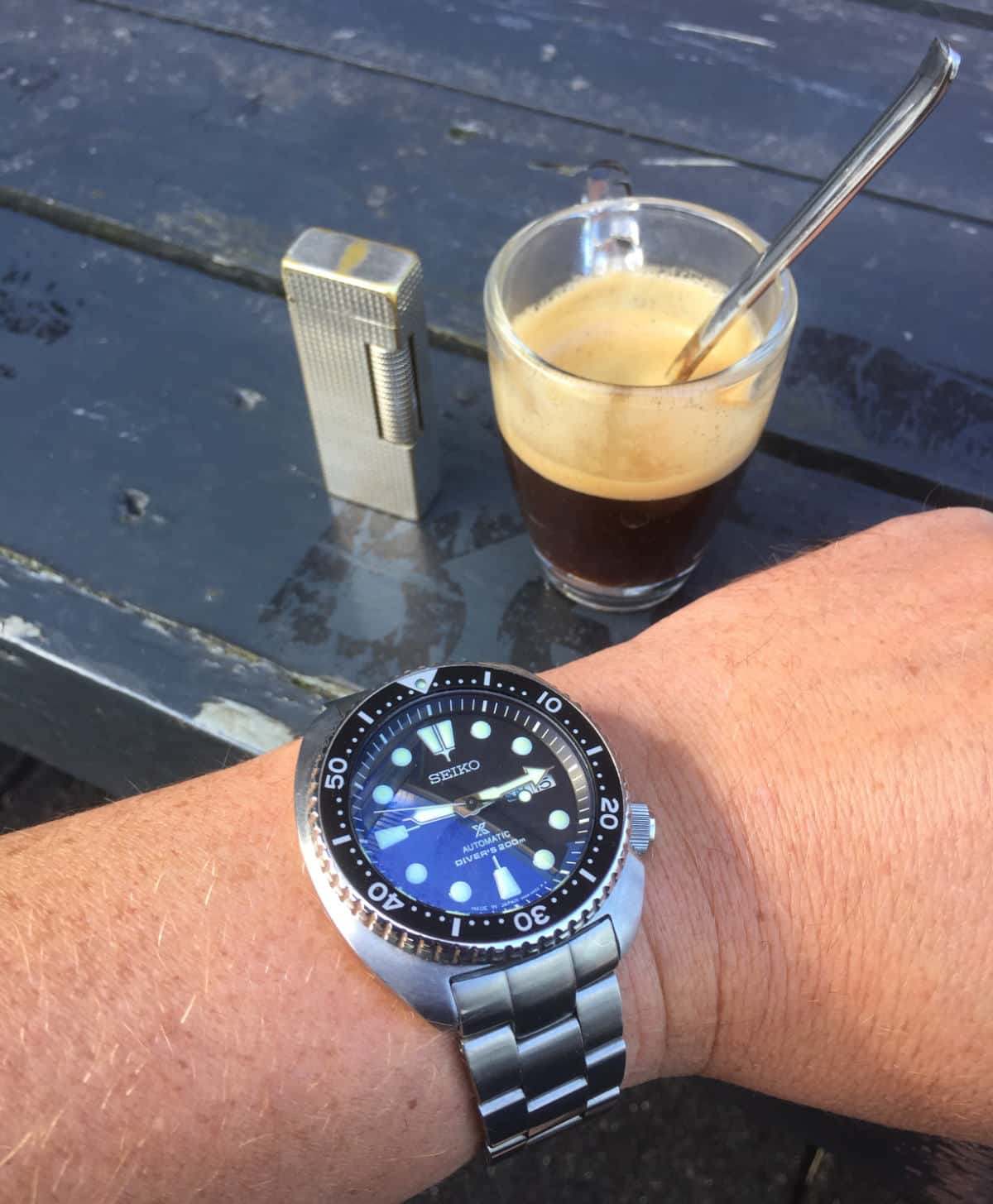 It isn't the price. One can hardly gripe at such a well-regarded manufacturer charging pocket change for an acceptable update of an established classic. The specifications are more than up-to-scratch too. I think the watch is hardy and fit for purpose. And so if you like the new, clean aesthetic of the SRP777 its a very solid choice. But for me, this model falls short of being a home-run. It's close, but in a world with many thousands of watches to choose from (and a huge selection of Turtles past and present) the details matter. Allow me to explain my (incredibly nuanced) position on this particular entrant in the Turtle annals.
We are locked in a period of heritage mining. Brands are constantly dipping into their history with the intention of bringing back to life old classics and bestowing upon them the benefits of modern manufacturing techniques. I am a fan of this. I've gone on record many times before in defense of this strategy. While some may be suffering from throwback fatigue, I think we've got a long way to go yet. If you want an example of how to do it well, check out Breitling's recent reimaginings of vintage classics.
Balazs: Don't go there, Rob. Listen, I love Breitling, I truly do. But aren't they supposed to release new watches as well? I mean vintage is cool I'm up for that all day but aren't watch brands supposed to push the envelope? Create new models, perhaps even new families within the brand's portfolio?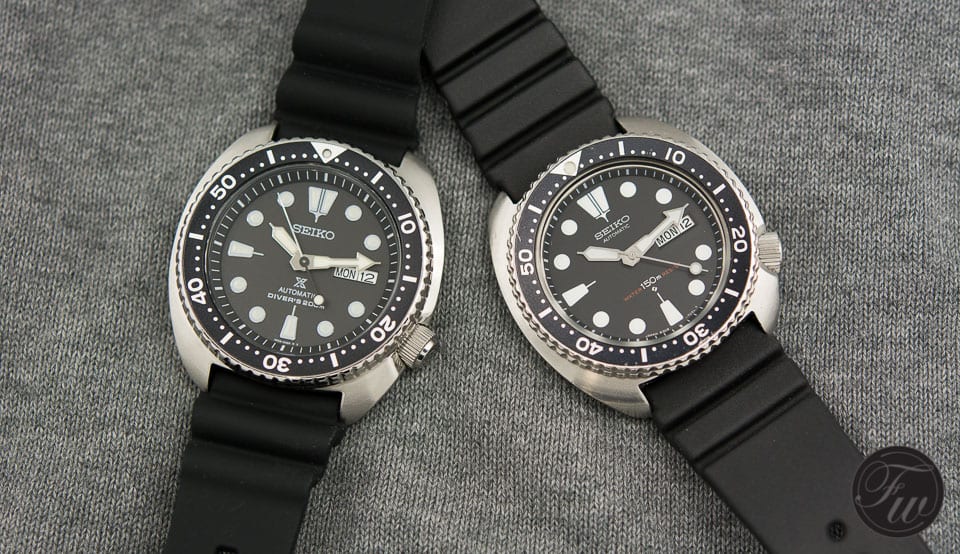 Rob: Well, yeah. I agree entirely. And that's kind of my point when it comes to the latest turtle. My problem with it starts with its lineage. What makes a watch a classic? What is it that makes a vintage model so desirable? It isn't just its proportions, silhouette, or specifications. There is often a little bit of magic, a little bit of flair, or a little bit of unrefined beauty that flies in the face of reason. Weirdly, a product's shortcomings by modern standards can be its strength when looking in the rearview mirror.
An innocence, an honesty, and approachability that reworking with the superior and far more clinical design tropes of today can sometimes obscure or obliterate completely. This is where I'm at when it comes to the SRP777. It's "good". But I don't find it charming at all. If I were to buy one, I would be buying into the history of the line, but I wouldn't be buying that model. I would be buying what it stands for. And so I find myself asking, why bother? Why not spend some serious time (and a bit more cash) getting one of the old boys that really brought this range to life?
The countless variations and weird little nuances of models made in different locations throughout different eras provide exactly the kind of collection I love, love, love to get my teeth into. But the truth is, as much as I want to love the SRP777 turtle, it leaves me cold. Don't get me wrong. I like it. I respect it. Never in a million years would I deride somebody or their choice for owning or wearing one or one hundred of these little water babies. But I just don't feel anything when I look at it. Do I hate this model? No, I don't. I hate that it isn't a better standard-bearer for the Turtle's new dawn.
Tell me, I'm crazy, B. Tell me what I'm missing. I mean really missing here. Is it better than the models that went before?  Is it actually good? Or is it just "good for the money"?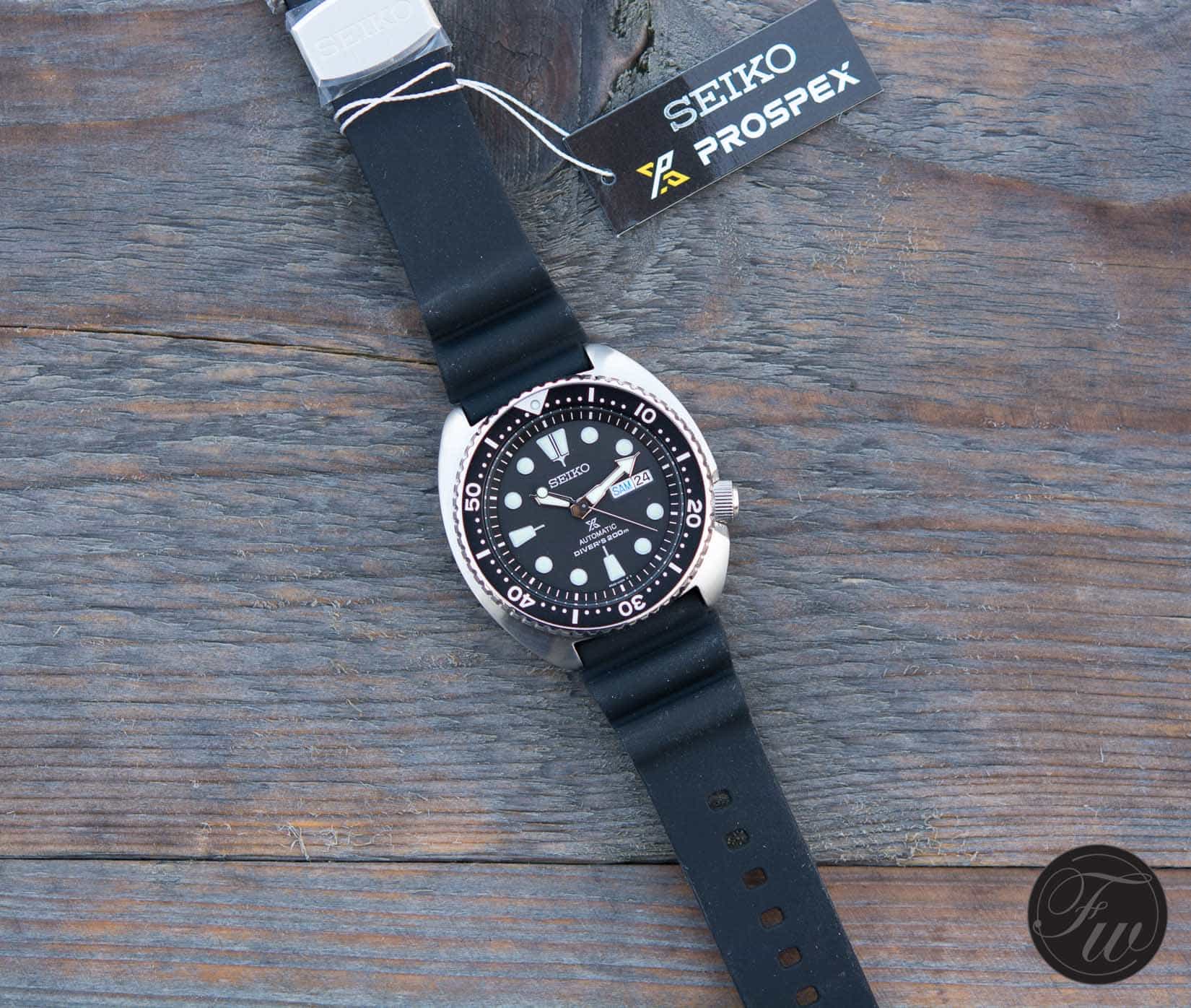 Balazs: What you are talking about is the age-old debate of vintage or new. This is not the question here. Is the SRP777 a cool watch or not? Not compared to this or that. Yes or no? I think it is. I'm not looking at the predecessors or the has-beens and should-have-beens. Would you get it for the amount of money it costs, with the quirky rubber strap it comes on and wear it happily to the beach, riding your bike, getting dirty in the garden and all? My answer is yes. And I say this without thinking about the previous version one bit. I simply don't care.
Rob: I don't think I'm just talking about vintage or new. For me, the "upgraded" modern version loses some of its appeal. It isn't an emotional connection to the past I'm talking about; I'm literally talking about changes to the design. Most notably, the dial printing. I liked the earlier, simpler, slightly goofier dial layout. A small thing again, but small things are important in watchmaking.
…isn't the point of the question to decide whether or not you want to add it to your collection?
And more importantly, I don't believe that you can just remove a watch from the context of its release when analyzing how "cool" it is or not. Surely it's acceptable to draw comparisons with other watches when making that assessment? Because isn't the point of the question to decide whether or not you want to add it to your collection? I've already conceded I've certainly been tempted by many Turtles in the past. But we must, as collectors, be selective in what we buy. And, for me, this new iteration loses the charm of its predecessors to such an extent it leaves me uninspired. However "good value" the price represents.
Balazs: You know the moment you see the price tag what to expect. The Seiko Turtle will deliver it and more. You will not find Geneva stripes or intricate in-house movements at this price point. But you are not looking for one either. I can assure you, though, as soon as you take the watch out of the box and strap it on you will feel like a million bucks.
Yes, it's that good. You have your fair share of wrist bling, we all do in this business. So, tell me; how many times have you received the latest and greatest from so and so brand, put it on and you felt "meh". This is not going to be the case with this watch. Why? Because you do not expect crazy things.  Get one and wear it for a few hours. Let the watch make its way to your heart. You won't want to take it off again. Otherwise, go and get those Ninja Turtle, because you're not mature enough to play with the big toys.
Rob: Haha, a brutal but fair riposte. I agree that the SRP777 watches represent great value for money. I concur you would be mad to be disappointed in what you get for the price. But like we've said in the case of much more expensive watches unless you buy the one you want, you'll always be left wanting. The SRP777 is, on its own, a great watch. But it isn't the best of the brood. For me, that has to be the Seiko 6306 Scubapro 450. A rare beast many times imitated, but worth its weight in gold (not literally).
And to answer your "meh"-based question: Many times. And that is exactly how I would feel about the SRP777 simply because, however good it is, it isn't the Turtle that has come closest to stealing my heart.
Seiko Prospex SRP777 "Turtle"