Thoughts On The Seiko Prospex 1959 Alpinist Re-creation SJE085
Seiko surprises with a reissue of the earliest Alpinist
Here we are in the first part of 2021 and that means it's watch release season! Both Seiko and Grand Seiko have brought their wares, so expect a lot of coverage in the next couple of weeks. Today, we'll focus on the Seiko Prospex 1959 Alpinist Re-creation.
I must say that these 1959 Alpinist-themed watches took me by surprise. It's certainly not an unhappy surprise, but as I've often alluded, the Alpinist has a bit of a fragmented history. It debuted in 1959 and made in several forms for the next six or seven years before disappearing. It wasn't until 1995 that Seiko resurrected the Alpinist name and on very different-looking watches. Within the last year, Seiko has added more watches to the Alpinist lineup, but here's the thing — none of them actually say Alpinist on the watches. Today's watch doesn't stray from that path either, but at least Seiko formally acknowledges that it's an Alpinist model. Let's move on to some details and then my unvarnished opinion on the newest Prospex limited edition.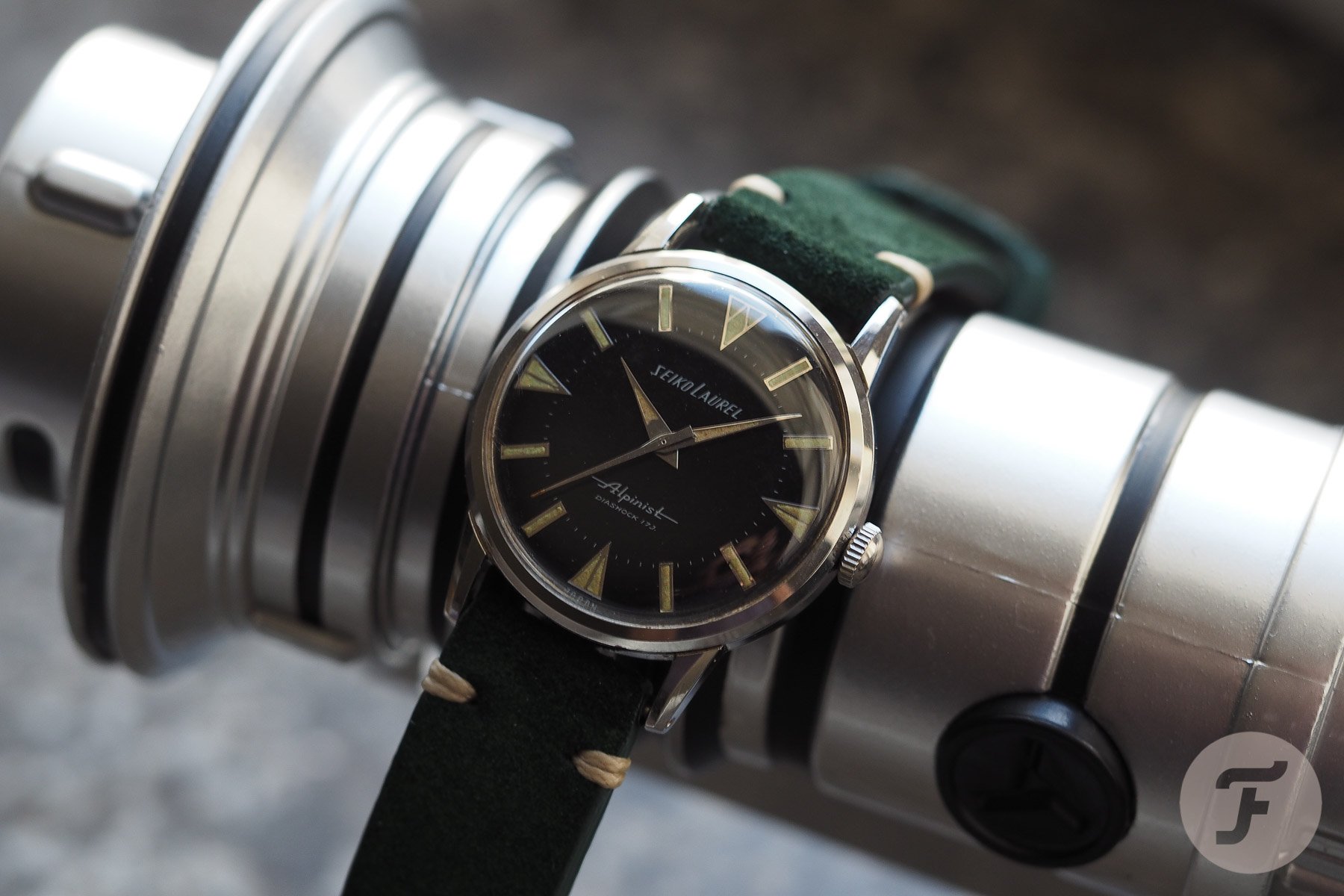 The Seiko Prospex 1959 Alpinist Re-creation
Since 2017 and the introduction of the 62MAS Re-creation, we've become accustomed to a reissue limited edition each and every year. With the exception of the out-of-the-blue King Seiko drop late last year (more on that later), it's been a long era of diver re-creations. It seems Seiko has run out of vintage divers (the first-gen 6105 is still out there, so let's see), so they've now moved on to the Alpinist. What we have is a relatively faithful reissue of the first-ever Alpinist model from 1959.
…the Alpinist was intended for mountain climbers.
The original watch — pictured above and reviewed here — was a real outlier within the Seiko collection in 1959. Reference J14041 was part of the, dare I say, homely Laurel collection of manual wind dress watches, but it brought some stealthy tool watch specs. As the name implies, the Alpinist was intended for mountain climbers. It featured distinctive swaths of lume along on either a black or white dial with a screw-in case back. Notably, it came on a unique cuff style strap with funky stitching. All of these attributes were highly irregular for Seiko at the time. What was very "of the time" was its smallish 35mm steel case. As we'll see, the 1959 Alpinist Re-creation stays fairly true to form.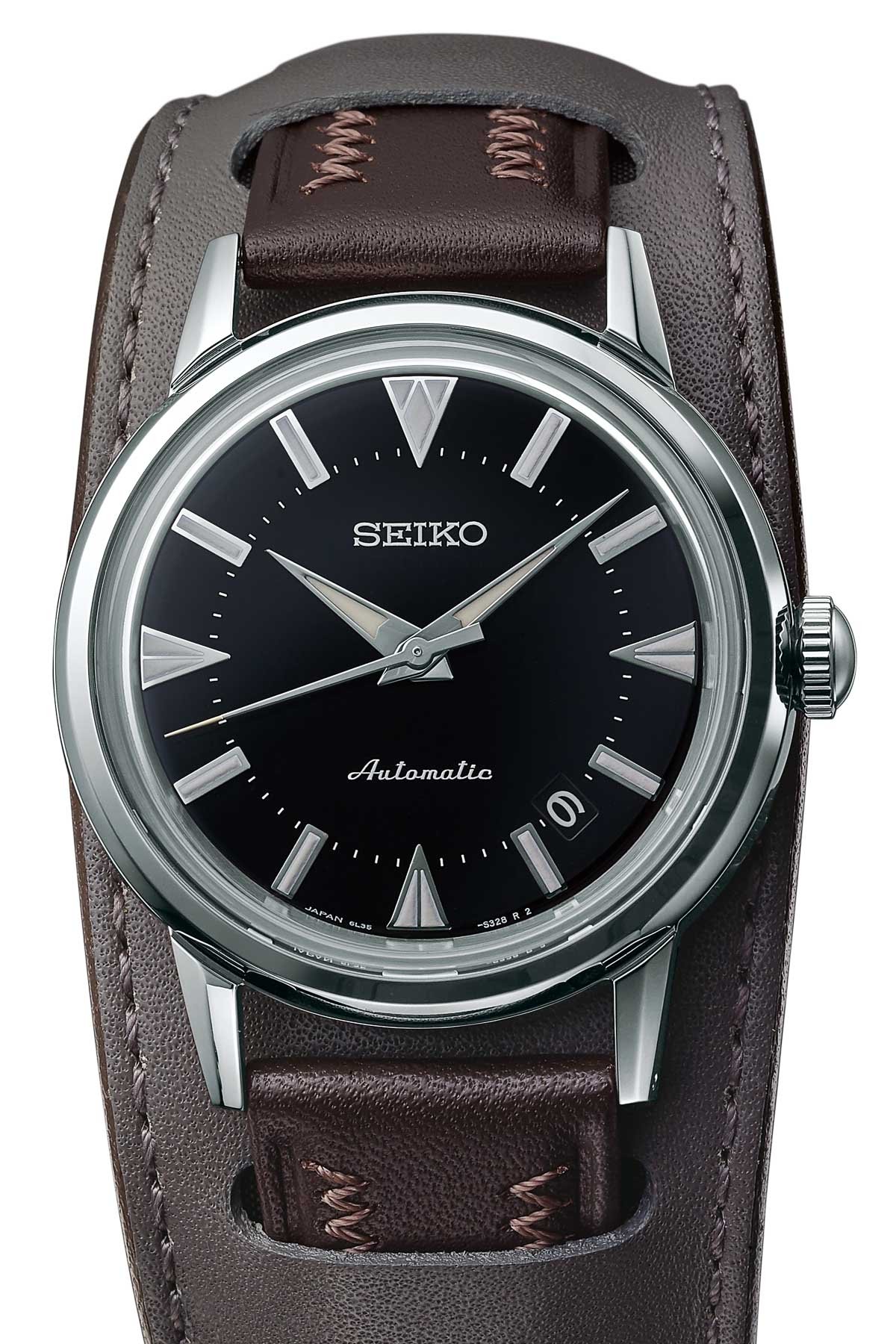 The specifics in keeping with the original
The 1959 Alpinist Re-creation reference SJE085 was designed with a very reasonable amount of upsizing. At 36.6mm in diameter and just 11.1mm of thickness, this strikes me as a real gift to those of us who have begged Seiko for a truly wearable watch. For the thickness aspect, credit the slim 6L35 automatic movement with its 45 hours of power reserve. We've seen Seiko use this movement more and more on its mid-level offerings and it made its way into the aforementioned King Seiko rerelease.
Let's talk a bit about the looks of this watch because, after all, that's what pulls on the wallet and keeps us looking. The 1959 Alpinist is faithful to the original in its overall design, but there are some notable differences. The distinctive triangular markers at "the corners" have returned along with lumed dagger hands. It's not easy to see, but the seconds hand also contains lume on its last 20%.
The watch also comes on a brown leather cuff strap with zig-zag stitching…
That type of detail work is also consistent with its ancestor. The cross-drilled and multi-chamfered lugs look spot on and even the lozenge style crown is a dead ringer for the original. We don't have a picture of the case back, but I have seen it on Instagram. It's also in keeping with its forerunner and that means a screw in with radial block text and some of the capabilities such as the 100 meters of water resistance. The watch also comes on a brown leather cuff strap with zig-zag stitching and diagonal keepers. If you're like me, that cuff will live in a drawer and you'll make do with just the strap.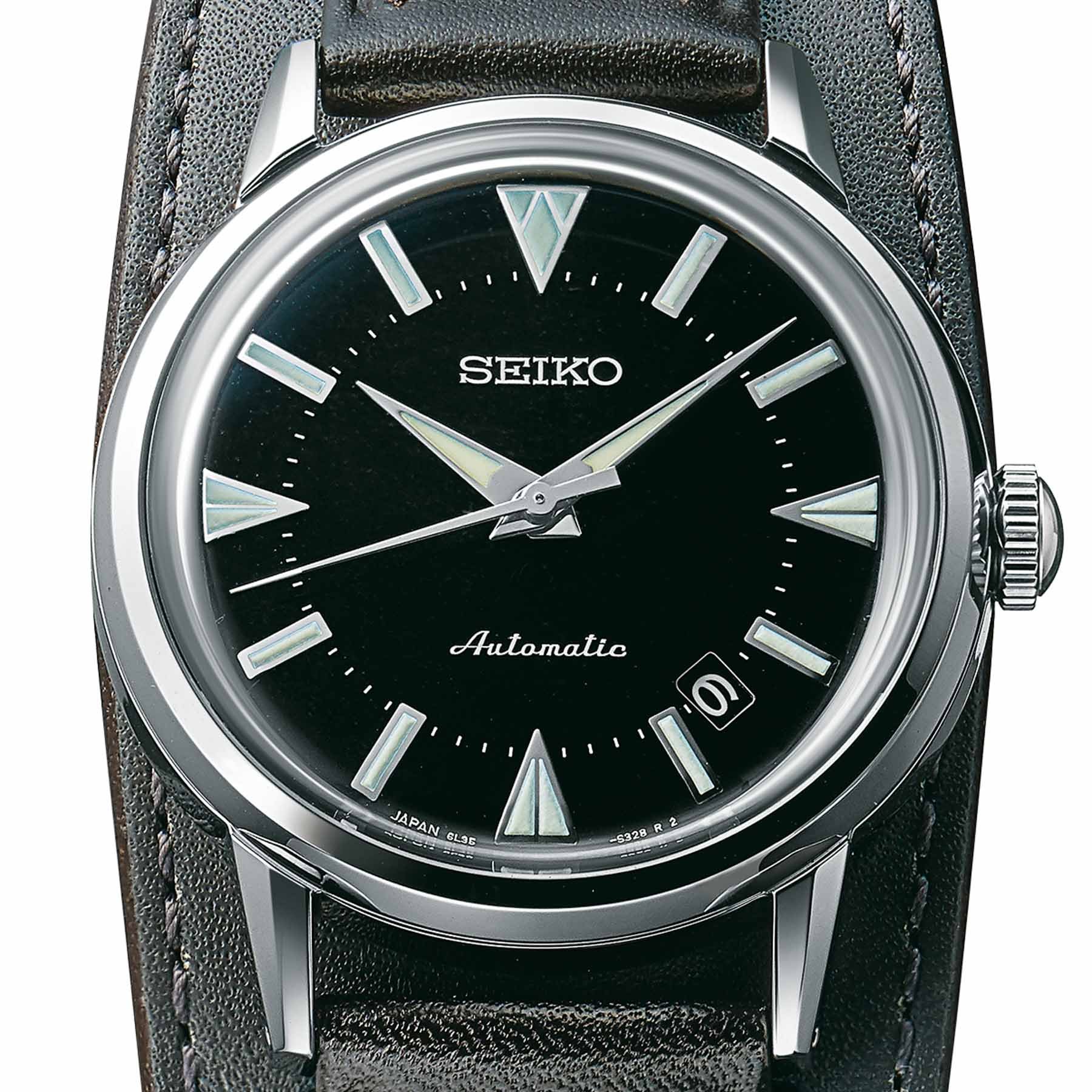 Where things are different
We noted that the 1959 Alpinist uses an automatic movement. That's a large departure from the original, but I'm neither surprised by the choice nor am I overly disappointed. I also didn't truly expect a "Seiko Laurel" signature on the dial, although I am not sure why that would have posed such a concern. This is a reissue after all. I only really have two standout gripes. The first is the date window.
…even Seiko calls this watch an Alpinist.
I know, I know, curmudgeons like me always complain about these things, but this is a curmudgeonly watch. If we are talking about faithful, simply note that Seiko never made an Alpinist with a date during the first era. Second, why oh why does Seiko omit the "Alpinist" text on the dial?  EVERYONE wants this and even Seiko calls this watch an Alpinist. Instead, we're left with the typical "Automatic" script to somehow tie it into all the other Alpinists that are no longer called Alpinists. It's all puzzling, to say the least.
Pricing and the choice of a niche watch
Settle in a bit here because I have some real thoughts on the 1959 Alpinist Re-creation. There will be 1,959 numbered pieces of this watch and it will retail for €3,000 when it hits stores in August. Before I comment on that, I will jump back to that King Seiko from last year. RJ wrote that article because I was tied up with something else. I would have made the same comment on that watch as I am going to make on this piece.
…Seiko could have and should have, done a bit of work to remove the date function.
These watches strike me as too expensive. I say that for a couple of reasons. The 6L35 does see use in watches that retail or sell for around this price range. However, Seiko could have and should have, done a bit of work to remove the date function. After all, as I mentioned, this is supposed to be a faithful reissue. Along with that, I also don't get the continued avoidance of "Alpinist" on the dial. Fans want this, fans call all watches in this family by their rightful name, so let's see it!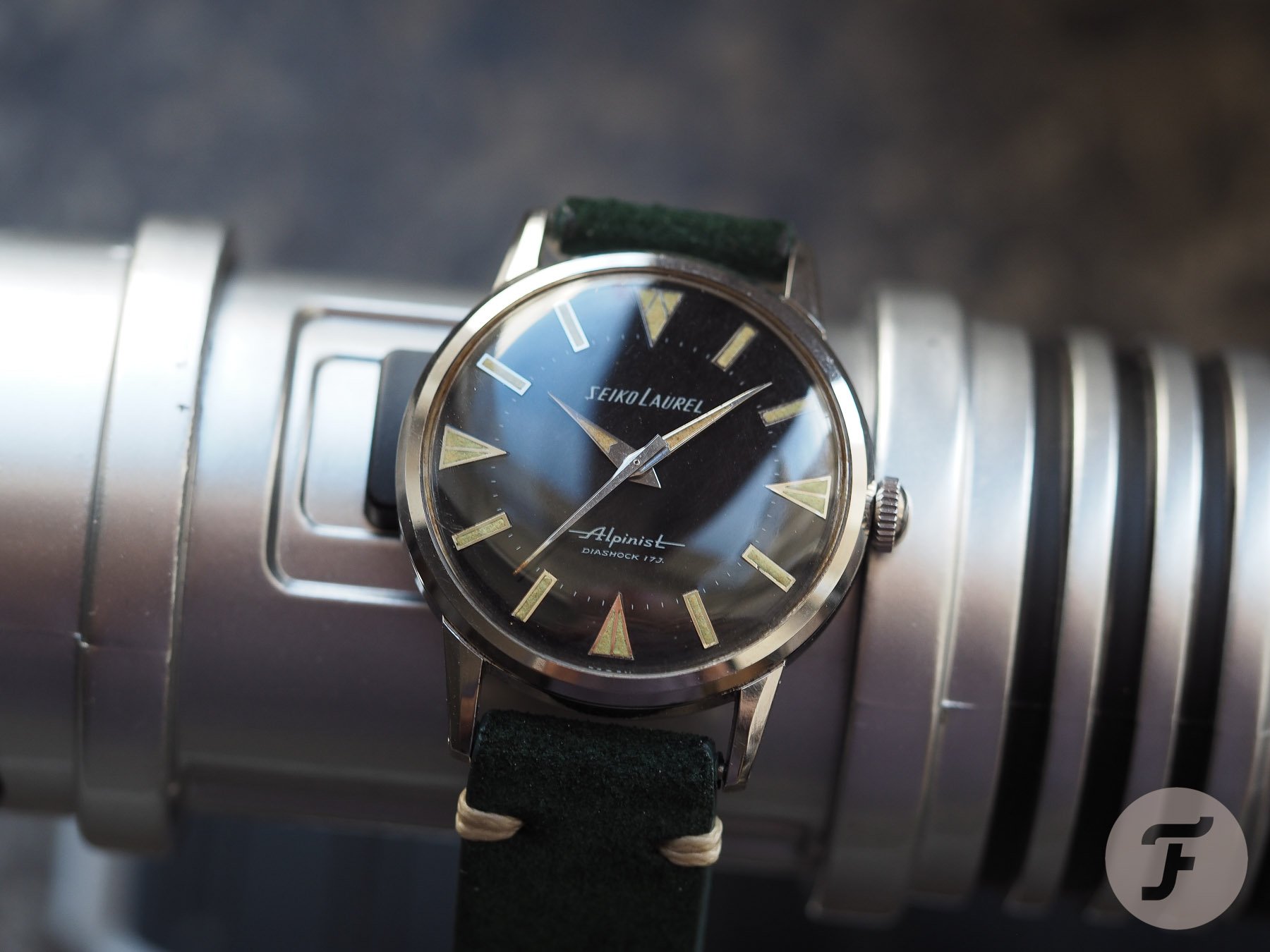 Coming back to the pricing of the 1959 Alpinist Re-creation, what I don't really get here is that the original Alpinist above wasn't a high-end watch when it was released. Therefore, I'm not sure why it's getting that sort of treatment now aside from tying that into the whole limited edition aspect. The other thing I'd say is that all of the first-era Alpinist watches are proper niche pieces and none of them are what I'd call easy to find. I can't even recall Seiko using photos of older models in any of its PR literature. The bottom line is that this was not a watch that I saw coming.
Final thoughts
All things considered, though, I am happy that Seiko has addressed the history of the Alpinist. The early pieces are incredibly creative and so different from just about anything else they were making. In fact, I actually consider them amongst the least "Swiss-inspired" watches from the brand during the era. My concerns aside, Seiko has given us something to talk about and something very wearable. If you like this one, my odds-on bet is that they won't let a new case design go to waste after just 1,959 pieces. Something tells me that we'll get a historically correct white version at some point. As always, we are always interested to see what you think, so please let us know in the comments section.
For additional information on the Seiko Prospex 1959 Alpinist Re-creation, visit the official Seiko site.
Watch specifications
Model
Prospex 1959 Alpinist Re-creation
Dial
Black with luminous indices
Case Material
Stainless Steel
Case Dimensions
36mm Diameter, 11.1mm Thickness
Crystal
Box-shaped sapphire crystal with anti-reflective coating
Movement
Seiko caliber 6L35 automatic with hand winding, date, 28,800vph, 45 hours of power reserve
Water Resistance
100 meters
Strap
Brown calf strap with cuff band
Functions
Time (HH:MM:SS), date
Special Note(s)
1,959 pieces. Deliveries begin August 2021.