Vintage King Seiko — Get One While You Still Can!
Seiko's other lineup of highly finished watches offers great value
King Seiko is back on the minds of watch buyers once again. With the recently announced King Seiko Collection, I hear more and more folks talking about vintage references from this sub-line that first existed from 1961 to 1975. Let's spend a few minutes on King Seiko, go over some do's and don'ts, and talk about why they're worth collecting (for some people). I'll also touch on some of my favorite models and where to take your King Seiko for service.
Unless one is a real Seiko buff, the King Seiko "brand" might come off as somewhat confusing. I'd invite you to scour our pages for some more history along with the work done by the folks over at Beyond the Dial. They've interviewed retired Seiko employees and have uncovered facts that help dispel several rumors that have become lexicon in our collecting world. Essentially, King Seiko was meant to play second fiddle to Grand Seiko. However, the resultant watches were still of incredibly high quality. That quality still makes them relevant today, and most models, pleasantly, can still be found at good prices.
Attributes such as chronometer certifications, highly finished surfaces, and hi-beat movements often made their way into King Seiko watches. Plus, many of the models, just like Grand Seiko, feature a gold medallion on their case backs. Essentially, if you're holding a King Seiko, you know that it's something exclusive.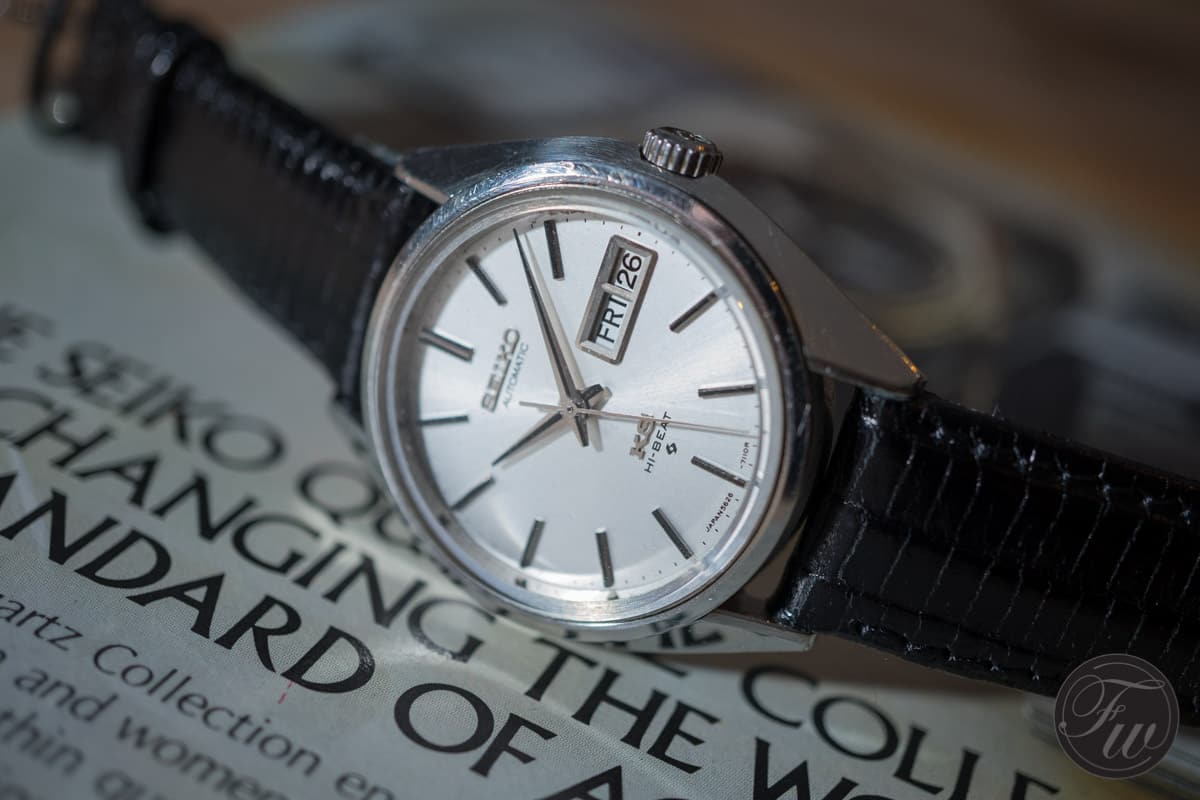 Dress watches
When discussing King Seiko watches, it's worth spending a moment on the topic of their looks. For years, we watch writers have raved about Grand Seiko and now King Seiko because of the finishing and movements. I stand by this, but there's no getting around the fact that these watches are pretty darn austere. Plus, all King Seiko models fall under the genre of dress watches, so that can limit their appeal. The bottom line? I get it if you find these watches boring and if dress watches don't resonate with you. What I will say is that if you decide to pick up a nice vintage example, expect a more rewarding experience versus your typical dress watch.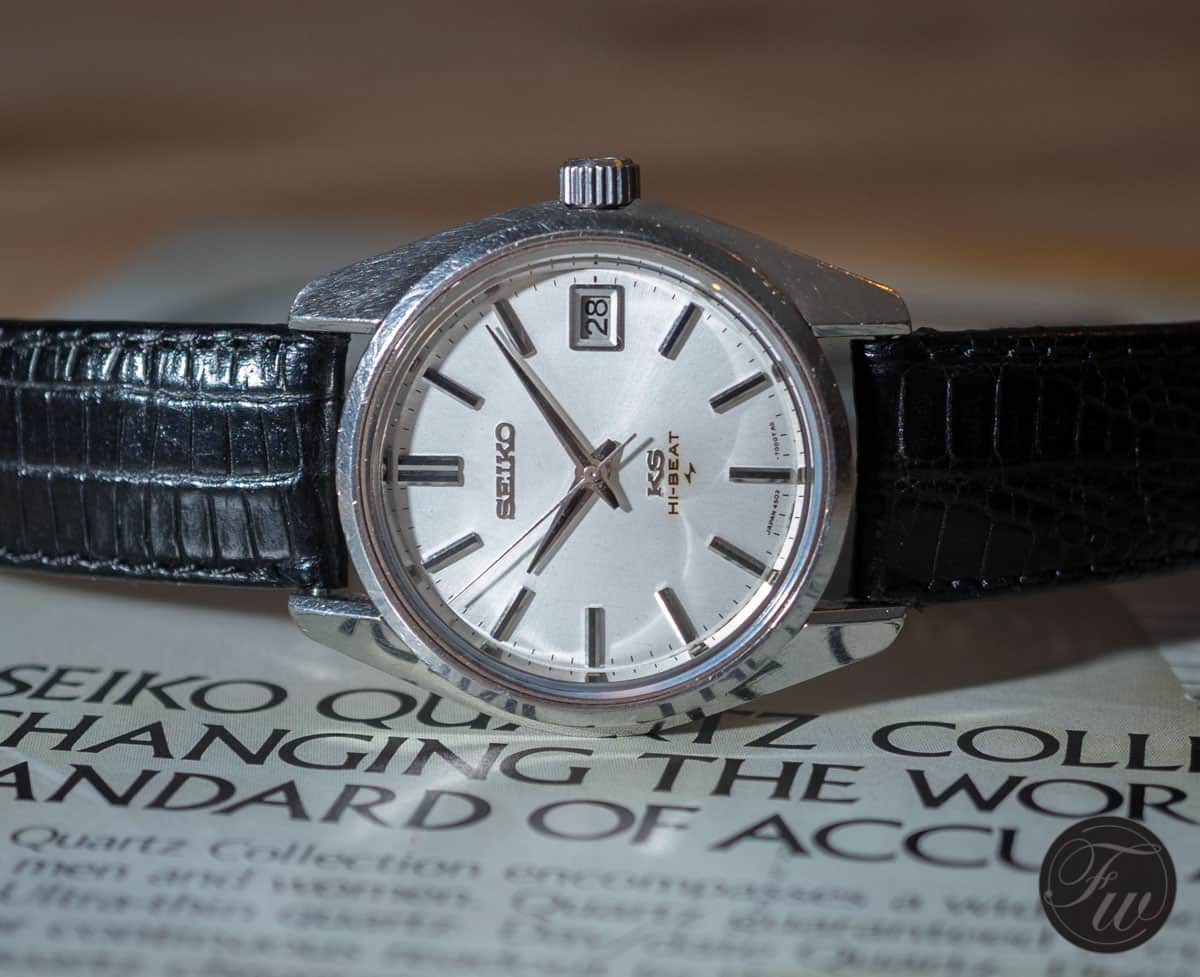 Do's and don'ts with vintage King Seiko
When looking at vintage King Seiko, there are a number of things to keep in mind. The vast majority of these watches lived in a relatively humid climate. Therefore, water intrusion, internal corrosion, and dial staining are potential hazards. Unless one needs a donor watch for parts, I tend to stay away from rotted examples. Second, we know that from several meters away, a King Seiko looks like your run-of-the-mill dress watch. Upon closer inspection, though, the details count. Later '60s "KS" models subscribed to the "Grammar of Design" ethos, and that means flat surfaces and sharp edges. The lesson — buying an over-polished King Seiko is a terrible move that robs the watch of its most important characteristics. Finally, be patient. Unless you're searching for something truly rare, these watches do come up regularly and good, worn, but unpolished examples are findable.
Where to look for a King Seiko
Finding a King Seiko might seem a bit harder because these were essentially JDM models. Of course, over time, many have made their way to other parts of the world. Still, places like Yahoo! Auctions Japan and Japanese websites are great places to look for both watches and parts. Additionally, eBay is a decent place to look, but I find that many of the Japanese sellers have high "buy it now" prices there. Perhaps they're afraid that an open auction would end up at a low sale price due to a lack of knowledge about these gems. There are some other great sites like DC Vintage Watches and Hub City Vintage. These sites won't allow you to score a great watch at a low-ball price, but Nick and Seth, respectively, will sell you a clean watch that has just been serviced. That counts for a lot in my book.
As far as service for your King Seiko, your local watchmaker should be able to work on these watches. Getting parts, however, can be a challenge. Here again, Yahoo! Auctions Japan is a good place to look for components. I still use Boley to look up parts and then head to one of my favorite Seiko forums if it's something more obscure. The nice thing with King Seiko is that many of the movements were made for a decent period of time and used in several models. Therefore, finding parts is doable. You simply may need to help your watchmaker by doing some of that legwork. If you're in Europe, James Marien at Chronographe SRL is hard to beat — he knows and loves working on Seiko watches.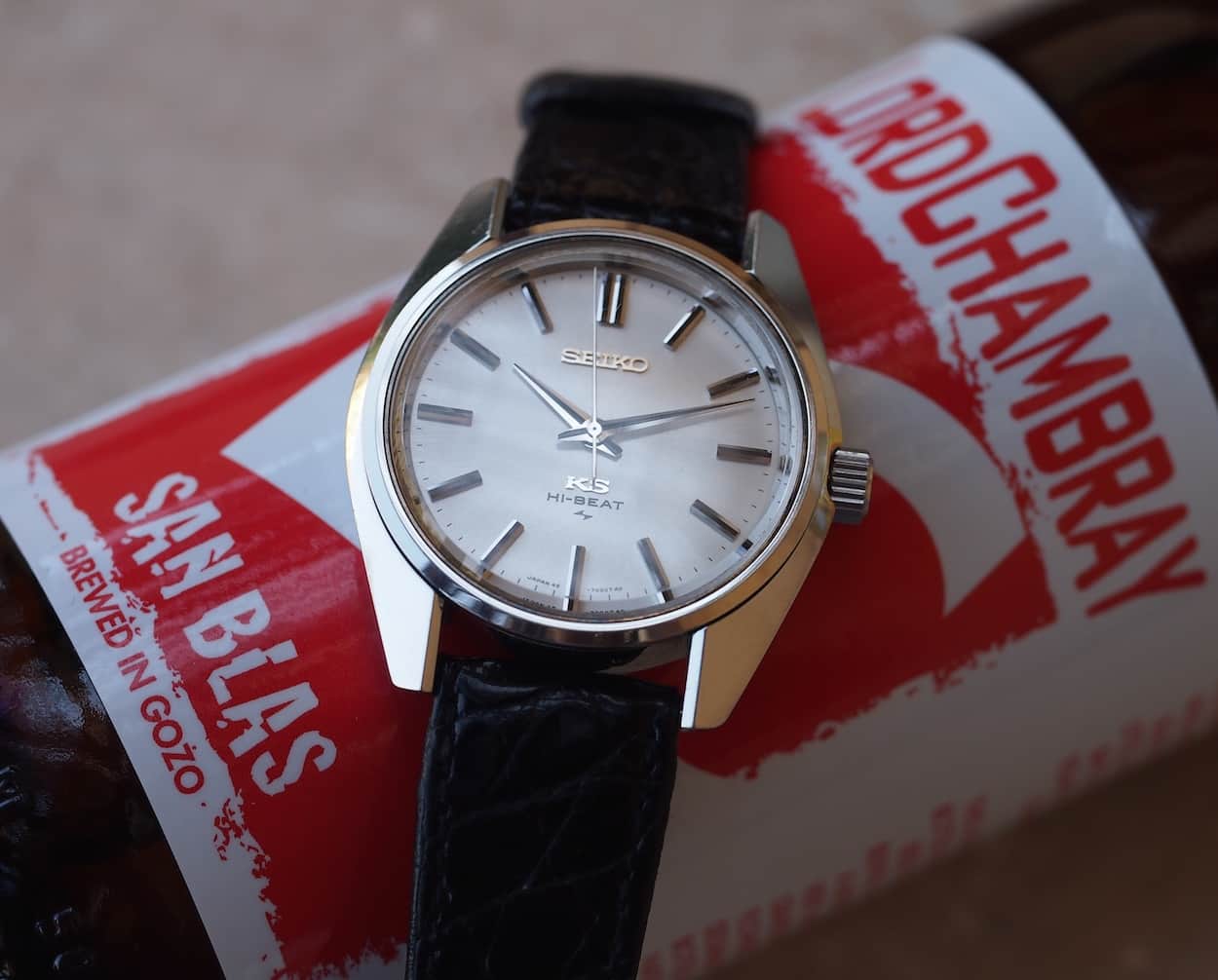 Some models I enjoy
I'm fairly particular when it comes to King Seiko (and Grand Seiko for that matter). I find the earliest models nice, but a bit unremarkable. I enjoy an angular case, I love a hi-beat movement, and I typically avoid day and/or date complications. I'm also not overly into '70s funky cases, so that gives me a fairly narrow window. You may disagree, and that's OK!
King Seiko 45-7001
The 45-7001 shown above is the only King Seiko that I currently own (actually, another KS is on the way as I type this) and it's my favorite reference. I wrote an article about this watch back in 2015, and the bulk of the research I did still stands. This watch used the hand-wound 4500 hi-beat caliber, and it was produced from 1968 to 1974. That alone is pretty compelling, but I just love the case. It reminds me a lot of the seminal Grand Seiko 4520-8000 model with its simple, angular design. Niceties like a signed crown, a gold medallion on the case back, and an amazing buckle all come together in a sweet 36mm package. I still find these for under $1,000 in Japan all day long. To me, if you're going to own only one, this is a great option.
King Seiko 4420-9990
Here's a hint: a 4420-9990 is on the way to my collection. This reference hits hard on so many levels. Like the later watch above, this watch has a lovely angular case that comes from the earliest "Grammar of Design" days. It's such a pure design, and yet, this 36mm watch still manages to pack a punch due to its thick lugs. The hand-wound 4420 movement is a beauty, it hacks, and it even has a chronometer rating. Most feel that this watch paved the way for the iconic Grand Seiko 44GS. These watches tend to run in the $1,250-$1,750 range depending on condition. Here again, look for a lovely model with its gold lion medallion intact, and watch out for polished edges. Some would argue that this is the King Seiko model to own. I love hi-beat movements, but it's tough to argue with a chronometer rating when it's paired with another legendary caliber.
King Seiko 4502-8000
For those who don't love severely angled cases, the 4502-8000 just might be the ticket. This watch has more of an organic, ovoid case, but there's still some real craftsmanship here Seiko still managed to bring in a polished bevel on this case between the finished surfaces. There's awesome stuff at work with this 38mm case, and that includes a gold medallion on the case back along with a crisp, clean dial. The example above even has a stunning linen dial to add a touch of character. With these pieces, $1,250 or below seems typical at this time. I almost nabbed one for far less before realizing that the dial had some discoloration at the edges. Be on the lookout for such signs of moisture!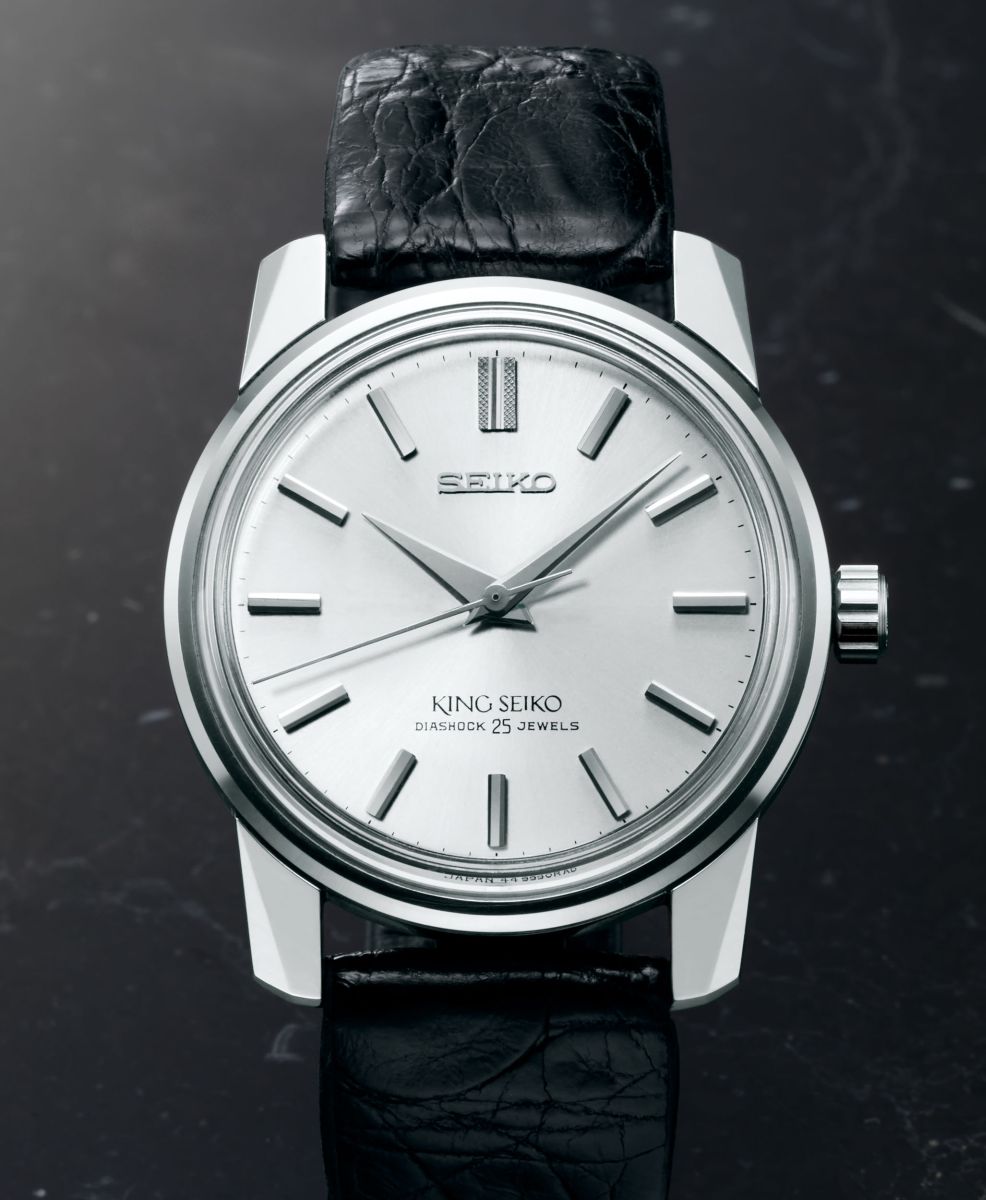 King Seiko 44-9990
The 44-9990 was the second King Seiko model produced and was the precursor to the 4420-9990 shown above. It was also the inspiration for the new King Seiko models. This watch, with its large triangular chamfers on the lugs, eases in the "Grammar of Design" ethos. However, it also keeps a foot in the past with fairly traditional looks. These watches typically have the original King Seiko "shield" logo on the case back medallion, which also makes them a bit different than later models. Seiko equipped them with an "S W" (Seiko Waterproof) crown and an incredibly tall acrylic crystal. These watches were also fairly beefy with a 36.6mm diameter. Expect to pay over $1,000 to $1,500 for one of these watches with their hacking 44A hand-wound movements. Here again, watch out for polished lugs and stained dials — I looked recently and couldn't find anything for sale without one of those maladies! Also, head over to Worn & Wound to read our buddy Stoph McNeill's article about this lovely piece.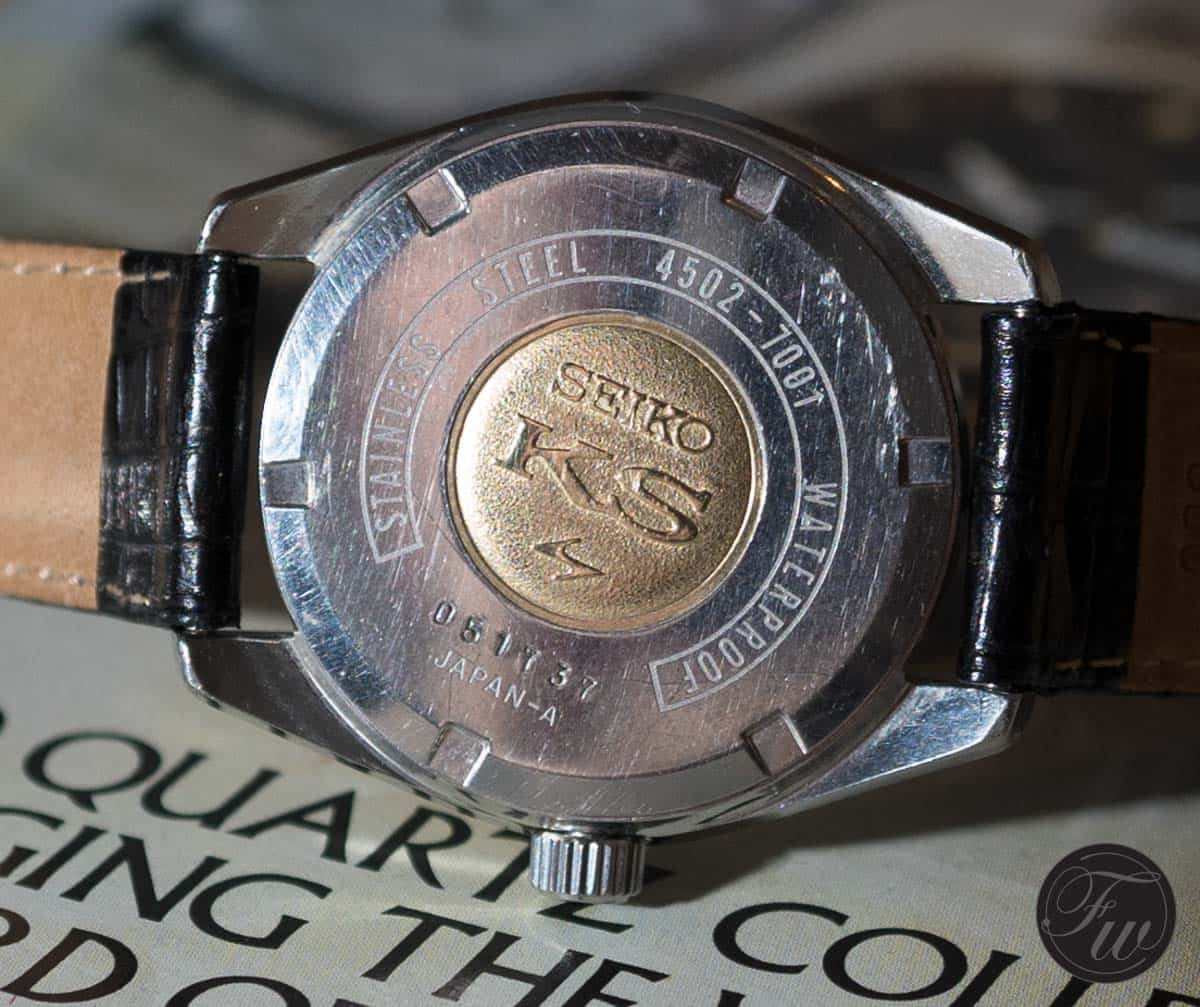 Final thoughts
King Seiko made some lovely watches throughout its history. For certain, I'm a big fan of pieces from the second half of the '60s, but perhaps you will discover something else when perusing the internet for more information. Regardless of what you enjoy, know that you're looking at a series of watches that often rivaled Grand Seiko in terms of movements and finishing. Plus (and we've been silent on this front), these watches can battle successfully all day long with almost every other Swiss dress watch from the same period. For $1,500 or less, I'd say that's worth considering.