New Release: The Sinn U50 S Mother-of-pearl S Limited Edition Brings A Breath Of Fresh Air To The No-Nonsense Diver
A German submarine steel watch has never been so glamorous
All jokes and stereotypes aside, we all know Sinn as the go-to brand for those looking for no-nonsense, bomb-proof, functional tool watches. This is a brand that is not afraid to err on the side of utility. However, it's not all deadpan, business-only, "no fun allowed". More and more, Sinn has started tentatively bending its knees up and down to the beat, shaking its hips, and even swinging its elbows from side to side in the corner of the disco. The Sinn U50 S mother-of-pearl serves as a clear example of this newfound bravery and desire to get groovy. If the brand keeps this up, they'll be dancing like Travolta on the colorful dance floor of watchmaking before we have time to say "Perlmuttzifferblatt".
Ok, ok… no more jokes. The Sinn U50 as we all know it is a serious watch. In fact, it's about as serious a diver as money can buy at the price point. I don't know about you, but the U50 SDR on the bracelet has been on my wish list for as long as I've known about it. The unique looks of these Sinn dive watches may be centered around the concept of legibility and functionality, but it's an aesthetic that I find incredibly appealing. Bright white and red hands on a deep black dial, with big luminous markers and a fantastic dive bezel. These are watches that would feel right at home next to a depth and pressure gauges hanging from a diver's BCD — the true tools of a diver. I know it's just a matter of time until one makes its way into my collection.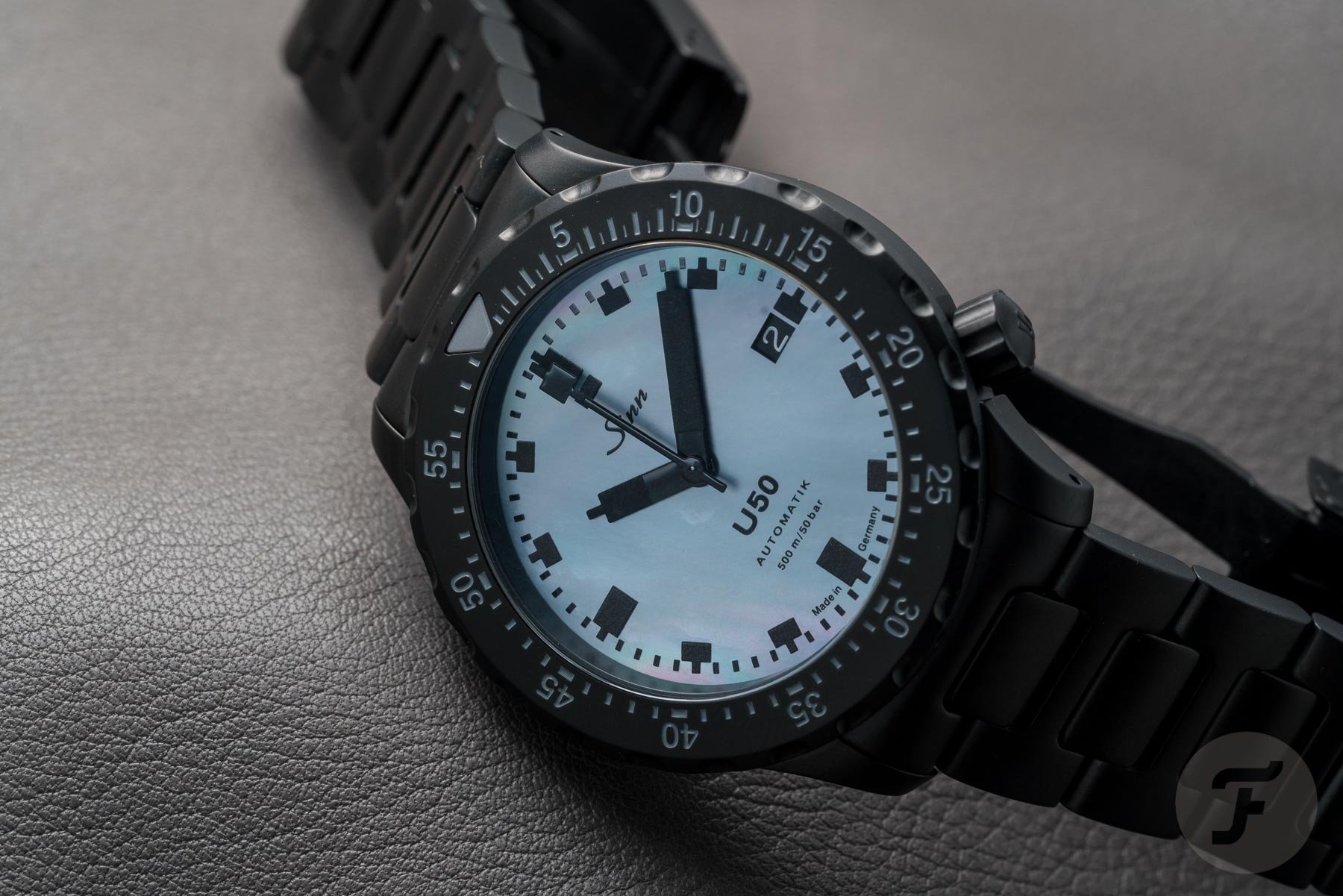 Serious with a side of fun
We know that even the "standard" Sinn U50 models straddle the line between highly practical and a bit bonkers. So, what about the new U50 S Mother-of-pearl? Well, it takes all the elements that make the U50 a wild yet functional machine, and just as Mick Jagger would likely do himself, paints them black. You'll find no high-contrast red and white on black here. No sir! Instead, you'll be greeted by an almost-murdered-out U50 with a very special dial. The all-black livery allows for all attention to be directed to the incredible mother-of-pearl dial. What we see is is at the same time the most toned-down and most eccentric diver from Sinn.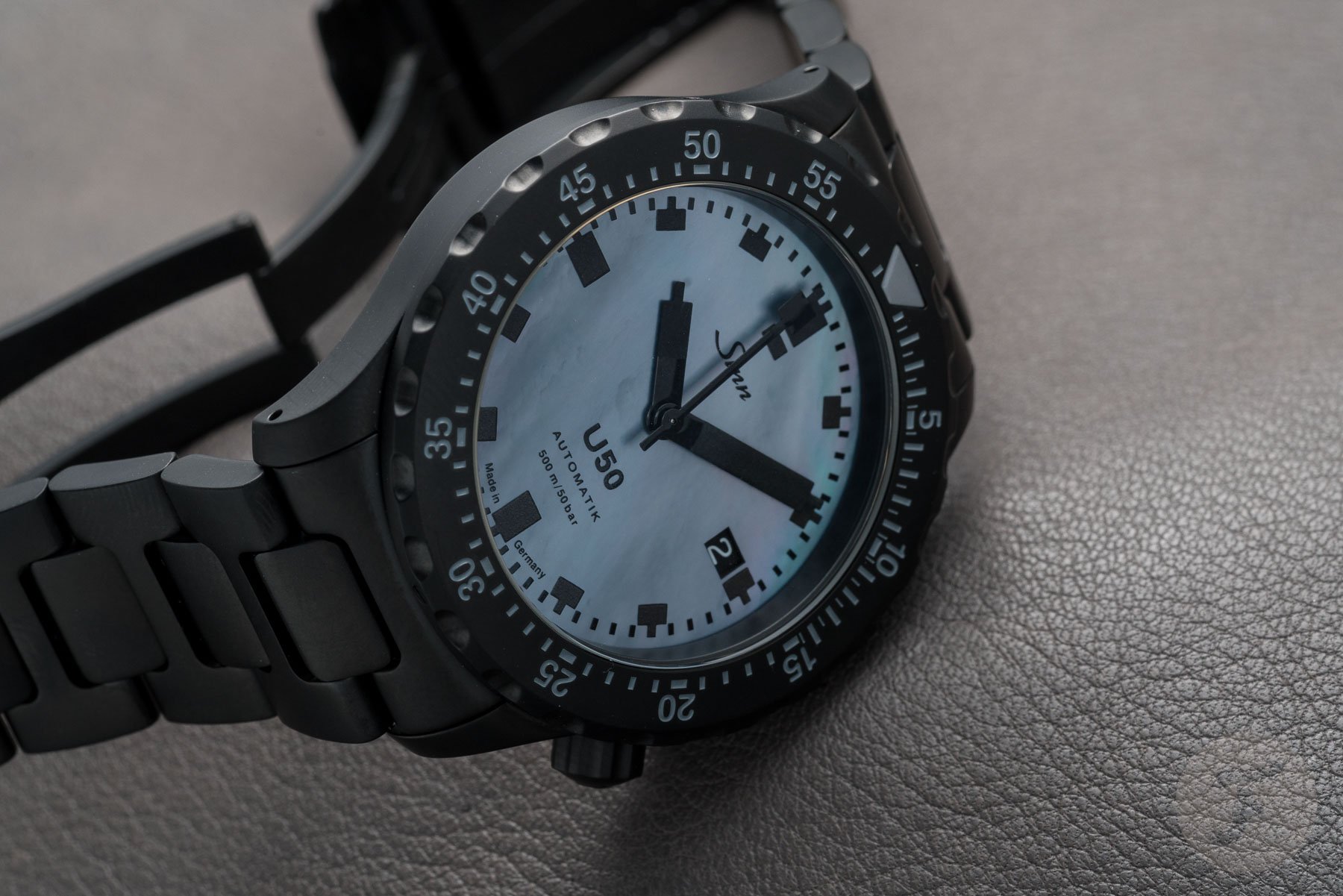 First impressions
When I first saw pictures of this U50 S mother-of-pearl, I was not aware of the specifics regarding its dial material. In fact, I thought that they had gone with an Oris/Halios-esque pastel blue dial. When Rob told me about the dial material, the air pressure needle dropped to 0. However, upon taking a second look at the pictures, it quickly crept back up to a healthy 200 bar. A pull from the regulator filled my lungs with a breath of fresh air. Much like the Sinn U50 S mother-of-pearl, which is also a breath of fresh air in a world filled with poker-faced black dialed, black bezeled dive watches. Sinn has decided to spice things up a bit without going overboard.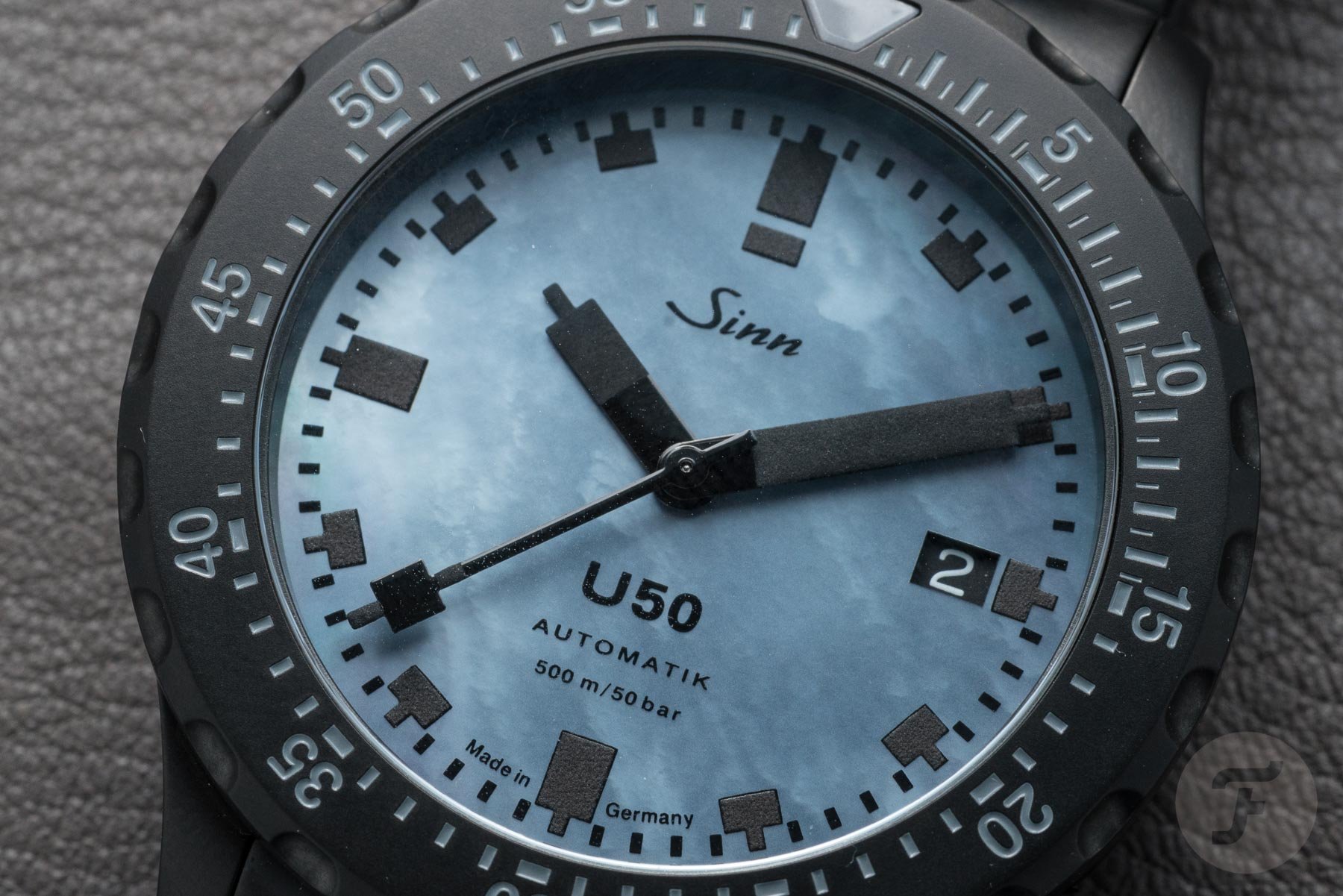 Tear the roof off the sucker
It actually seems to be a trend at the moment. Take your base-model dive watch, and give it a funky spin. Just look at the Oris Aquis Date Upcycle, or the Norqain Neverest divers, or even the colorful Doxa SUB 200 and SUB 300 T models. The watch world has had enough of boring dive watches, now is the time to take chances and go off the beaten path. This is exactly what Sinn seems to be doing here, and honestly, it's a great first step in an interesting direction for the brand. I wouldn't want to see them go all-in with all their models, but it is always good to have a colorful weirdo in a herd of sleepy black sheep. Sure, pastel blue would have been great, but isn't the black mother-of-pearl (as they call it) just a bit more daring and exciting?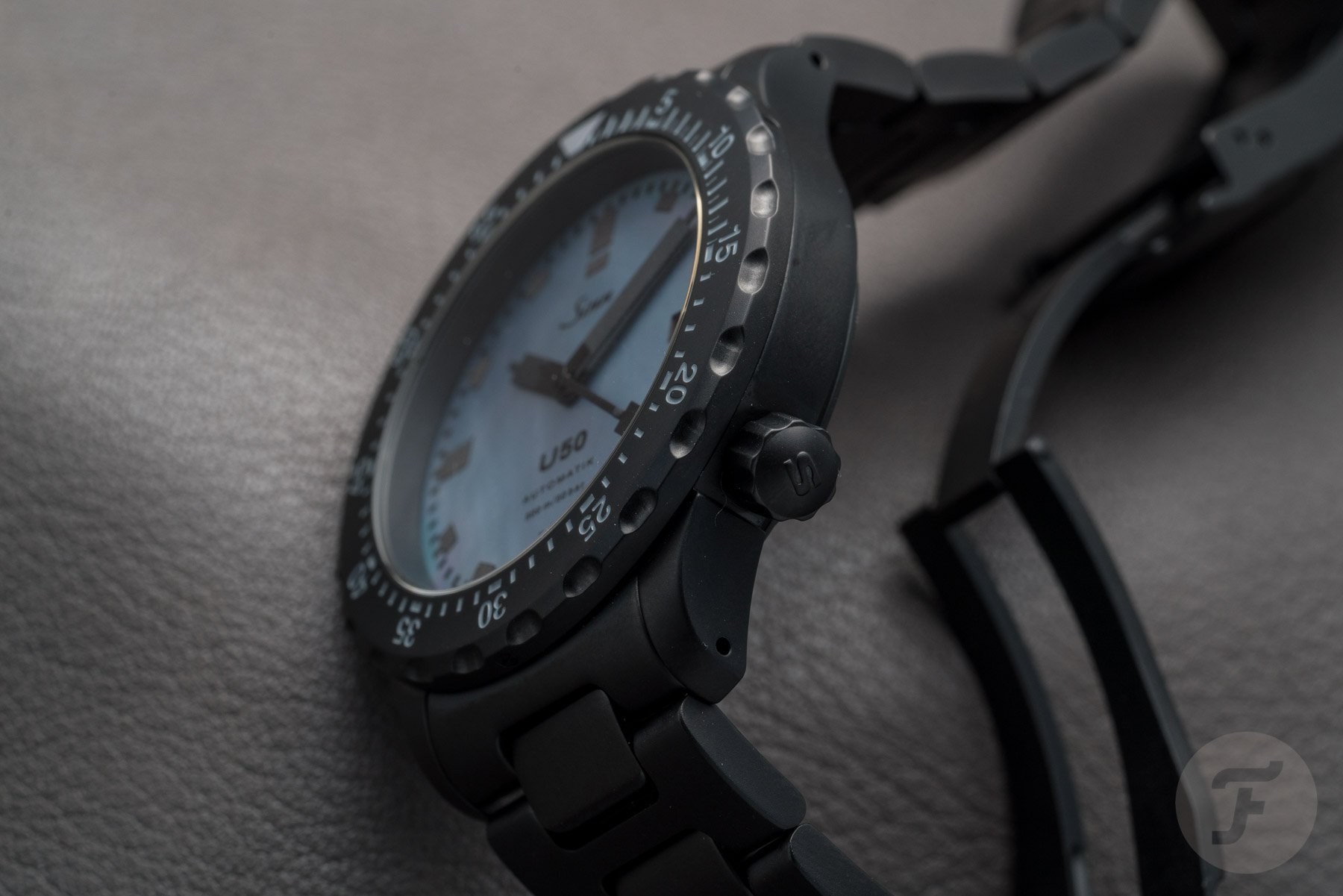 Not a people pleaser
Sure, it will be a polarizing choice. And sure, the more narrow-minded will label it a women's watch (what does that even mean at this point?), and say that it is too girly to grace their hairy man wrists. They may even have a point, the watch is certainly not for everyone. But that was never the point. The everyman's U50 already exists. This is the off-menu option that only the most daring, flamboyant, or just plan mad will go for. Or maybe even those like myself, who just can't justify another plain black dive watch in their collection. Those to whom the Cotton Candy Oris Divers Sixty-Five watches made them feel like "hell yeah I'd wear that! I want all three!"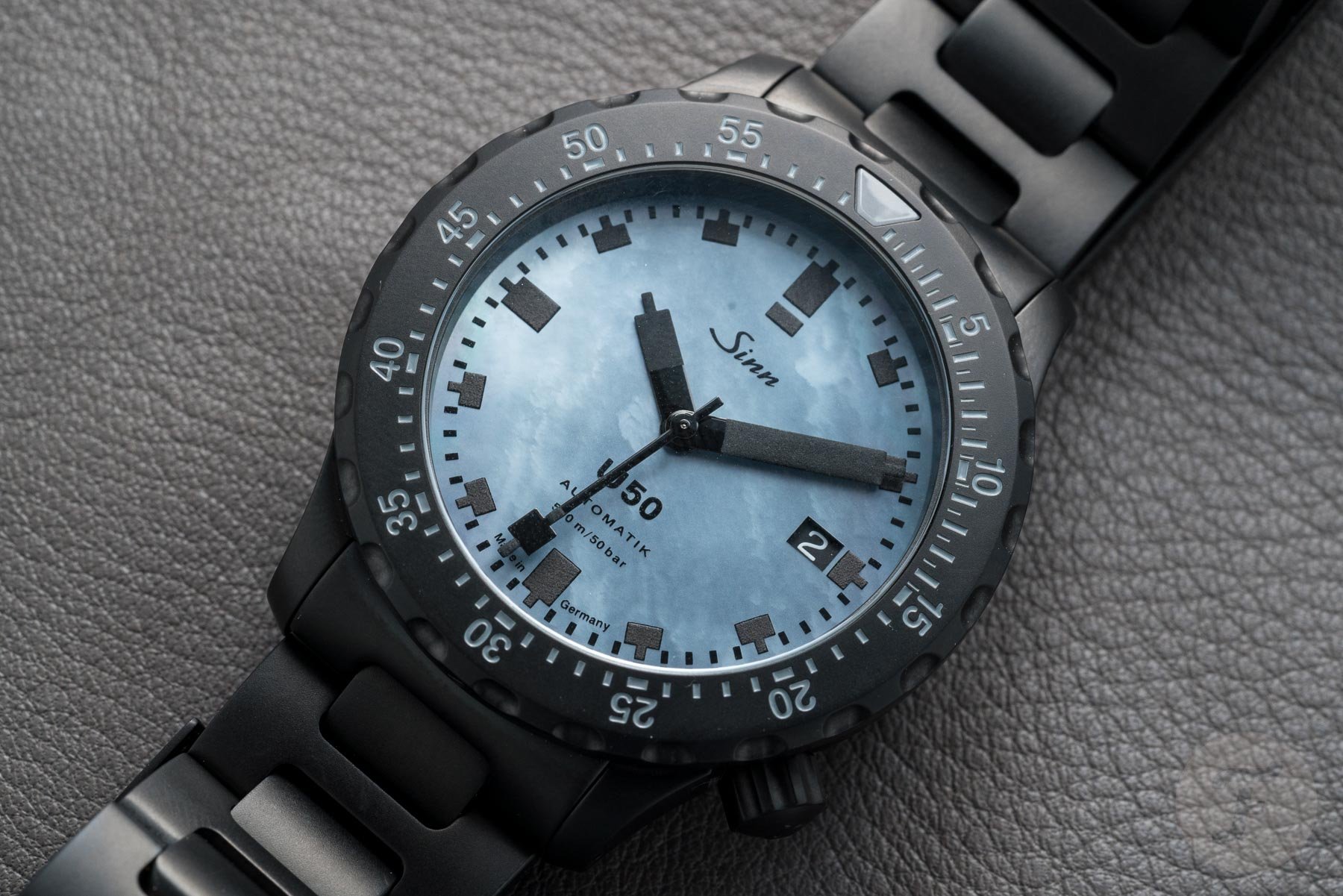 The Sinn U50 S Mother-of-pearl S
Enough ranting. Let's get back to what makes this Sinn such an exciting new option in their lineup. You've already seen the pictures, so you know that this U50 S is all about the dial. So much so, that everything else has been fully blacked out. The one exception is the dial markings. They have been executed in a light blueish-gray color without too much saturation. They come close to matching the overall color of the dial but remain slightly more muted, allowing for the pearlescent spectacle to take center stage. The hands and markers maintain their signature Sinn diver shape but have a shiny black finish to them. Interrupted by the matte black lume, which can also be found on the dial's hour markers. The date window at 3 o'clock is also black and is sized in a way that makes for a perfectly balanced dial.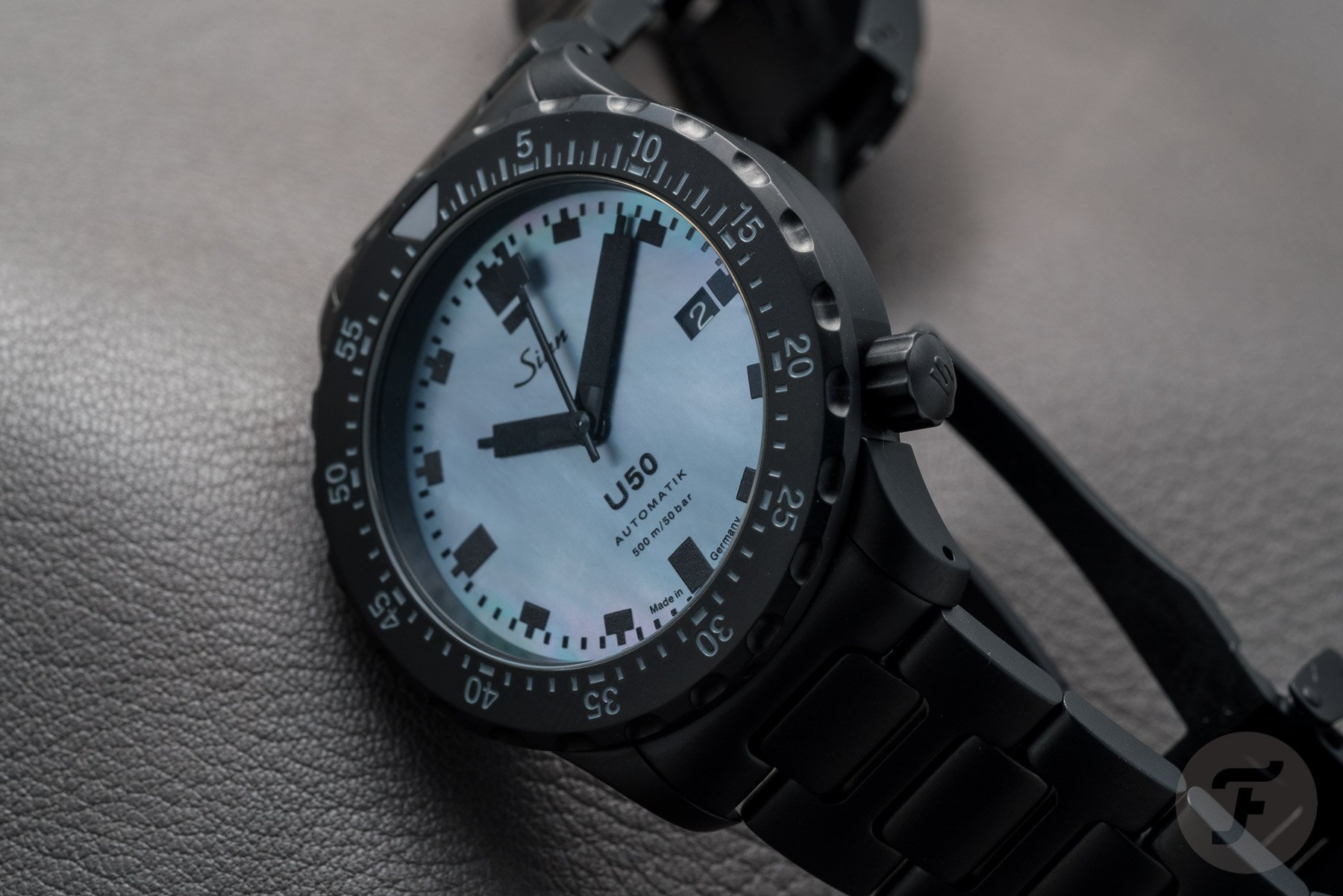 Let your pearl light shine
The fact that all other elements are black means that the only contrast comes from the "black mother-of-pearl" dial. Inverted commas there as I find the dial to be more a light-blue color and not necessarily black. Sinn has previously released a 556i in black mother-of-pearl which I feel better suits the name. In this case, the matte, lightly textured mother-of-pearl dial has more of an ice-blue color. It transforms from an almost-white to a deep baby blue with subtle pink, purple, and green shimmers as it catches the light. You might be thinking that this thing shines like a disco ball, however, the dial remains subtle, thanks to its matt finish. Surrounding the dial, the uni-directional Captive bezel features a lume-pip at the 12 o'clock position).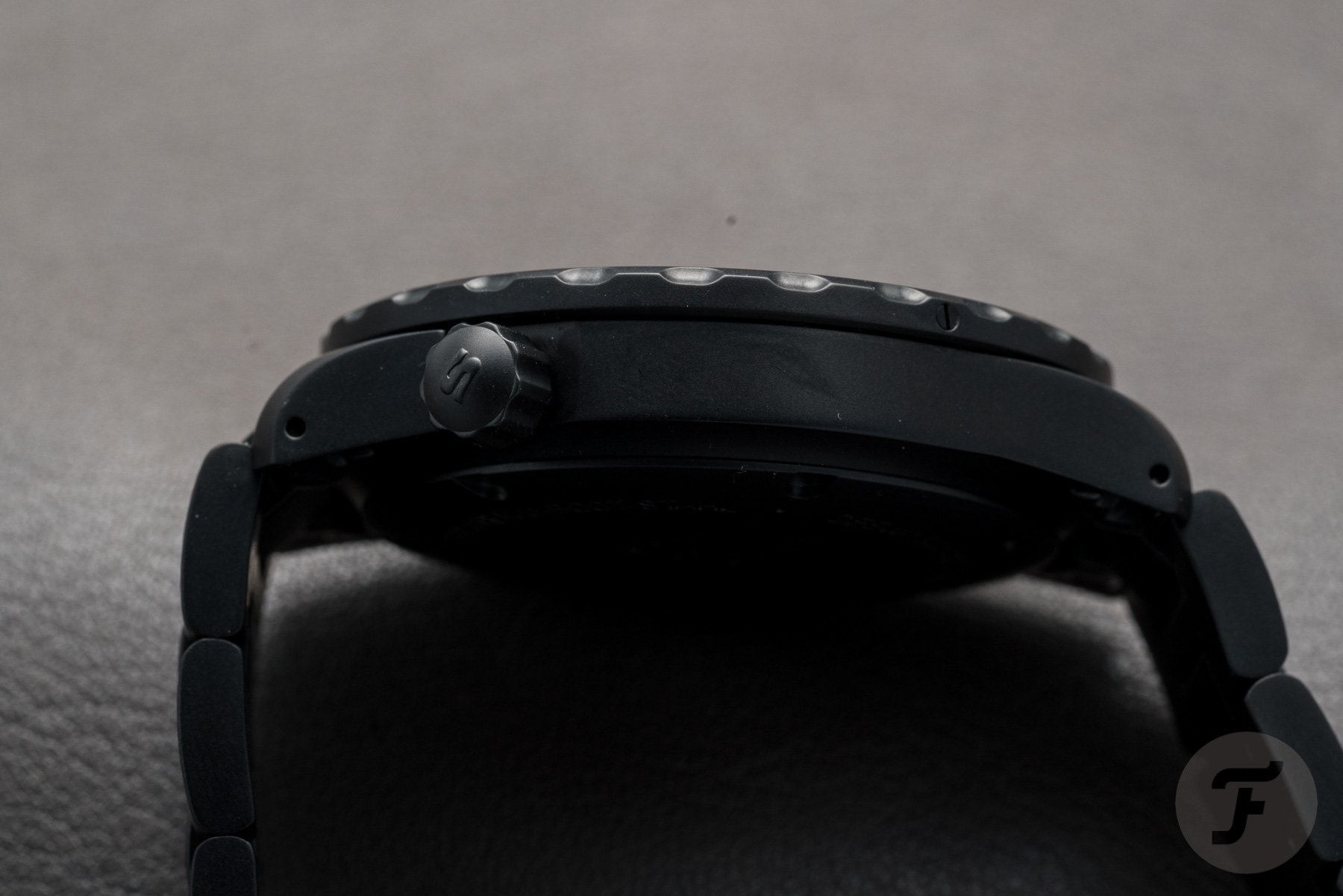 German submarine steel
Now, as fun and glamorous as this watch may be on paper, it is still every bit the hard-wearing dive watch that you would expect from Sinn. The 41mm case is made from extremely tough salt-water resistant German submarine steel, which receives a black TEGIMENT technology coating. It's also extremely thin, at 11.15mm it likely wears like a dream. The bomb-proof case is complemented by an equally tough double AR-coated sapphire crystal. These watches are also DIN 8306 DNV-certified divers, water-resistant to 500 meters, low-pressure resistant, and tested to the European standards for diving equipment (EN 250/EN14143). As if this was not enough they come with a 2-year manufacturer's warranty.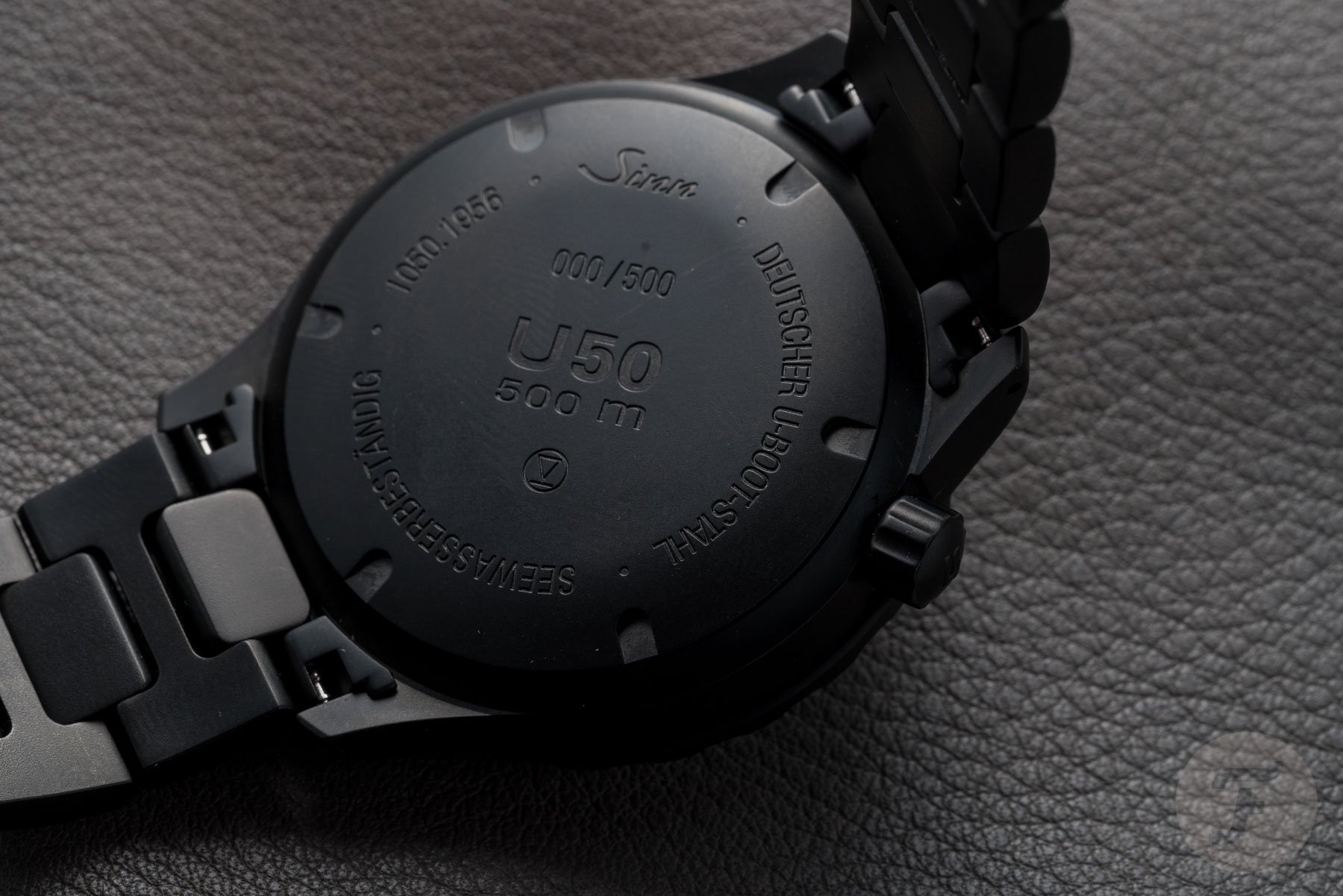 What's under the hood? Or rather, the black TEGIMENT coated screw-down case back? Well, it's the self-winding Sellita SW300-1 movement, which beats at a frequency of 28,800 VpH, features 25 jewels, a hacking function, and a 42-hour power reserve. The movement is also anti-magnetic in accordance with the DIN 8309, meaning that it is resistant to magnetic fields of 4800 A/m. Rest assured that you will most likely not need to use that 2-year warranty. These things are built like a tank. Or maybe more like a submarine!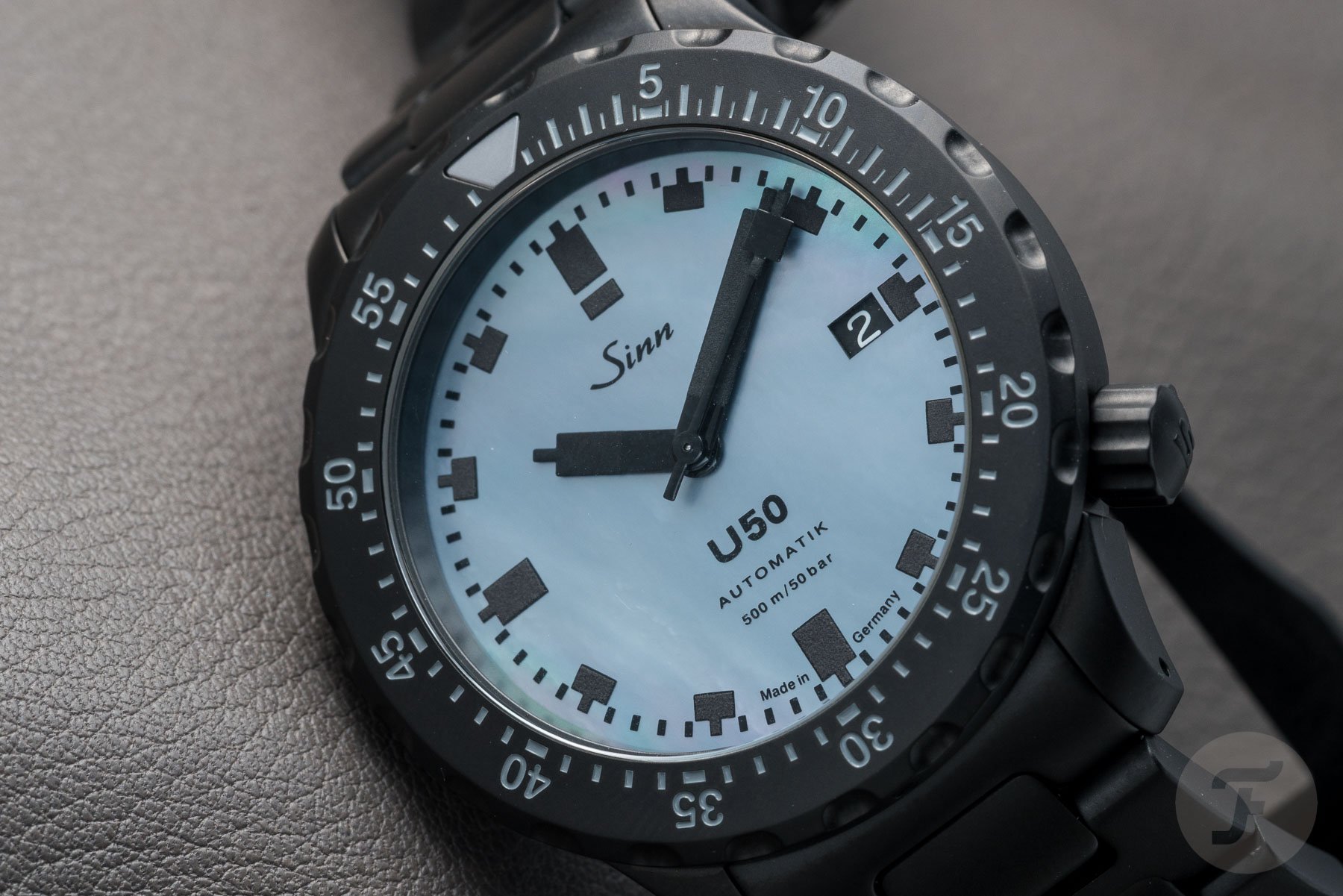 Final Thoughts
Skeptical at first, the new Sinn U50 S mother-of-pearl has really grown on me. Even in the process of writing this first impression, looking at videos and pictures of the watch, I have really developed a soft spot for it. Just a couple of hours ago, I would have said that without a doubt the Sinn U50 SDR was the one for me, but now that certainty has given place to doubt. The doubt being whether I'd go for the SDR or for the U50 S mother-of-pearl. The only way to know for sure would be to see the watch in person and see if it wears as well as it offers an off-the-wall take on the classic Sinn diver form factor.
If you find yourself lusting after the U50 mother-pf-pearl, you'll have to move quickly. Only 500 pieces will be made available by the Frankfurt Am Main manufacturer. Prices range from €2,450 on a leather strap, to €2,840 on a matching black solid steel bracelet. My choice? Well, I think I'd go with the €2,750 version on the signed Sinn rubber strap. What are your thoughts on this watch? Let me know in the comments section below. For more information check the Sinn website here.