Speake Marin Unveils New Openworked Sandblasted Models
One movement and case design, two materials, and four variations
Meet the latest Openworked Sandblasted watches from Speake Marin. Choose from titanium or red gold cases in a medium 38mm size or a more generous 42mm form. Regardless of your material or size preference, you'll get an SMA01 movement with a micro-rotor inside Speake Marin's signature Piccadilly case. This classic case has been revamped by famous watch designer Eric Giroud, who also worked for the likes of Tissot, Vacheron Constantin, and MB&F.
Since Speake Marin doesn't appear that often on Fratello, let's start by refreshing your memory a bit. The last time we wrote about Speake Marin was in April 2022 after the launch of the Ripples. I encountered the watch during Watches and Wonders, and it baffled me. To cut a long story short, the name "Rip-off" would have suited the watch better than Ripples. And it hurt to write that because I think Speake Marin's Piccadilly case is a wonderful piece of work. Anyway, the brand was founded in 2002 in Bursins, Switzerland by English watchmaker Peter Speake-Marin. In 2014, the brand began implementing a plan to develop proprietary movements and assemble them in its Neuchâtel-area atelier. Peter Speake-Marin left the company in 2017, and acting CEO Christelle Rosnoblet took over as owner. Three years ago, the brand left Bursins for Geneva.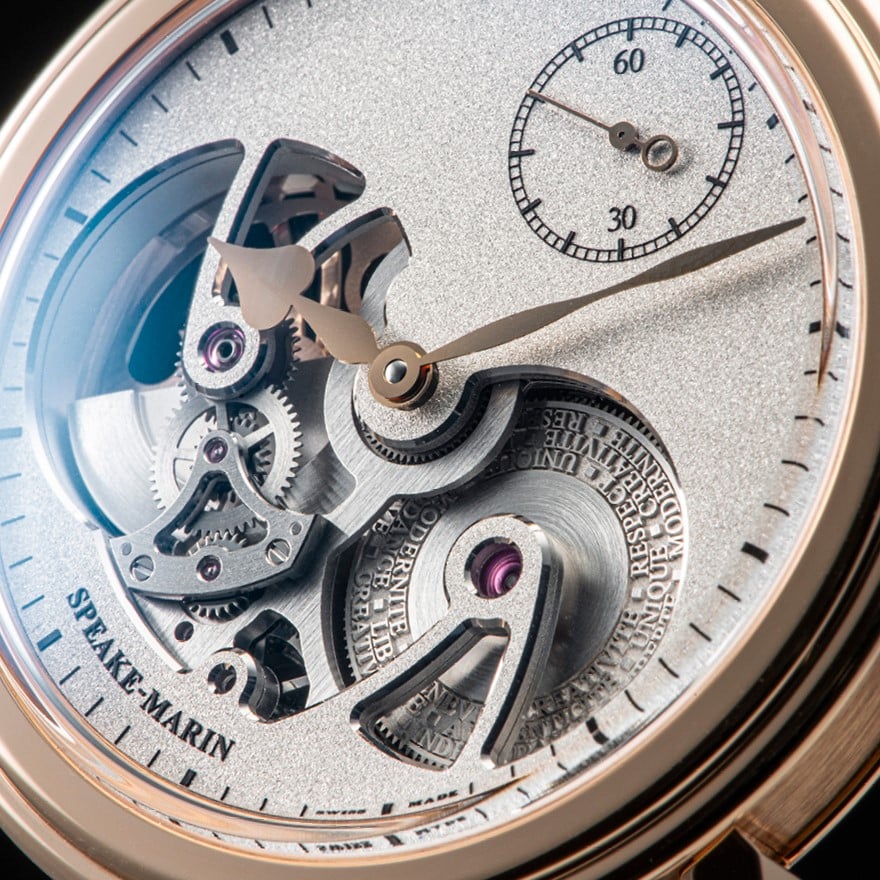 Speake Marin Openworked Sandblasted watches in two sizes and materials
Before we get to the new Openworked Sandblasted watches, please note that somewhere along the line — it must have been after 2017 — the hyphen in the brand name disappeared. Speake-Marin is now "Speake Marin…at least on its website, though, oddly, not on its dials. It doesn't feel like Frédérique Constant becoming Frederique Constant because the reasoning behind removing the "é" was strictly practical. The removal of the easy-to-type hyphen feels a little more personal. It seems like the brand wants to distance itself from the man who, after leaving the company, co-founded The Naked Watchmaker. This online platform exists "to inform and inspire future generations of watch lovers and collectors, giving everyone a unique insight into timepieces and the horological industry from an objective educational perspective." It's very interesting if you want to better understand the inner workings of mechanical movements.
Enough background. The Openworked Sandblasted Titanium and Red Gold in two sizes are the latest creations from the brand Speake Marin. Each contains an open-worked and sandblasted dial, hence the name. The titanium (38mm ref. 413817440 or 42mm ref. 414217440) and red gold (38mm ref. 423817440 or 42mm ref. 424217440) Piccadilly cases measure 10.5mm thick and display polished top surfaces and a horizontally brushed case band. As mentioned earlier, Eric Giroud tweaked and modernized the brand's Piccadilly case in 2017 but kept its defining elements, such as the oversized crown and pronounced lugs with visible screws on the outside. When you look at the screws, they seem to be securing very thick bars that hold the leather strap. But when you turn the Openworked Sandblasted on its back, you will see that the strap is outfitted with a common and convenient quick-release spring bar.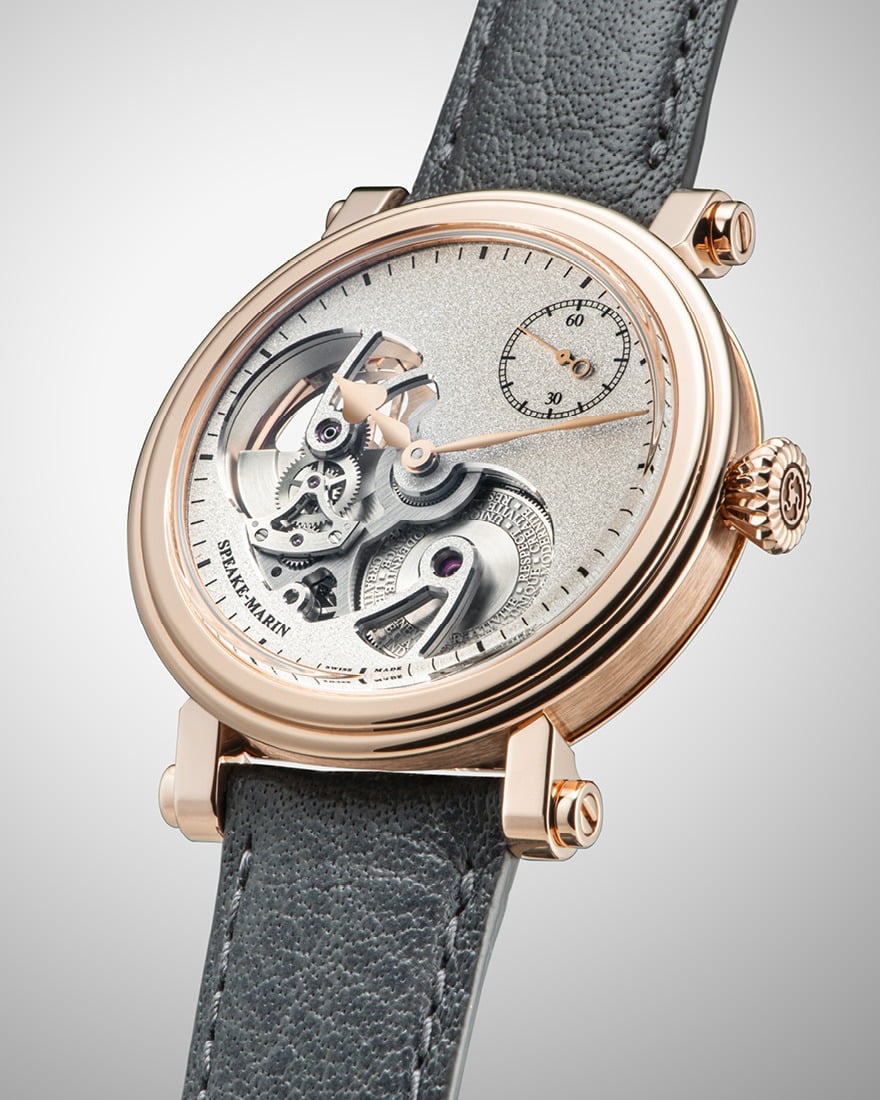 A micro-rotor and a lot to read
All four iterations of the Openworked Sandblasted are outfitted with the brand's caliber SMA01. That movement was designed and assembled by Le Cercle des Horlogers in the Swiss Neuchatel area. Back in 2014, Speake Marin started to invest in Le Cercle des Horlogers, and in 2020, the brand became a shareholder to, among other things, create more independence for itself in watchmaking. This 4Hz movement measures 30mm × 5mm and uses a micro-rotor to wind the mainspring that holds up to 52 hours of power reserve. In total, 171 components make up this caliber, which is regulated to COSC standards (+6/-4 seconds per day). But, to be completely clear here, Speake Marin doesn't send the movements in for certification.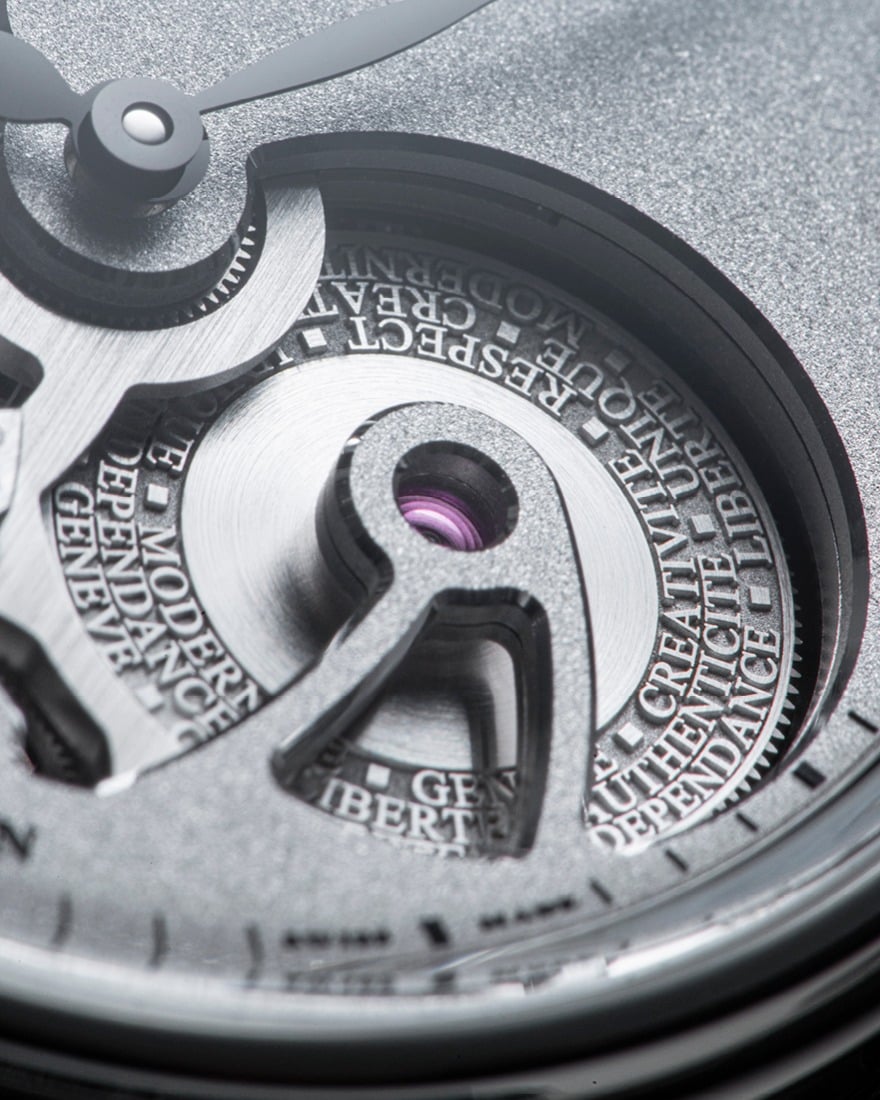 The SMA01 is a good-looking movement that has some nice and original touches. On the cover of the barrel, for instance, you'll find words that, together, form some sort of watch mantra. Just say "respect, liberté, unique, authenticité, Genève, creativité, modernité" out loud for ten minutes, and you'll get in the (watchmaking) zone for sure.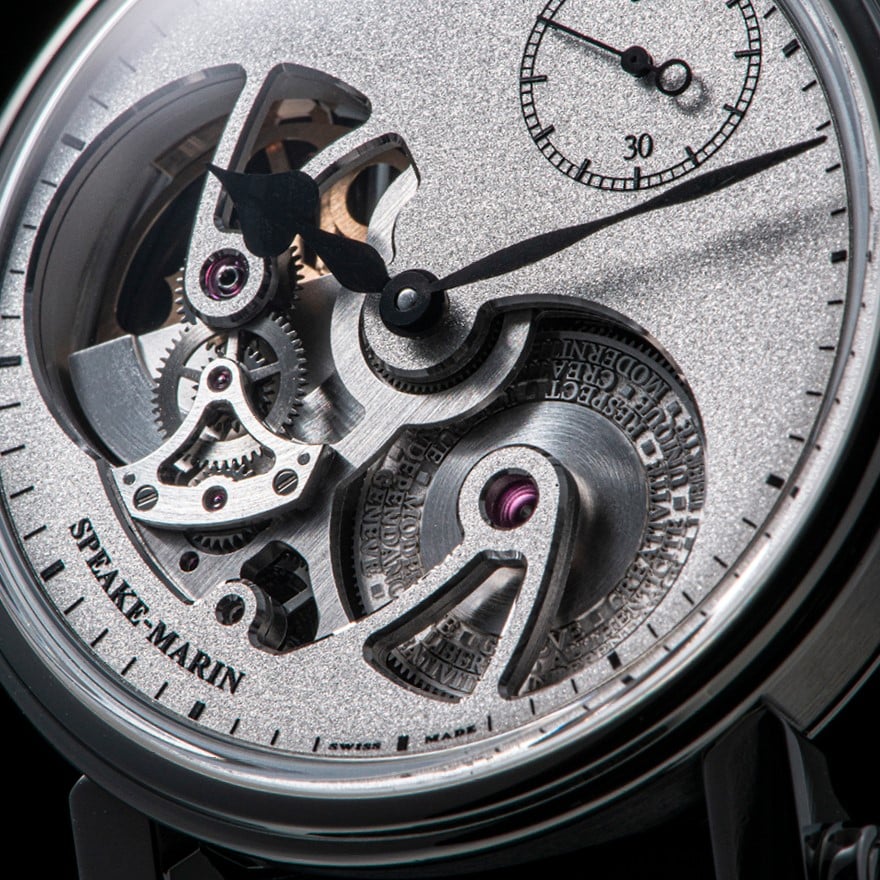 The name-giving element
Let's zoom in on the dial a bit. As you can see, the typical Speake Marin sub-seconds display takes its quirky position between 1 and 2 o'clock. Surrounding it is a railroad-style track, while a completely open minute track encircles the whole dial. But it's the pitted finish of the open-worked, sandblasted dial that gives these watches their name. The dial's texture also contrasts nicely with the polished bevels surrounding its different apertures. In addition, the movement plates received the sandblasted treatment along with polished and beveled edges. To provide enough contrast against the matte dials, the titanium version shows black PVD-treated hands, while the hands of the precious metal version have a red gold color. As you'd expect, the hour hand takes its signature spade shape.
Pricing
The Speake Marin Openworked Sandblasted Titanium has a recommended retail price of CHF 22,200 for the 38mm version and CHF 22,600 for the 42mm model. Meanwhile, the Openworked Sandblasted Red Gold is available for CHF 34,000 in its 38mm size and CHF 38,700 in its 42mm form. All prices are excluding taxes. You can find more specs and information about them on the official Speake Marin website.