Speedy Tuesday – Omega Speedmaster Speedy Tuesday Limited Edition Left The Factory
It has been a while that we reported on the Omega Speedmaster Speedy Tuesday Limited Edition. We've been overwhelmed with all the responses and comments on this watch, and are thankful for all the positive messages we have received thus far. Omega gave us a prototype just before the official release date (January 10th 2017) so we have been able to play around with it, take photos and show it to some of our readers, colleagues and friends.
The first Omega Speedmaster Speedy Tuesday Limited Edition models have been produced in Bienne and are currently being shipped to their new owners. Watches are not produced in chronological order, so it might very well be that number 13 (for example) is being produced later than number 1000.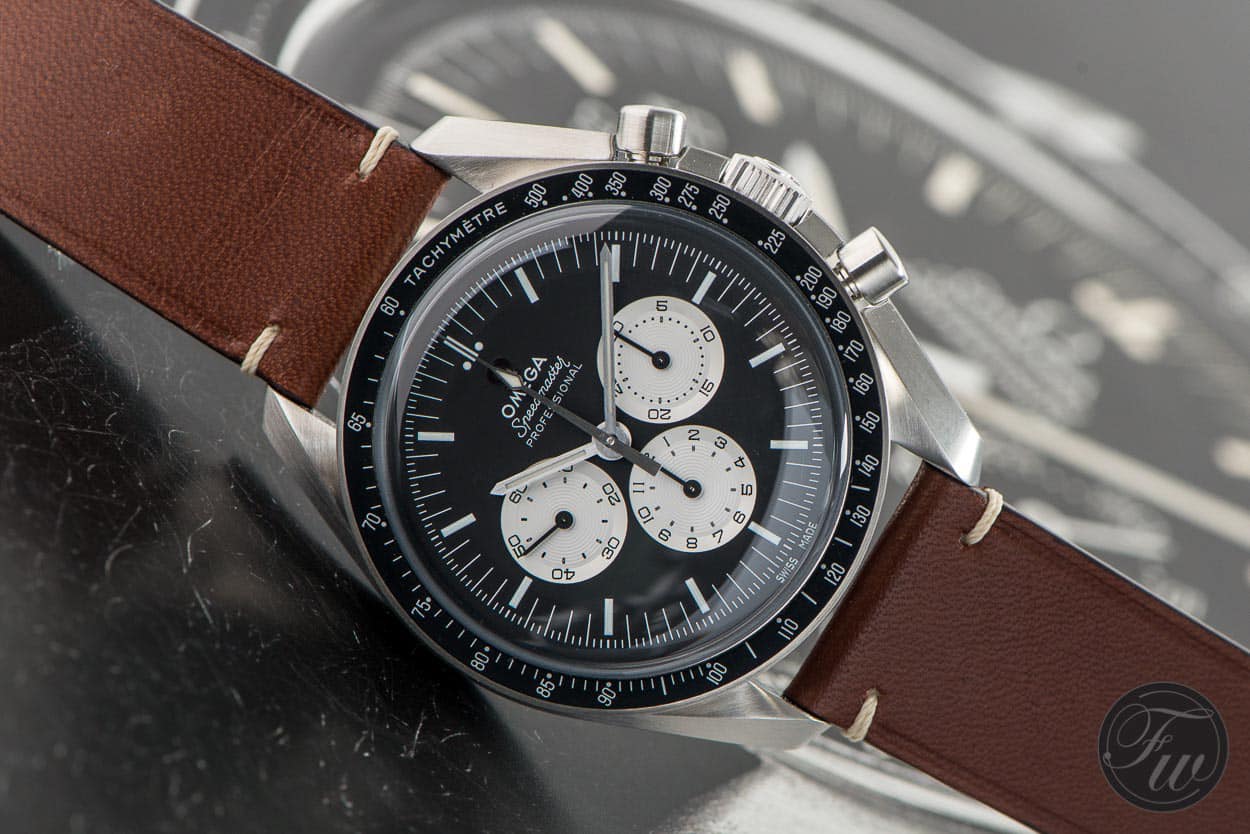 If you are on the list of reservations, you will receive an e-mail with some more details about the delivery of your watch soon. In case you don't want the watch, you can make someone on the (loooong) waiting list very happy.
In the meanwhile, a special group on Facebook has been created to share information and make the waiting a bit more bearable. You can find it here. There, you will also find more images of the watch itself. Trading is not allowed in that group, unless you want to swap your number for another number.
We also noted a few recurring questions along the way in the last few months. Let me try to answer them here:
Q. What will exactly come with the Speedmaster Speedy Tuesday Limited Edition watch?
A. The watch will come in a calf leather watch pouch, together with a NATO strap, a changing tool and two credit card sized warranty and pictogram cards. You will also receive a polishing cloth (with Speedy Tuesday on it). The leather watch pouch is 'boxed' in a black cardboard box, stamped Omega and with a compartment for the instruction manual. This means, no leather or wooden box for this watch. You will also find a certificate of authenticity with the watch. Inside, you will find the story on how the Speedy Tuesday community started, read about the inspiration for this watch, the unique number of your watch and a few images.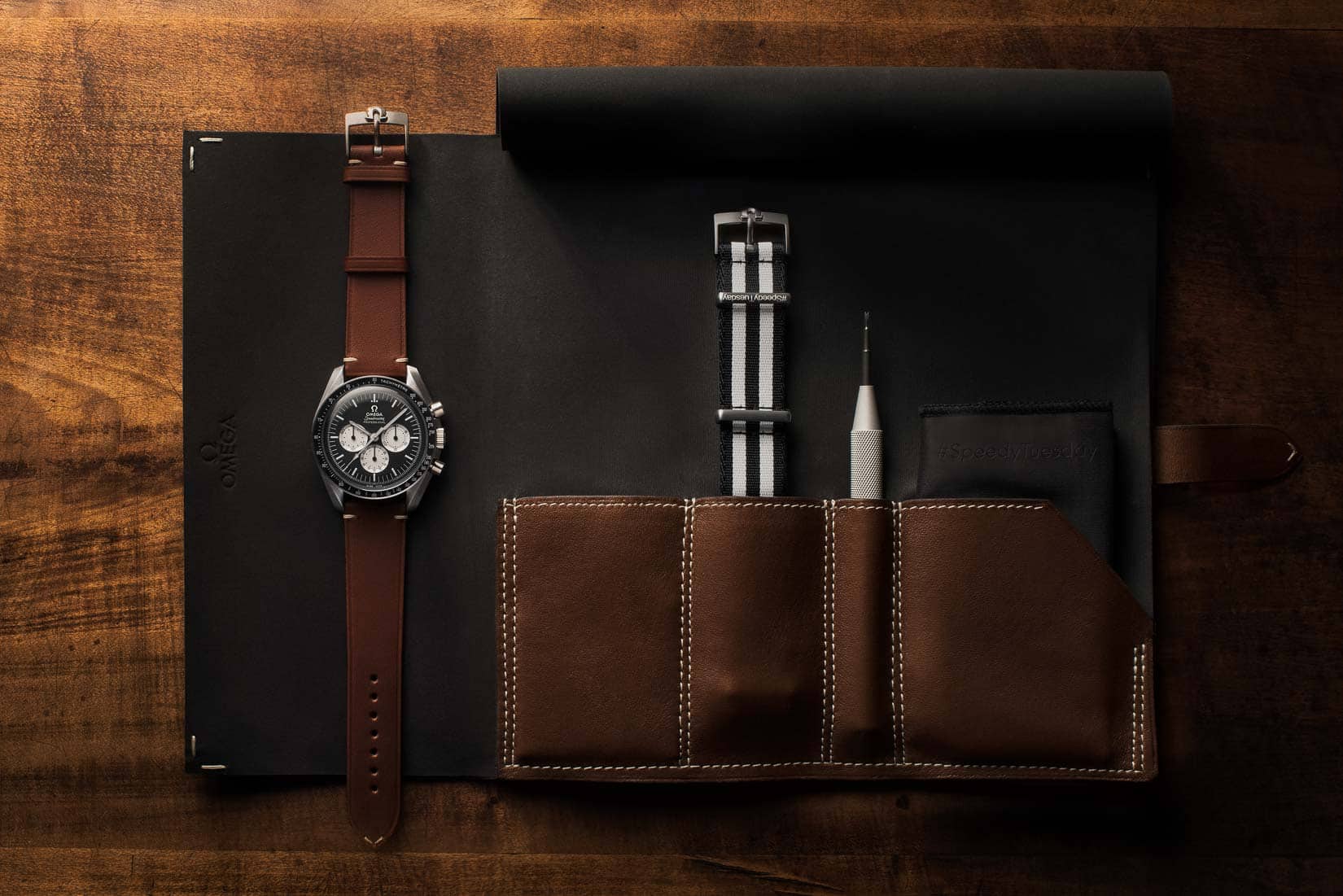 Q. What kind of bracelet would look good on the watch?
A. The original Alaska III watch from 1978 was never delivered with strap, but shipped head-only to NASA. A reference 1171 bracelet would be best (time wise), but I actually prefer the later 1450 bracelet with 808 end-pieces. This fully brushed bracelet, has a more solid look & feel than the earlier 1171 (and later 1171/1). You will need smaller push pins though, the standard pins are a bit too thick to make it fit nicely. You can find a 1171 or 1450 on eBay sometimes, or try your luck in the sales corner on OmegaForums.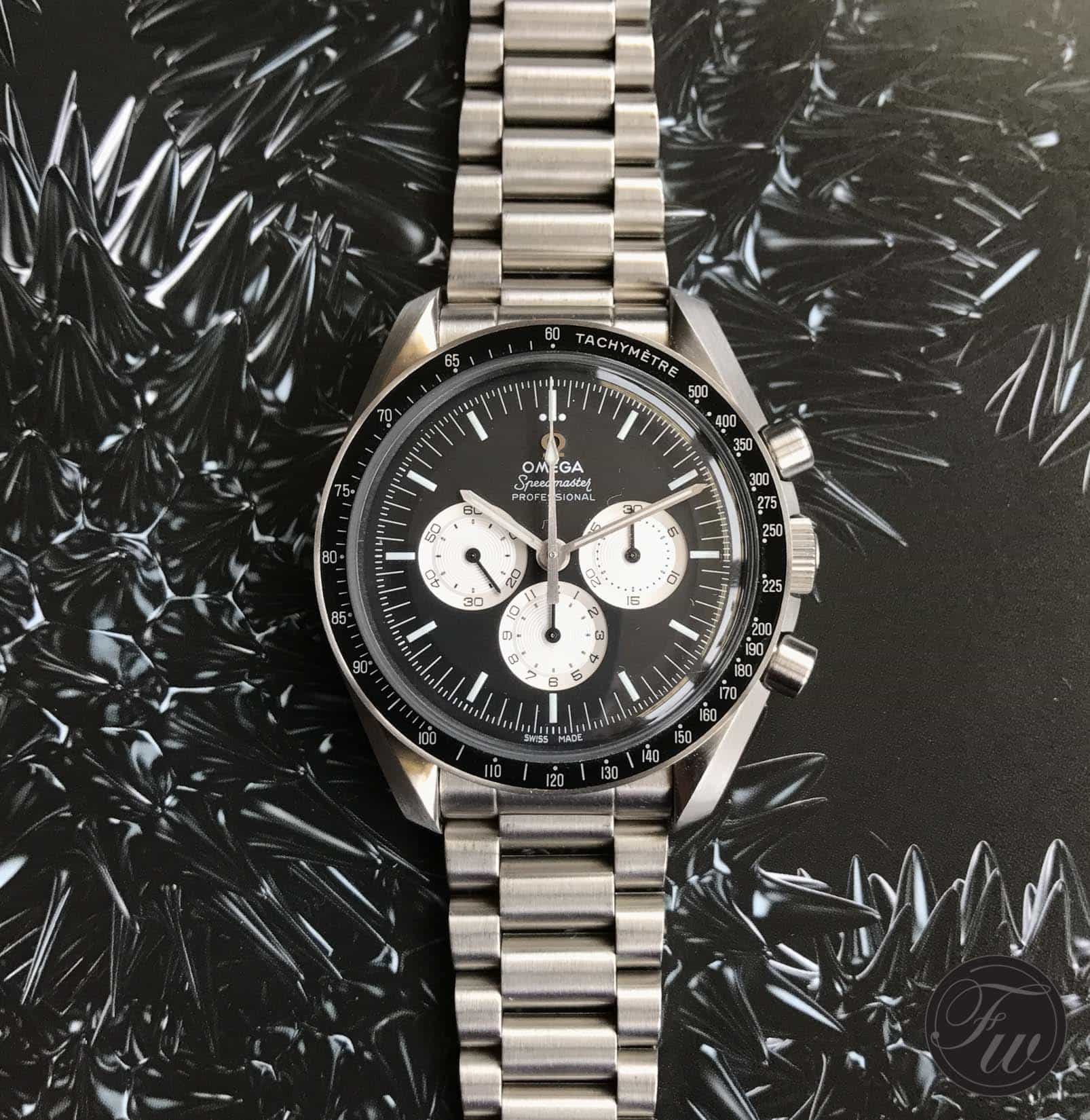 Q. I want another strap and I've seen a picture of the Speedy Tuesday Limited Edition on the Silver Snoopy Award strap, how do I get one of those?
A. Any 20mm strap will fit. If you want to 'reuse' the original Omega buckle, make sure the strap ends at 18mm. I also noticed a high interest in putting the black soft strap from Omega on the Speedmaster Speedy Tuesday Limited Edition. The Silver Snoopy Award strap (and folding clasp) has reference CWZ003436. The clasp has reference 94521883. You can order these items via the Omega Boutique or authorized dealer.
Q. How come the bezel does not lume?
A. It was decided to use the traditional aluminium bezel, so not the later ceramic one (like on the Silver Snoopy Award). The crystal is also Hesalite, not sapphire. Both have been done to be as close to the original 1978 Alaska III as possible.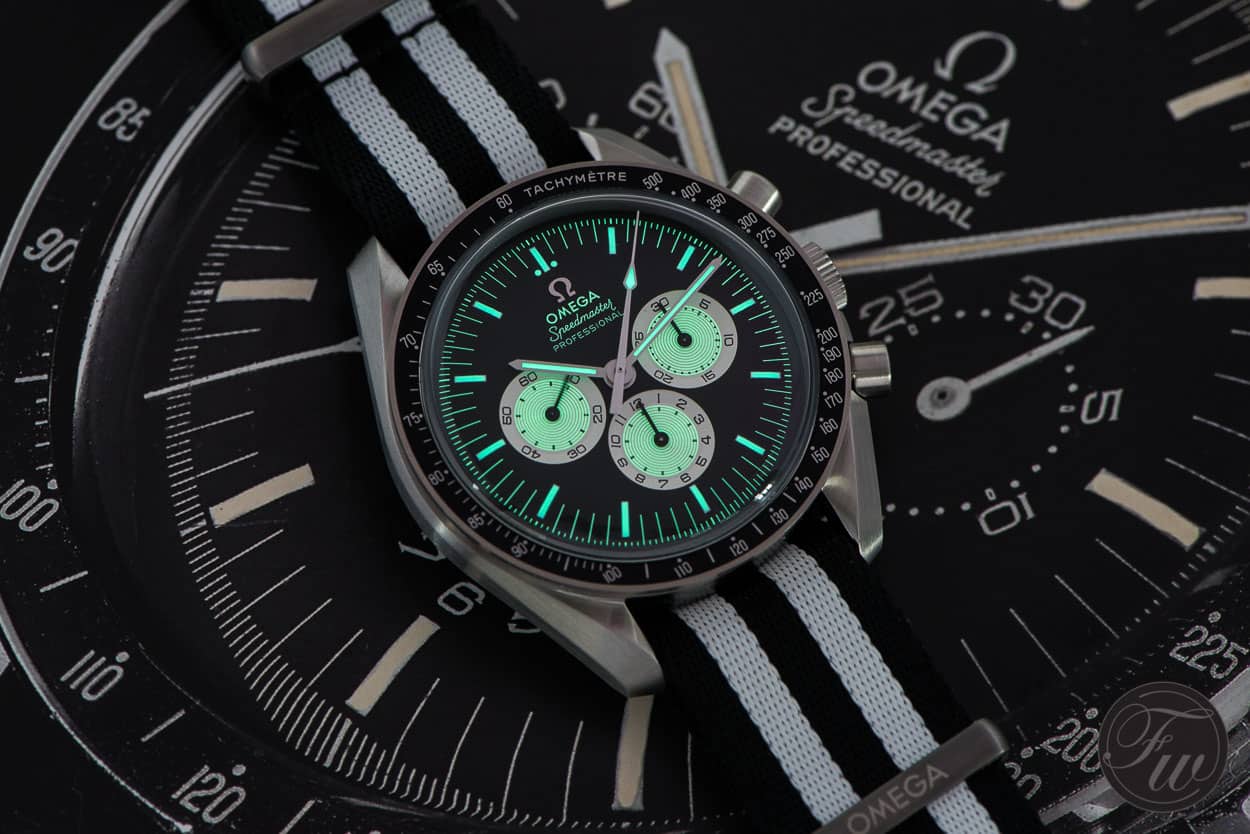 Q. I noticed some people from Denmark received an e-mail that their Speedmaster Speedy Tuesday Limited Edition has been shipped. I live in X, will I be last?
A. Not necessarily. The watches are not produced per country, just randomly. Keep an eye on your mailbox. Delivery starts now and probably ends around September.
Q. What will be the value of the Speedmaster Speedy Tuesday Limited Edition?
A. Although we hope that you ordered the Speedmaster because you like it, want to wear it or at least add it to your Speedmaster collection. Although we've seen a couple of people selling their reservations already, we believe that this watch will not be massively sold via watch dealers as they also had to purchase it at retail price (and were unable to pick up 10 or 20 of them). Since the watch did not hit the market yet, it is difficult to say anything about the market value of the watch. We surely believe it will be a solid 'investment', meaning that you won't lose money over it. That said, wear it. It was made for that.
Q. I reserved number #0013
A. You might have done so, but keep in mind that the watch will not show the 0s before other digits. So #0013 will be 13/2012.
Q. What will happen with 0/2012?
A. Number 0 is used for prototypes and BaselWorld (sample) collections. The 0/2012 watch that is now in the possession of the Fratello Watches team will go back to Omega.
Q. Will there be a Fratello Watches watch (with another brand)?
A. No. In the (far) past we once did a watch together with another Swiss brand, without commercial gain (but money was raised for a good cause). There will be no 'Fratello Watches' piece with a brand. With Speedy Tuesday it just made sense, as we started doing Speedy Tuesday articles and events since 2012 and it became a platform/community on its own. There's a real story to it.
More information on the Speedy Tuesday Limited Edition is explained in this video we did with our friends from Hodinkee a few months ago.
Q. Where can I find this watch on the official Omega website?
A. You can find the product specifications page here. A special landing page on Speedy Tuesday can be found here.
Q. How can I join the #SpeedyTuesday movement?
A. Well, you can start sharing your Speedmaster pictures on Instagram using the #SpeedyTuesday hashtag for starters. You can also share your personal story on your Speedmaster with us, so we can publish it here on Speedy Tuesday. Every week we publish a Speedy Tuesday article. You can also follow the @SpeedyTuesday Instagram account and submit your image via a DM so we can share it. If you subscribe to our newsletter (use the subscription box on this website), we will keep you informed with any upcoming Speedmaster events we host or co-organize.