Speedy Tuesday – Early Gold Speedmaster Moonwatch With "Wide Oval O" Dial
It is not often that we come across collectors who have this gold Omega Speedmaster Moonwatch BA145.022 in their collection. We have covered this specific model a couple of times in our Speedy Tuesday feature, but it remains to be a rare find and sight. The price on these watches drastically grew over the last couple of years, which might have something to do with the rare sightings of these gold Moonwatch models. Besides that, a number of collectors feel that the Speedmaster was meant to be in stainless steel.
The first Speedmaster Professional in gold was introduced in 1969 and in production till 1973. A beautiful commemorative edition for the Apollo XI moon landing. The all-gold Speedmaster Professional came back in 1980 (till approx. 1988) as a numbered edition (click here) once more. Then, since 1992 there were gold Moonwatch models on and off. Even the regular Speedmaster Professional Moonwatch was available in gold, but that stopped a couple of years ago as well. There was little demand for it. However, this year we got served again with some gold greatness with the 272 pieces of the Apollo XVII 'Tribute to Cernan' watch.
Today we talk about the first Omega Speedmaster Professional in gold though, the reference BA145.022-69 with its typical 1960's rich dial (look at those square onyx markers and brushed finish of the gold dial).
Early Gold Speedmaster – Wide Oval O
If you want to read more background story on the gold Omega Speedmaster Professional BA145.022, you might want to read this and this article. This gold Speedmaster Professional was produced in the years 1969 to 1973, to commemorate the Apollo XI mission of 1969.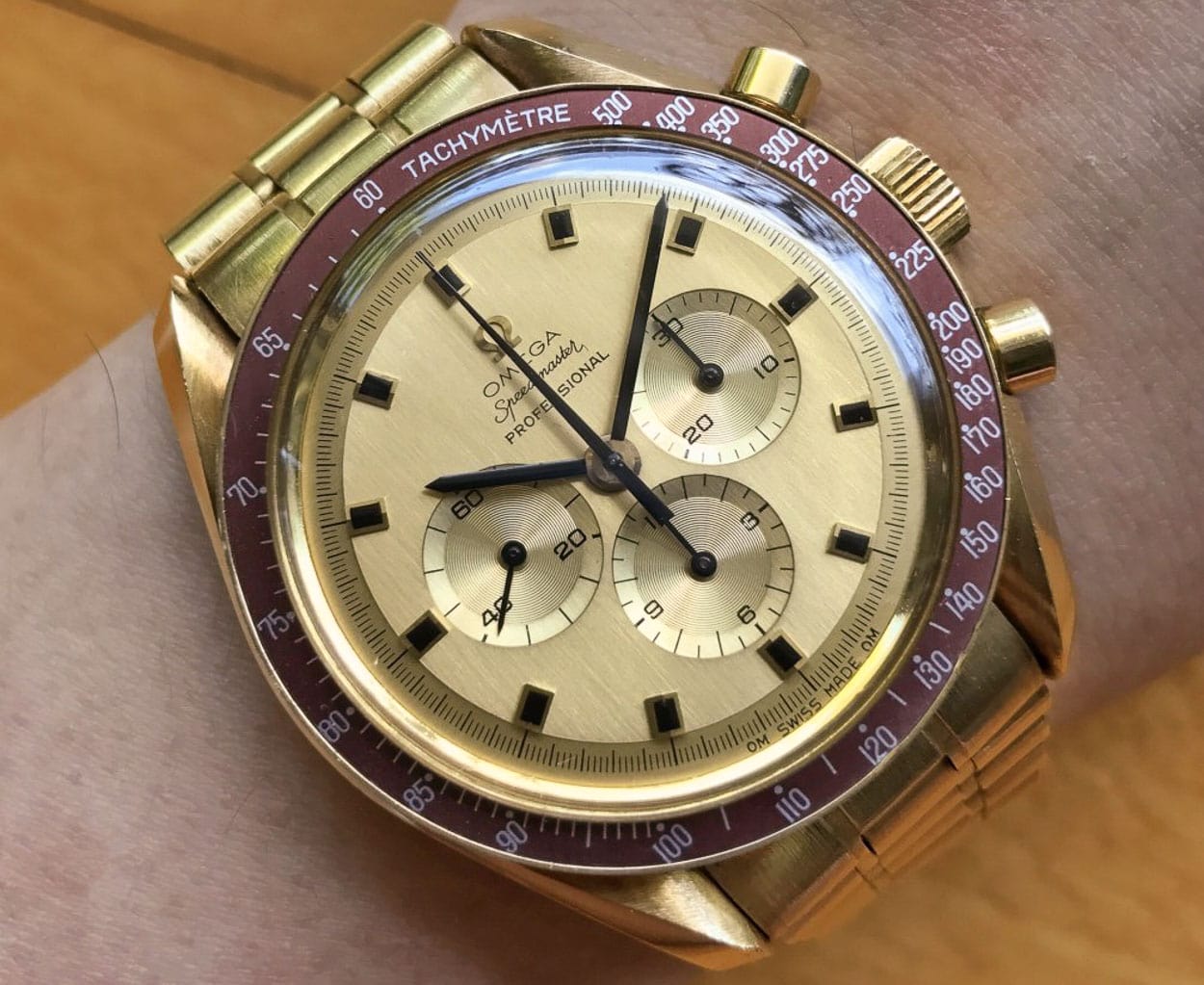 In short, the story is that there are a total of 1014 of these watches, #1 was offered to President Nixon and #2 was offered to Vice President Spiro Agnew. Both declined the watch though, for compliance reasons. During a banquet on the 25th of November 1969, 19 watches were offered to the NASA astronauts. Later on, other astronauts who couldn't join the banquet or who did later missions (than 1969) also received their gold piece. This watch has the engraving "to mark man's conquest of space with time, through time, on time."  There seems to be a bit of an uncertainty whether Apollo 13's Jack Swigert and Fred Haise received one, but I've been told that they were offered one later on as well.
Besides different case backs (one for the astronauts and other officials and one for the commercial pieces), there are also a number of other details that changed during the production of this gold Omega Speedmaster. Besides the fact that there is a third version of the case back (where you can find the engraving filled with red lacquer). you will also find a difference in the dial. The very first Speedmaster BA145.022 models had a wide oval O dial.
The watch we have here today, is one of those very first watches that have the wide oval O dial. But besides that, the condition of this gold Moonwatch is what makes it extra-ordinary.
Its current owner, who goes by the name of SgWatchBaron on Omega Forums, had been searching for one of these gold nuggets for quite a while. This piece was a match made in heaven for him, as it had the wide oval O dial, the original black hands and burgundy bezel (in superb condition), correct crown and pushers, a Hesalite crystal with the old style Omega logo (long feet), full length 1116/575 bracelet and with its original finish. The case and bracelet are according to its current owner untouched.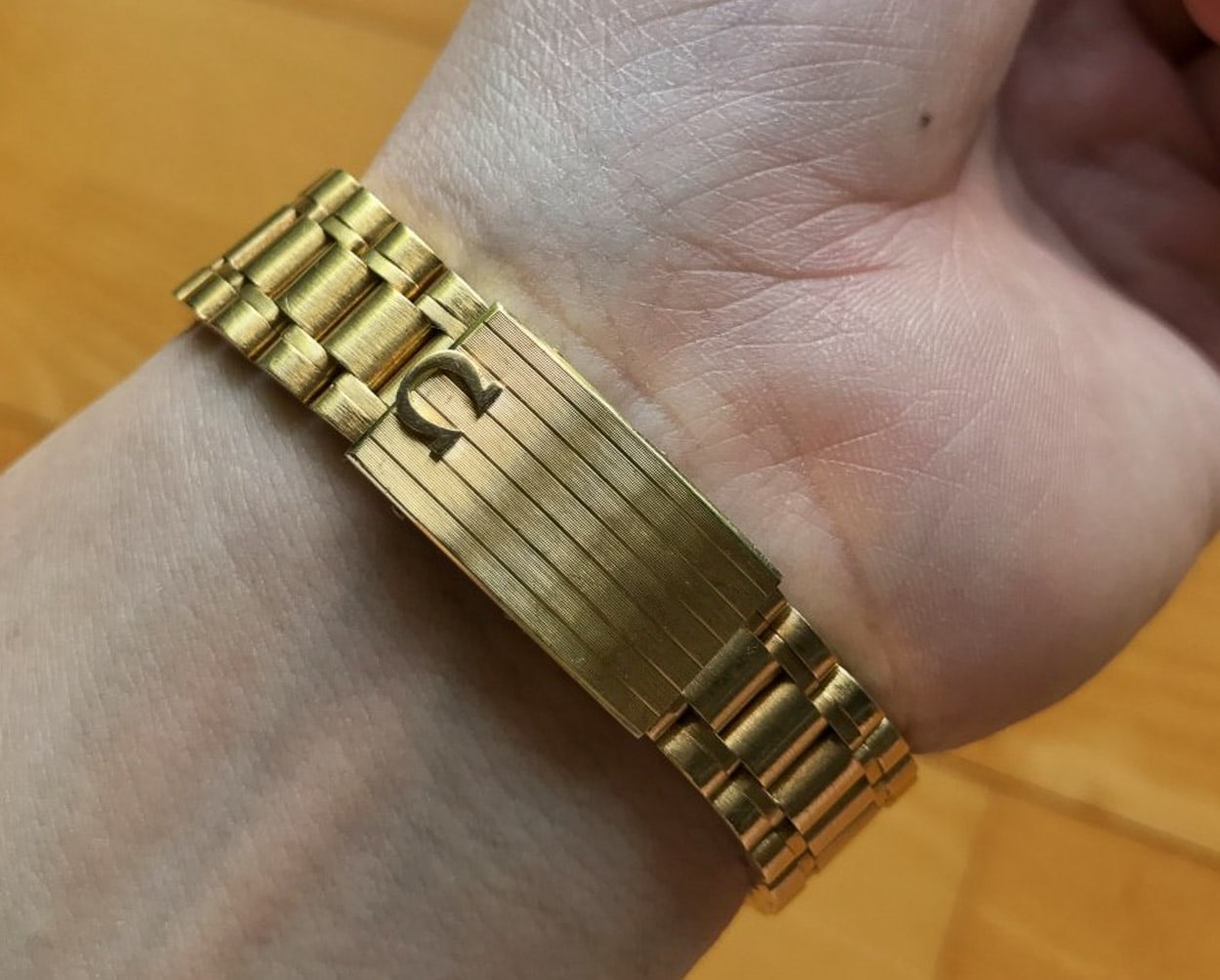 Craving for Gold?
If you've been watching the vintage market for Speedmasters, you must also have come to the conclusion that there's still stretch regarding the prices of these watches. They are still increasing. On the one hand, a sad thing for starting collectors of the Speedmaster, for others it means there's finally financial 'recognition'. What we've seen from the Rolex Daytona for example, is that at some point the gold versions became interesting again as the stainless steel models were simply becoming very expensive and some people realized that some of the gold models are even more rare. Will the same happen to the Speedmaster? My guess is that this watch will remain to have its biggest demand in stainless steel, but given the fact that this BA145.022 is super rare (1014 pieces only), the 1980 version even more rare (with 300 pieces only) and then are a couple more versions from the 1990s and later in very limited quantities, these might become very collectible as well. The prices are not that far away from certain vintage Speedmaster in stainless steel, and almost easier to obtain in good and untouched condition. Perhaps that is even more important for most collectors, the assurance that – with so much money involved – you are buying something in an untouched condition. Meaning the watch has not been polished or serviced using incorrect parts.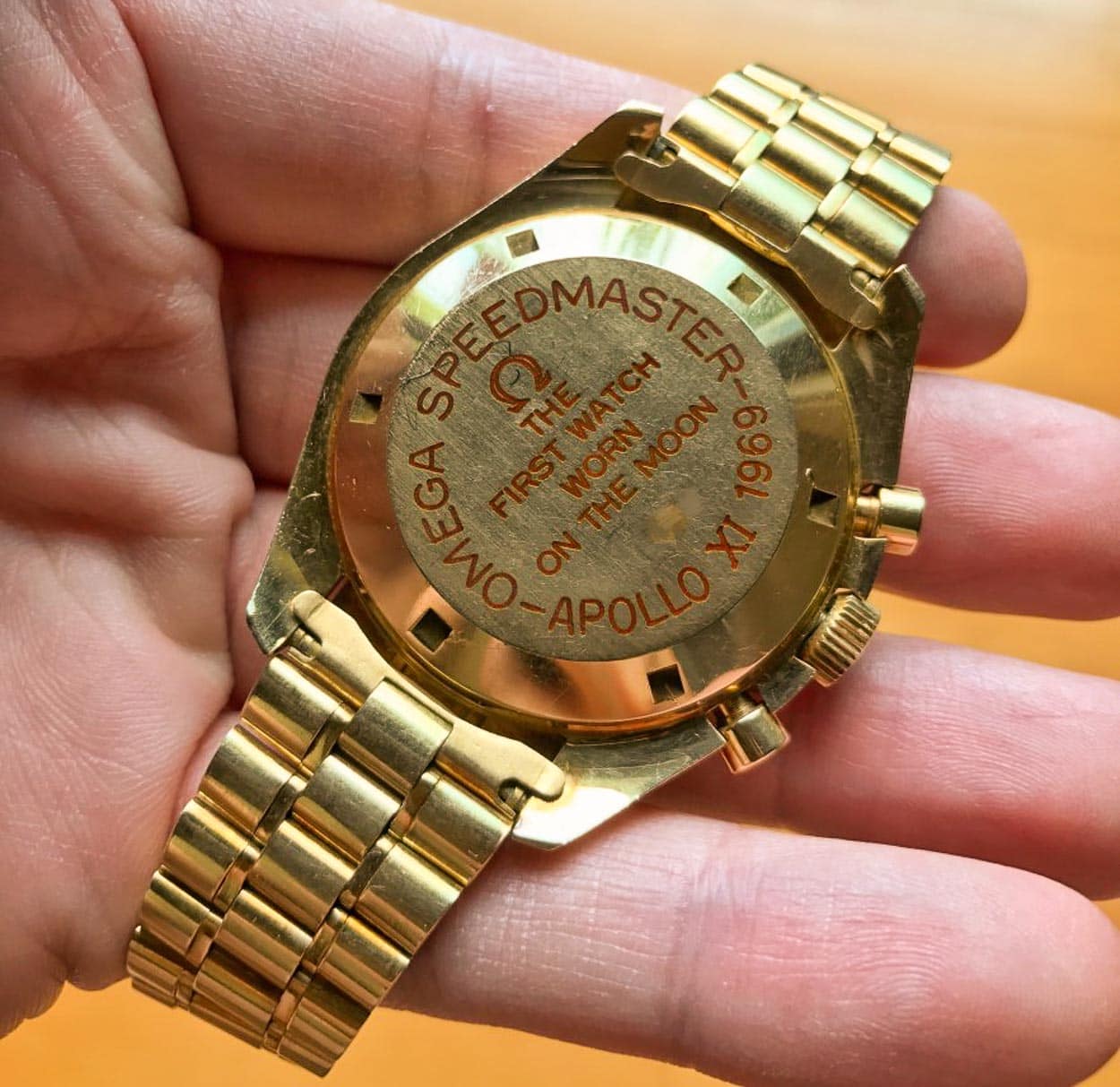 There's currently one Speedmaster Professional BA145.022-69 for sale on Chrono24, without its gold bracelet, for 26.500 Euro. I have seen them for less, but certainly for more as well, especially with the special "3D" crater box.
A big thank you to SgWatchBaron for sharing his story and images here on Fratello Watches. Another thank you to TLI Guy for sharing the image the other day of Stafford wearing his BA145.022.