Speedy Tuesday – One Of Our Readers Talks About His Gold Speedmaster 3695.50.31
Gold Speedmaster 3695.50.31
One of my first encounters with a gold Speedmaster was with the BA145.022-69, which translates into the famous yellow gold Apollo XI commemorative edition from 1969 with a burgundy bezel. It must have been late 1999 or early 2000 that someone showed it to me. It paved the way for my (later) craving to own a gold Speedmaster some day.
Although Omega always had (and still has) a number of gold Speedmaster watches in their collection, you rarely see them in the flesh. Today, we feature an interview with one of our readers and Speedmaster fans, and talk about his gold Speedmaster 3695.50.31.
Meet Tom, an avid Speedmaster fan and wearer.
FW: Do you collect Speedmasters or watches in general?
My 1985 Omega Speedmaster Professional Moonwatch was bought new when I was living in Hong Kong. I still have it and wear it in rotation but eventually it will be my son's 40th birthday gift as it is his birth year.
FW: When did you get the gold Speedmaster 3695.50.31?
I bought my gold Speedmaster 3695.50.31 earlier this year. It was a NOS piece that had been sitting in a collector's safe for some years.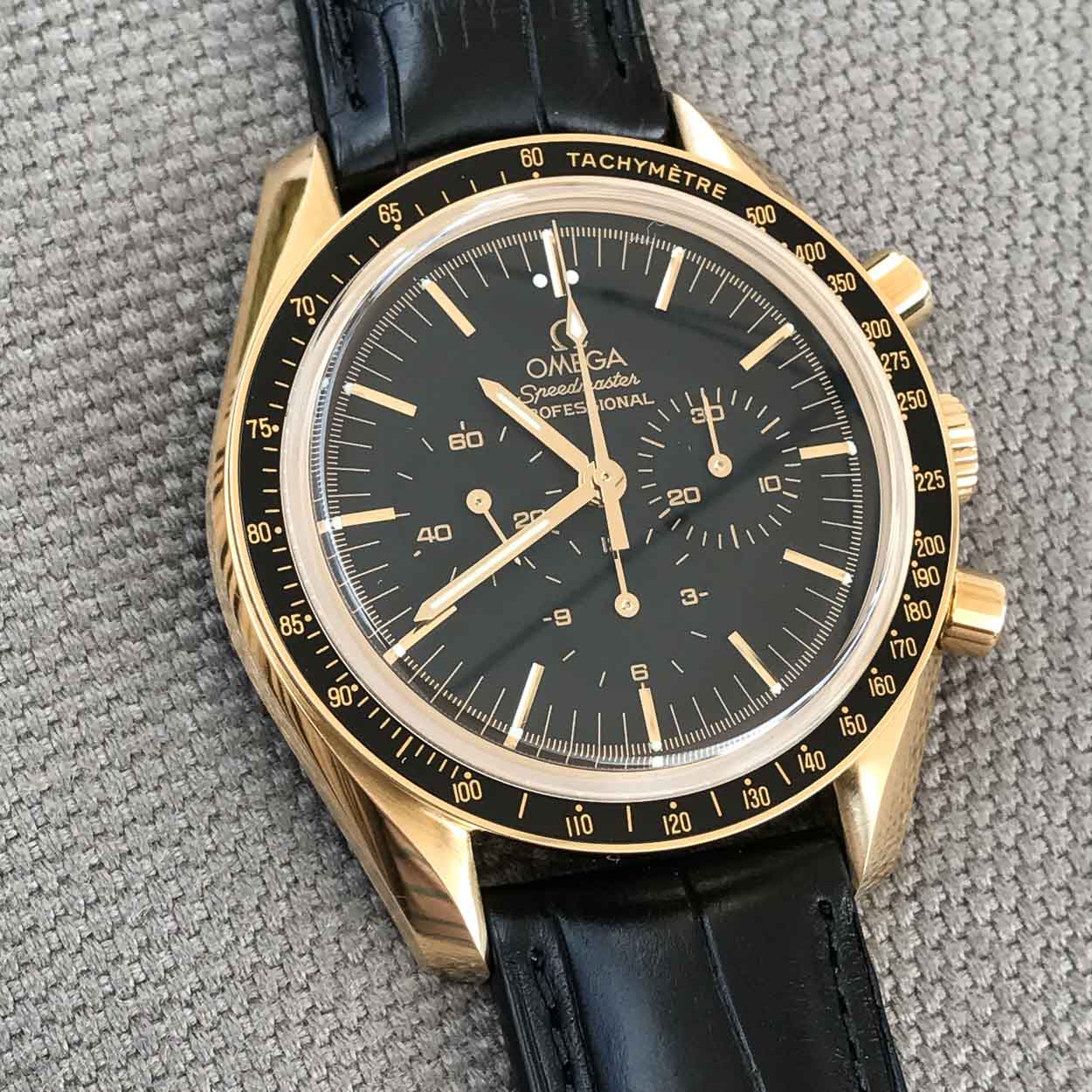 FW: Why exactly this model?
Despite having a few other gold watches, I've never had a gold Speedmaster before. I've always liked them though! I waited until I could get a really pristine example at a good price and then pounced. I think these 'standard' 18k gold moonwatches were only made between 2009 and 2012 and I don't think they were hot sellers so Omega stopped making it. I'm not sure how many Omega produced in total [RJ: Omega doesn't disclose numbers on standard production] but you don't see them very often and I doubt that many were made.
FW: Is it a safe queen or do you actually wear it?
It gets worn reasonably regularly, in rotation with my other Speedmasters and a few of the other pieces I've still got. It's funny, there's just something magical about a gold Speedmaster. I post on Instagram a bit (I post on intagram a bit (@tommyturtle1961) and find the gold Speedmaster and my limited edition Italian bimetal 'Liberace' Speedmaster both get amazing feedback.
FW: Did you make a choice between different gold ones or was this a purchase by chance?
I had considered a few examples of the various limited edition gold Speedmaster Professionals Omega have released over the years. Somehow, though, I never found one that was in mint or NOS condition that I thought was worth the price being asked or I could afford. This piece ticked every box.
FW: What is your holy grail Speedmaster?
One I believe you really like – the white gold Speedmaster Professional Moonphase reference 3689.30.31. There's reportedly less than 300 in existence and I have yet to find one with everything present and correct that is in great condition. One day! In the meantime I have a visually very similar '01-'06 production 'Broad Arrow' moonphase which has silver hands & dial, stunning white gold bezel and dial markers. It's very pretty and definitely one of my favourite pieces.
FW: Do you have a special interest in the Moon program from NASA?
I was born the day Yuri Gagarin first orbited the earth and the space race was a constant theme in my childhood, so yes I have a longstanding fascination of space travel. I remember vividly being a small boy huddled around my parent's black and white TV to witness Buzz Aldrin and Neil Armstrong's lunar landing and the first moonwalk. I have a wonderful framed example of the iconic photo of Buzz Aldrin taken by Neil Armstrong, dedicated and signed by Buzz himself, which takes pride of place in my man-cave. Growing up I was (and still am!) a huge Tintin comics fan, so predictably one of my Speedmaster's is the red racing dial piece, referred to as the 'Tintin' model by WIS types.
FW: What will be your next Speedmaster (if any)?
Another gold Speedy! I have incoming one of the 272 limited edition gold Omega Speedmaster Apollo XVII reference 311.63.42.30.03.001 'A Tribute To Gene Cernan' pieces. Although, the way sterling is nowadays I am going to donate a kidney or trade out some of my non-Omega collection to pay for it!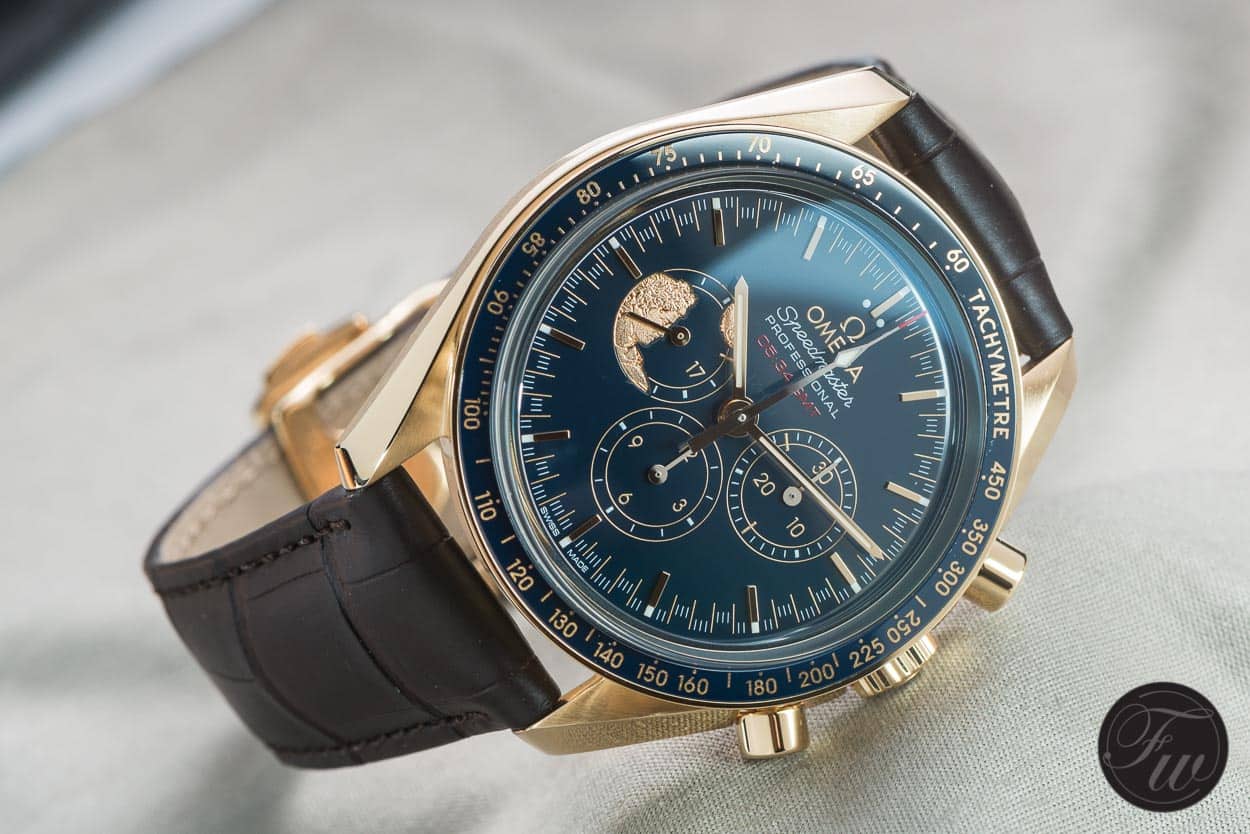 A big thank you to Tom, who was willing to share his story with us for Speedy Tuesday.