Speedy Tuesday – Hands-On Omega Speedmaster Mark II Review
Although we already did an in-depth article of the Omega Speedmaster Mark II Co-Axial that was introduced last year, including a comparison to the original Omega Speedmaster Mark II, we thought it was about time to actually wear one for a while and share our experience.
To be totally honest with you, when Omega announced their new Speedmaster Mark II Co-Axial I thought to myself that it could be wise to buy an original model as these were available under € 1000 Euro on the market. Although I never warmed up to the Speedmaster Mark II – but I have to say it was probably even before 2003 when I tried one on for the last time – due to the shape of the case, I decided to pull the trigger on a Speedmaster Mark II that came along in fair condition. It needed some work, so I sent it off to my watchmaker who cleaned the movement, installed a new crystal and had the case re-finished by someone who has all the correct equipment and knowledge to do so. The watch and the restoration set me back approximately € 1200 Euro but at least it is in superb condition again.
What surprised me, is that it is actually a very comfortable watch to wear. I found myself wearing it for weeks in a row, without changing it for another watch. The hand-wound caliber 861 (Lemania based) is a joy to wind and has proven to be a very solid and reliable movement. The case – with its brushed finish on the top and polished angles on the case band – is beautiful and as I already stated, remarkably comfortable.
So, when we asked Omega for a couple of watches to review (the Spacemaster Z-33 has been reviewed here and soon we will feature a Seamaster AT as well), I made sure that a new Speedmaster Mark II was included. This way, I could perfectly see and try the new Speedmaster Mark II Co-Axial and feel whether there is much difference in wearing it on a daily basis.
Omega Speedmaster Mark II Co-Axial
One of the first things I noticed were the thicker case of the Speedmaster Mark II compared to the old Omega Speedmaster Mark II reference 145.014. The other thing is the dial of course. Besides the date aperture at 6 o'clock, the hands and writing of 'Co-Axial Chronometer', it appeared to me that it is actually a racing dial. The exact same dial as the orange Speedmaster Mark II Racing, but in monochrome. The outer minute markers and hour markers definitely show the racing flag checkers. See below, also in comparison to my Speedmaster Mark II (before restoration). It makes the dial a bit more 'crowded' than the dial of the original Speedmaster Mark II, but not in a bad way.
The tachymeter ring contains Super Luminova and starts to glow when the light is becoming a bit low. A nice feature, as it is now actually usable in bad light conditions. Although one can wonder if a tachymeter is actually being used these days by the average wearer of a chronograph piece.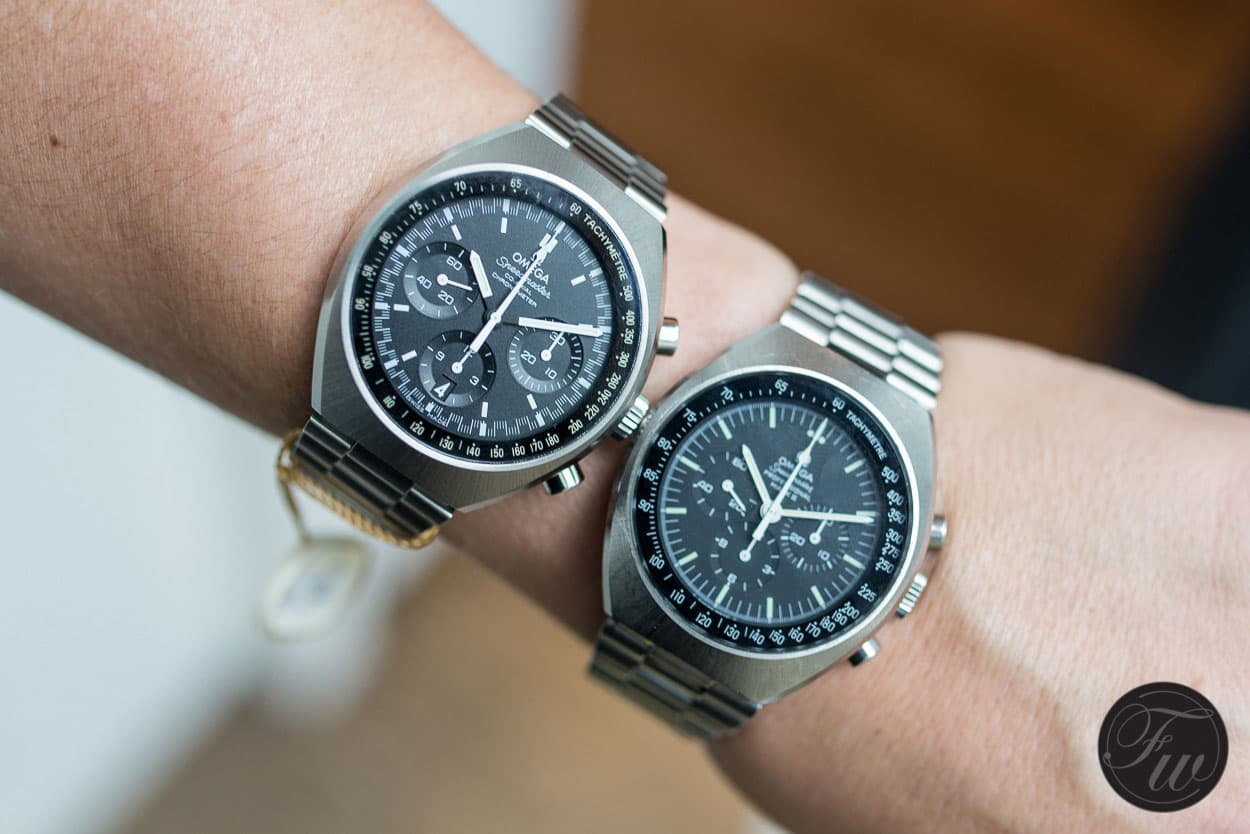 What I noticed during the period of wearing the Omega Speedmaster Mark II Co-Axial, is that it is targeted at a completely different kind of audience that would buy a vintage Speedmaster Mark II. The Omega Speedmaster Mark II Co-Axial is a modern watch, with a self-winding Co-Axial escapement chronometer movement, a sapphire crystal, date function and a comfortable and easy to fit bracelet. A € 5000 Euro (this is including the recent price increase per February 2015) timepiece that meets all the requirements of someone who wants a robust timepiece for every day wear. The guy – like me – who buys a 40 – 45 year old Speedmaster Mark II buys it for different reasons and is probably also conscious of the fact that it is a vintage watch and needs to be treated with care.
Omega created – with this Speedmaster Mark II Co-Axial – something like they always do and did, a good watch for daily use. A watch that might be very interesting for those who love the look & feel of a vintage Speedmaster timepiece, but don't dare to get into the snake pit when buying one. It could also be a very interesting timepiece to buy (or receive) when your father or grand father was or still is the owner of the original piece.
Whatever the specific target audience might be, the Omega Speedmaster Mark II Co-Axial reference 327.10.43.50.01.001 won't let anyone down. Even the vintage Omega die-hards will probably put a smile on their face when putting this watch on their wrists, as long as they see it in the right perspective. A modern watch and a tribute to the original Mark II. I wouldn't call it a re-edition in any case. The 2009 Omega Seamaster PloProf 1200M was more of a re-edition of the original Seamaster PloProf 600M (click here for a comparison article between those two) than this Speedmaster Mark II Co-Axial is for the original 1969 Speedy Mark II.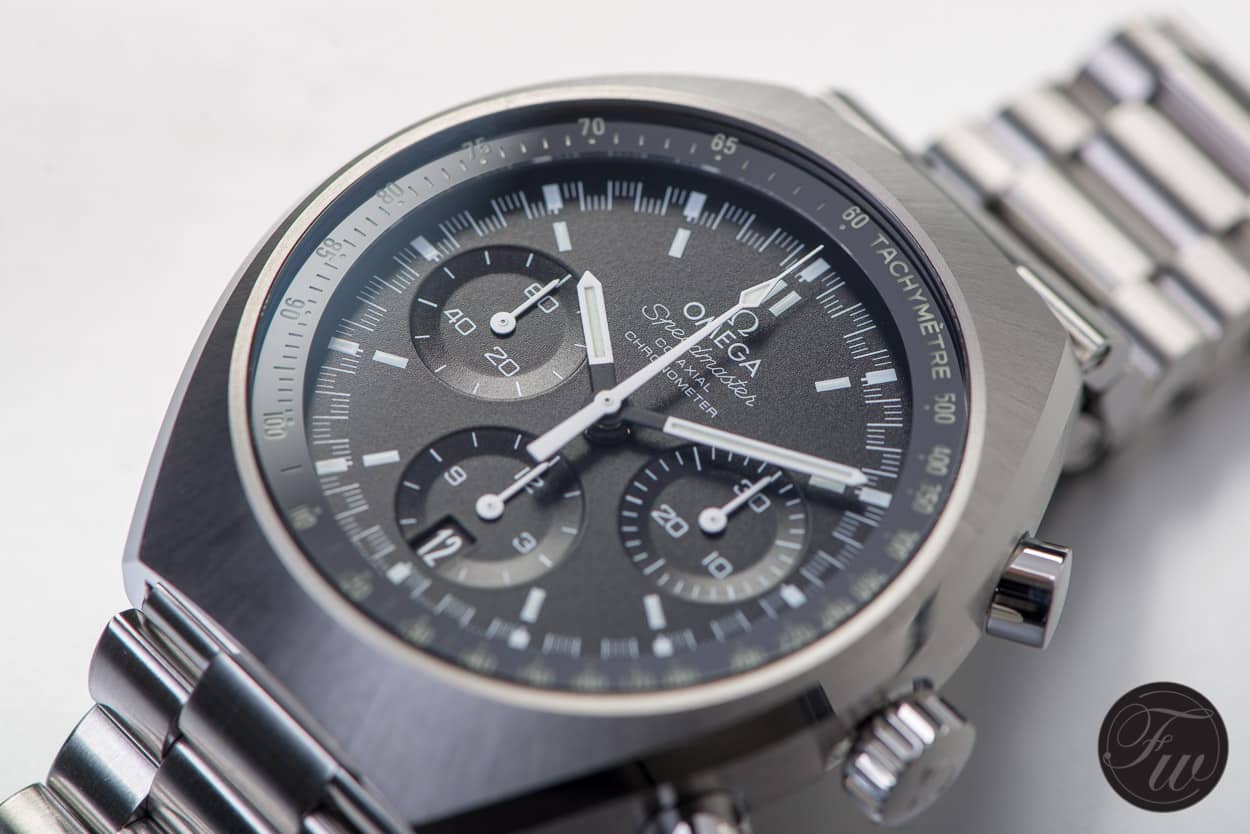 What Omega did exactly right, is the finish of the Speedmaster Mark II case and the bracelet. Instead of using the Speedmaster Pro Moonwatch bracelet, they actually took the old reference 1162 bracelet and made a modern version of it. The new bracelet feels a bit heavier (solid links), has screwed links instead of push pins and a modern folding clasp which is easy to resize with six different positions. It is one of the nicest modern Speedmaster bracelets I've seen so far and wouldn't mind to have a similar one on the regular Speedmaster Professional Moonwatch.
The thick and solid bracelet matches the Speedmaster Mark II case and its weight (and thickness) and I found them to be a great companion for the duration of our wearing-test. It is also the bracelet that matches the 5K Euro price tag of this watch.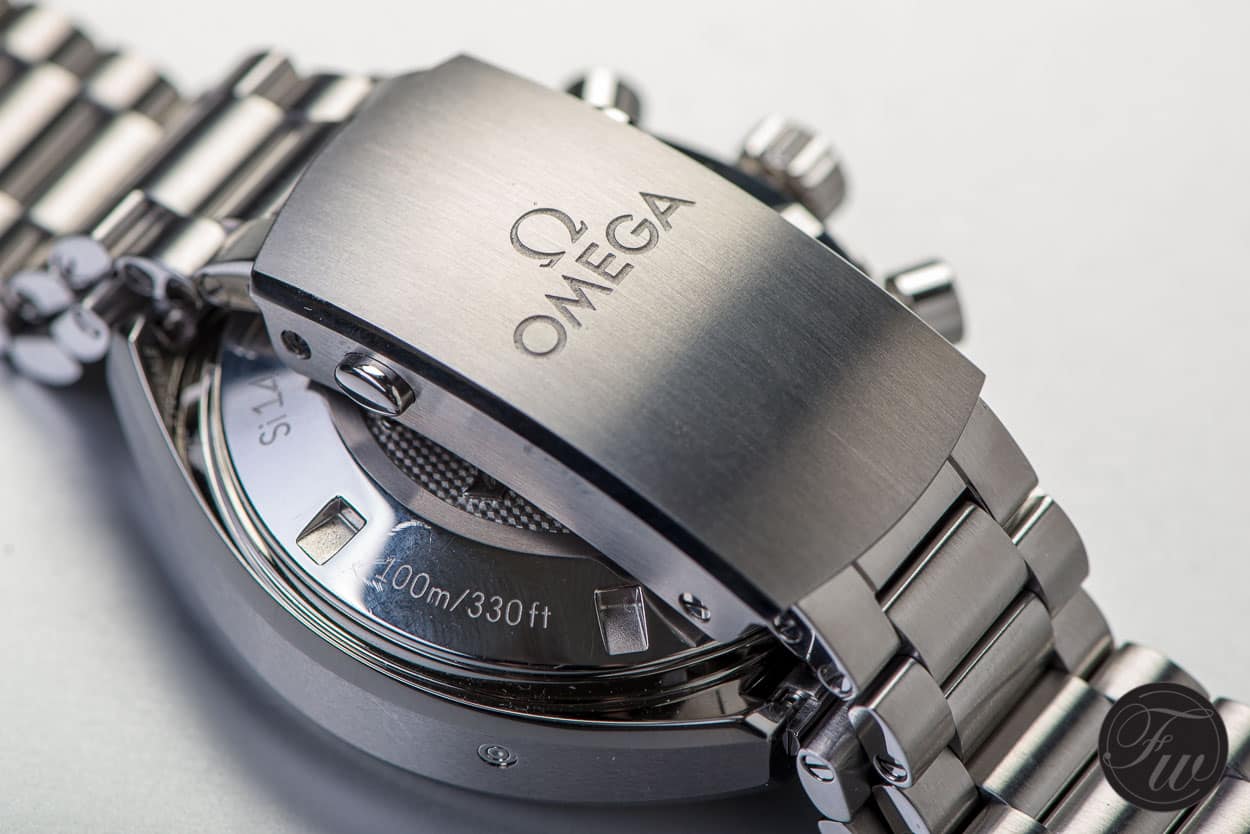 As you can see above, the little corrector is there for the date feature. A typical way to advance the date on this Omega caliber 3330. The movement reminds me of the caliber 3304 that is in the Speedmaster of my wife, without having the Co-Axial escapement and Si14 balance spring. Also, the caliber 3330 has a column wheel mechanism for the chronograph. A reliable movement and probably based on an existing ETA caliber, but I am not entirely sure. It might be a heavily modified ETA movement only available to Omega.
The chronograph and other functions performed as they should do. The start/stop button feels spot-on, due to the column wheel mechanism. There was no hesitation or awkward behaviour through-out the period of wearing. I have to say I am an avid user of chronographs and time different things and activities through-out the day. The dial gives a clear view on the elapsed time and the contrast between dial and hands could not be better of course.
Although I love the caliber 9300 movement that Omega produces, I am glad they didn't use it for this Omega Speedmaster Mark II as the dial lay-out wouldn't have made sense in a Mark II. The movement isn't visible as Omega decided to use a solid case back, with a bas-relief Seahorse and 'Speedmaster' wording.
The Speedmaster Mark II Co-Axial is water resistant to 10 bar (or 100 meters), so another feature of a modern watch that meet today's requirements. You rather take this watch with you in the hotel pool than leaving it in your room, right?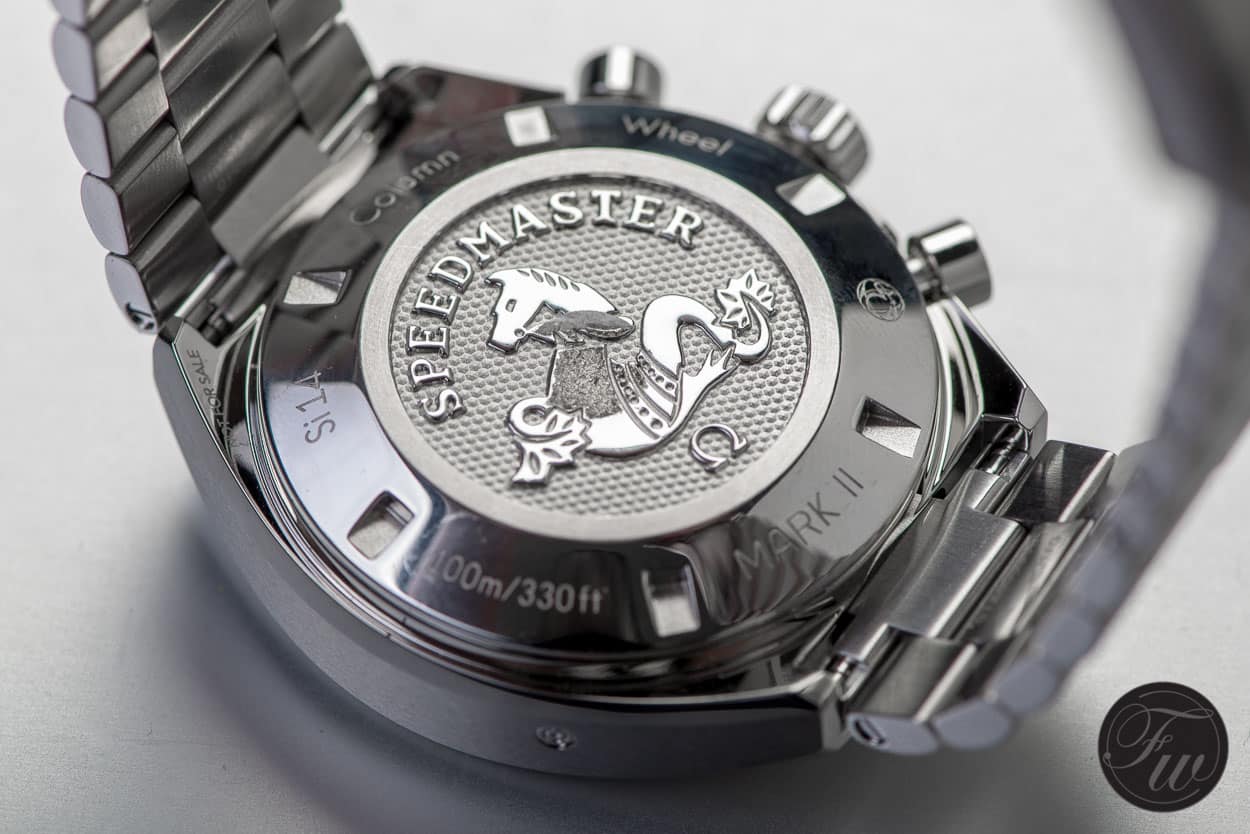 I really enjoyed wearing this watch and believe it would suit me better than the Spacemaster Z-33 that we received at the same time from Omega. It is a no-nonsense modern watch with a clear nod to the original Omega Speedmaster Mark II 145.014 that I have in my modest collection. Where I wouldn't take my vintage 145.014 Speedmaster, I would probably wouldn't mind (or even think about it) taking a Speedmaster Mark II Co-Axial as a companion. Think holidays, swimming and so on.
Would I buy this myself? To be honest I would settle for a modern packaged Speedmaster Pro Moonwatch which costs a bit less. However, I am not you and I personally don't mind winding a watch every other day and a plexi crystal. But this could be totally different from you. So I don't feel I am the right customer for this watch. However, if I look at people around me who are not as deep into watch and who just want to buy a good watch for every day wear, this might be the watch to get or at least to consider. Especially if you have a weak spot for Omega's Speedmaster history.
More information can be found here.