Speedy Tuesday – Omega Spacemaster Z-33 Review
Let's be honest, after the 1980s of the last century, in the 'real watch world' there are only very few quartz watches considered as serious products. Rolex had its Oysterquartz models from 1977 till the early 2000s, not specially intended for professional use, and Breitling always had their Chronospace and Aerospace models which were aimed at airline pilots. That was pretty much it.
Except some Casio-like digital Speedmasters (some even signed Professional) that were introduced in 1977, for Omega it started to get serious in 1998 with the introduction of the Omega Speedmaster Professional X-33, nicked the 'Marswatch'. The earlier tuning fork movement Speedsonic line and the digital LCD Speedmaster Quartz, were also prototyped in different examples under NASA's Alaska project but not approved nor used by NASA.
The digital-analog Speedmaster Professional X-33 however was qualified for space missions by NASA in 1998 and flown on the MIR space station and Space Shuttle Columbia during STS-90 later that year. The X-33 later came in a 2nd generation model with minor changes in the casing, bezel and crown (not in the quartz module or functions). That model however, was hardly available on the market and is said to be still available, only for professional (read NASA, probably ESA) use. A 3rd generation X-33 was introduced earlier this year (2014) at Baselworld, nicked as 'Skywalker' and hits the stores just about now (click here for our X-33 3rd generation article).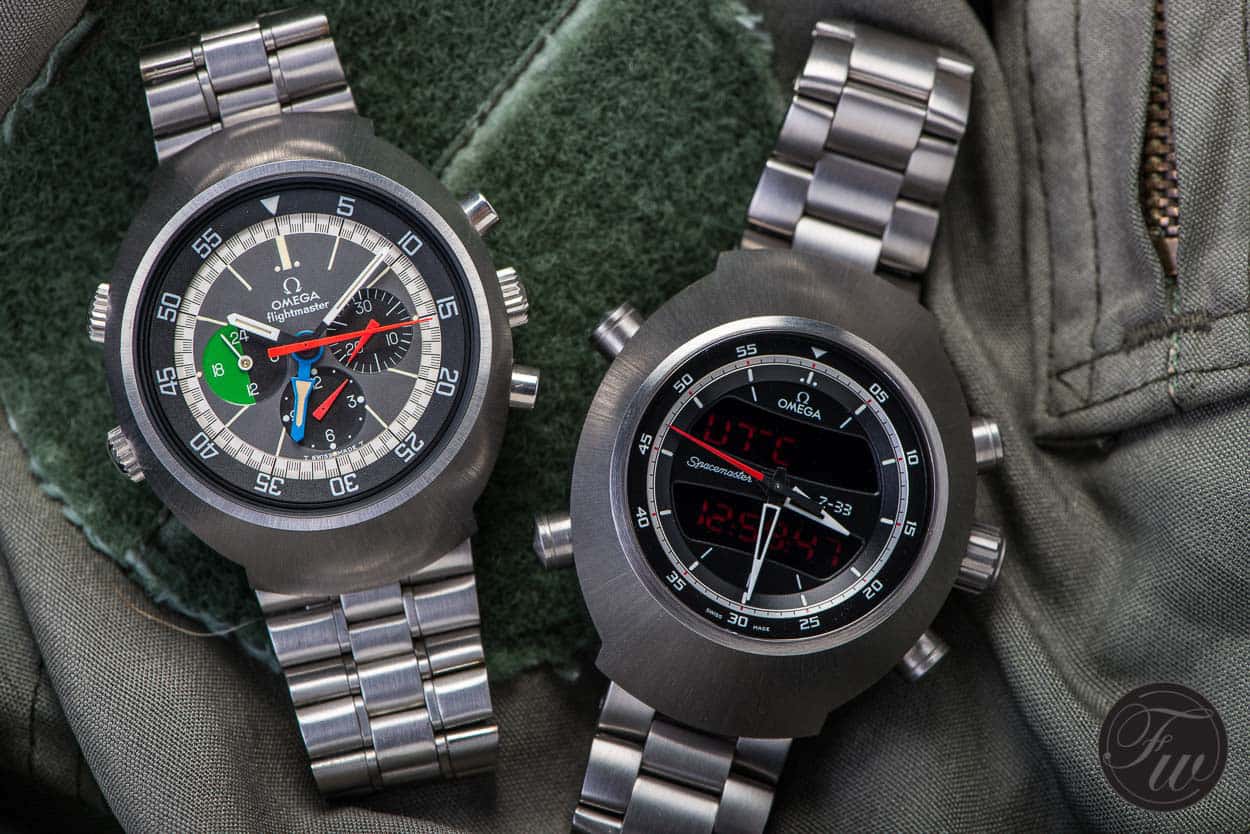 Omega Spacemaster Z-33
Meanwhile however, Omega introduced another professional quartz watch in 2012, the Omega Spacemaster Z-33. This watch, which we are reviewing here, is more or less based on the case design of the 1969/70 pilot-aimed mechanical Omega Flightmaster (as you can see in the photo above). Although the name probably indicates differently, the Spacemaster is probably less typical space orientated than the Speedmaster Professional X-33, and is aimed more towards the recreational or even professional aircraft pilot.
Just as an example, the Speedmaster X-33 has a 'Mission Timer' function which is able to time a mission for several days (even years), the Spacemaster has a function to time and log taxi-, take-off and air-born times when operating an aircraft.
Undoubtedly, professional quartz watches are as reliable as mechanical watches (as long as the battery lasts) and they can certainly provide many more functions than their mechanical counterparts. Still, the feeling is different. Especially for watch enthusiasts like you and us. A battery-operated integrated circuit and the additional digital display doesn't give the same reliable feeling as hands and indicators which are mechanical driven.
Anyhow, after we reported on the Omega Spacemaster Z-33 already in November 2012 as a Speedy Tuesday article here 'Speedy Tuesday – OMEGA Spacemaster Z-33' we now had the pleasure of testing and wearing the watch for a couple of weeks. In our first article we included some links explaining all functions as well as the technical specifications of the Omega Spacemaster Z-33. In the rest of this article we will emphasis  more on our hands-on wearing observations.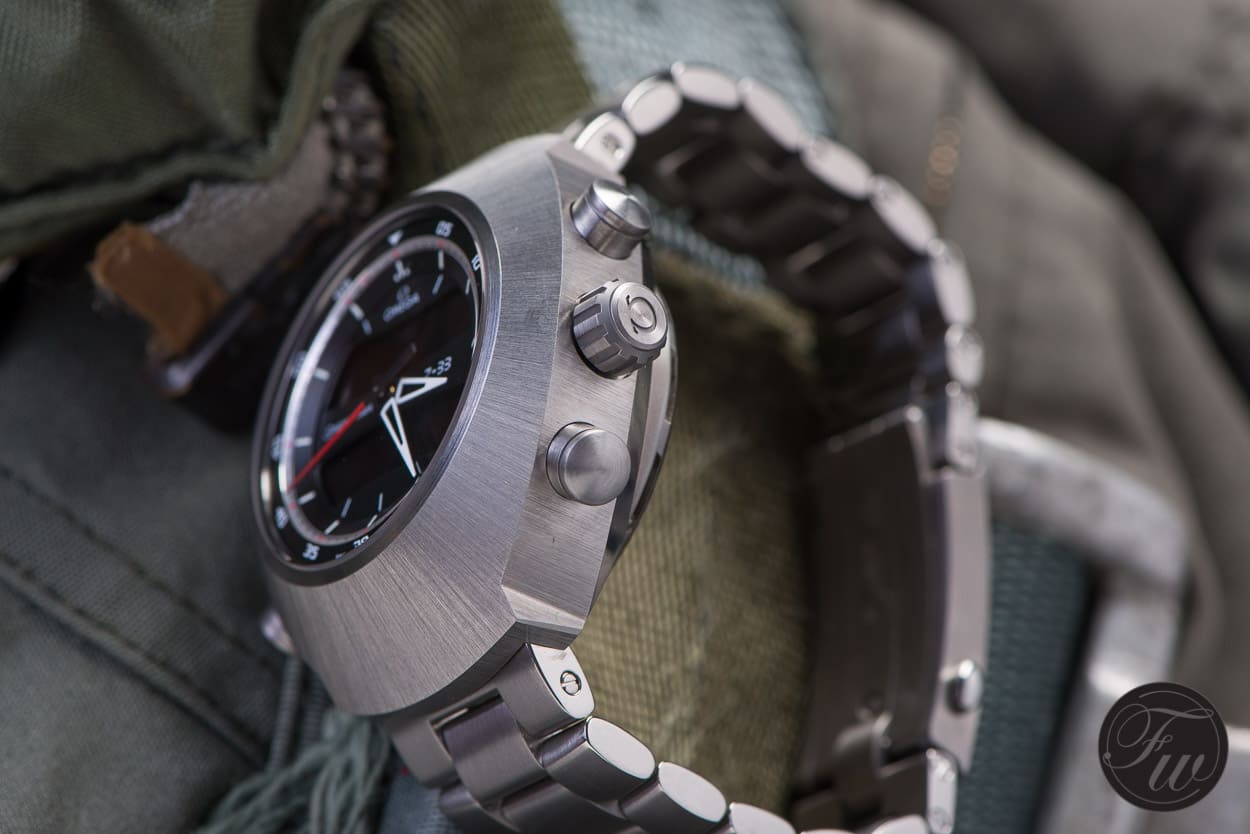 On First Sight
Although the Omega Spacemaster Z-33 is not signed Speedmaster on the dial (on the caseback it is being mentioned however!) it clearly shows the Speedmaster DNA. Probably the thin 5-minute indexes and the dots beside the 12-indicator are enough to let the Omega Spacemaster Z-33 feel like a real Speedmaster. The hands are certainly not belonging to a Speedmaster, and the dial, without sub-dials and with LED displays isn't either. The case design is Flightmaster-like indeed, a watch which always had a tight relationship with the Speedmaster and worn by Cosmonauts as well.
When putting the Omega Spacemaster Z-33 on your wrist, it will immediately become clear that it is a thick watch. It is huge! Although the diameter did not shock us, the height did. A closer look learns that the resonance box (for the alarm function) on the back is the major cause of this. We will come back to this later on.
Another thing we've learned after strapping the Omega Spacemaster Z-33 on our wrist is that you will NEED to read and follow the manual to even get it set and going. There are 4 multi-function buttons plus a multi function, dual operational crown to set and use the watch. At first glance it is frightening and leaves you puzzled; nothing intuitive here.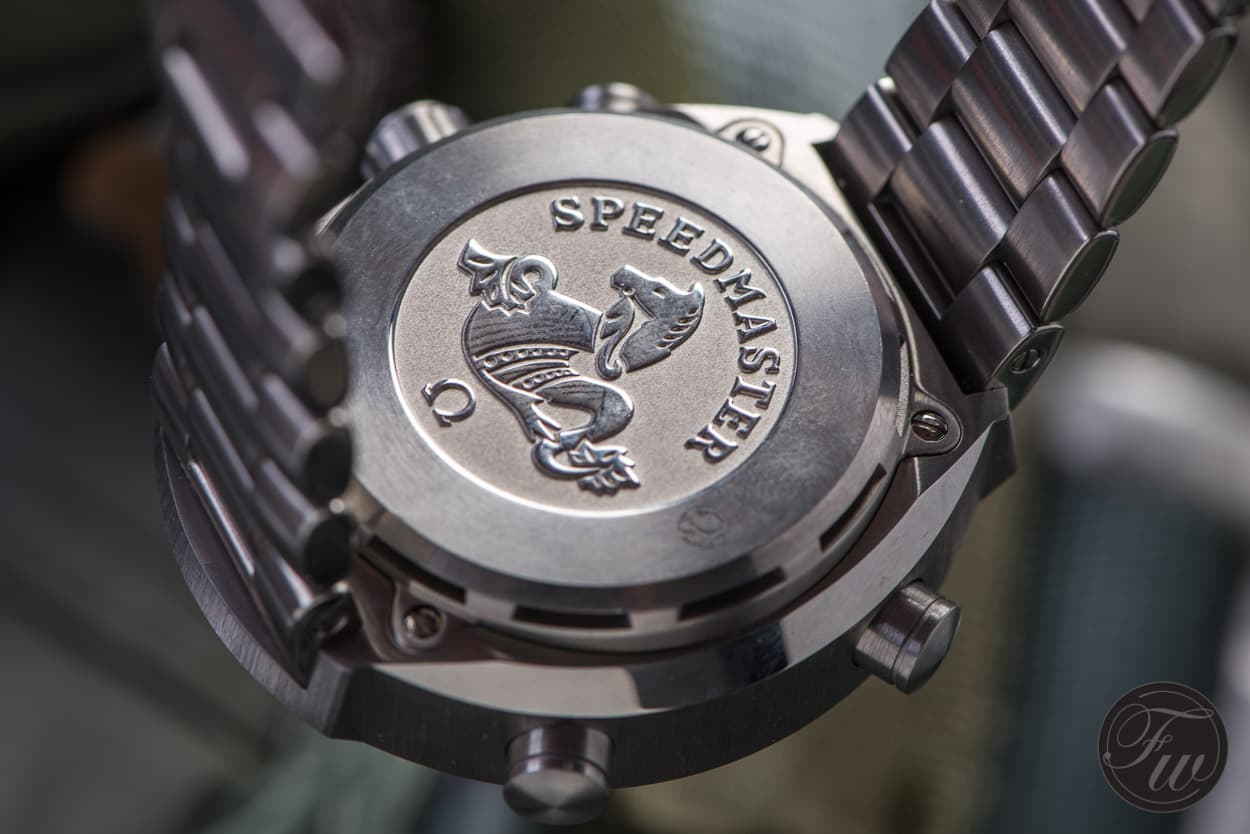 After Wearing It For a While
So after spending an hour and a half on learning and setting the Omega Spacemaster Z-33, daily use proves that it is a more comfortable companion than one might expect on first sight. As mentioned before, it is a thick watch, however the Omega Spacemaster Z-33 is wearing quite comfortably. With its grade-5 titanium casing it's certainly not heavy and it's also a very readable watch. One quick glance learns what time it is, without needing a second look. The two white hands for hours and minutes are clearly divided from the red second-hand. There's nothing else which distracts from telling the time at a glance.
In darker environments the two time-hands are still very easy to read; the second-hand is quite quickly 'non-existent' in dull light. Of course, the white time-hands are luminous and the red second-hand isn't. In even darker circumstances, when (even) the luminous hands aren't visible anymore (I got the opinion that this was the case rather quickly, the hands didn't light up for a long time) there's not much possibility(*) to tell the time.
The size of the watch proved not to be a major problem during daily use. Only when wearing a thick and tight winter jacket I found myself looking at my phone rather than peeling the watch from under my tight sleeve. Other people keep telling you that you're wearing a thick watch though.
(*) In fact there IS a possibility to read the time in total darkness; if you could manage to turn the crown to have the upper display indicate 'time 1', the lower display illuminates and indicates the current time in 24-hour format. 'Time 2' indicates a user selectable 2nd time zone, and 'UTC' shows, well… UTC.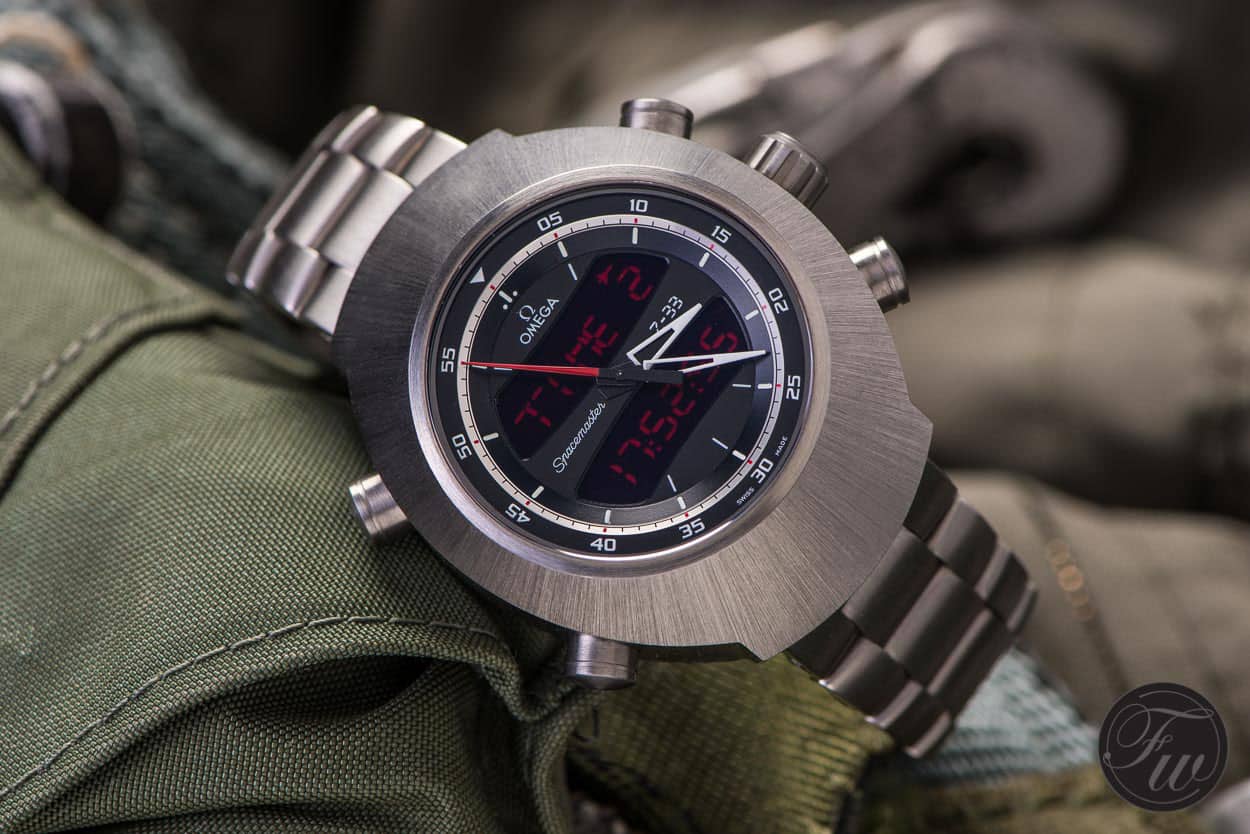 After Wearing The Omega Spacemaster Z-33 Somewhat Longer
You will get used to wearing the Omega Spacemaster Z-33 very quickly, and don't notice it on your wrist most of times – which I think is a good thing. If you don't use the functions of the watch every once in a while, you will tend to forget how to use and set these functions. There's one easy and very practical function which lets you program the upper left button to the two functions you want to use most. In my case those were the calendar and the chronograph function. Wherever you are in the navigation menu of the Omega Spacemaster Z-33 and whatever function is displayed on the LED display, a push at this button brings you back to – in my situation – the calendar, and a next push, the chronograph function. It feels like a safety net 😉
Other Observations
When using the lower left button to light-up the LED display in the dark (f.i. to read the date), the time and hour hands move both to the 3 or the 9 position (depending on the time, before or after 12:00-18:00 hour) in order not to obstruct the displays. Well, not exactly to the 3 or 9 position, however two minutes after the 3 or before the 9. It looks kind of weird because they're not nicely horizontally aligned. Nothing serious, but it looks awkward and I couldn't come up with a reason why it was done like this.
Then a bit of a negative point on our review watch, which I can't believe is the case on all Omega Spacemaster Z-33 watches in general: the sound level of the alarm and timer. With such a huge resonance box on the case back – and we are talking about a watch which should operate in noisy environments like a cockpit – you expect a sound level which scares anything around you when it's going off.On the contrary for our review watch, it couldn't even be noticed in a quiet restaurant environment. I did some measurements with an iPhone noise level meter (for what it's worth) and the results were dissappointing. In an ambiance with a silent noise level of 35 dB, the Omega Spacemaster Z-33 came to a noise level of 42 dB (at 1 meter) when sounding the alarm or timer. I don't know if this indicates something understandable, I guess the restaurant test was more clear in a practical way. Again, and since I know the sound level of for instance Omega's Speedmaster X-33 or Breitling's Emergency and B-One, I can't imagine that our review watch was functioning correctly on this point.
The flight timer function, which gives a nice airplane icon in the upper right corner of the display, is – except for that icon – pretty useless for the average wearer of the Omega Spacemaster Z-33. You definitely need to be a pilot to have use for this type of functionality. For the non-pilots amongst us this function is hardly understandably as it can't be used for anything else than logging flights.
All in all, the above leads us to the following conclusion: We loved wearing, trying and using the Omega Spacemaster Z-33 watch. It's such a special watch with so many special functions. There's nothing which really annoyed us about the watch in daily life (except for the – probably – malfunctioning low alarm noise level). Even with a price tag of almost € 4.400,= Euro I would seriously consider buying it myself compared to mechanical watches at a same price level.
The Omega Spacemaster Z-33 is available on a titanium bracelet (as pictured in this article), on a black rubber strap, and on a brown leather strap. More information on the watch, including an interactive operating manual, can be found at Omega's official website here.
Below you will find our photo gallery with more images of the Omega Spacemaster Z-33.