Speedy Tuesday – Omega Speedmaster Chronometer White Gold
For those people who are not that familiar with the Omega Speedmaster limited edition models, it might seem that there are just LOTS of them without any logical structure. It does need a bit of attention to discover how it exactly works with these limited editions, but for the Apollo XI example, it is quite simple.
Since its 20th anniversary in 1989, there is a commemorative Omega Speedmaster Professional Apollo XI edition every 5 years. However, the first commemorative Apollo XI model is from 1969, in stainless steel and in gold (the BA 145.022 we talked about here). In 1979 Omega introduced the 10th anniversary Apollo XI model but didn't deliver it to the (partly German) market until 1980 (this would be the 345.0802 model we saw on the wrist of Stafford). Then, it ook until 1989 to start the Apollo XI limited edition series every other five years.
In 1994, besides a stainless steel version of the Apollo XI 25th anniversary limited to 2500 pieces, a series with display backs for the Italian market limited to 999 pieces and a platinum skeletonised Speedmaster limited to 50 pieces, there was this Omega Speedmaster Chronometer in white gold limited to 500 pieces.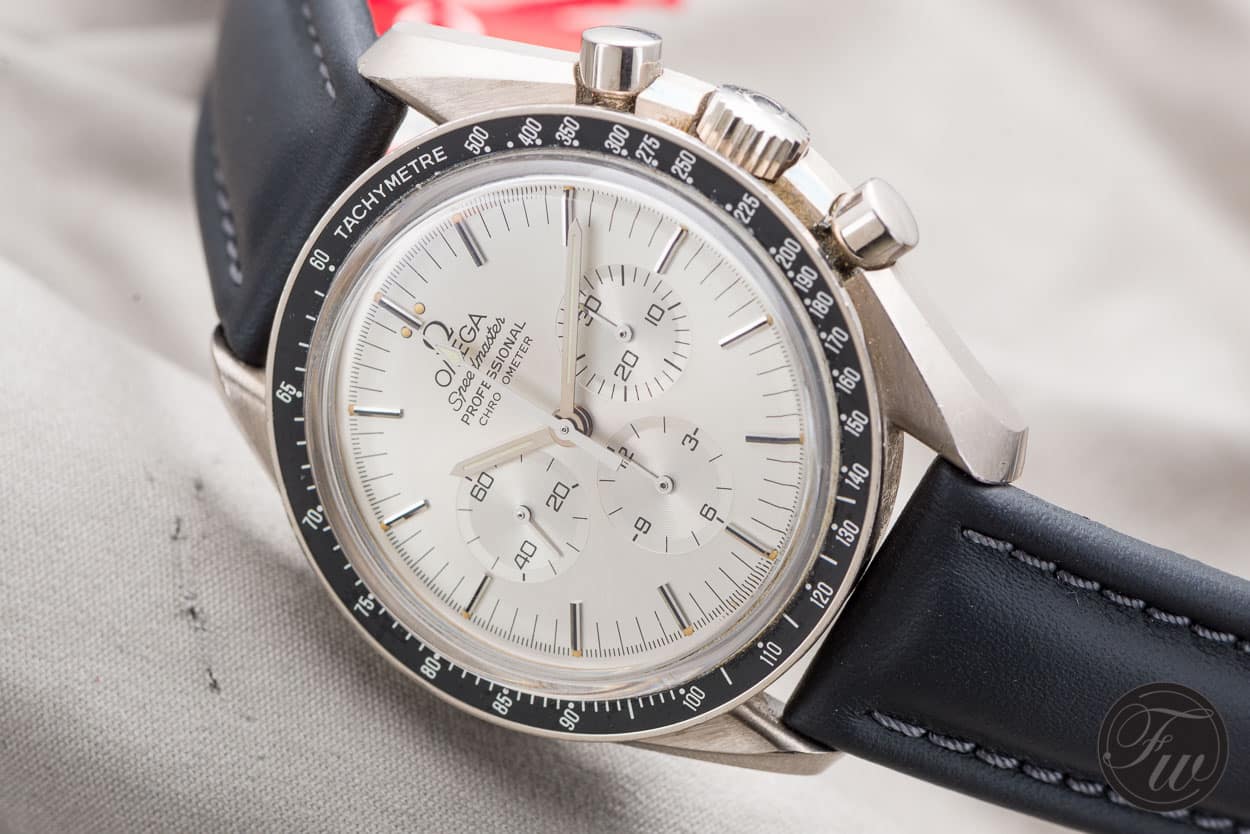 Omega Speedmaster Chronometer 3692.30
This Omega Speedmaster Chronometer in white gold came in two versions, one with a white gold bracelet (reference 3192.30) and the version we have here for you today, on a leather strap (reference 3692.30). As you've probably noticed, not only the case material is different from the regular Omega Speedmaster Professional, also the dial and hands are different. The white dial has long applied indexes and silvered hands. Before 1997, Omega used tritium as luminous material so this particular watch has the t-dial and tritium hands.
The case of this Speedmaster is made of 18 carat white gold. The white gold case back has a sapphire crystal to allows you to have a look at the beautiful Lemania based movement. As the dial already indicates, it is a chronometer-rated movement. Omega caliber 864 has been certified by COSC and used in all 500 white gold Apollo XI pieces in 1994. It is a rhodium plated movement based on the luxury finished caliber 863 that has been used in other Speedmaster display back models.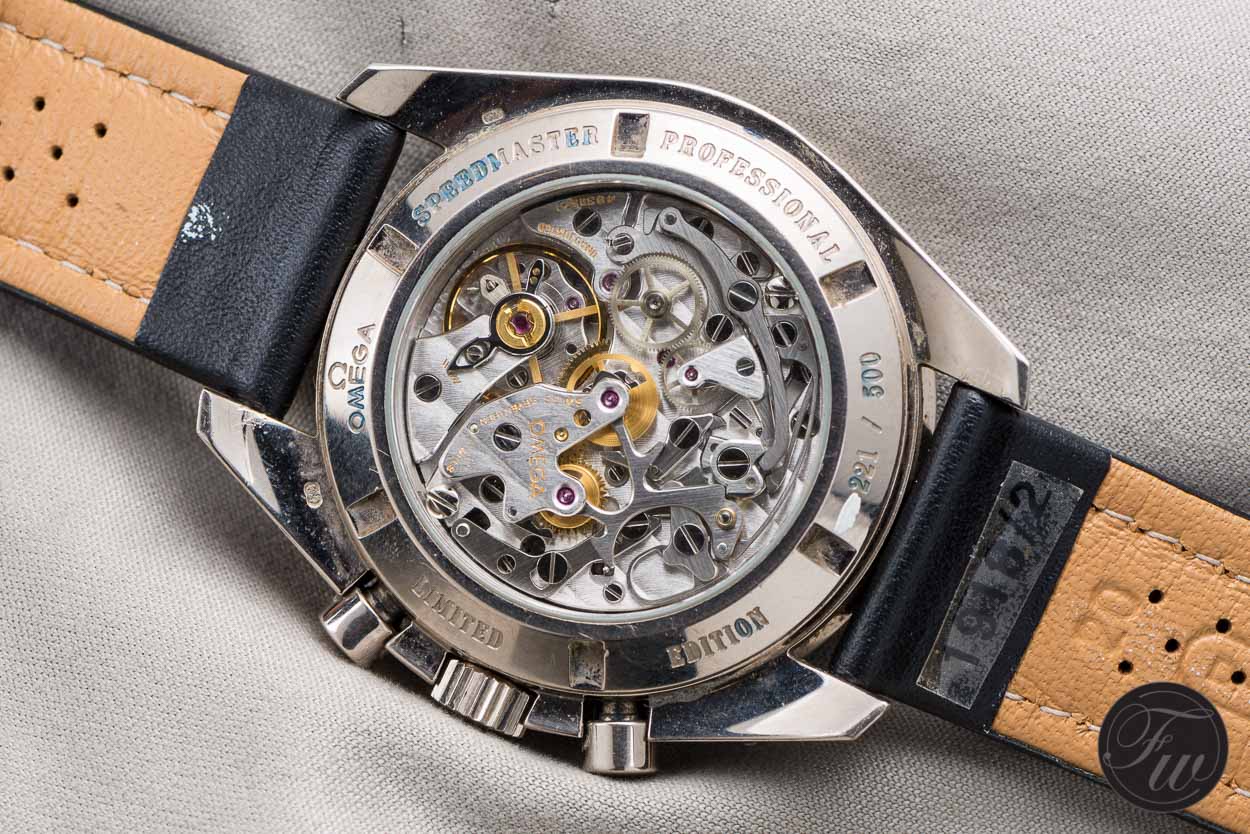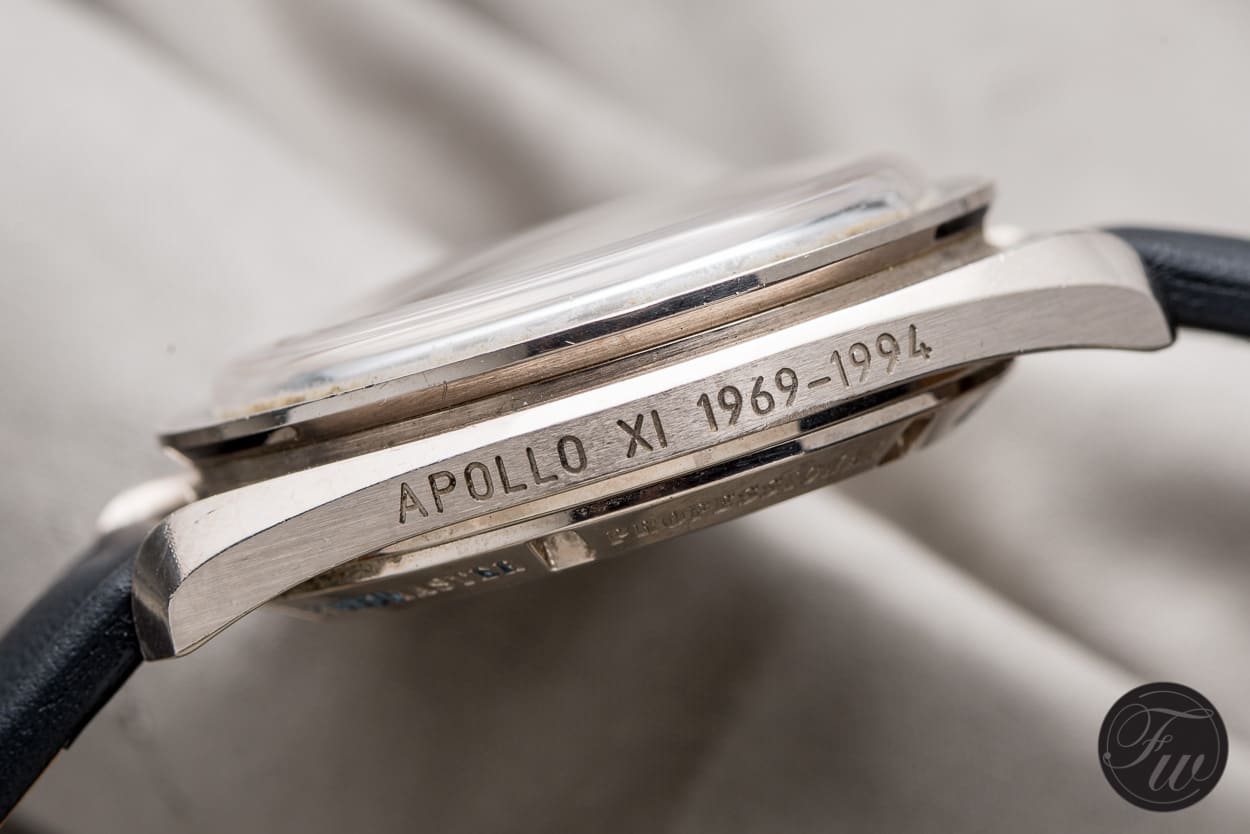 The case band has been engraved with "APOLLO XI 1969 – 1994" to mark the occasion, just like its stainless steel Apollo XI 25th anniversary cousins. This Omega Speedmaster Chronometer came in a beautiful brown leather box in the shape of a book and a certificate with the number of the watch.
Although these white gold Omega Speedmaster Chronometer watches are quite rare, once in a while they'll pop-up for sale. At this moment, there are two white gold Omega Speedmaster Chronometer 2692.30 watches for sale in Italy via Chrono24. One is for sale at Tristargold.it for € 9000,- Euro (~ $11,200.- USD) and comes with box and papers and the other one is for sale at justintimewatches.it for € 8.600,- Euro (~ 10,700.- USD) and only comes with an Extract of the Archives from the Omega Museum.
Even though the watch doesn't remind you of the original Moonwatch due to the white dial and white gold case, it is a very interesting piece. Also at the prices mentioned, you will have a watch with significant history, significant movement and in gold. Perhaps it is not the first choice if you don't have an Omega Speedmaster at all yet. but for Speedmaster collectors and enthusiasts it might be very tempting to pull the trigger on these ones.
The version with the white gold bracelet (reference 3692.30) is more difficult to find as it seems. Also, it is unknown to us how many of the 500 pieces have been delivered with a leather strap and how many with the reference 1479 white gold bracelet (that's right, the white gold bracelet has the same reference number as the one in stainless steel from that era).