Speedy Tuesday – Omega Speedmaster Day-Date Mk40
Omega's Speedmaster family comes in many different variations, but always with that special Moonwatch DNA. In the 1990s and early 2000s, one of the popular Speedmaster models were the Speedmaster Automatic 'Reduced' watches. One of our friends, Andreas S. Gregoriades sent us photos of this wonderful Omega Speedmaster Day-Date Mk40 Triple Calendar watch.
Omega Speedmaster Day-Date Mk40
There were a number of Speedmaster Reduced models (click here to read our Speedmaster Pro 'Moonwatch' versus Speedmaster 'Reduced' article), but these Triple Calendar models were – to me – the most exciting variations. This particular Omega Speedmaster Day-Date has reference 3520.50 and was introduced in approximately 1996. It is also being referred to as the Speedmaster Mk40 or TDate. The TDate stands for Triple Date of course and Mk40 is a nod to the Mark series watches with their day and date indicators.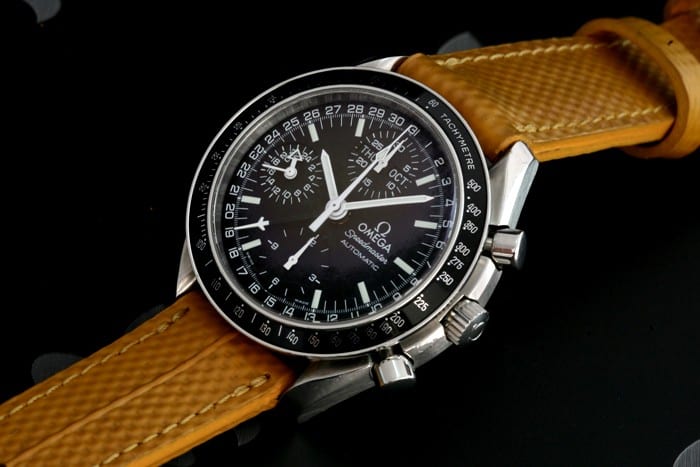 People who did not fancy a manual wound Omega Speedmaster Professional with Hesalite crystal had a number of options to buy a Speedmaster with an automatic movement and a sapphire crystal instead. This Speedmaster Day-Date 3520.50 model was one of them. About a year later, in 1997, this Speedmaster Day-Date Mk40 became also available in rose gold (reference 3623.33).
Another well-known variation is the Speedmaster Day-Date Mk40 3820.53, using red hands and a blue and black day/night indicator at the 24 hour disc.
This Speedmaster Day-Date Mk40 has a diameter of 39mm, without the crown. Compared to the 42mm manual wound Speedmaster Professional it is a bit smaller. The dial of the Speedmaster Mk40 is completely different from a regular Moonwatch though, with its day, date, month and 24 hour indicators. The date is indicated by a large hand, that looks similar to the minute chronograph hand on some of the former caliber 1040/1045 Speedmaster models from the past (click here to read about the Speedmaster Mark III, Speedmaster Mark IV and Speedmaster Mark V).
The automatic movement of the Speedmaster Day-Date is Omega's caliber 1151. This movement is based on the famous ETA / Valjoux 7751 movement. A work-horse and different from the aforementioned Speedmaster Reduced (3510.50) that uses an ETA 2890-A2 with a Dubois-Depraz chronograph module on top. The Valjoux 7751 is a dedicated chronograph movement, whereas the Speedmaster Reduced uses a so-called piggybacking movement.
On the left side of the case, you will see the corrector for the date.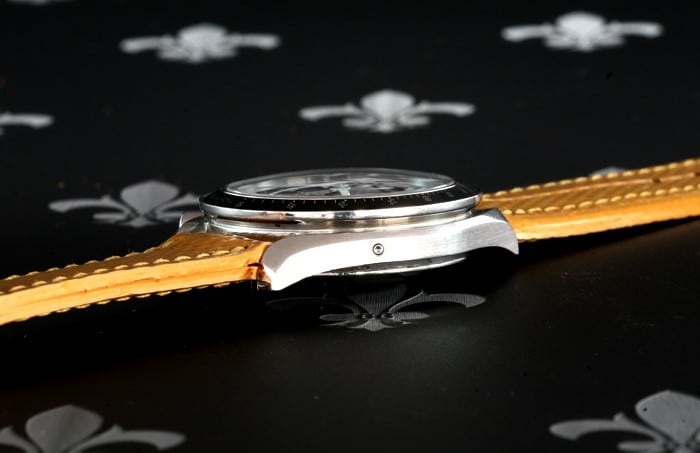 The Speedmaster Day-Date Mk40 is an interesting watch for those who are looking for a self-winding Speedmaster with a date feature. A modern interpretation of the Speedmaster Professional perhaps. Although this watch has been long discontinued from the Omega catalog, you can source them easily via eBay, Chrono24 or the various Sales Forums on-line.
Since these watches aren't that old, try to source a Speedmaster Day-Date that comes complete with the original Speedmaster bracelet in stainless steel (reference 1562 with reference 850 end-pieces) and box and papers.
The case back is a pressure-closed instead of screw-down on the Moonwatch models. On the inside of the case back, the case number is engraved (175.0084) and some brand marks (Omega Watch Co and Swiss Made). On the outside, the case back has the Seahorse logo embossed as well as the Speedmaster wording. Below, you will find the serial number of the watch. If there are no papers with the watch, you can request an extract of the archive at Omega in Switzerland using this serial number as well as the case (175.0084) or PIC number (3520.50).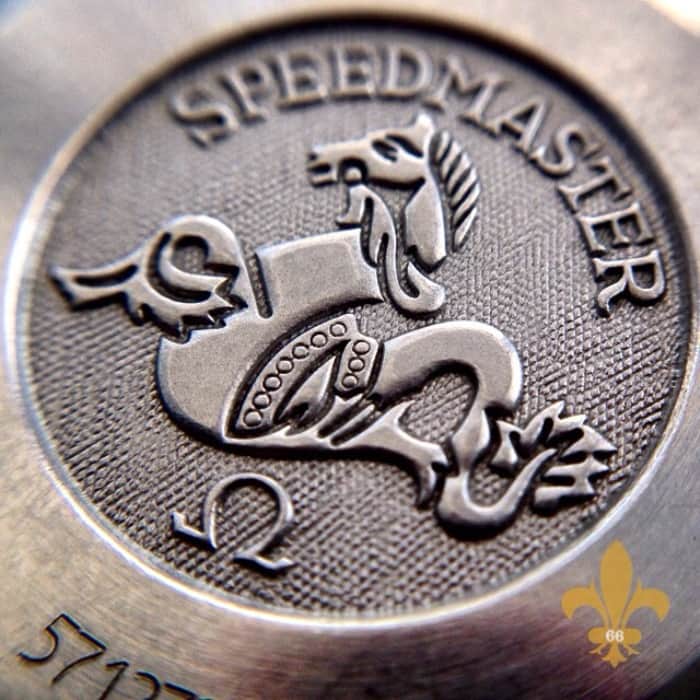 More photos can be found below in the gallery that was sent to us by Andreas. His on-line shop can be found here.
If you have an Omega Speedmaster that you'd like to see featured here on Speedy Tuesday, use the contact form to get in touch with us.
There are still a few spots available for our LONDON SPEEDMASTER GTG on Friday 7th of November. Register now!