The 1980s could not be described as the decade with the epitome of good taste. Today's Speedy Tuesday subject is a typical product of the 1980s, a bi-color Omega Speedmaster Professional DD145.0022. Although the case design, dial and bracelet are those of the typical Speedmaster Pro, the use of materials and colours could be defined as '1980s'.
Personally, I would not mind owning this Omega Speedmaster Professional DD145.0022 as I am a kid of the 1980s and love these things. They bring back memories of how things were in those days.
Omega Speedmaster Professional DD145.0022
The Omega Speedmaster Professional DD145.0022 has not been made in huge quantities, but there is no information available on the production number. This watch was not limited or numbered. The gold bezel and center links of the bracelet are gold where the dial has a gilt finish.
The thick and beautiful applied hour markers could have an onyx inlay, but we are not sure about this. Any information on this would be very welcome. Omega used onyx for their hour markers more often in the past, especially with certain kind of Constellation models. The dial of this Omega Speedmaster Professional DD145.022 appears to be very similar in execution as the 'Stafford' Speedmaster Professional BA 345.0802. The subdials are also gilt finished on that specific model while they are in grey colour on this watch. The grey matches the rest of the watch quite well in our opinion.
If you are a regular visitor of Fratello Watches, you might recognize this watch from an earlier article (here). Although we did not get much more information about this Omega Speedmaster Professional DD145.0022 in the meanwhile, we were able to get better photos and find a model with the correct end links of the bracelet. Once in a while, you will come across these models with a stainless steel end link (also pictured liked this in Omega's Journey Through Time book). However, we think it should be like the model in this article, with a gold middle part as well.
The bracelet on this piece has the same reference as the normal stainless steel bracelet of that period, reference 1171 with reference 633 end-pieces. We've seen more often that Omega used the same reference number on gold bracelets as they did for their stainless steel pieces. Gold is of course heavier than stainless steel, but the links of the bracelet are hollow (folded) so the difference in weight is negligible. The same goes for the case of course, the bezel is gold but the rest of the Omega Speedmaster Professional DD145.0022 (including pushers and crown) is made of stainless steel.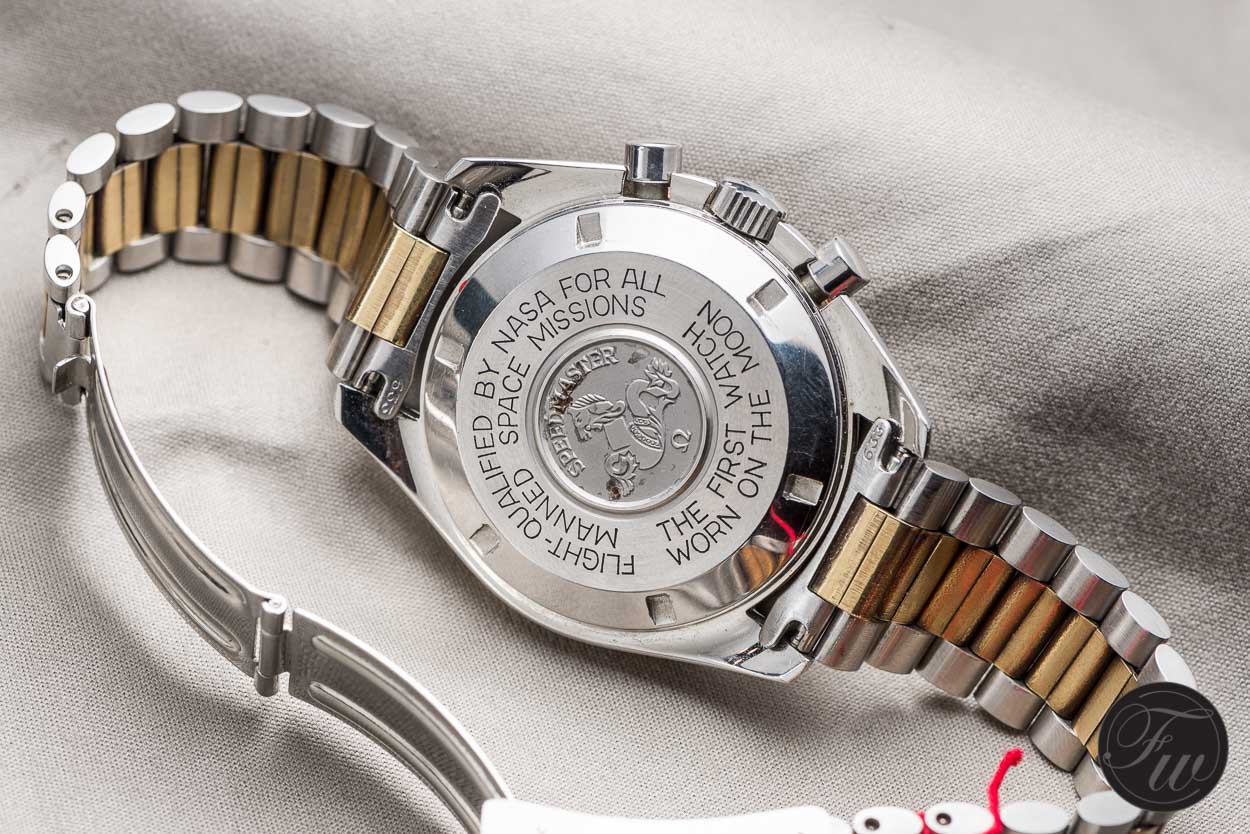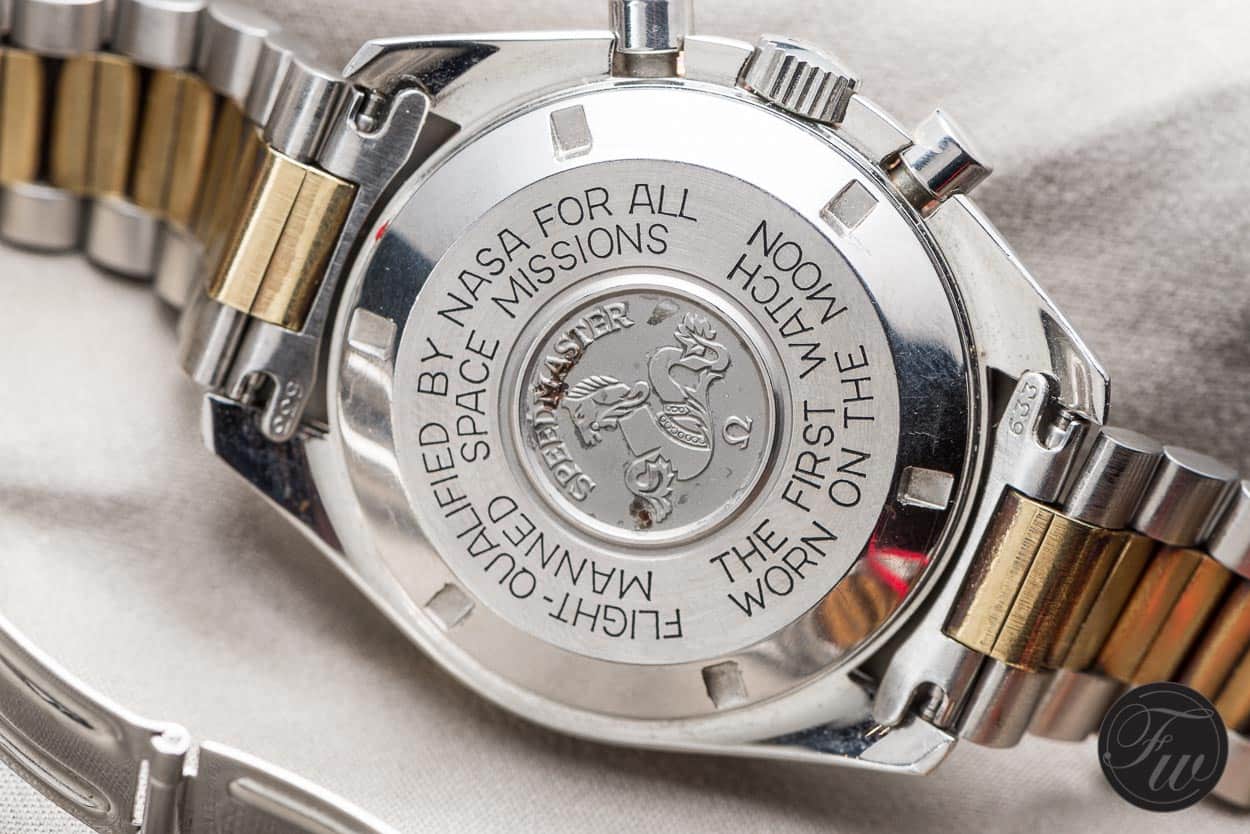 The case back has the normal "Flight-qualified by NASA for all manned space missions" and "The first watch worn on the Moon" engravings as well as the bas-relief medallion in the center.
Inside there is the copper-gilded Lemania based caliber 861 movement with nylon delrin-brake. A solid movement that Omega used from 1968 till 1997 in several different executions and with different types of finish. In 1997 this movement was succeeded by the newer type caliber 1861 movement with rhodium finish.
The Omega Speedmaster Professional DD145.0022 (the DD was used to indicate two-tone watches) is a rare watch that was produced in the early 1980s. Even though bi-color is not as popular as an all stainless steel watch or a full gold watch, this particular model is hard to find in a good condition and with box and papers. We've seen a couple of them for sale over the past two years on Chrono24, but none of them were in mint (or complete) condition. Some times you will come across one without the correct bracelet or sometimes even with a normal stainless steel & black bezel. Note that Omega doesn't have these gold bezels in stock any more.
Some people have all the luck and find an Omega Speedmaster Professional DD145.0022 in a drawer.

Robert-Jan Broer, born in 1977, watch collector and author on watches for over a decade. Founder of Fratello Watches in 2004.

Latest posts by Robert-Jan Broer (see all)