Speedy Tuesday – Speedmaster 145.022-69 Three Musketeers
This week, we have another collector's story for our Speedy Tuesday feature. Our reader Alexander submitted this story about his collection of Omega Speedmaster Professional watches from 1969. A special year for the Speedmaster, as it became the Moonwatch on that day in July 1969. Something that did not happen by accident, of course, but was the result of an official procurement process and some rigorous testing. We covered that entire process here. Although it was the reference 105.003 that was subject to these tests and the later 105.012 and 145.012 references that were sent to NASA for actual use by astronauts, the 145.022 received the case back with the "First Watch Worn on the Moon" and "Flight-Qualified by NASA for all manned Space Missions" engravings. The 145.022 (introduced in 1968) was also delivered with a post Moonlanding case back, with no engraving other than 'Speedmaster' and the famous Seahorse logo.
Without further ado, Alexander's story on his 1969 Speedmaster models.
Three Musketeers From 1969
As the title of this article suggests, this is my story about the Omega Speedmaster Professional watches from 1969 that I have in my collection. First, let's get the elephant in the room to leave so we can focus on the watches in this article. We all know in the meanwhile, that the year reference stamped inside the case back of the Speedmaster Professional does not refer to the actual production year of the watch (only the serial number does!), but for the sole purpose of this story, the reference number 145.022-69 engraved inside my watches is the reference that keep them together as a family.
The 1844 novel written by Alexandre Dumas, recounts the adventures of three musketeers plus one (d'Artagnan), and this story copycat the number play, so I will be telling the story of how these three Omega Speedmaster 145.022-69s ended up in my collection, plus one.
The Fratello team has covered several times the different case back produced with the stamped 145.022-69 (click here for the article on the 145.022-69), so my story focuses on how these watches found me at the right time and the right place. I am true believer that the motif for collecting vintage watches (or any other thing you like to collect), is that the best part of the whole process is the hunting for the perfect piece according to your own standards. The process covers gathering the funds, a lot of study of your prey, looking for the watch at all your sources, negotiating the right price (or handling the bid, if apply), and finally closing the deal on your new beloved family member.
Seahorse Medallion Speedmaster 145.022-69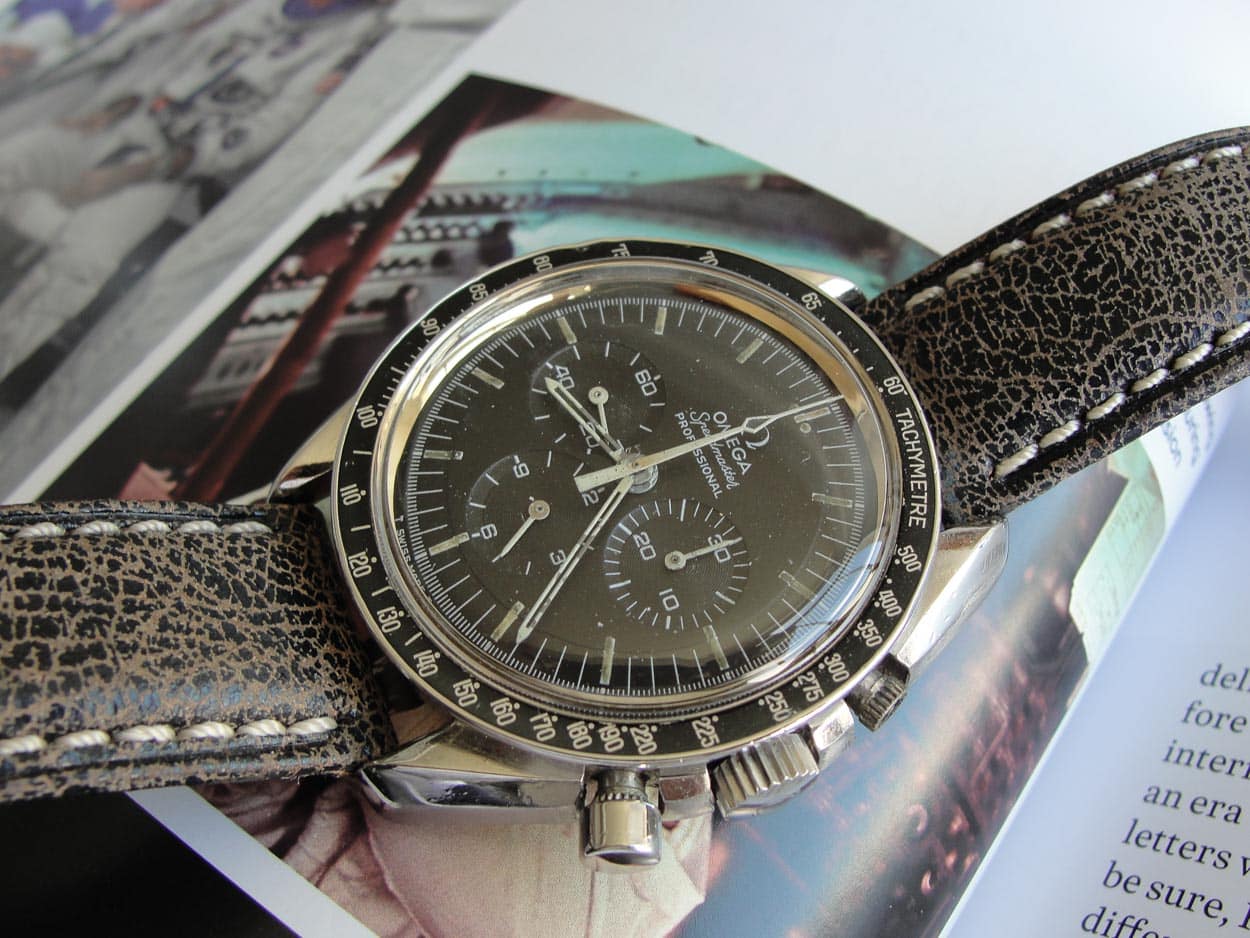 But in the case of these 3+1 pieces, all 4 look like they came to me, not the other way. The first 145.022-69 I got was the Speedmaster with the seahorse medal case back, back in 2008. I was at a big pawn shop picking up an Omega Speedmaster Mark III that I ordered online. While I was in the shop, I spotted this Speedmaster 145.022-69 on the salesperson's desk, so I asked him about it. The guy told me that the watch was returned after the sale, because it was not functioning correctly; the hour counter kept running all the time while the chronograph was not in use.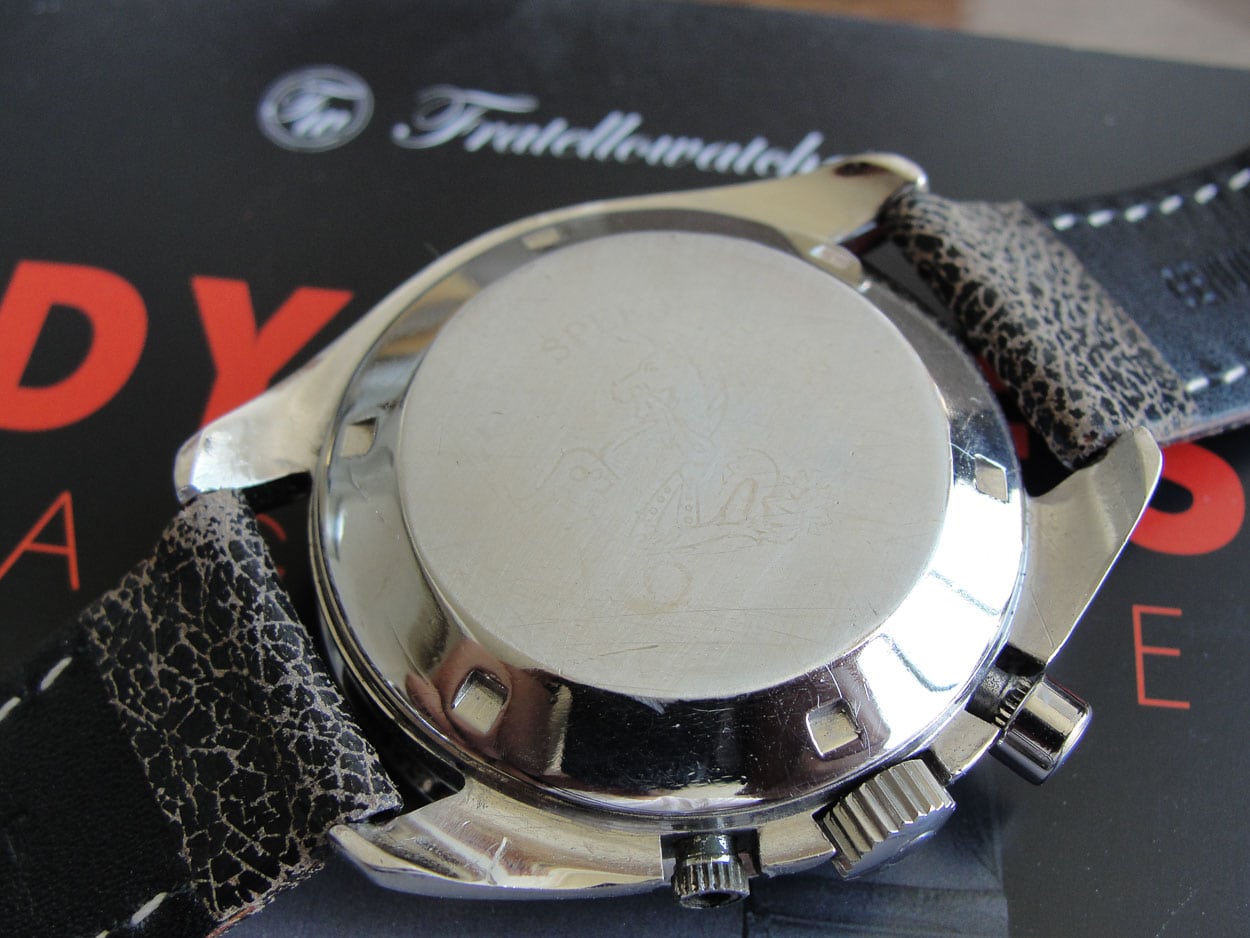 At that time, I did not have any Moonwatches in my collection, but I had read every piece of information I could find on the internet, which was back then was a lot harder than today. But that did not stop me from devouring every bit of information available. As many Speedmaster fans, I grew up during the climax of the space race, and for a ordinary citizen having a Moonwatch is the closest thing to be part of the space program. So a Speedmaster was always on my wish list.
Knowing about the defect and not wanting to risk expensive repairs, I made a lowball offer. To my surprise, the salesperson accepted it. The seahorse caseback version not just became my first Speedmaster 145.022-69, but the very first Moonwatch in my collection. My watchmaker fixed the problem with the hour recorder and serviced it with no parts needed, just fresh oil and watchmaking skills.
Straight Text First Watch Worn On The Moon Speedmaster 145.022-69
After that purchase I focused my attention and funds to earlier Speedmasters, models prior to 1969, because one 1969 should be enough (silly of me). Moving forward two years from my first purchase, I was negotiating with a local watch dealer a Speedmaster Professional cal. 321 from 1967. He also showed me just for fun a Speedmaster that he just got in: a Speedmaster 145.022-69 with a nice red chrono seconds hand (not a proper Ultraman, but I love the fact that somewhere in the watch's live, somebody applied a touch of color). When I turned over to check the case back, I found the straight horizontal inscription that read "First Watch Worn on the Moon" surrounded by "FLIGHT QUALIFIED BY NASA FOR ALL MANNED SPACE MISSION". Of course, that day I came back home with two Speedmasters, and the solid conviction that 2 145.022-69s were more than enough (silly again).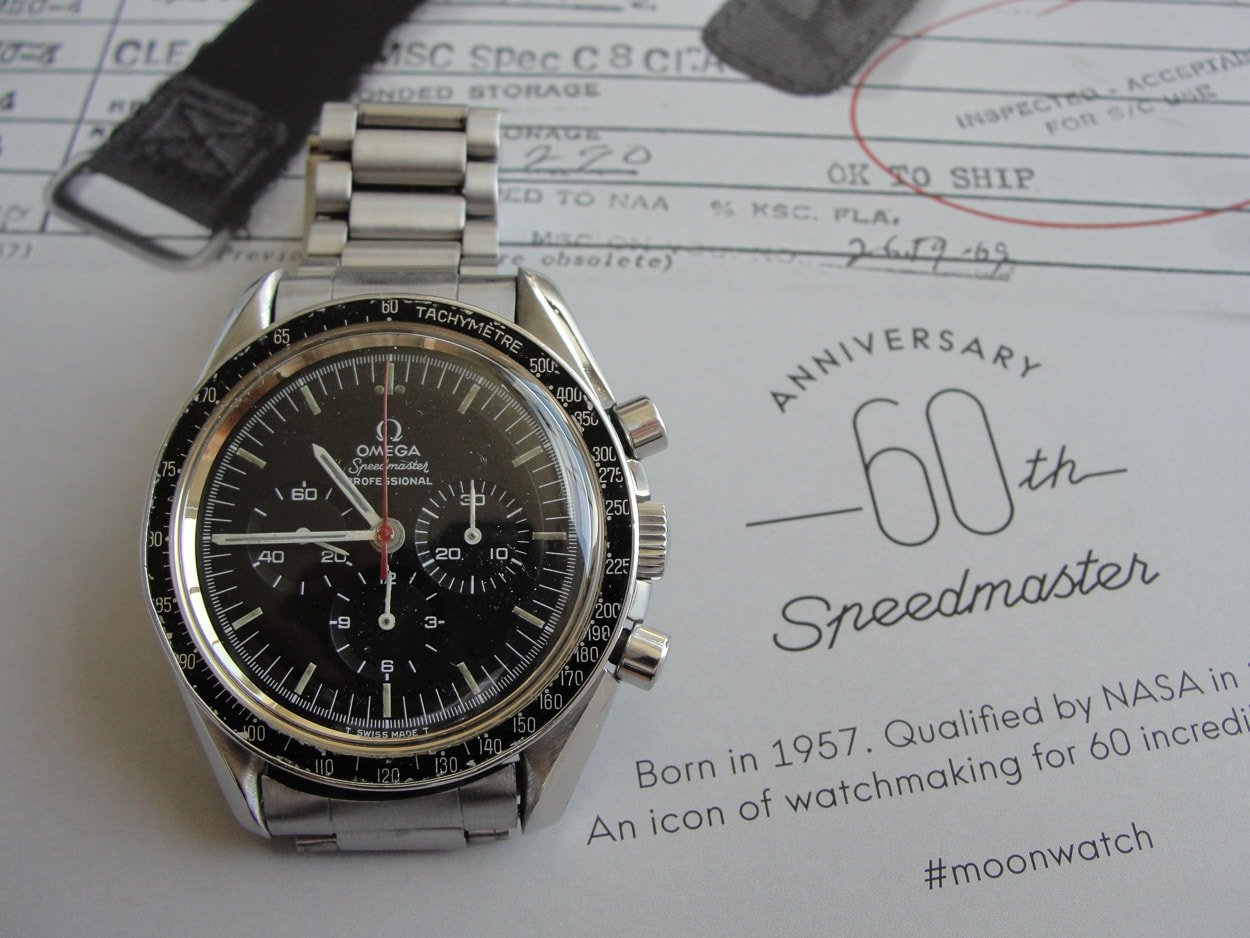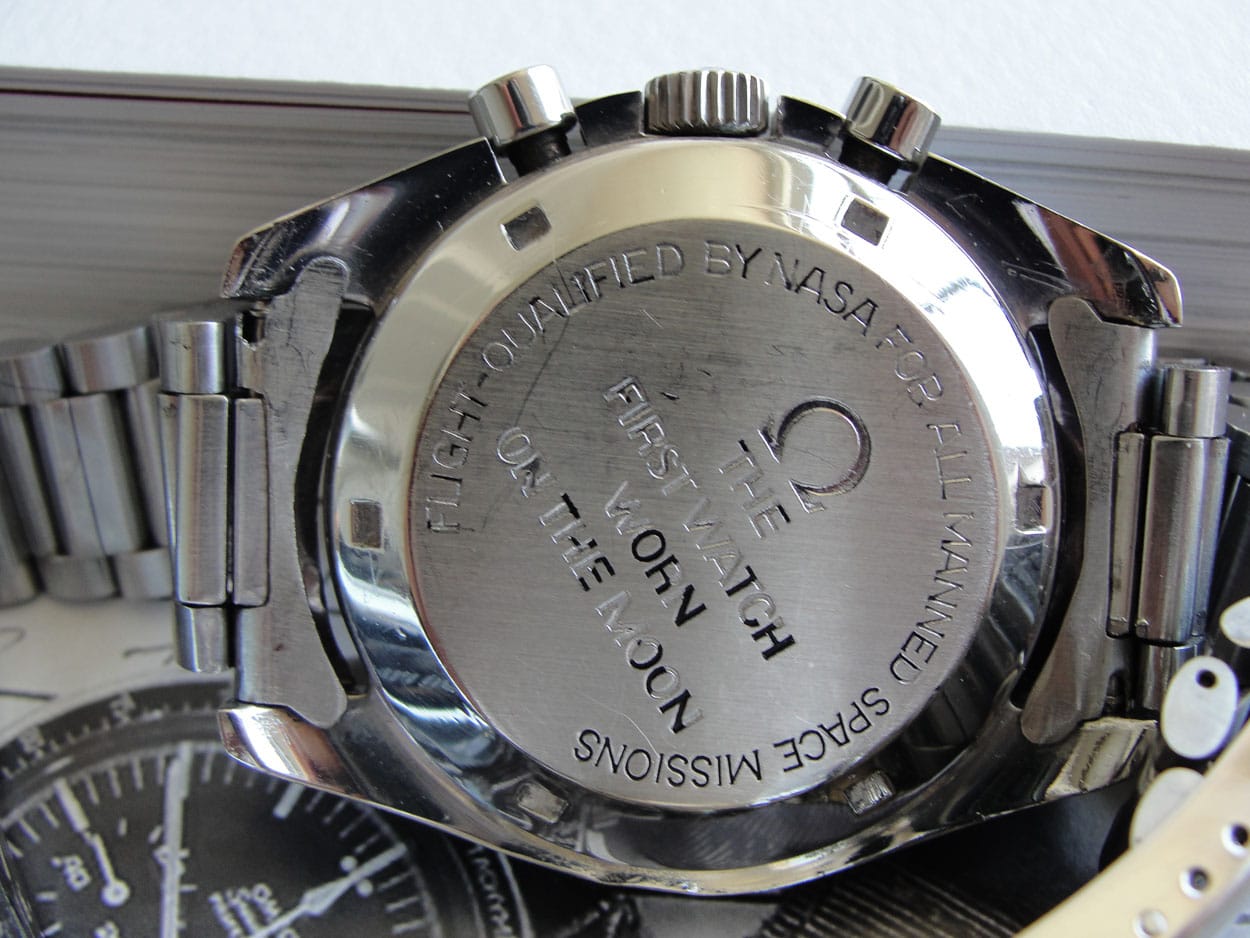 Straight Text Apollo XI 1969 Speedmaster 145.022-69
My third steel Speedmaster 145.022-69 also came from out of nowhere; it was in 2012 while reading the Omega section in one of a big watch forum. I picked a post that was just published a second before, a forum member from England was asking if somebody could provide some light about a Speedmaster with a weird caseback that he just bought form an estate sale. I was the first to answer him, explaining that the straight inscription was the real deal, gave him some links to verify it and if he did not want it, I was more that willing to buy it from him. He thanked me but declined my proposal, so I forgot about it.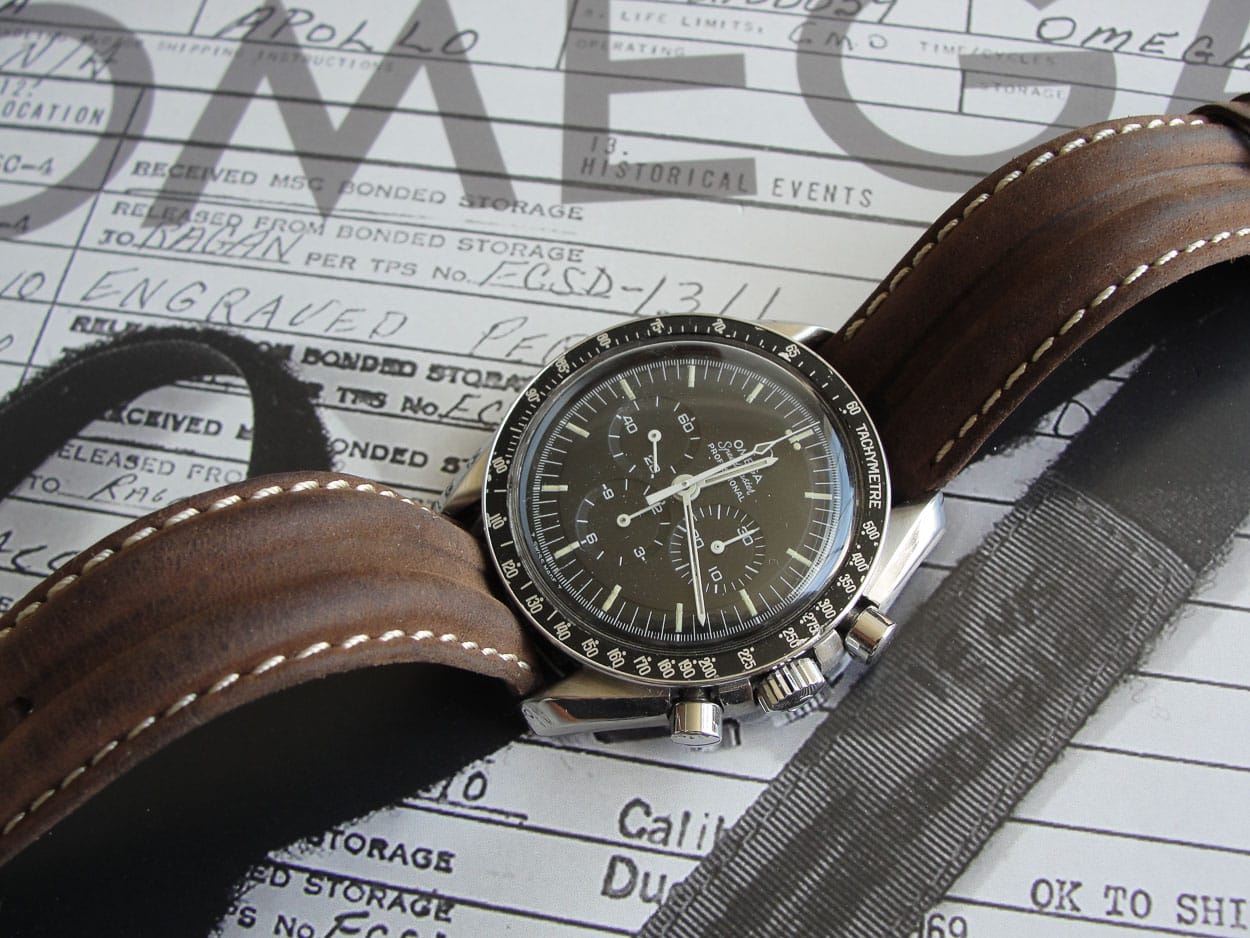 Two months later I received a email from the same British guy. He needed funds for another watch and was open to sell the Speedmaster 145.022-69 with straight writing, and because I helped him, he gave me the chance to make the first offer. A nice gesture. A brief negotiation later, the Speedmaster with the inscription "First Watch Worn on the Moon" surrounded by "OMEGA SPEEDMASTER – APOLLO XI 1969", was flying across the Atlantic from England to USA. In addition to the joy of completing the 145.022-69's trilogy a surprise came out when I opened the case back to check the movement. It showed serial number 2×000001, I never had seen a first from a movement series. A nice bonus!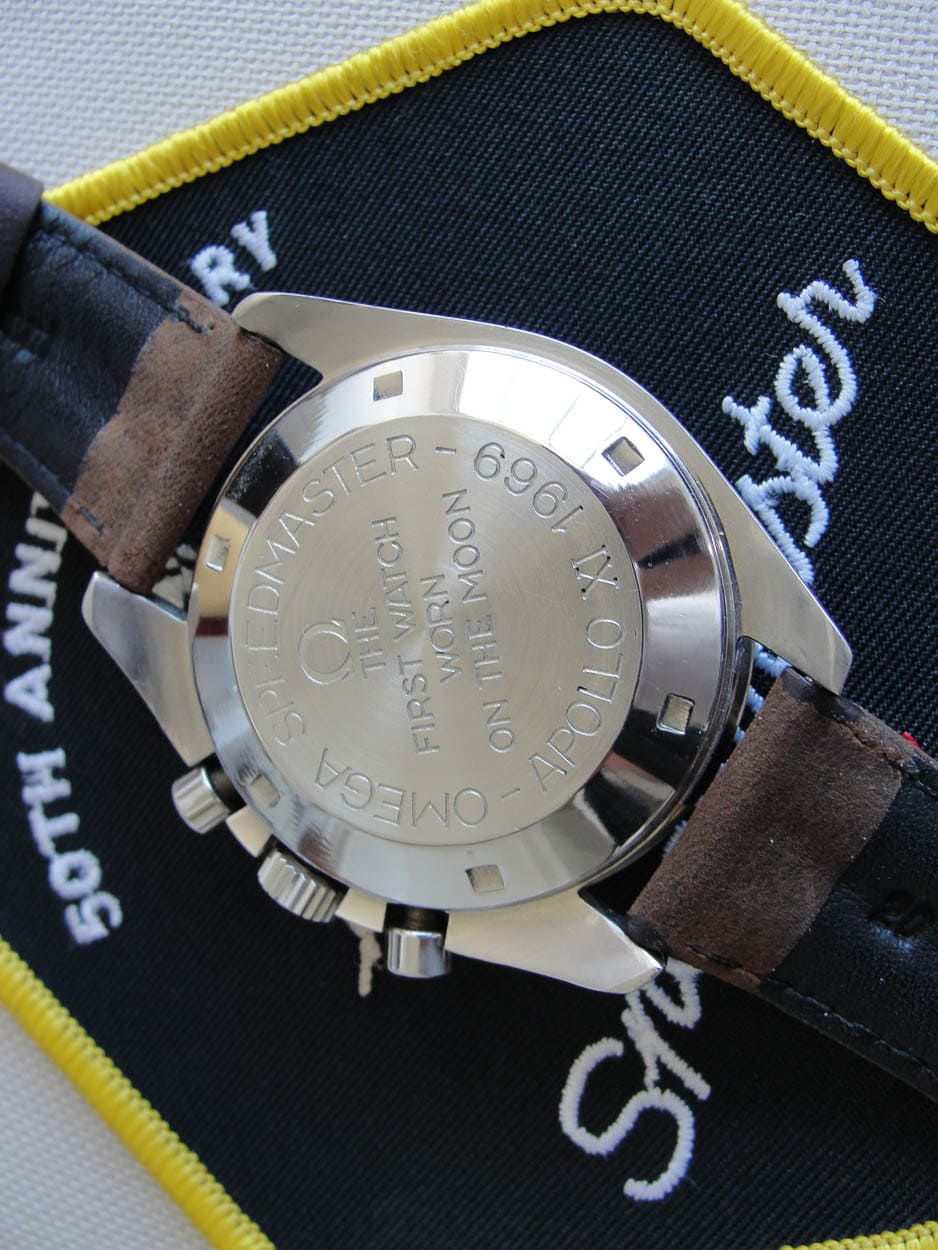 Gold Apollo XI 1969 Commemorative Speedmaster BA145.022-69
Finally I got the Speedmaster 145.-22-69 series complete. I did not plan to have any more of them after I bought the first one, but they kept coming and I was too weak to let them pass. So I rest on laurels, because even while I knew about the legendary gold BA145.022-69, it was too expensive to afford it at that time. Over a time span of about 8 years I just saw maybe two on sale, at least an example in good condition. But the force was strong and in 2014 I received a big bonus from the company I used to work for. And not only that, a perfect sample showed up in the sales section of an Omega forum, in perfect condition with a good looking burgundy bezel and nice and tight gold bracelet.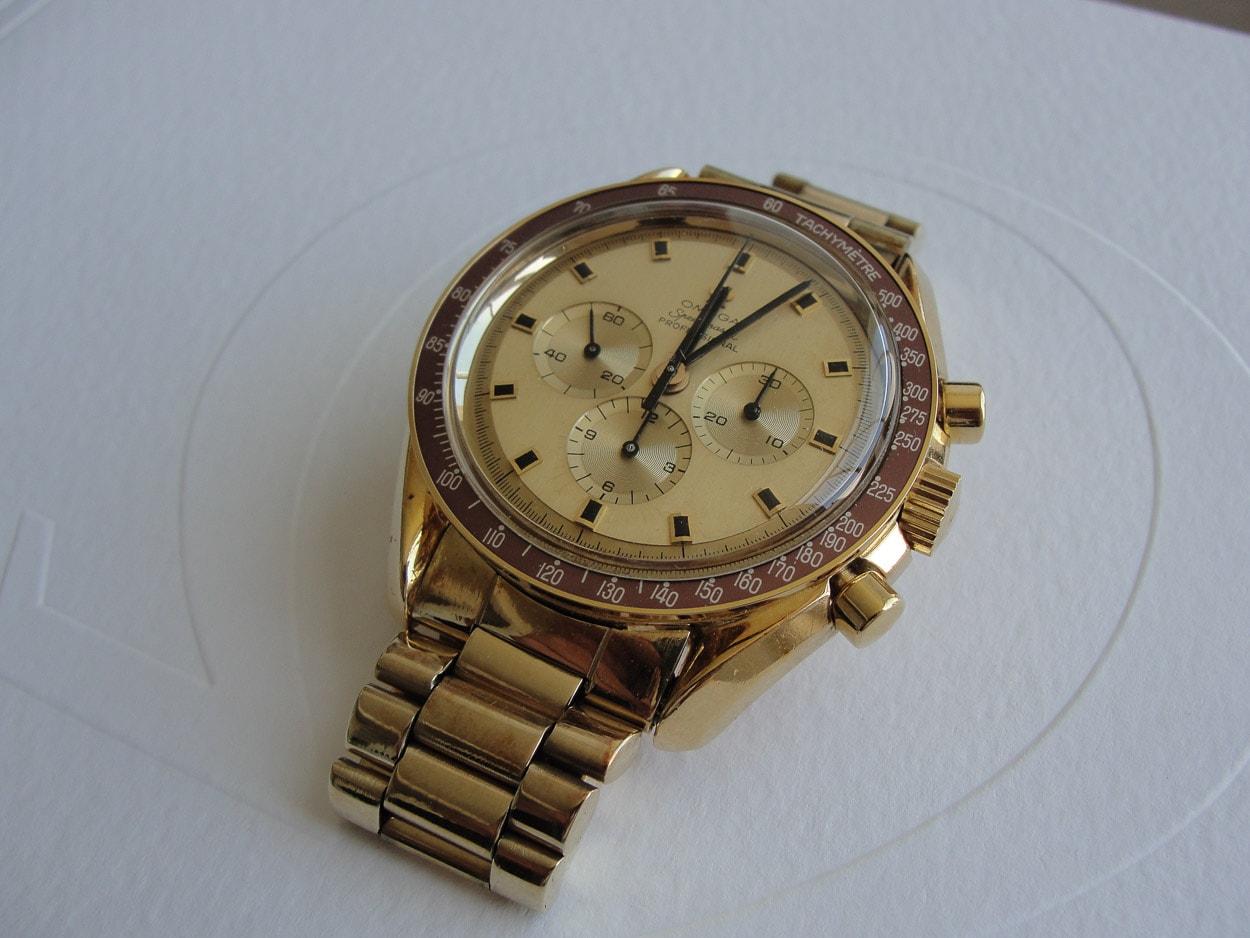 It had a < 400 number (only 1014 pieces were produced), and service papers from a maintenance visit to Omega in 2008 (the same year I got my very first Speedmaster 145.022-69). The price was very fair as at the time, the gold from the case and bracelet alone was worth 20% more than the asking price.  It was a no-brainer, I immediately pulled the trigger. Then, I finally closed my 145.022-69's Three Musketeers book, 3 in stainless steel plus 1 in gold, just like Dumas' novel.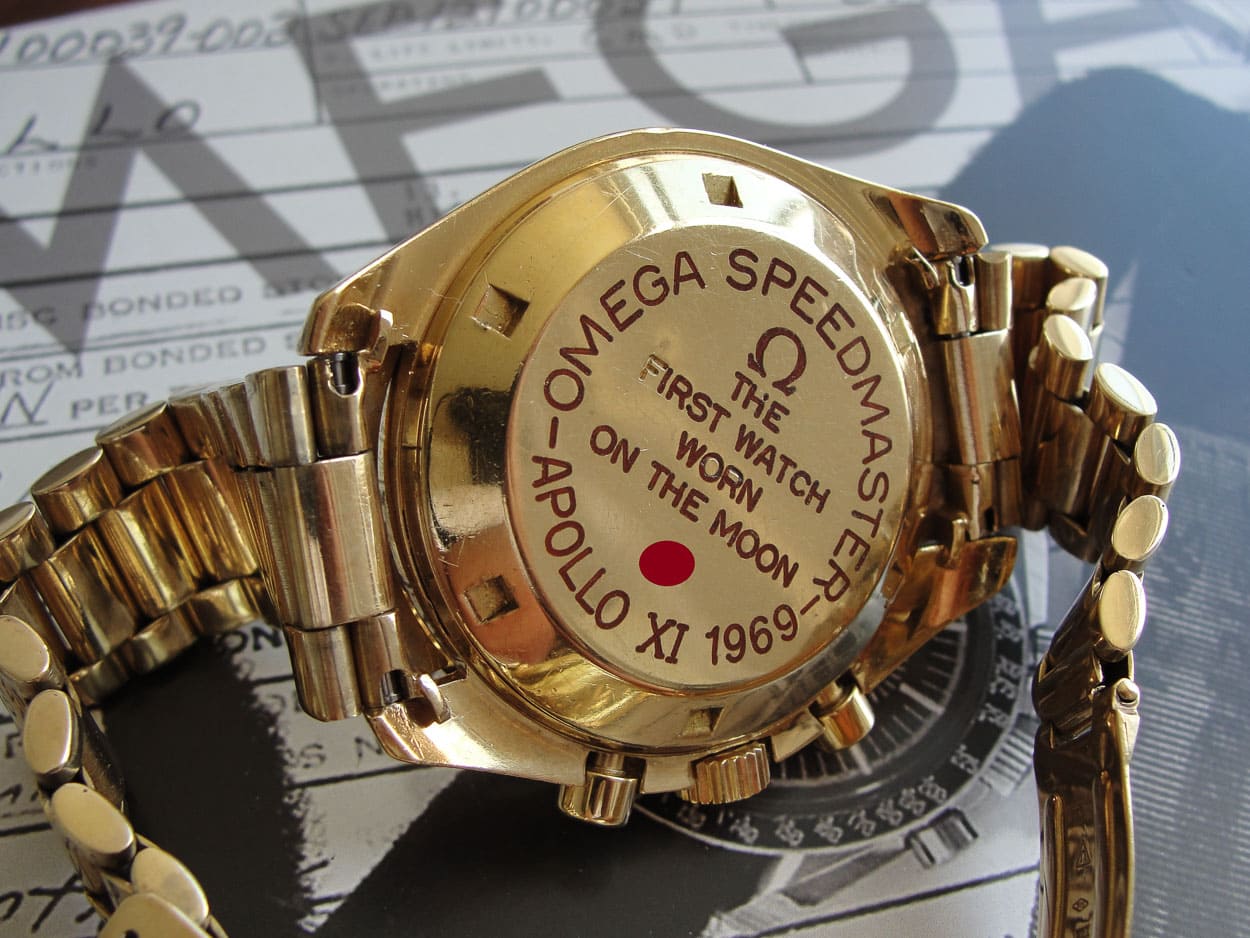 In a period of only six years, four Speedmaster 145.022-69 references ended-up in my collection, all coming from different sources. All with the right price, at the right moment and most important, in the condition I was looking for. This journey taught me that even while the hunt is the best part of collecting watches, sometimes things are meant to happen, and these 3+1 145.022-69's series were meant to be in my collection.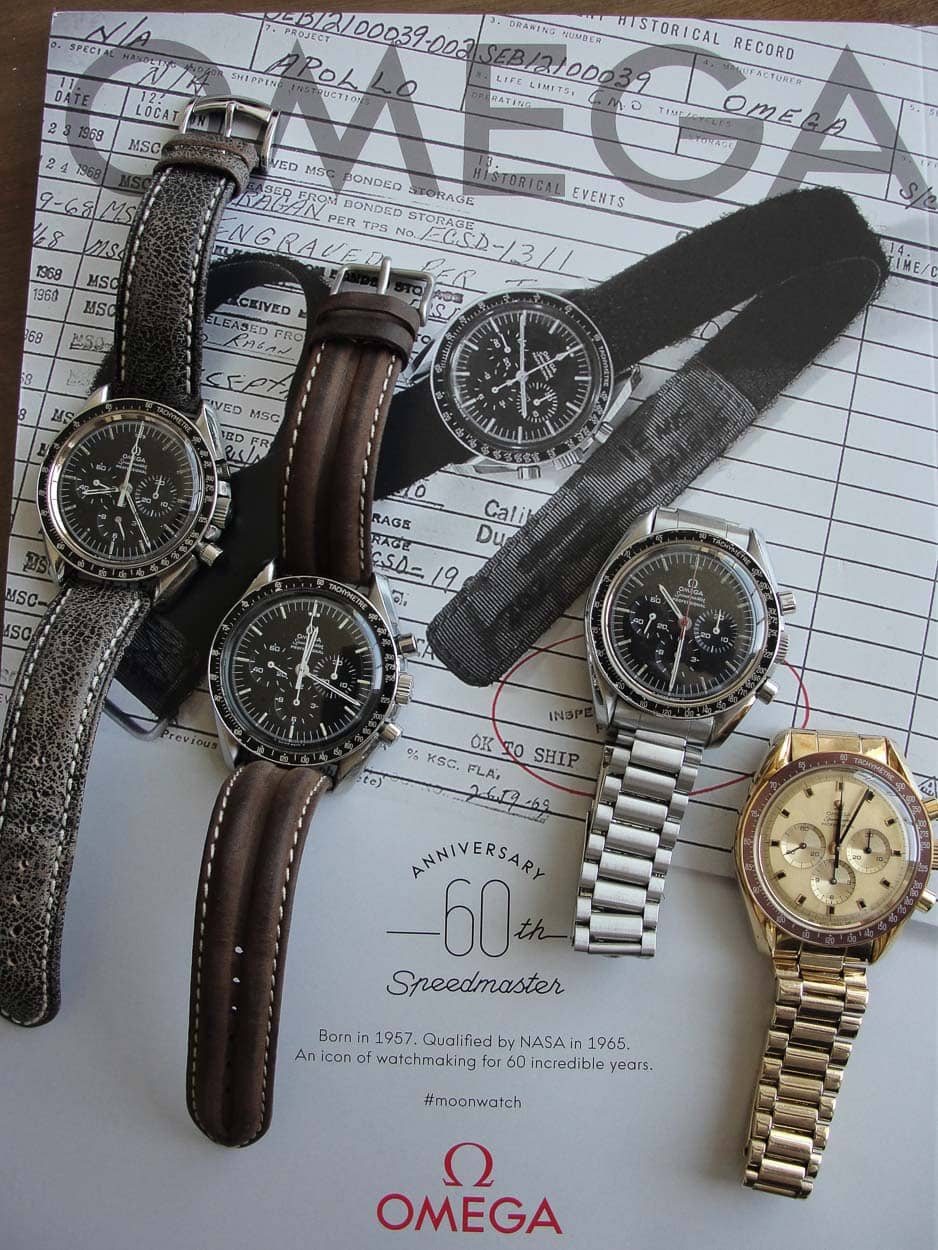 A big thank you to Alexander for sharing his story with us. Want to see more Speedy Tuesday articles? Click here to browse through our +300 Speedy Tuesday articles.