#SpeedyTuesday — Top-5 Limited Edition Omega Speedmaster Watches
Gerard's Top-5 Limited Editions Speedies
Limited editions are not to everyone's taste. Sometimes, the sheer volume of limiteds can be overwhelming. With the #SpeedyTuesday editions we've contributed to that as well. While limited editions may be more common these days, that's nothing new. Let's have a closer look at my Top-5 of earlier NASA/Apollo dedicated Limited Edition Omega Speedmaster models.
In 1969, Omega introduced a numbered series of 18k yellow gold Speedmaster Professional watches. We did a review of that model here. These were more or less Limited Editions avant la lettre. They weren't limited, but they were sequentially numbered — we learned that only 1,014 pieces were made, of which #1 was offered to President Nixon. Then, in 1979, an actually limited series of Speedmasters was introduced. 20 pieces in white gold and 300 pieces in yellow gold, commemorating the Apollo XI landing in 1969, and the re-qualification of the Speedmaster for the Space Shuttle missions that would start in 1981 were made. Most of these watches ended up in Germany.
The first real Speedmaster Apollo XI Anniversary Editions arrived 20 years after the moon landing. This was the first time Speedmaster Limited Editions were aimed at a larger public. As such, they can be seen as the start of the many Limited Edition Speedmasters to follow.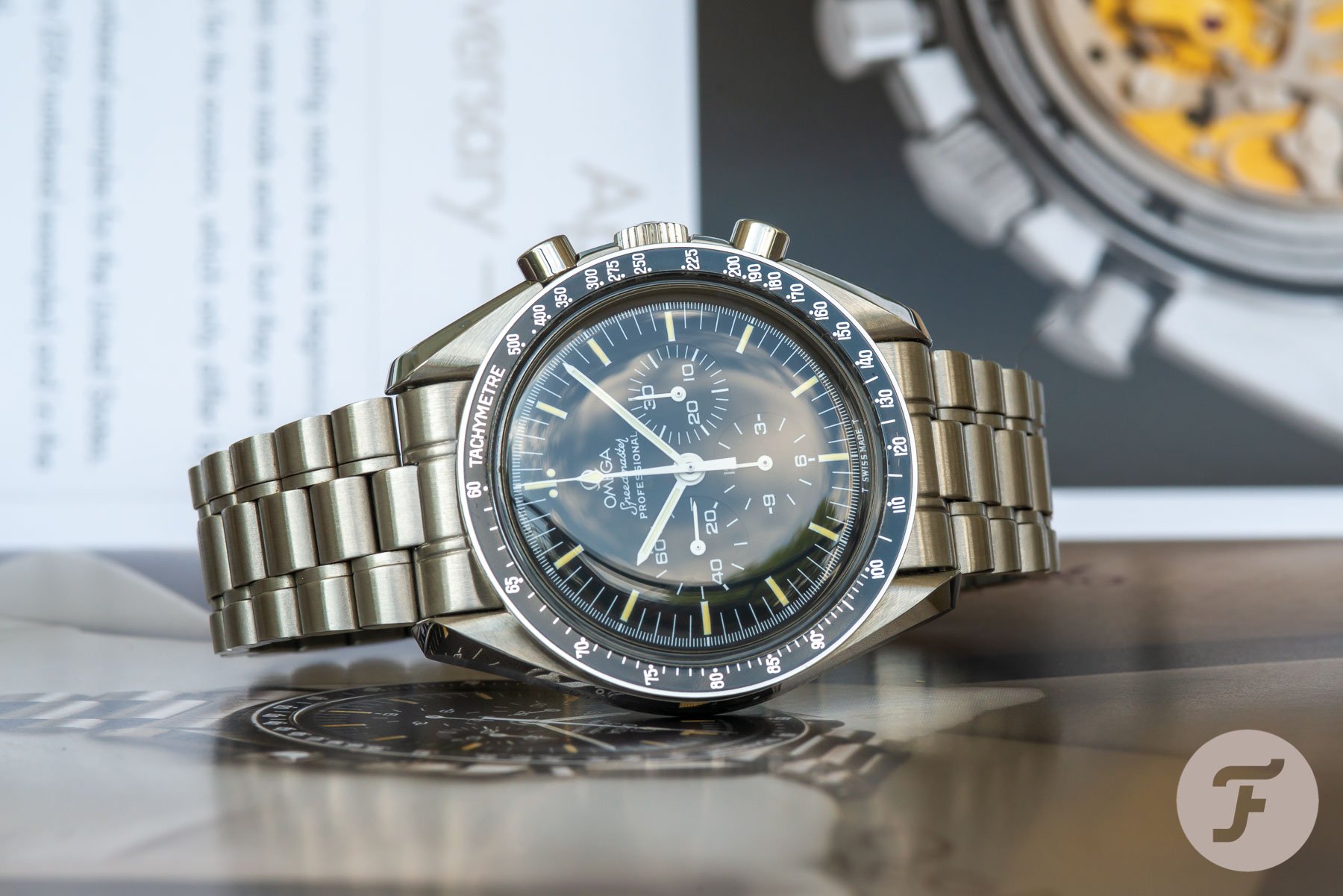 1. Omega Speedmaster Apollo 11, 20th Anniversary
As said, In 1989, Omega introduced the Speedmaster Apollo XI 20th anniversary model. A stainless steel Speedmaster Professional presented in a special (wooden) box. It came with an extra black velcro strap, a 20th-anniversary badge, and an engraving on one side of the case. Three batches of these 20th-anniversary Speedmaster Pro Apollo XI exist. My favorite, shown here, was made for the US market: it was limited to 2,000 pieces, with its unique number engraved in the side of the case.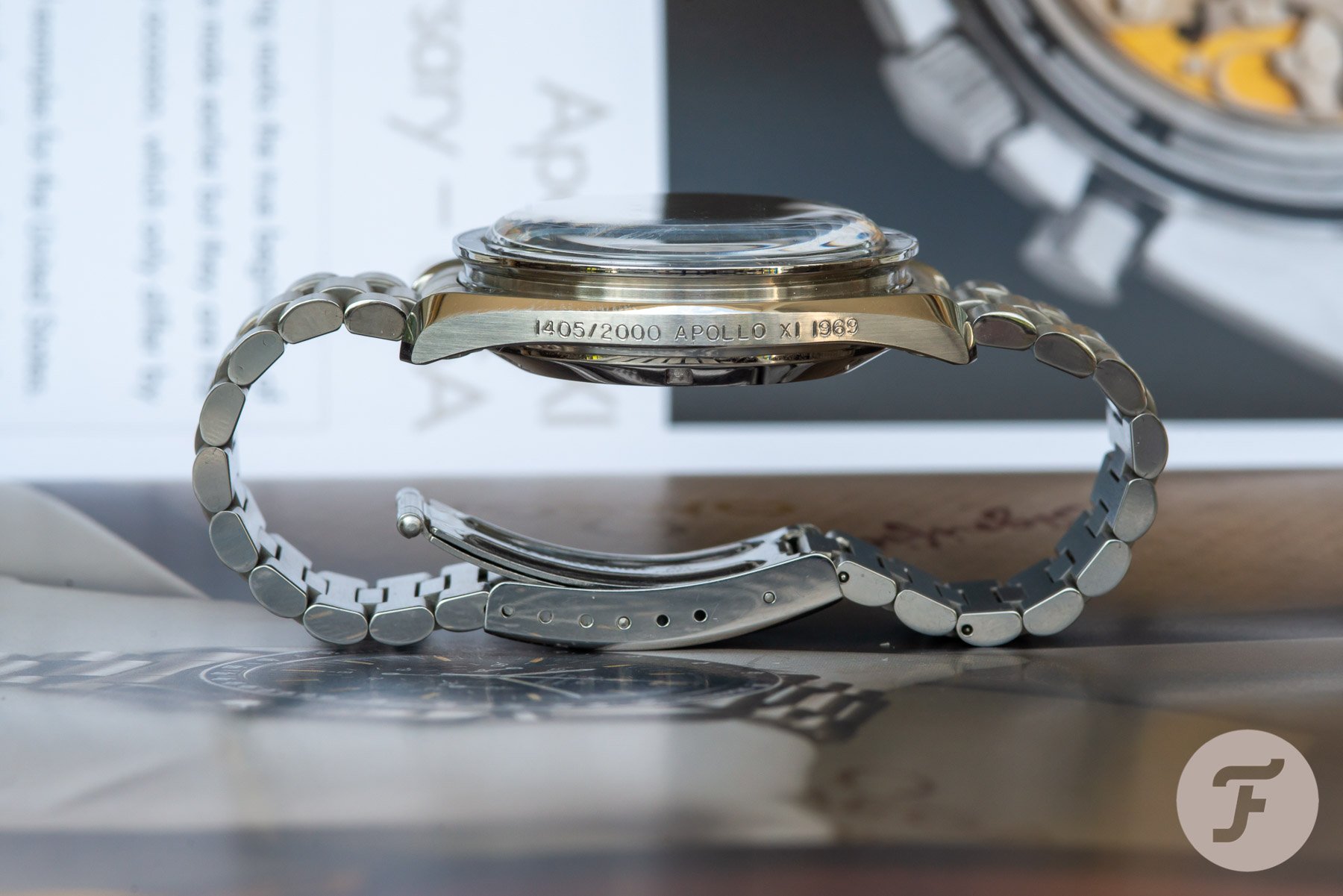 Its certificate indicates that there are 2,000 pieces worldwide, but that's not entirely the case. There was another unnumbered run of 4,000 pieces for the global market. Additionally, a Germany-only run of 250 numbered editions hit the market. The difference between the three batches is the description on the side of the case, and the type of stainless steel bracelet fitted.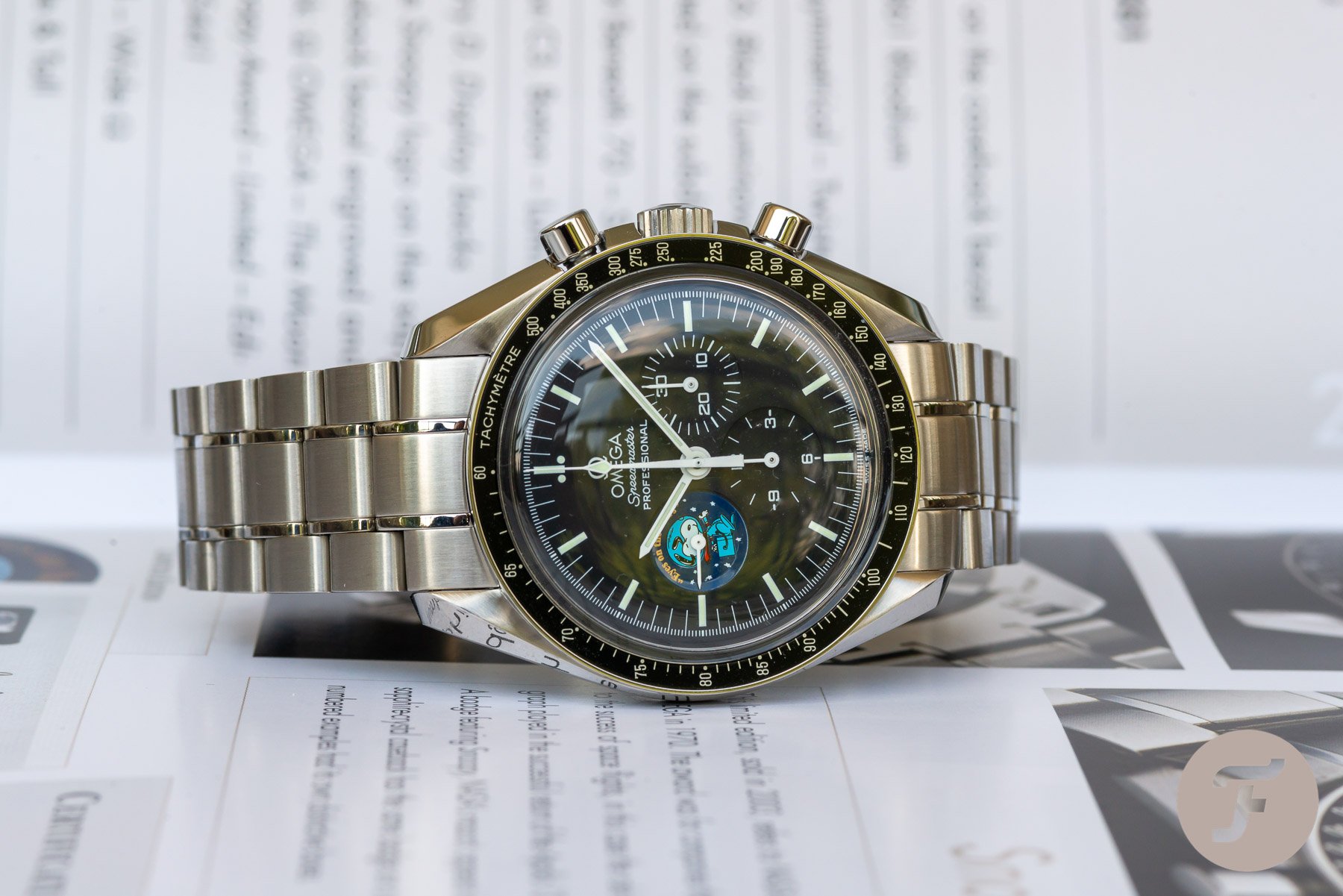 2. Omega Speedmaster Snoopy (1)
Number two on my list of favorite Limited Edition Speedmasters is the first Snoopy Award edition. During the Apollo 13 mission in 1970, there was an explosion on board the service module. The mission was aborted and the crew needed the Speedmaster to time some crucial operations in order to safely return to earth. The timing was successful and NASA rewarded Omega with the highly respected Silver Snoopy Award commemorating the essential role played by the Speedmaster.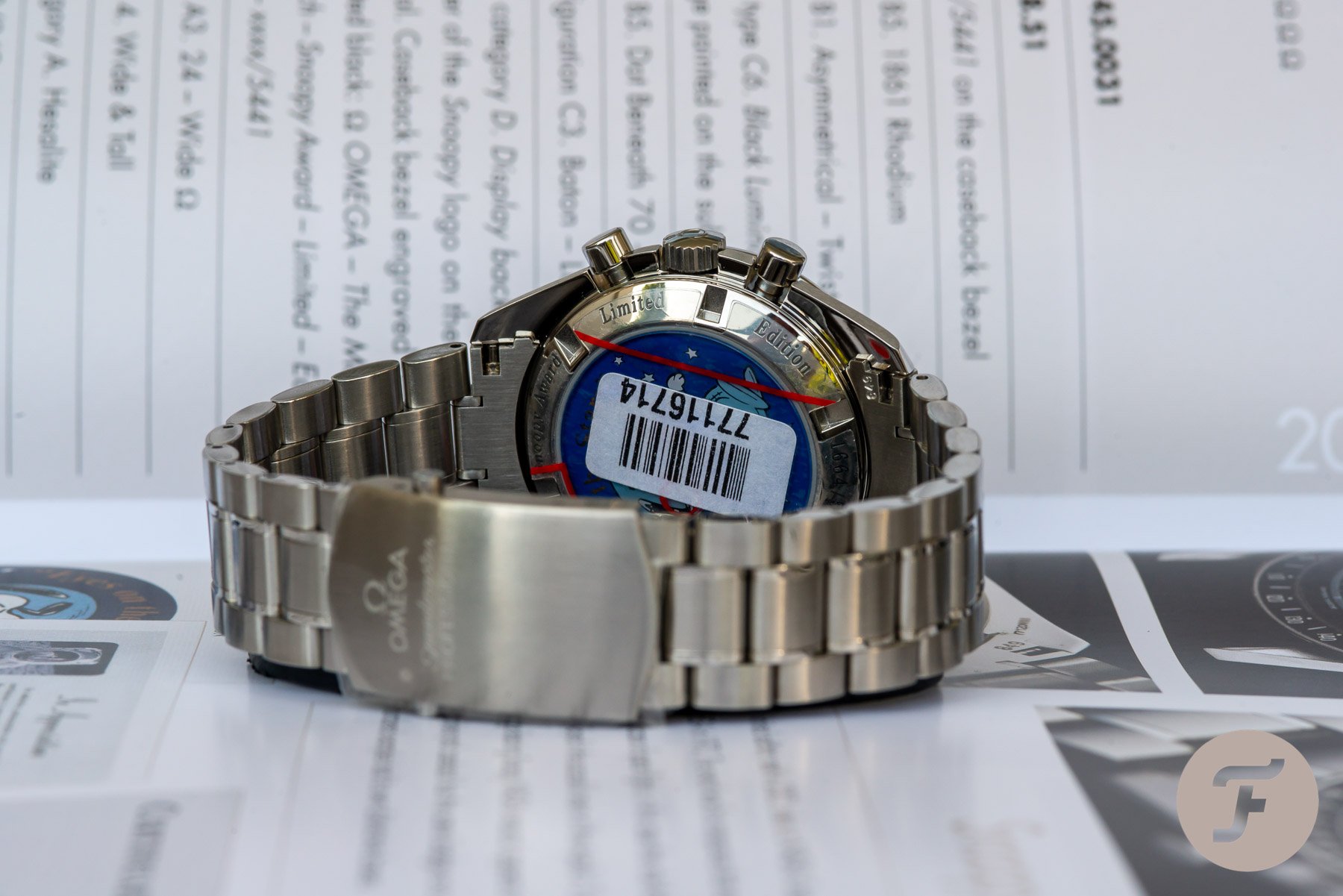 Fast forward to 2003 when the Omega Speedmaster Professional "Snoopy" with reference 3587.51 was presented. It was limited to 5,441 pieces. Initially, the watch wasn't that popular. It took quite some years to sell them all while. At first, people thought a picture of the comic character Snoopy in the dial was a bit childish. By the time the general public understood the importance of the Snoopy figure and the award, most watches were sold out. Then, on the pre-owned market prices quickly started to rise. It is now one of the first heavily sought after and valuable limited editions.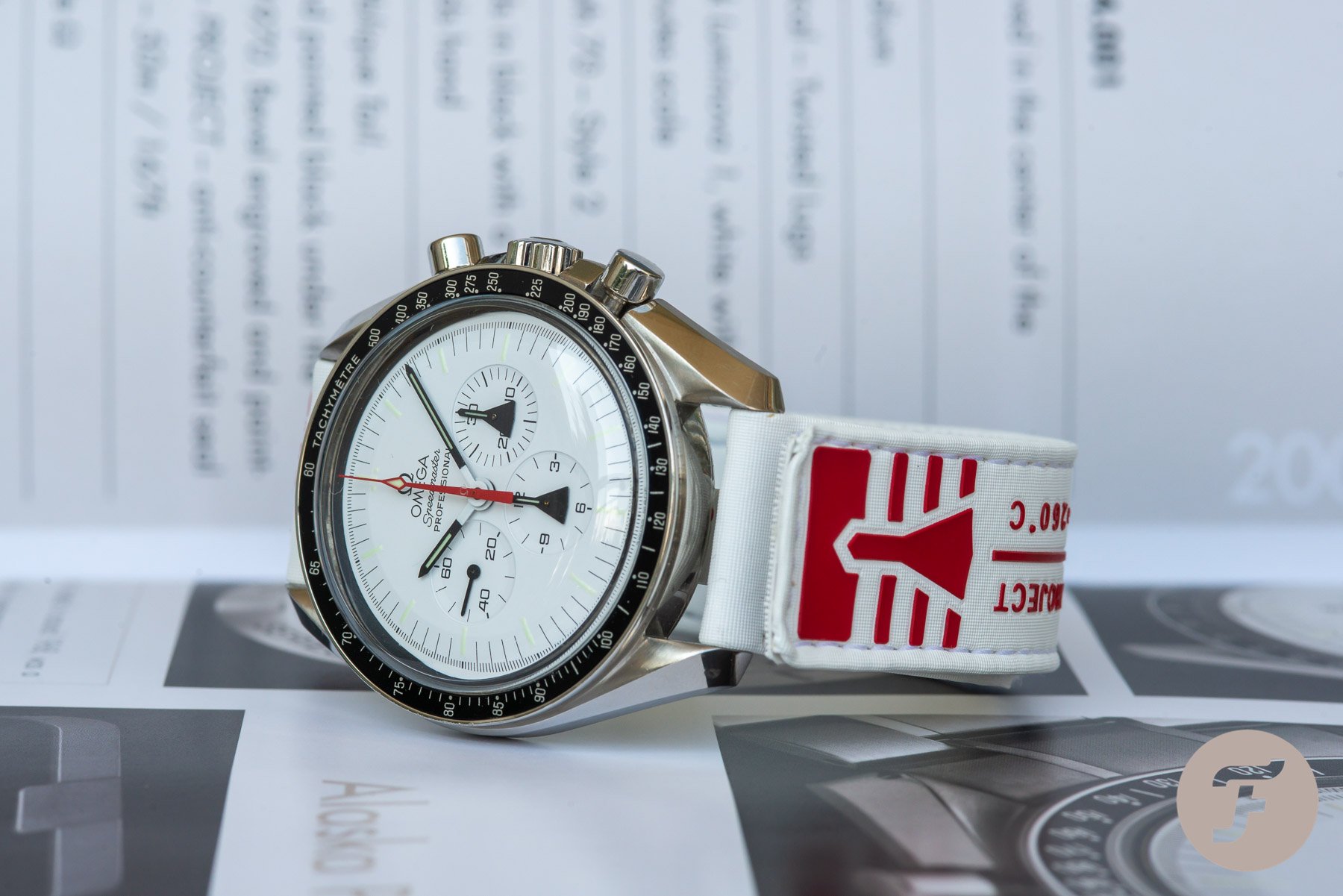 3. Speedmaster Alaska II
Alaska was used as a code name for Speedmasters developed by Omega for use during NASA space missions. In 2008 Omega presented a derivate model of the original Alaska II, a stainless steel Speedmaster Professional with a white dial, "rocket hands", and a huge red aluminum external case. The latter to balance huge temperature differences encountered between the light and dark side of the moon.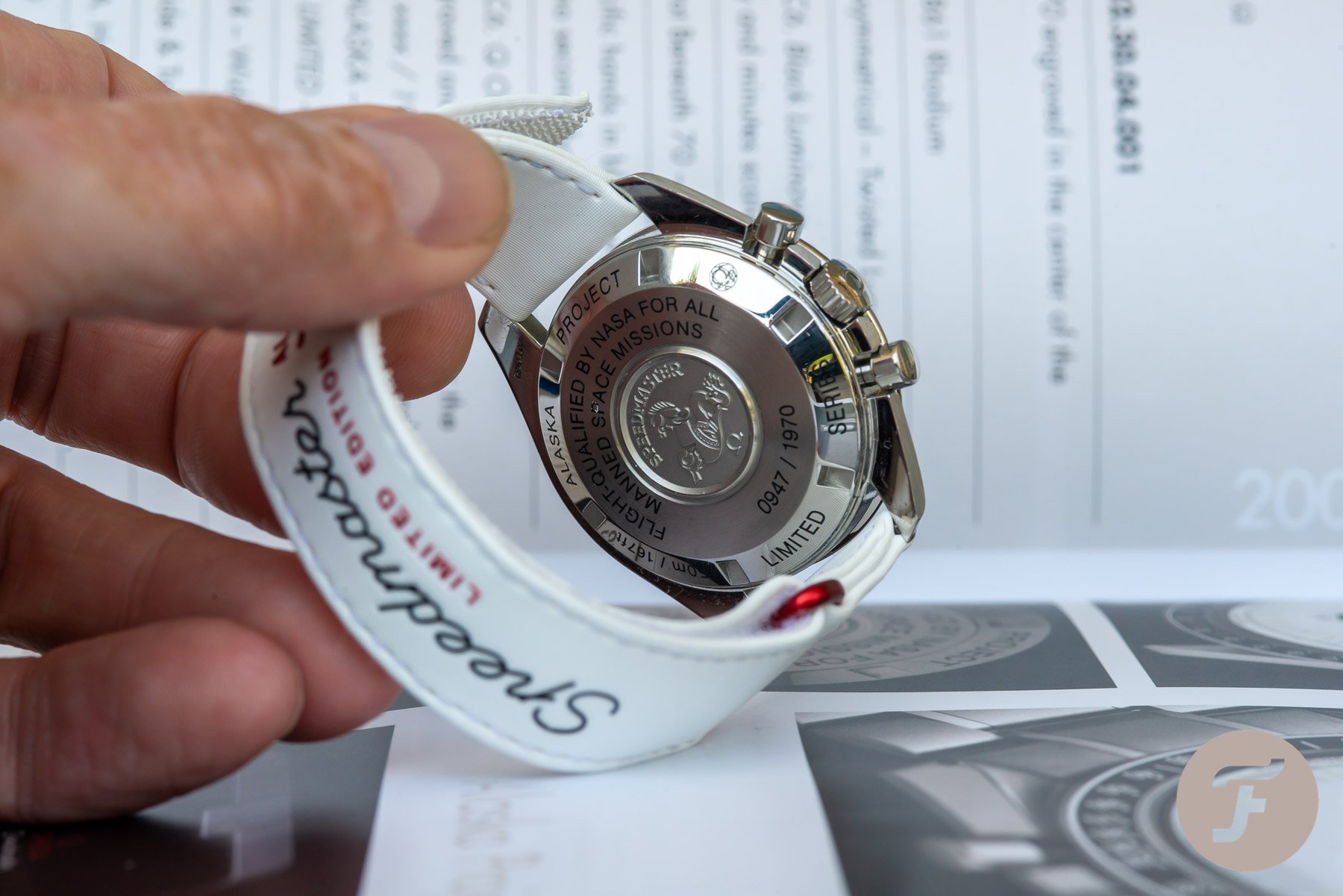 The re-edition Speedmaster Alaska, reference 311.32.42.30.04.001, only came in low numbers; 1,970 to be precise. 1970 is the year that Omega used codename Alaska for the first time. The set included a lot of extras. Of course, a red aluminum external case, but two different velcro straps and dedicated tools as well. I can imagine this model wasn't meant to be a daily wear, certainly not with the red aluminum external case. So I think it aimed at Speedmaster collectors, which would explain the reason for such a limited number of watches.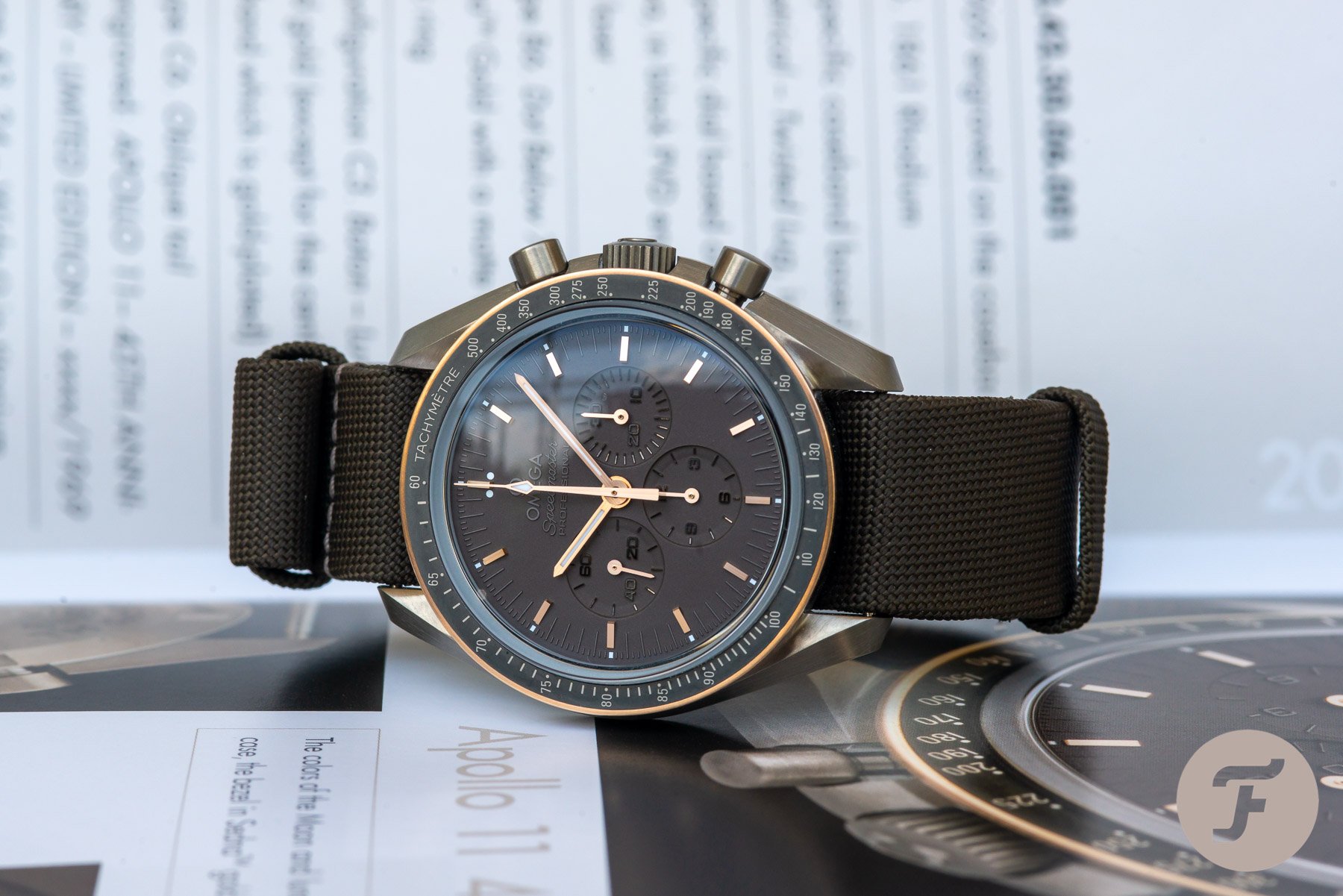 4. Speedmaster Apollo 11, 45th Anniversary
I must admit that I didn't buy any of the mentioned Speedmasters directly when they came out. With number 4 it's no different. I knew I wanted this model from the first time I saw it, which must have been at Baselworld 2014.
It wasn't a surprise that Omega introduced the 45th Anniversary Apollo XI Edition. We saw that every five years from the 20th-Anniversary onwards. However, nobody expected the watch to be like it is. A titanium case, a lasered PVD dial, a Sedna gold bezel with matt black ceramic inlay, and a NATO strap.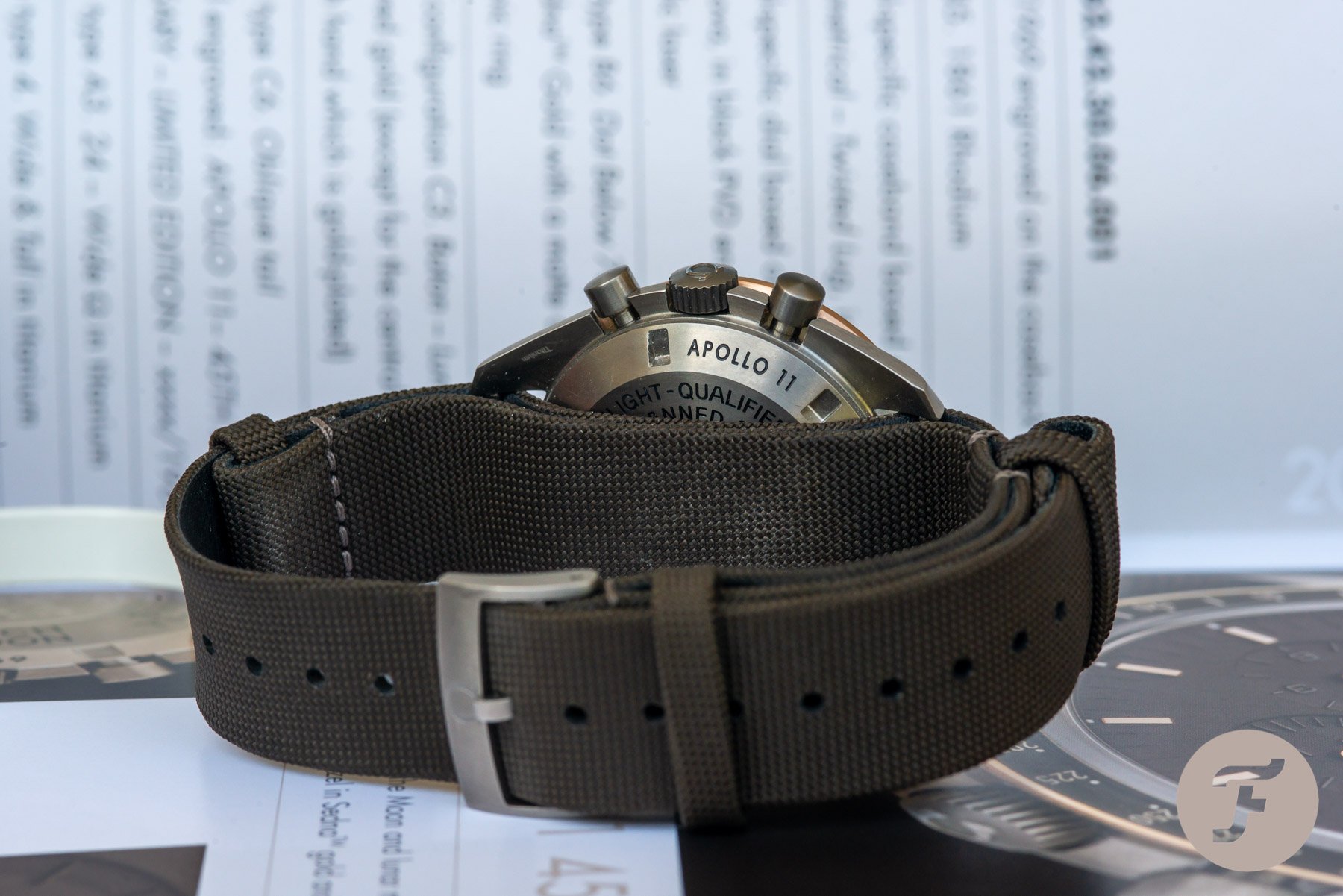 The Apollo 11 45th Anniversary sold out before I realized, probably caused by the relatively low number of 1,969 pieces. I was happy to find a pre-owned one, LNIB, and still decently priced. You'll find our review of a similar watch here.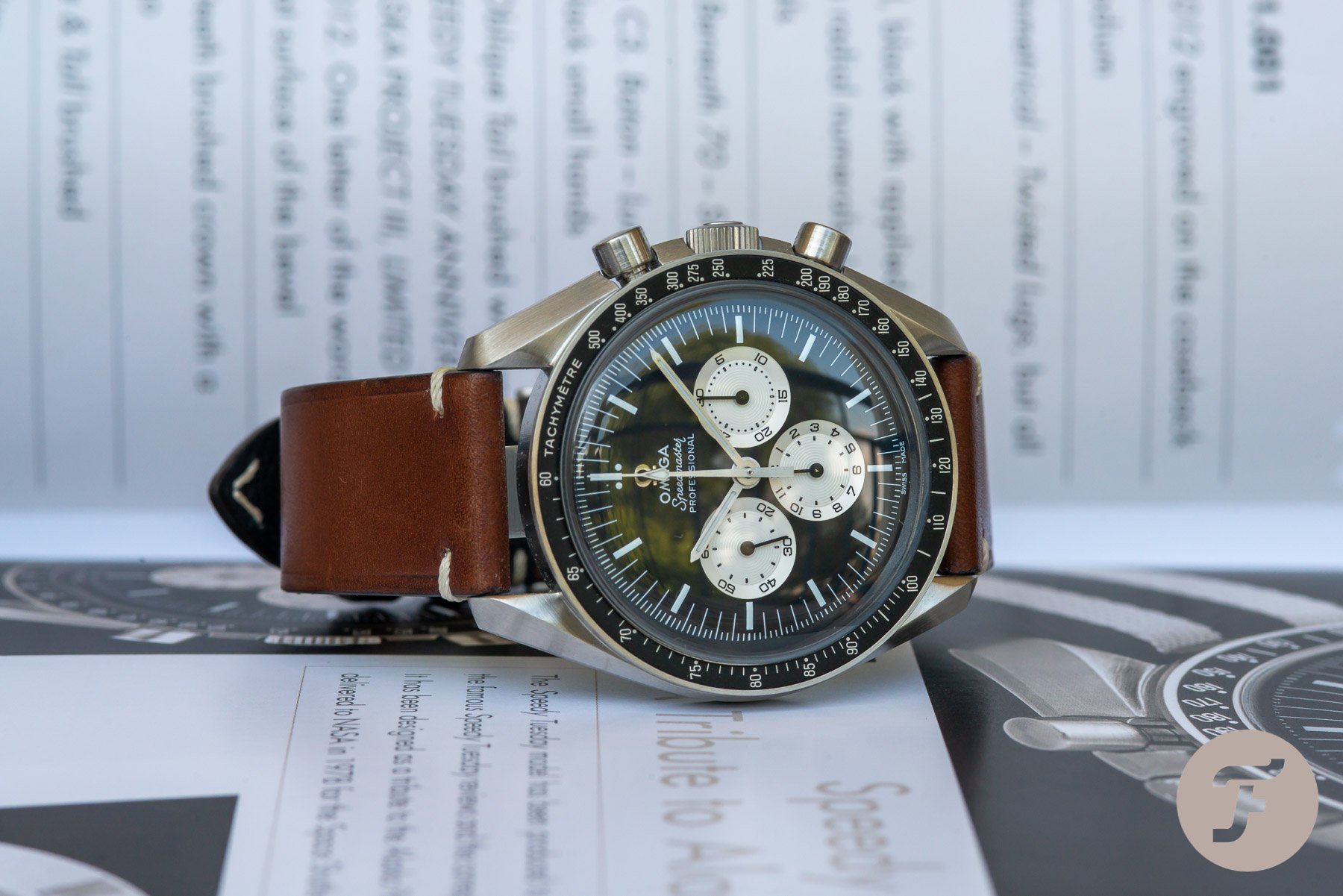 5. Speedmaster #SpeedyTuesday Tribute to Alaska III
Last but not least… To commemorate the first lustrum of the #SpeedyTuesday community, we came up with the idea to make a Limited Edition. Omega happily agreed, and we entered an interesting creative time to make it something really special. The cooperation with the product development team of Omega was a life-changing experience. You'll read everything about it in our first Speedmaster Speedy Tuesday Limited Edition article.
2012 was the year Robert-Jan started Speedy Tuesday, and, therefore, 2,012 pieces were made. It was a passion project. That passion shone through clearly. And in the end, it ticked many boxes. It works whether you're a #SpeedyTuesday fanatic, a Speedmaster collector, or simply someone who likes a great looking watch.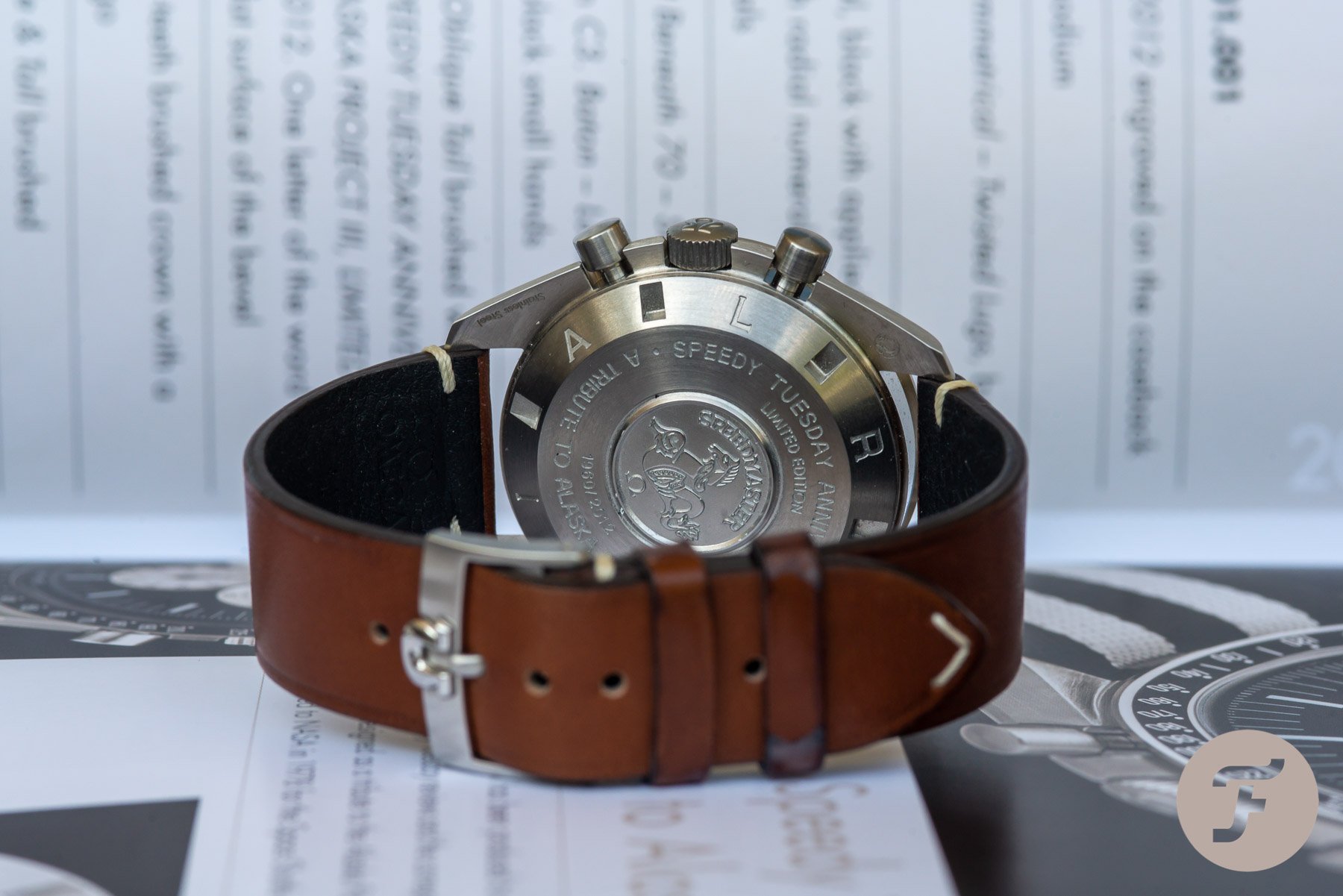 The Fuzz
Coming back to the number of Limited Edition Omega Speedmaster watches that came available in the last few years. Do I think they are too many? No, I don't. How can there be too many? Too many for what? If you don't look at Limited Editions like commodities, there can't be too many. Nobody forces anybody to buy all, or even any, of them. I buy limited edition Speedmasters only if I like them as watches. There's something about all models in my above Top-5 list that attracts me. And the attraction doesn't have anything to do with the fact that they're not available anymore. And it is most certainly not because I think they might rise in value.
Note: I've used the 3rd edition of the Moonwatch Only book as a backdrop for the watches.
You'll find me, and many of my Speedmasters, on Instagram at @ gerardnijenbrinks.