How To Start A Watch Collection With €10,000: G2's Take — Omega Speedmasters All The Way!
If a sugar daddy gave me €10K to spend on a three-watch collection...
Like a journey of a thousand miles begins with a single step — chapter 64 of Lao Tse's Tao Te Ching —  I think a watch collection starts with a single watch. Not with three. But let's assume the hypothetical situation, where a sugar daddy gave me €10,000 to spend on a three-watch watch collection to start with. What would I do? First, I'd celebrate, of course, and then I'd consult my feelings and probably head over to Chrono24.
At first, it might seem challenging to spend €10K wisely; there are so many options, and a considerable part of the watch world lays open to you. But realizing that it should be the start of a watch collection makes it relatively easy for me. There's only one watch that I would consider collecting, and that's the Omega Speedmaster, with a preference for Professional models. If it were allowed to start the collection with only one watch, it would have been the best caliber-321-powered Speedmaster I could find. But the mission is to start a collection with three watches, so that requires some more consideration.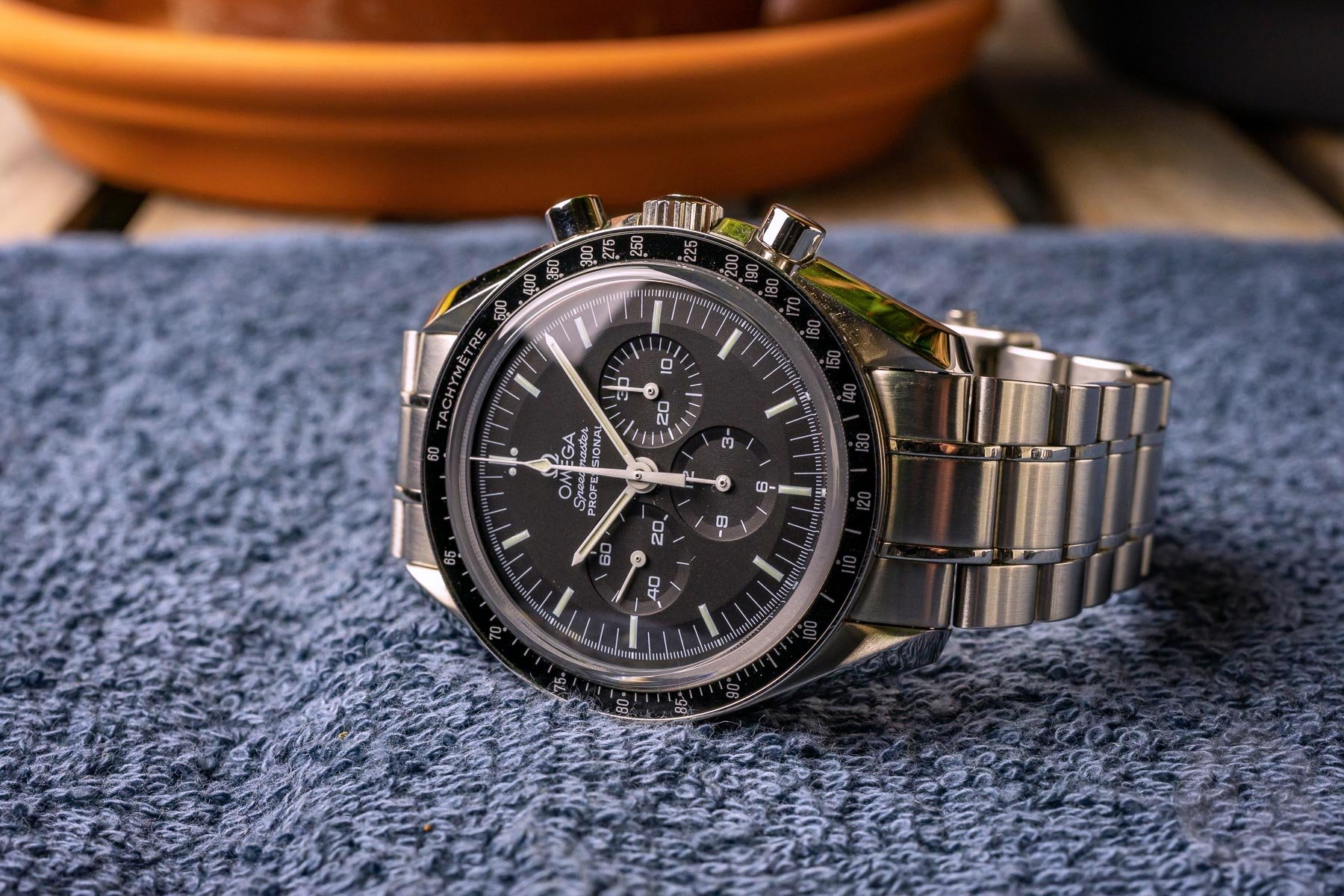 Start a watch collection with €10,000 — what makes your heart beat faster?
In my book, a collection needs some coherence. Just collecting random watches isn't good enough for me. Many people who collect stamps don't just collect any stamps. Instead, they concentrate on a specific country (say, Indonesia) or a specific subject or theme (butterflies, for example). People collect dive watches, people collect pilot's watches, and people collect military watches. All that already makes for a specific direction. My collection is even more precise; it only contains one type of watch. It could be the Rolex Submariner, the Breitling Navitimer, or the Cartier Tank, but in my case, it's the Omega Speedmaster.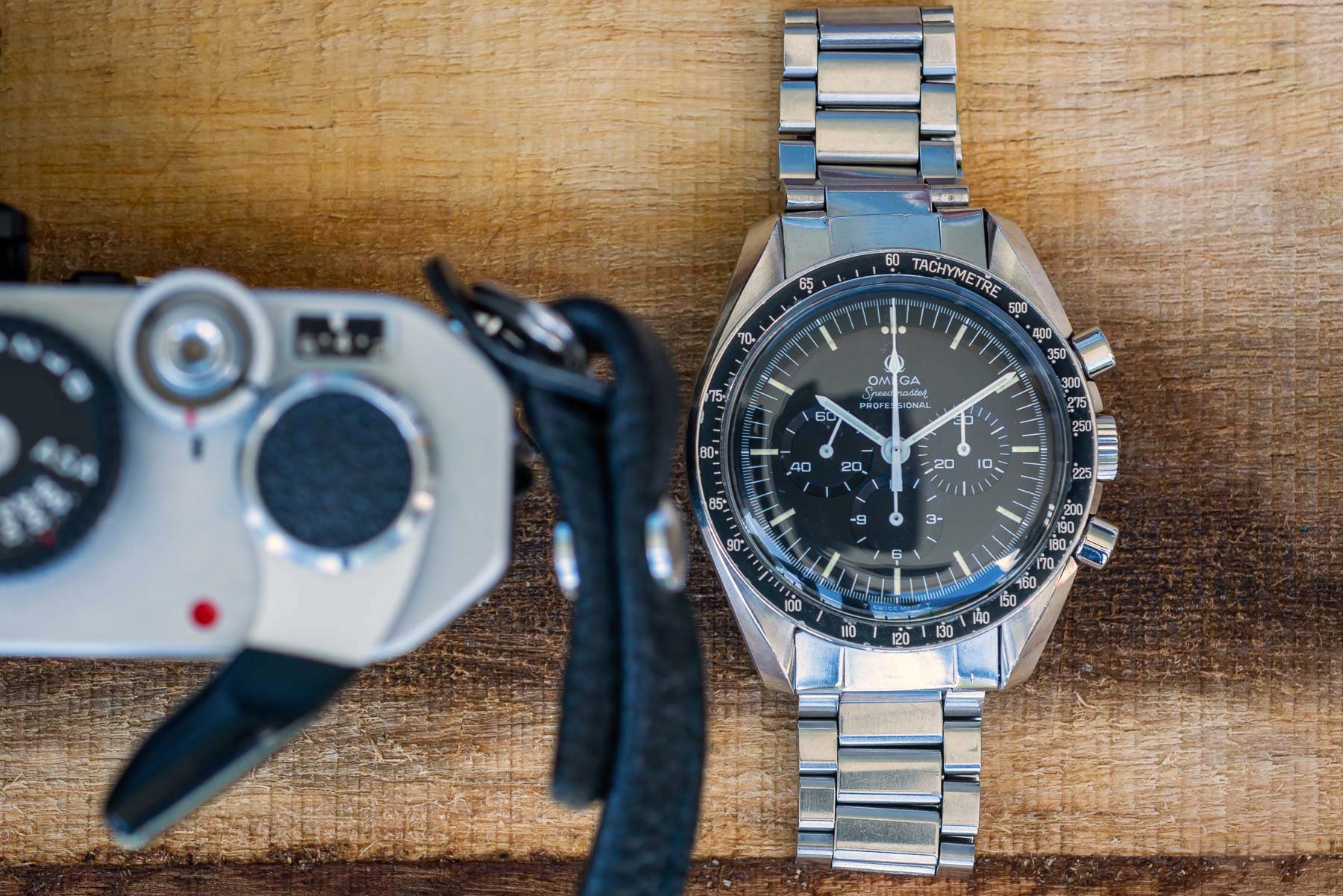 Which Speedmasters would comprise a good starter collection?
The choice for the first watch will undoubtedly be the easiest — a regular Omega Speedmaster Professional with a Hesalite crystal and steel case back. I think any pre-owned standard Speedmaster Professional would do, but given the budget, I'd try to find one south of €5,000. Unfortunately, that won't get you a caliber 321, but a caliber 861 with a tritium dial and hands will most likely be possible. Why am I looking at the older Speedmasters? Starting a collection means that — besides beginning with these three models — many more Speedmasters will hopefully follow. The older they get, the more difficult it will be to find them, and generally, they will become more expensive. So I'd start with the oldest one possible within the budget, but make sure it has a tritium dial.
That would make it a reference 145.022 from the 1970s or '80s (1970-1982), a reference 145.0022 (1981-1988), or a reference 3590.50 from the '90s (1988-1996). At the time of writing, there are over 20 offerings within these criteria on Chrono24. I'm guessing there will be an interesting and good one on offer.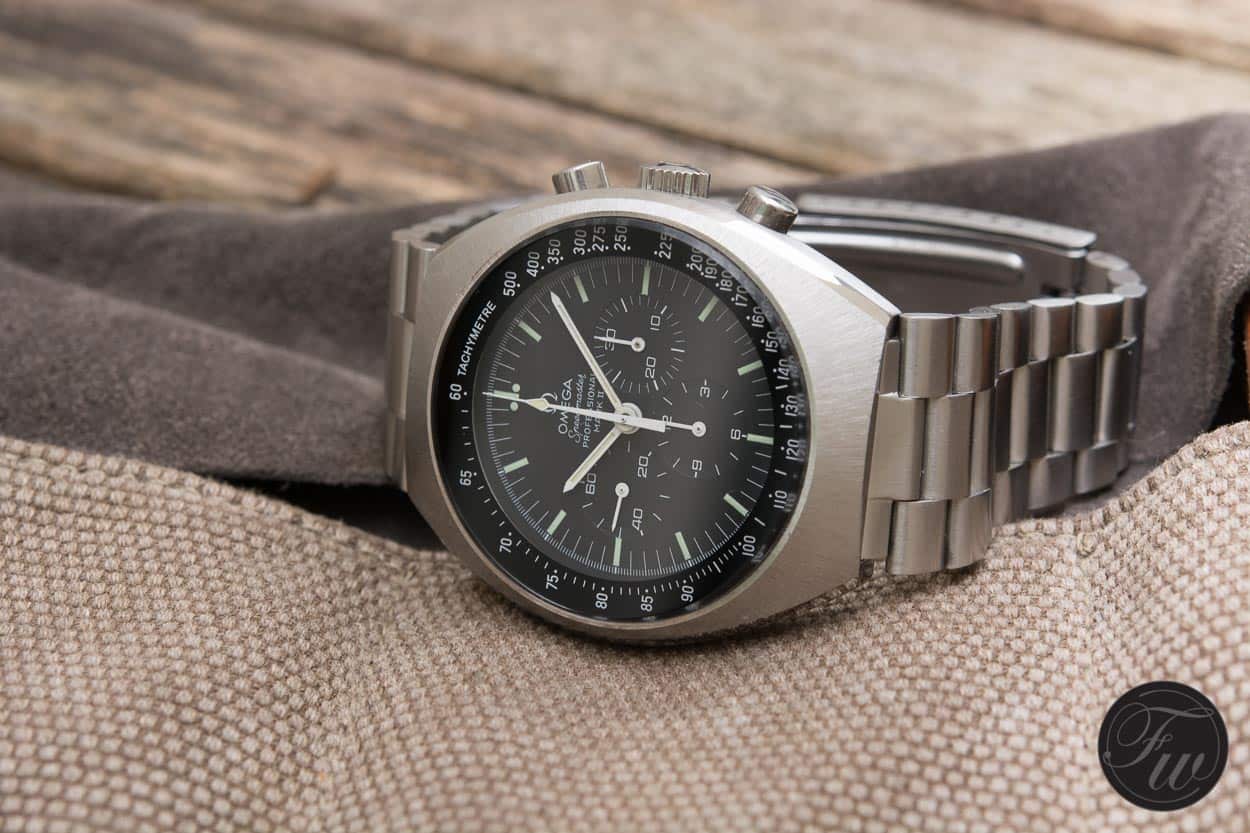 And what should be next in this collection?
Well, let's dive into history and see what happened after the first model of the Omega Speedmaster Professional came to the stage. Exactly, Omega introduced a Mark II! In 1969, the Mark II became the second iteration of the Omega Speedmaster Professional. Unfortunately, or fortunately, it never became a big hit, but in my opinion, it should be present in any serious Speedmaster collection. So that should be the next pick. A reference 145.014 Speedmaster Mark II, with either a black or racing dial, which Omega supplied from 1969 to approximately 1976. They have gone up in price lately, but it should still be possible to find a good one at €2,500. Happy hunting!
After the Omega Speedmaster Mark II didn't become a huge success, Omega decided to introduce some more Mark models. Mark III, Mark IV, and a Mark V saw the light, and even one nicknamed Mark Four and Half. All of them relied on automatic movements. None of them were signed "Professional", and none of them became as popular as the original Speedmaster. So, I wouldn't look for one of these Mark models for the last pick of a baseline Speedmaster collection. But what should be the third Speedmaster in this three-watch starter collection?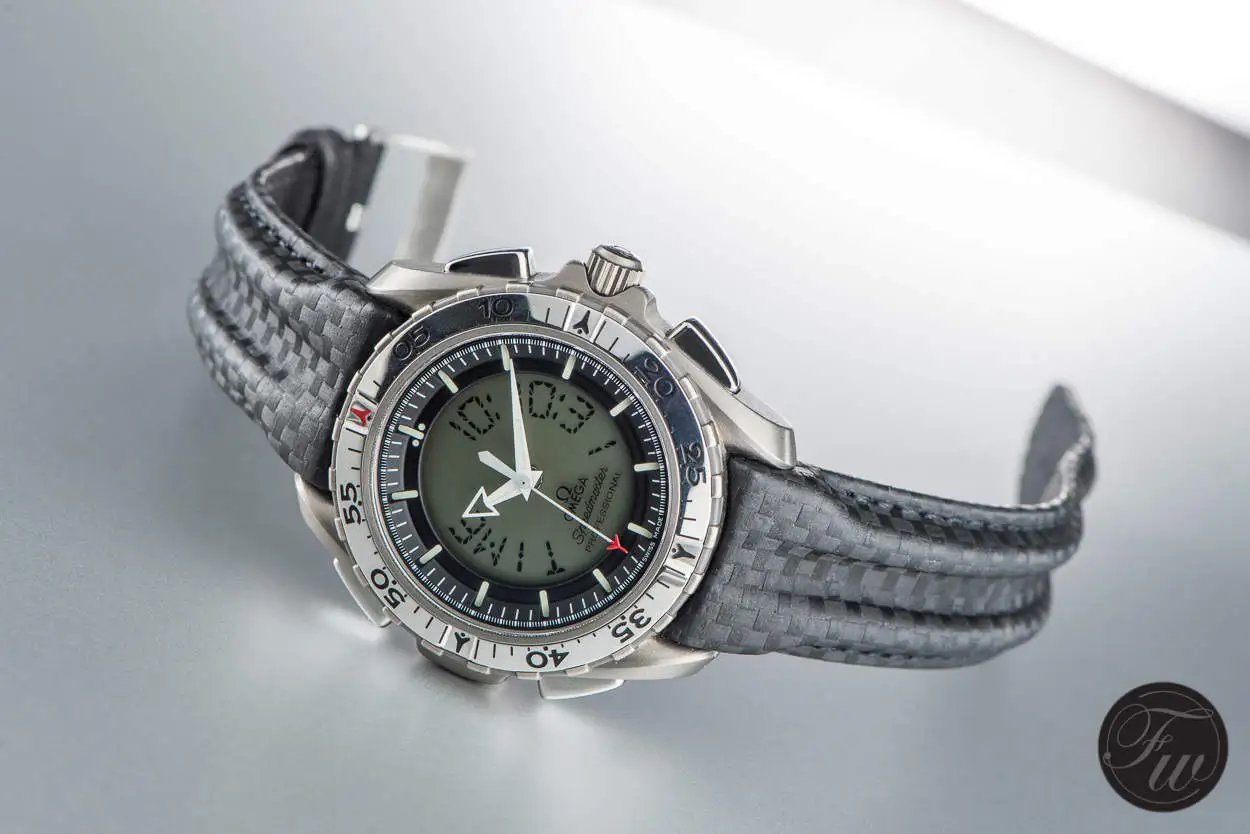 Another giant leap for mankind
The next big thing that happened to the Omega Speedmaster Professional was the introduction of the X-33. Even though it's a battery-powered quartz watch, the X-33 is considered Professional and signed accordingly. Known as "The Mars Watch", the X-33 was designed for the possibility of man landing on the Red Planet. It took five years of collaborative development between Omega, the world's major space agencies, the Blue Angels, and the Thunderbirds. The X-33 was, and is, worn onboard space shuttles, the ex-MIR, and the International Space Station.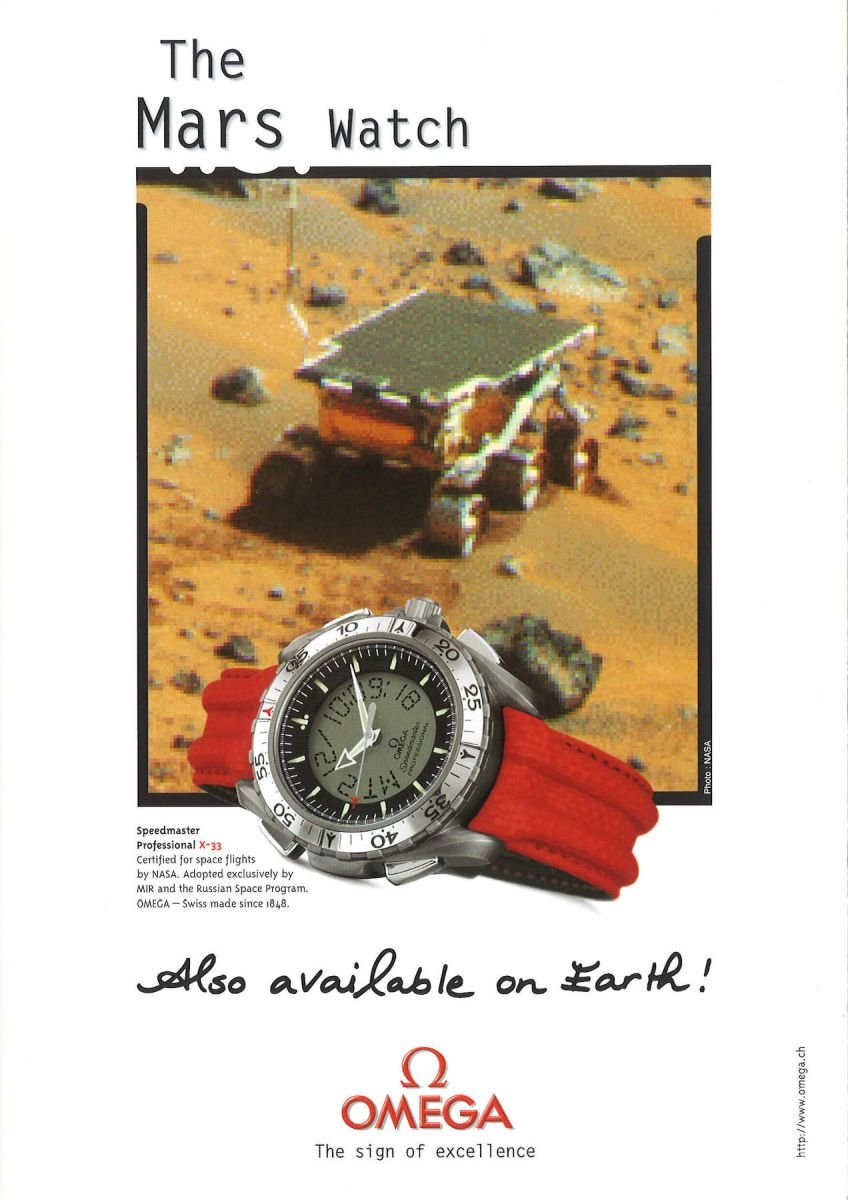 Anyway, I guess because of all that, the Omega Speedmaster X-33 Professional (reference 3290.50 or 3990.50) is important enough to be part of a Speedmaster collection. Plus, it would fit within the €2,500 budget that remains. The original X-33 was presented in March 1998 and was available until approximately 2007. Much later, in 2014, a new and much different model — the X-33 Skywalker — was introduced. I would opt for a generation one or two from the original series, though. I heard that the second generation of the original X-33, although not available to the general public, is still supplied to official space agencies for use by astronauts.
Conclusion
So, there you have it — the start of a Speedmaster collection, containing three significant watches in Omega's Speedmaster history, and ready to be expanded. It proves that though €10,000 could probably buy you one caliber-321-powered Speedmaster Professional, it could also lead to the respectable start of a Speedmaster collection.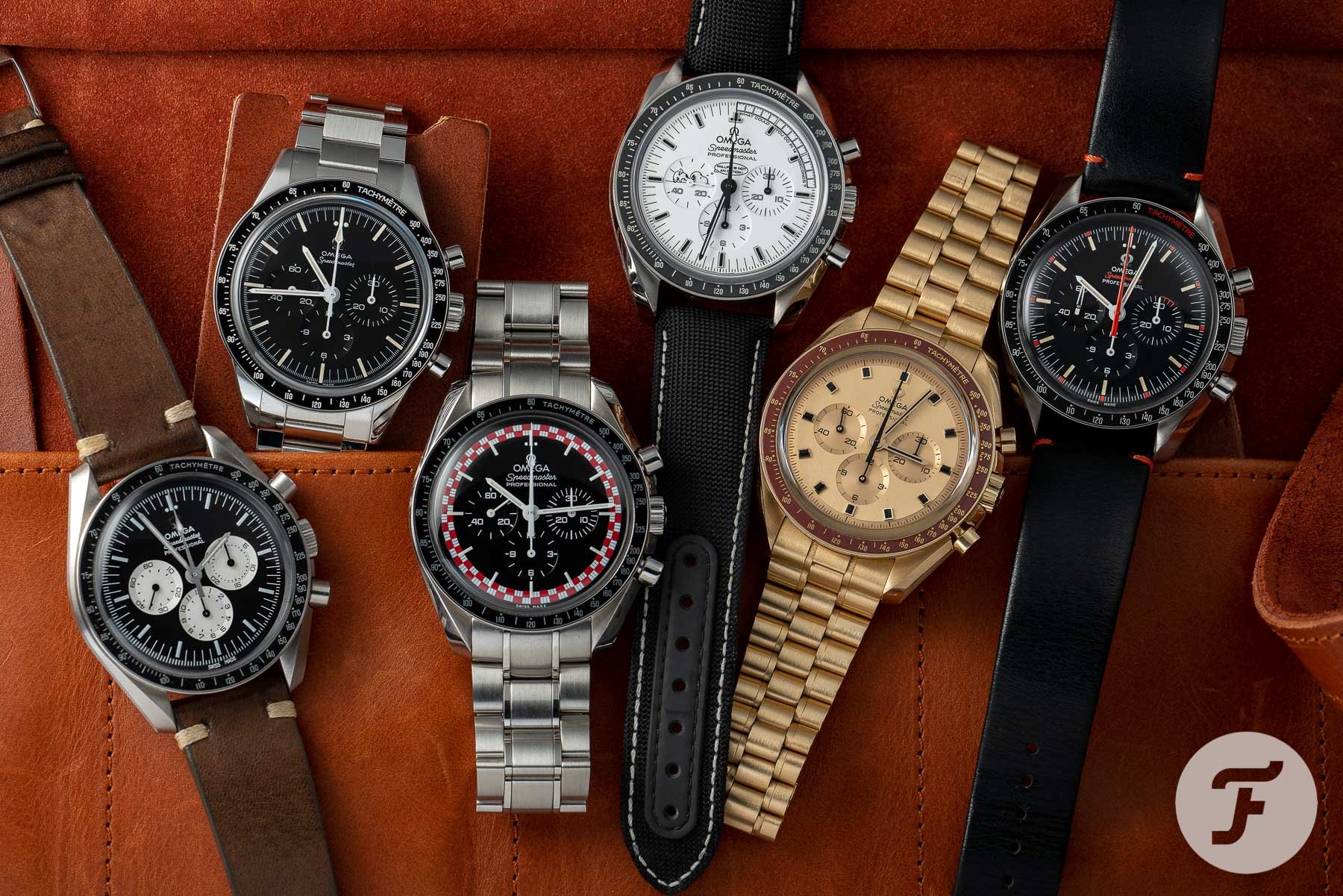 What would you do? What do you think about the choices I made? Do they align with your ideas, or would you choose other Speedmasters to start a watch collection? Please let me know in the comments below!