Introducing The Fratello × Louis Moinet Memoris Spirit 40mm Chronograph Limited Edition
Fratello's most ambitious project yet has its roots in good old-fashioned friendship
A song by retrowave artist Kristine called "The Deepest Blue" was on repeat in my head during my first visit to Les Ateliers Louis Moinet in Saint Blaise, Switzerland. Now, looking back on that illuminating trip, I am convinced the song influenced the design of this watch. Somehow, and without conscious invitation, the synthesized buzz of that lo-fi club classic ended up manifesting in a dial design that, after much tweaking and endless drafts, burst into life as if its existence had always been meant to be.
From that opening paragraph, you might think I've lost the plot. In many ways, you might be right. There is something about spending time with the team at Louis Moinet — most notably, the charismatic and enigmatic owner and commander-in-chief Jean-Marie Schaller — that changes your perspective on things. There is more than a little eccentricity woven into the fabric of the brand that exists primarily to extol the legacy of one of watchmaking's almost-forgotten greats. Its secondary purpose? To inspire and excite frequently wowed onlookers with its daring, sometimes thoroughly bonkers creations.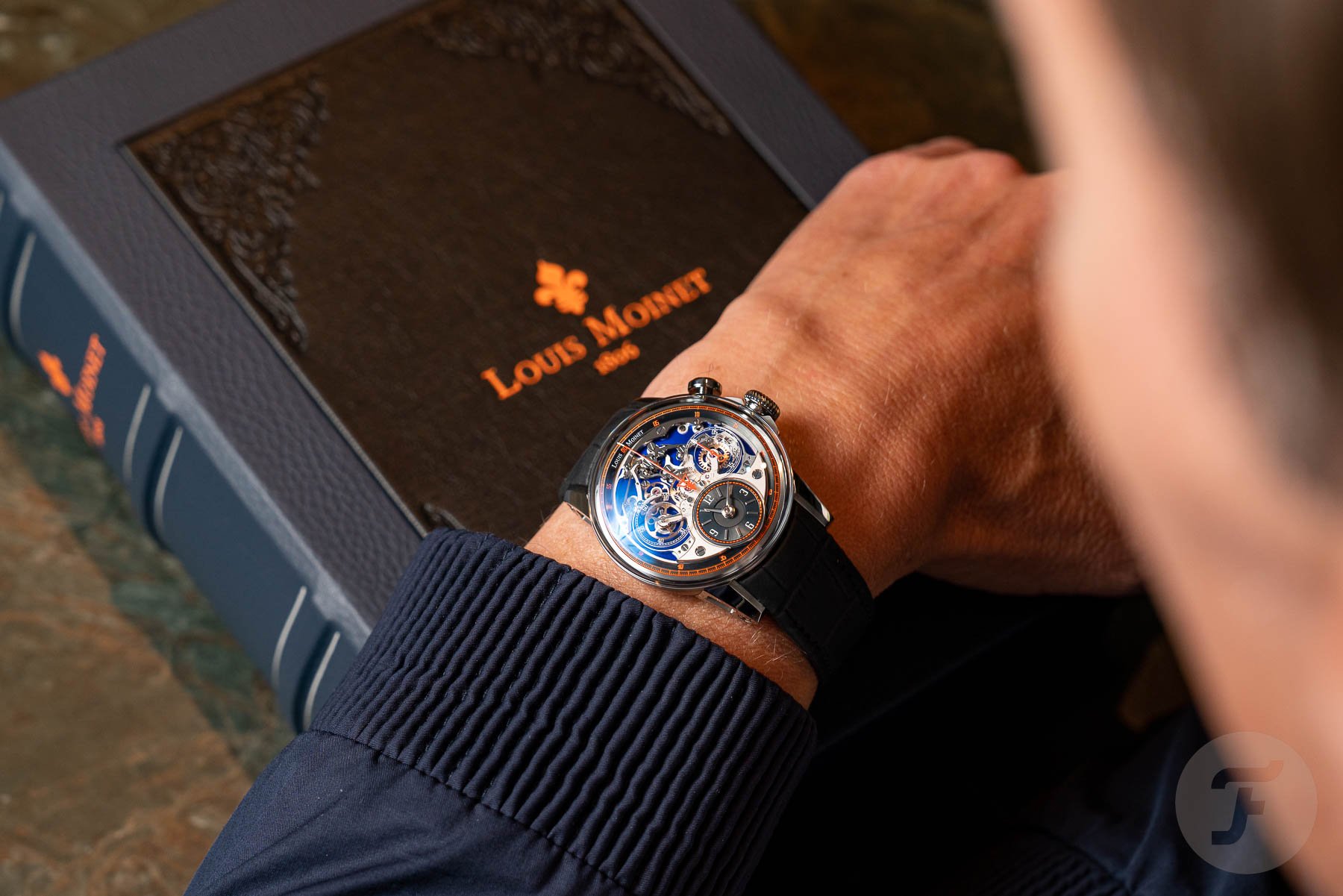 For quite a while, Louis Moinet was not a brand I understood. I think I was looking at the creations themselves too superficially. I was looking at them more for what they were rather than what it was they represented or the stories there were wordlessly telling. As someone who regards himself as intensely "product-focused", the watch itself — the basic tool upon my wrist — always mattered more to me than the idea behind it.
Designing from and for the heart
Funnily enough, I say that from the perspective of a watchmaker and designer, knowing full well the processes I follow to create a satisfying product. Even I mull over the concept of emotional connection through design. I pore over secret quirks, subtle nods, and historical Easter eggs that one can add to a design to titillate the mind as much as the eye. Those things matter. Creating a sense of wonder matters. The man behind Les Ateliers Louis Moinet understood that long before I did.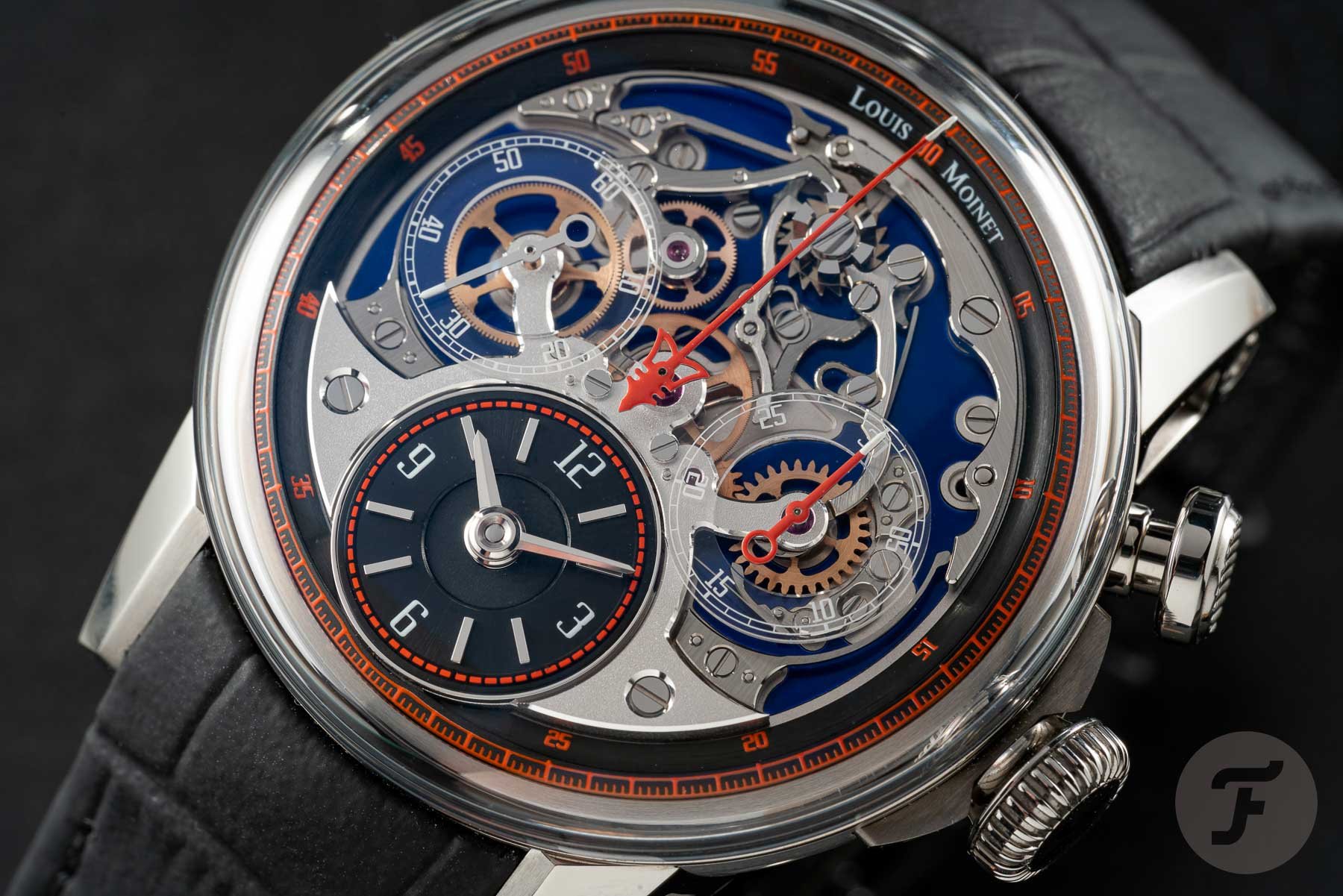 Jean-Marie Schaller became obsessed with the legacy of Louis Moinet. In the year 2000, he founded Les Ateliers Louis Moinet to protect the great man's reputation. He became the custodian of a history unlike most others in our craft. And when it was discovered that Louis Moinet created the very first chronograph, his call to destiny finally had a focal point. He would express the beauty of this popular complication in a way that paid homage to the origins of the brand and its founder's genius while embracing the modern capabilities of Haute Horlogerie in 2022 to further Moinet's story.
A friendship based on common values
Considering how dear a friend I now regard Monsieur Schaller, it is quite amazing to me how recently we met. In less than two years, we have gone from strangers to close collaborators, our personal connection and that of the brands we stand for underpinned and intensified by shared values. Our meeting was, perhaps like Schaller's and Moinet's, one of destiny. It came at the right time, mired in the middle of a depressing pandemic. Jean-Marie's cheeky, convivial nature was the highlight of the very first Geneva Watch Days. The staging of his brand was easily the most memorable. But what stood out immediately, even more than the characters of the brand and its owner, was his direction.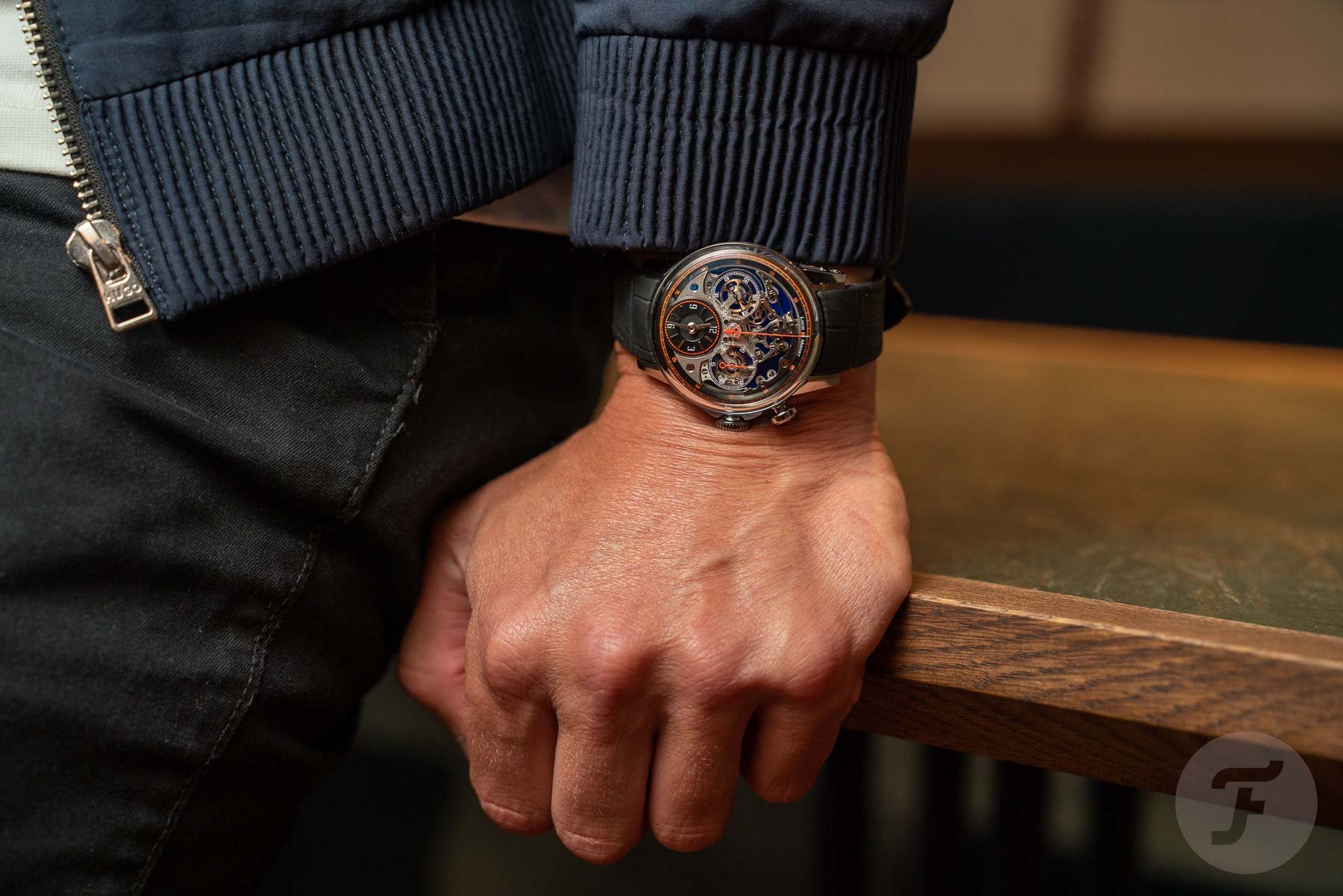 This is a brand based on the past. Ask him, and Jean-Marie Schaller will tell you anything you want to know about what has gone before. Despite this, however, he is always moving forward. His eyes are fixed, unblinking, on the future. He knows the burden of the legacy he bears, but he does not slow his march. He wants to grow it, develop it, and honor it by never letting it rest. Neither he nor the spirit of Moinet is lazy. Imagine, then, what might happen when two enthusiastic journalists turn up on his doorstep in Saint Blaise and start talking about collaboration…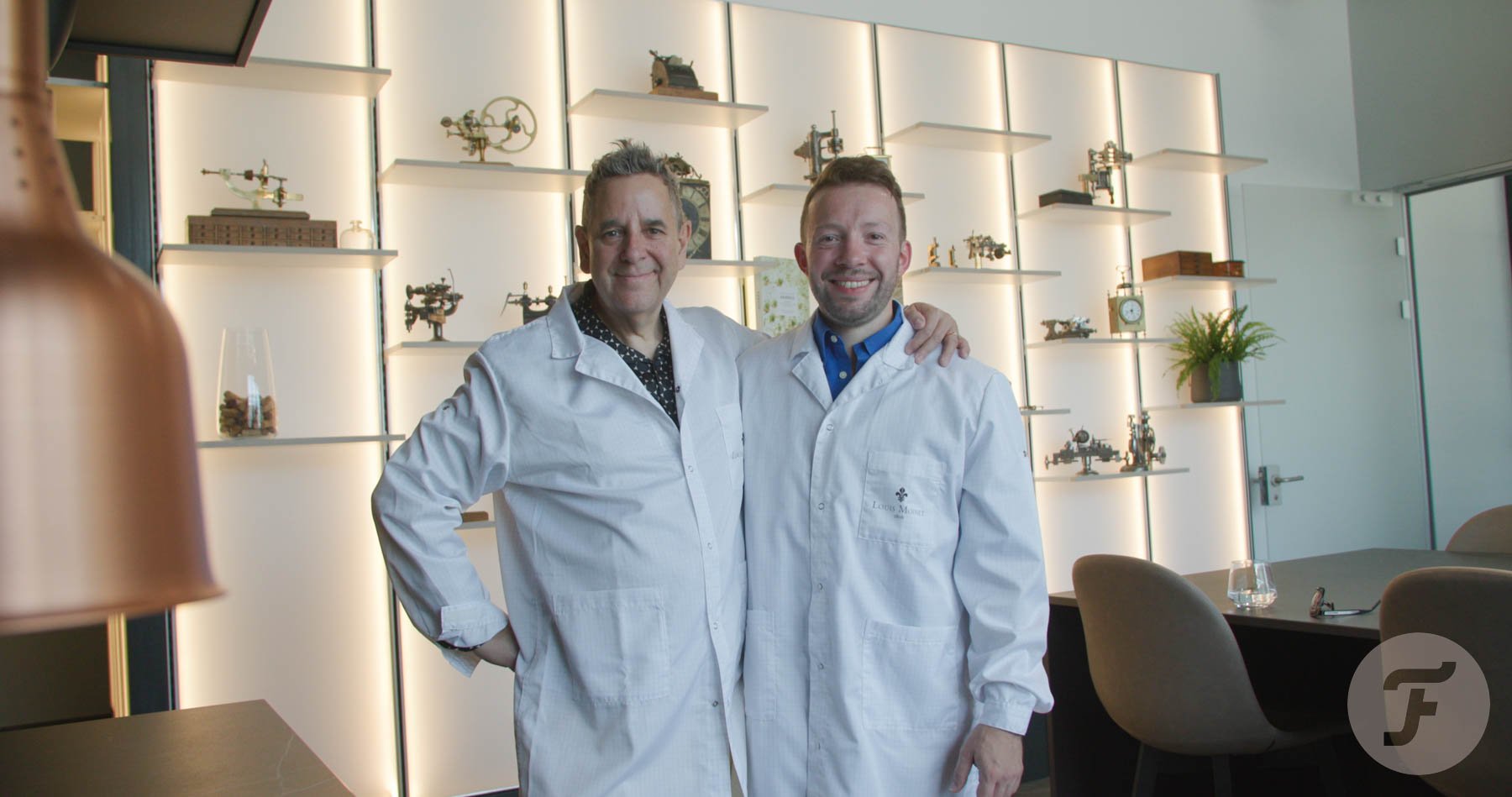 Enter Fratello
Dave and I descended upon Switzerland in March this year. We'd last seen Jean-Marie some six months earlier but we'd kept in frequent contact. We knew we wanted to work together. The only problem was that we didn't really know what kind of project to pursue…
Unconvinced by our notion as we were, we did turn up with an idea in mind. That ultra-ambitious, crazily artisanal, entirely niche, and probably useless concept went out the window immediately when we were treated to a sight few had laid eyes upon at that point.
"Can you keep a secret?" JMS asked us with a twinkle in his eye.
"I'm guessing if we don't, you'll kill us and bury us in Saint Blaise?" I said.
"No one will ever find us," mused Dave. "We're in the middle of nowhere."
Jean-Marie (a fan of Arsenal football club) shot Dave (a fan of their north London rivals, Tottenham Hotspur) the kind of withering but faintly amused look I often see pass between the pair when they argue about which of their respective football teams is going to be the best in the upcoming season and made a clicking sound with his tongue.
"Oh, you are quite right, of course. There are places here that even the locals do not know."
We gulped hard.
"Fine," I said. "One secret. We promise to keep one secret. What have you got to show us?"
The smile at the corner of his lips seemed to be smiling itself, anatomically impossible as that may be.
"Allow me to introduce," he said, theatrically, as he pulled back the cleaning cloth that had been concealing a brand new watch, "the Memoris Spirit Chronograph… in 40mm."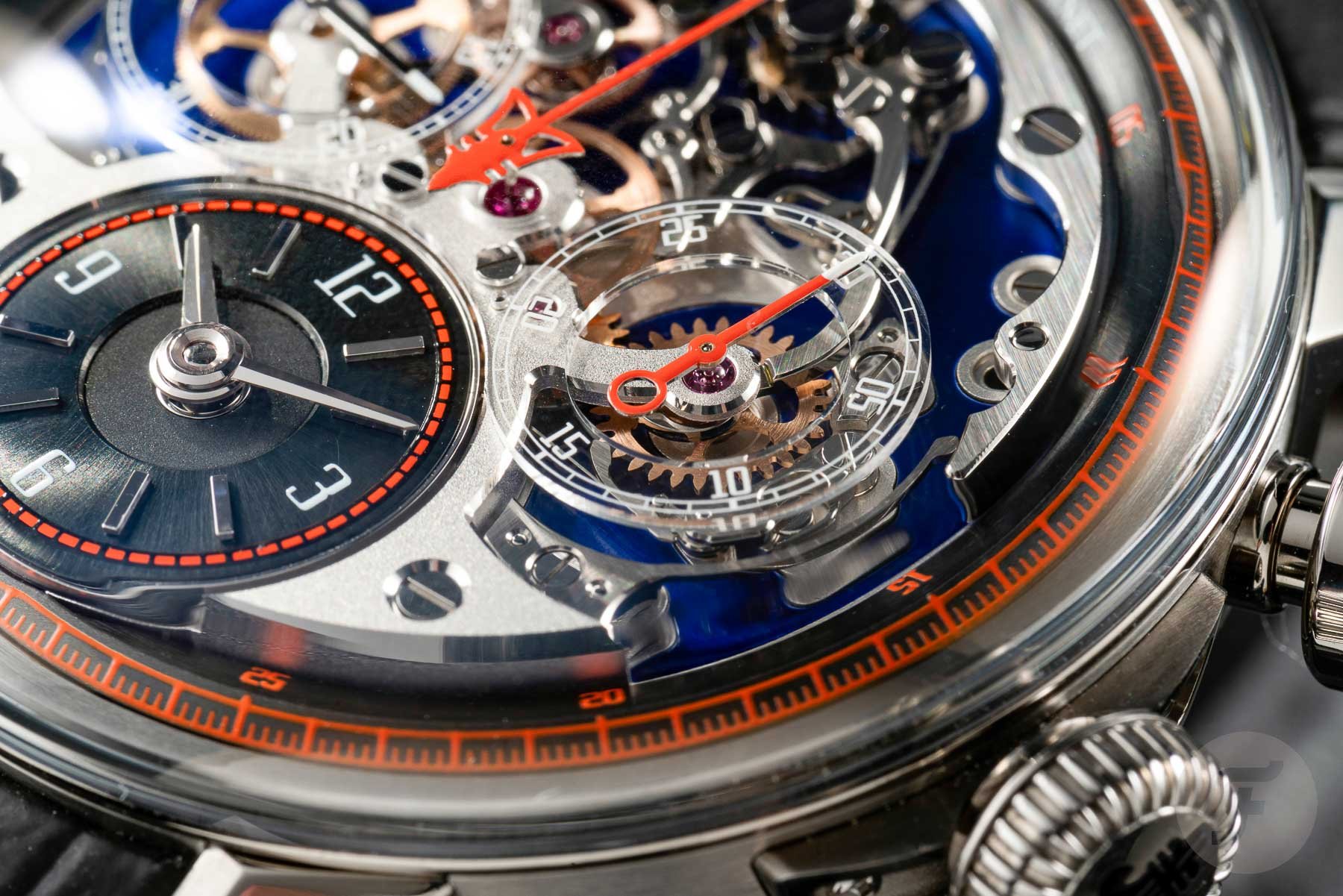 A gamechanger
We actually gasped. This never-before-seen beast was a whole 6mm smaller than the previous Memoris Chrono. Like that model, the chronograph's mechanism was entirely visible on the dial side of the watch. It is a selling point that is genuinely thrilling to operate and witness. We hunched over this model as it lay on the desk.
"I'm gonna touch it," I said, plucking up the courage to do what Jean-Marie had no doubt expected us to do several seconds early. "My god… It barely weighs a thing!"
He smiled. "Titanium and sapphire case, steel buckle. Not bad, eh?"
Not bad? I'll say! I strapped it on immediately, the faux-croc calf leather strap's matte and rubberized surface feeling like my wrist had been its home for years.
"This is amazing. It wears like a… like a…"
"Like a…?" said Jean-Marie, hands clasped above elbows resting on the table, his chin propped up by his two thumbs, as he leaned forward towards me and the watch in anticipation of my verdict.
"It wears like a watch." I was grinning as I said it. A smile broke out on his face too, and we started to laugh. He knew what I meant, and I knew that we'd found our model. At that second, we were convinced. The Fratello × Louis Moinet Memoris Spirit Chronograph was going to happen. The only question that remained was when and, quite crucially, how…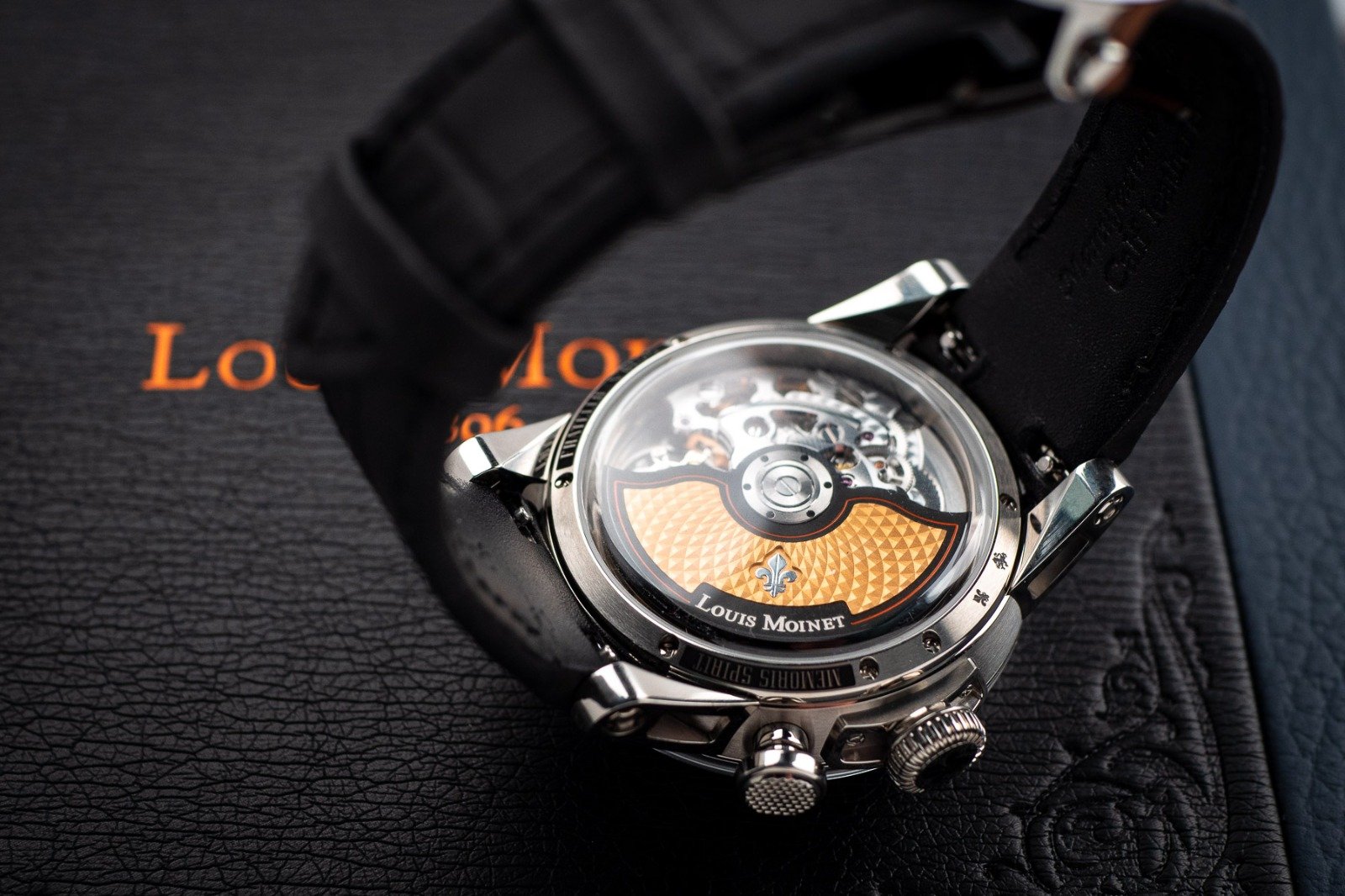 It wears like a watch
Let me clarify that statement if it isn't as clear as it was to us in that amusing moment. What I meant, quite simply, was that every other Louis Moinet watch I had ever encountered had been, first and foremost in my eyes, a work of art. Wearing those pieces was an experience unlike anything one could expect in "real life". It was a complete departure from reality. Wild cases, intricately crafted dials made of materials from outer space or from deep within the Earth, or brought to life by micro sculptures, moving characters, a three-dimensional interplay of components…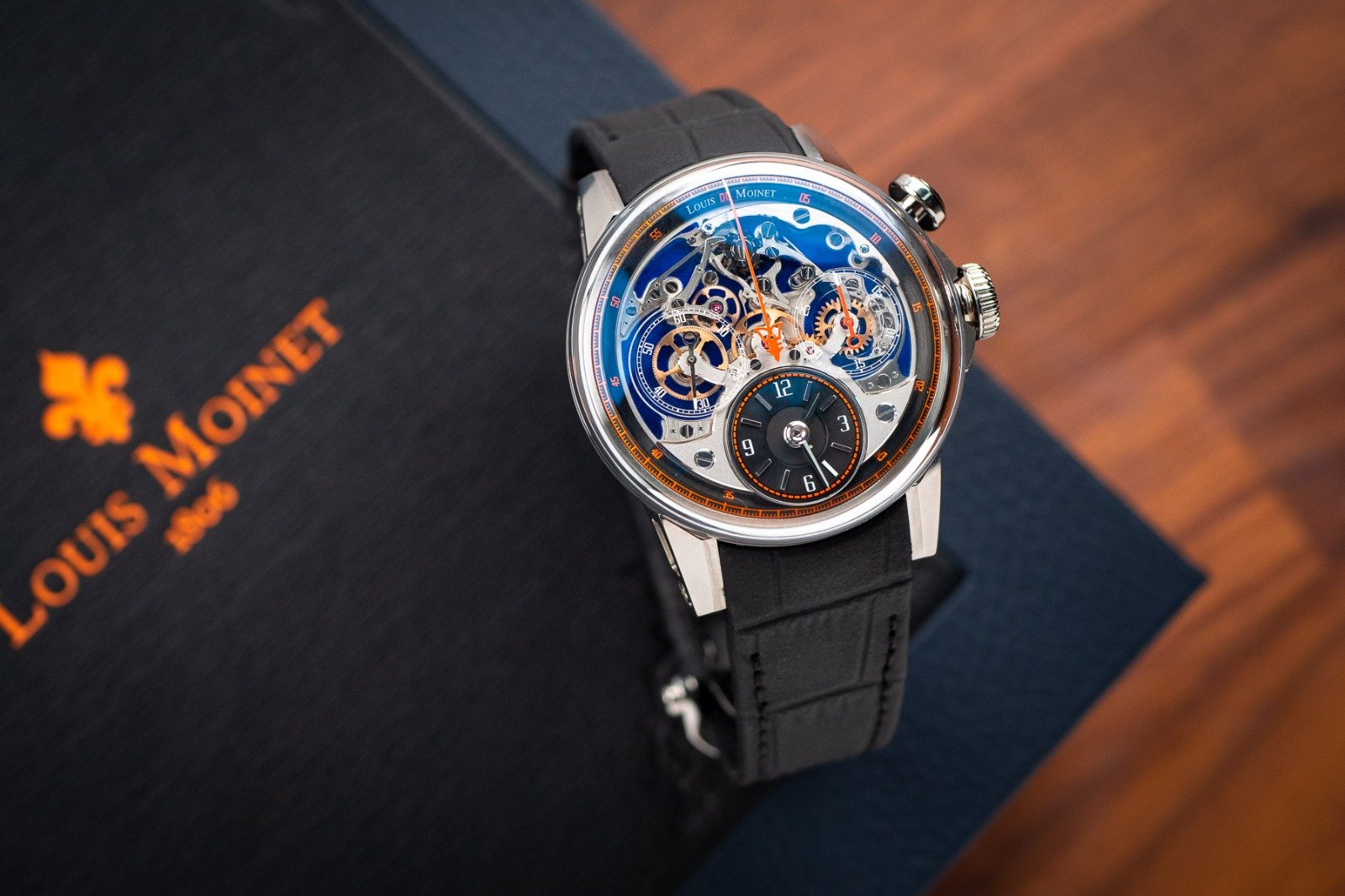 Those timepieces were majestic. They were certainly worthy of the name Louis Moinet. But they were not, nor were they intended to be, the kind of thing you strapped on at the start of a working day. Remarkably, although the Louis Moinet Memoris Chronograph 40mm remains a stunning technical feat of horological mastery, its size and remarkably graceful profile mean you actually wear this thing all day without ever feeling like it's too much.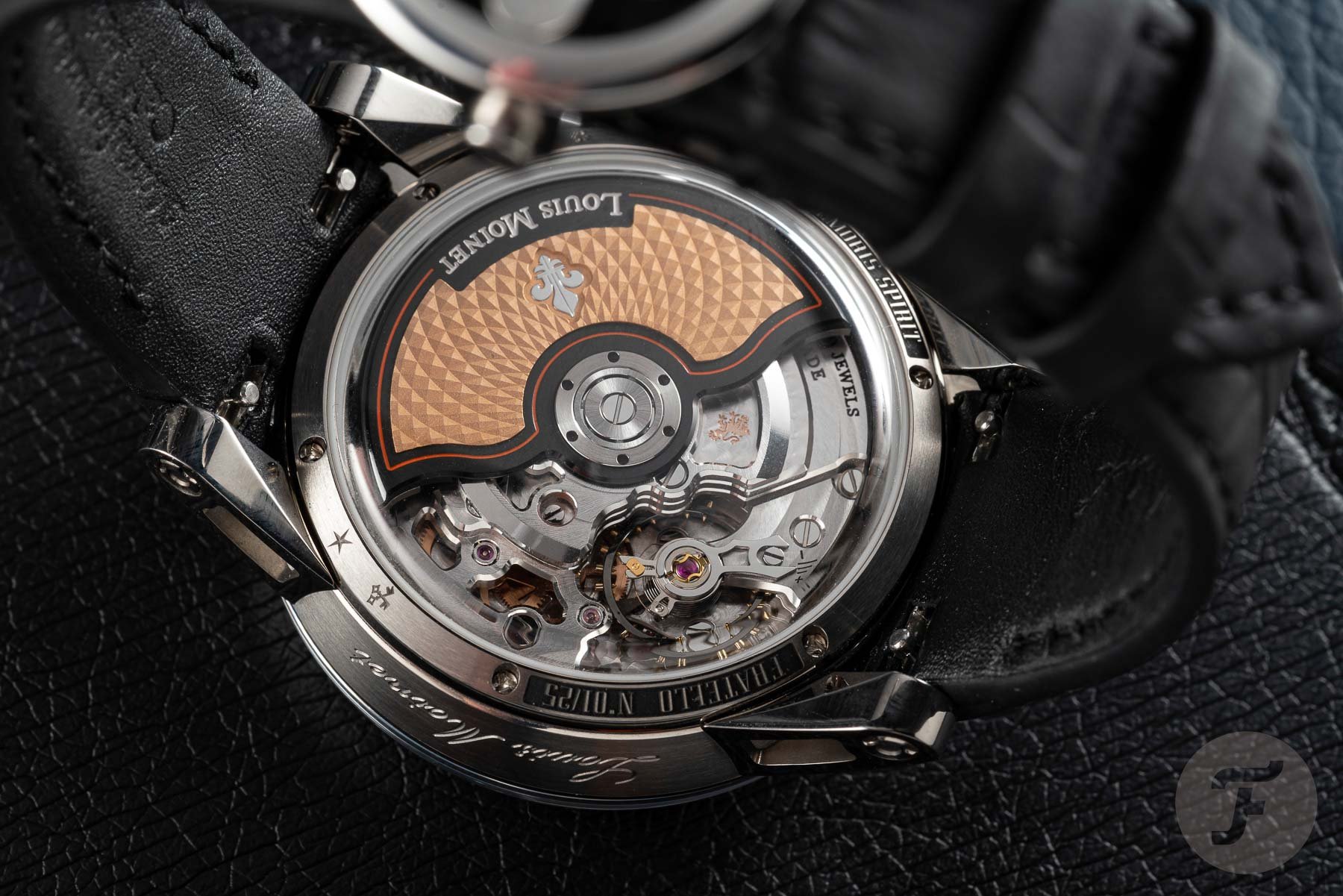 Materially, its swooping high-dome sapphire, which provides a panoramic view of the dial-side chronograph mechanism, is a real achievement. It is exactly the kind of component one could imagine Louis Moinet himself conceiving if he were alive today, but one he most certainly could not have made in his own time. For that reason, it is the perfect way to further the brand's legacy.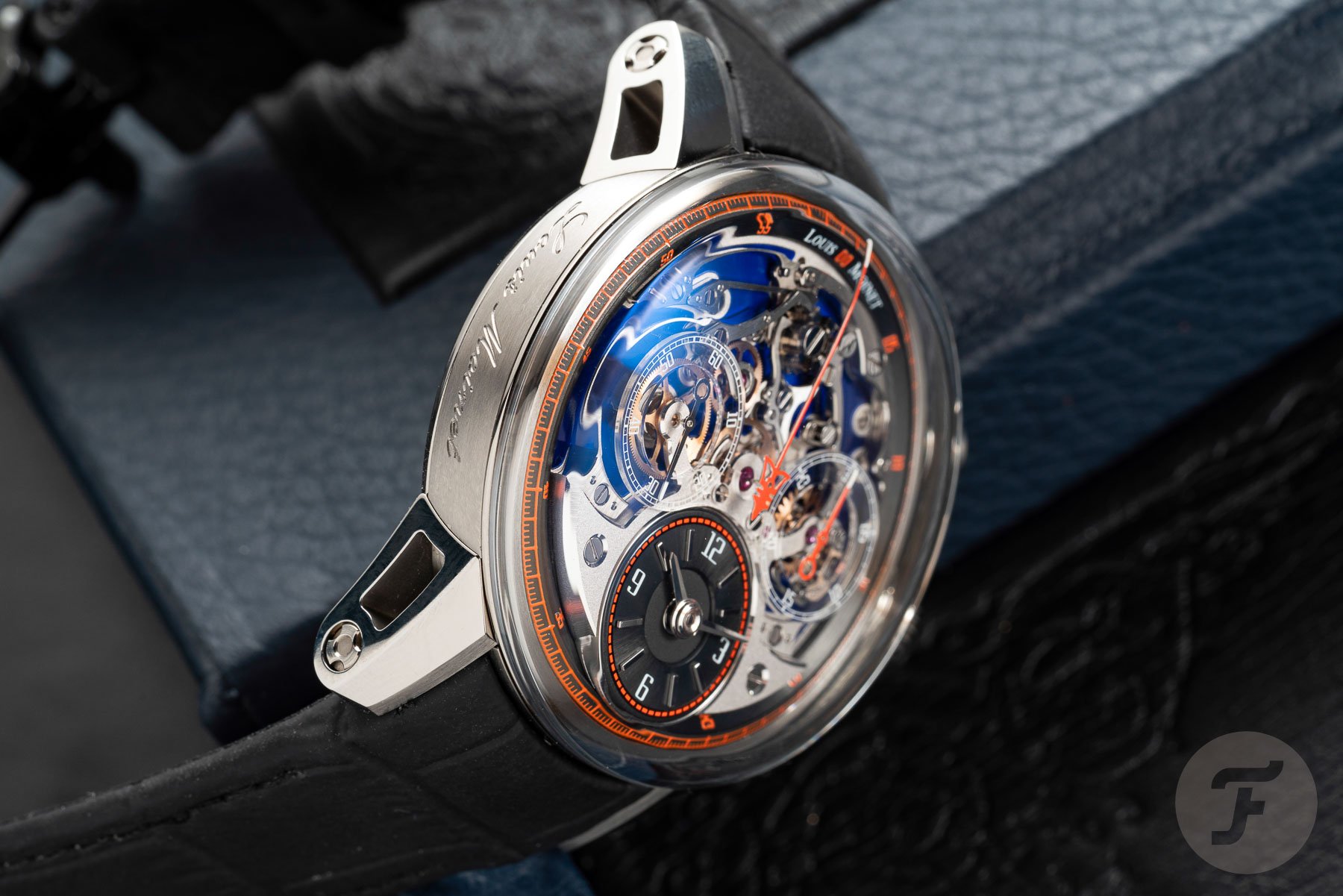 How to make it worthy of the brand…
And so our attention turned to how to make this the perfect custodian of Louis Moinet's heritage but also a watch very much for the here and now. Dave and I went back and forth on the design, wrangling over elements here and there, before we settled on the "deepest blue" background, ringed by a black chapter ring and time dial, printed with the vivid shade of orange we call our own (RAL 2005).
"You're obsessed with orange," Dave laughed.
"Well, we're Dutch," I smirked back at him, "and besides, this is a watch for the future, and there's a little something I haven't told you about RAL 2005. It has a trick up its sleeve."
"Oh yeah? What's that?"
"Get a UV torch on it and you'll see… It's a nightclub on your wrist…"
As many of the dedicated Fratelli will know, I am somewhat obsessed with color. As a synesthete (someone whose senses are stimulated by stimuli meant to stimulate another sense), I often think in colors. Because of this, their exact interactions on a dial can stun or sicken me (quite literally). Black and blue aren't all that often seen together, but in one of my recent color chart experiments (which I perform regularly in an attempt to predict upcoming color trends or preferences), I noticed how incredibly engaging and nuanced a combination of particular shades of both can be when set against a strong fluorescent color. Happily, RAL 2005 (my go-to in such situations) did the trick.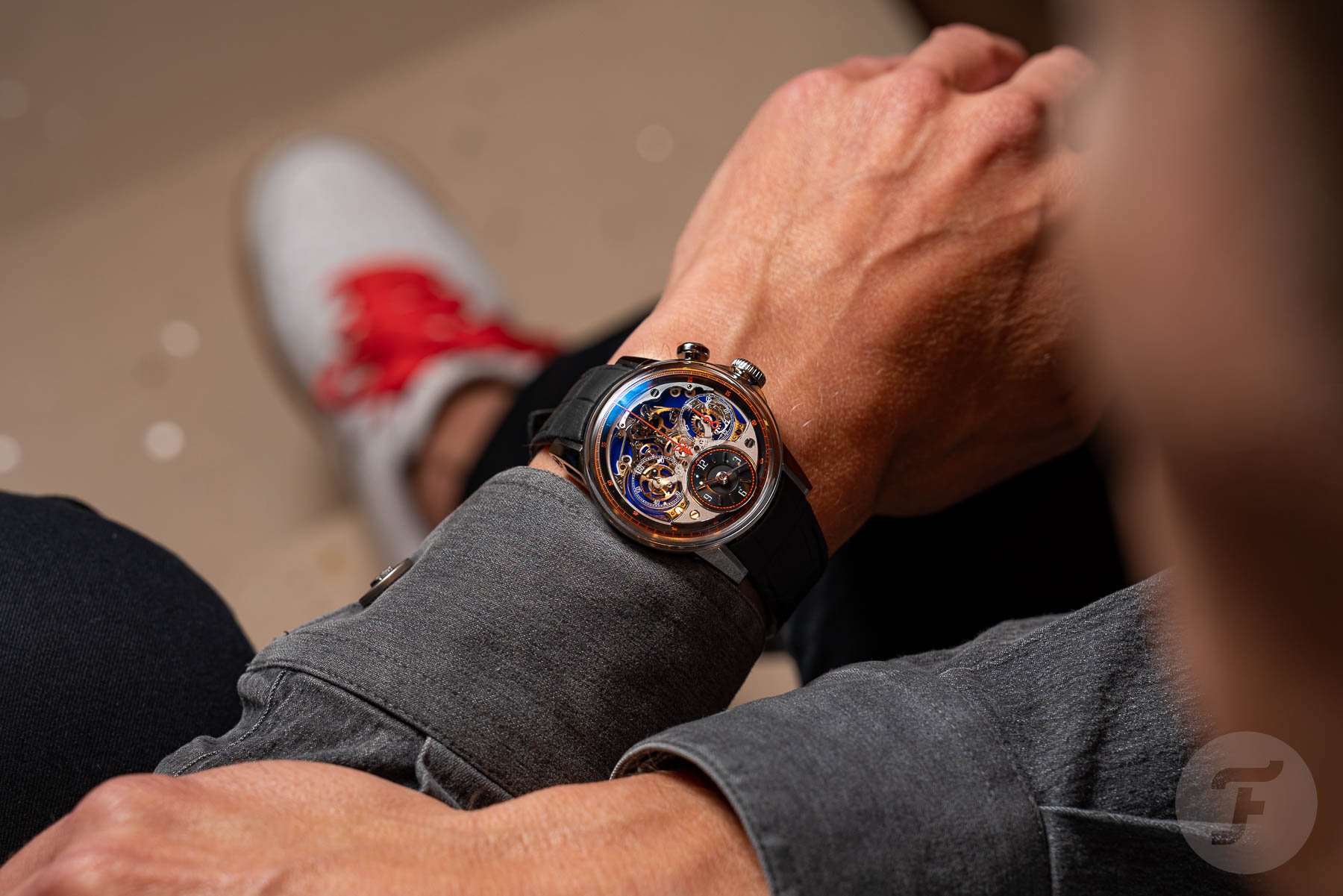 A matter of trust
This partnership worked for two reasons. One was the trust placed in Fratello by Jean-Marie Schaller. As a doer, his first response to our suggestions was always a solution (whenever one existed). He was not interested in slowing our minds or stemming our creativity. He wanted it to flow naturally from us so that he might see his own creations through the eyes of others. What would we change? How would we leave our mark on the watch? What would the most recent step in the history of the chronograph look like when we were done with it? Without his faith and support, this would not have been possible.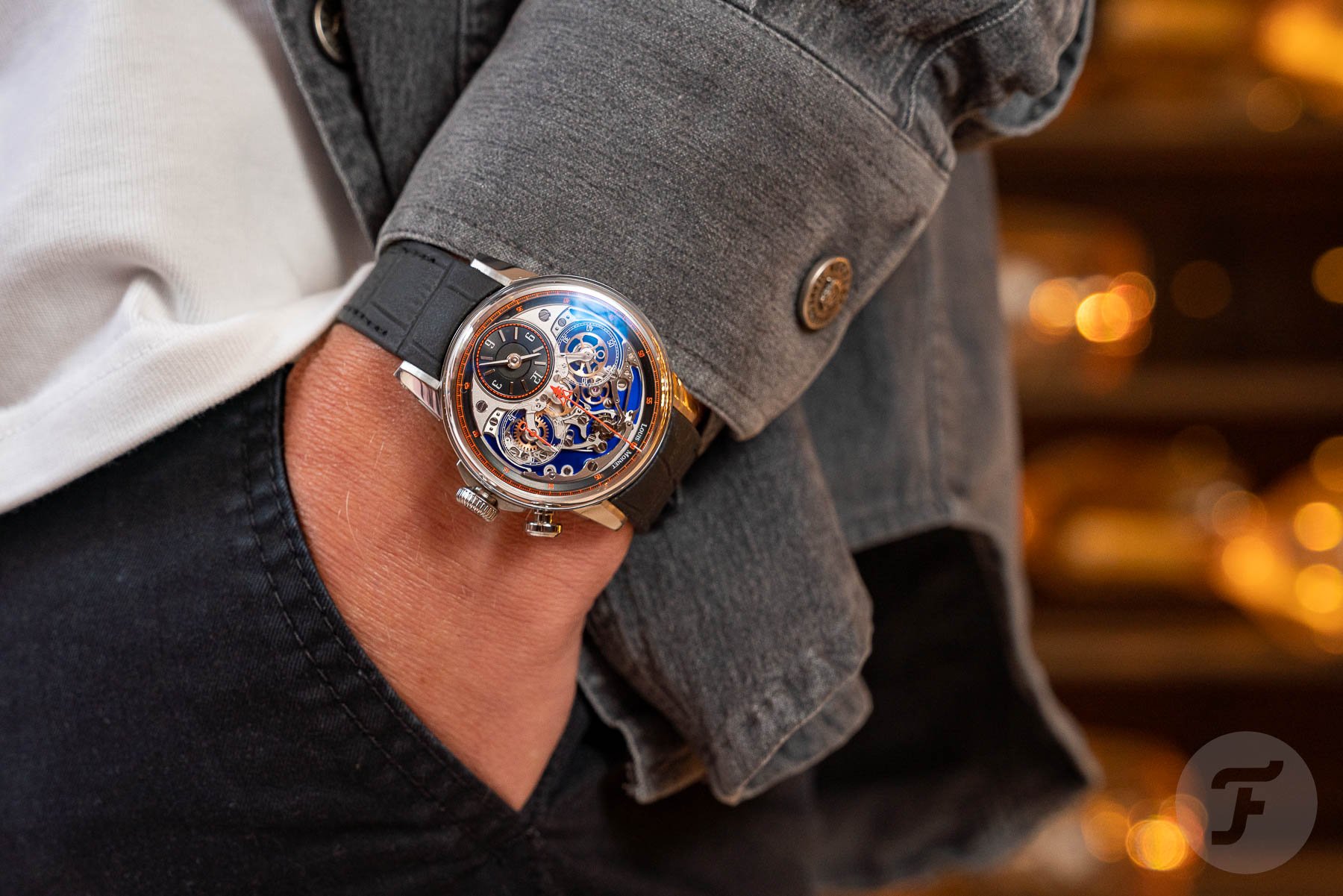 The second tenet of success was the respect Fratello had for the heritage of Louis Moinet. The point I made obliquely in the previous paragraph dawned on me suddenly about a week into our design discussions.
"You know," I said, feeling like a small bomb had gone off inside of my head, "we are designing the most modern direct descendent of the first chronograph ever. When this watch launches, you will be able to draw a line all the way back to the very first chronograph from it. This is the furthest the story of the chronograph has traveled and we get to write this chapter. Do you know what that means? It means that for as long as this model remains Louis Moinet's most recent release, there won't be another chronograph in the world with the same lineage. How cool is that?"
As it turns out, we decided it was just as terrifying as it was cool. However, undeterred, we pressed on.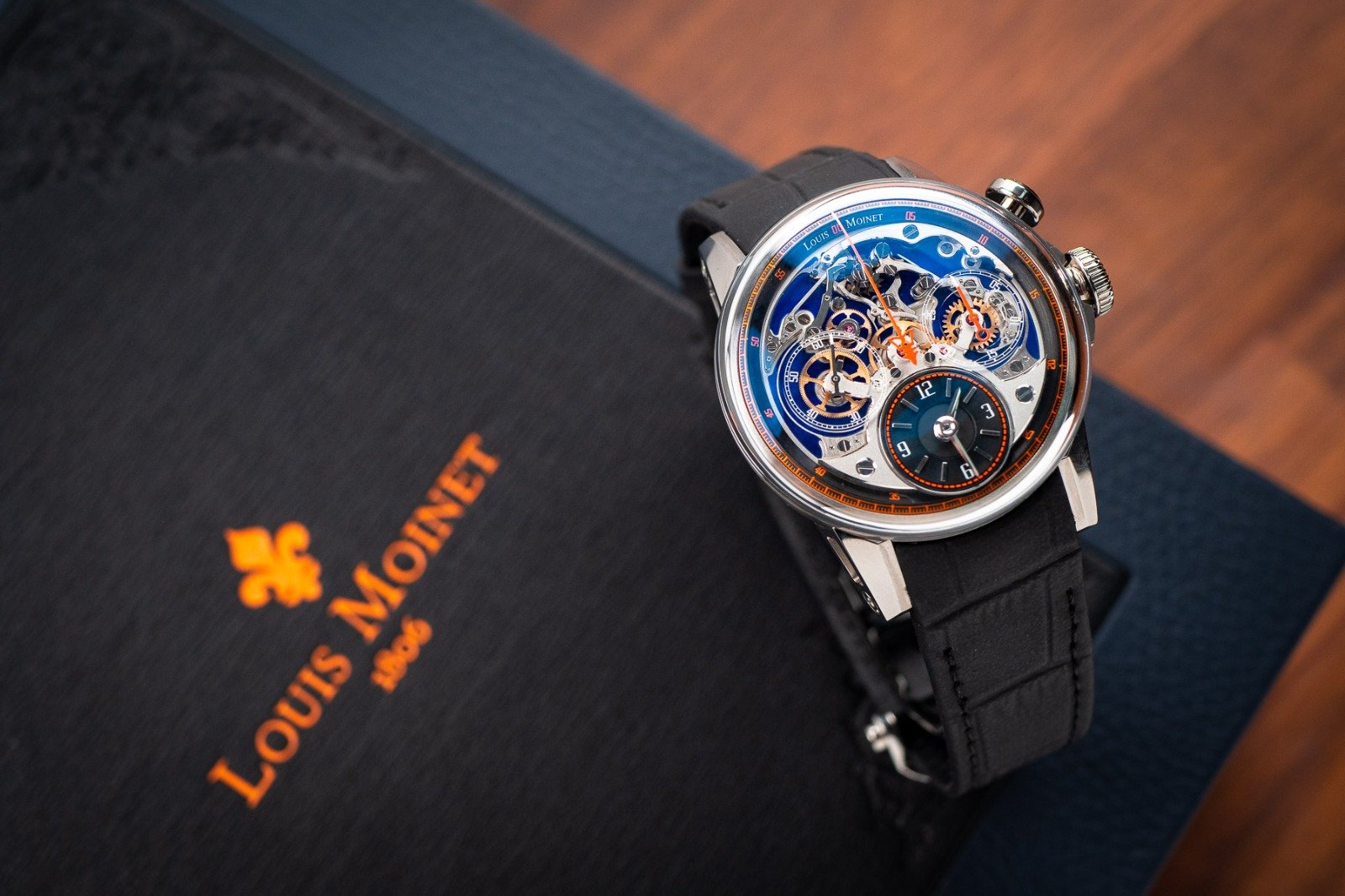 What else did we change?
Other subtle details changed for Fratello (aside from the box, the case back engraving, and the strap material/finish combination), are the 60-minute marker at 12 o'clock on the chapter ring, the tip of the chronograph seconds hand, and the running seconds hand at 9 o'clock. Instead of a "60" at the top of the watch, we have a "00" for symmetry and a nod to the "beginning of the chronograph's story". Interacting with the double zero is the elongated white tip of the chronograph seconds hand, which now runs to the edge of the chapter ring when viewed from above.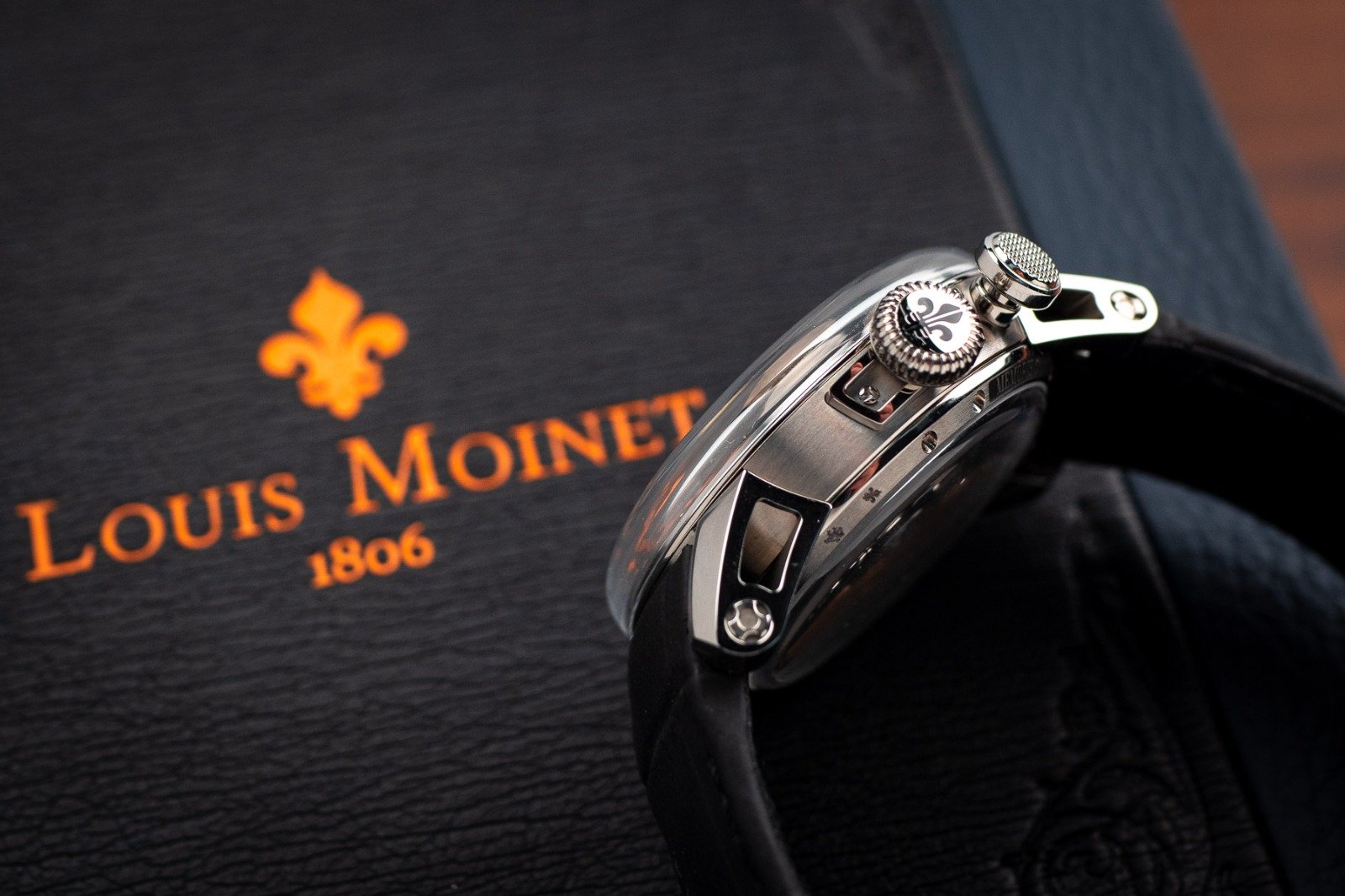 The running (or going) seconds hand is silver, tying it to the hour and minute hands of the time dial. This is a popular design trait within the Fratello team (and the wider Fratello community), but it was Lex who insisted we ensure that the hands of the watch and the hands of the chronograph were distinct from one another. Trusting his counsel, we went for it. The decision not only makes sense, but it also gives our version of the finest chronograph ever made under the Louis Moinet name an unusual, asymmetrical look that we hope watch lovers will adore.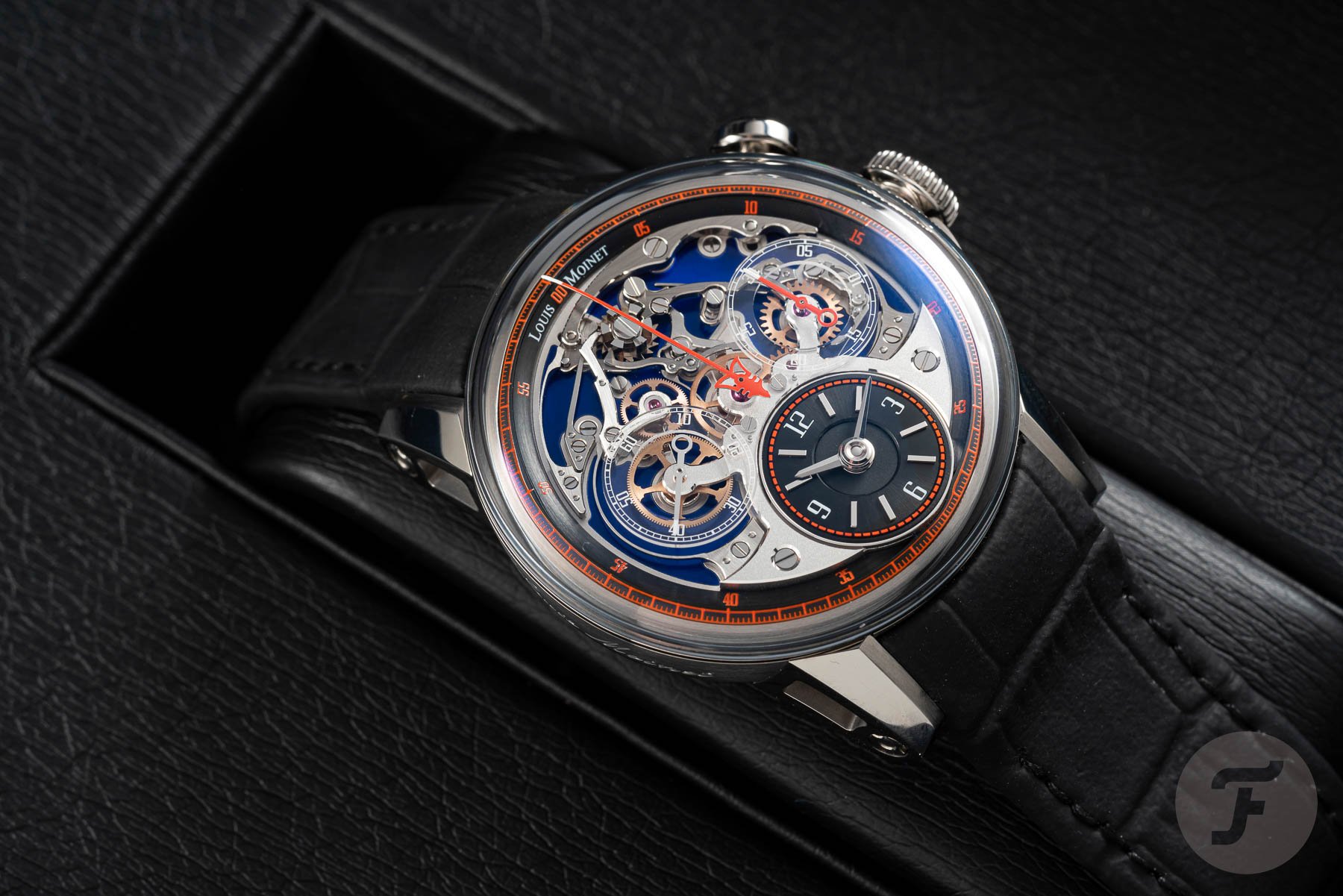 A passion project for all involved
It's been a while since we released a watch on Fratello, especially one in which we had so much input. Amazingly, it was all the way back in late September last year when we launched the NOMOS Glashütte Weltzeit "The Hague" edition (if that model was to your liking but you missed out, be sure to sign up for the waiting list to give yourself a better chance of being at the front of the queue when the next NOMOS model comes out very soon). This release will kick off an incredibly active end to 2022, and it is the biggest and most ambitious project of the lot.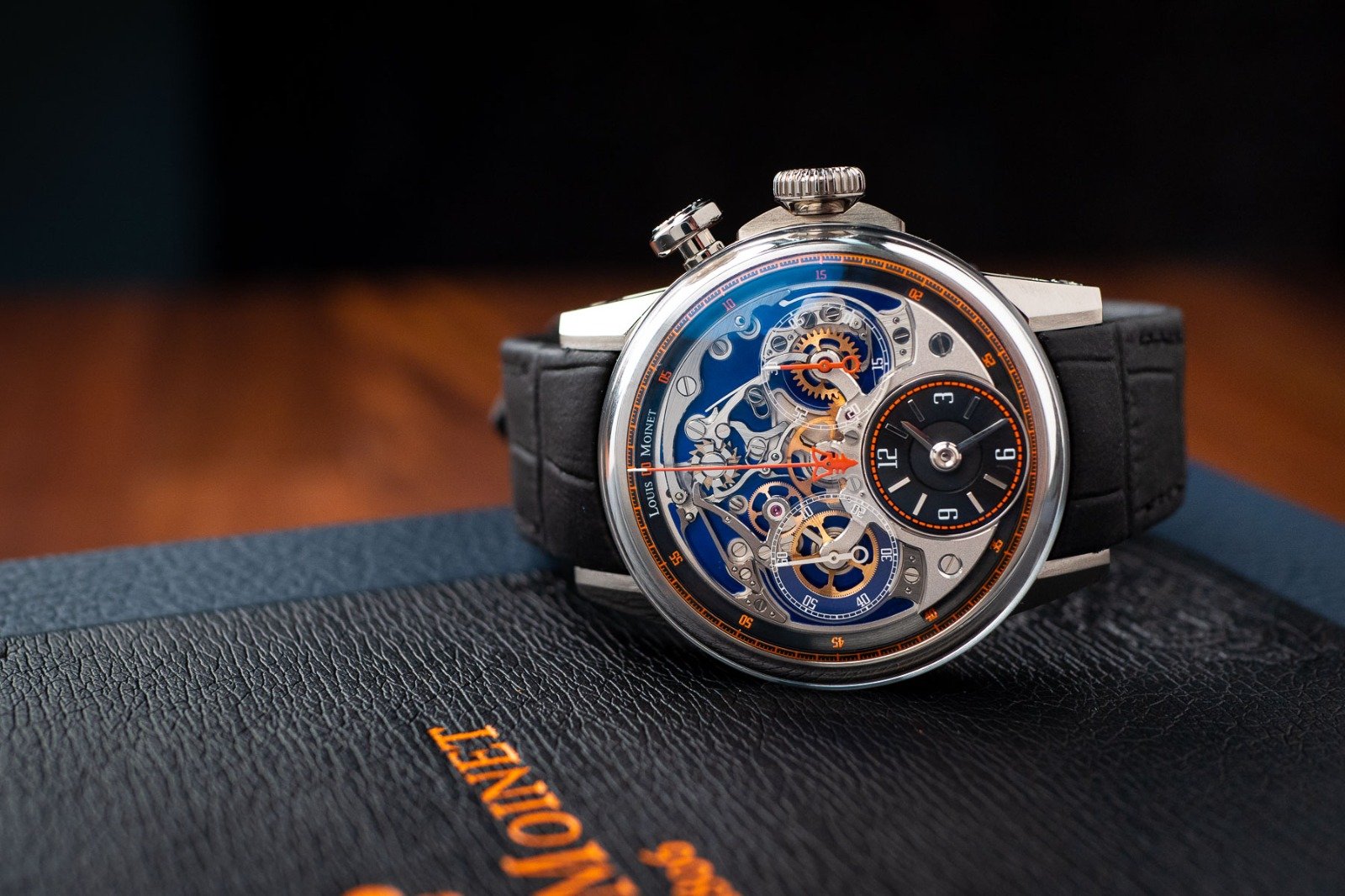 Limited to 25 pieces and priced at €29,500 excluding VAT (the shop listing will show €35,695 inc. 21% Dutch VAT with VAT recalculated for your shipping location at the point of checkout), the Fratello × Louis Moinet Memoris Spirit 40mm Chronograph is a very special piece designed for those members of the Fratelli that value the legacy protected by this great and welcoming brand. The watch will be released at 6:00 AM CEST on Tuesday, August 16th (that's one week from today). If you are interested, please sign up for our mailing list for reminders.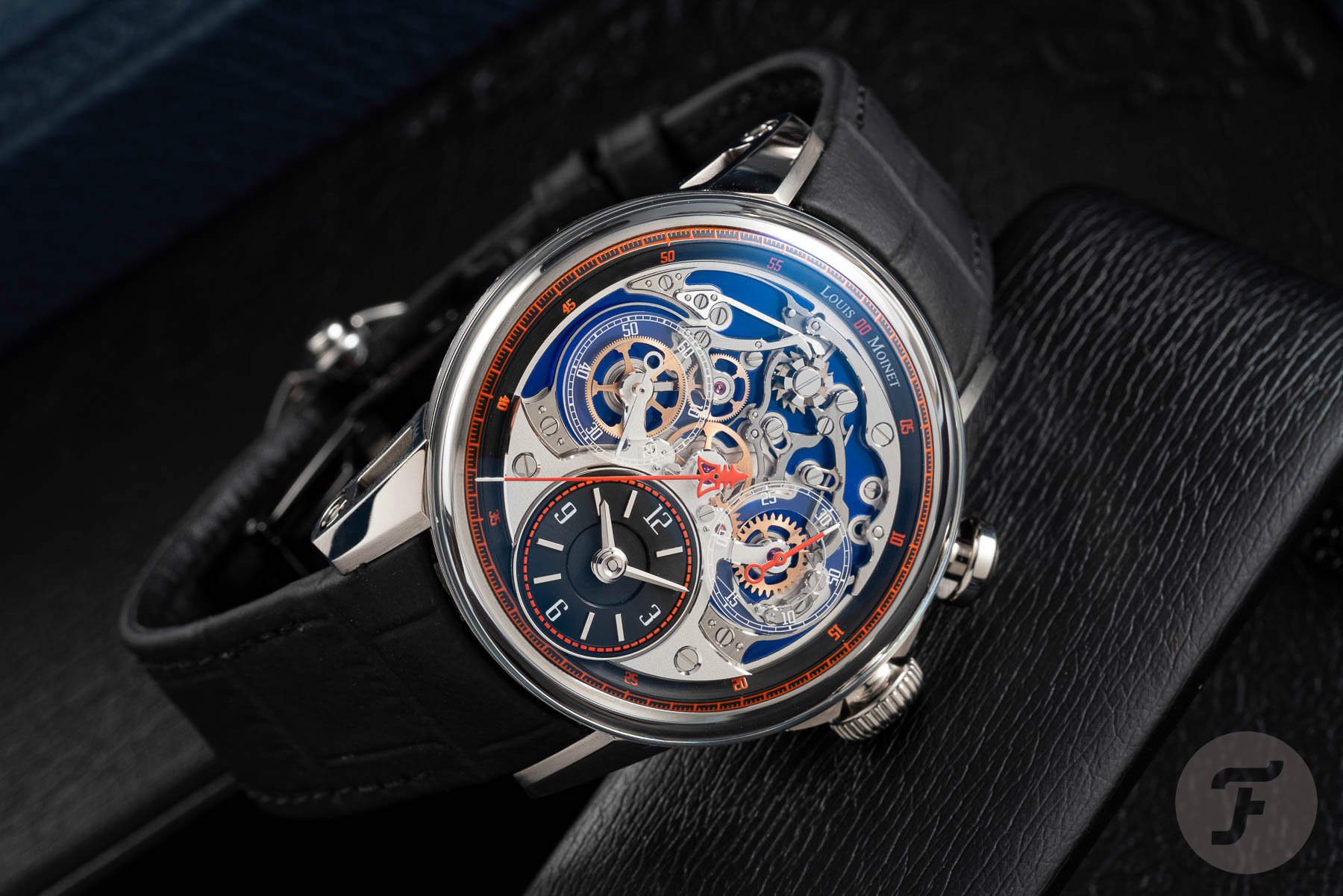 In the interests of transparency, there will be no watches pre-sold, and all 25 units will be made available at the same time. The Fratello Shop only removes items from stock once the payment process is complete. This means that as long as there is one watch left in stock, you will be able to add the item to your cart, but it will not be guaranteed until your payment method has been processed. If you have any questions regarding the launch in advance of it, please contact [email protected].