Story Time: Ron Santo's Rolex President
An Inspirational Story about Living and Succeeding with Diabetes
If you're a fan of baseball, then you probably just finished watching the World Series (Congrats, Nats!).  And while the Chicago Cubs weren't in the hunt at the end of this season, they're a highly competitive team with a rabid fan base.  In the spirit of America's pastime and related to the Cubbies, let's take a look at a neat story, the story of Ron Santo's Rolex President and the watch's current owner, Sean Madigan.
I've mentioned it before that we receive a lot of email here at Fratello and it was one such day that Robert-Jan forwarded a message that served as the inspiration for today's story about Ron Santo's Rolex President.  Now, if you're European – and the last time I checked, Robert-Jan is – you'll ask the same question that he did: "Who is Ron Santo and why is this significant?"  We'll get to that in a minute, but suffice it to say, as a baseball fan and one with a bit of a historic tie to the Chicago Cubs, I wanted to write this story.  With apologies to Sean Madigan, the gentleman who shared his story and the story of the watch, it took me a little longer than planned to get it to print.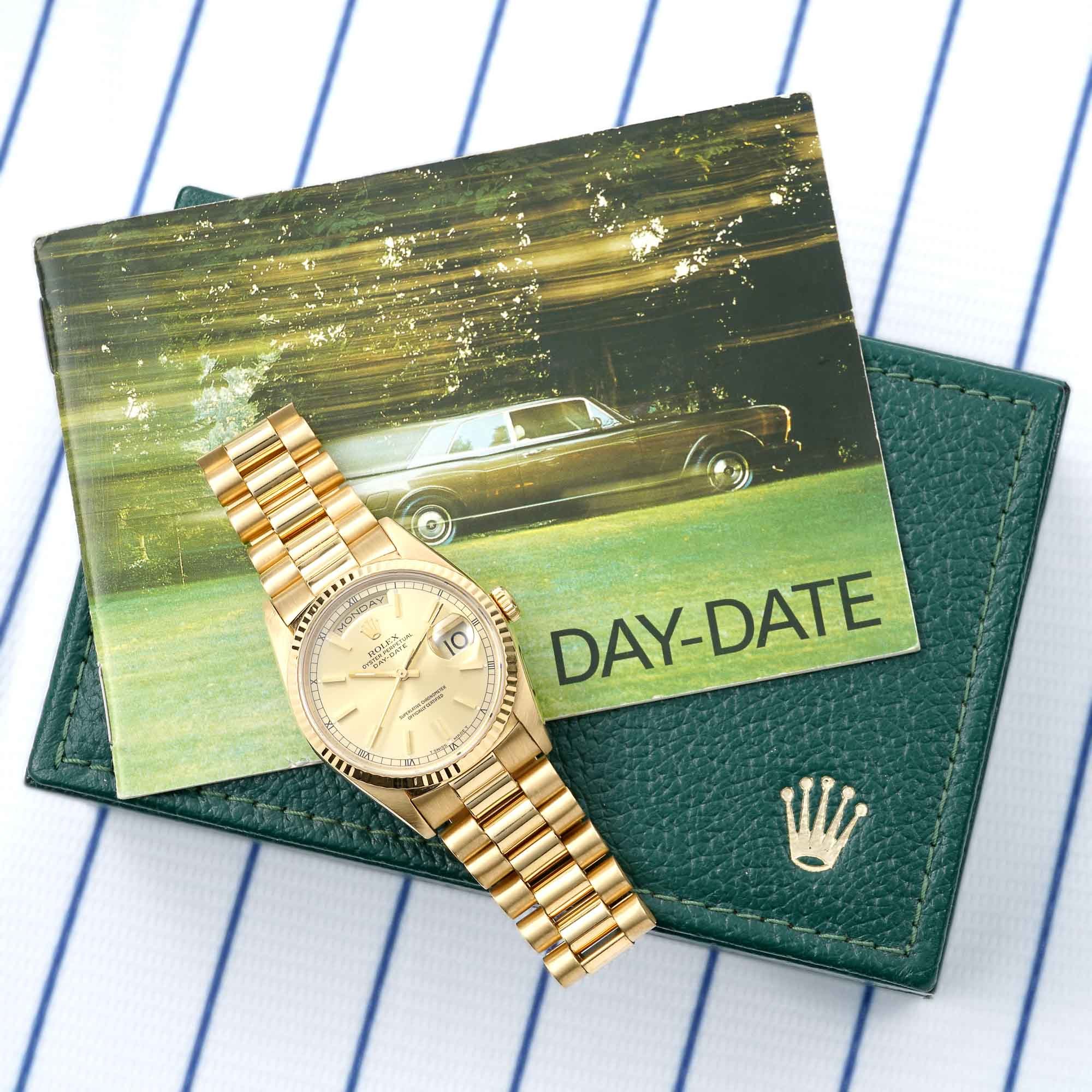 Sean reached out to us and spoke a bit about his story.  He grew up in the Chicagoland (that means "in the suburbs of Chicago") area and was a star athlete through high school.  Sean was an All-State basketball player and that ultimately led to an athletic scholarship to play at university.  But, at the end of his last year of high school, Sean began to suffer from an ailment and lost 30 pounds (nearly 15 kg's) in just two weeks!  He was diagnosed with Type 1 diabetes, a disease that currently has no cure.  Thankfully, the university he had signed with allowed him to keep his scholarship and he ended up working through his diabetes, became a Collegiate All-American and even had the chance to play professionally.  But it was during Sean's diagnosis that he heard more about a famous Chicago Cubs baseball player and, years later, led to the purchase of Ron Santo's Rolex President.
Before we get to Ron Santo's Rolex President, let's spend a brief moment on Ron Santo, the baseball player and charity supporter.  Ron Santo, born in 1940, was a third baseman for the Chicago Cubs from 1960 – 1973 and is, hands-down, one of the most beloved players from this historic major league baseball team.  Santo is a Hall of Famer, which is the highest honor a player can receive after retiring.  He was a hard-hitting player with 342 home runs, made 9 All-Star teams, and won 5 Gold Gloves (he was a fantastic defensive player).  After retirement, Santo ultimately became a broadcaster for the Cubs and was well-known for his personable and emotional coverage of his former team.  But early on, Santo was also diagnosed with Type 1 diabetes and while this was concealed for a long time, the player worked through his condition to rise to the top of the game.  Santo passed away in 2010 from complications of diabetes, but not before he aided the Juvenile Diabetes Research Foundation by helping them raise over $65 Million over a number of years.  Santo was, and remains, a real inspiration for all people battling diabetes.  In 2004, Santo's son Jeff created a documentary titled, This Old Cub, which spent time on Santo's career and how he battled through diabetes.  Jeff gifted his father the Rolex President that would ultimately find its way to Sean.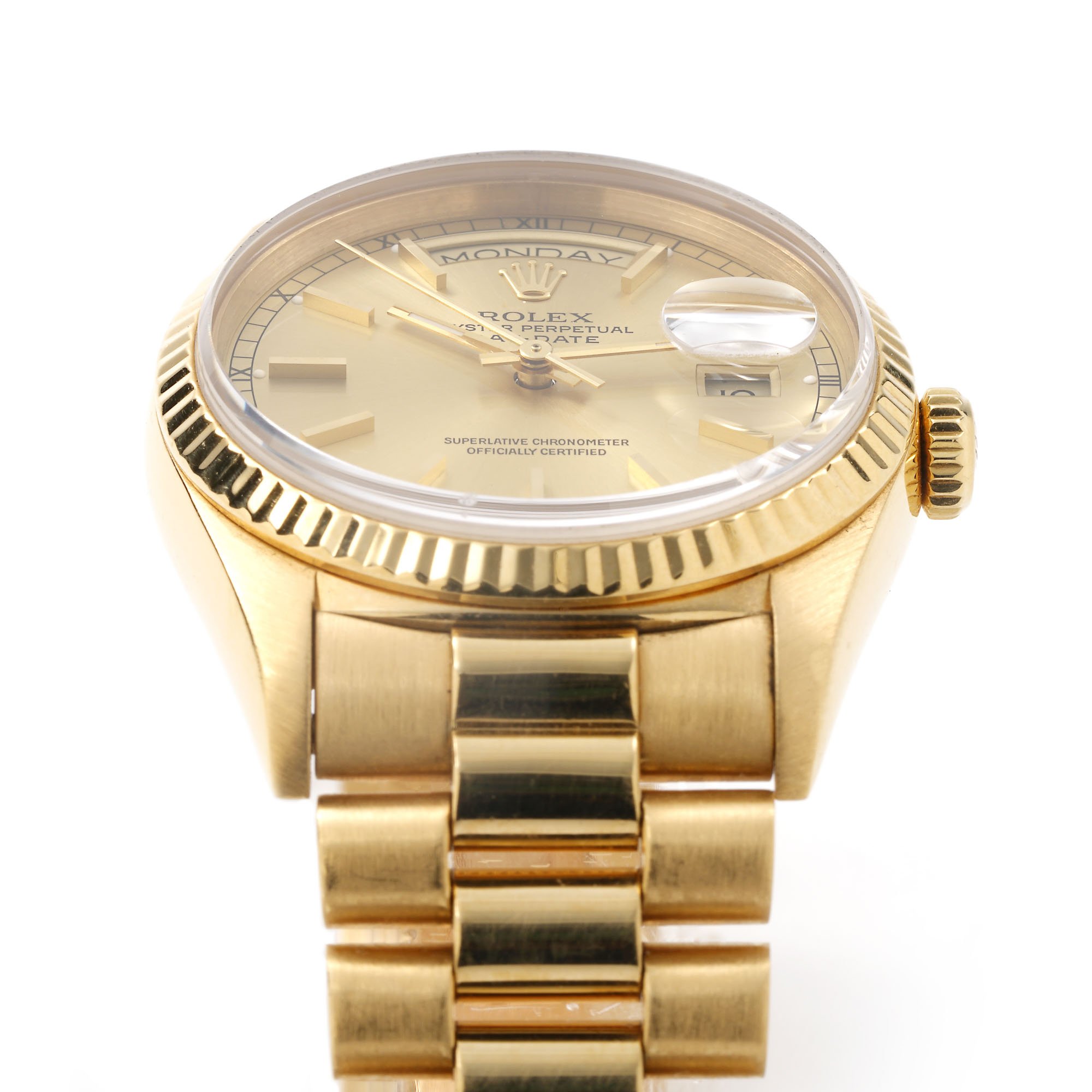 Coming back to Sean, he did not pursue a professional basketball career, but ultimately began a successful sales career.  Sean speaks at events about triumphing over diabetes, donates to the same charity that Santo worked with and even founded his own scholarship, the Madigan Health & Wellness Scholarship (donators should indicate that their funds should benefit the Madigan Health & Wellness Scholarship) that benefits student athletes.  Through a successful career, Sean also became interested in watches and that ultimately led to the purchase of Ron Santo's Rolex President.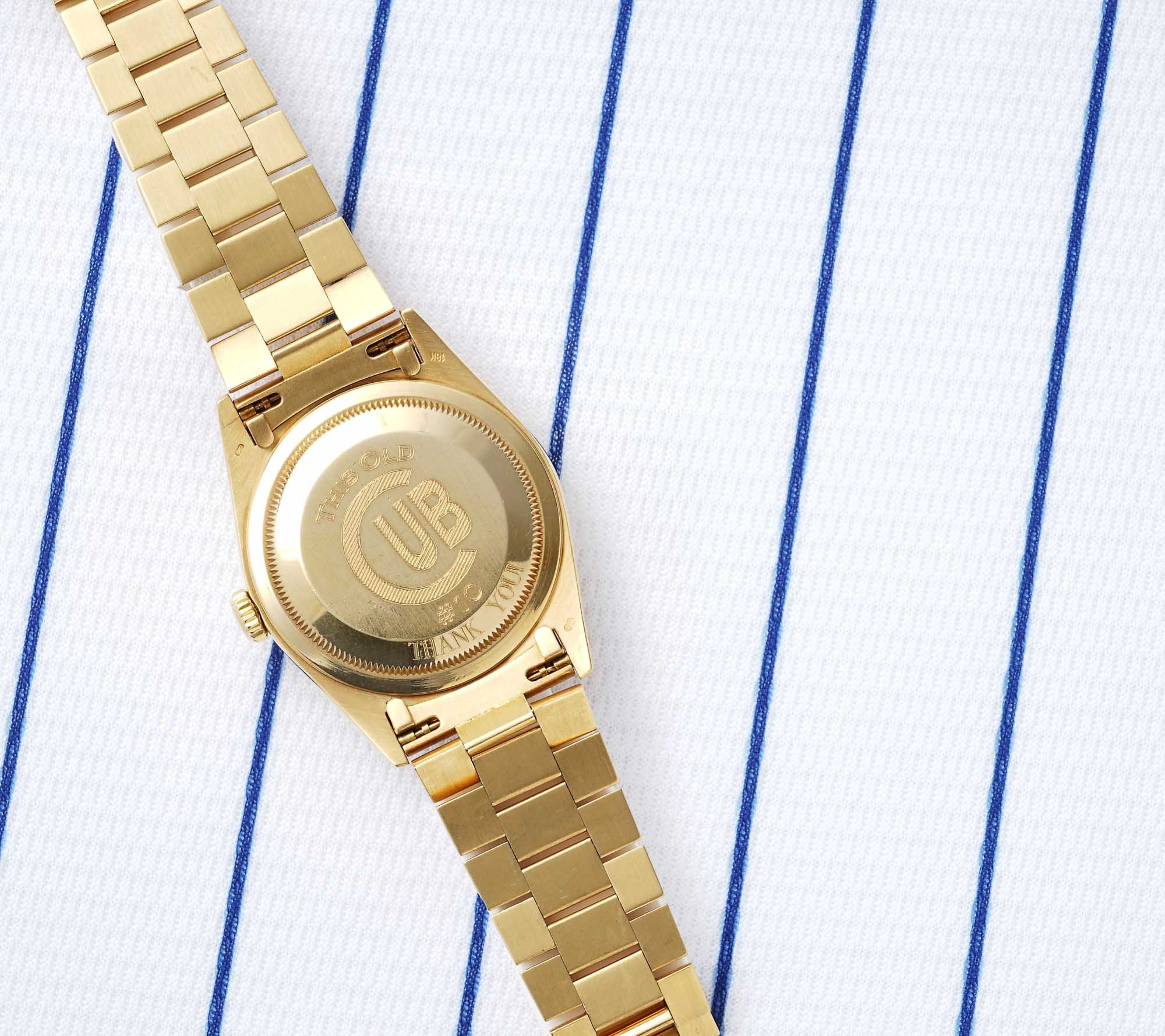 After Ron Santo passed away in 2010, his son Jeff ultimately decided to return his father's watch to where he had originally purchased it: New York Jewelers in downtown Chicago (thanks to New York Jewelers for taking these great pics of the Rolex!).  The family-owned jeweler carries a number of different watch brands, but also a large pre-owned selection.  It was in this area that Sean and his wife discovered the gold Rolex.  However, Sean had no idea that it was actually Ron Santo's Rolex President.  With Sean's knowledge of how inspirational Santo was and his own passion for speaking about how to find success despite having a challenging disease, the watch was a must-buy.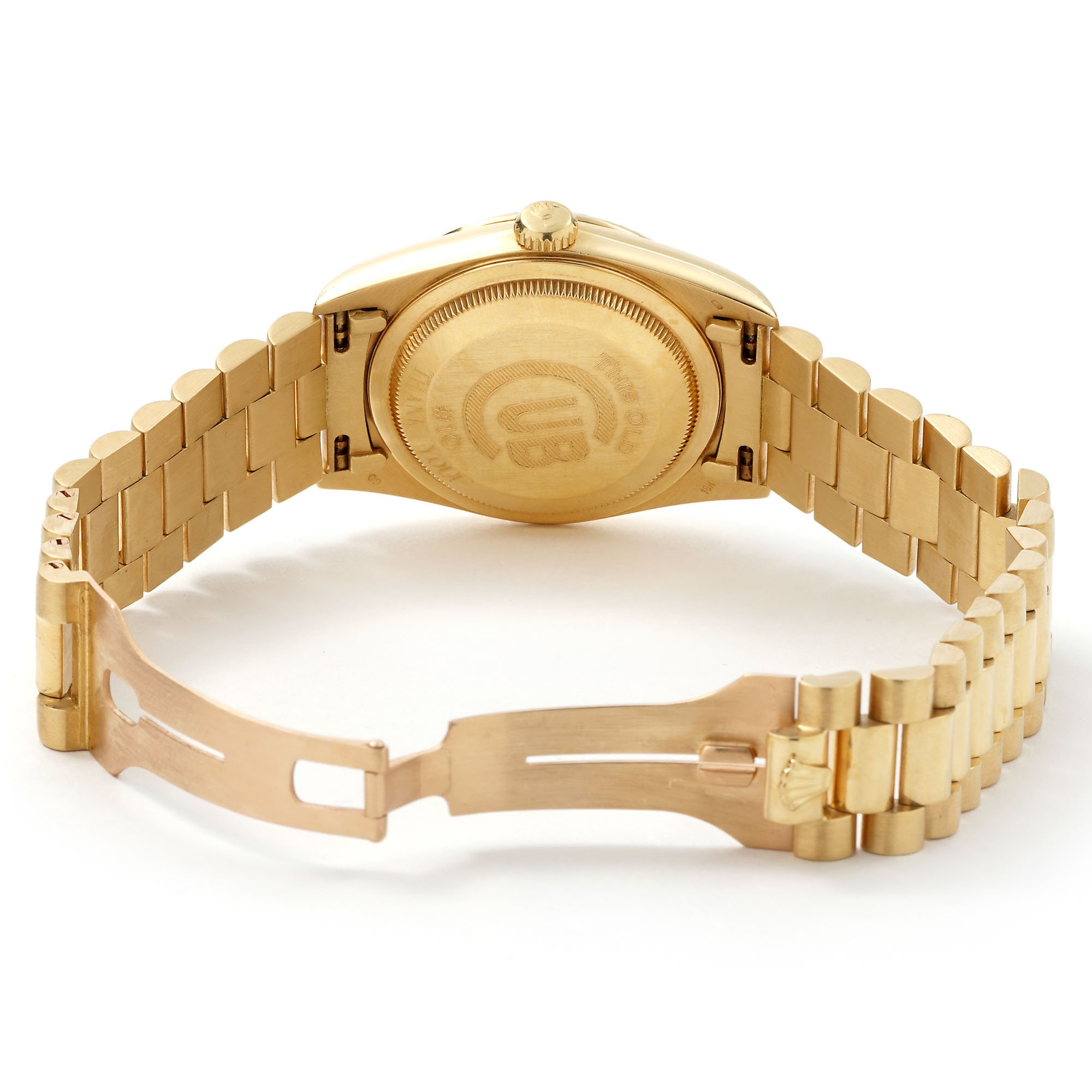 Sean bought Ron Santo's Rolex President back in 2017 and later received a letter from Ron's son Jeff verifying that the watch he bought was, in fact, his father's former watch.  The watch is actually a lovely L-Series (1989) Rolex Day-Date ref. 18238 and features a gold dial and signature President bracelet.  On the back, though, is where things get interesting.  Jeff Santo had the watch inscribed with the famous Cubs logo, added the name of the film, and "Thank You" to his father.  I am sure it was a well-loved gift by the former player and his son attests that Santo wore the watch regularly from 2005 until his passing in 2010.
While a watch like Ron Santo's Rolex President clearly isn't the source of Sean's passion and drive around helping to inspire those who live with diabetes each and every day, I'm sure it's a motivational reminder to him when he's preparing to give speeches in front of large groups.  Thanks, Sean, for writing in and sharing your story with us!