Strap Check: My Hamilton Khaki Field Automatic On A HasNoBounds Olive-Green Chamois "Lagoon" Strap
The most wearable combination in my collection
Sometimes the stars align for a watch-and-strap combination. All of the ingredients come together, and the result is as close to perfection as it gets. OK, maybe that's going a bit too far. But it's my way of letting you know just how much I love the combination I'm here to tell you about on today's Strap Check. Of course, if you've read the title (which you probably have) you know what I'm going to be showing you today. It's my Hamilton Khaki Field Automatic on a lovely khaki-green strap. Before we start, I do have a confession to make. I've been going through somewhat of a green phase recently. It seems that, try as I might, I can't get enough green in my life. That's especially true when it comes to these wonderful shades of dark, military, khaki green.
It's a bit of an issue, really, from shirts to jackets and even sneakers. The color representation in my closet is not vast, but there's a lot of green (and a lot of denim). So it's not really a surprise that when I was approached by HasNoBounds on Instagram and asked if I'd like to try one of its straps I immediately looked for the nicest green I could find and graciously accepted. Originally, I had planned to put this strap on my vintage Chronographe Suisse. However, due to the special spring bars used by that watch, and the fact that these straps come with quick-release bars that are all but impossible to remove, the strap waited for the right watch to come along. And a few weeks later, I got my Hamilton Khaki Field Automatic, put it on this strap, and it was love at first sight!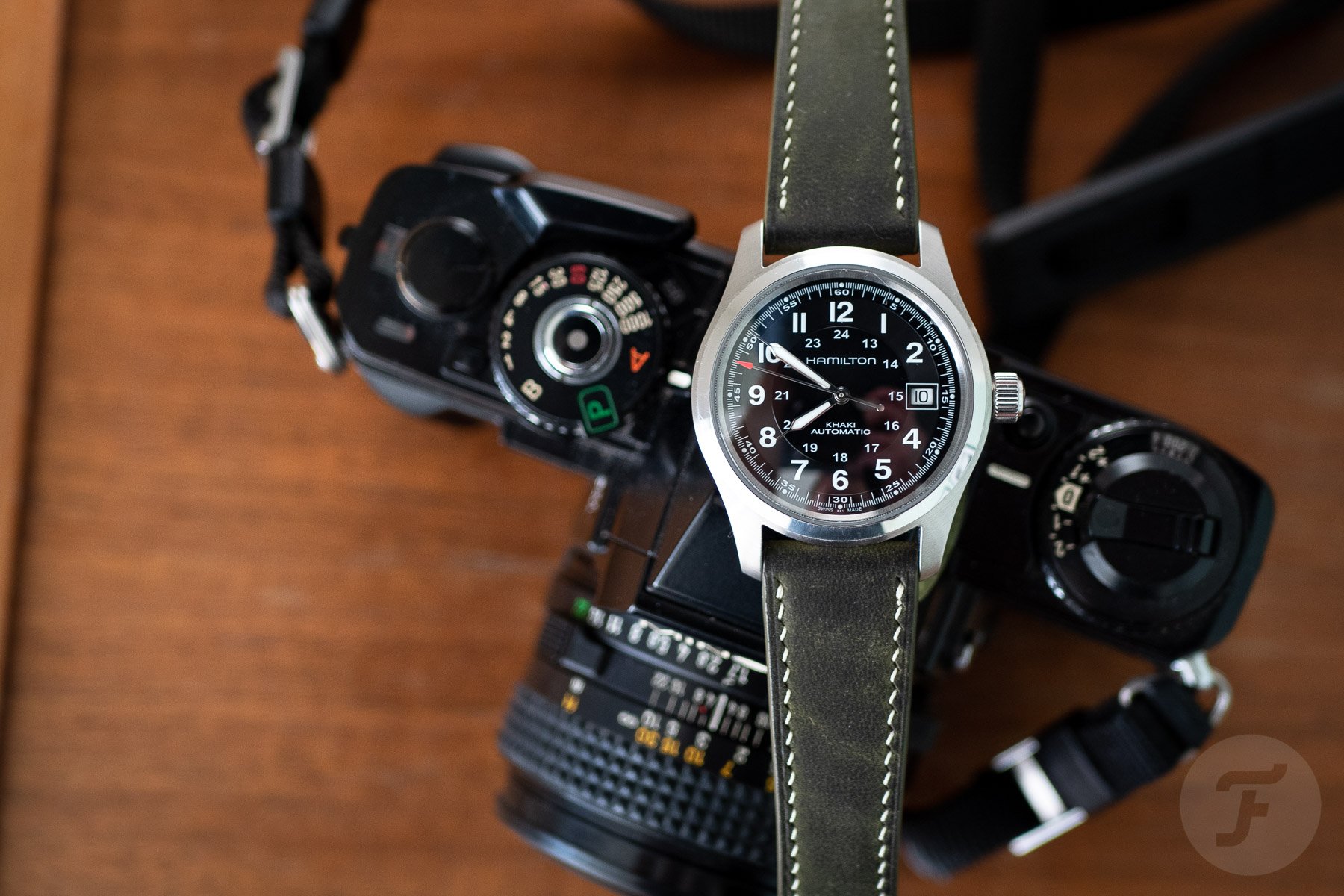 HasNoBounds meets Hamilton
Now, I'm not here to tell you about the Hamilton Khaki Field Automatic. You probably know all about it by now, as it's not exactly a new watch. If you do want to know more, you can check out the Hamilton website. We don't seem to have a hands-on review of the watch itself on Fratello, but that's something that I'll be addressing soon enough. In short, it's a brilliant, versatile, perfectly sized value proposition of a watch. I didn't expect to like it as much as I do or to wear it as often as I have these past weeks. And though lately, I've enjoyed it on a couple of other options, I genuinely believe that the first strap I put on it when I got it out of the box was a good part of the reason why I got so obsessed with that watch.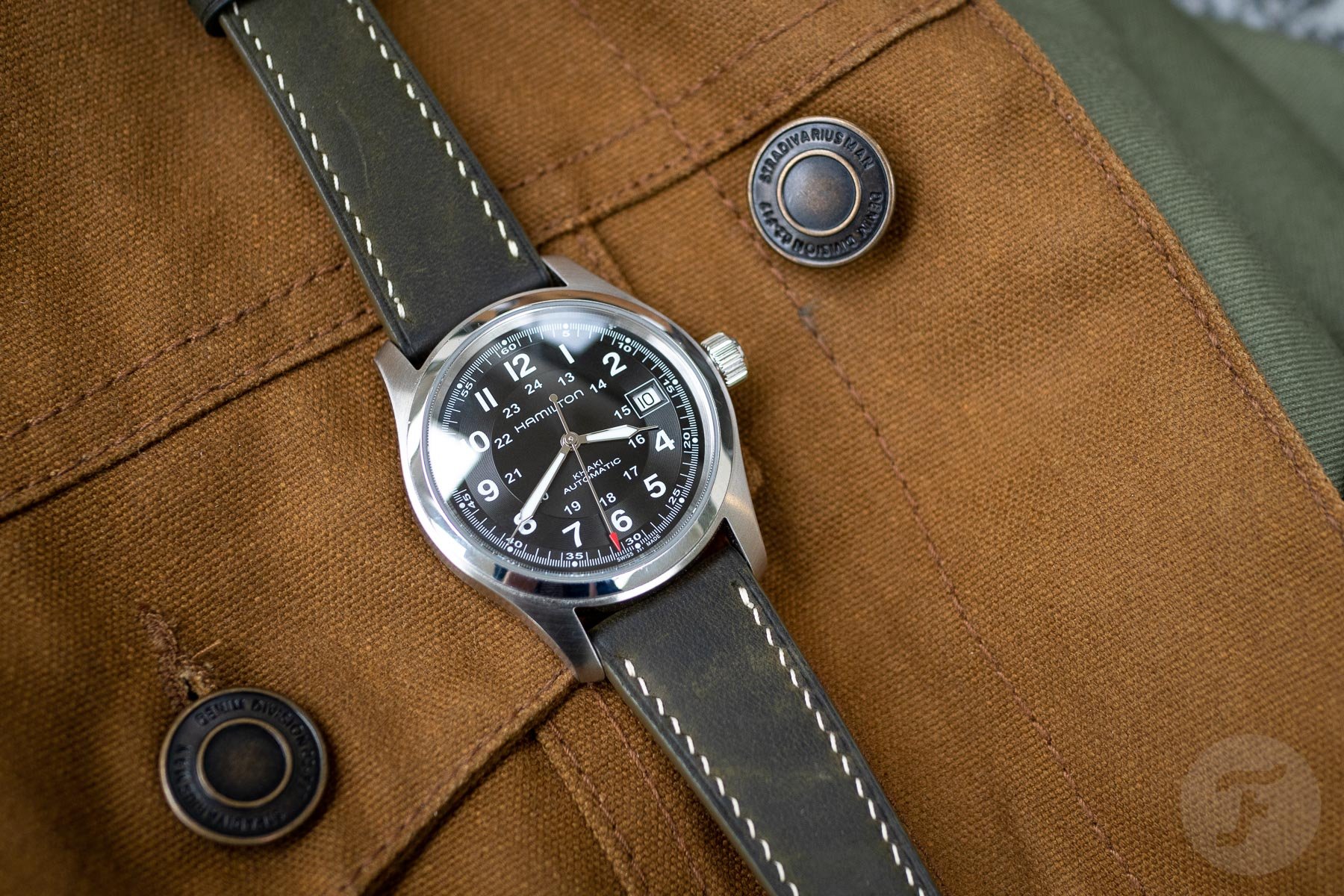 The strap is from HasNoBounds, a fairly young brand out of Hong Kong that specializes in hand-crafted leather watch straps as well as some accessories. The latter is not yet available on the company's site. But if the pictures on the site are anything to go by, it's something worth being excited about. But let's talk straps. The brand offers two types of straps — "Lagoon" and "Plateau". The difference is that the "Lagoon" straps are flat without padding, whereas the "Plateau" straps are slightly padded. More styles are available for the "Lagoon" variant, which is my personal preference. Eighteen different types of leather are available., and you'll also have a choice between 12 different colors. All straps are available in two different lengths and three widths (but more on that later).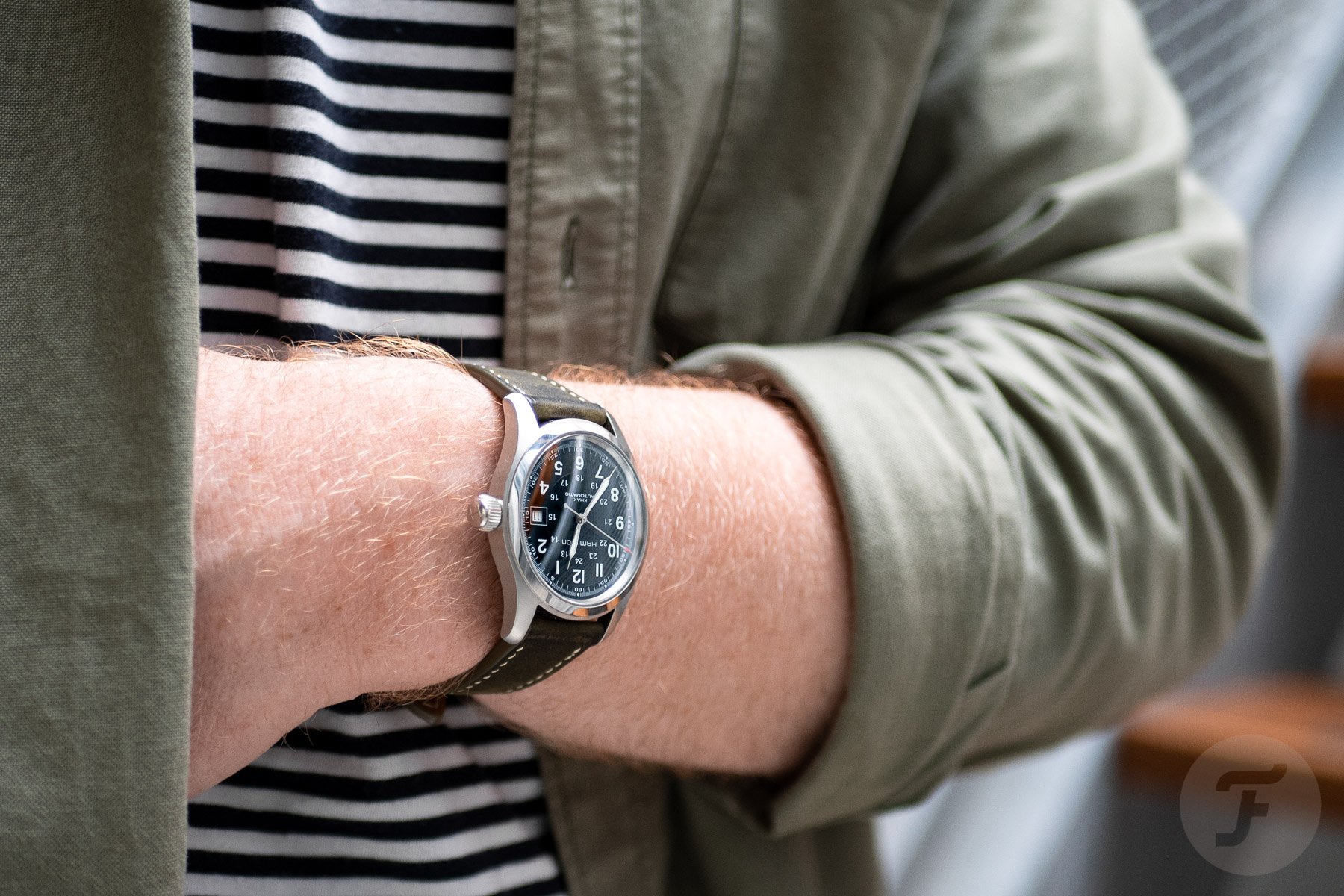 Khaki on khaki
My pick was the "Lagoon" strap in chamois leather. This particular strap is available in four different colors, but my pick was the "olive" green variant. Of the three different lug widths, I went with the 20mm option (18mm and 19mm straps are also available). All three widths taper down to 16mm, so the taper of the 20mm strap is the most pronounced. This is something that I really appreciate, and it's perfectly in line with my personal preference. This exaggerated taper is more elegant than a non-tapering strap and gives a somewhat vintage feel to the watch. Finally, of the two sizes (or lengths) available, I went with the medium. Only medium and short are currently available, but for my 7-inch wrist, the medium is perfect. I use the third hole from the spring-bar side, with four holes left over.
The strap has a polished buckle with satin-brushed sides. Its design is minimalistic and rather slim, which adds to the overall elegant look of the strap. The stitching is neat, and the edges of the strap are nicely pronounced by a ridge pressed into the leather just outside the stitching. The two keepers have the same pressed edges, and the strap is about 3mm thick — not too thick, yet not thin enough to feel flimsy. The underside uses tan-colored leather with a nice soft texture. Despite my best efforts in cycling to the office with it on and getting a bit sweaty, it hasn't discolored in any way. The chamois material is matte and has a nice soft texture. After wearing this combination non-stop for three weeks, it's holding up beautifully, with the strap no worse for the wear.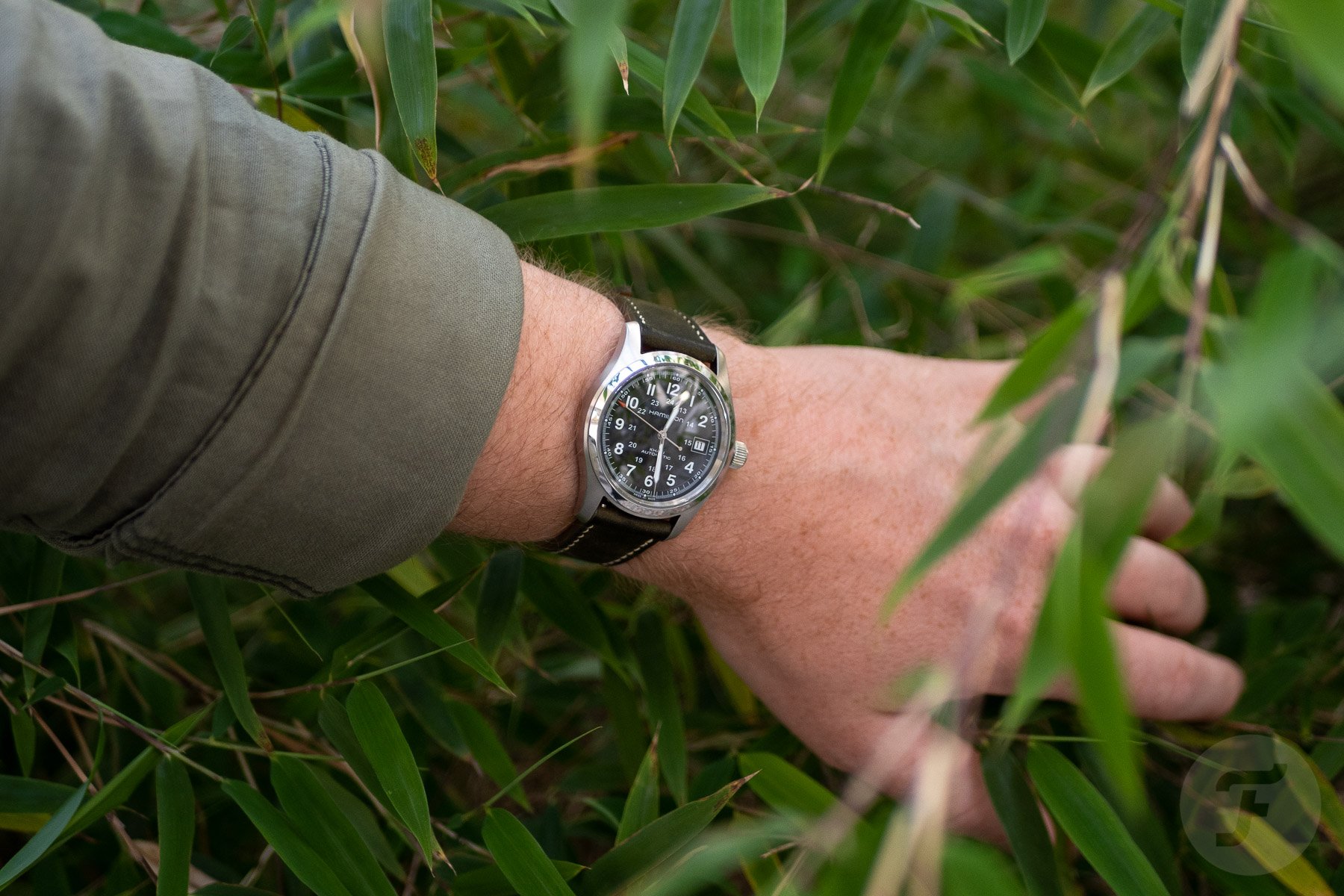 Final thoughts
The Hamilton Khaki Field line is inspired by the brand's military watches of yore. Even on the brand's site, many of the Khaki watches are available on a khaki-green NATO with leather keepers. Therefore, I feel there's something intuitive about pairing these watches with a khaki-green strap. And for $69 from the HasNoBounds website, you could definitely do much worse. That said, I don't love wearing my watches on leather in the summer months, so this one will be taking a break until the cooler weather returns. In the meantime, other options will pop up, and when I find one worth sharing, you'll see another Strap Check article pop up!
For now, let me know what you think of this combination in the comments below. Is this how you'd like to rock this lovely little Hamilton? If not, what would be your pick? Not that you can do much to go wrong with this one!