Strap Check: How To Distress A Watch Strap In 20 Minutes For That Cool Vintage Look
Creating a bespoke strap for my Serica 4512 Commando
Distressed "vintage" straps are cool, whether you fit them onto a dive watch, a sports watch, or, as in my case, a military field watch. The Serica 4512 is a broad-lugged, tough little nugget of a watch, and it comes on the delicate Bonklip bracelet. While flimsy in appearance, it is very comfortable and a retro-perfect fit for the watch. That said, I do love a nice strap on a field watch.
Distressed or "antiqued" straps can be very hit or miss, so why not make your own? This can be as elaborate or as simple a process as you want, and if you do it right, you'll have a super cool bespoke result. The Serica 4512, with its no-nonsense tool approach and domed sapphire crystal, is already fitted onto a sand-colored one I made a few weeks ago. But was it difficult? Well, let me show you how to distress a watch strap in just a few easy steps.

The base strap
For some of you, this probably gives you the same feeling my mum had when she caught me ripping holes in my brand-new Levi's 501 jeans in the late '80s. So for your debut, you'd better not start with a €90 Horween leather strap, man. Here, we have a €12-15 leather-backed canvas number from the Swedish company Cheapest NATO Straps. This strap in and of itself is already a great value, albeit slightly stiff and thin. It comes with quick-release spring bars for an easy swap-out. But, the Serica has fat bars and big drilled lug holes, so I've used some pliers to snap off the pins and have taken them out. Make sure you also take off the clasp and keeper too and find your preferred aging/distressing tools. Now, let's get to work!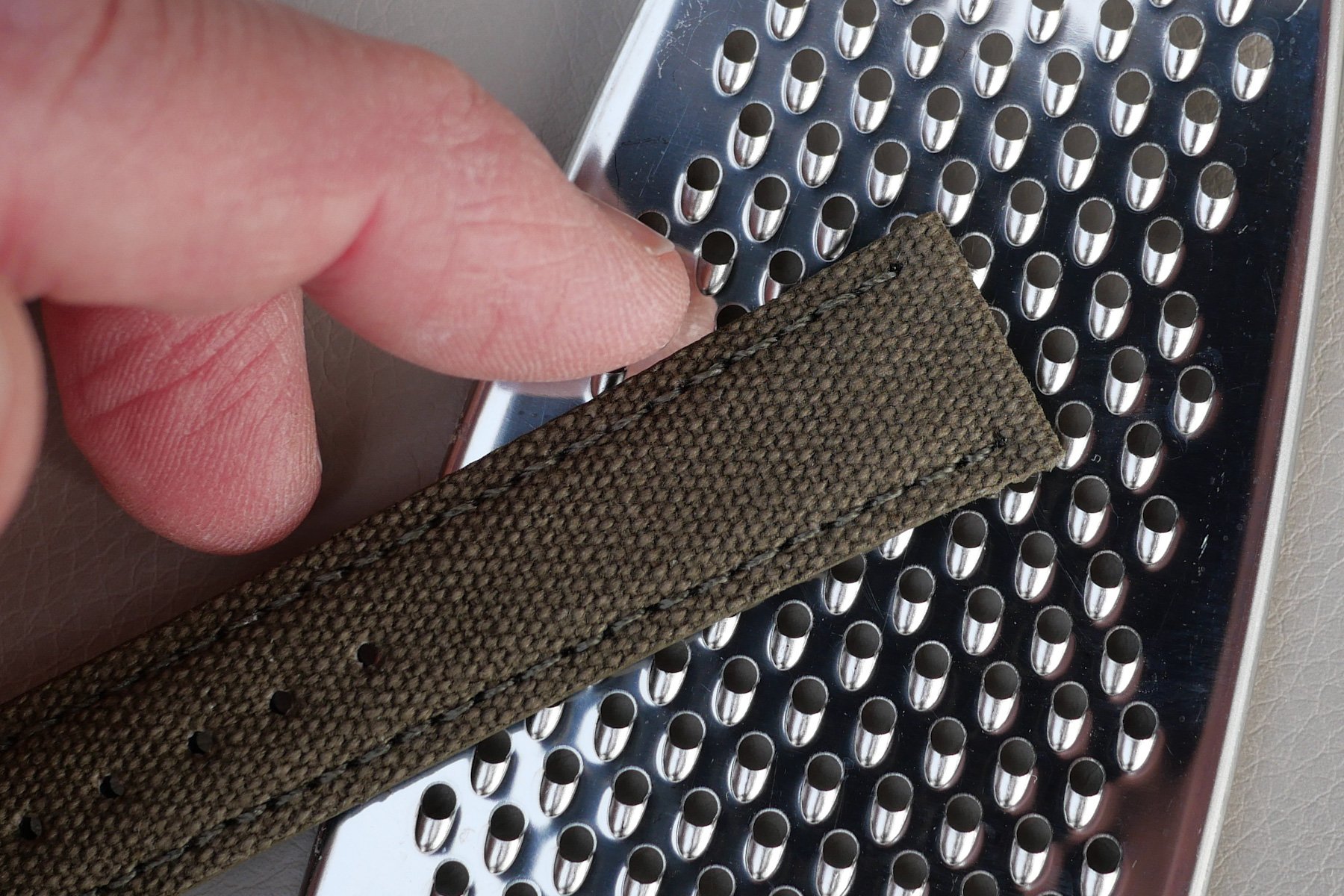 Preparation
If you're worried about fingertips and nails getting damaged, you can put on some carpenter's gloves, but you'll have less control over what you're doing. I have assembled the tools that I find useful, all of which come from the kitchen and will be popped into the dishwasher later before my wife catches me!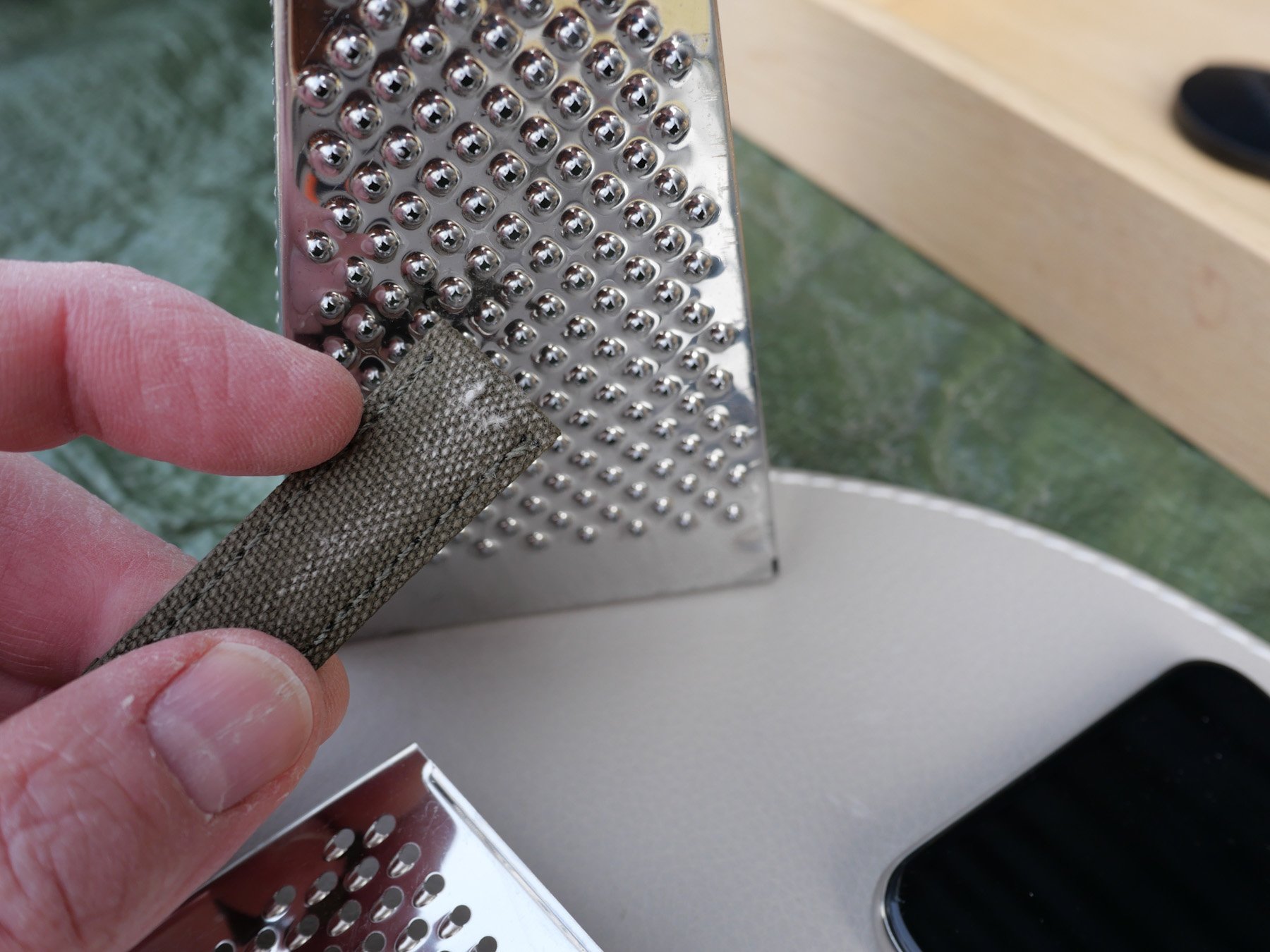 Tools for distressing your strap
A Parmesan grater and a general kitchen grater are great tools to use. You could also find some small bits of sandpaper or nail files. Don't be tempted to get that big, oily metal brush out of the garage though, as it will likely ruin the strap. Take your time if you're not big on craftsmanship hobbies because you can't un-distress the strap once you have started.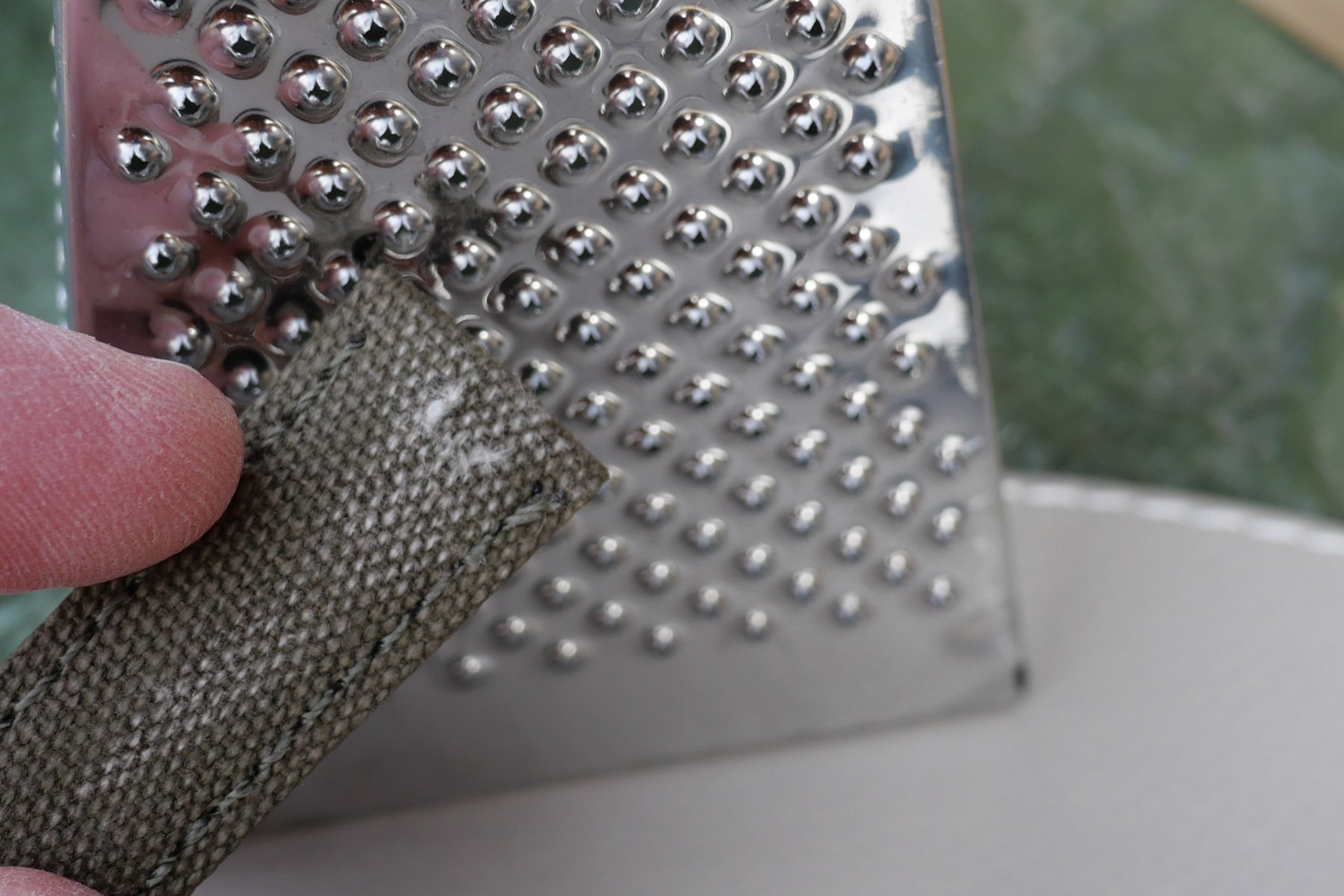 Slowly and carefully
My first piece of advice is to take care not to ruin the stitching. If the strap has classic full-length stitching like mine, keep checking the thread. Whatever you do, start very carefully, and as I said, avoid scraping the stitching. If you're non-dextrous with tools, then try it on a scrap piece of fabric first. This is the best way to get the hang of it. You'll thank me later and avoid grinding a hole in your strap.
If the strap is pliable enough, bend it to work on the center section. Then carefully carry on scuffing and fraying the edges, remembering the ends of the strap. You might want a slightly weathered look or a semi-destroyed, battle-scarred strap. Whichever you choose, it's all good. If the strap is leather-backed, remember this: only work the top surface and edges of the strap. You want to leave the underside as untouched as possible.
Tips
For an authentic look, remember to also work on the top edge where the spring bar sits. And remember that single keeper you took off? You don't want a scruffy-tough strap with a shiny new keeper. Make sure you give that the distressed treatment too. If you're unsure of the end result, leave it for a couple of hours and revisit the satisfying scuffing process.
When you're done, feel free to make it even more crazy-looking with paint splatters or whatever you fancy.  But, I would try that out on a cheap fabric scrap first. Yes, paint or oil could be cool, it's true. But it can also very easily take the strap too far into the realm of merely looking destroyed.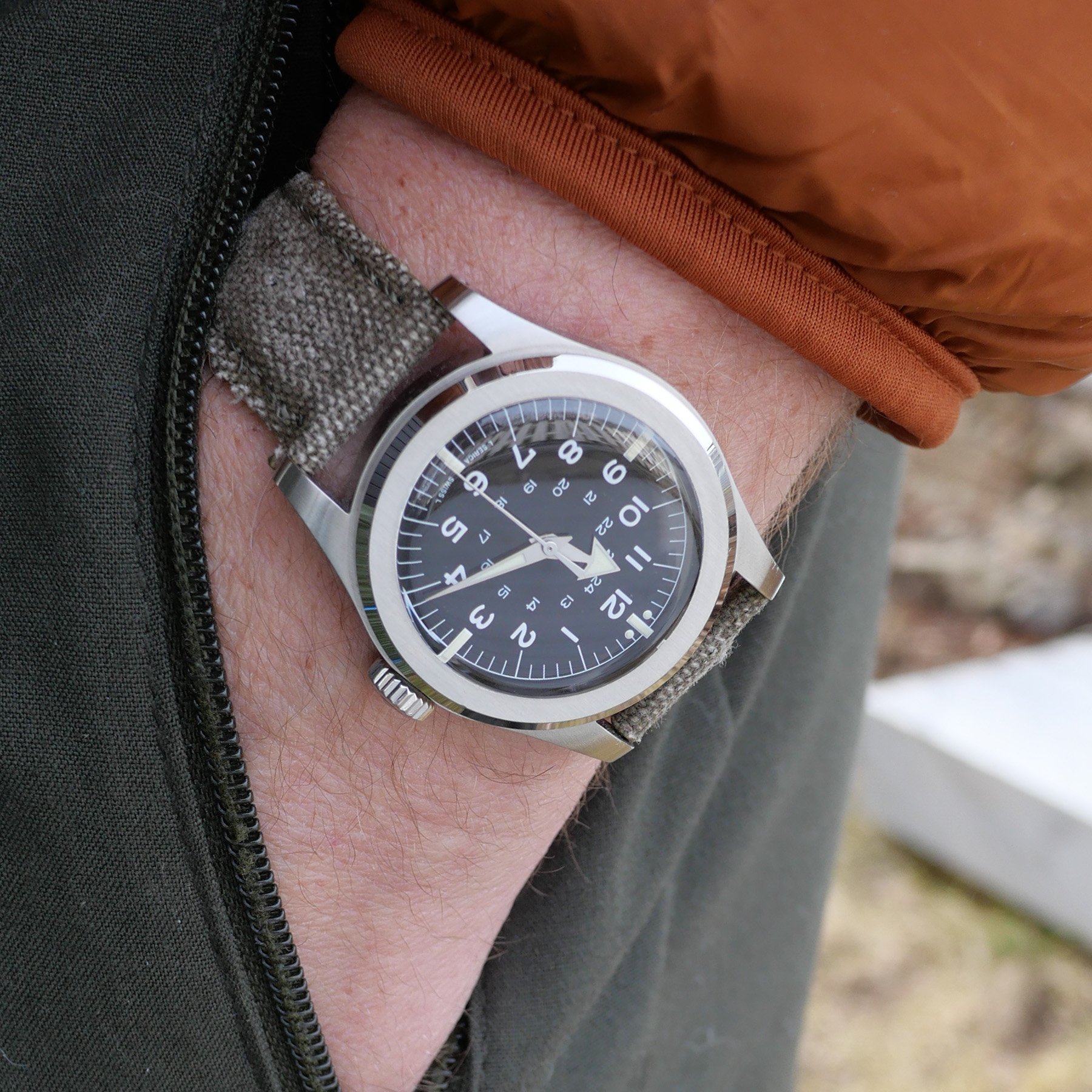 The Result
In addition to actually creating something bespoke yourself, the benefit of this fun exercise is comfort. All this bending, scraping, and scuffing actually makes any strap softer and creates an instant lived-in feeling on the wrist. Use some small nail scissors to snip off any stray threads. Me, I accidentally cut one of the stitches, but it wasn't a huge deal. Most straps are glued and stitched anyway. Fit the buckle and keeper, click it on the watch, and there you go — instant vintage cool!
What do you think? Should I be locked up for destroying a perfectly good strap? Personally, I think this seems like a fun pastime for the entire family on a Sunday. Hell, you can even start your own business producing vintage straps. Hmm… Now that's actually a rather good idea.
Find me and follow me at @thorsvaboe