Strap Check: A Leather Zulu Strap From Cheapest NATO Straps Is The Perfect Fit For My Unimatic Modello Uno U1-F
A drastic change in appearance that many people seem to love
Welcome to Strap Check, a column on Fratello where our editors showcase their favorite watch/strap combinations. We all know the feeling. When you've been wearing a watch for weeks on the same strap, there comes a time when the excitement starts to fade a little bit. Maybe that's the time when you start looking. But looking for what? A brand new watch? Sometimes the answer lies not in the watch, but the strap on which you wear it! From the classic to the unique. From cheap NATOs to bespoke leather and special bracelets. This is where we get excited about perfect combinations that make you feel like you've got a brand new watch on your wrist. So tune in every week for a new Strap Check. Are you in a watch rut? Change your strap, and the rest will follow.
For this installment of Strap Check, I will be talking about a strap that is actually not a replacement to give a watch a new lease on life. In fact, the Unimatic Modello Uno U1-F was my most worn watch of 2021. It's an interesting watch because it fits the typical Unimatic minimalistic approach to design. But at the same time, it has a very nice classical dive watch vibe that I wanted to further explore. I had worn the watch on the black NATO strap it came with and I loved it. The black-on-black aesthetic makes it very easy to combine with pretty much anything, especially black clothing. Just ask my fellow Fratello team members.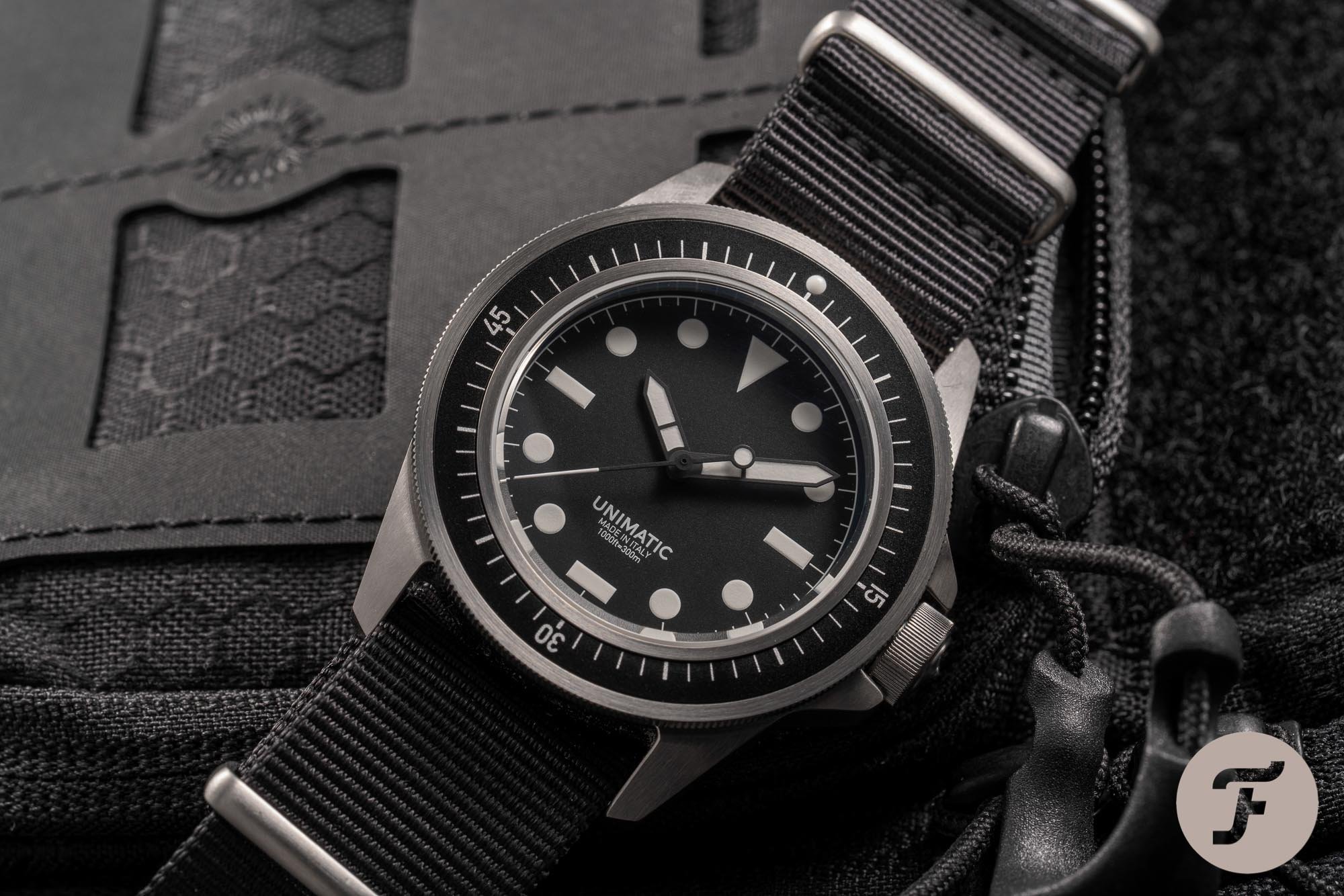 Adding color to the Unimatic Modello Uno
All jokes aside, I am known to wear a lot of black clothing, so it's one of the reasons why the looks match my outfits pretty well. But I wanted to explore the options with a leather strap. One of the main reasons is that the Modello Uno features a 22mm lug width. It gives the strap a nice presence in combination with the 40mm case and 41.5mm bezel. It's also why I love the vintage Breitling watches from the 1960s. Quite a few of them have a substantial lug width compared to the case size. These vintage pieces served as inspiration in the search for the right strap for my Unimatic.
A great example of one of those Breitling models is the first-generation Top Time ref. 810 that combines a 38mm case size with a 21mm lug width. It's a personal favorite of mine that I was inspired by when I started searching for straps for the Unimatic. But Breitling had more timepieces during that era that were perfect examples of how wider straps added a lot of character to the brand's watches. The Breitling ref. 765 CP "Jean-Claude Killy" is another example with a 41.5mm case and a 22mm lug width, as is the Navitimer ref. 806 with a 41mm case and a 22mm lug width. Seeing those watches on leather NATO straps was a great example of how cool leather NATO and Zulu straps can change the overall look of a watch tremendously.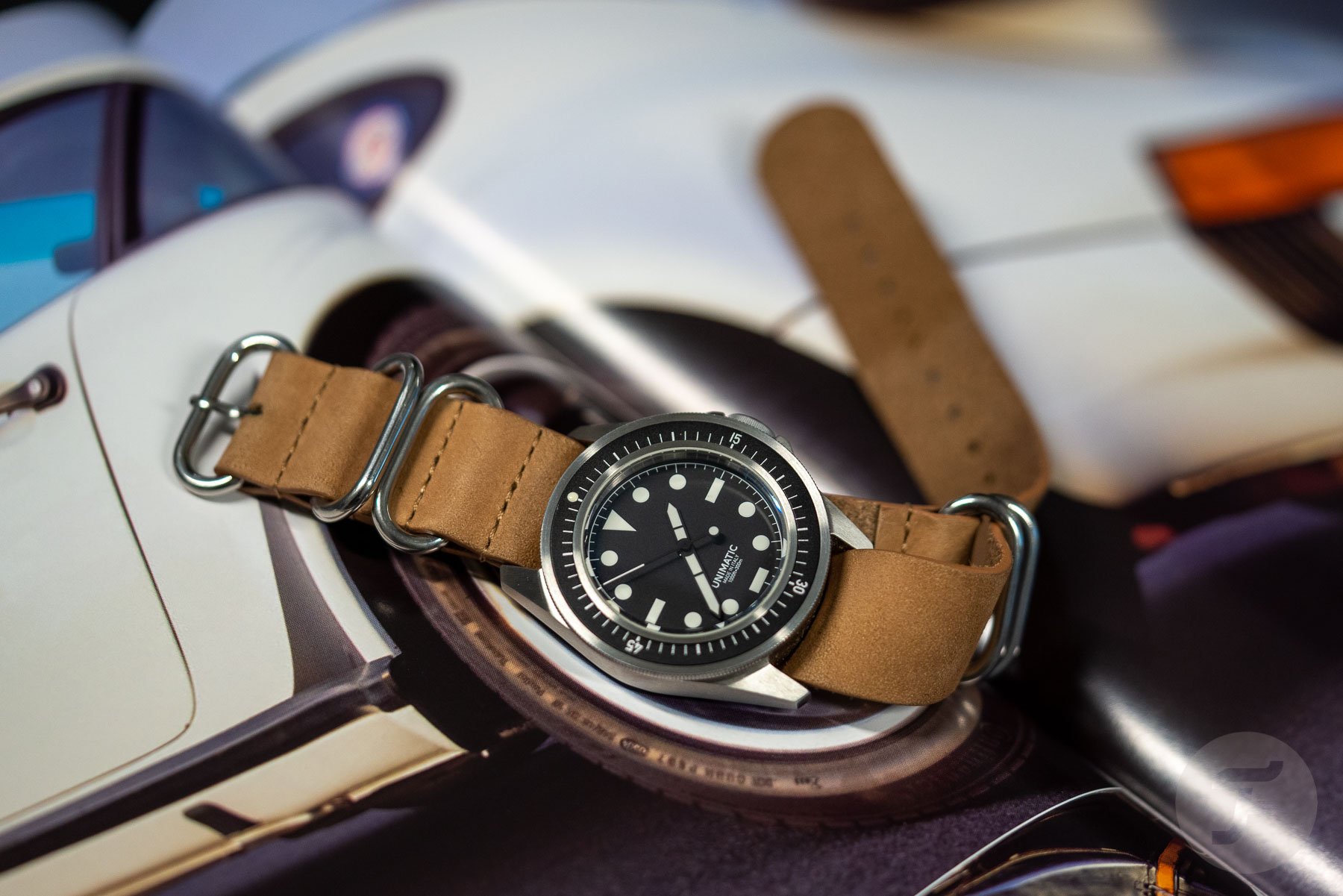 Finding the right Zulu strap
Additionally, what I love about NATO and Zulu straps is that you don't see a gap between the case and the strap. It's something very specific that, in my opinion, can really make or break a watch. If there is too much of a gap, it really messes with the overall aesthetics in a bad way. Now, when it came to choosing between a leather NATO or a Zulu, I didn't have a preference. At first, I gravitated towards a leather NATO strap, but after I saw fellow Fratello team member Rob wear his Speedmaster MKII on a black rubber Zulu strap, I was geared more towards exploring my options for straps of that type.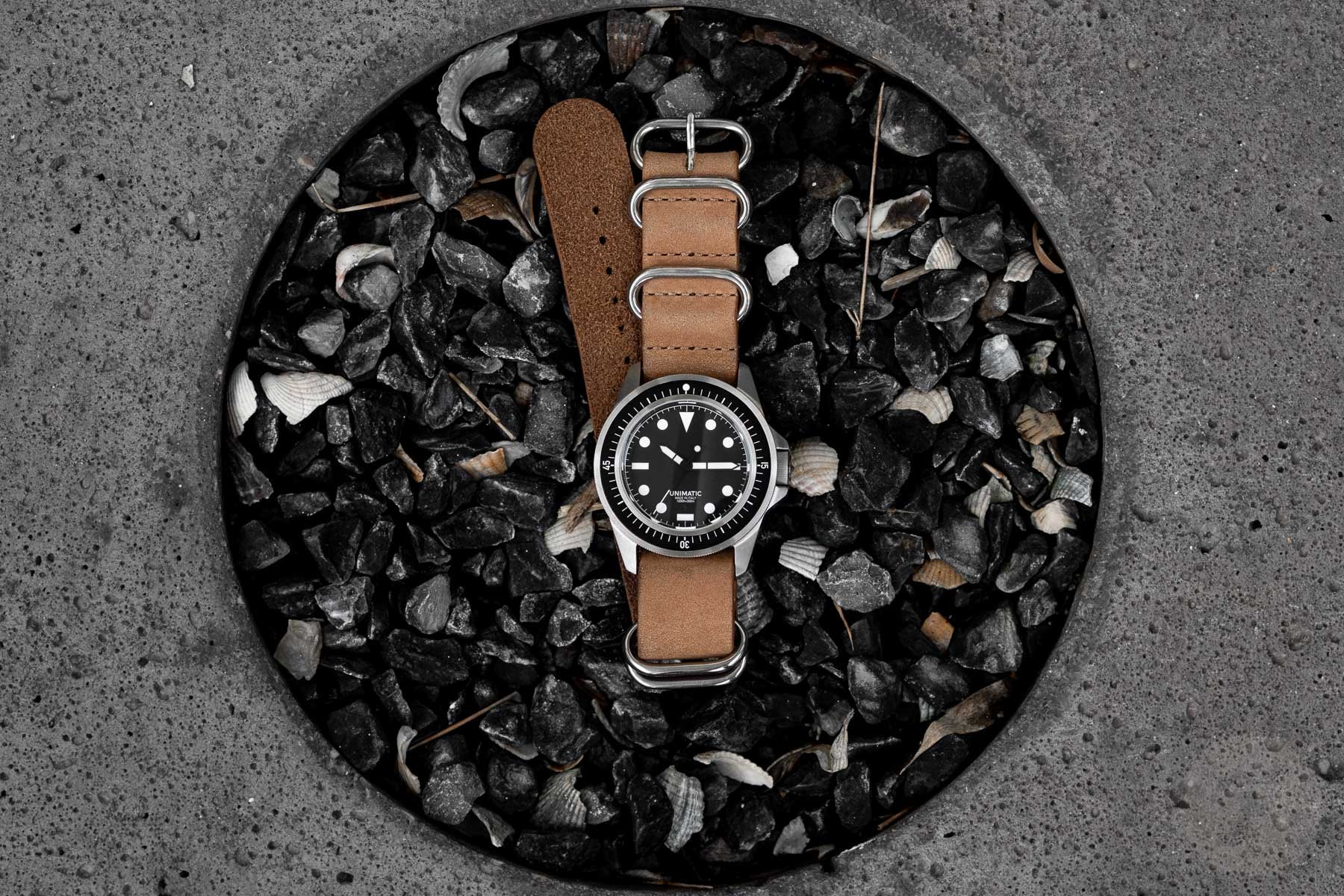 So, "Mission Zulu Strap" was on. But it needed to be more than just any Zulu strap. I am usually not a fan of smooth leather and much prefer nubuck or suede. Additionally, I love the look of a lighter nubuck or suede strap, so a sand-colored or a light gray strap was the target. Thus, in the end, the very open question of finding a new strap for my Unimatic turned into a very specific search. And those usually turn out to be very time-consuming and often don't lead to the results that you wish for.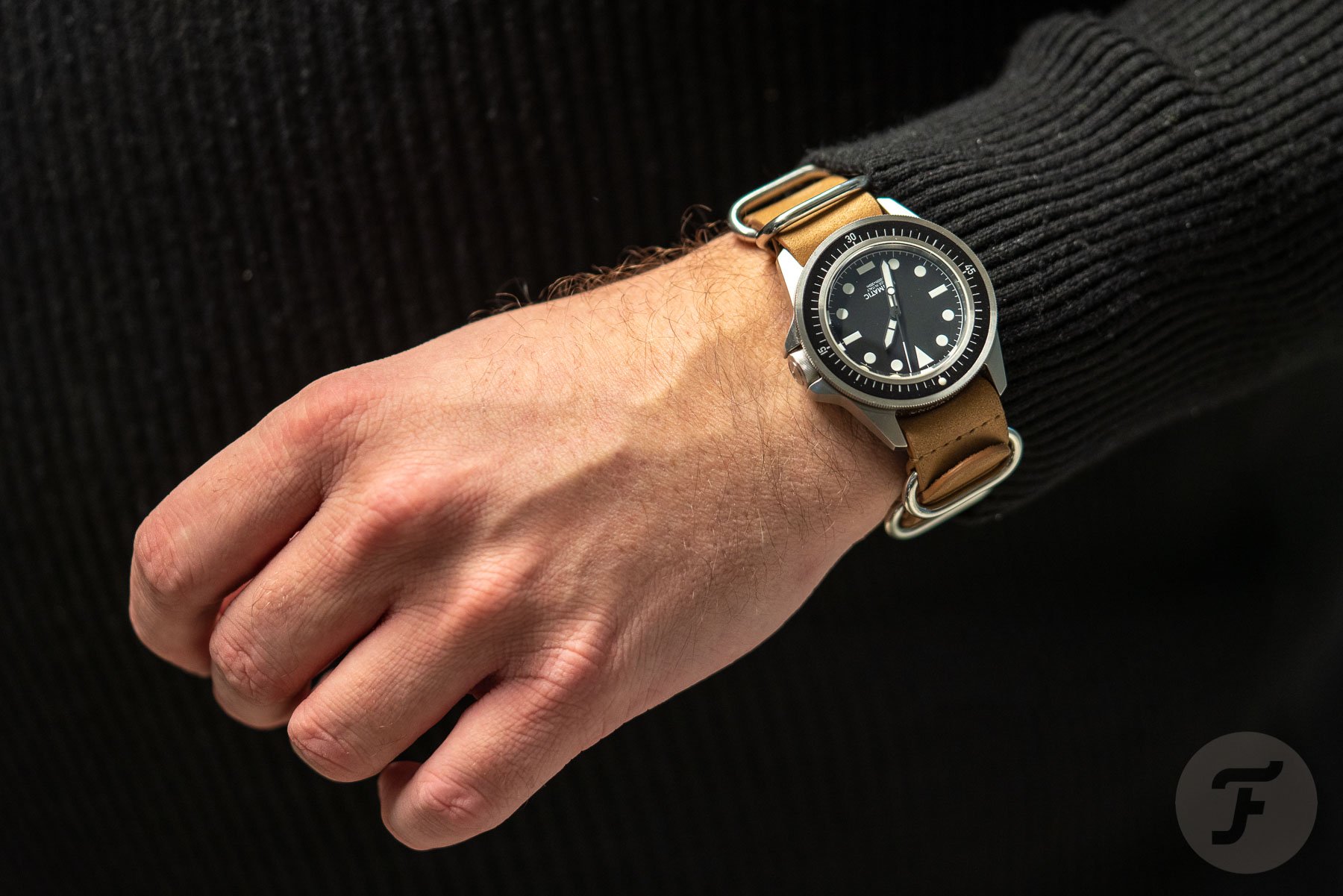 When you least expect it
On top of that, I was in no rush because I was wearing the Unimatic regularly anyway. So it actually was a very short search before I basically forget about it altogether. A couple of months later, I was looking for a strap for my Seiko Sumo because that was in desperate need of a way to spice it up. As I explained in a previous installment of the Strap Check series, the Sumo needed a new strap because it was collecting dust in a drawer. So when I checked the Cheapest NATO Straps site for options, I scoured all the brand's offerings for fun straps to put on the Sumo. Most people will know that the collection of straps CNS offers is impressively extensive, so there was plenty to choose from.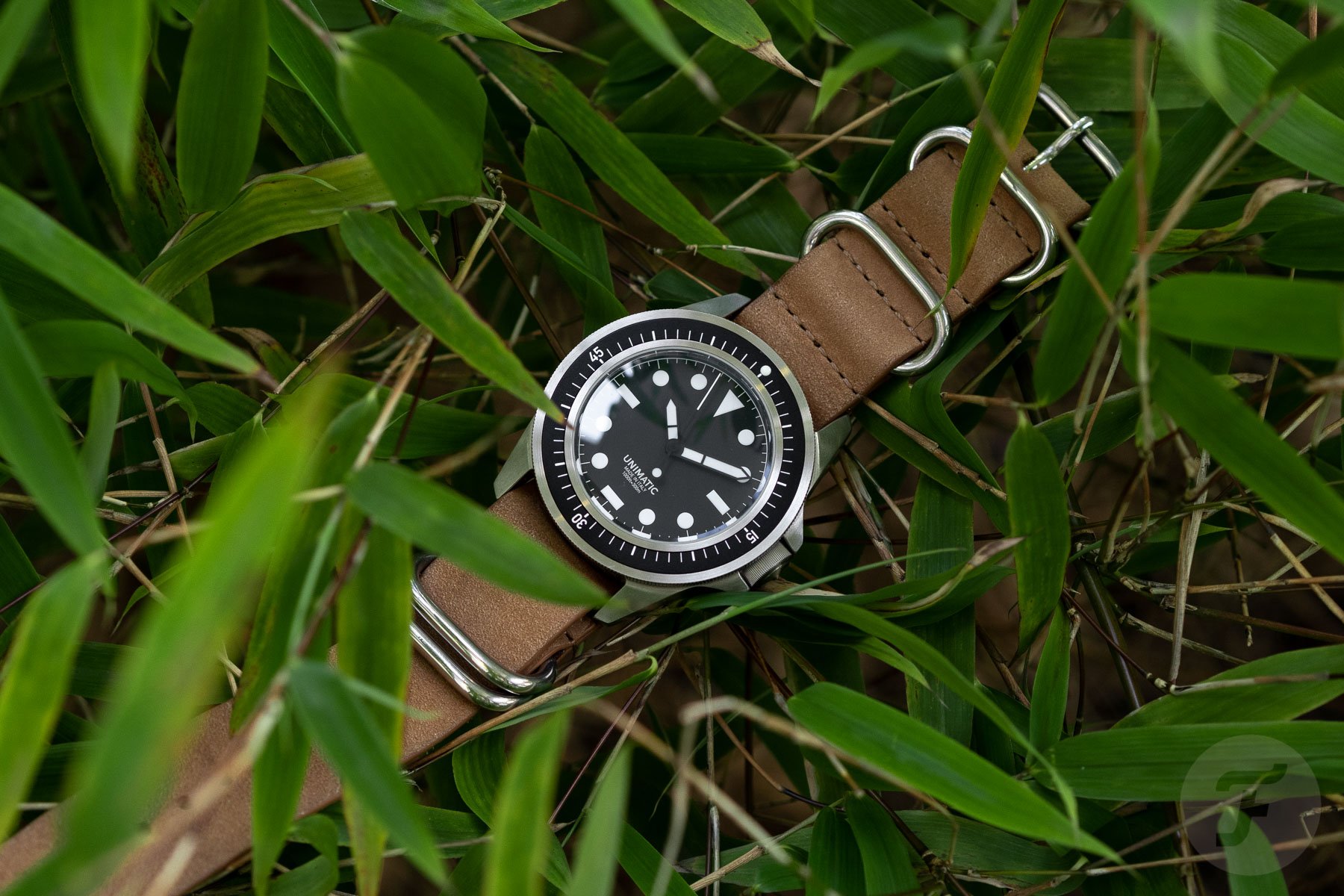 Then I stumbled upon the sand-colored Zulu strap that you see in the pictures. Could this be the match for my Unimatic? It was a no-brainer because of the sand color in combination with the polished stainless steel hardware. I would have preferred a brushed finish in line with the brushed finish of the watch, but it definitely wasn't a dealbreaker. Additionally, the hardware is obviously what sets a Zulu strap apart from the NATO straps. It's sturdier and less refined, but it looks especially good with watches that have a bigger lug width. And after I first put the strap on the watch, I knew I had struck gold.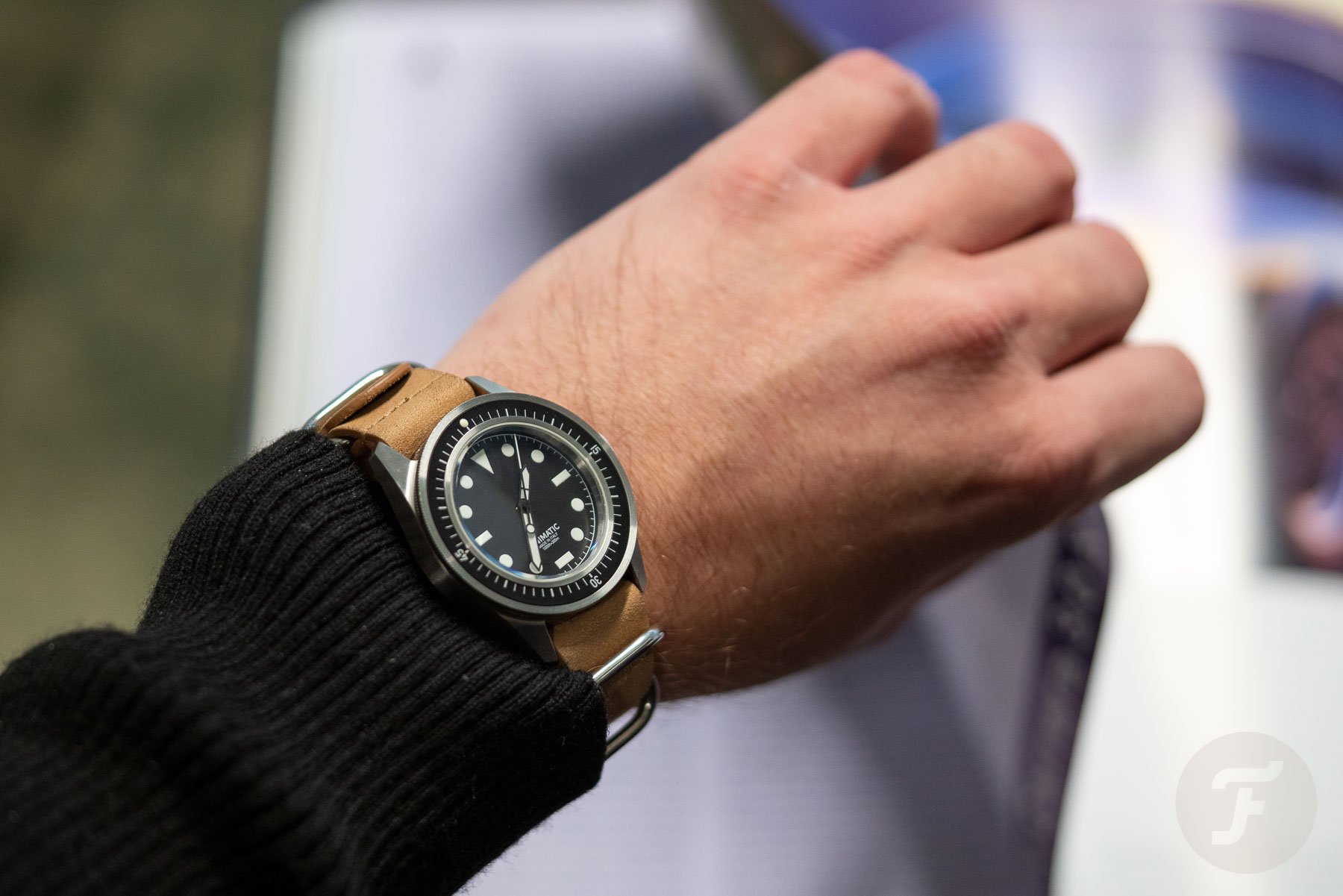 Pros and cons
I could have easily picked a leather NATO strap for the watch, but it's the hardware that makes this double-pass Zulu strap the right one for me. Two things stood out when I put the watch on my wrist for the first time. The length was perfect for my wrist, so I didn't have to fold back the end or make it shorter. It was the perfect length straight out of the envelope. Additionally, a great feature that I've experienced is how you can actually play around with the keepers to make sure the watch is comfortable on your wrist. Lastly, I like the quality of the 1.4mm-thick full-grain calf leather. Granted, it's definitely not the most premium quality leather out there. But it is very supple and therefore very comfortable on the wrist. When buying straps, it's easy to spend more than the $19.95 that this one cost me. But often, those other straps need break-in time. Not so with Zulu strap. It hugged the wrist the very moment I put it on.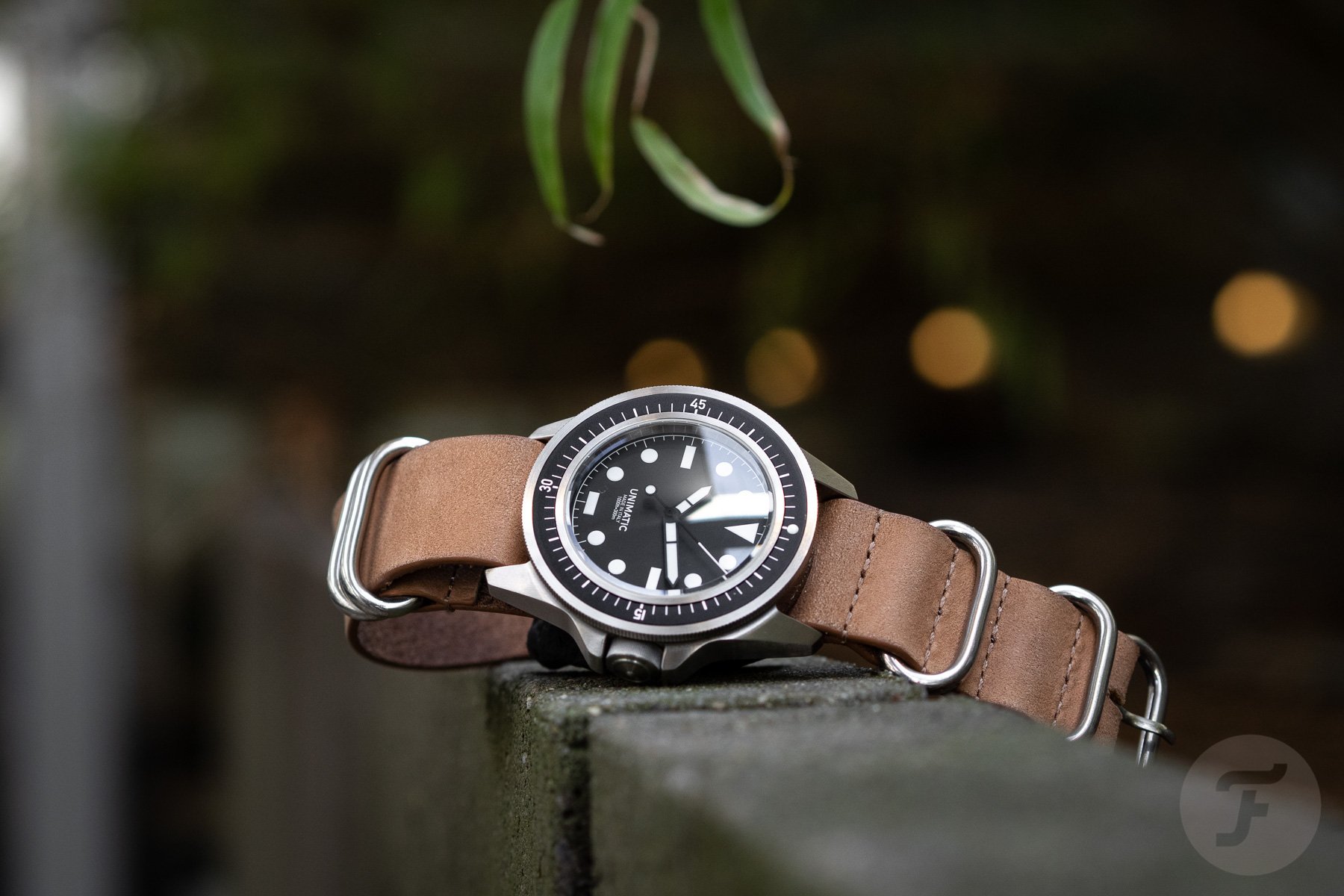 Are there downsides to it? Well, if you don't like a lot of metal on your wrist, you might not love the rugged look of the Zulu strap. On top of that, it makes the watch a little bulkier overall. I also have to be honest and say that I had to get used to the two bottom keepers. Do you spread them or keep them together? There is no right or wrong there, but I like to spread them out so they are separated. But after getting used to it, it's not an issue at all. If anything, it created extra interaction with the watch. And lastly, the light color will pick up dirt, of course, and it will show. Therefore, over time, the light color will become darker and potentially look stained. Hopefully, it will give the strap extra character though.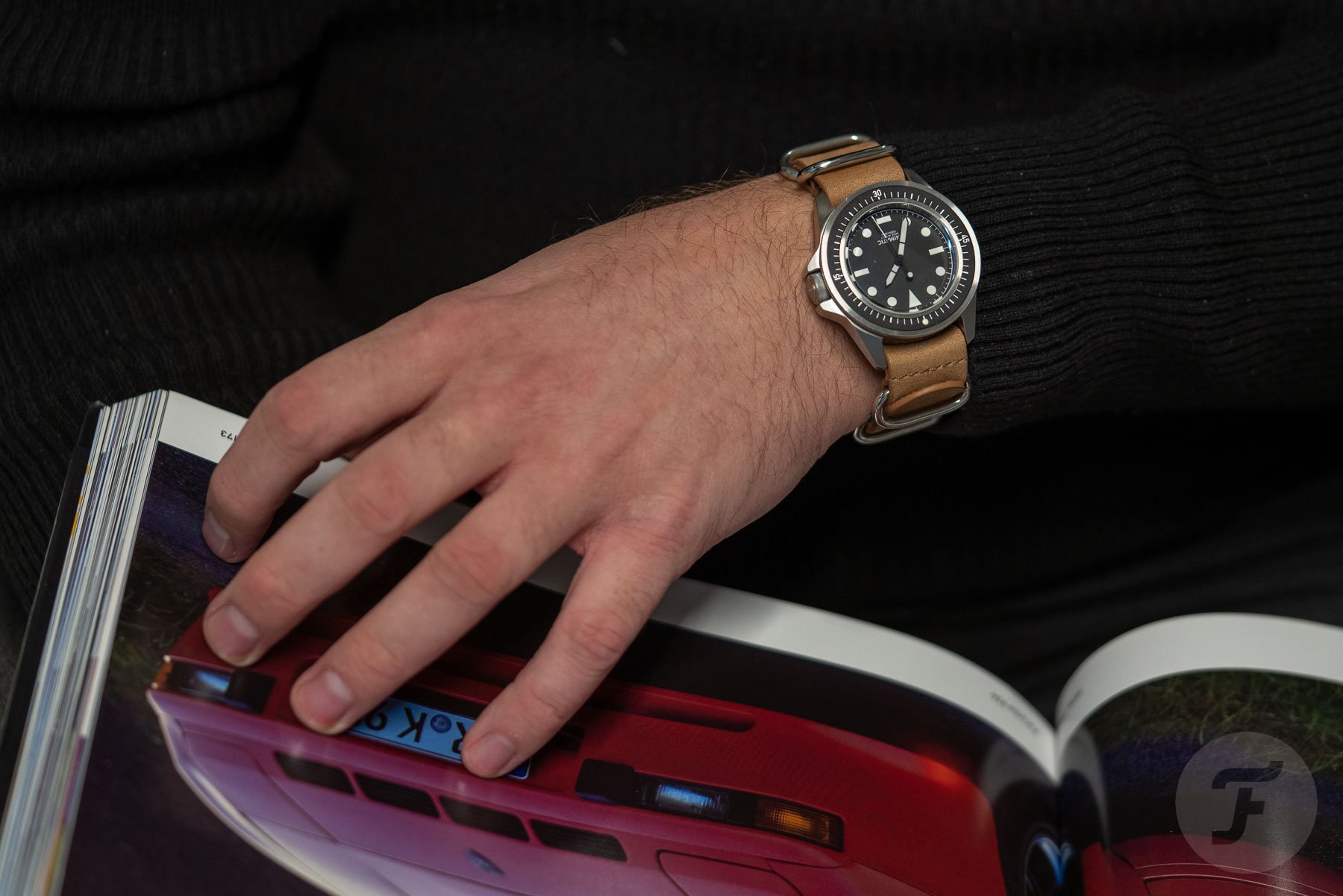 Final Strap Check thoughts
And if there is one thing that I love about this strap, it's its presence. The combination of the Modello Uno U1-F and the Cheapest NATO Straps sand Zulu strap just looks cool. And the reaction of people confirms there is something special about this combination. Somehow, the two seem to be a match made in heaven. And a great thing is that with the substantial volume of the strap, the watch will not slip under your cuff easily so you are reminded of the great combination on your wrist. As I don't wear formal clothing, the watch is very easy to combine with my daily outfits. I sometimes switch back to the black Unimatic NATO, but most of the time, I wear the watch on this great Zulu strap.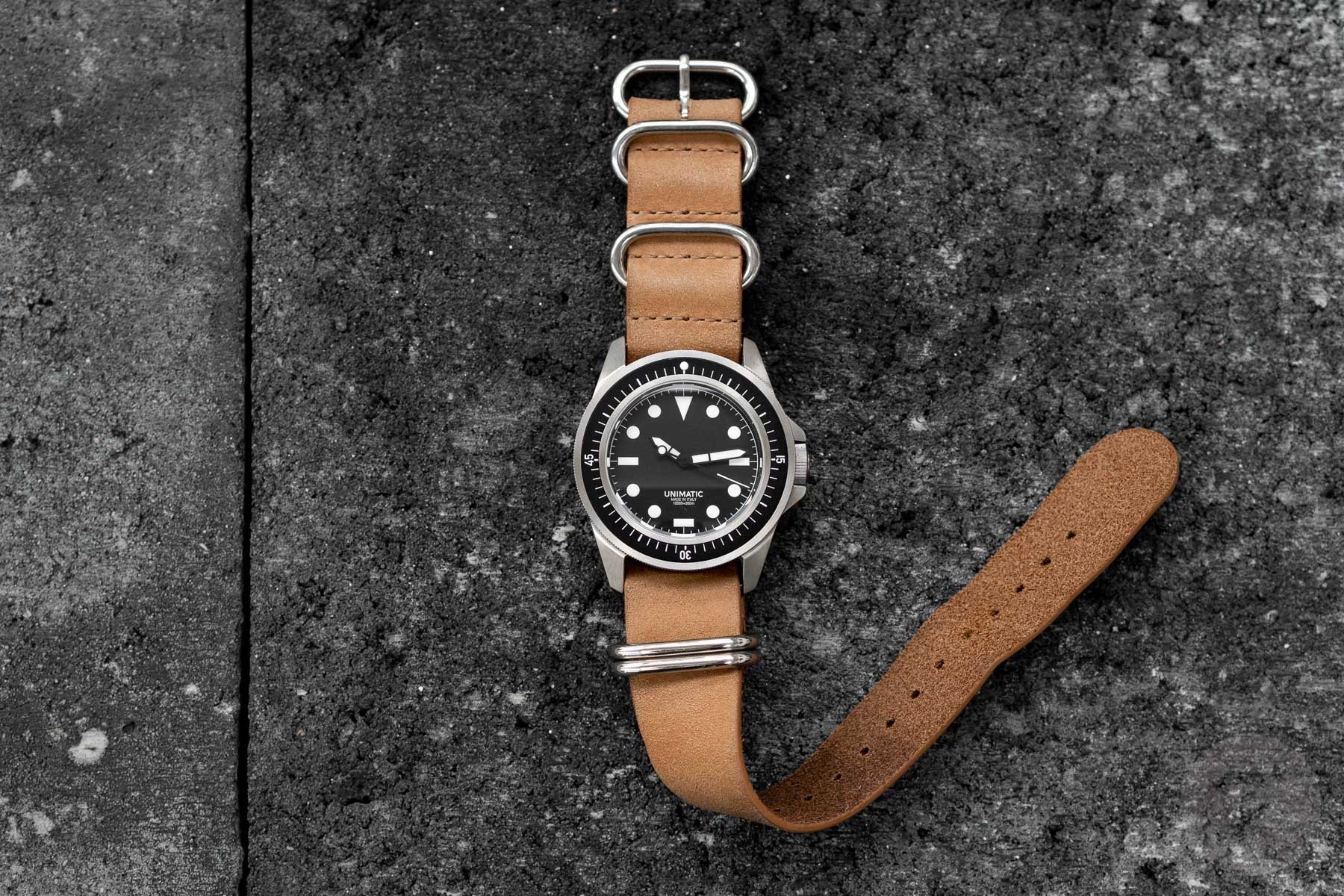 The Cheapest NATO Straps leather Zulu strap is available in black, dark brown, brown, chestnut, and the featured sand color. All of them are available in 20mm, 22mm, and 24mm, so you won't have trouble finding one to fit your watch. Add the very affordable $19.95 price, and it's hard not to order more of these straps in different colors. Check out the full collection on the Cheapest NATO Straps website. I will be ordering more soon, as this is a great match for the Unimatic watches. Who knows? They may end up in another installment of Strap Check.
That's it for this week's edition! Please tune in next Thursday for our next installment. For now, please share with us some of your favorite watch/strap combinations in the comments below.