Strap Check: My Two-Piece NATOs — Similar NATO Looks, But Without The NATO Bulk
An especially good option for bigger (tool) watches
I remember getting my Seiko SPB143J1 about two years ago. Its well-balanced design, brushed steel bezel insert, and gray sunburst dial really spoke to me. But I knew it was going to be a chunky and heavy watch, especially on the bracelet. So by the time it arrived, I had already gotten some straps for it. I got myself some single-pass NATOs and a Tropic strap, but the best match for me was a green/gray two-piece NATO I got from Esprit NATO. I have since gotten rid of the SPB143J1, but I'm still enjoying the strap I got for it!
I'm not entirely sure how I ended up on the Esprit NATO website. It's a company operating out of Paris that offers the usual leather, nylon, and rubber watch straps also offered by so many others. But Esprit's nylon two-piece NATO straps caught my eye. As the SPB143J1 is quite a big and thick watch for my wrist, it wasn't always comfortable to wear on a classic or single-pass NATO. The extra bulk underneath the watch made it shift a little on my wrist. This two-piece nylon strap, however, took away the extra bulk, and still maintained the sporty and utilitarian look of a NATO.
The two-piece NATO construction
When the strap arrived, it was clear why it was called a two-piece NATO. It was exactly that — a NATO strap cut in half with a spring bar on each end. Not that I was disappointed — the nylon felt sturdy — but it's a very basic strap nonetheless. The quick-release spring bars sit in between the layers of folded nylon, which are stitched together. The ends of the nylon have been heated to ensure that they won't start to fray. On one side of the strap, I've had to trim the corners because they were stinging my arm a bit. Thankfully, it hasn't bothered me again since then.
The keeper on the short side of the strap is another piece of the same nylon. I think it looks good, but whereas the rest of the strap is quite supple, this part of the strap is very rigid. Therefore, it doesn't really take on the shape of your wrist. It hasn't really bothered me, to be honest, but one or two steel keepers might be a more comfortable choice here. The wide keeper, however, does give you the opportunity to hide the surplus length back in there.
All in all, it's a simple construction indeed, but it has held up well during these past two years. I expected it to show some frays, especially around the heat-sealed holes. But I actually can't find any, and that goes for the rest of the strap as well. I must admit, I mostly wear my watches on bracelets, but I have worn this quite regularly. It still looks as good as when I took it out of the envelope when it arrived. And those looks in combination with its fit are exactly why I like this strap so much.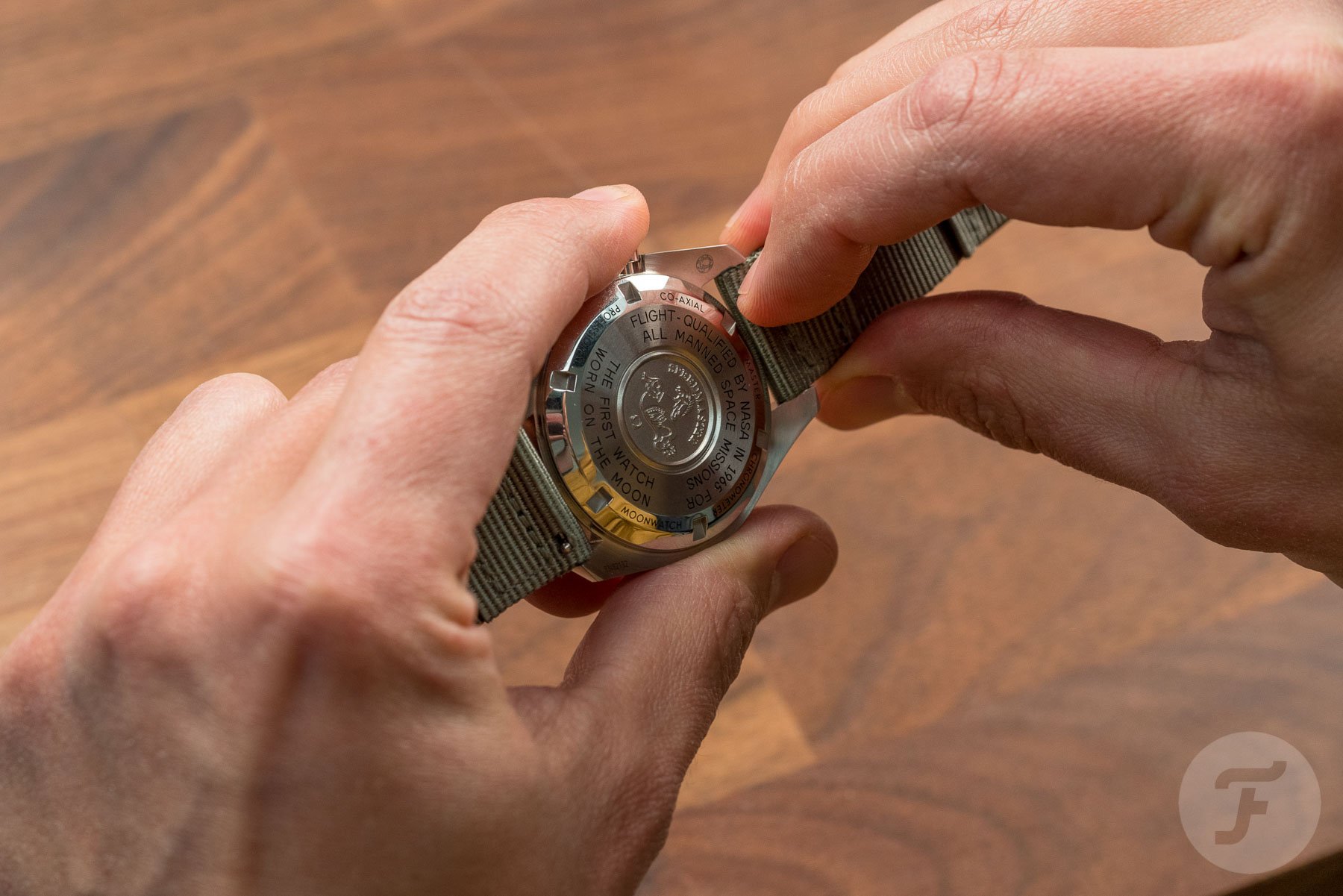 The perfect match for a tool watch
The gray/green color I chose matched perfectly with the gray Seiko sunburst. And the fact that there was no fabric underneath the watch really made it wear a lot more comfortably than a regular or single-pass NATO. I really like it when a watch sits directly on your wrist. It both looks and feels a lot better to me. I also really like the rectangle stitching close to the lugs. I don't know, it just adds some character to the strap, which is, again, quite simple in design. And although this strap helped me wear my SPB143J1 a lot, in the end, I decided to look for a more wearable diver.
Two-piece NATO on the Blancpain Bathyscaphe
The 38mm Blancpain Bathyscaphe took its place with an equally beautiful gray sunburst dial. The gray/green two-piece also wears very well on that watch. When I wear that combo, it's so light that I often forget I'm wearing a watch! But I think the strap works better on my bigger watches, maybe because of the 20mm width and the lack of taper. So, for another one of my bigger watches, the "Fratelloris", I decided to get another two-piece NATO. Esprit NATO also had a bronze color on offer, so I figured that would go well with its bronze case.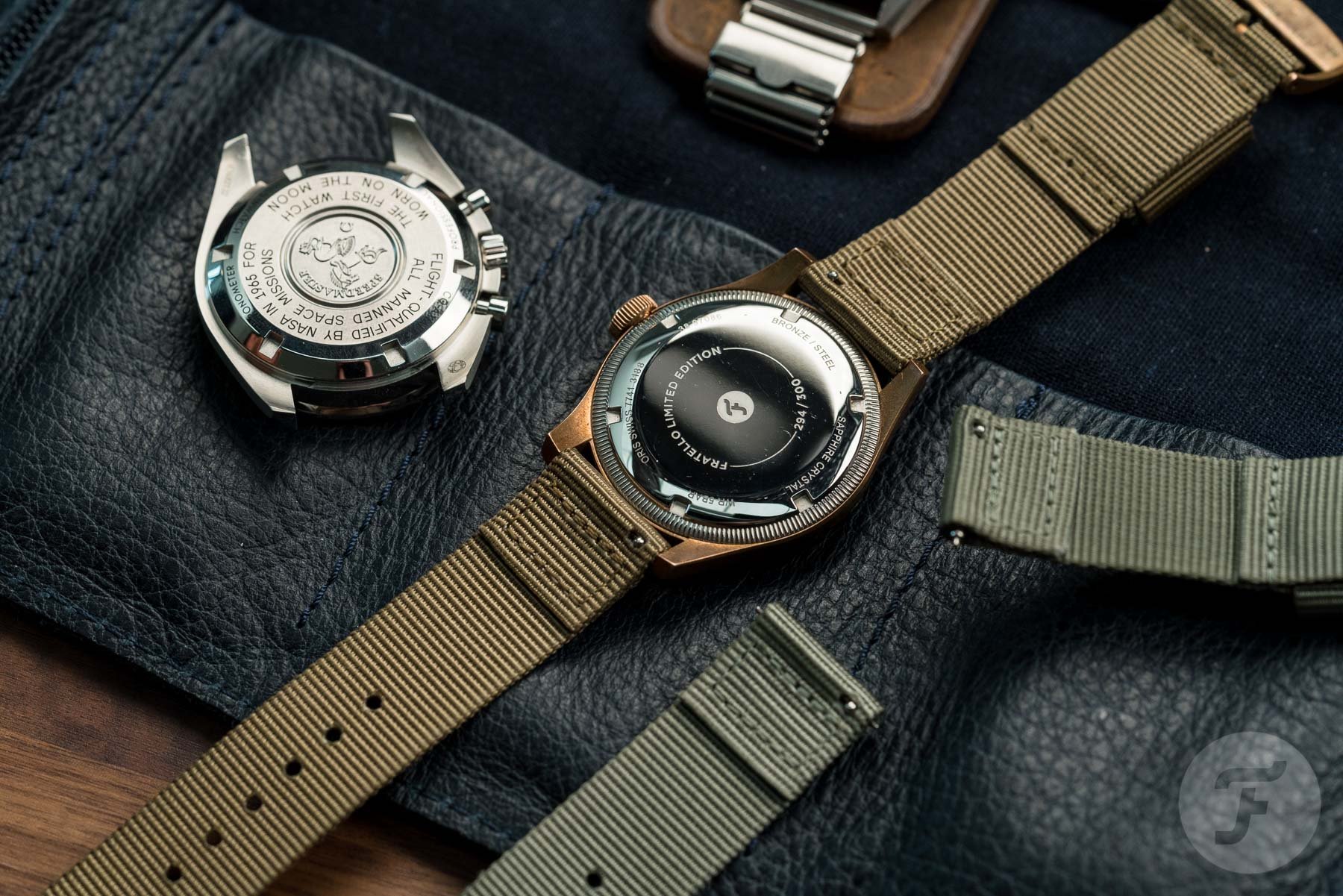 On the Oris Big Crown Pointer Date (Fratello edition)
The bronze on bronze does match quite well. The strap shows some green hues too, which causes it not to be a ton-sur-ton match. And I think that's a good thing! When I wear the strap on the Oris, I fit it with the bronze buckle from the NATO that came with the watch. This combo immediately makes the Big Crown Pointer Date look a lot more sporty and tooly, while on a leather strap it looks a lot more like a classic dress watch. I like how a strap can sometimes completely change the character of one of your watches. The same thing happens when I put it on my new Omega Speedmaster.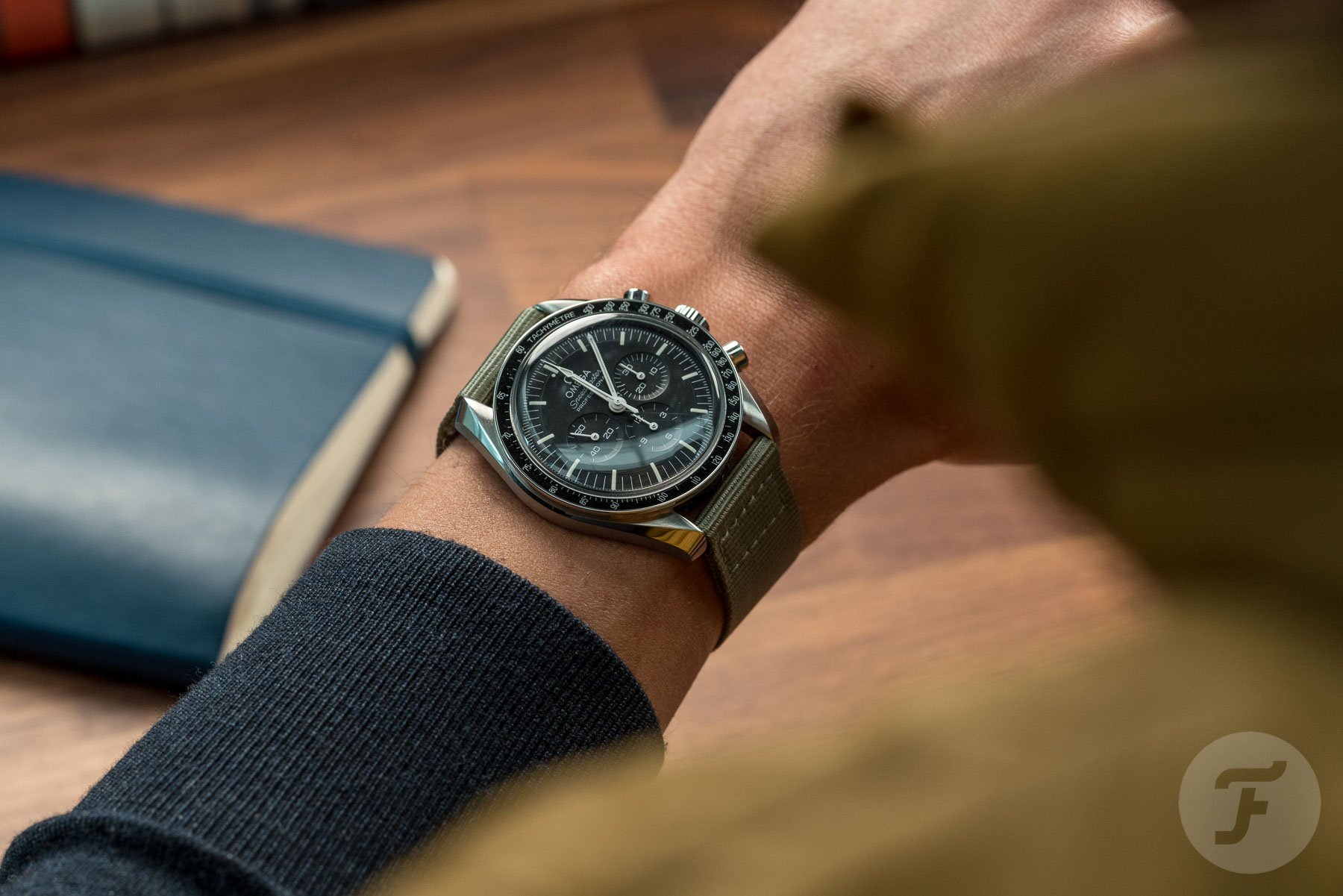 On the 3861 Omega Speedmaster Hesalite
When I left one of my watches at the Fratello office for a photoshoot, Robert-Jan lent me his Speedmaster Broad Arrow. It was fitted on a very long leather strap, the looks of which I didn't really like — sorry RJ! So when I came home, I swapped it out for the gray/green two-piece NATO, and it was a great sporty match. That watch actually convinced me that the 42mm Speedy case was fine for my wrist. Soon after, I swapped my First Omega in Space for the new Speedmaster Professional. I now wear my Speedy on the two-piece NATO quite often.
It makes the Speedmaster look like a more casual watch. It's true that the bracelet on the new Speedmaster is an absolute joy to wear and look at. But on its bracelet and especially on a leather strap, it can come across as more of a dressy piece. The two-piece NATO is great if you want to dress it down a bit. It's perfect for a lazy weekend or when you're working from home and don't want your bracelet to get scuffed up on your laptop… Just like right now, as I'm writing this article!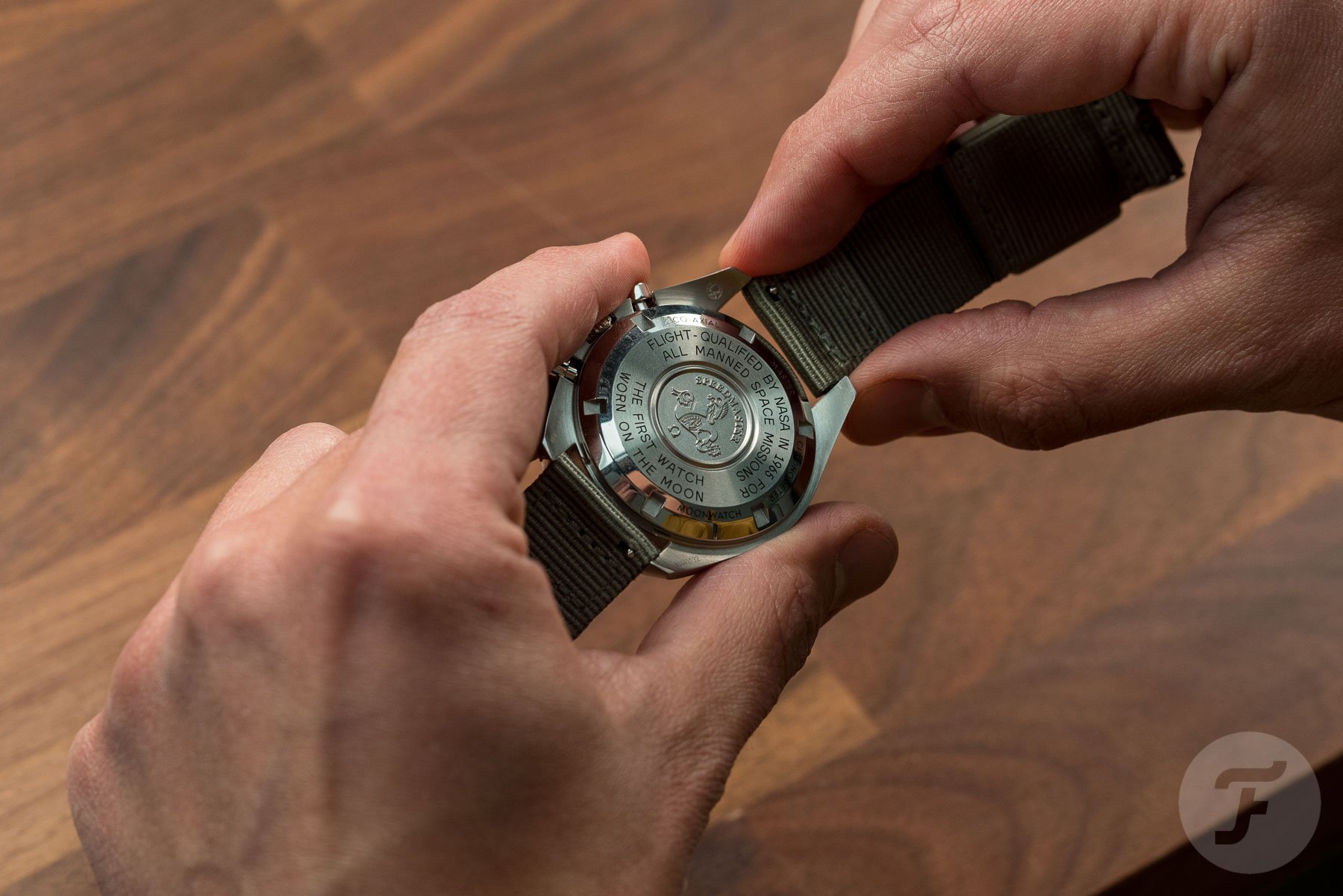 Final thoughts
For someone who doesn't like the extra bulk of a regular or single-pass NATO, I think these two-piece NATO straps are a very viable alternative. Of course, they're very different in application. The two-piece holds its own spring bars, and is, therefore, less secure than the regular NATO if one of the spring bars is accidentally released. But I do think that in terms of looks, the straps are quite similar. And especially if you like wearing single-pass NATOs because of their slimmer profile, why not go for a two-piece NATO? I bought one for a specific watch, but now I'm a fan. I see a few other colors are now available as well, like the "Gulf / Le Mans" colorway. I might as well get a few more!
I found mine at Esprit NATO, but I've seen other companies who offer these as well. Maybe you know of a good alternative to the ones I got. If so, let me know in the comments. I'm also curious to see whether there are more two-piece NATO lovers out there!
You can find and follow me on Instagram @fliptheparrot