The New Straton Yacht Racer Quartz — The Best Uni-Compax Fun You Can Have Under $300
And that price ain't no typo
The microbrand Straton does colorful, entry-level chronographs like very few other microbrands do. Personally, I have followed the brand for some years. Straton actively engages with buyers on microbrand Facebook groups when it launches new models, and the Straton Yacht Racer Quartz is a great example of why we love micros. It's that more personal experience you get from buying from a small brand. The fact that you can communicate with brand owners is perhaps just as enticing as their unstoppable creativity.
And creativity is something Straton has in abundance. I find myself exceedingly moving away from monochrome tool watches, and to be honest, I wouldn't fancy a Submariner even if I had the funds. I do love shooting my own and other watches and posting on Instagram, but the algorithms of big-money bragging get me down. When a majority of high-hit posts are of the same unreachable pieces of wristwear, Straton is a great antidote. And if you read my three stories on uni-compax chronographs, you know where my heart is. But if you're unsure of what you like, I'm not presuming you'll cough up between one- and five-thousand dollars for that first taste. And that is where Straton comes in with its new Yacht Racer Quartz.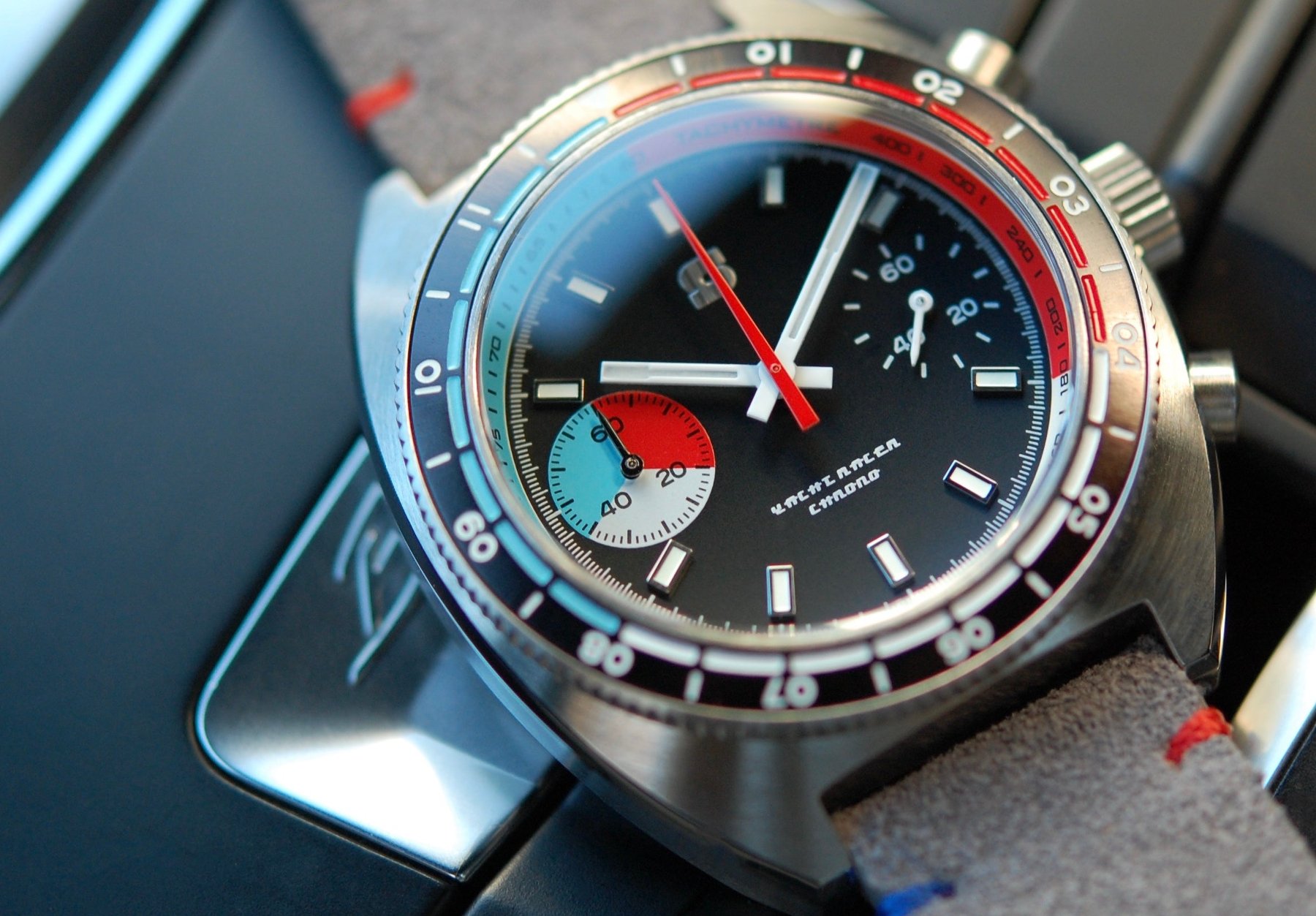 The colors are popping and the price is right
For the first taste of vintage-wearing chronographs, you can't really go wrong with the Yacht Racer Quartz. Every one of the six models (yes, six!) are as fresh as summer popsicles and are great daily wearers. For the price, you'll find them hard to beat, and Straton is an established player, not some brand-new Kickstarter venture. In a world of same-same releases and slight variations in case size, the new Yacht Racer is refreshingly quirky and cool. And in a shrewd move not to over-extend production and order bookings, there are only 50 of each color available for pre-order, which will be shipped in March. I'm not knocking Kickstarter, but many of us have backed projects, holding up funds only to find out four months later that the project has been canceled. Or worse, the design and specification changed enough that you want to pull out.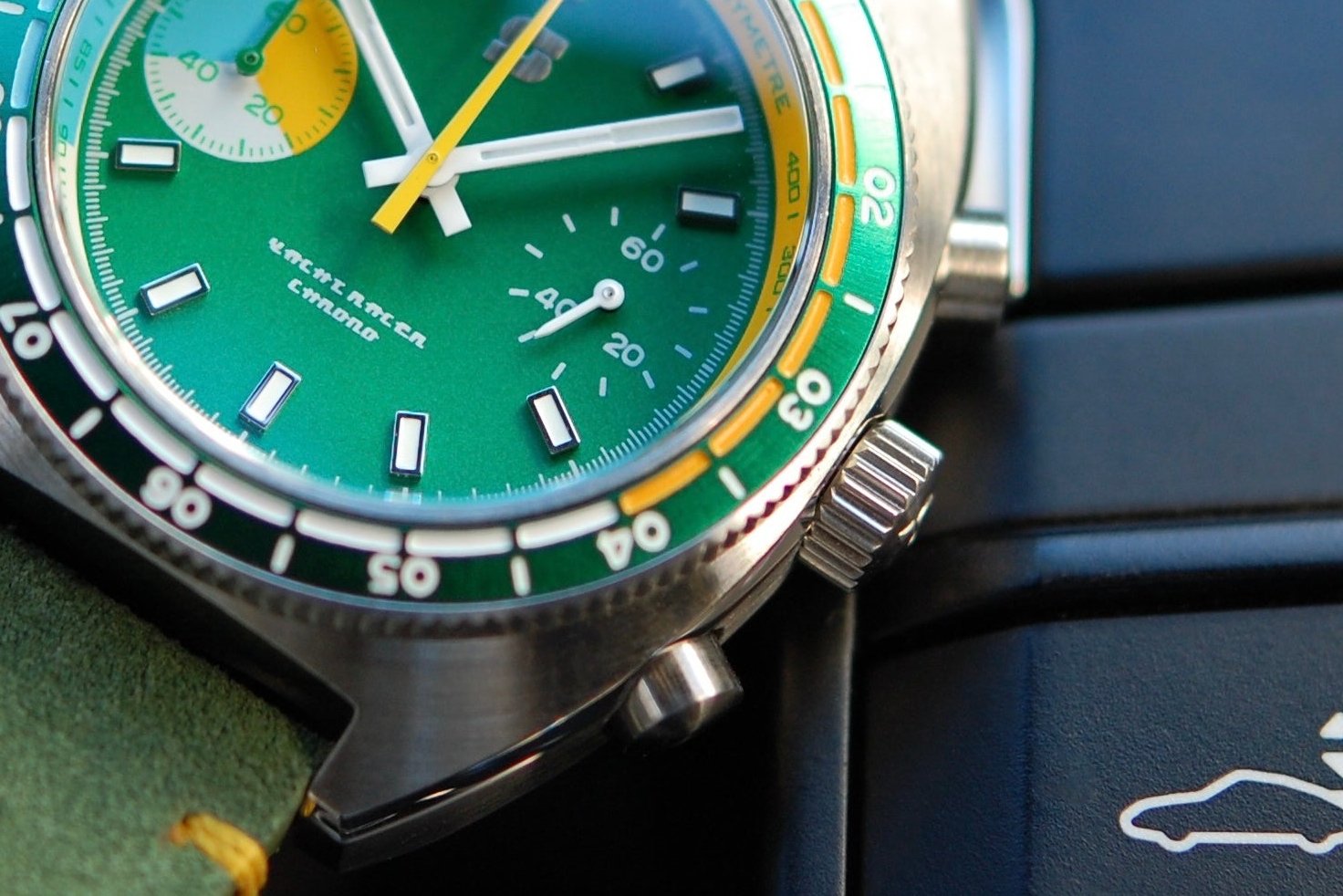 First Impressions
To be honest, the Yacht Racer is tempting enough to consider buying a two-pack of these colored tonneau chronographs and keeping the one you love. Microbrand production has improved by leaps and bounds in the last five years, and judging from the shots, this is proper time travel back to the late '60s. The bold applied Straton "S" at 12 o'clock presides over a Heuer-ish dial with classic motor-racing design cues. Refreshingly sans date window, the only hint to the Miyota 6S21 quartz caliber are the smallish sub-dials at 3 and 9 o'clock. I know, they would have looked better closer together and slightly larger, but at this price, the value is way too good to care. The same goes for the circular brushed tonneau case with those classic square-cut lugs that channel a vintage Autavia.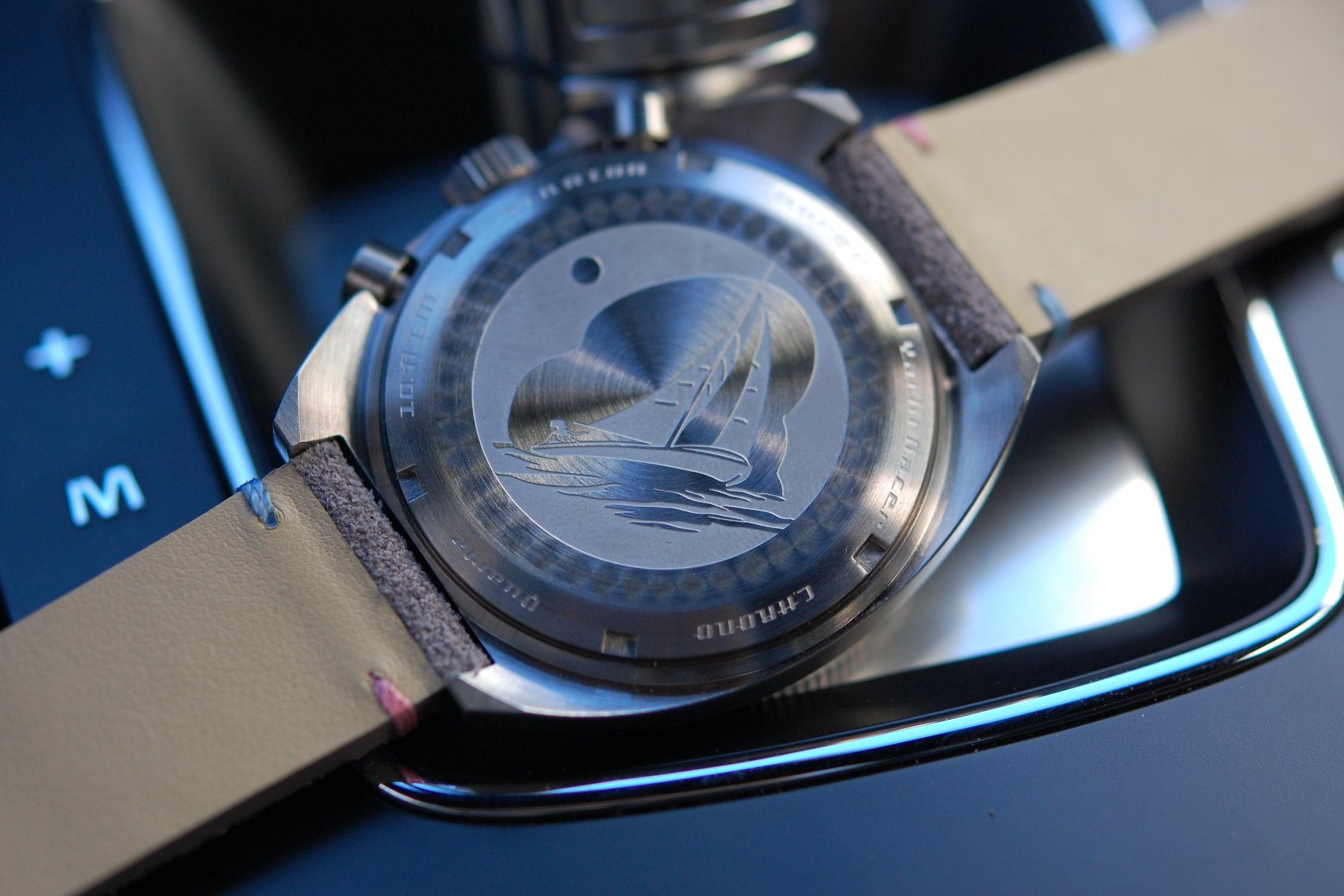 A case punching far above its price bracket
To get this level of execution below $300 is a big star in Straton's book, even if some of us feel a 42mm case to be a bit wide. When you notice the chamfered bevels on the side flowing around the lug ends, this retro-styled case only increases in its charm. We all love 38-40mm cases, but this 42mm diameter is actually period correct. The echoes of a vintage Heuer Autavia are more than mere style, as its tonneau case was also 42mm in width. It was massive for the time, but yes, that does make this vintage perfection. All Straton's Yacht Racer Quartz references have a sharp tri-colored 60-minute timer at 9 and running seconds at 3 o'clock. And wow, what a choice of colors! For the slightly wrist-shy, there are two black-dial configurations with red or pink and light blue accents and chronograph pointers.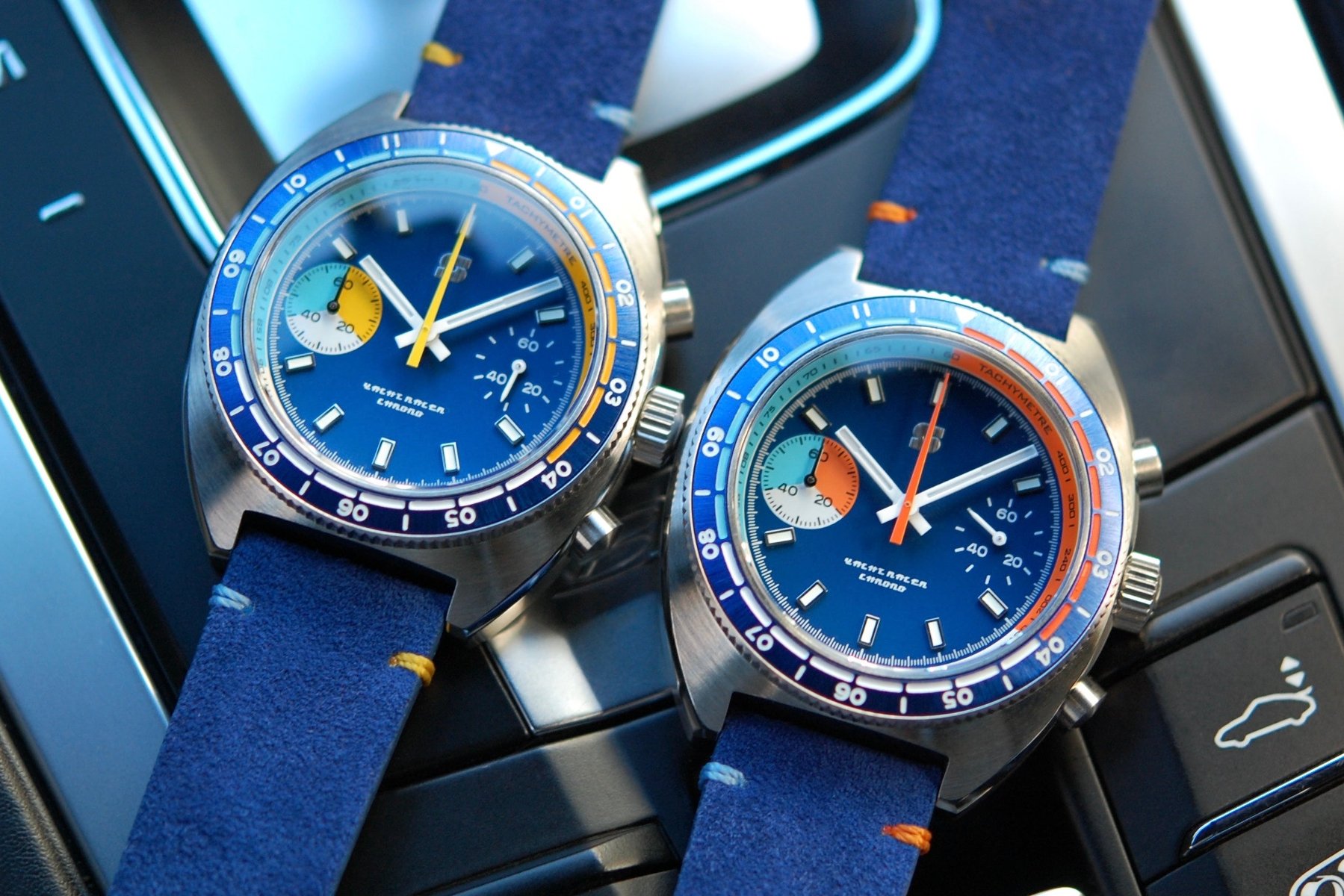 Functionality and a host of fresh colors
The 12-hour bezel is also filled with accent colors and can be used as a second timezone for travel. But why stick to the matte black dials when there's so much more to choose from? There's a flashy apple-green version with searing yellow detailing, as well as two cool blue dials with orange or yellow touches. Most of the references have lacquered white hands, while the white dial is a summer-fresh sherbet delight, featuring light blue hands paired with lickably sweet pink and baby blue details. The tachymeter rehaut and applied, chunky indices are just right for the racing-inspired look Straton is known for, and the dial's accent colors are matched by the stitching on the soft suede strap. "But why should you start with quartz?" I hear you asking. "Why not invest in a patinaed vintage Heuer?"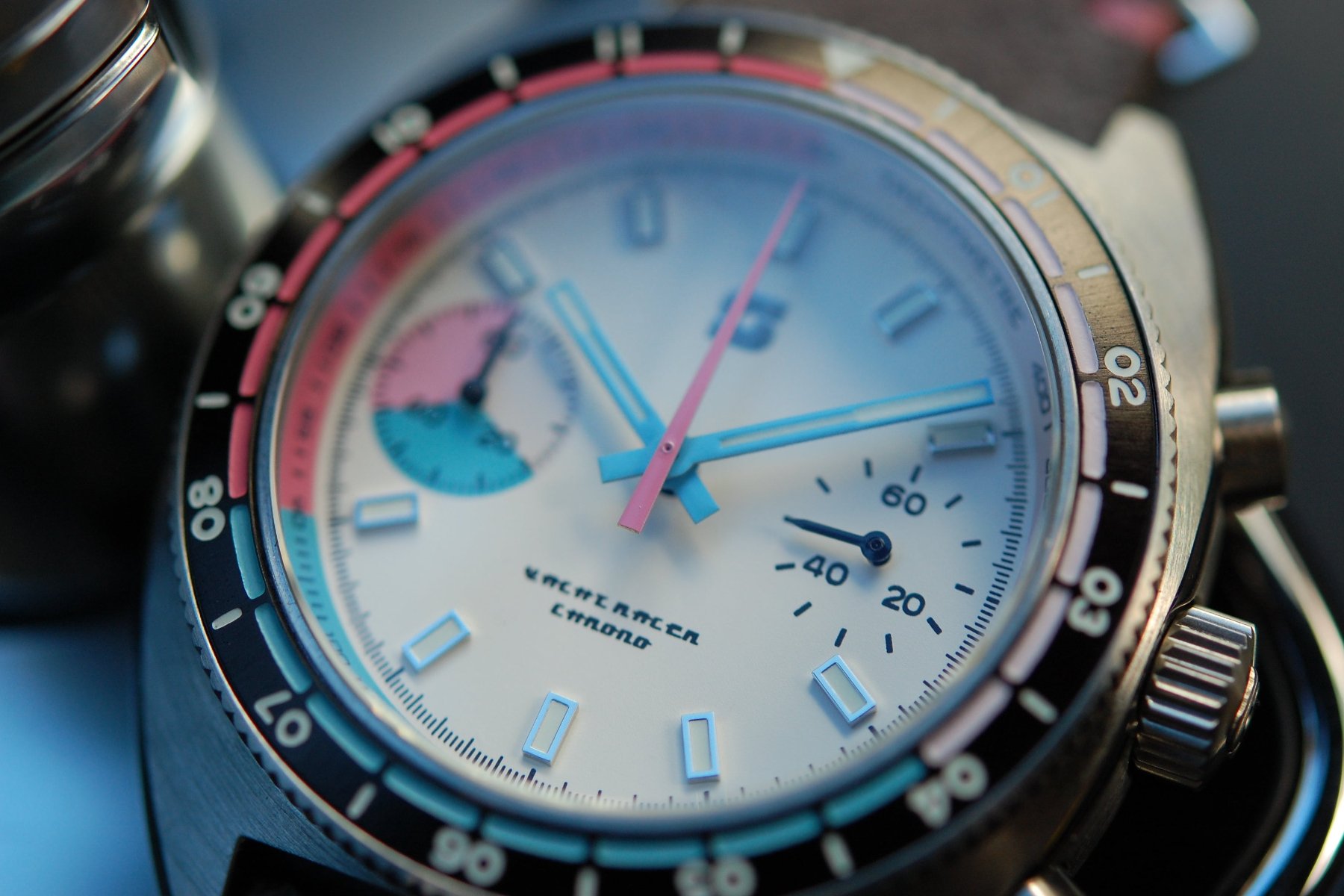 Everyday cool for less means an easy taste for vintage
This tonneau-cased quartz chrono makes sense for the same reason a Patek collector gets himself a meca-quartz Furlan Marri. Likewise, a lover of Universal Genève might get a Massena LAB Uni-Racer for peace of mind. You can stay safe in the knowledge that this is a reliable everyday sports watch that'll (to paraphrase Timex) take a licking and keep on ticking. While there's nothing wrong with a cool G-Shock or one of those Apple rectangles, this means you can enjoy vintage style without breaking the bank. Leave the precious, real vintage cool at home for those special moments, without worrying about the value on your wrist or a frail 50-60-year-old chronograph caliber. This, my friend, is one of the best ways to dip your toes in the enticingly cool water of vintage sports watches. Check out all the models and pre-order for $259 at Straton Watch Co.
Find me and follow me at @thorsvaboe