Summer Splash: What Is The Best Summer Watch? Balazs's Picks — Certina, Doxa, And Nivada
The Splash picks up where March Mania left off, and tries to find the answer to an often asked question...
Roll up, roll up! The summer has hit The Hague, and Fratello is keen to celebrate. After the fizzing success of March Mania, we are back with the Summer Splash. A new knock-out competition conceived to find the very best summer watch out there, according to YOU, the Fratelli. And guess what? You can win prizes! No, there won't be a watch available this time, but there WILL be some of the finest water-firing weapons money can buy: the Spyra 2 water cannon is reputedly the strongest of its kind ever made. Fancy getting your hands on one? Read on and take part in the comments section of this article.
Eight writers will choose three of their favorite summer watches this time around and pitch them to you during this first round of our Summer Splash. The rules? The watches must be under €5,000, water-resistant to at least 100 meters, and actually available to buy. That doesn't mean they can't be limited, but they can't be sold out at the time of writing. With that said, it's time to jump in and talk about my favorite summer watches. Here we go!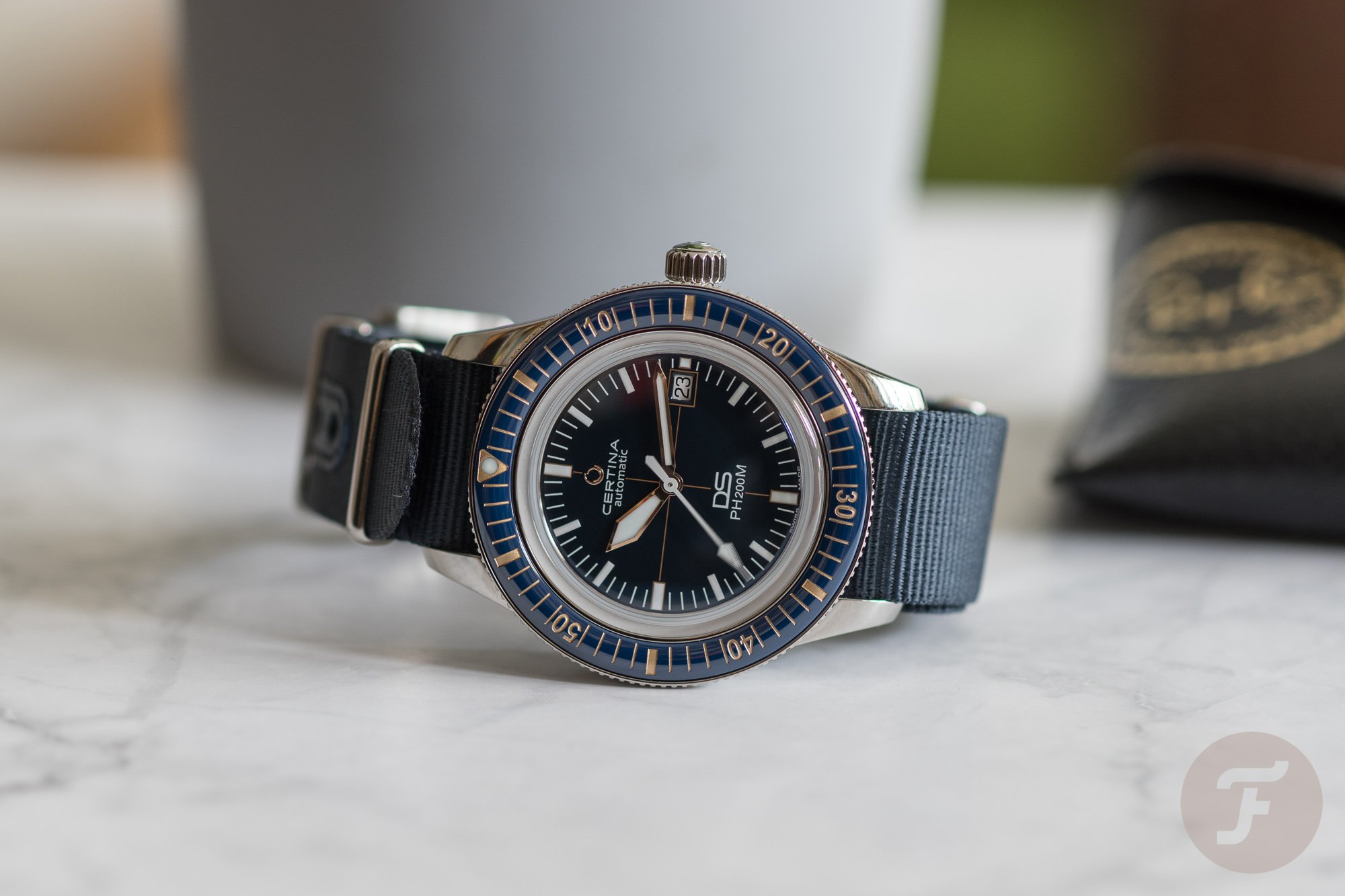 Certina DS PH200M Blue
If I must pick three summer watches, one has to be Certina. Why? Well, firstly, a summer watch to me is connected to water. So, a diver is always an appropriate choice. And what brand is out there that's killing the (affordable) diver watch game? To me the first brand that comes to mind is Certina. Ok, we have the brand; now let's see the models I reviewed in the past. Here comes the second point. You want a piece that is comfortable to wear in the heat. Most Certina watches I had the pleasure of spending some time with did not come on a bracelet. My choice actually has the benefit of being available on a bracelet, but I wore it on a nato strap. Great looks and wearability for those steamy hot summer days.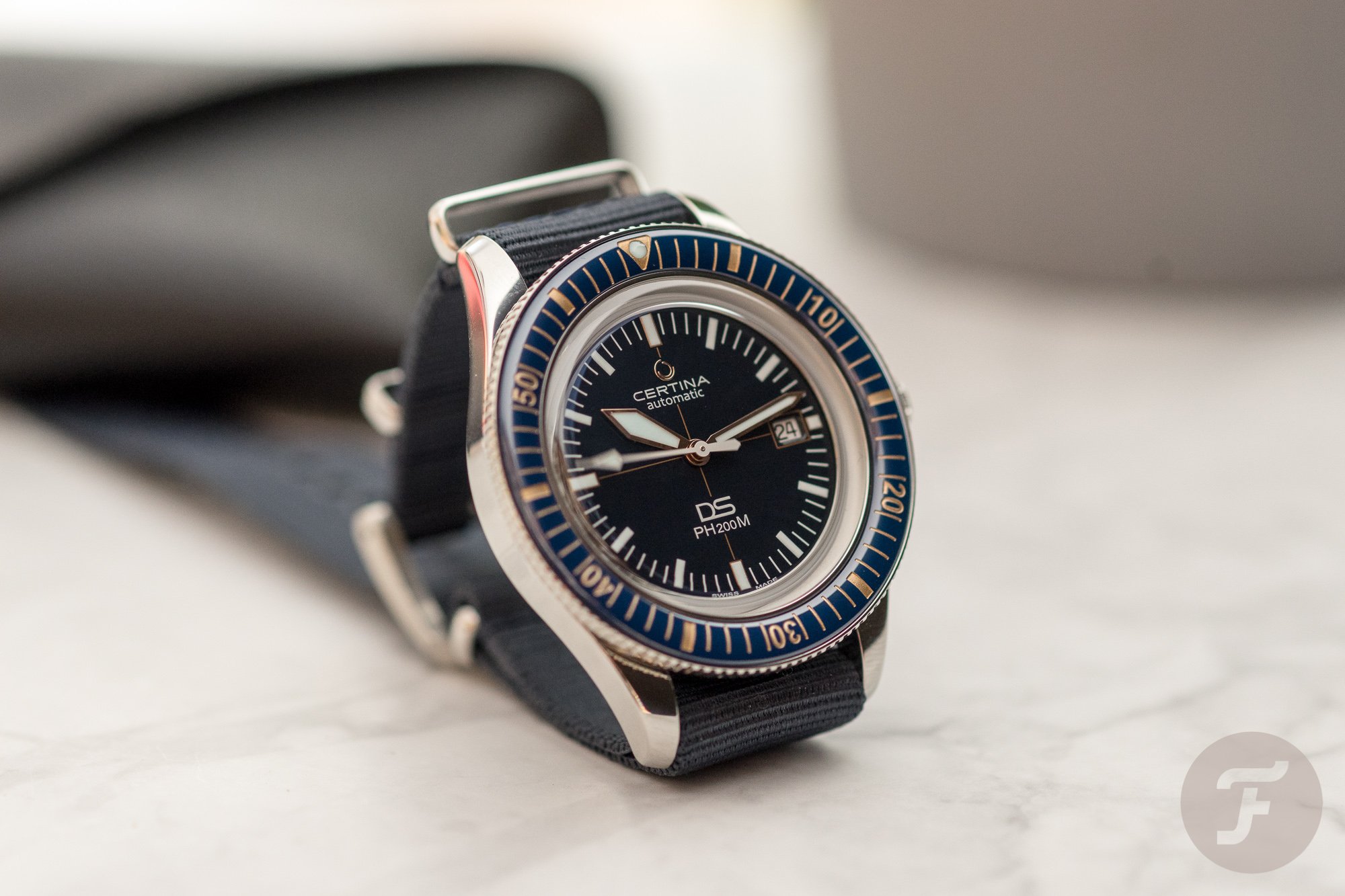 This is where the last point connects; it should not only be comfortable but must look good with your shorts and t-shirt. That being said, I think I know what Certina I have to go with. And we are talking about one of the coolest Certinas out there (in my opinion); the DS PH200M Blue. There's just something about this blue/gold color combination that gets me in the summer mood. Not to mention the clever mix of vintage and modern elements. This is one I'd be happy to wear all summer long!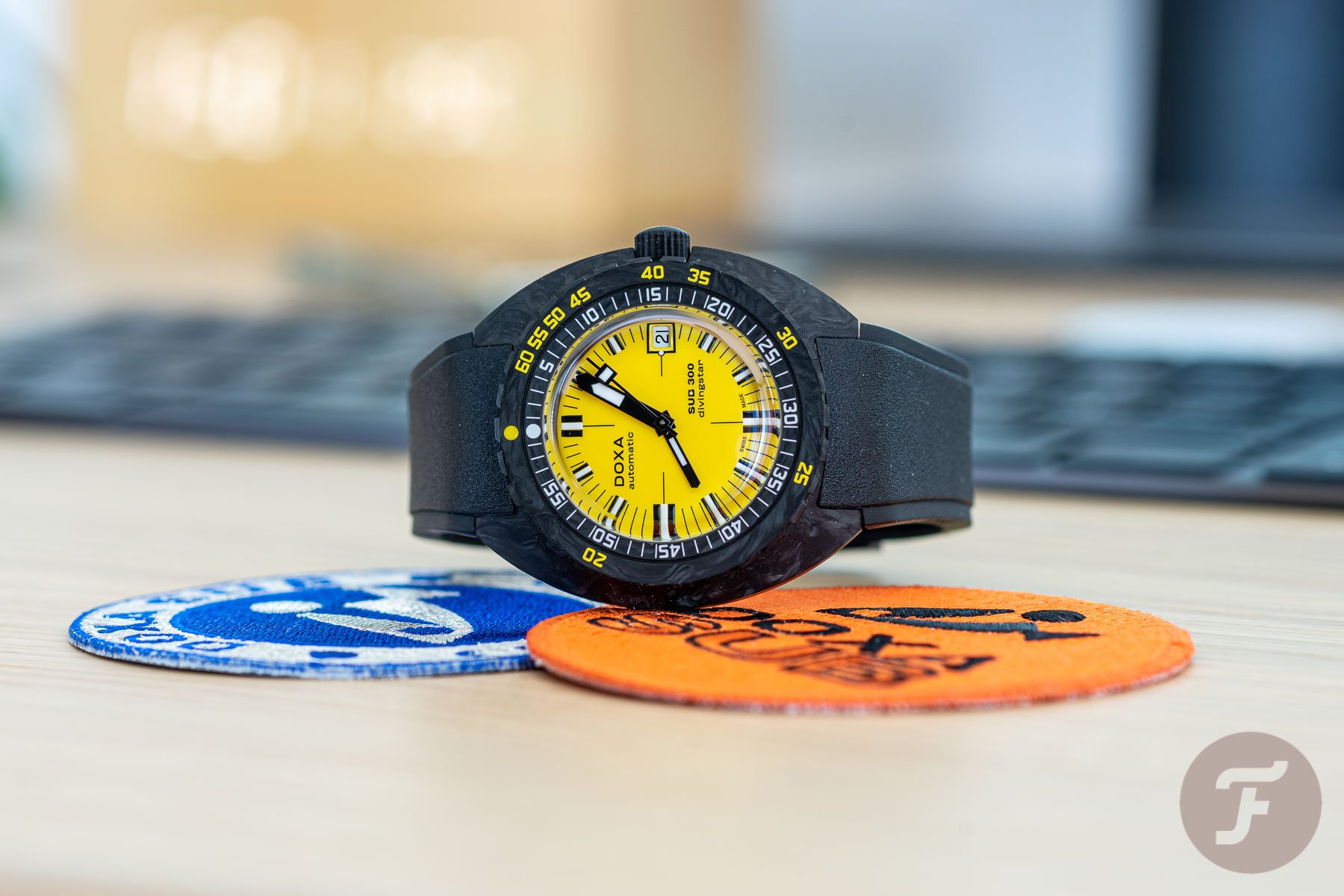 Doxa Sub 300 Carbon Divingstar
I went with some colorful choices for this selection. I mean, the Certina with its beautiful blue bezel and gold indexes is undoubtedly a looker. Yet, there was another watch that I just had to add to my list. Not only because of its bright yellow dial, although that is one of my favorite features. But also because of the way that yellow compliments that black forged carbon case. This one is sure to make a Summer Splash!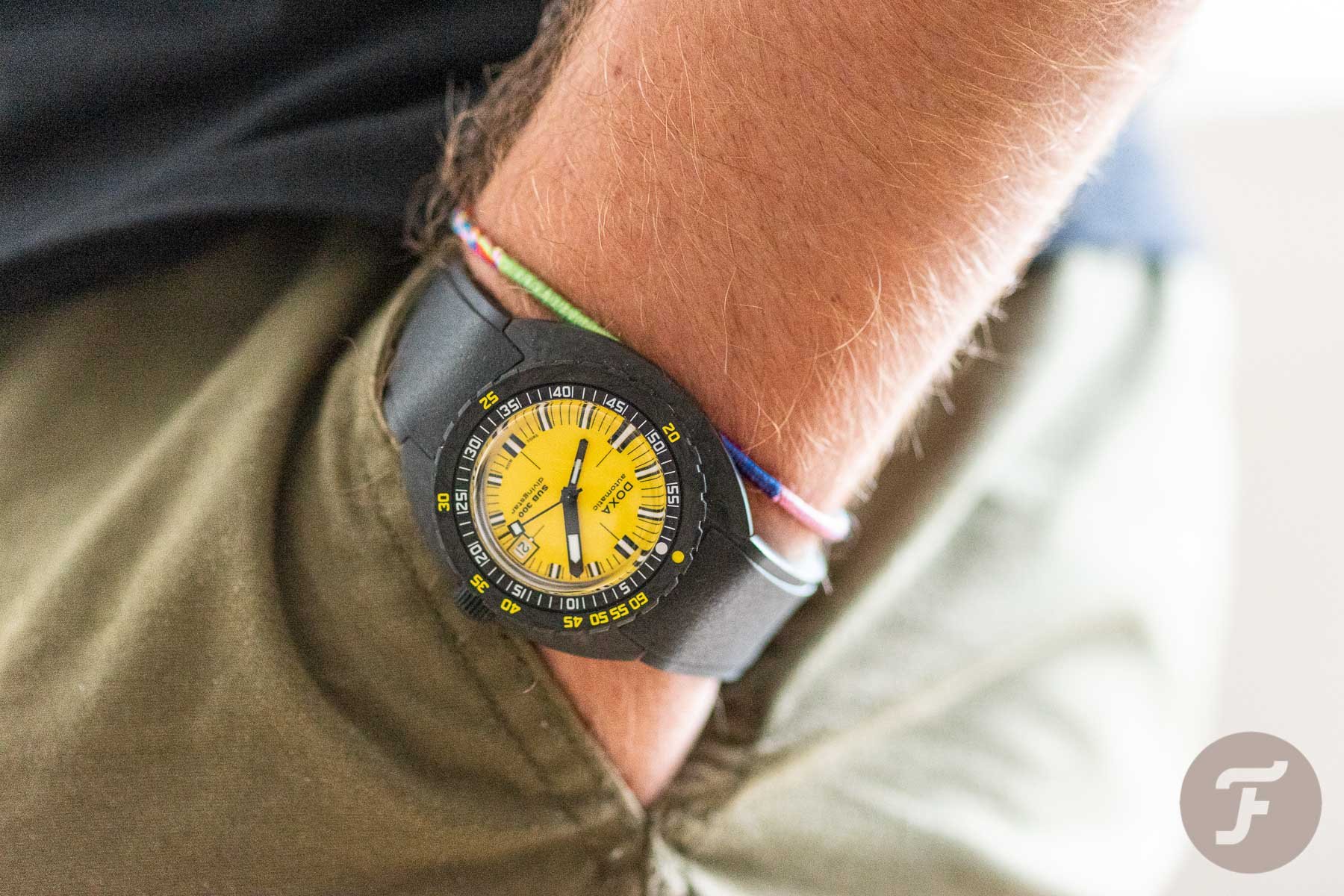 My second choice, therefore, is the Doxa 300 Carbon, a watch that has proven to be the perfect travel watch. While I had it for the test, I had to take care of something which required a bit of travel. So, I took the watch with me on the trip, and it was just incredible. Due to its light weight, thanks to the carbon case, you barely notice it on the wrist. Granted, the Sub 300 case shape is inspired by the original 1960s version, so it has a slimmer profile. Still, if you wear the steel version, which I own and also very much appreciate, you definitely feel its heft. The Sub 300 Carbon on the rubber is a whole other story. Such an incredibly cool timepiece and not only for the beach, although that is its natural element after all.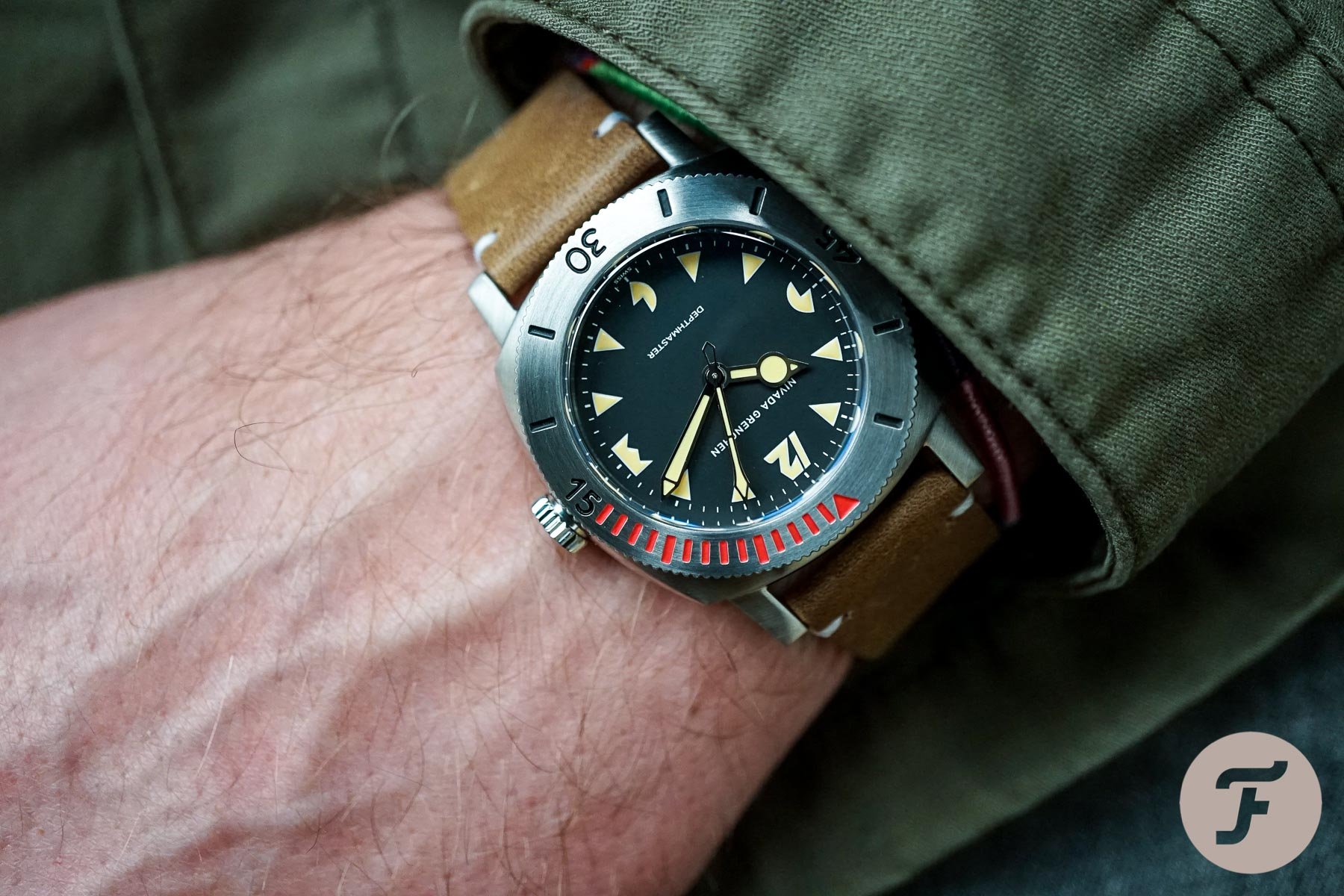 Nivada Depthmaster
Let's stay with the brightly-colored theme a bit, though I swear it was not my M.O. for this article. It's just funny how all three pieces I chose have this common denominator. My third choice comes in several iterations, where the dial is either black or green. Furthermore, the indexes can be white or cream; the second hand can be orange or have a red tip, etc.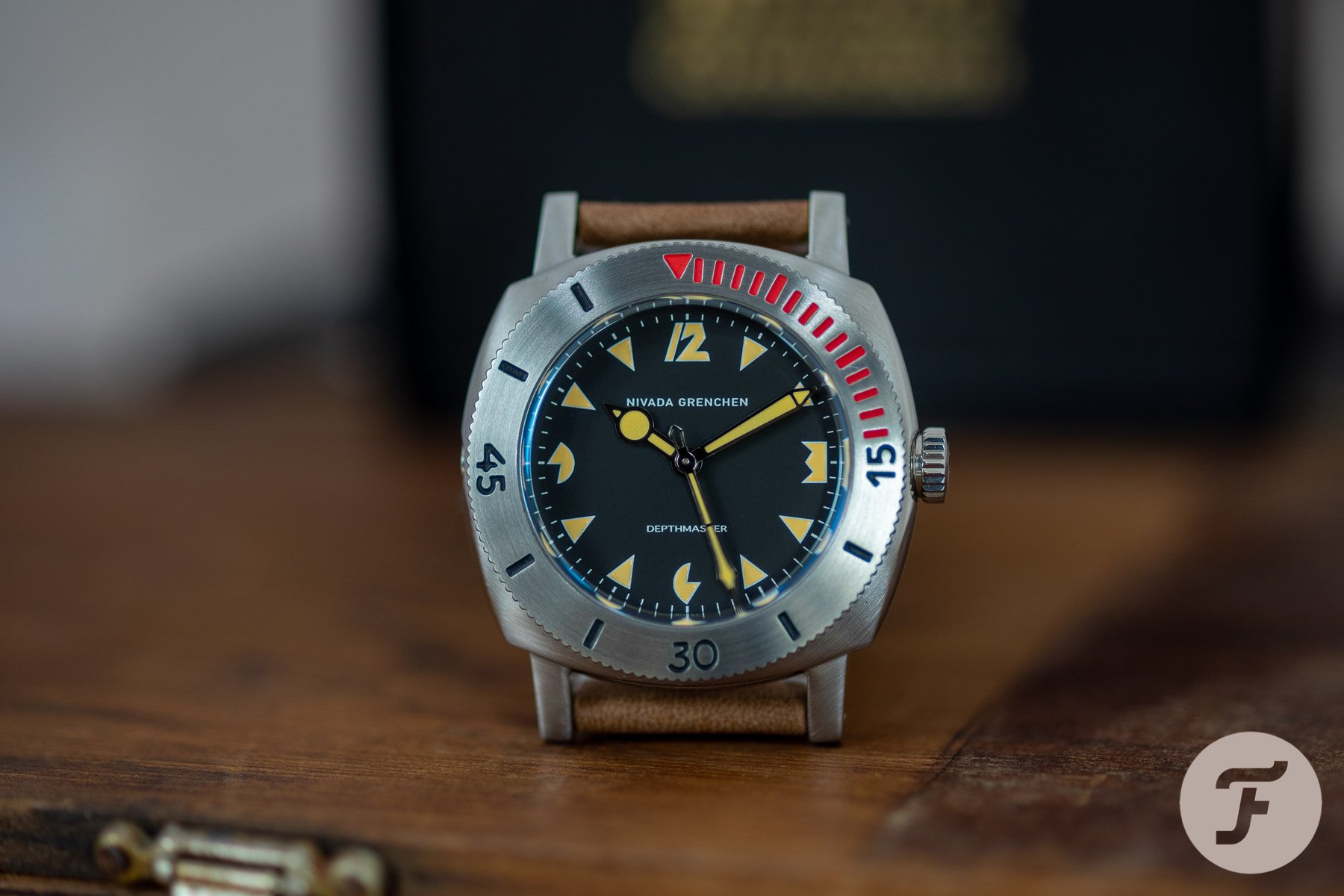 I'm talking about the Nivada Depthmaster, a modern reinterpretation of a vintage diver. Having said that, I feel that the Depthmaster is more of a summer evening, drinks at the terrace kind of watch. Aside from the fact that it has the "worst" depth rating of the three (100m, 300m for the Doxa, and 200m for the Certina), the overall design and smaller 39mm size makes it look more elegant, in my opinion. Especially if you get it on the side-stitched brown leather strap, the iconic Pac-Man dial is a great conversation starter too. I hear you say that leather is not the best option for summer, especially not for a diver. You are right; this is why you can get a rubber strap or a beads-of-rice bracelet for the Depthmaster. But I'll stick with the leather and only enjoy this watch with a cold drink in hand at the bar.
What do you think of these three Summer Splash picks? Which two will sink and which one will swim? Make sure to vote for your favorite below!
Summer Splash Round One Balazs