Sunday Morning Showdown: Mosh Pit Madness — Omega Speedmaster X-33 Vs. Breitling Aerospace
The Omega Speedmaster X-33 takes on the Breitling Aerospace
In our Sunday Morning Showdown, two of our writers go head-to-head in an epic showdown for the ages. Strong opinions and hysterical hyperbole are welcome (so feel free to join in with the fun in the comments section below). And don't forget to let us know which watches you'd like to see torn to shreds/effusively exalted next week. This week sees us (mosh)pit two quartz-regulated titanium barnstormers in a battle like no other — the Omega Speedmaster X-33 and Breitling Aerospace. Life in the ISS and above the clouds may be the primary intent of these watches, but Jorg and Ben share a passion for music, which led them to uncover an unintentional benefit of both the Omega and Breitling…
Hip hop seems to be the de facto music choice among the Fratello crew. During early summer, select team members went live on Instagram with MC Balázs for an informal chat. Each editor also chose an intro tune, a bit like a WWE wrestler entering the ring. Unanimously, the genre selected was hip hop. Well, almost, as Fratello founder RJ Broer has a penchant for cheesy power ballads. You may have caught wind of this in the Glashütte Original Fratello on Air episode here. Yet, within the majority is an off-shoot type of music that is only enjoyed by two of the team. Raise your goblet of rock, as both Jorg and Ben enjoy the sounds of heavy guitars, loud drums, and straining vocal cords of heavy metal.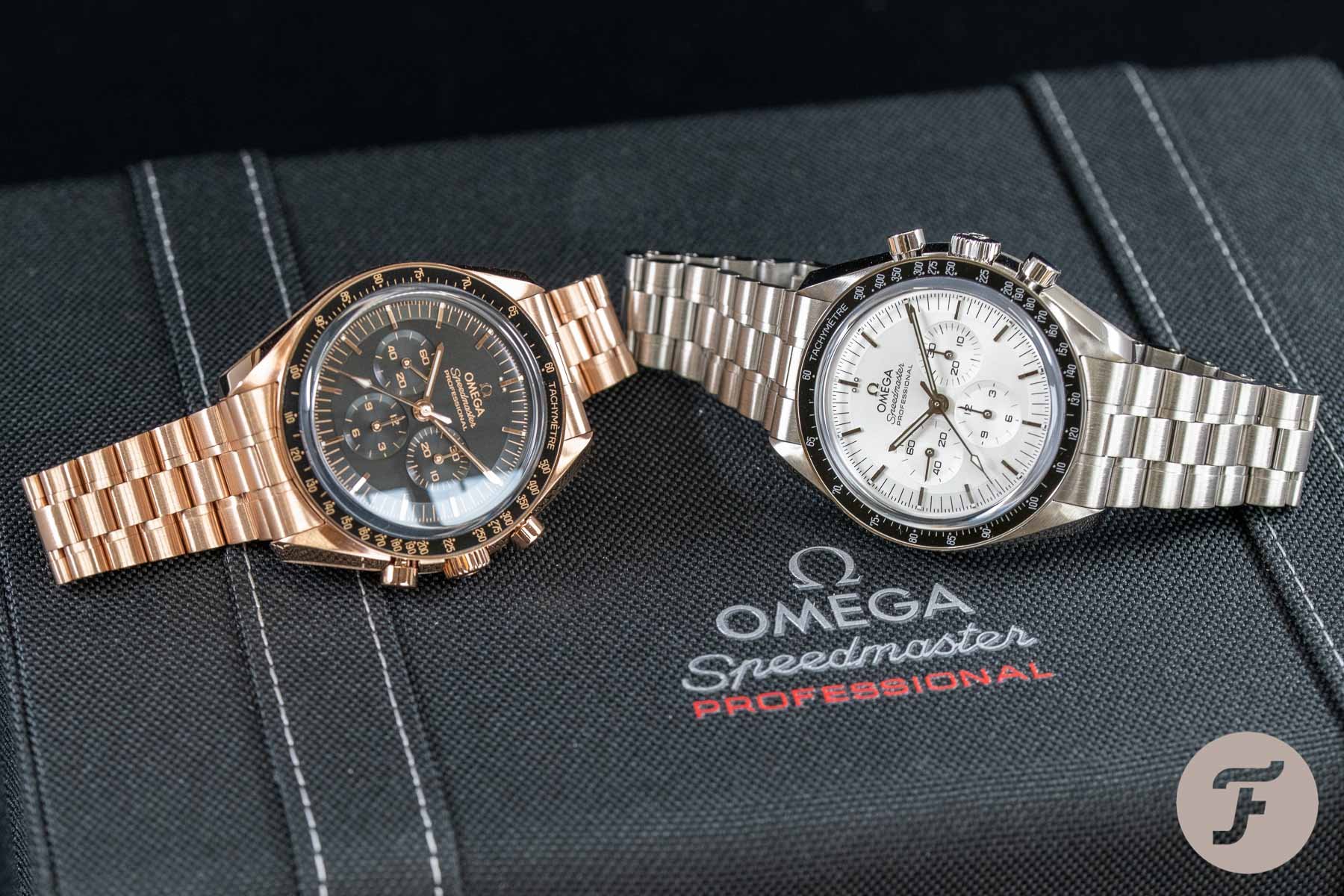 Going full Spandau Ballet
Before the writers begin headbanging to blast beasts, it's time to pick through the ashes of last week's firestorm. The level pegging of Sedna and Everose provided ongoing debate. Yet, emerging in the ashes was the Sedna Speedmaster by a scoreline of 53-47.
From #luxurylifestyle to #dailywear, the writers swap gold for titanium. More than that, they're subbing mechanically beating balance wheels for quartz oscillators and ana-digital LCDs — a far cry from the gold Daytona and Speedmaster chronographs from last week — for a good reason. If you've ever been to a metal concert, it may be evident that miniature mechanisms encased in gold may be sub-optimal for the rough 'n' tough crowds. Even if you're not in the mosh pit, fist-pumping in the air is sure to put undue stress on your watch's innards, no matter its anti-shock capabilities.
Therefore, with fewer moving parts, quartz would be the next best option. But seeing as our two writers feel the need to express their love of music and watch passion, the ticker on the wrist still has to rock. Jorg selects the Omega Speedmaster X-33, which he wears to gigs, whereas Ben rocks the Breitling Aerospace to any live music events. With this in mind, we hand over the mics to the writers of Sunday Morning Showdown's very first all-quartz quarrel. And, oh yeah: this one goes up to eleven.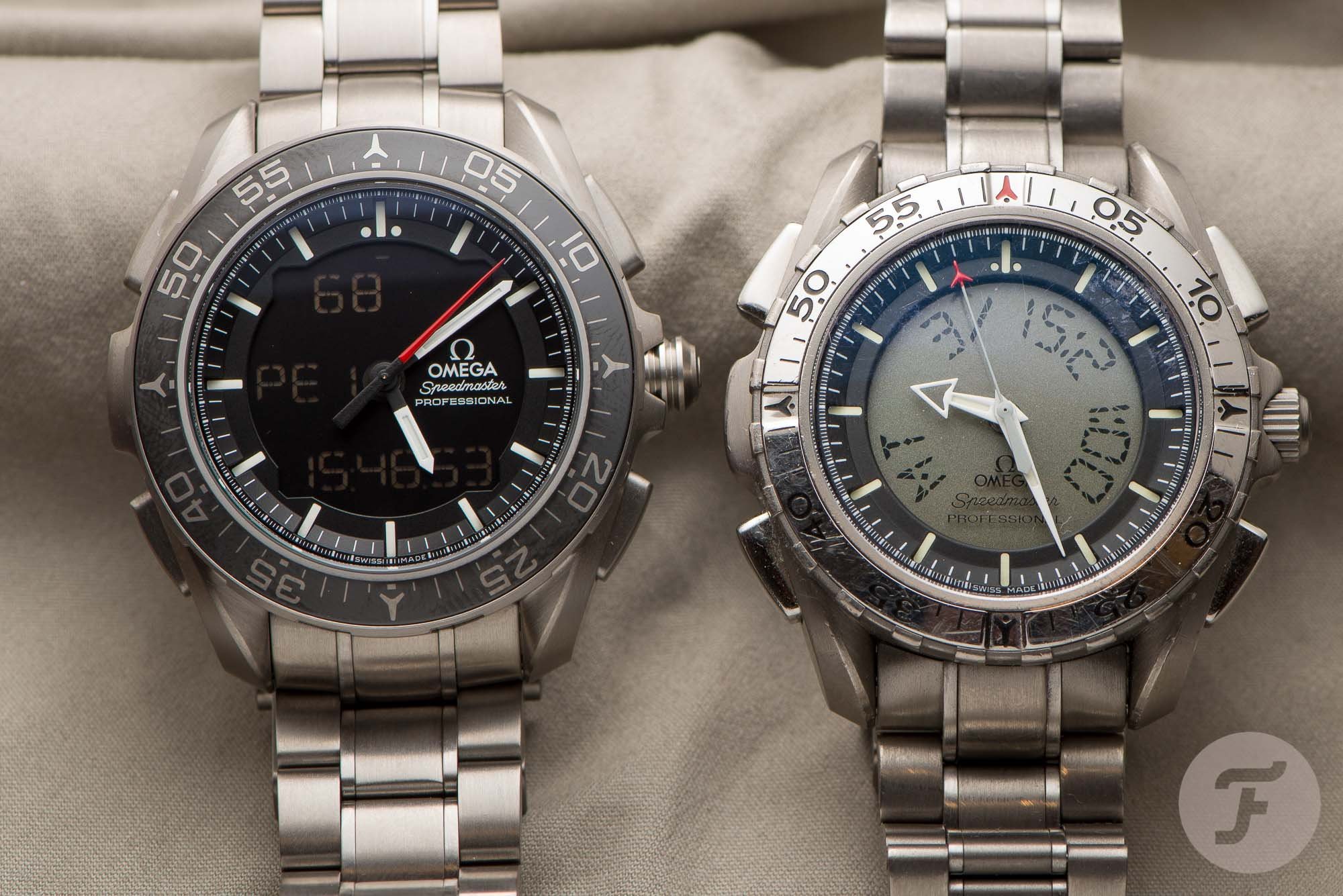 Jorg — Omega Speedmaster X-33
Let me start by saying that I proudly picked Jeru The Damaja's "Ya Playin' Yourself" as the intro tune to last summer's Instagram chat with Balazs. I feel very much at home with nineties New York hip-hop and the track is still a breath of fresh air — even 25 years after its release. It takes clever stabs at the empty-headedness of some of the MC's from back in the day. But despite my love for hip-hop, it's not my overall preferred style of music. But we'll get to that in a bit.
Admittedly, last week's Showdown was another tight one — something to be expected when matching up the two most iconic chronographs in the world. But I'm happy to find out that people like the new Sedna gold Speedmaster as a permanent new addition to the Moonwatch collection. But I would never wear it to a live gig for a string of reasons as long as a band's rider.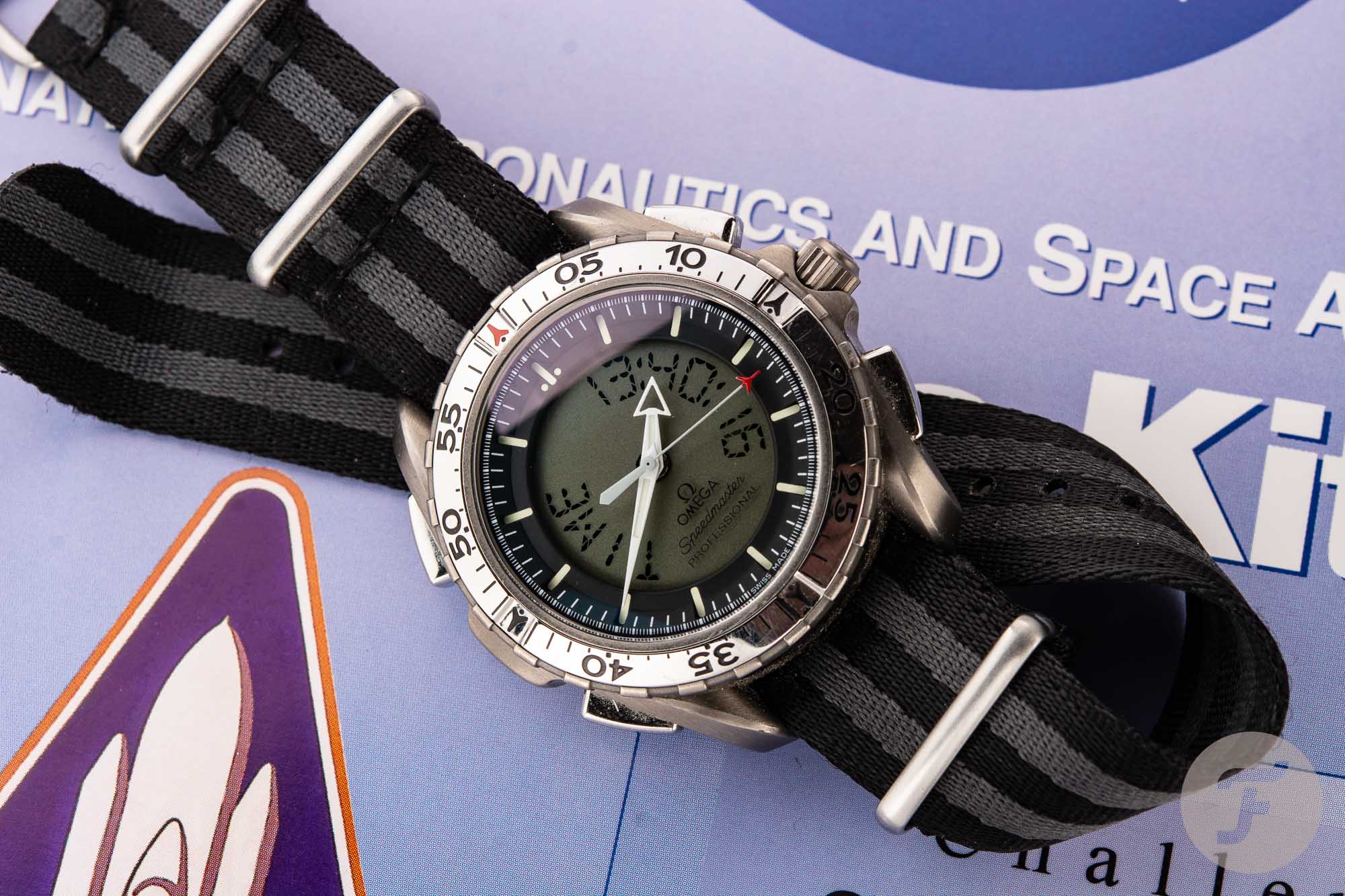 Caught in a mosh
Loud guitars have always been home base for me. It all started with hardcore and punk, and grew into a deep passion for everything loud, creative, and full of passion. And what better manifestation of loud music than experiencing bands live? Importantly, the watch that has been on my wrist the most over the last few years? My first generation Omega Speedmaster X-33 from 1998 has been my go-to watch for pretty much all live gigs. I used to cycle through a carousel of G-Shocks but the X-33 has taken over.
The world of heavy metal is well known for blasphemy.
An Omega Speedmaster X-33 as part of a showdown about live gigs and loud guitars? Pure blasphemy! Good, because the world of heavy metal is well known for blasphemy, so I'll take that as a compliment. But think again: if an X-33 is robust enough to withstand the extreme circumstances in space, it's robust enough to take a potential beating in one of the many concert venues around the world. But explaining why the extravagantly weird Speedmaster X-33 is the perfect watch for seeing a metal band shred did take a bit of thinking…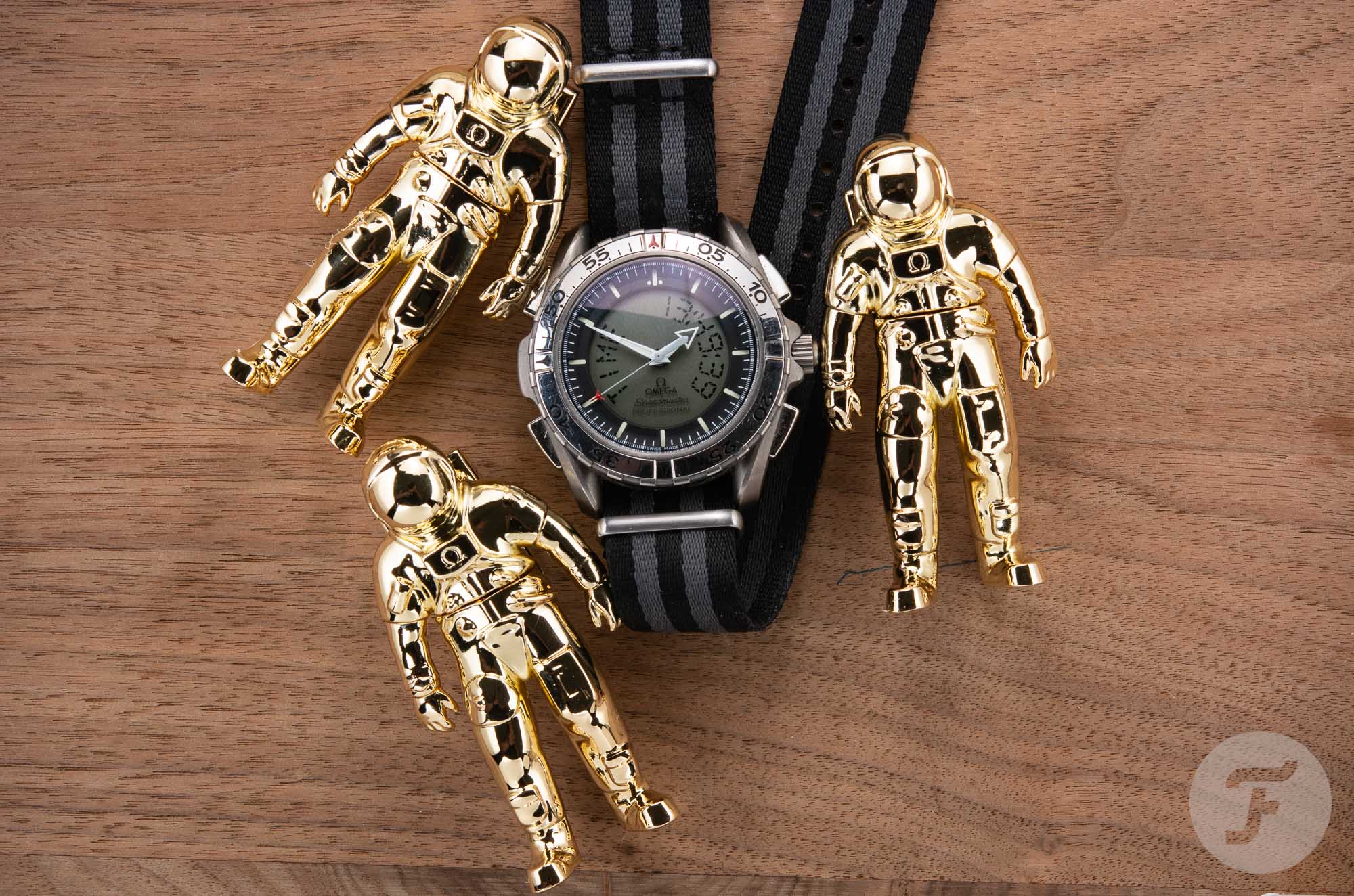 It is all you need from a watch
The main reason that I wear the X-33 to gigs is that it's light and comfortable. The Grade 2 titanium case makes it extremely lightweight, and on a NATO-strap, it's a joy to wear. On top of that, the 42.5mm titanium case ensures that it can withstand a crowded room full of people with a potential risk of taking hits. Now I'm not someone who engages in physical activity during a live show. Not anymore. No stage diving, headbanging, slam dancing, or even raising my arm to salute the dark lord. At 43 years old, I'm officially retired from any of those activities. So my X-33 is relatively safe.
A walk up to the stage to take a few pictures can quickly turn into a life-threatening mission.
Having said that, a walk up to the stage to take pictures can turn into a life-threatening mission if you don't watch where you are going. Despite never being too worried about the watch being damaged, I have to be honest that the aluminum bezel is the watch's Achilles heel. It is prone to scratching. But looking at the images, I would say the bezel seems just fine, even after countless shows.
When it comes to its functionalities, the one feature I often use during shows is the light function to show the time. With one click of the lower of the two left pushers in a dark venue, you know what time it is. And the mission timer will tell you if you need to fill the parking meter because the mission alarm does not produce enough decibels to be louder than the bands playing. And if you would like to geek out and time the length of a live show, no problem at all. The X-33 has you covered.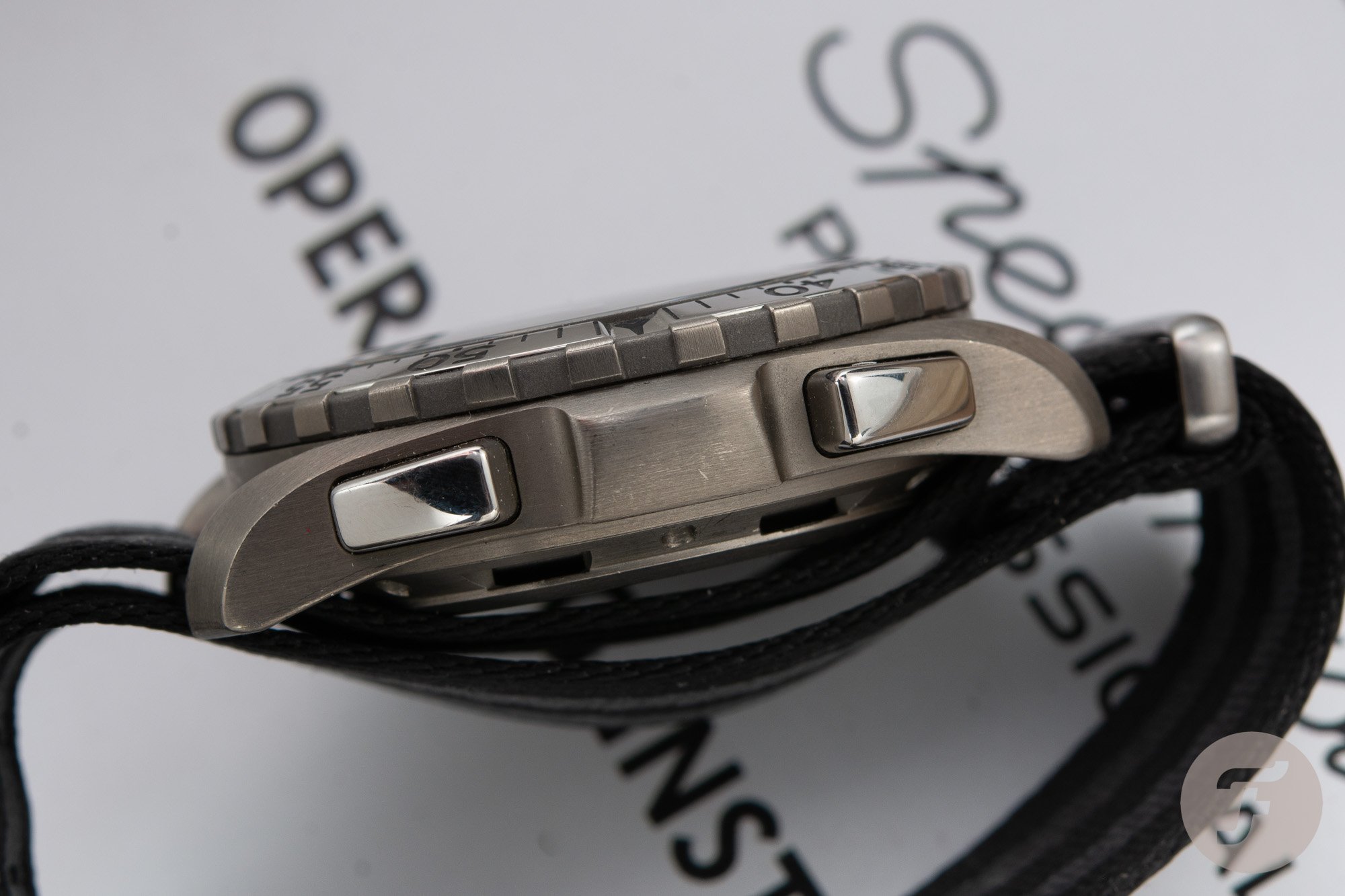 The X-33 story fits the crowd
Now when it comes to design, the first generation Speedmaster X-33 (ref 3290.50.00) perfectly fits the heavy metal crowd. In a previous edition of our Sunday Morning Showdown featuring the Speedmaster X-33, Rob described its design as "a space ship that crash-landed into a hardware store." While those words would put most people off, it's the kind of chaos that attracts the metal crowd. And the X-33's design does fit the technical world of weirdly shaped guitars and over-the-top drumkits entirely.
The story of the Speedmaster X-33 perfectly resonates with one of metal's most important inspirations.
Lastly, and maybe most importantly, the story of the Speedmaster X-33 perfectly resonates with one of metal's most important inspirations. As we all know, the X-33 tells the story of space travel and exploration. And if there is one theme that a large part of both the bands and the crowd loves, it's anything that has to do with space.
Many bands like to take space as the starting point for their artwork, lyrics, and musical style. As you know, Ben, I am a fan of quite a few post-metal bands, and they combine the imagery and words with the sounds that I associate with the drama of space exploration. So tell me that the Speedmaster X-33 is not the perfect watch to wear to metal shows?
Tell me why you love wearing your Breitling Aerospace to shows Ben while I put on the vinyl version of Caspian's On Circles. My favorite record of 2020.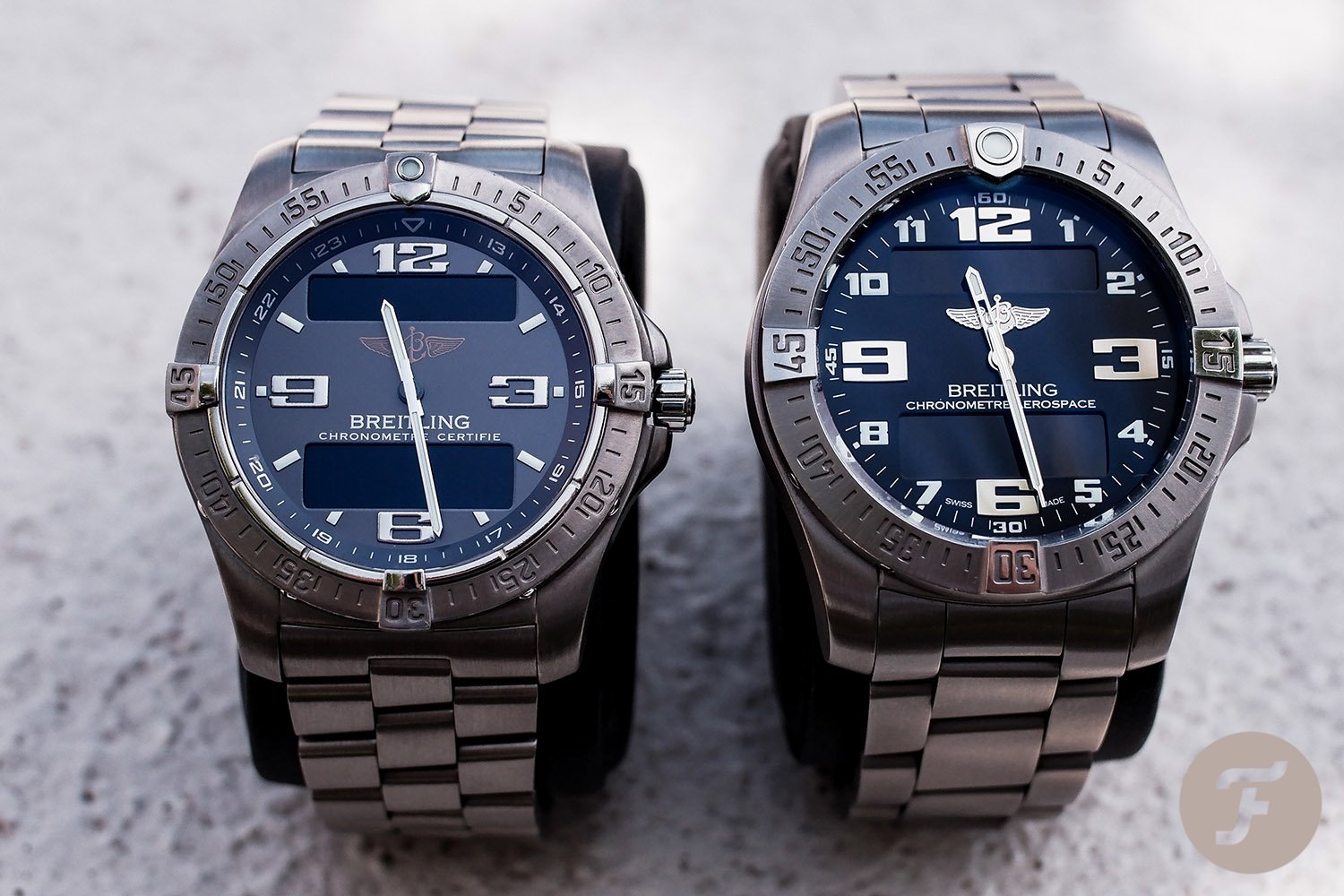 Ben — Breitling Aerospace Avantage
I like the match-up this morning. Not only does it allow Jorg and I to trade blows on our actual watches, but it also follows a theme close to my heart. Metal music has been coursing in my veins since the mid-'90s and has never relented. I am a reasonably straight-up guy, professional at work, loving family man, and respect people from all walks of life. When entering a metal gig and upon the lights going down, I tend to lose my mind. Jumping, fist-pumping, brushing up against sweaty metal-heads, it's almost an out-of-body experience.
Even so, I have found the crowds at metal gigs to be considerate to fellow concertgoers' well-being. More so than other genres I've experienced. You get knocked down; someone will get you back up immediately. That contrasts sharply with someone putting out a cigar on my arm at a Bruce Springsteen concert, but that's another story.
During a mosh, I'm prone to losing my possessions.
Amid the chaos, I lose the logic of keeping my personal belongings, well, personal. Wallets, phones — all lost in the heat of the mosh. Indeed, on more than one occasion, it made the return home interesting. Therefore, the thought of bringing a high-end mechanical watch to the fray has never been a consideration. In my early years, the G-Shock or titanium Seiko quartz chronograph was the timepiece du jour. However, as I gained a deeper appreciation of watch collecting, I was never content with wearing these watches. While my attendance to live events and festivals have been dwindling due to life was getting in the way, I have made sure to wear a personal favorite watch to mark each occasion.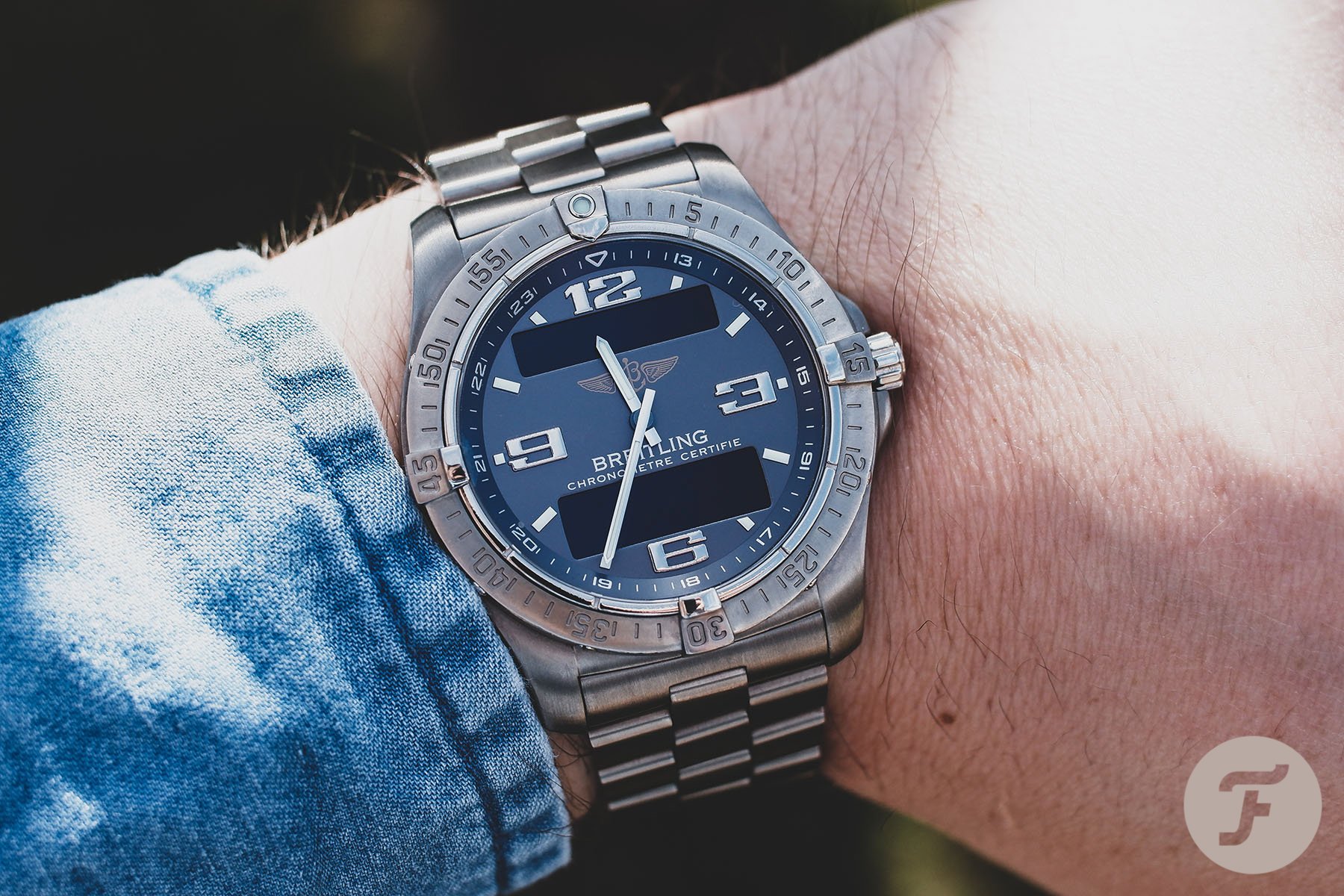 The unofficial watch of Fratello
The Speedmaster is still the most ubiquitous watch in the halls of Fratello HQ. Second to that perhaps is a consortium of G-Shocks and Swatch watches. But in terms of four-figure tickers owned by the Fratello crew, it has to be the Breitling Aerospace. At least five of the team have an Aerospace, and each one gets a lot of wrist time.
Jorg: Although a Speedmaster, I think it's worth mentioning that at least the same number of Fratello team members own an X-33. Although I must admit that should not be surprised that I would gladly make it six for the Aerospace. It's on my list.
Ben: I'm banding all X-33s into camp Speedy, Jorg. For me, the Aerospace is not only a great all-around tool watch, but it also feels refined and stylish. It's not a cocktail party watch, but it can fit into business attire and handle any strenuous activity you can throw at it. This duality may be the last of its kind as the modern consumer moves towards touch-screen smart-tech wearables with GPS and radio signals.
For festivals and rock gigs, the Breitling Aerospace is my go-to timepiece. Thinking back to 2019, I attended Download Festival at Donnington Park. This particular year, the festival was aptly renamed "Drownload" for obvious reasons. The campsite and festival area was an utter deluge, where a single step was enough to sink you in and lose a boot. Yet, it didn't put a dampener on spirits. I felt at ease in those harsh conditions. They were no match for the quartz Aerospace! Having a NATO also meant there was no fear of losing a spring bar as I thrust my devil horns into the air. The grade 2 pure titanium case is prone to scratches but fits the gothic style of metal dress codes.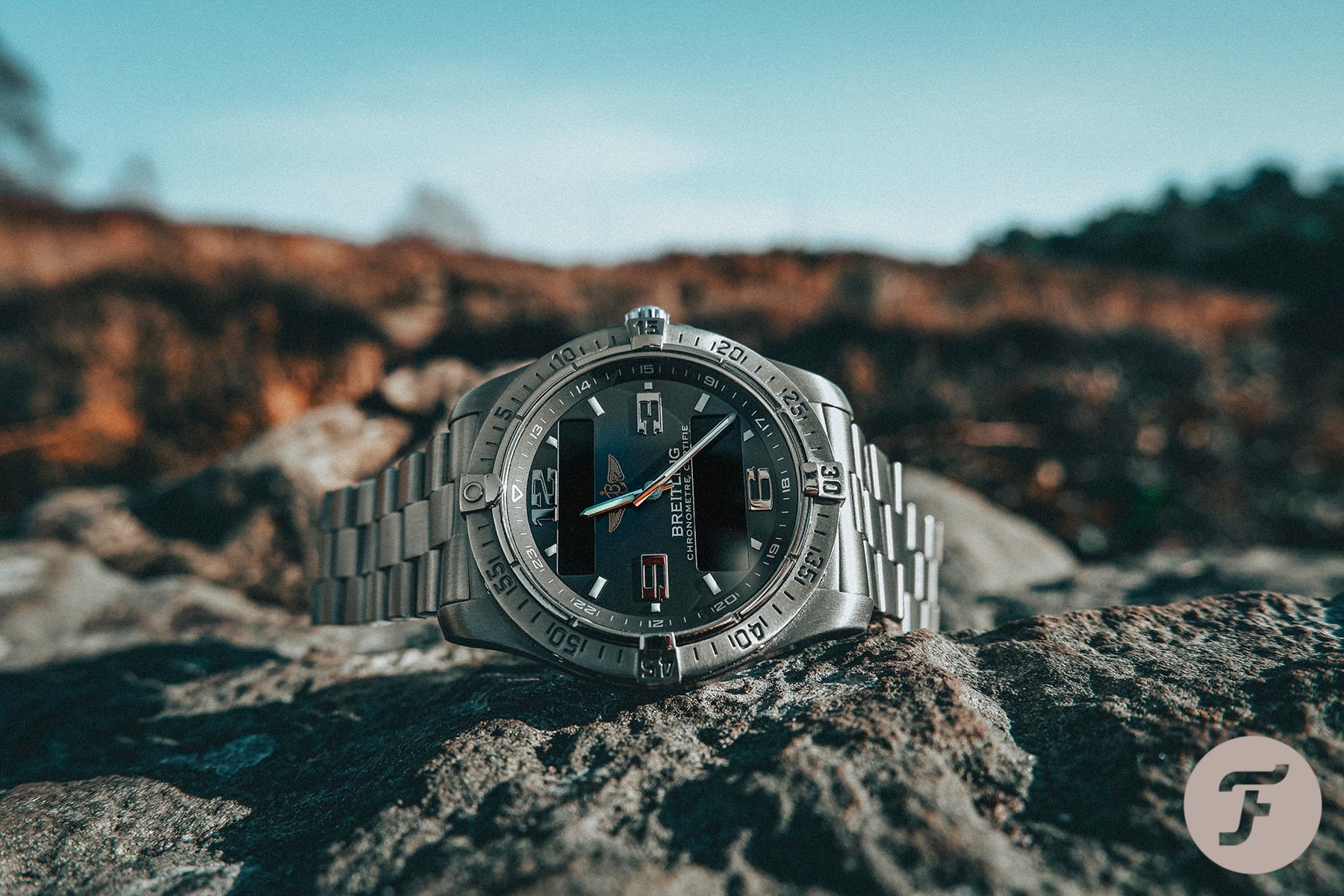 Carved from rock
Breitling introduced the ref. E79362 in 2005 and changed the name to "Aerospace Avantage." The advantage of this reference is the backlight on the LCD screens. In 2007, the name reverted to just "Aerospace," with the COSC text on the dial changing from "Chronometre Certifie" to "Chronometre Aerospace." This makes my 2006 version a relatively short-lived model in the Aerospace timeline. The backlight function makes it especially useful inside a darkened auditorium. By a quick turn of the crown, the LCD screens light up the watch dial, giving you a clear indication of the time. Very useful when you need to catch the train home, and the band is going for their third encore song.
I like how a single crown on the Aerospace controls all the features. Unlike the Speedmaster X-33, which has all sorts of extremities to manage the complications. I'd have a hard time remembering which button does what. I would probably fumble my way to activate what I need at any given time. I will admit, I have started to come around to the X-33. Jorg's article and the Sunday Morning Showdown last year really helped. Initially, my first exposure was the somewhat garish Solar Impulse X-33, but learning of the history and the ISS usage easily earns my respect.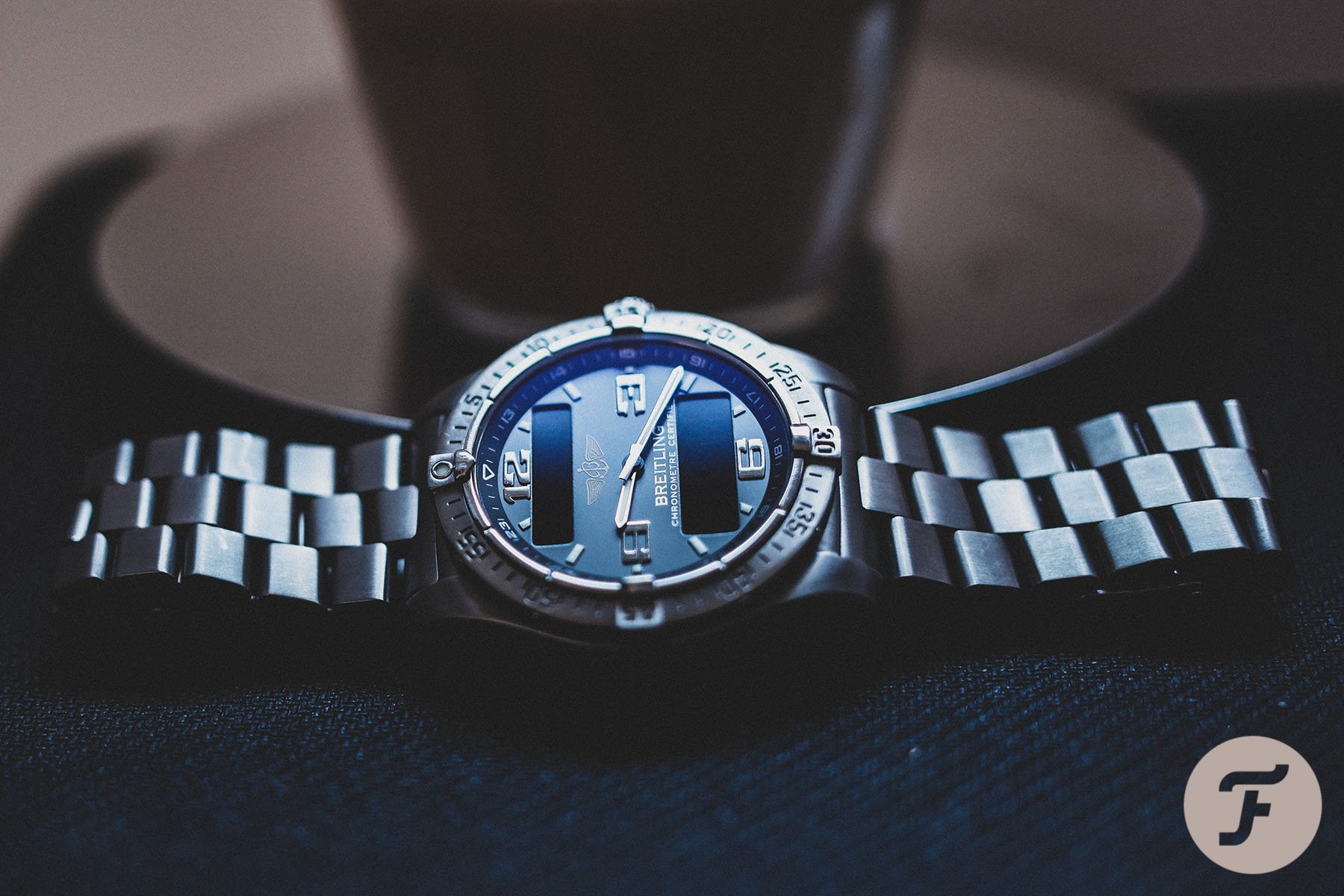 Final curtains
Ben: During a gig, though, the svelte 41mm Aerospace case is a neater package and more discreet. I must admit that having a wrist shuriken like the X-33 on the wrist would look pretty cool with a studded denim jacket. Stick it on a black bund strap, and it pretty much completes the metal attire. From my experience, it's the Aerospace every time. Furthermore, having a single watch that attends the concerts with me is one way to reminisce about my musical journey.
I look forward to events I have lined up later this year and will bring the Aerospace in tow.
Jorg: I fully agree with you Ben as nothing beats seeing bands play live on stage. And when we return to the dark venues of the world it will be the Speedmaster X-33 that I will wear proudly as a representation of everything that is quirky, weird, and misunderstood by the mainstream audience.
Until that day comes, it's up to our readers to decide what the better watch out of the two is to put on your wrist when checking bands play live. So vote now and share your thoughts in the comments below. 
Omega Speedmaster X-33 Vs. Breitling Aerospace