Sunday Morning Showdown: Tudor Black Bay S&G Vs. Oris Aquis Date Calibre 400
In a battle between two-tone luxury divers, will the classic Black Bay or the playful Aquis prevail?
Last week, we had a showdown between two of the most capable dive watches ever made. This week's divers are certainly not as capable, but they sure are a lot more wearable! And with their two-tone designs, they might even be amongst the most luxurious-looking dive watches out there. Thomas will defend the honor of the Tudor Black Bay S&G (Steel & Gold) and Daan will do the same for the all-new Oris Aquis Date Calibre 400. Let's see which one of these two show ponies gets to take the flowers home this week!
Though they may be "show ponies", these two are still very serious dive watches when you consider their capabilities. Look, for example, at Gerard's story on how he put the bicolor Aquis through its paces while diving in Croatia. The Black Bay S&G came out in 2018, and it is still available in Tudor's catalog. This two-tone Aquis Date Calibre 400 is Oris's newest addition to the Aquis family. Let's see how they compare to each other and which one will take the win in today's Sunday Morning Showdown!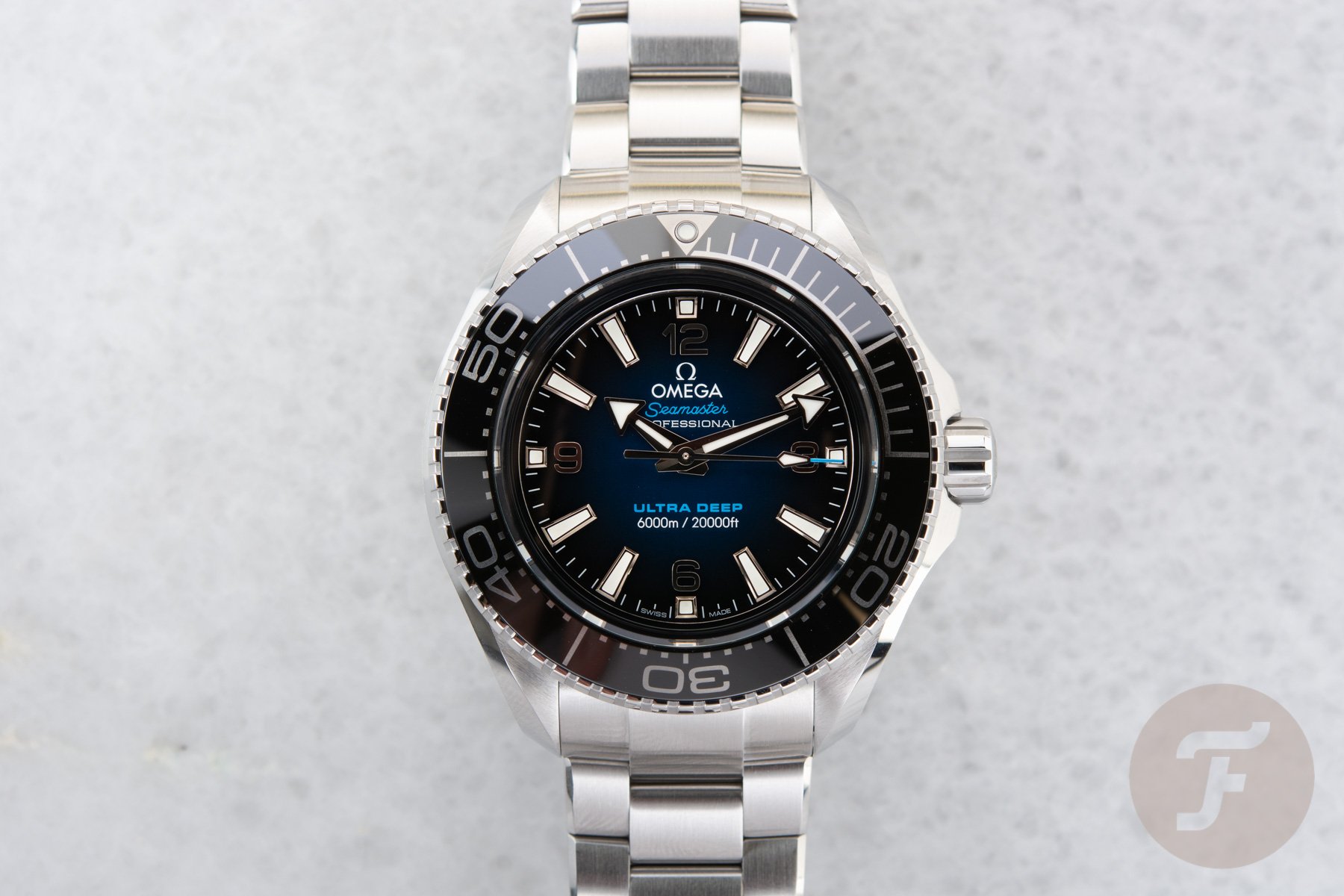 But first… Rolex Deepsea vs. Omega Ultra Deep
Before we get into that, though, let's take a look at last week's showdown result. Ben took the side of the Rolex Deepsea Sea-Dweller against Jorg who cheered for the Omega Seamaster Planet Ocean Ultra Deep. In the end, it almost looked like the difference in water resistance determined the score. Where the Rolex can go as deep as 3,900 meters, the Omega can go as far under as 6,000 meters. And that almost looks like last week's score of 42% for the Deepsea and 58% for the Ultra Deep. Congrats to Jorg on his victory, but Ben played a very fair game as well. If you haven't checked out last week's showdown, please do so because it truly was a battle between two legends. Now, let's get today's showdown going!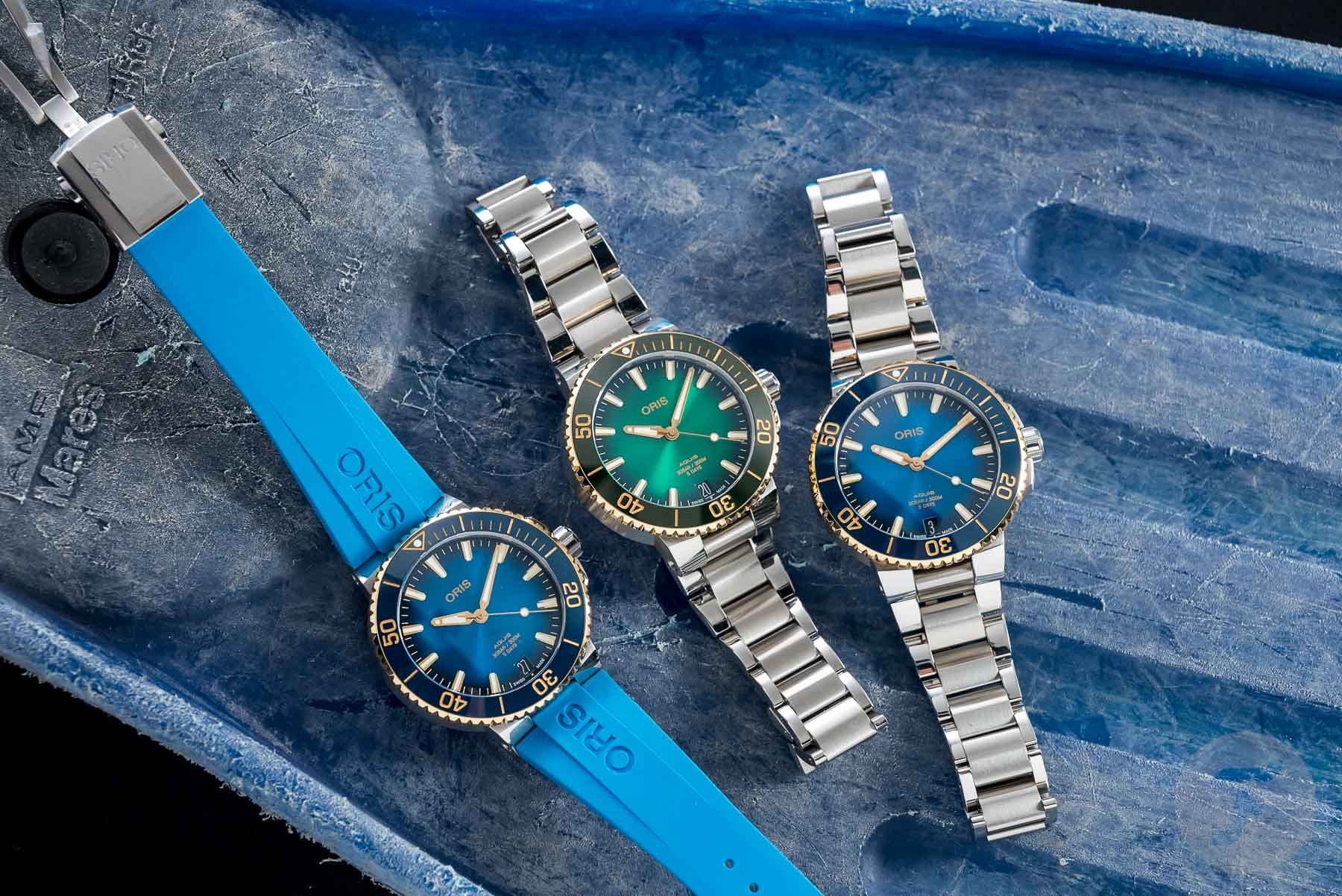 Daan: Oris Aquis Date Calibre 400
I have an enduring soft spot for Oris. My first mechanical watch was an Oris Art Blakey, and I still very much enjoy wearing that piece. I must say, however, that I wasn't all that convinced when Oris launched this two-tone version of the Aquis. It looked a bit gimmicky and a little like the brand was trying too hard. But when the new models came into the office, I was surprised by how good these watches actually looked in person. The golden bezel adds a touch of luxury, but it also makes the Aquis look a little more playful, especially in combination with the green and blue. And for me, that's exactly what Oris is all about.
The brand always tries to make you smile with its designs, and that's very much the case here. I could even go so far as to say that the all-steel Aquis looks a bit boring next to this new two-tone version. I almost blame Oris for not adding gold links to the bracelet. I'm not completely sure why the brand chose not to, but I think it would've made the watch look even better than it already does. Then again, as a great substitute, Oris introduced those super-colorful rubber straps, and they look so good in combination with the colorful sunburst dials. Well done, Oris! But this Aquis is certainly not just about the looks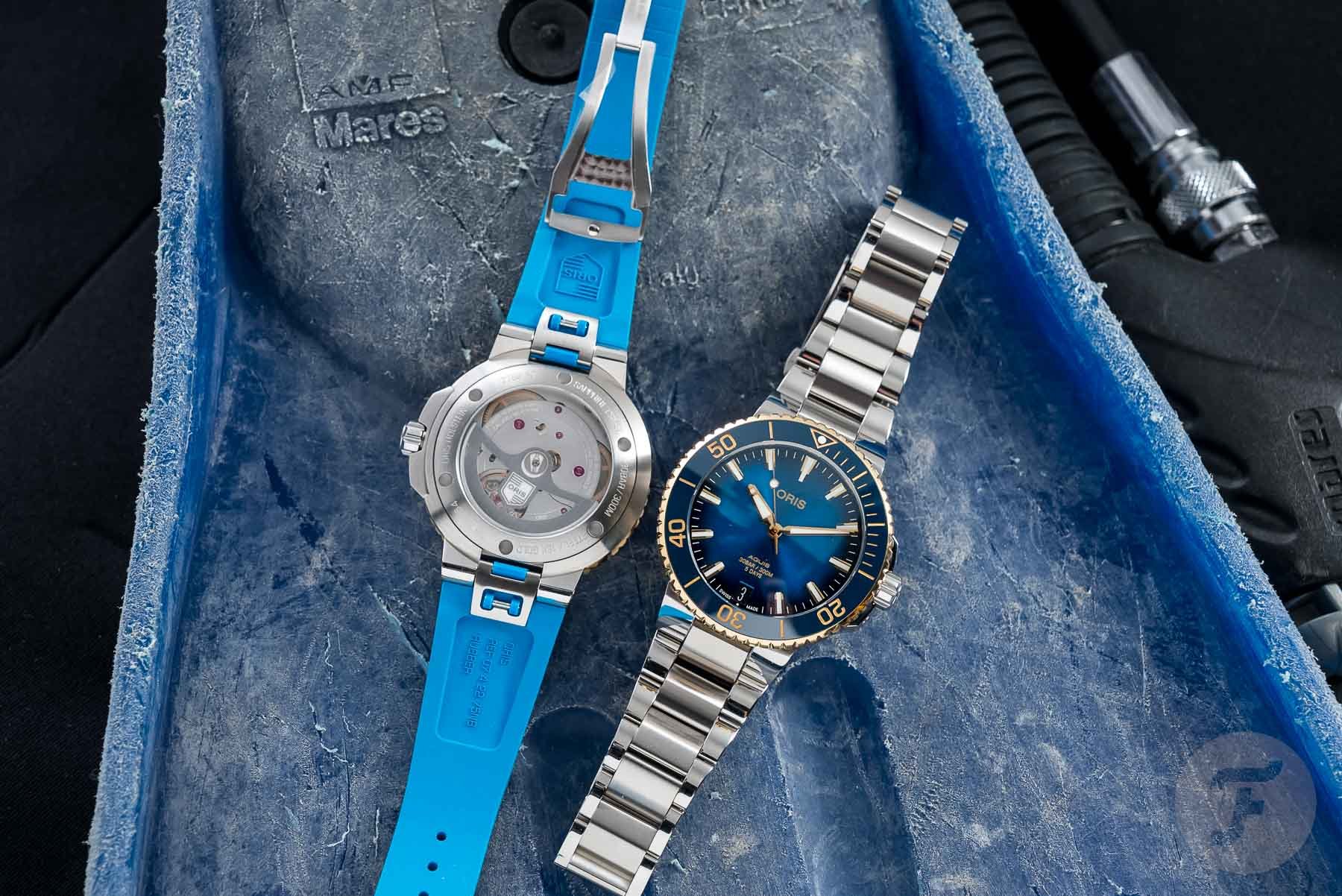 What's in a name?
It's also a very capable and technologically advanced watch. First of all, it is water resistant to 300 meters, which is 100 meters more than the Tudor. It also has a ceramic bezel insert, in contrast to the old-fashioned aluminum one on the Black Bay. And another great advantage is the fact that the Aquis's bracelet has a quick-release system. This makes it really easy to switch between the colorful rubber strap and the steel bracelet. But what really trumps the Tudor is the new Calibre 400 ticking inside of the Aquis.
With 120 hours of power reserve, it crushes the Tudor's 70 hours. Besides, you also get a 10-year warranty, and Oris advises service intervals of 10 years. Come on, that's really impressive! I fully understand why Oris proudly mentions the movement in the name of the watch. It also helps to clarify what you're getting, as Oris still launches Aquis models with Sellita movements too. And it's true that I still need to get used to the higher price of an Oris watch with the newer Calibre 400. I do think, however, that the price is easier to justify when there's an 18K gold bezel involved. But there is another field in which the Oris outshines the Tudor, and that's its wearability.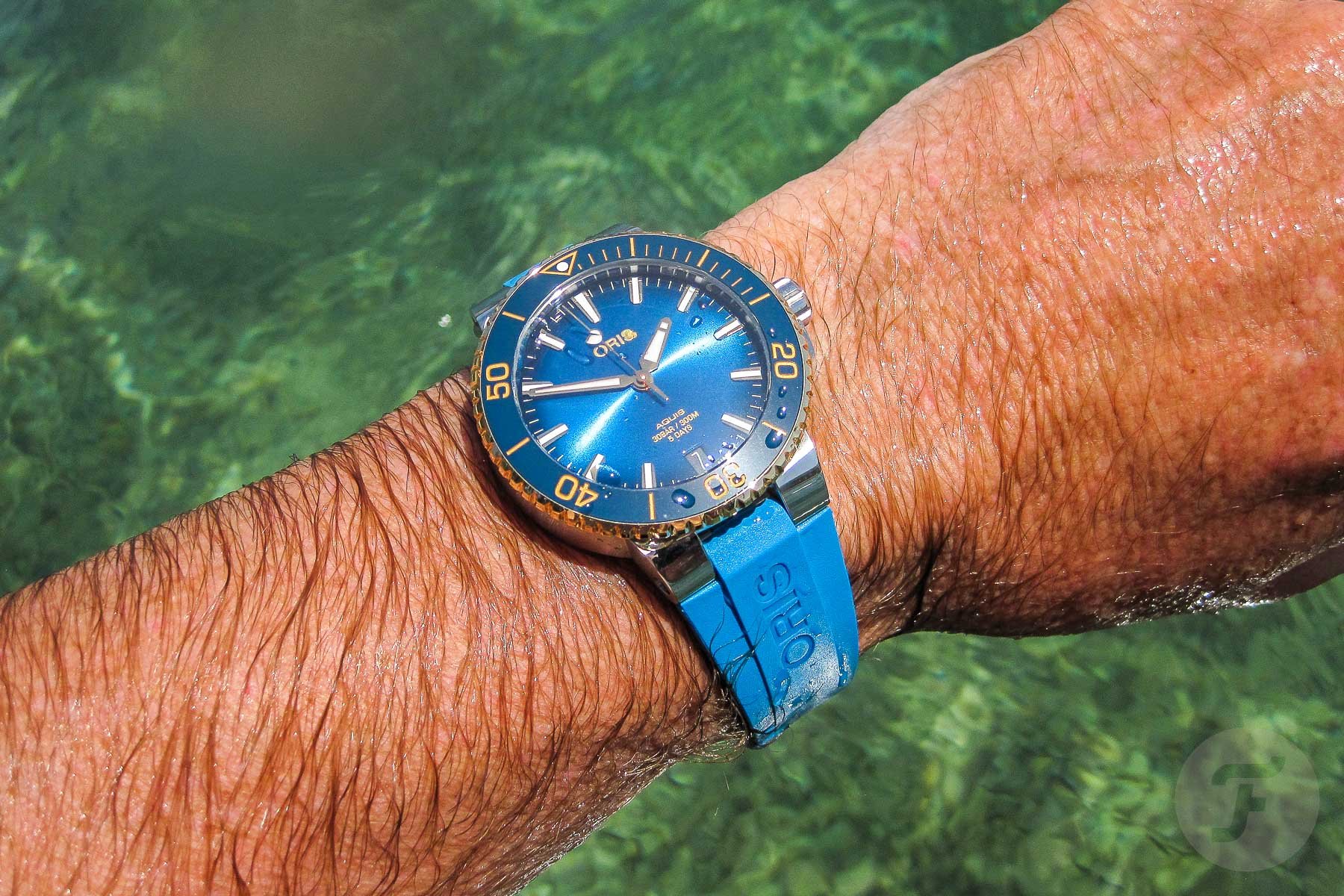 Semi-integrated comfort
The Aquis and the Black Bay almost have the same size case. The Oris is half a millimeter larger at 41.5mm. But even though it's the bigger of the two, it feels the other way around on the wrist. That's thanks to the short lug-to-lug (48mm) and the semi-integrated bracelet. That combination ensures that the Aquis hugs your wrist and doesn't feel like a 41.5mm watch at all. It does have some slab sides, just like those on the Tudor, but it doesn't feel as massive as the Black Bay does. Kudos to Oris for designing such a well-wearing case.
In my opinion, the Oris Aquis Date Calibre 400 wins in terms of looks, technology, and wearability. I'm very curious to see how Thomas is going to try to get you to vote for the Tudor Black Bay S&G. Let's hear it, Thomas!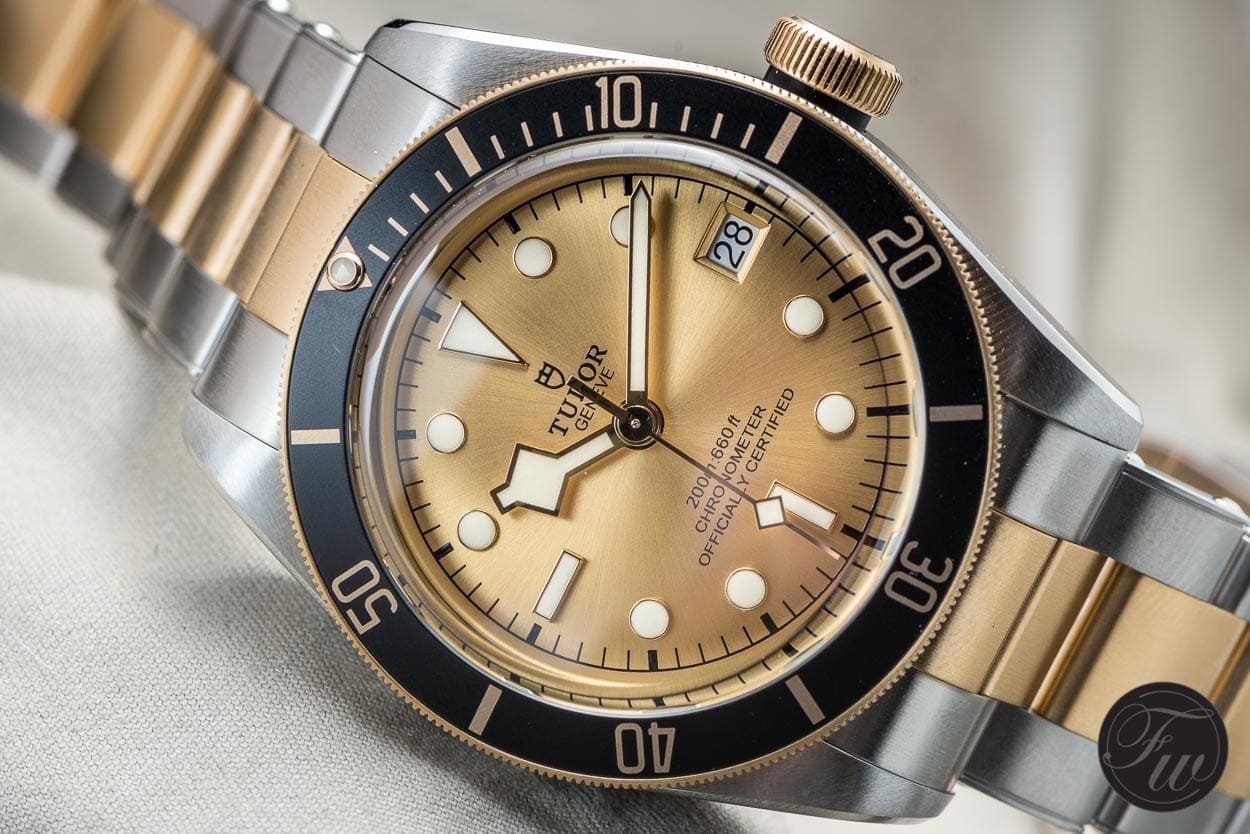 Thomas: Tudor Black Bay S&G
Do you have one of those uncles who is just way too serious and, frankly, dull? The type that comes to birthday parties but you hardly notice? The type of guy you find yourself actively avoiding because the conversation never really goes anywhere interesting? At the same time, the only guy you would trust with your finances and tax declarations because he is just so capable and reliable? Well, that uncle just put on a clown's nose. Not funny, is it? That's exactly what the two-tone Oris is to me.
Sure, the Aquis is an awesome watch. It is extremely capable and has an attractive, original look. But there are two things that it really does not need — an expensive caliber and gold trim. Both are at odds with the entire concept of the Aquis. Really, the only upsides of the Calibre 400 are the crazy warranty and service interval. I just don't care about an extended power reserve in real life, as it does not really serve a practical role in my style of use. And I don't care about proprietary movements within accessible tool watches, especially not if they make them less accessible. One of the major attractive factors of the Aquis was that it was so much more affordable than the Tudor. I would pick a full-steel, Sellita-powered Aquis over the Tudor any day. This two-tone, Calibre-400-powered one? Not so much.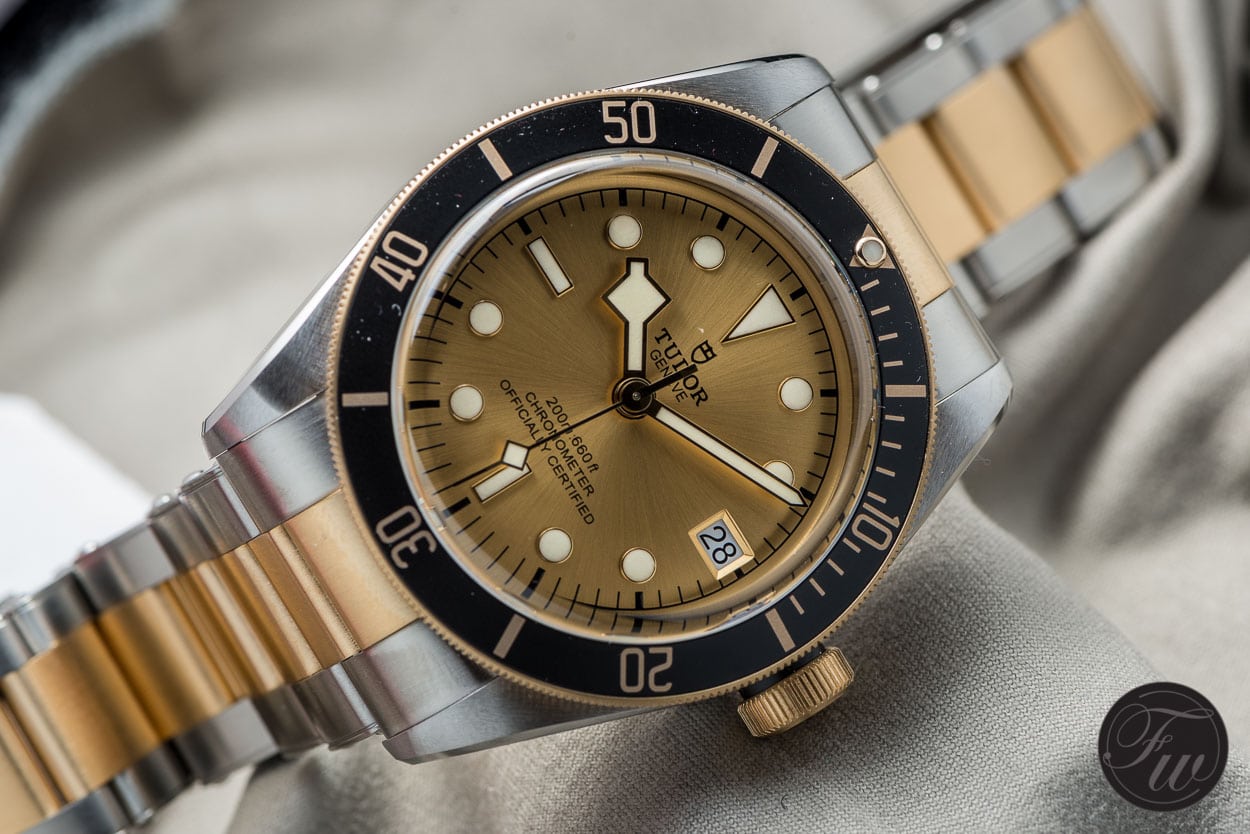 On to the Tudor
The Tudor just makes a lot more sense to me. It is a more fashionable, lighthearted watch to begin with, so garnishing it with some precious metal is much more in line with its actual identity. The two-tone guise looks way more at home on this design than it does on the Aquis. The two-tone Tudor feels like a natural evolution of the Black Bay. The Aquis in two-tone feels like the creative scraping of the barrel of the model's design.
And at least Tudor went all out. The designers extended the two-tone theme to the bracelet, and they did so in a rather clever way by wrapping the steel center links in 18K yellow gold. It keeps the cost down but makes for a durable gold finish, unlike gold plating, for instance. The result is a real two-tone diver rather than a half-assed effort with a gold bezel only.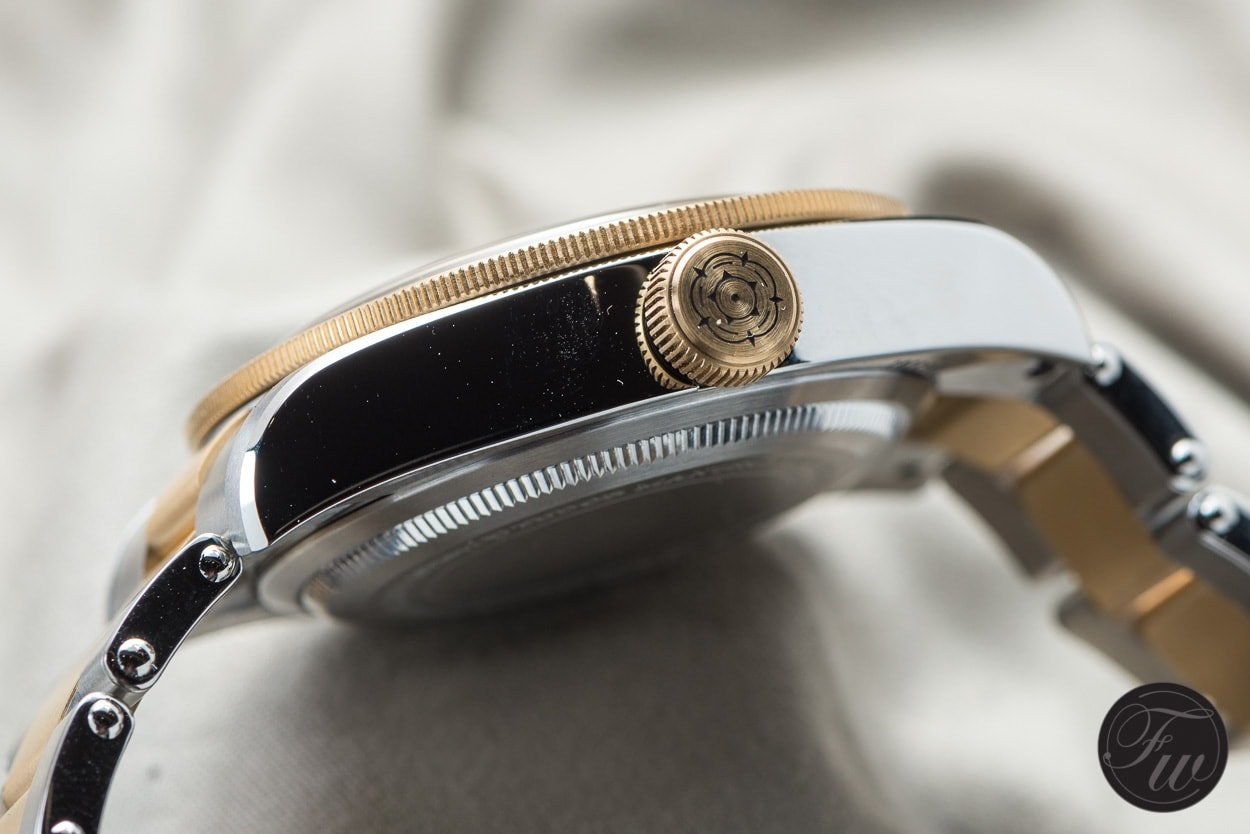 The fit on the wrist
Daan is right about the fit of these watches. The Oris does have a better profile on the wrist. That being said, I feel you need quite a chunky wrist to comfortably pull off either of these. The slab sides of the 41mm Black Bay are indeed a topic of debate. I sold mine because of them. If you have the wrist for it, though, the Black Bay looks awesome. It has a proud and prominent stance on the wrist. And let's be honest, if you are looking for a two-tone diver, you are probably not looking for something under-the-radar aesthetically.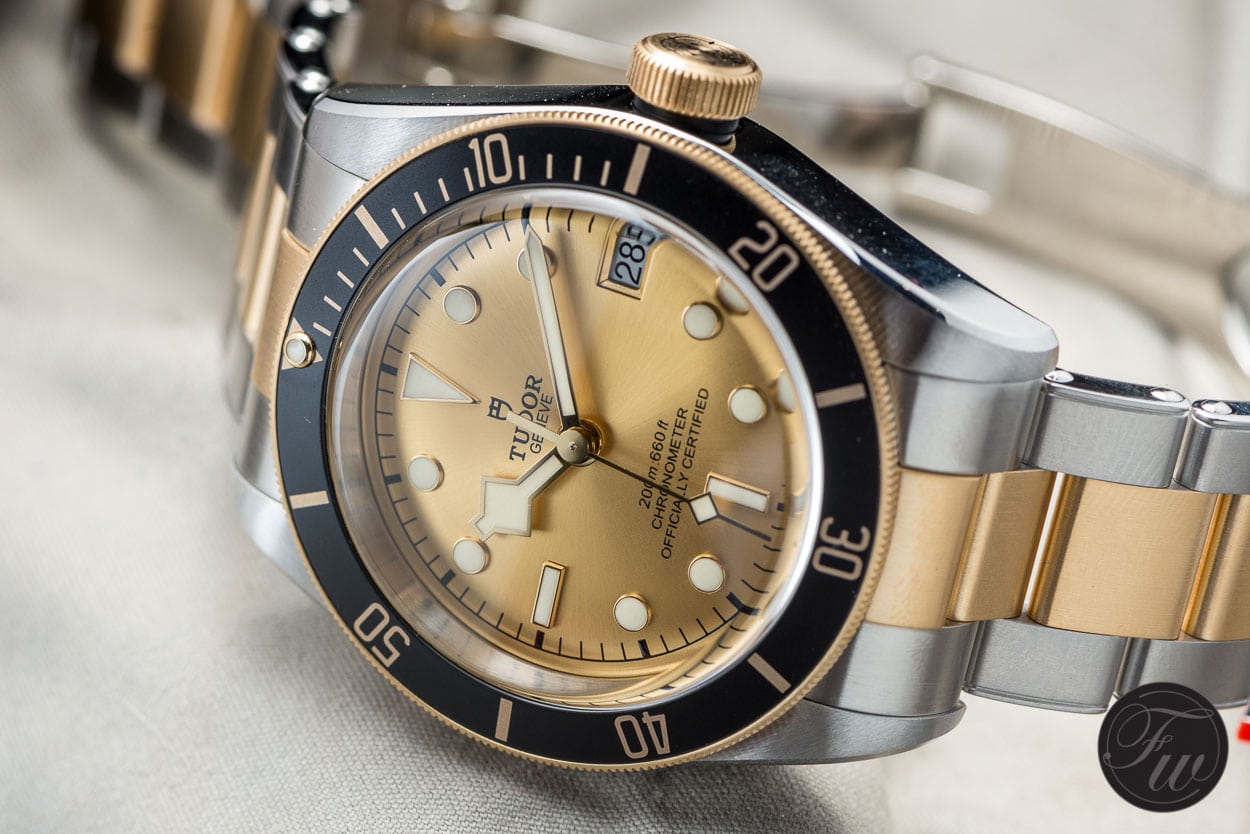 A strap monster
It is very nice of Oris to include a quick-release system. You will need original Oris straps, though, because of those peculiar lugs. If you are into your NATO straps — or any original strap choice, for that matter — tough luck. And let's be completely honest here: that blue rubber option makes you look like you work for KLM. The toxic-green alternative is an even more awkward tone. Honestly, once you consider that you have to pair your watch with an actual outfit on a daily basis, only the bracelet makes sense.
In contrast, the Black Bay S&G is an absolute strap monster. You can pair this with any strap of your choice. You can dress it up or down to your heart's desire. You can add color, keep it modest, and go sporty or formal. In that sense, you get a lot more flexibility out of your watch. The same goes for the dial options. With the Oris, you are stuck with blue or green. The Tudor comes in much more flexible black and champagne options.
Time to vote!
So there you have it — two very capable divers in their Sunday clothes. One has that retro chic, and the other is modern and colorful. Which speaks to you more? Cast your vote below, and let's see which of these bicolor bad boys takes the cake.
Tudor Black Bay S&G vs. Oris Aquis Date Calibre 400