#TBT A Decent Angelus Chrono 12 With Caliber SF 250
A tribute to all no-story watches
To be precise, there might be an exciting story to tell, but it's gone forever and I will never learn more. When I saw this beaten but honest Angelus Chrono 12, I decided to give it a new chance at life. Now it's ready to start writing a new story…
Some collectors see watches only as items and their context often has little importance. And there are also collectors like me for whom nothing can top an exciting watch story. To know exactly who wore a watch and what adventures it went through, that's something for which you usually need to pay some extra-fat cash. It's not only the excitement that comes with the story, it's also about the uniqueness it has. Regardless of whether it's a rare or cheap watch that you land, if it comes with an original owner's story to tell, that's unbeatable.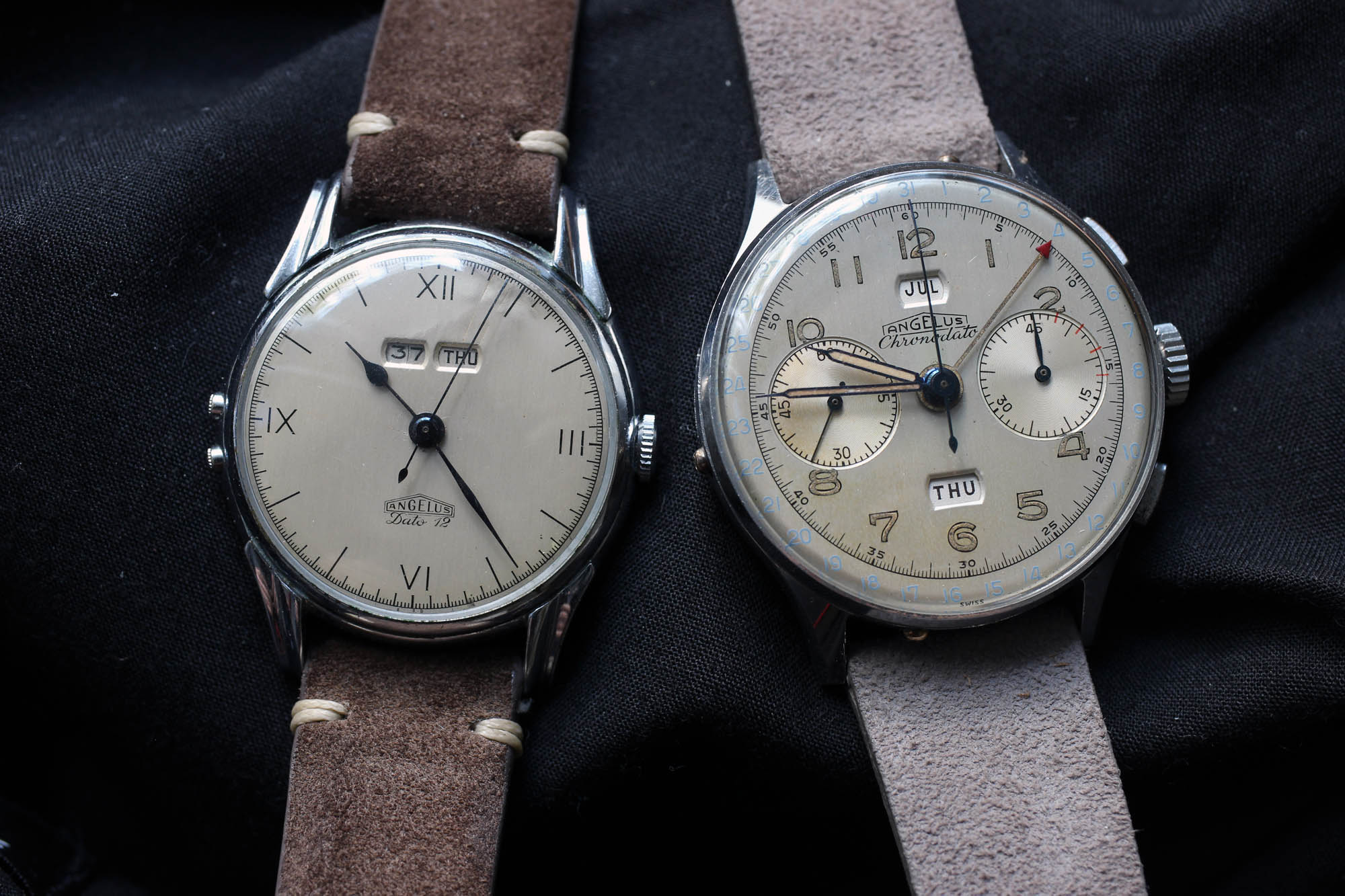 From Angelus Chronodato to Angelus Chrono 12
It was Balazs who introduced me to Angelus years ago, and it's a brand that hasn't let go of me since. I was fascinated by the beauty of the Angelus Chronodato, the world's first chronograph with a triple calendar, and kept searching for one for quite some time. The Chronodato was my introduction to the Angelus brand. Thanks to this fascinating publication I discovered a rich Angelus history and an entire line-up of watches as magnificent as any more-famous names like Rolex or Omega. I think it was the mix of the past prestige of its top craftsmanship and limited mainstream brand knowledge that really drew me in.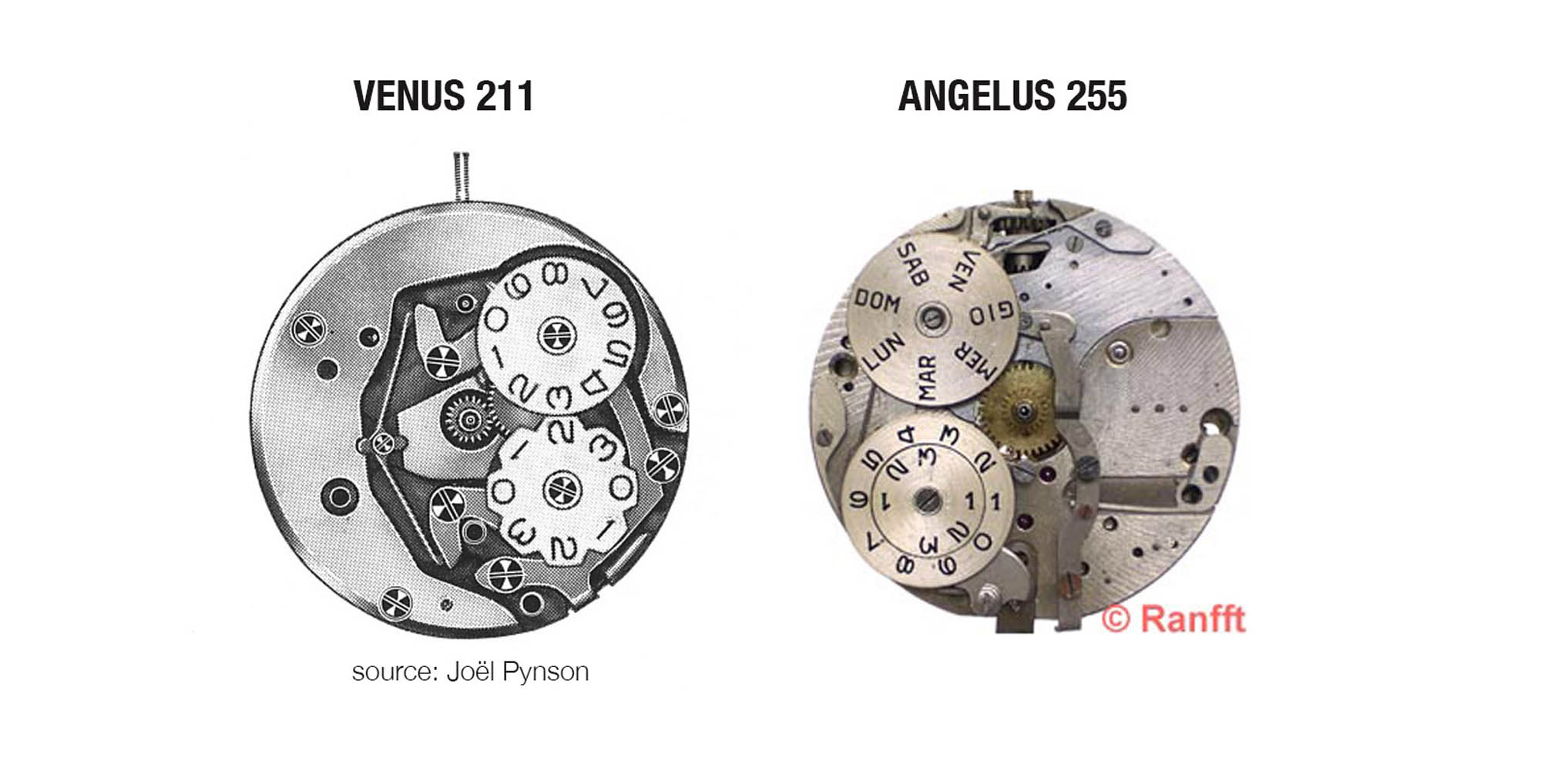 I never pushed hard and decided to be patient. But when the opportunity suddenly came, I was ready. As a result, a few Angelus watches have found me over the years, including the fascinating Angelus Dato 12 I wrote about on #TBT. Ironically, the Dato 12 is harder to come by, but I landed it first. A simpler Chrono 12 slipped under my fingers twice, but I knew it would pop up again sooner or later.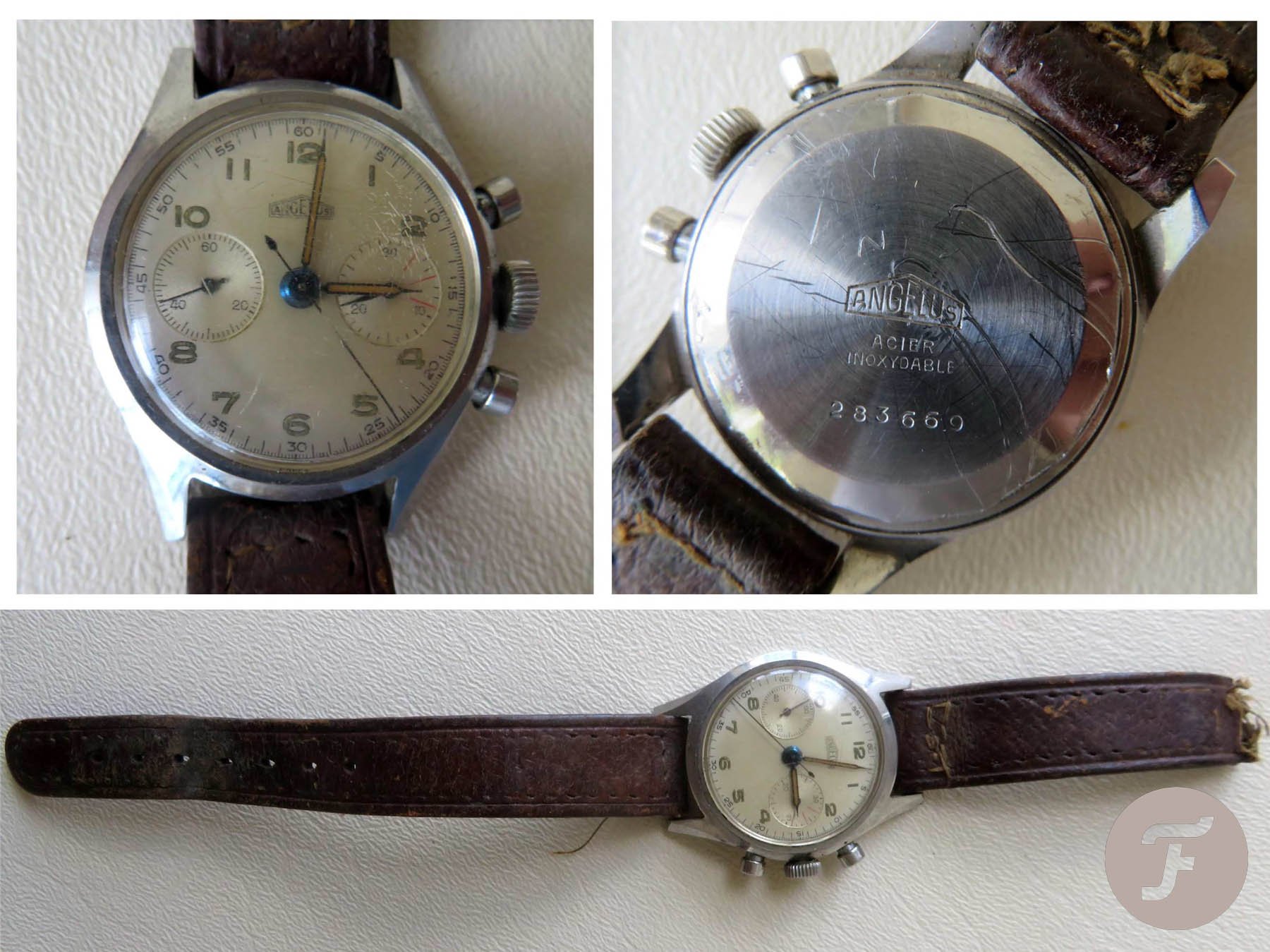 The no-story Angelus
Once you've collected watches for long enough, you will be able to distinguish an untouched piece listed by random folk from the staged "hidden gems" posted by speculative watch sellers. It's all about the photos, the angles from which the watch is shot, and the watch itself. That's why I was instantly hooked on the Angelus Chrono 12 you see above. I didn't have time to dig deeper before the auction, but I was pretty sure it was an honest piece.
Only after I won the bidding did I learn the non-story of this Angelus watch. "This Angelus was found in a personal dresser drawer of an unknown guy that does estate cleanouts. He doesn't recall where it came from. He just found it when he was cleaning out his place," says the auctioneer. I suddenly felt very sad and a bit sorry for the "abandoned" watch. It's a feeling when you believe there is so much to know about its owner but also the peace when you come to terms with the fact that you will never know the backstory. I wish I could use some magic technology that would just scan the watch and let me view all the memories it carries…
Back on track
When I unboxed the Angelus Chrono 12, my expectations were instantly confirmed. The case was never polished and the crown seemed original. Furthermore, the cracked, yellow-ish Plexi seemed to hide a dial in perfect condition. When I wound the watch, it was running strong. The chronograph was running, I just couldn't reset it. The bottom pusher was stuck and needed some love from my watchmaker. When he released the dial from under the "tired" Plexi, the pearl background instantly came to life.
Dating the Angelus Chrono 12
Thanks to the serial number and the publication mentioned above, you can try to put your Angelus watch on a timeline. My example might be from around 1952, so it's not probably the earliest example. Angelus introduced a chronograph with caliber SF 250 with a 30-minute counter around 1945 and christened it the Chrono 12. Interestingly enough, "no watch with this addition on the dial is known yet, although it is shown in an early ad," the publication says. The only Chrono 12 dial I found is currently listed as an unused part here.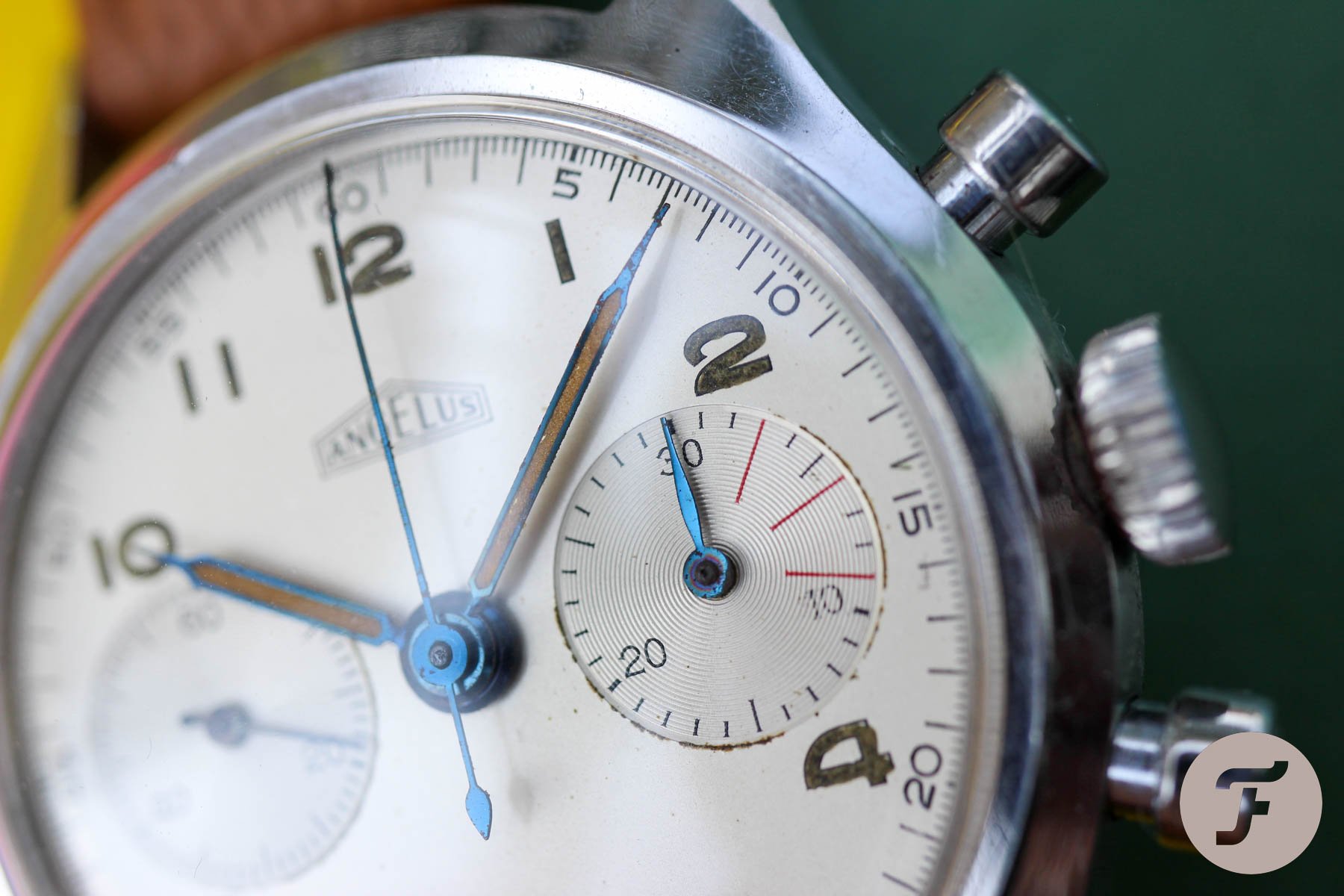 Logo and phone-call marks
The Angelus double frame logo is undoubtedly a pure beauty. It belongs in the same category as the old Heuer logo for me. Both of them are simple but rich in details. They're also quite easy for trained eyes to recognize when redialed. "The letters always have thicker downwards lines than the upwards lines and have serifs. The middle line in the 'E' is placed slightly above the middle. The upper line in the 'E' is straight. This logo was in use from 1945 until about 1957," says the Angelus publication.
Not even the 34mm case diameter was a deterrent, but I was surprised that the Angelus Chrono 12 doesn't disappear on the wrist. It's thanks to the long lugs that have quite a modern and sporty touch. Notice how significantly beveled the edges are and how it contributes to the sleek overall look.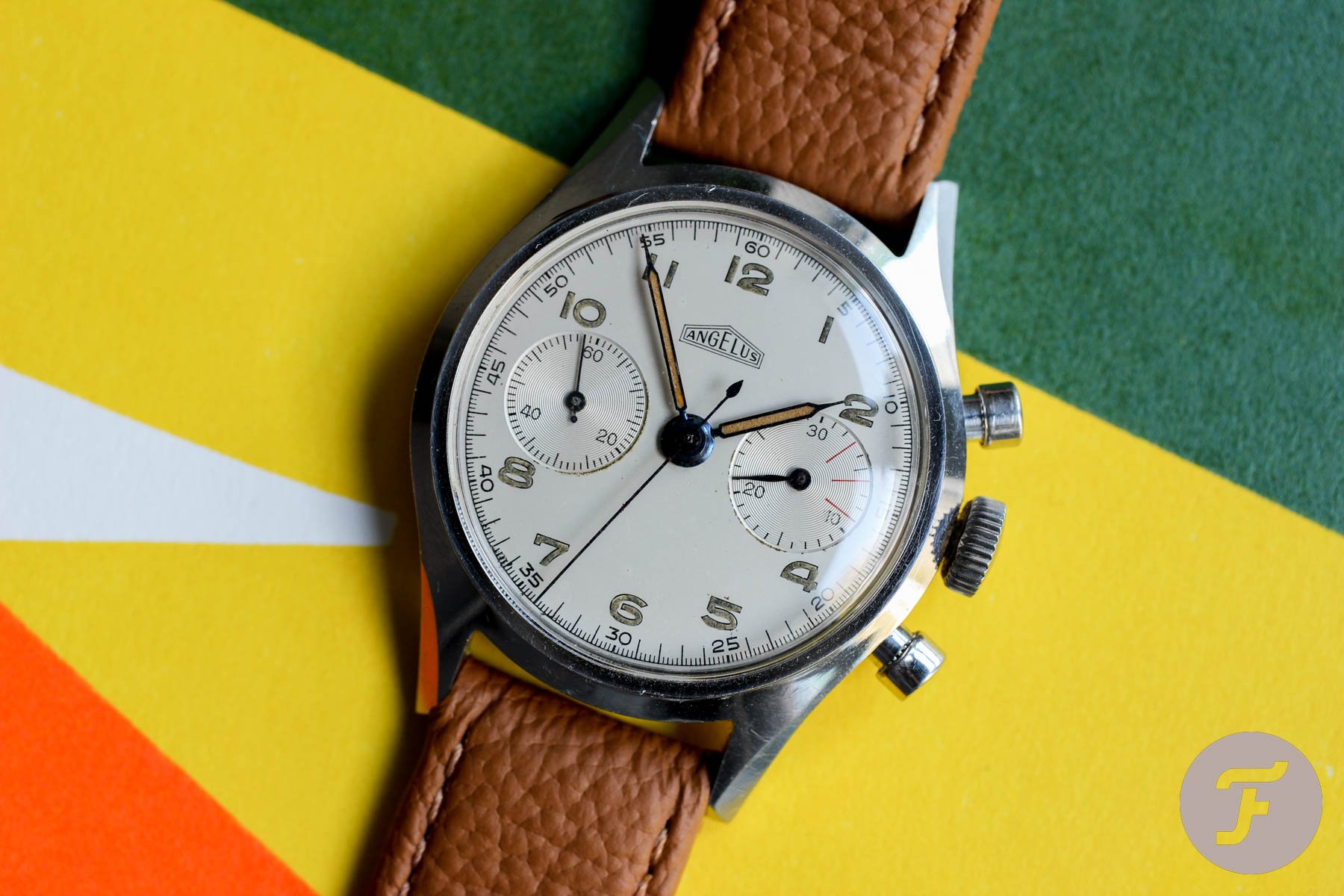 A positive byproduct of the old foggy Plexi and years of sitting in the drawer is the well-preserved dial, and especially the chronograph minutes counter. It has one tiny but important detail. Three long red index lines at 3, 6, and 9 minutes were designed to help time telephone calls in the '50s. The lines are often faded out or feel lost in blemished dials. I guess I was lucky again.
Shotgun notes
The case back with the framed Angelus logo and serial number remains sharply defined but deeply scratched. To leave such marks on it must have been the work of a butcher in the past. But I didn't touch it, and I left it as is. The start/stop pushers of the SF 250 offer a fantastic sensation when pressed. It's long and deep, with a shallow, subtle click. To help you imagine it better, it feels much more like a switch rather than a pusher. It goes to the top of my list of favorite chronographs next to the Excelsior Park movements. I wish it had a 12-hour variant too. If it had, I am sure Angelus would be much higher on collectors' wishlists.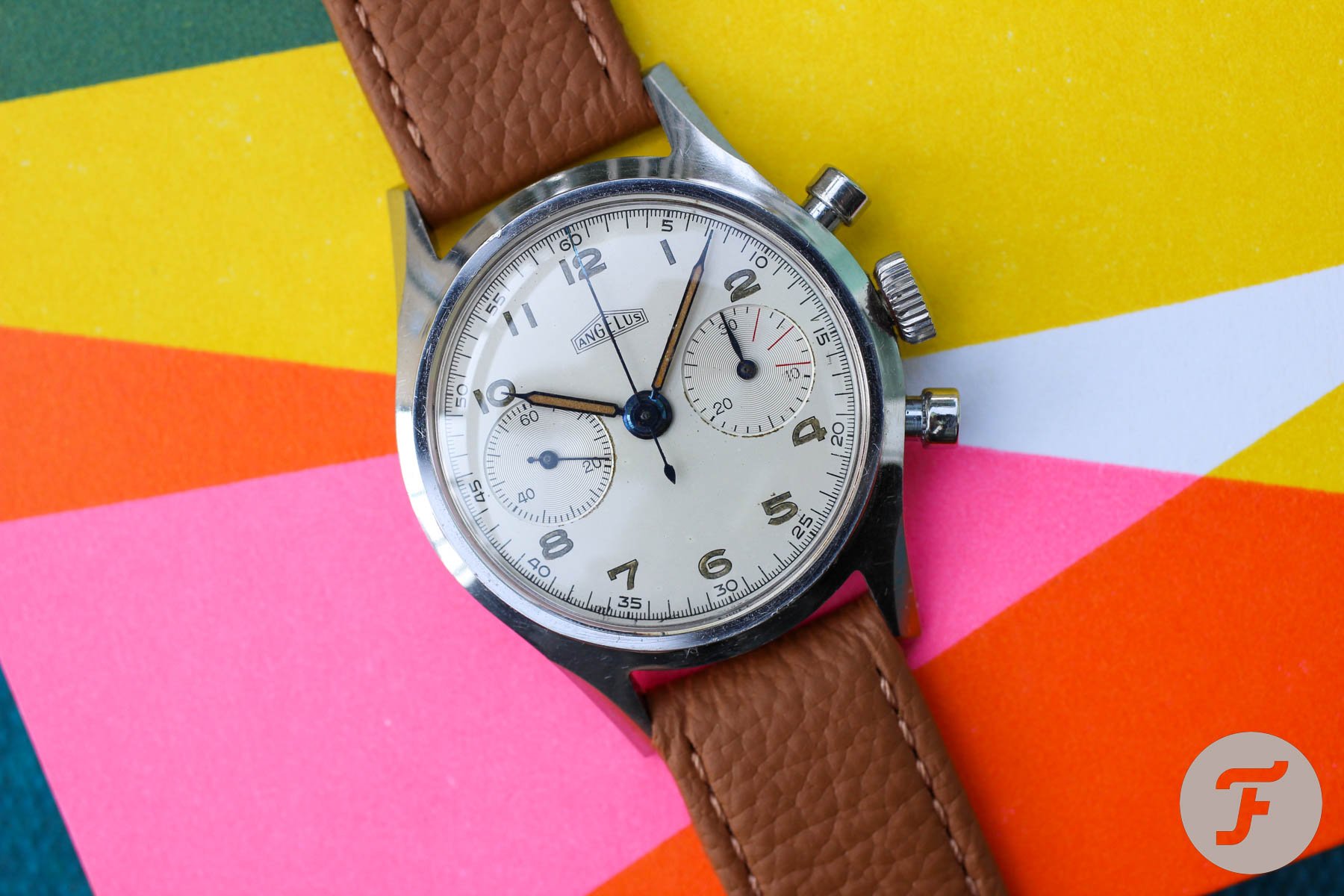 Last thoughts
Why I am so sentimental about a watch that has no story at all? I have many watches with zero historical records and I don't need to whine about it. The Angelus Chrono 12 is just different, and the circumstances of its non-story became a very touching point upon which I have built my bond with it. Any watch out there deserves more than to be picked up during an impersonal estate cleanout. I don't know why exactly the Angelus Chrono 12 became a symbol of all abandoned watches for me. But anytime I wear it, I just have to think of how sad it is if you don't have close family or friends to pass your watch to. I hope that this is a feeling none of us will have to experience.