#TBT A Stunning Perfecta Hiding Another Big-Date Mystery
A story with too many questions
It's not often that you bump into a big-date watch that you have never seen before. Well, I did, and I can't wrap my head around it. Dear Fratelli, I need help uncovering the story behind my Perfecta Big Date.
It's been a few weeks since I shared my Gallet Big Date story. In the case of Gallet, it wasn't the movement that puzzled us, it was the watch. The Venus 211 is quite a fascinating movement, and we have seen it powering so many different watches.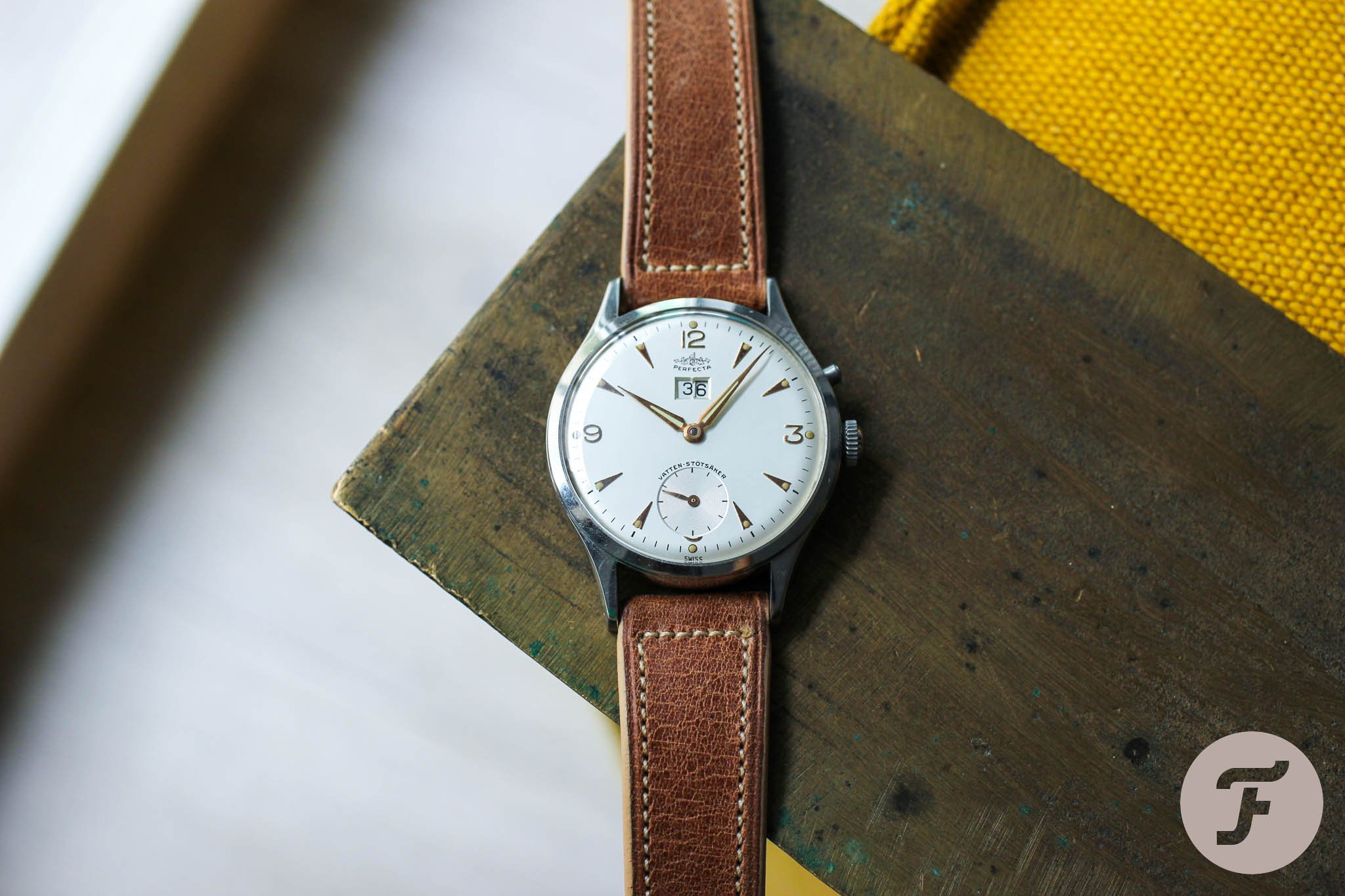 Perfecta discovery
Or rather shall I say a perfect discovery? I think was following an auction where I was after an Enicar chronograph. As I always do, I scrolled through all the lots offered in the auction. What struck me immediately was this Perfecta with a double-digit date in a rather big window. An untrained but educated eye would think we are looking at caliber 216 from the previously mentioned Venus Big Date family. Well, we are not.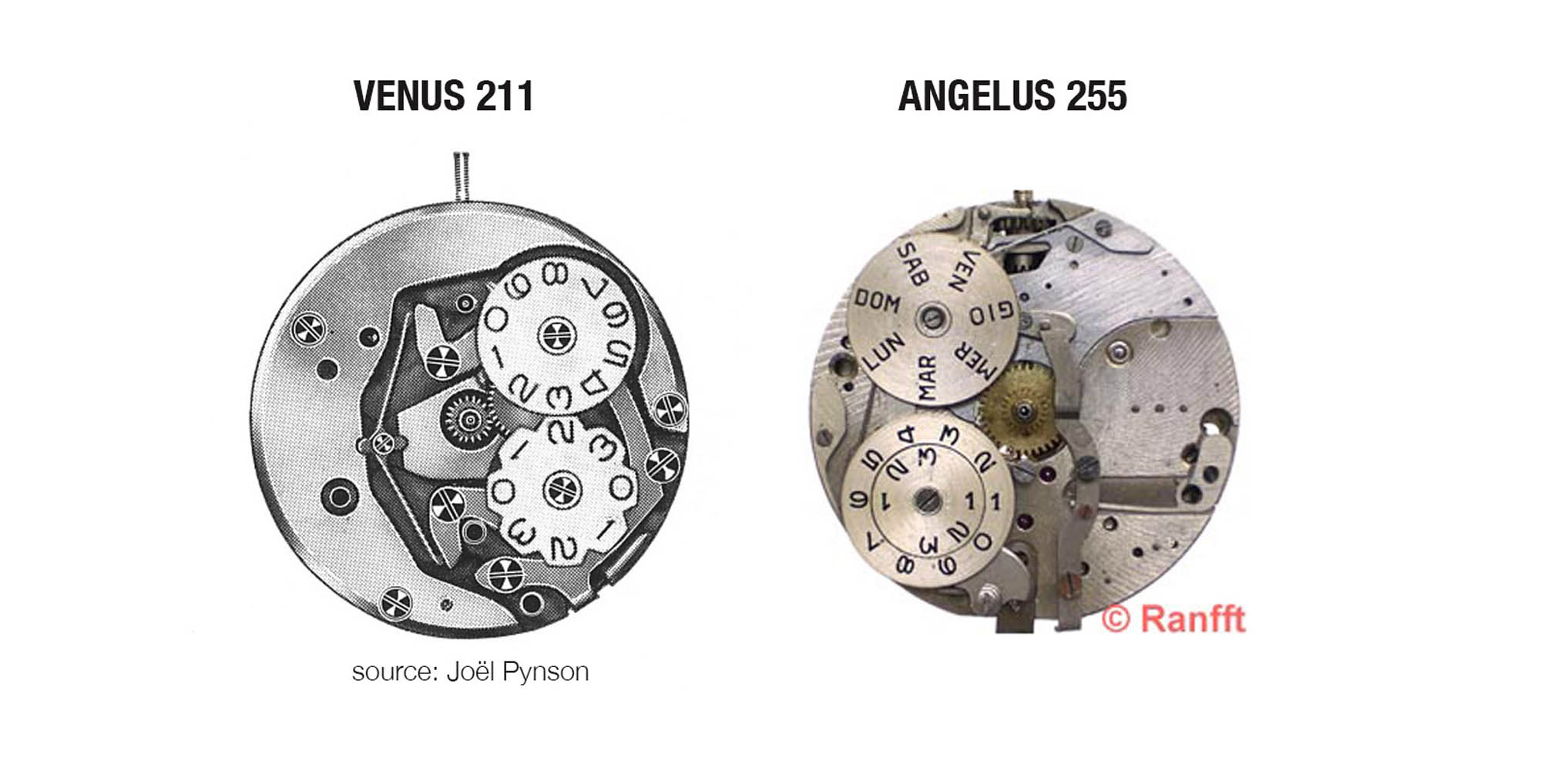 Recap
Double-disc big dates first came about in 1932 with the Helvetia 75A (by the way, I'm still missing this one, so give me a shout if you know about any available). In 1948, the Angelus 255 introduced a similar concentric disc arrangement in a chronograph. The previously mentioned Venus 211, 216, and 221 came with a slightly different system consisting of two discs rotating against each other. This happened around 1953, and for the sake of the story, I've highlighted above that the discs on Venus calibers never overlapped.
What's the caliber in my Perfecta?
I looked into books I got at my library, and I reached out to my trusted collectors, educated watchmakers, and a watch forum. Not a single living soul could tell me what we are looking at here. Well, they all agreed it's interesting, but no one recognized the movement or its manufacturer. Names were dropped, but they were all assumptions that we could not link together in any fashion.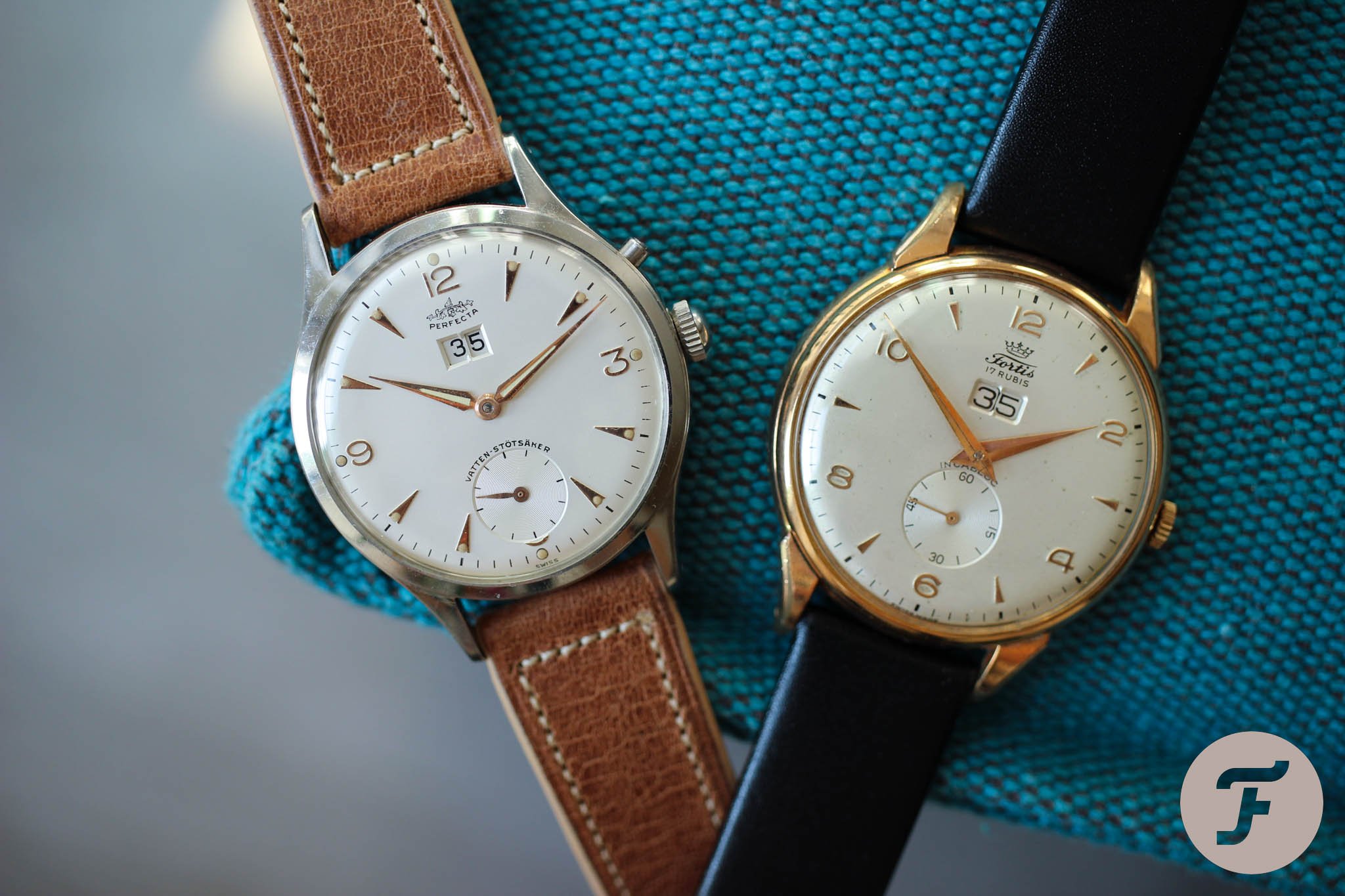 Comparison to a Venus movement
We don't need to disassemble the watch to see a major difference. Although the shape and the style of the date aperture are almost identical to the Venus trio, it's slightly smaller, and the numbers are not that wide. When you look at the window, you can spot that there is also a different disc arrangement in it. The video confirms that discs are rotating against each other, as they do in Venus movements. Here, however, they even overlap!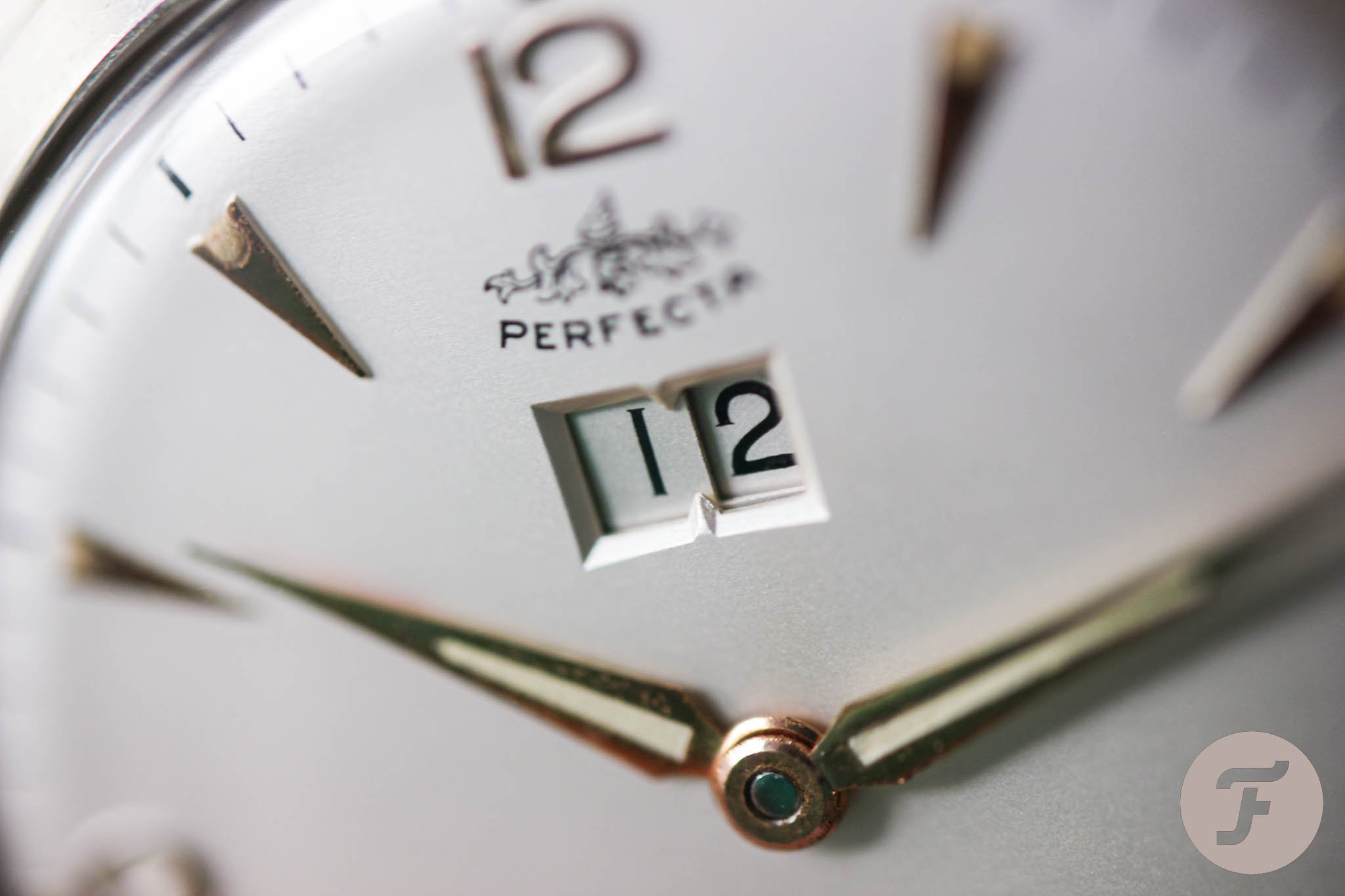 Date switch
The 0–39 imperfection is obviously present, as it is in all the other movements I mentioned. But contrary to most other watches that try to hide the date pushers, Perfecta goes "public." Instead of integrating the date pusher into the case in a minimalistic and invisible way, Perfecta, surprisingly, gave it lots of attention. It sits in a typical chronograph pusher's position. When pushed, however, it doesn't sit flush with the case. Rather, the pin is integrated into a sort of tunnel that always sticks out, as you can see in the video. I believe this was not necessary.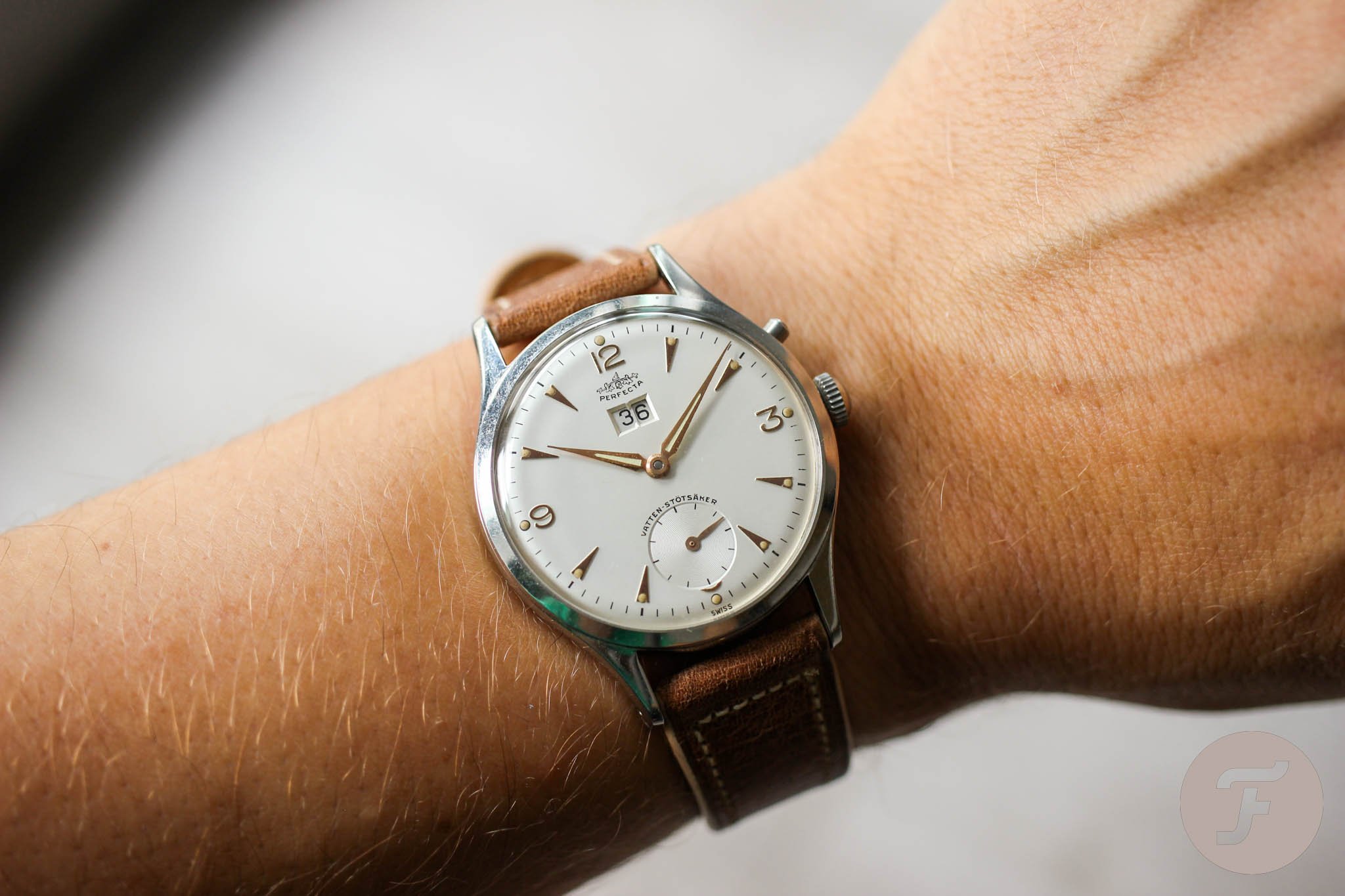 Turning into a dead end
Still in a good mood, I hoped to find all the answers after I unscrewed the case back. Well, I found no markings whatsoever. Not in that good mood anymore but maintaining a positive outlook, I planned a trip to my watchmaker. I hoped there would be some markings under the dial. Well, again, no luck. On the first visit, I forgot to ask my watchmaker to remove the date discs too just to be sure we examined it properly. So I went to see him again, but alas, there were no markings whatsoever. The only positive result of that exercise is the fact we can show you the "naked" date discs in detail (pictured further below). Well, at least I put my mind at peace by scrutinizing the watch.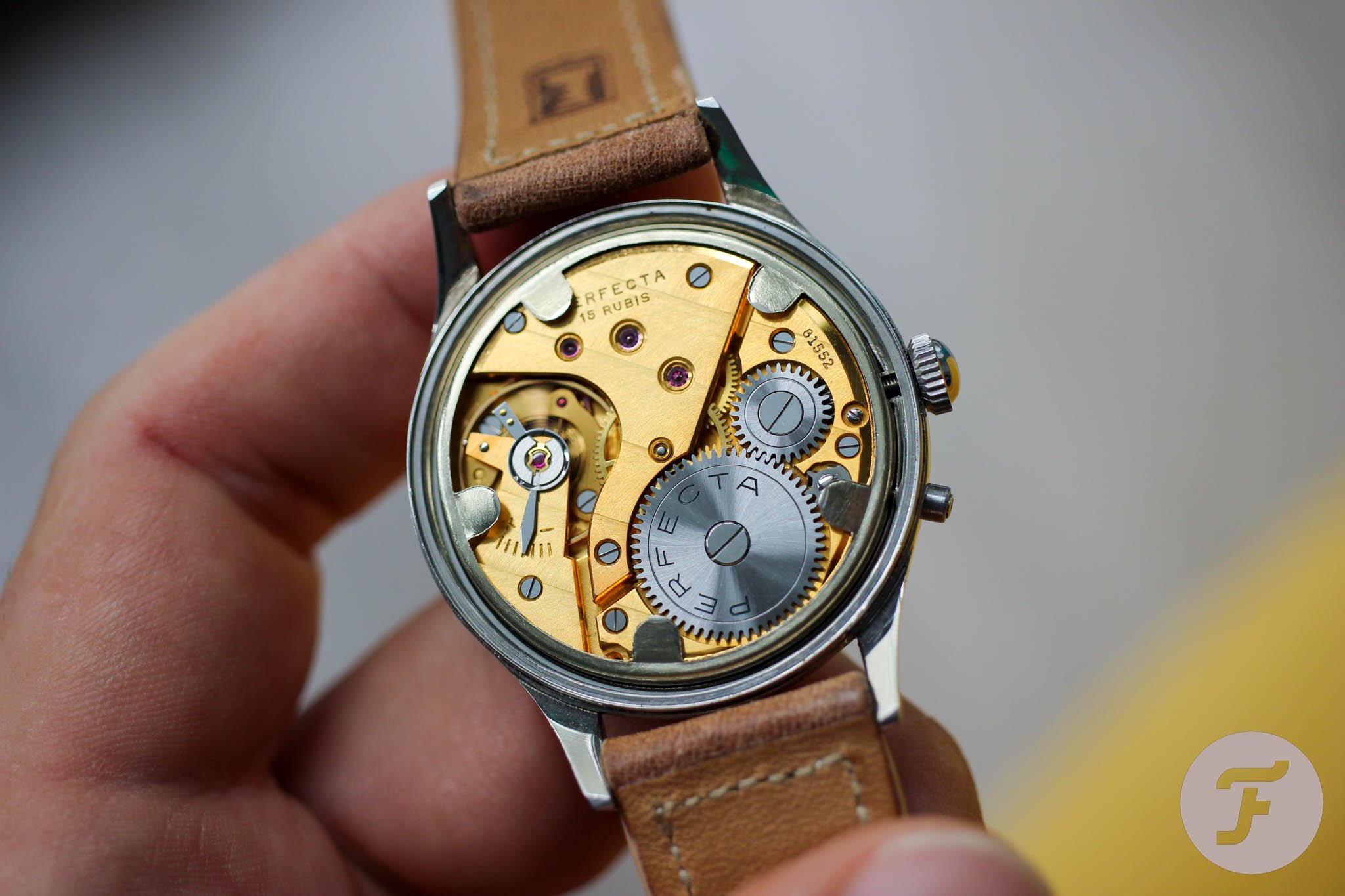 Perfect Perfecta
This watch is a real stunner. More rarely than rarely, you find a watch that you can't find another example of anywhere. Plenty of us dream of finding such a watch, and to find one in pristine condition is the ultimate dream. This Perfecta is just that. It measures 36mm in diameter, so it's not a tiny watch, and the dial is a pure stunner. There is not a single scar on the pearl-white dial. The lume dots are intact, precisely applied, amazingly aged, and as tall as the hamburger you ordered last time.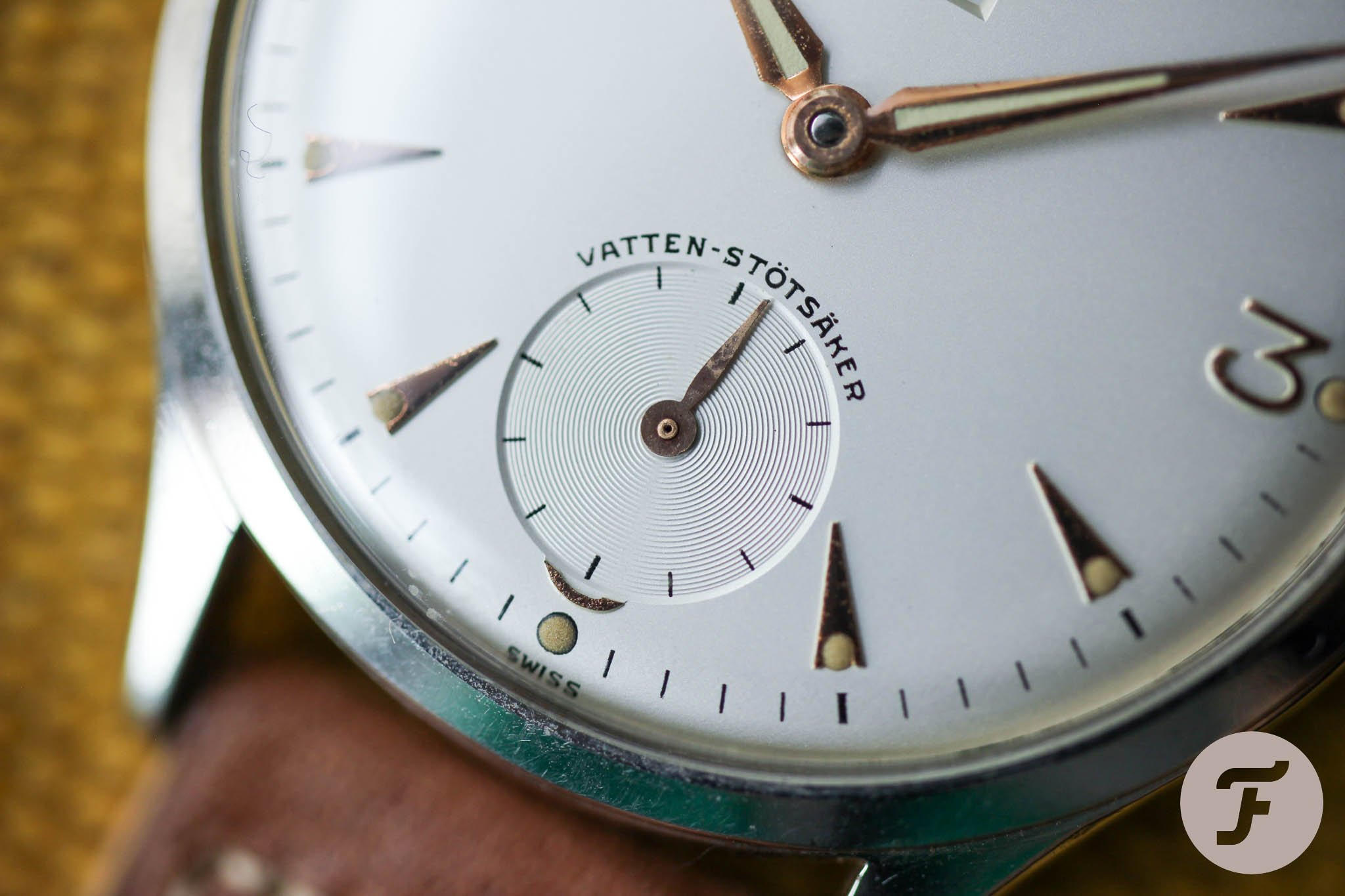 Vatten-Stötsäker
The triangular indexes and all hands are plated, including a raindrop-shaped small seconds hand that adds a lot of elegance to the dial. Without the three sporty Arabic numerals, it would be a serious dresser! As I recall, I picked this watch up from the United States, which makes the title over the sub-seconds even more interesting. If you decide to look up what Vatten-Stötsäker might refer to, you'll want to check a Swedish dictionary. Assuming I got it right, it translates to "water-shockproof." How did this Swedish watch get to the US? Don't ask me…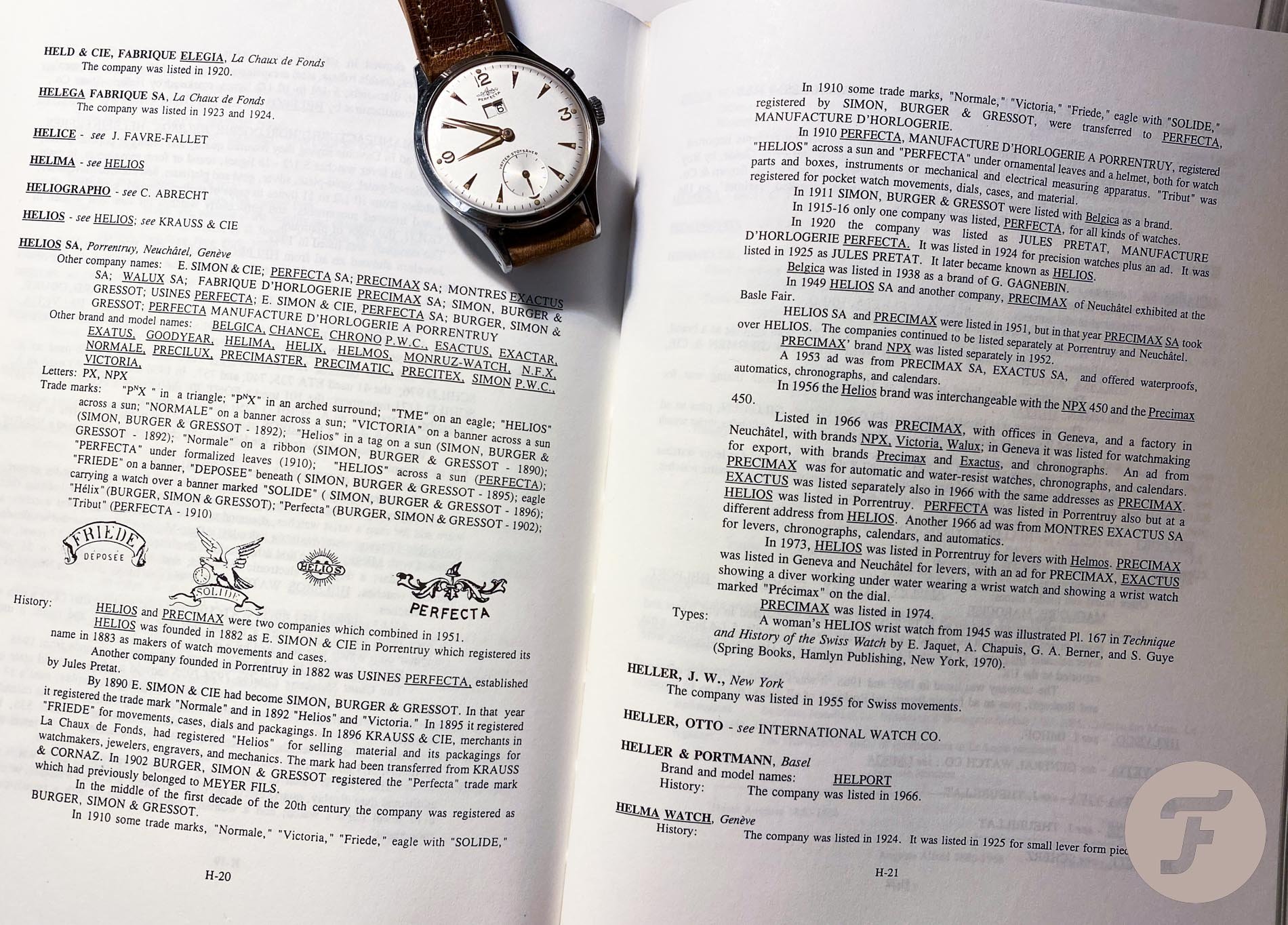 Perfecta
Last but not least, we are getting to the brand itself. It doesn't make sense to rewrite the entire excerpt from Pritchard's bible, Swiss Timepiece Makers, so feel free to read all the details in the photo above. It's pretty complicated. I cross-referenced Perfecta with Mikrolisk.de, and there is one more interesting record. In addition to what Pritchard claims, it mentions that in 1937, Perfecta was registered to Nilsson & Axell Aktiebolag from Sweden. This would explain why there is Swedish printing on the dial. I can confirm that there were multiple Perfecta chronographs that kept popping up in Sweden, so there is a definite connection to this Nordic country.
Last thoughts
It's not often that I can't get to the bones of a problem. Actually, this is the first time that I could not identify the movement, no matter the effort I put in. Why couldn't I find just one more big-date watch with the same movement? Was it a prototype? I doubt that. Are they out there but I just didn't have enough luck to find them? Please, Fratelli, the call is open. If you have any information or ideas that would help to identify the movement, please share them in the comments or send them to me at [email protected]. Happy studying!