#TBT: Addictive Buler GMT With Four Time Zones
A watch with a cheap movement, but a rich attitude
What's better than a second-time zone on a dial? Four time zones. Meet the Buler GMT from the 1970s. My new wonder watch that I christened the "Poor, but busy man's GMT Master."
A perfect watch for today's business world, where four friends meet and rally who has invested in the better startup. Because every proper entrepreneur today has to have a startup, right? Forget comparing villas or yachts, showing off your startup portfolio is the new ball game. And what does a fresh startup do? It scales up quickly by opening new offices in Paris, New York, Tokio, and Sydney. Wait a second. Aren't those cities the exact ones portrayed on the dial of this Buler GMT?! We just discovered a perfect tool watch for the hot startup business world.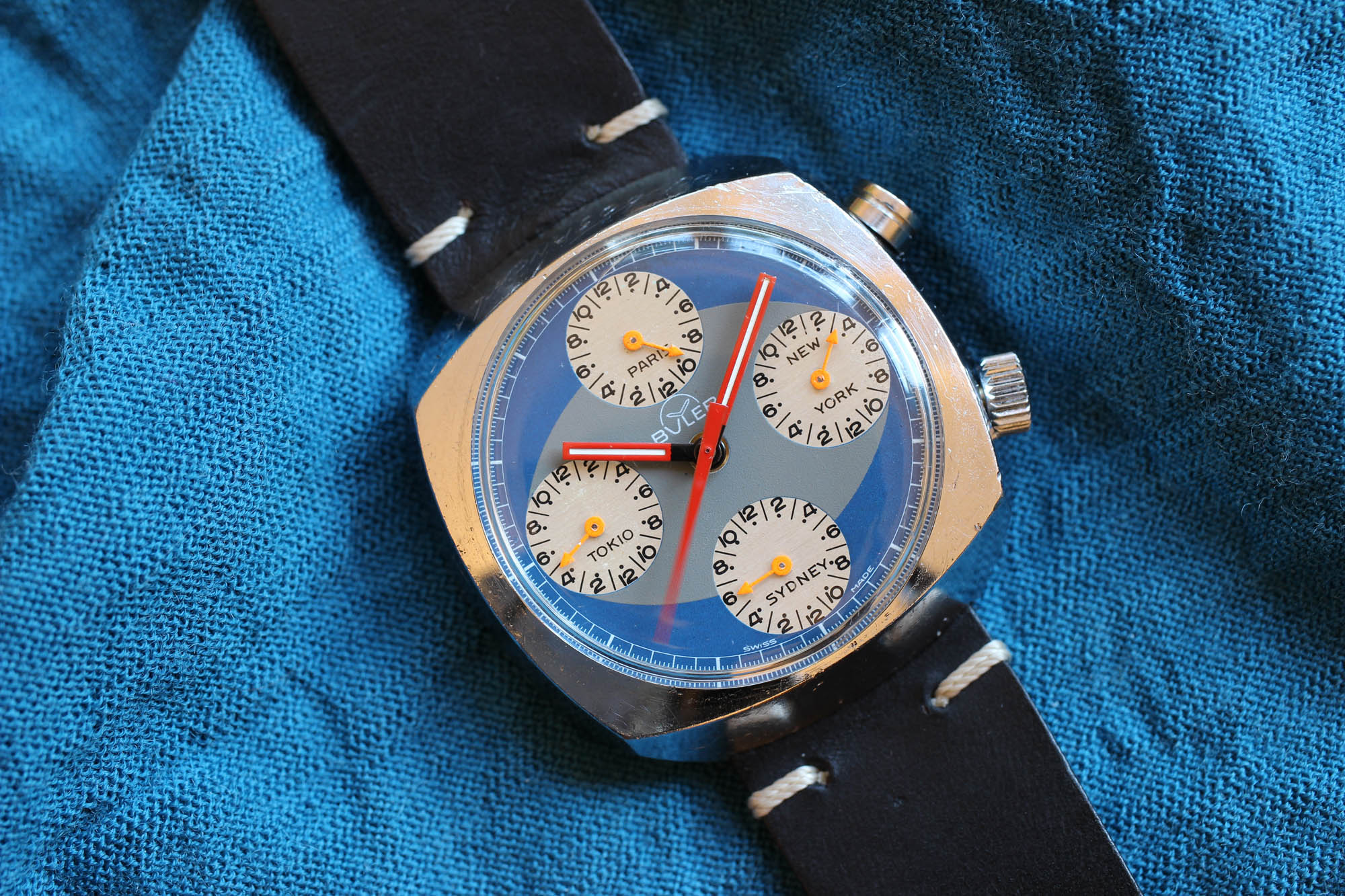 Buler GMT is the unofficial winner
I guess you still aren't sure about the new business tool I am trying to sell you. No worries, I got my ammunition ready. There is so much to this Buler that I surprised myself when writing notes down for this piece. The Buler GMT is functional, original, and creative in detail. It has an unusual case, out-of-the-box operation and it costs close to nothing for a vintage watch with such conversational potential. For the record, the moment I bought the watch, I was miles away from being as excited as I am today. Initially, I was seriously worried about the purchase.
My story with the Buler GMT
In the end, it was another surprise purchase. I was scrolling a Nordic auction portal when I spotted it. Bad pictures (exactly as I like it), a quite beaten case, and a missing pusher. I think it was the four sub-registers that dragged my eyes to it. Or maybe it was the sick-shiny orange sub-register hand with cute arrow tips. I did some quick research, finding two other exact references in the same color set and another few refs with variations on the dial. One fact was apparent for sure; there aren't many Buler GMTs around, none available at the moment. My only worry was the missing upper pusher. There was a 0.000001% chance I would find a replacement one.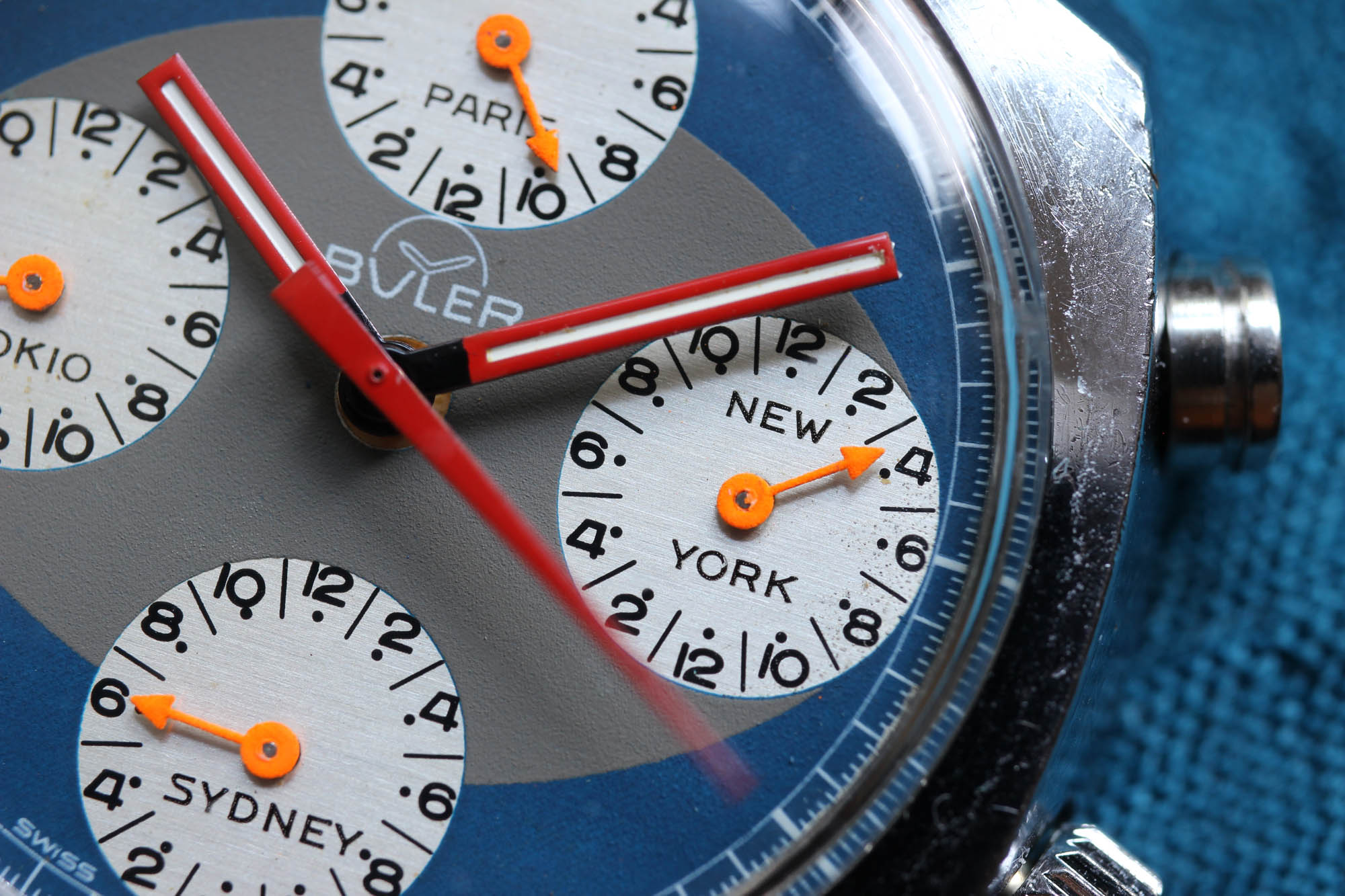 May the force lead me
And the force led me to bid despite the description saying that "the watch works for a few seconds when you shake it, then it stops." I ended up winning the auction for 160 Euros. I wasn't sure what I would do about the missing pusher. Thinking back to that moment… I guess I was not thinking at all. I just wanted to save the watch with four little orange hands.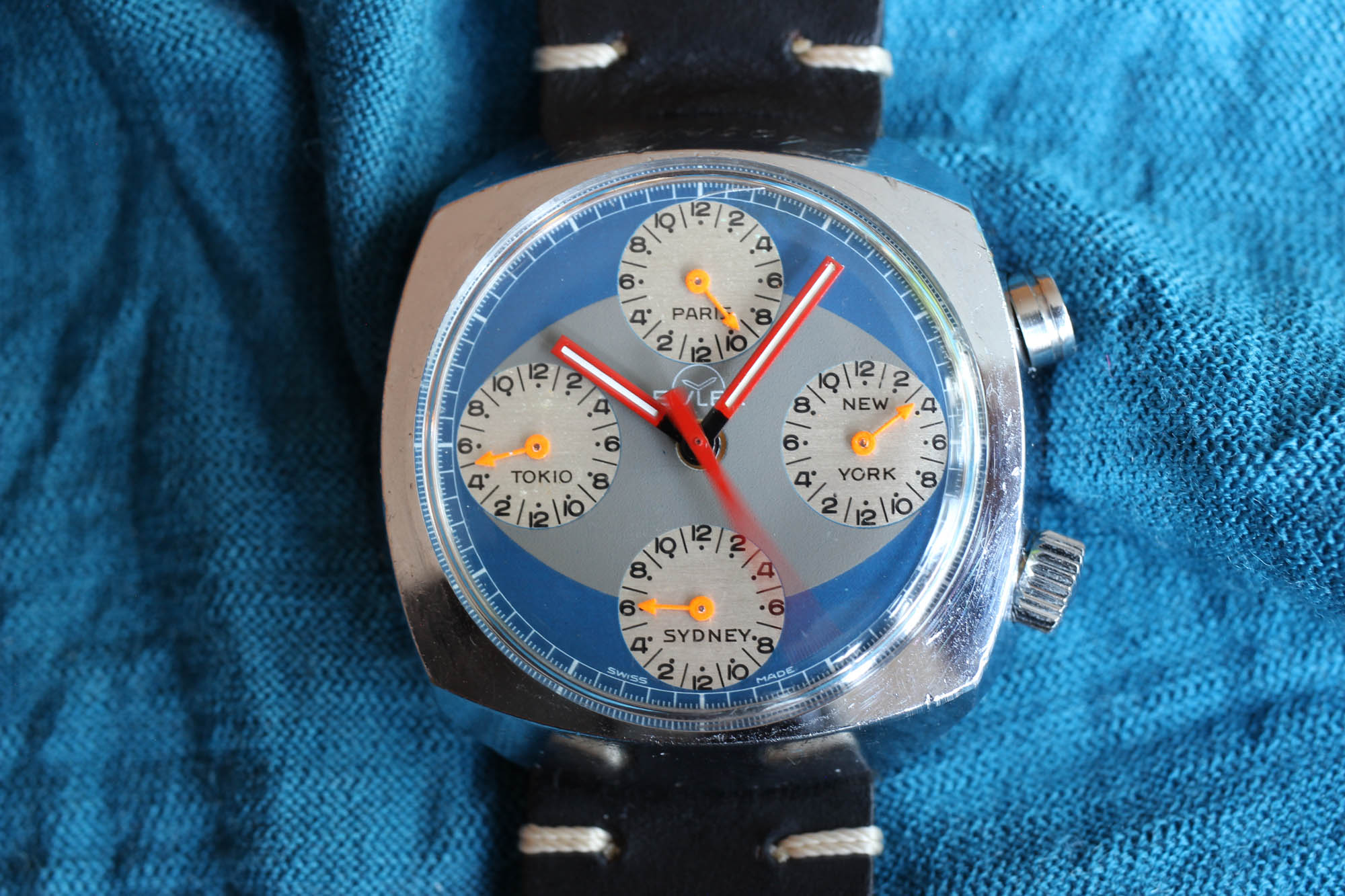 First days with Buler GMT
When the Buler GMT arrived at my doorstep, I unboxed it in a second. No strap, head only. I cannot find a better word to describe the angling, shape, proportions, and size of the case than ACCURATE. Not too big, not too small. It looks chunky and chubby but in a cute way. I just enjoyed the hundreds of tiny scratches on the chrome case. Glad to conclude that chroming is pretty intact with no deep scars, so I guess the watch didn't belong to a miner. I wanted to see the hands move badly, but there was not much I could do alone. Until I brought the Buler to my watchmaker.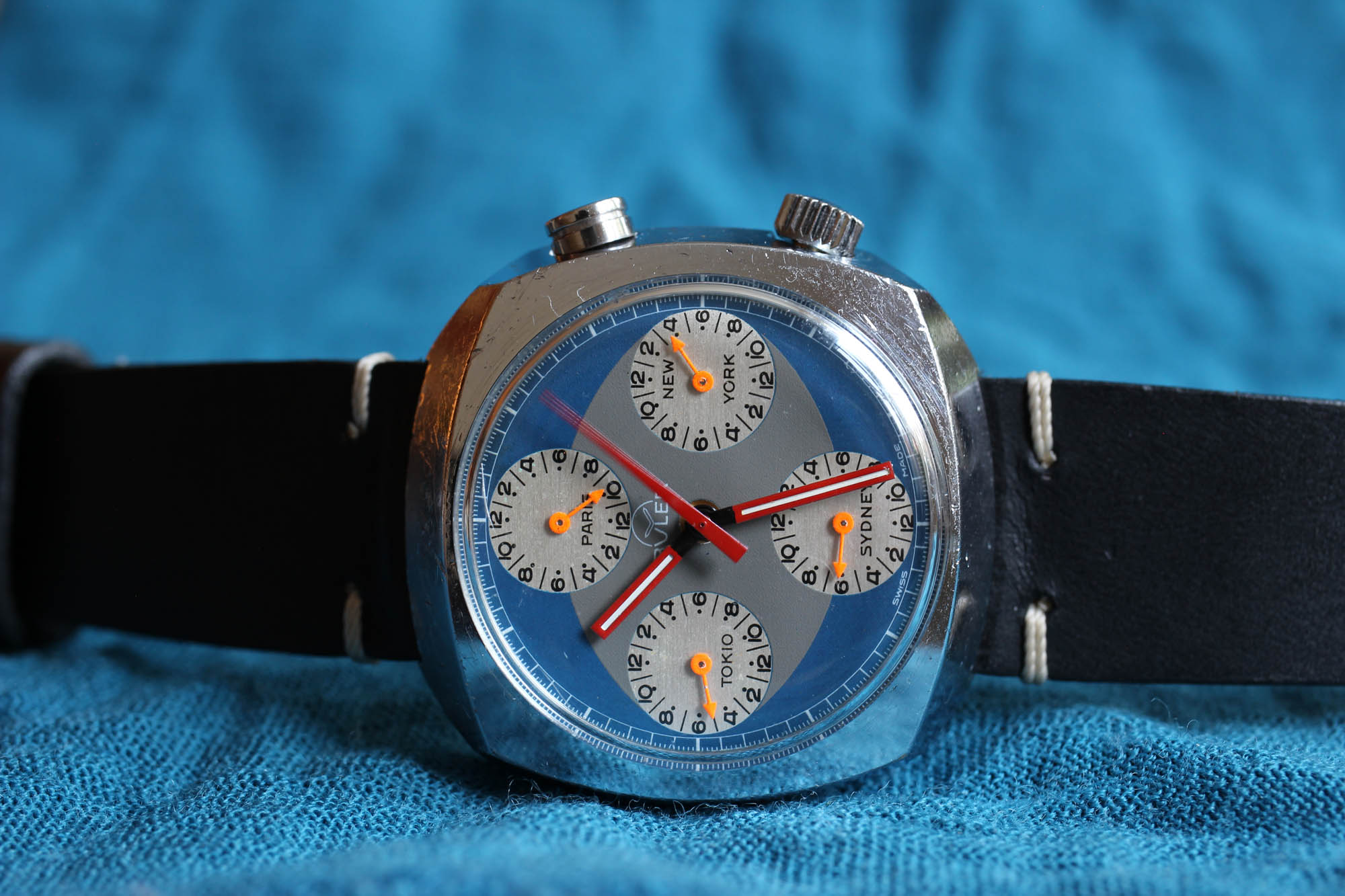 Signature Buler watch
If you look at the upper case side the size of a hockey board, there is a long word carved out with a thin sharp tool. Or a needle. I can't read it, and it doesn't make sense at all. My watchmaker hates when other watchmakers scribble service dates on the inner side of the case back. The good thing about this scribble is that it is far from my sight. I simply won't see it when having a watch on the wrist because of its placement.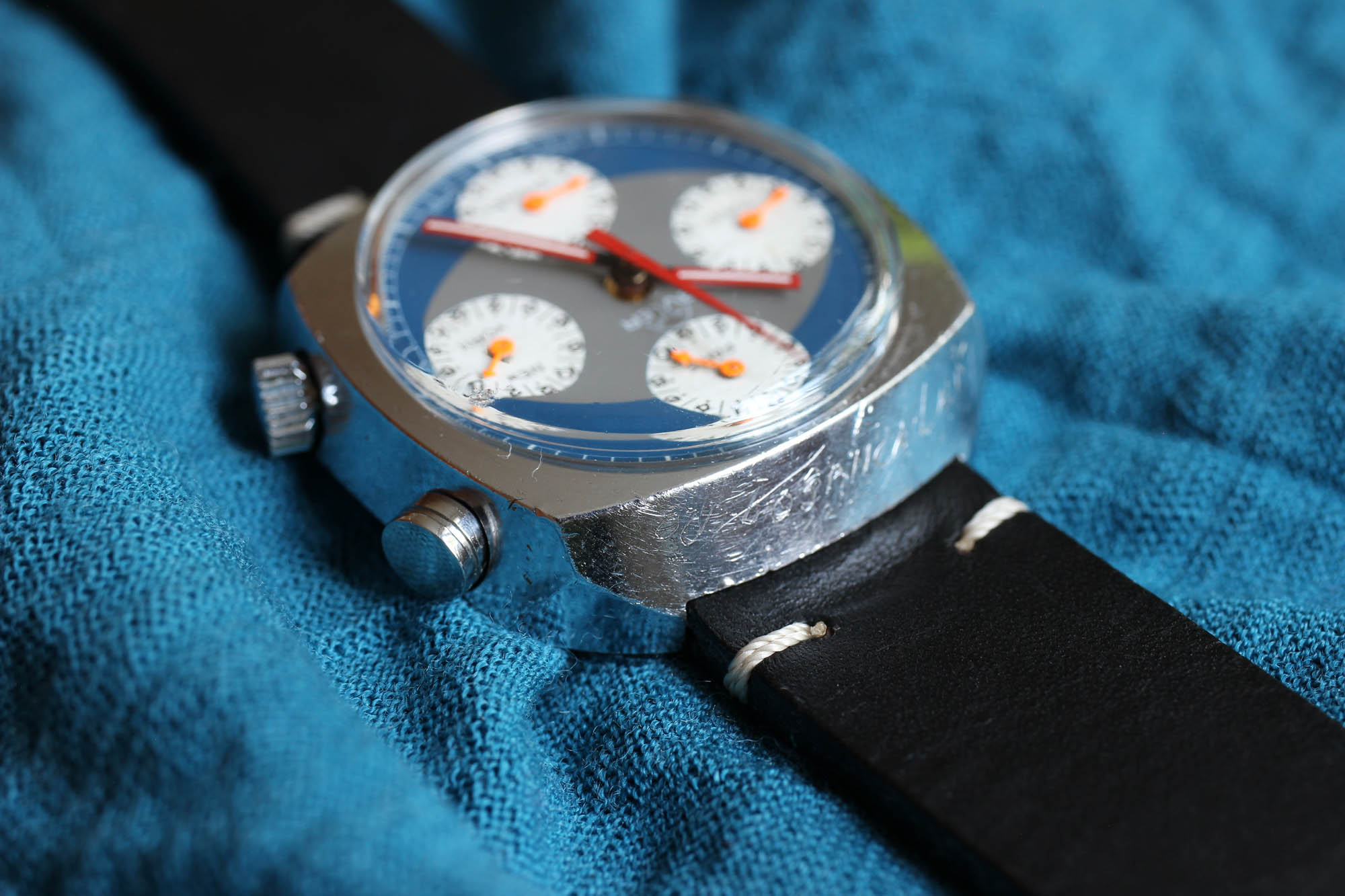 Frankly, it is no astronaut that signed my Buler as it happened with RJ's Apollo 13 "Silver Snoopy Award." I never had a watch signed this way, so I never thought about how I would feel with one. Here we are talking about the signature of somebody of no relevance to watch history. That would typically undermine my "condition first" spirit, but it has since developed into something of mysterious charm. The case is not brutally chiseled. When I put the watch down in the evening, I spend a couple of moments thinking about who, when, or why signed it.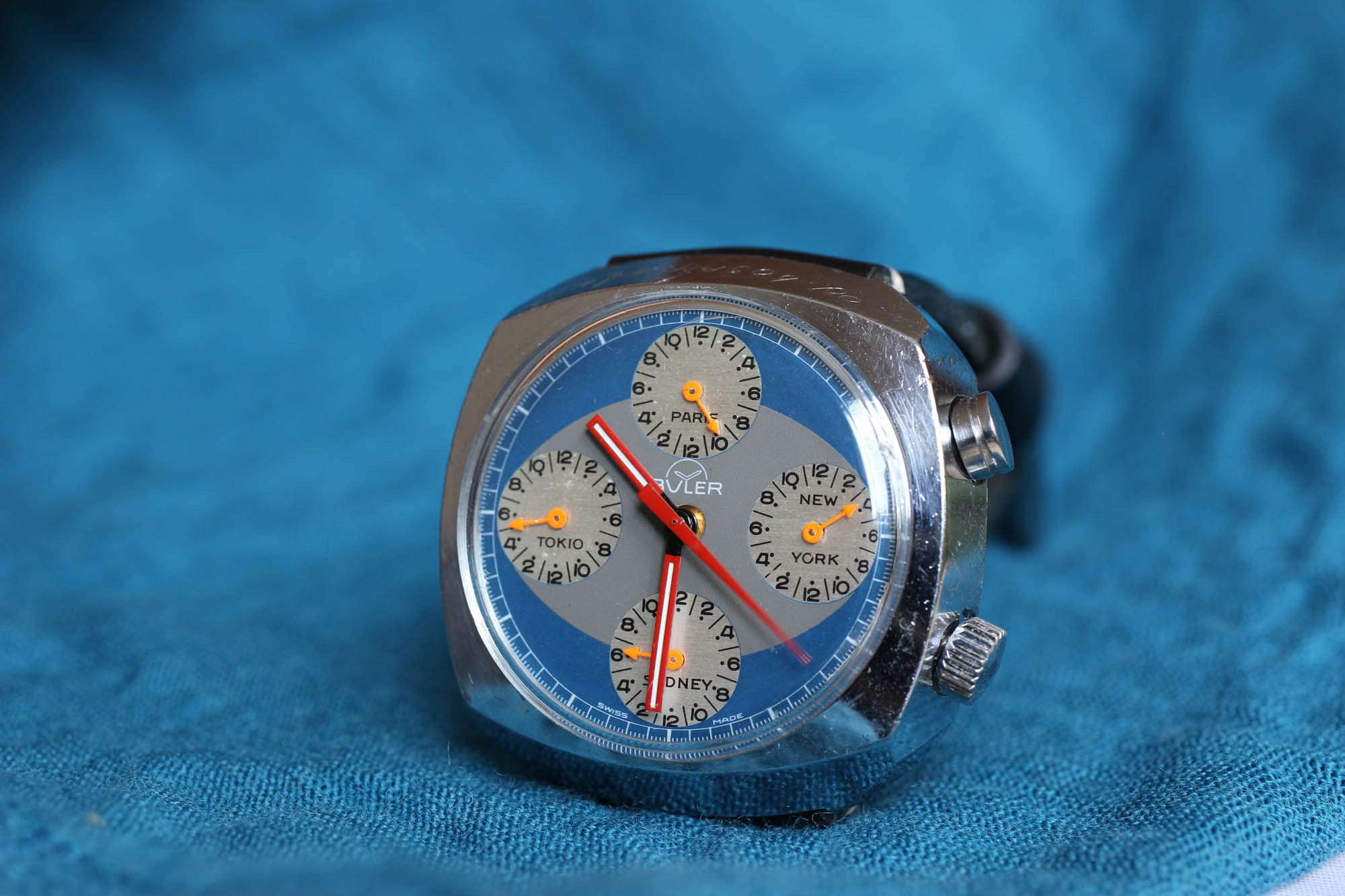 The Buler GMT is functional, original and creative in details.
Buler GMT facing my watchmaker
The day has come. I am taking my Buler to the watchmaker. It didn't take long, 30 seconds maybe, for me to be confronted with @watchmaker_tom 's serious face. To quote him: "Why do you spend money on a watch that has no value, with a movement worse than any random table clock sitting around and punish me by wanting this… this… this thing to get serviced for more than it's worth?" But I know he likes me, and his savior soul can never say no. A big thank you goes out to all the watchmakers that undergo these no gain trips when saving troubled pieces for us, collectors. Not to forget, this Buler came with a special bonus for my watchmaker.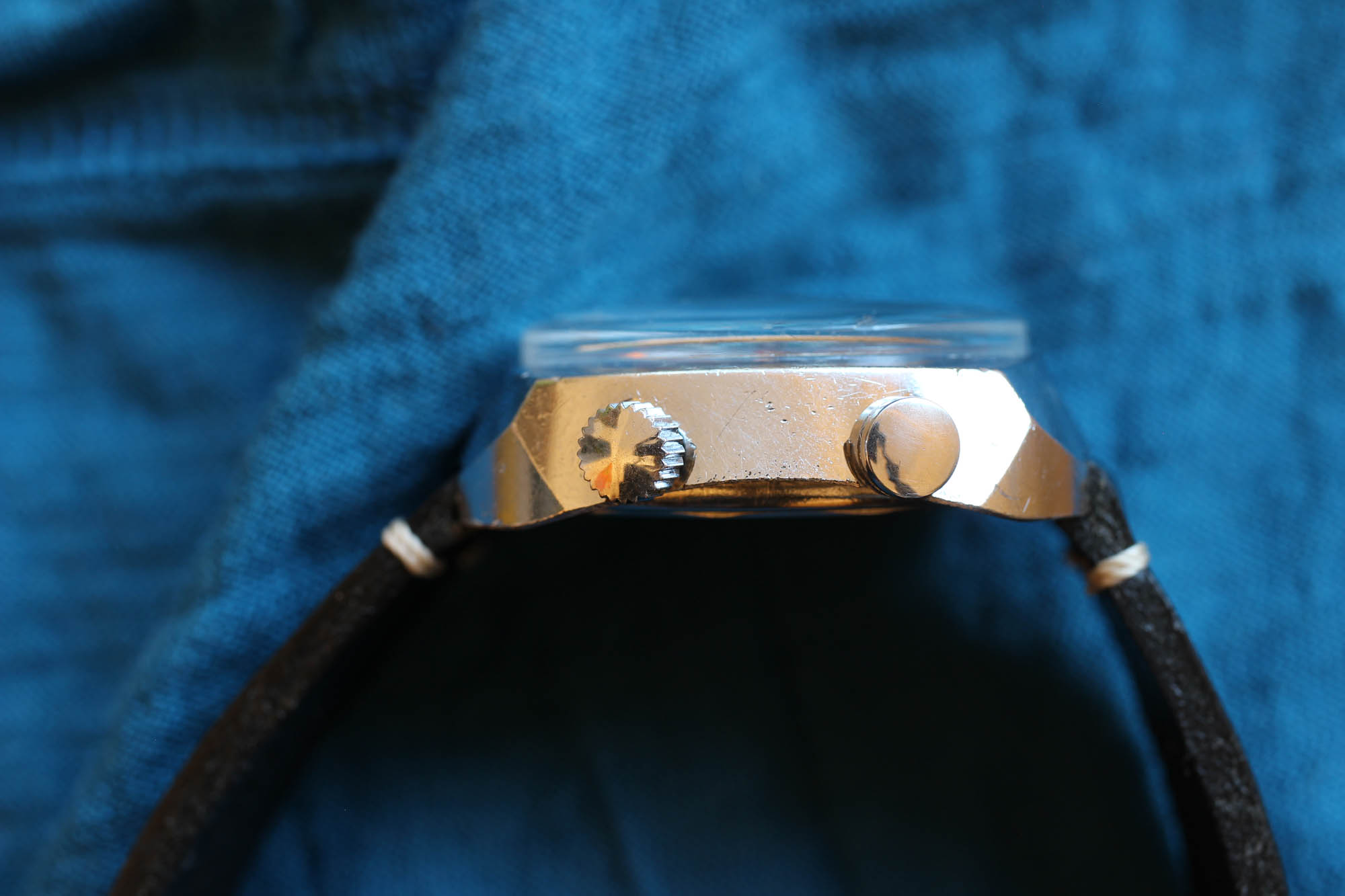 The missing pusher
We did not discuss long what to do with it. I was not even sure how the watch operated as it was damaged, without a pusher controlling the GMT on the upper position. So, I just told my watchmaker Tom to put on whatever that fits, and I will try to get an original one later. My initial thought was that the pusher moves all four hands one hour forward with each press of the pusher. I was wrong.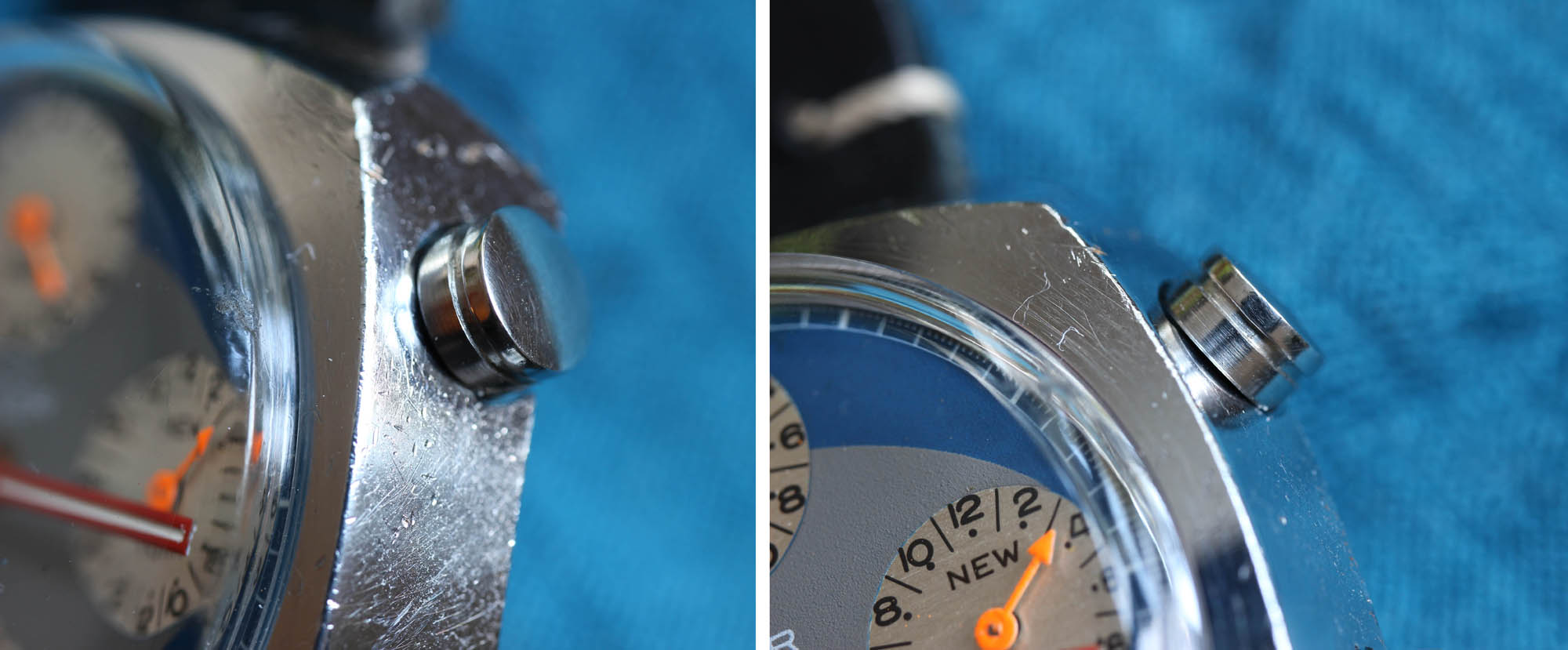 Buler GMT in action
This is how it works. All four GMT hands move together, along with the central time. In other words, you never set one particular GMT zone. You either move none or all together at once. If you want to align your current central time with GMT for the first time, you have to pull out the upper pusher. Or more precisely, a button. Once you pull it out, the GMT hands are disconnected from the central handset. You align the central hand with the GMT zones, and now you can press the button back against the case. The GMT zones then start moving again with the central time. Easy.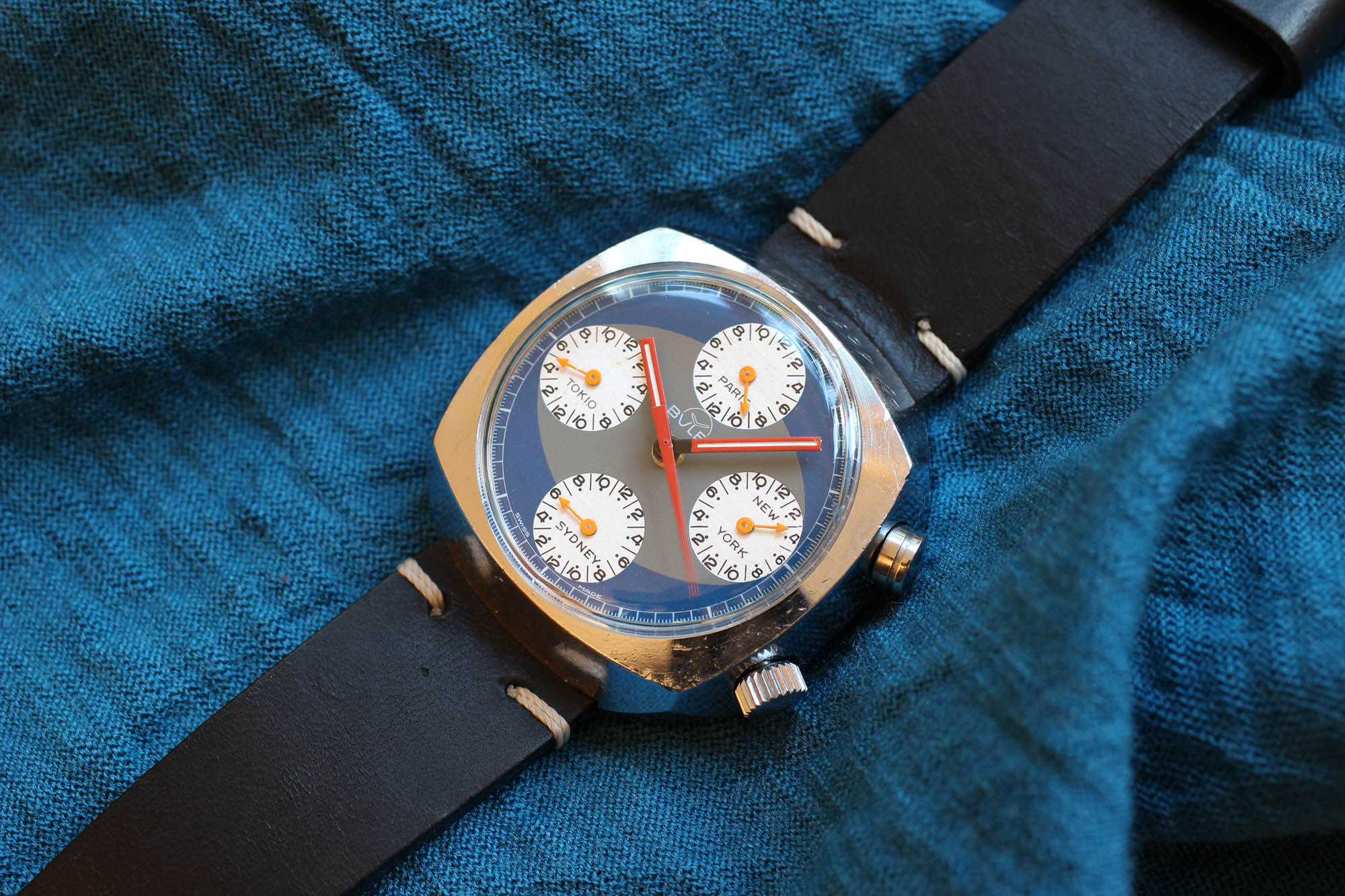 Hand-made button
I could not believe my eyes when I came to pick my Buler GMT up from the service. My watchmaker Tom handed me the watch like he was handing me a random pen. I mean, he gave it to me without any big drumroll and went straight back to work. I was speechless when I saw the button. It was there. Looking just like the original. I was puzzled. Did he find it?! How, when, where. Tom, with his head and hands already sunk in another watch, just quietly said: "I made it." He made it. It hadn't crossed my mind before that he could manufacture it using his workshop machines. See the images below. He studied the pictures of the original buttons and made me a replacement on his lathe machine. He said he hit it correctly in the second attempt. It is very similar to the original. Far beyond my expectations and pretty impressive. Having a watchmaker willing to go this far is priceless.
BFG 582 movement
The movement is cheap. But it doesn't pretend to hide it. "The movement has one jewel on a balance wheel only. The balance pin is set in a brass bearing, which was a little trick on customers as the upper stone is visible, the bottom one is not. Cost savings on cheap calibers. This particular movement has the perfect pace after being serviced. The dial and hands are in perfect condition, as is the movement. It is not worn out as many movements that age usually are. It ticks within 30 seconds accuracy per day on average, which is great for a watch without jewels." says watchmaker Tomas.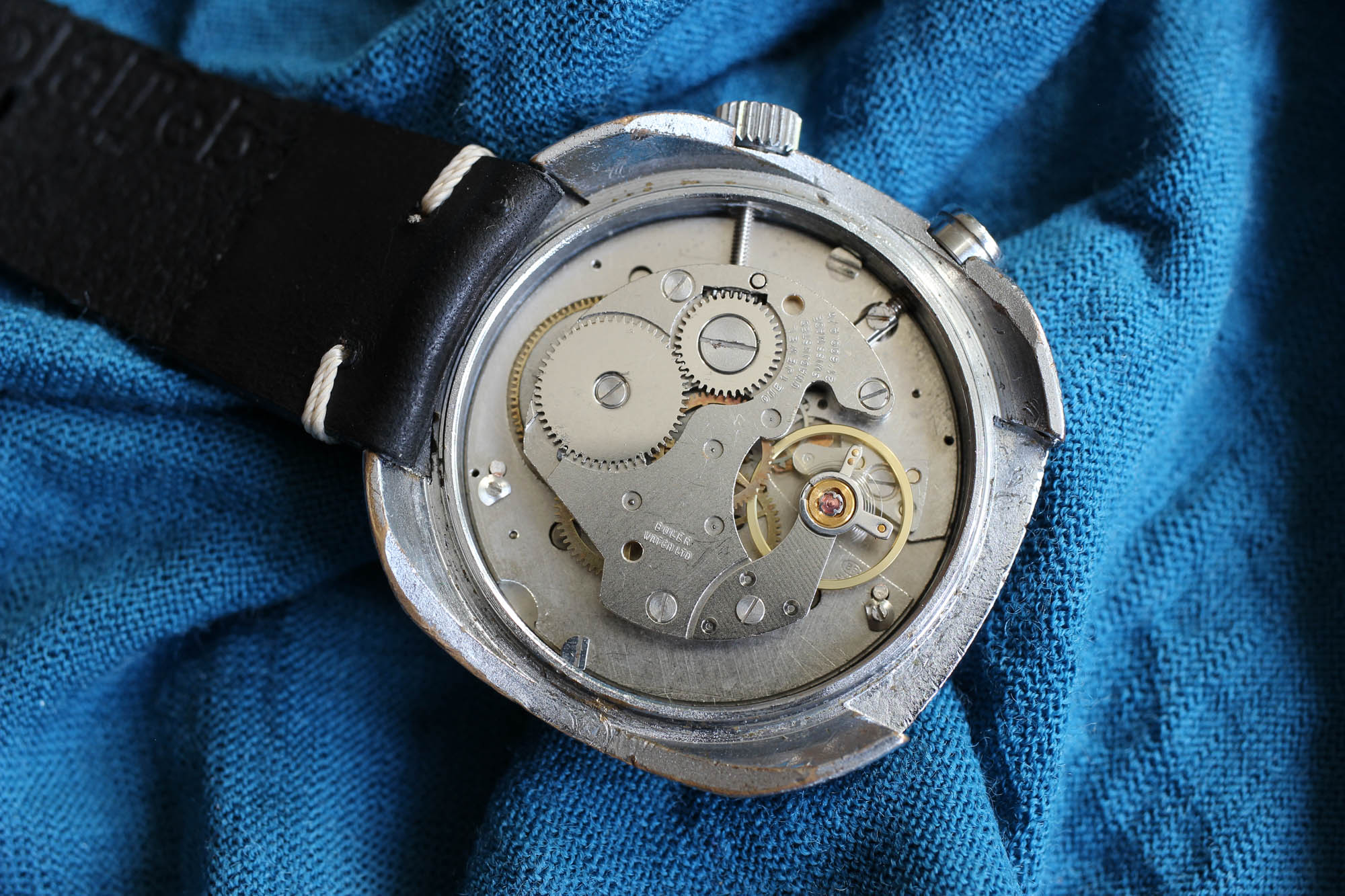 Shotgun notes
I found the same Buler GMT model in different color settings, namely black on burgundy dial and black on grey dial. One crown on my watch is a bit wider and needs a replacement for a thinner one, as visible on other refs. Crowns are not signed.
Last thoughts
When I got home, I fitted the Buler GMT with a custom made a short black strap that I had made at Colareb a year ago.  This means my wife can wear these watches too. I haven't used it as it was too chunky for other smaller diameter watches. But now on the Buler GMT, it's a perfect match. I have to say; it is a pleasure to wear this watch. It rightly belongs to the group of watches that don't need to cost you six months' of salary to make you feel proud. Buler doesn't compete with my Rolex GMT-Master 1675, but it doesn't have to. It is original, funky, and charming in its own merits and gives me a different, but comparable amount of joy. Even if you haven't yet invested in any startup, feel free to invest in the Buler GMT today. Happy hunting!