#TBT: Alpina Standard Leihuhr – A Service Watch
with 592R caliber
The Alpina Standard Leihuhr, a customer service phenomenon that evokes the gentlemanhood of an entire era.
Singular watch
I was looking for a one word description for a good ten minutes. I think SINGULAR, as offered by the Merriam-Webster Dictionary does the job on all levels. The Alpina Standard Leihuhr does not have the glorious aura of a moon or diving race. It doesn't have forums with overexcited members creating thousands of threads about every single detail from the indexes to the bracelet. What is it about? For me the Alpina Standrad Leihuhr encapsulate the spirits of nice manners and gentlman-ship of decades long forgotten. This subtle watch reminds me of what there should be more of in this world. Attention to detail, daily experience, courtesy.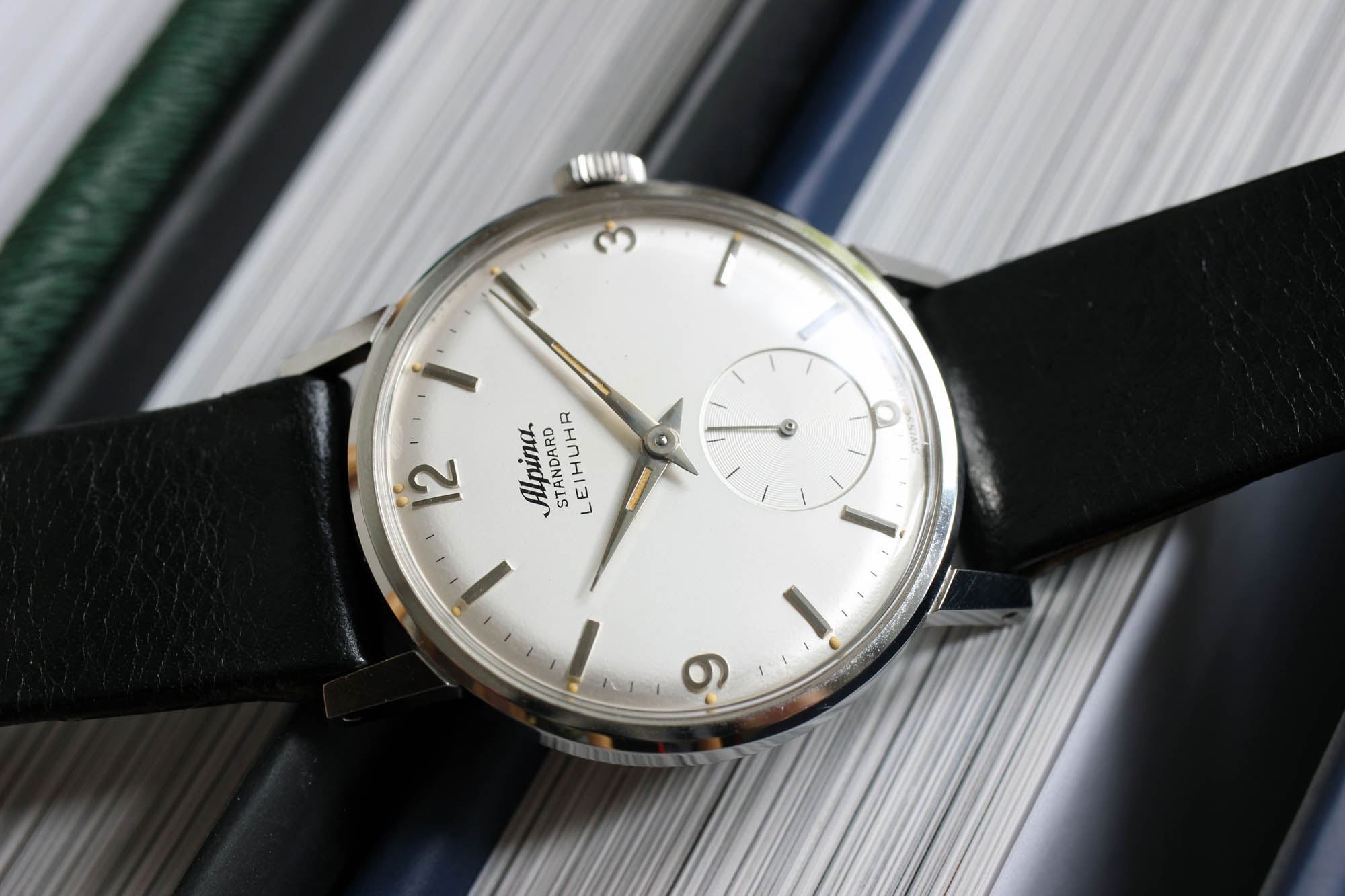 Leihuhr is about romanticism of an era long gone. An era that left us with some simple but still unique – and I am not afraid to say – rare watches.
Leihuhr or service watch
I knew "they" existed. I stumbled across a Facebook post on my feed from a small jewelry and watch store that described their practice of lending you a replacement watch while you waited for service & repair to be done on yours when you brought it in for a check up. This sounds like genius in its simplicity and generosity. The only parallel I can think of today is when you manage to introduce your car fender or bumper to another car or wall. If you are eloquent (or creditworthy) enough, you get a service car to use while it's being repaired. I was fascinated to learn about the service watch concept. Once again I had a reason to daydream about the 1960's "mad men" era.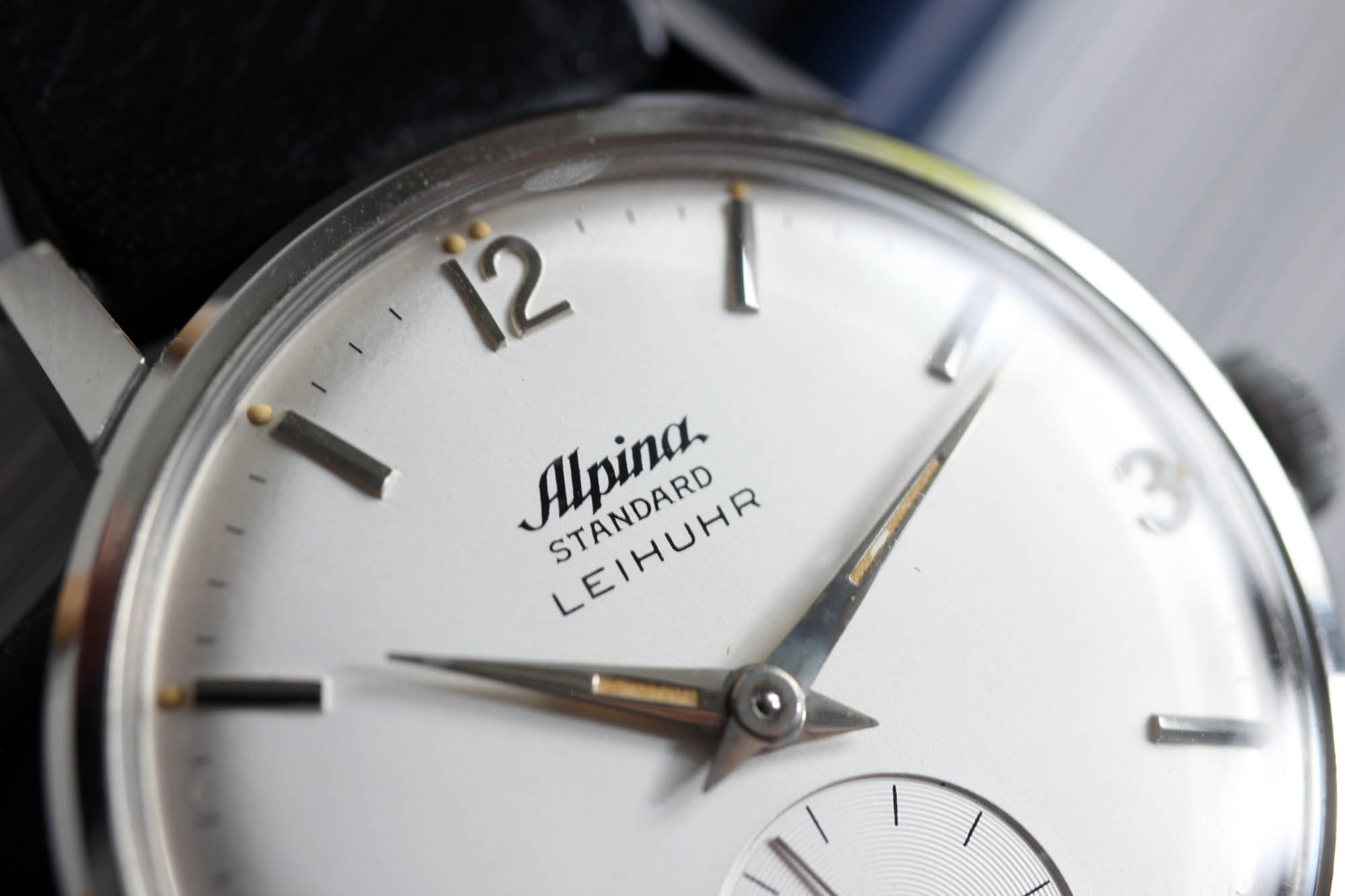 Alpina Service Watch  = Lucky Catch
Ironically enough, I was in London for a conference on customer experience when I saw an Instagram post from the guys at Analog/Shift with a NOS Alpina watch with a 'LEIHUHR' inscription on the dial. As I have a sweet spot for Alpina in general, I reached out to the guys and sealed the deal. If you find me another officially dial branded vintage service watch and I will send you a bottle of a wine. Show me another Alpina Standard Leihuhr and I will send you two! Thanks to my web crawlers and search robots on all the existing and non-existing watch sites, I have seen hundreds of Alpina Standard models. But none of them came with such a precious dial modification.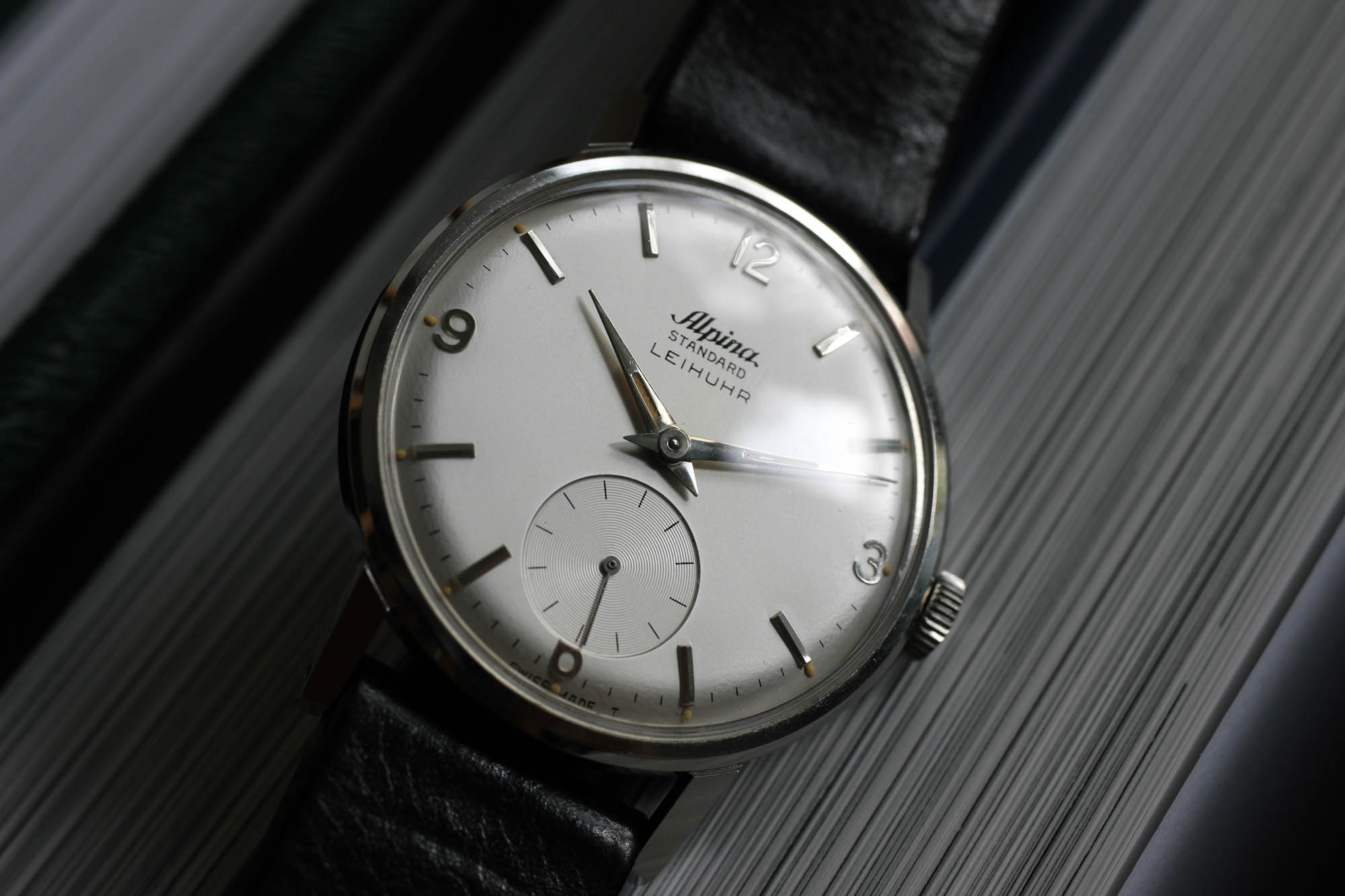 Story behind
I asked Analog/Shift on more background information on where the Alpina Standard Leihuhr came from. All I know is that the watch was brought to them by an older woman who over the years bought up lots of jewelry and watches at auction houses. They were essentially sitting forgotten in her storage locker for the last two decades. This piece was part of her collection and was likely purchased in the same condition sometime in the 1990's in New York.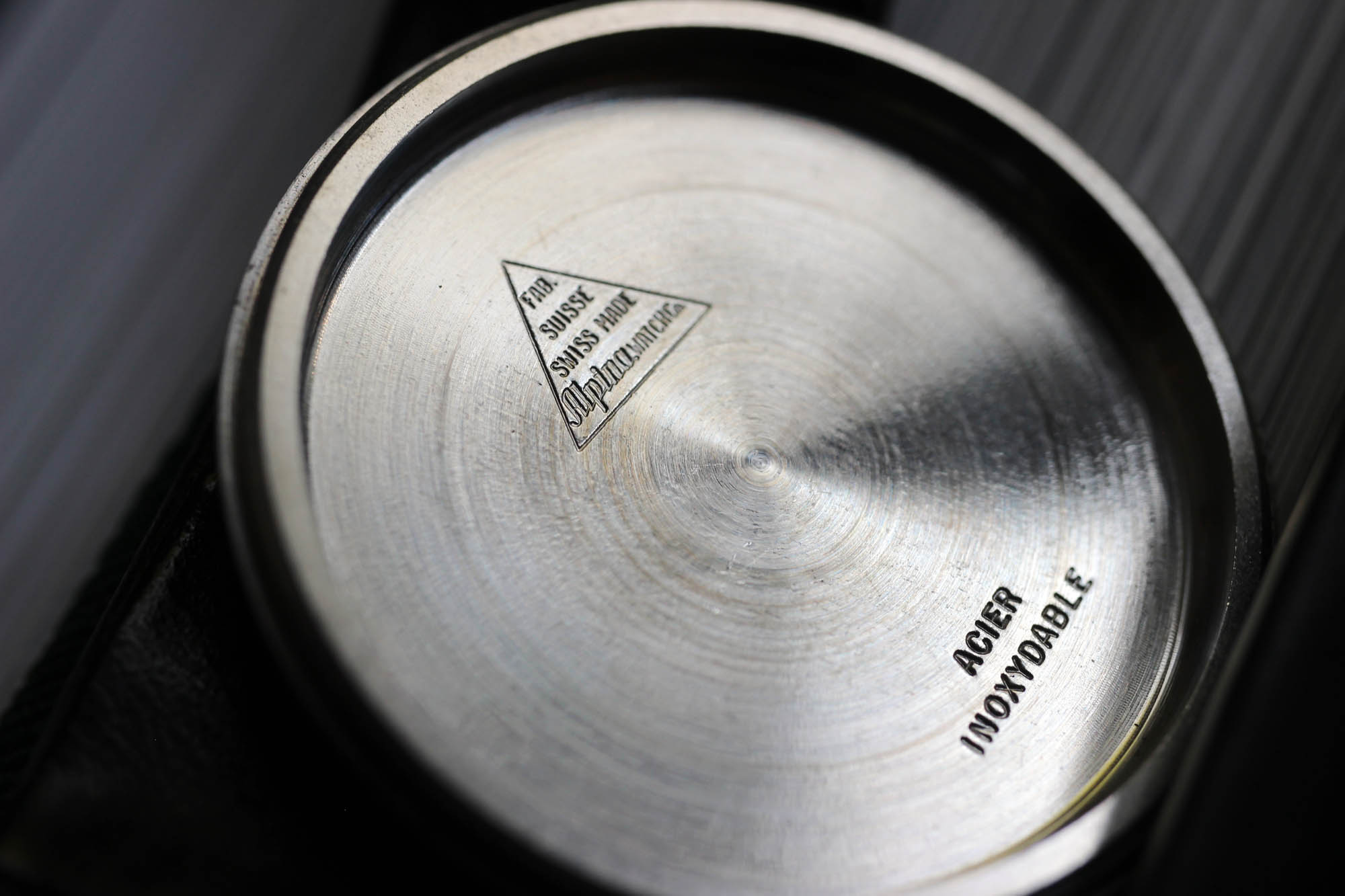 Dangerously NOS
Whenever I am evaluating a proclaimed NOS watch, I think of this Alpina Standard Leihuhr. Just look at it. Be careful not to get cut on the razor sharp case edges. And I don't know how to put this, but I like staring at the case back. Yes, there is nothing there. No brand. No anti-steel-whatever-sign. Just a few tiny numbers and that's it. Just a perfect, brand new brushed surface reminding me of a morning ski piste.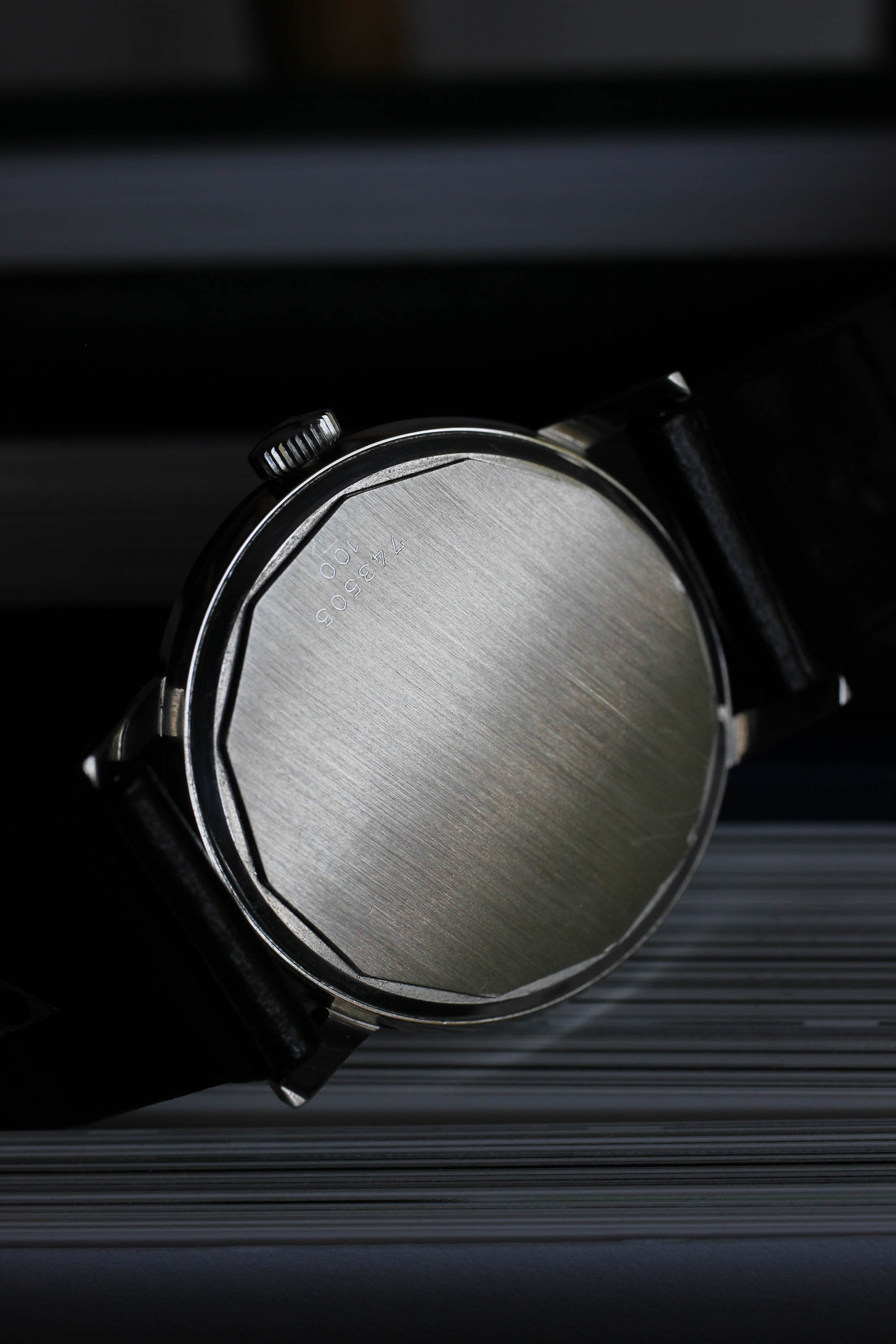 Brand new brushed surface of the case back reminds me of a morning ski piste.
Elegant and Sporty Alpina
Describing the dial might on the Alpina Standard Leihuhr might seem a bit of a boring exercise. A white pearl surface, simple indexes finished off with lume dots on the outer ring and arabic numerals at 12, 3, 6 and 9. Carved or slightly sunk sub-seconds with decent thin 5 sec markers. That's it. I don't plan to sell it to you as the most exciting design ever executed, but the finishing adds to the overall clean perfection. The hand style, case shape, thin lugs and numeral font all make for a very fresh and modern look. If you compare it to other watches, this design in many ways looks more up-to-date than same era competitors.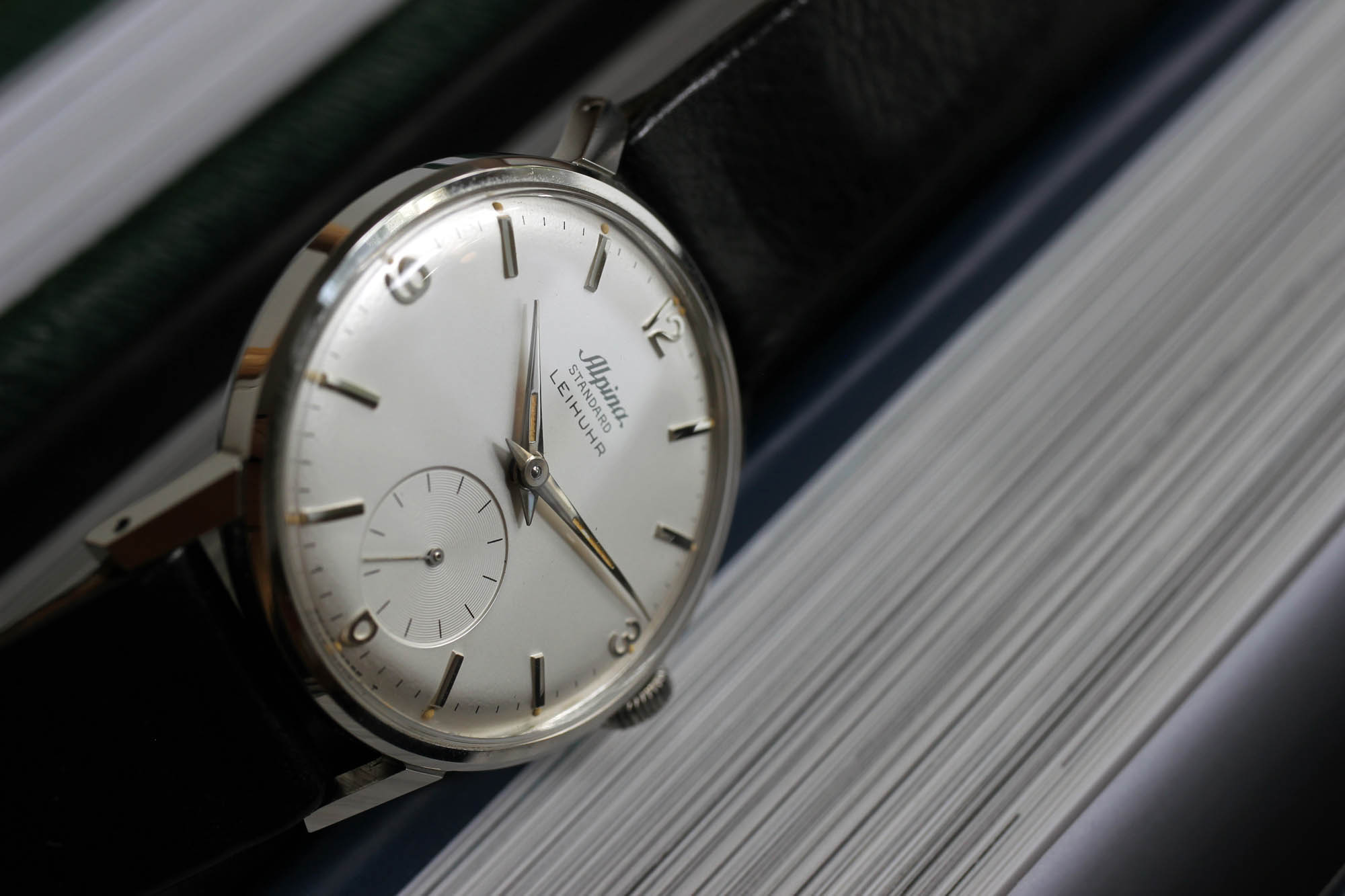 Value holder
All of us that have tried to get an era correct buckle for their 'liebling' Omega watch know what it means to get a watch not only with an original buckle, but the original strap too. A lot of watches pass through our hands, but to feel an original leather strap from the 1960's or 1970's is a feeling like no other. This Alpina Standard Leihuhr came to me on a strap that showcases shiny ALPINA branding on the inner side.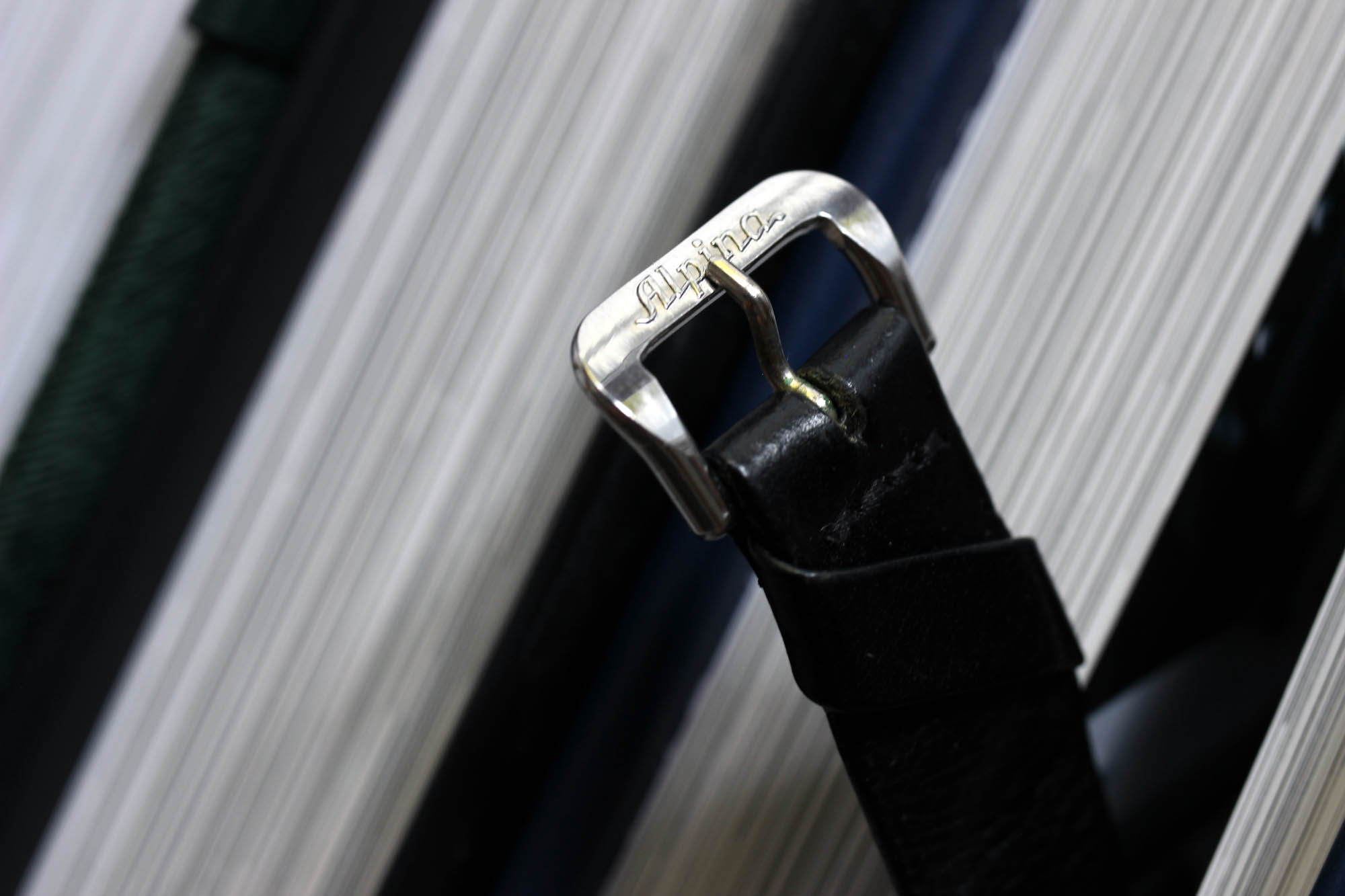 The narrow, thick and artsy buckle is the cherry on top of the cake. I believe watches are made to be worn, so I usually don't give much thought to NOS watches and just start enjoying them. Like when I wasn't afraid to collect some scratches on my Seiko VoiceNote bracelet. I am not afraid of losing value. I live with the watches. But with this Alpina Standard Leihuhr, I opted to change the strap for a quality replacement in order to protect the original one. This watch is a real unicorn to me.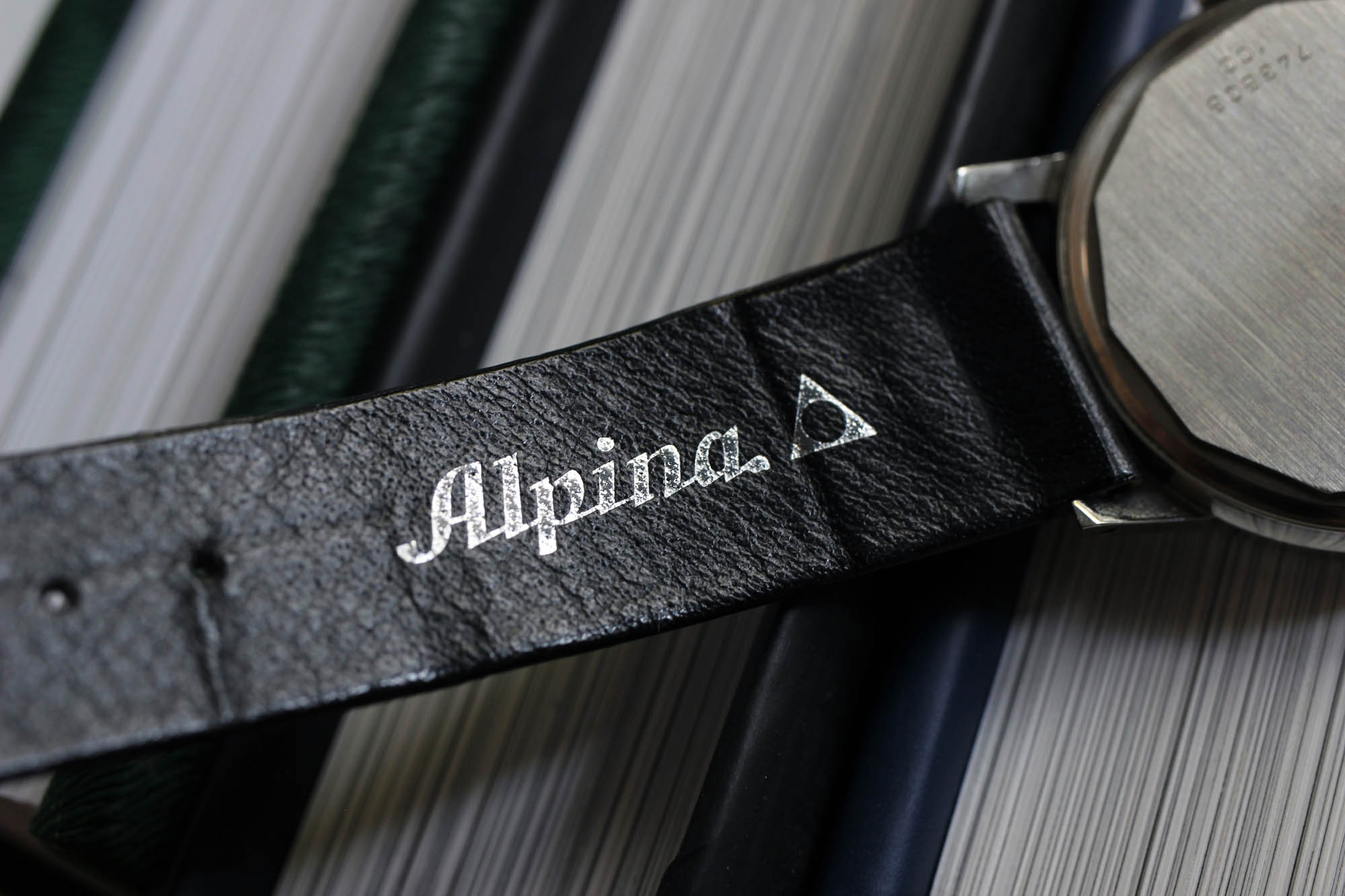 Going deeper with the Alpina Standard Leihuhr
Having said that, I spent a lot of time emailing both friends and strangers alike to dig out more information on the Alpina Standard Leihuhr or service watches. Here are some of the learnings I collected over the months. Few big retailers around – whether in Prague or in Vienna did not respond to my questions at all or if, then with 'negative' feedback saying they had never heard of such a thing. Yet when you google smaller watch shops around, you still can find such a service being offered today.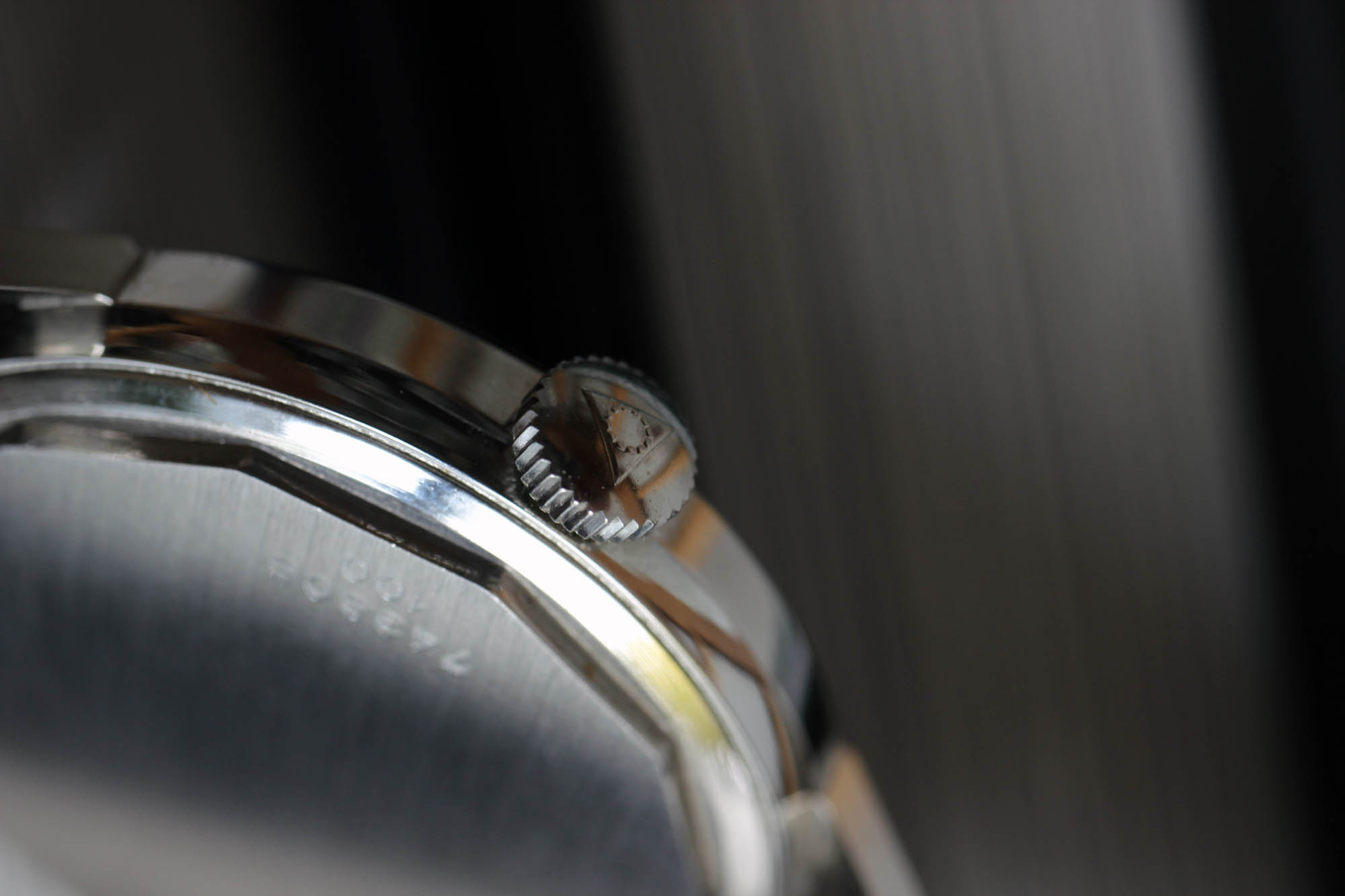 Galli family business
Upon my research I stumbled across the GALLI watches and jewelery shop founded in 1882. Founder Paul Galli was allegedly the first watchmaker in Zurich to put electric lights in his display window, something that outraged his competition. He cultivated close connections with concierges in all the good hotels who would then refer tourists directly to Galli on the Bellevue. The business is still in hands of the Galli family today and their current boss Marco helped me by disclosing some interesting information.
Wisdom of elders
We live in a time where a lot of knowledge is kept alive only in the minds of the last living watch owner. Marco discussed the service watch topic with his father who took the reins of the family business in 1983 at age of 24. "In the 1990's, Hublot also made a Leihuhr. It looked like a Jensen watch and there was MDM written on the dial, and the customer was allowed to keep it after the repair was finished," Mario Galli recollects.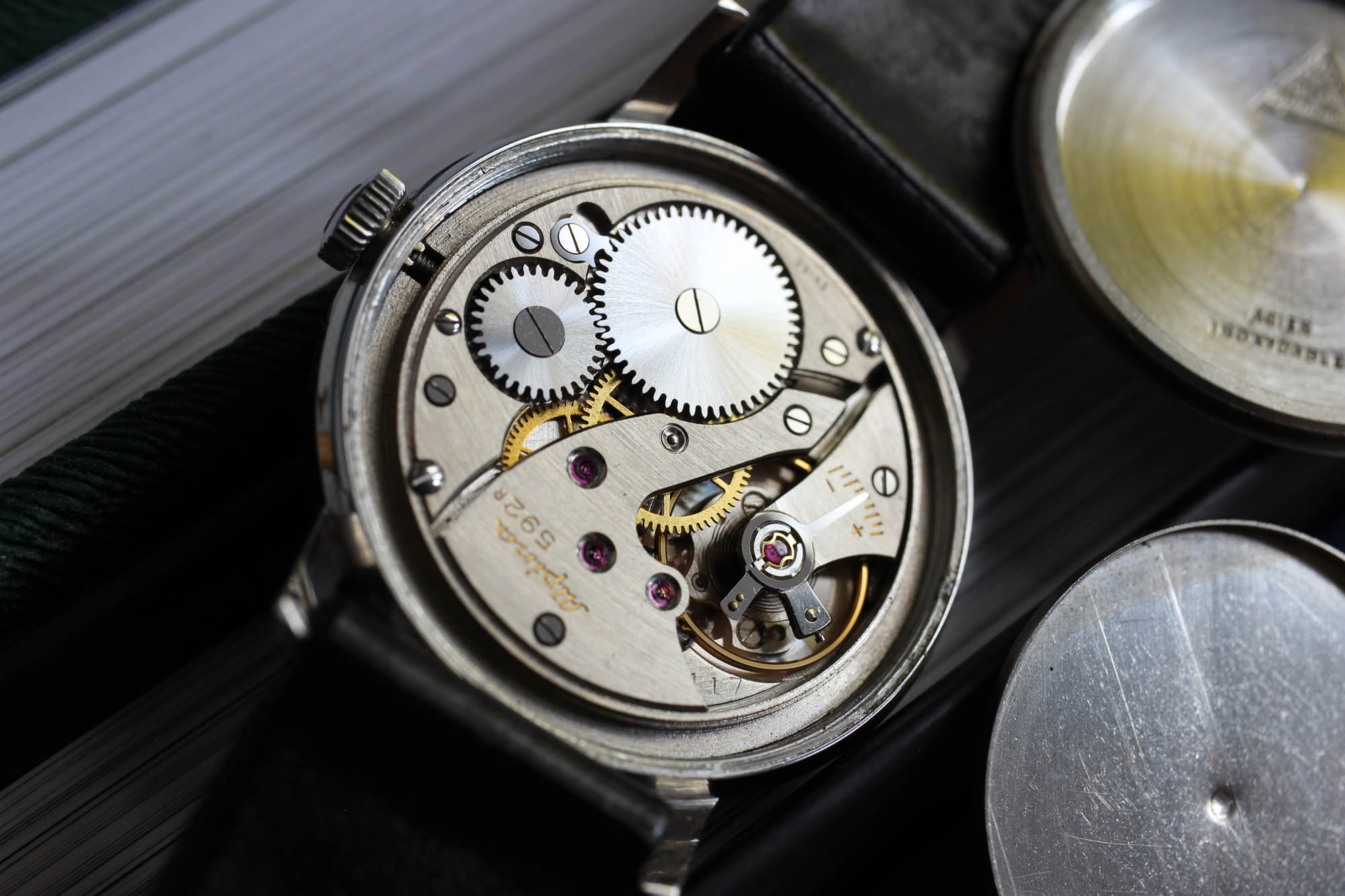 Breitling service watch
"Also Breitling used to offer a simple Leihuhr back in the days," Mario Galli continues. The thought of seeing a Breitling service watch made me really excited. I ran this fact by renowned Breitling collector and expert Fred Mandelbaum: "I have never seen a Breitling marked as a "Leihuhr", but it's an interesting topic," said Fred. I have no proof that such a Breitling watch existed, but Mr. Galli's memory seems trustworthy. Might you have any additional information on the topic, feel free to share with us.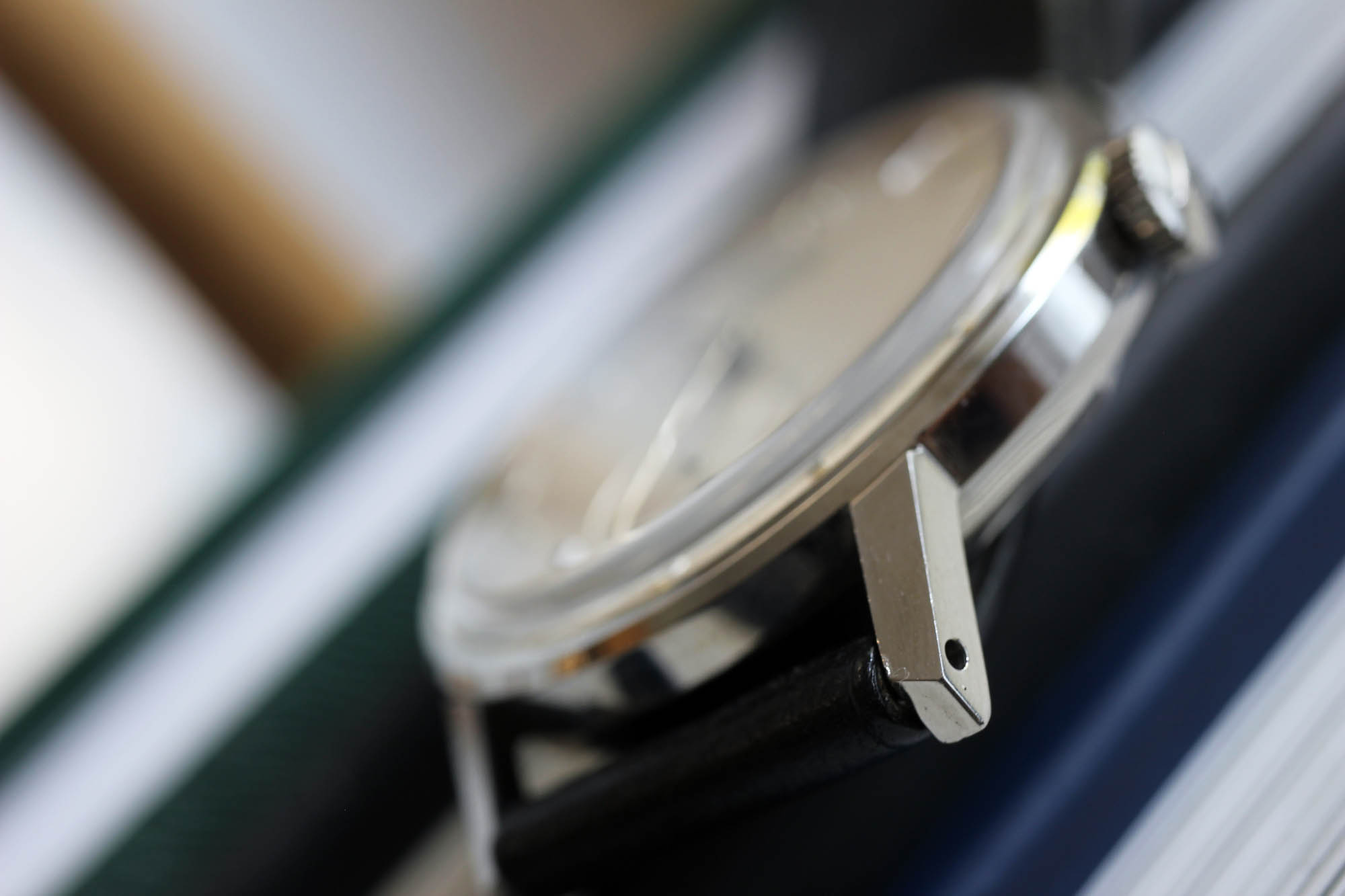 Galli service watch
"Leihuhr or eventually Ersatz-Uhr, that's what we used to call the service," Marco Galli explains. "We offered it up until the 80's. It was a simple mechanical watch, which had our company name on the dial and was powered by Roskopf movements. They were not expensive, but precise," Marco continues. "But when the Swatch watches arrived, we stopped offering the service simply because our customers preferred to buy a Swatch to tell them the time while their other watch was being serviced."

Back to the roots
"It sounds like a cool idea to bring service watches back to life," Marco Galli takes our communication as an inspiration. And he is not the only one! Hans Mikl, watchmaker from Vienna created a service watch of his own. The name Uhrmachermeister and Wien city are great branding that gives his shop that premium edge. The model Lara, as he named it even got an updated version after some time.
Final thoughts
From a horological perspective service watches aren't anything spectacular. Yet it is this human, or let's say customer satisfaction perspective, that adds immense value to this watch. It's also a reminder of once existing premium services that are so true to watches – those precise fragile mechanisms. We all know we have iPhones to tell us the time when our watches are in service. Or for 10 bucks we can get quartz watch with more precise specs than our vintage will ever have, even after being serviced. But the Leihuhr, and the Alpina Standard Leihuhr in particular, is about the romanticism of an era long gone. An era that left us with some simple but still unique – and I am not afraid to say – rare watches.